Features
•
latest news
•
best of news
•
syndication
•
commentary

Feature Categories



KILLRADIO
printable version - js reader version - view hidden posts - tags and related articles

View article without comments by crazy_inventor Saturday, Feb. 16, 2013 at 9:28 AM

Consensus process (the idea that a group must strictly adhere to a protocol where all decisions are unanimous) is the absolute worst idea that has ever been introduced to the activist community.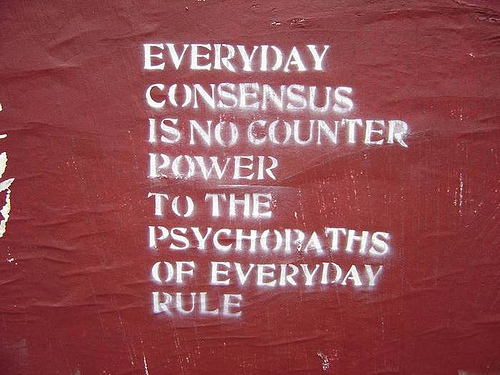 occupiers_stop_using_consensus.jpg, image/jpeg, 500x375

Consensus process is the tyranny of the individual. It is the most anti-social of all processes because it allows any one person to assert irrational authority over an entire group of people and block any sort of decision making. It has nothing do with anarchism (even the IWW doesn't use consensus!) because it was invented by Quakers for religious reasons. It's stood in the way of progress, destroyed social movements, destroyed groups, destroyed communities, and relegated radicals to the fringes of American politics since the 70's when it was first popularized.

Consensus process is in many ways an attempt to formalize the act of resistance, which I suspect is what makes it so popular in activist communities. Let's compare this to democracy, a system which was invented to formalize dissent. With democracy, you could fight and disagree without resorting to violence. Feathers could be ruffled, progress could be made, and life moved on according to plan. Resistance on the other hand is when you're so angry at something, that you're willing to go on a crusade and use all available means to stop that thing from happening. Resistance knows no rules. It is something that should never happen, yet is the responsibility of any socially conscious individual. It's a wild beast which cannot be tamed. Now ask yourself what happens when you get a bunch of people in one room, people whose nature inclines them towards resistance, and then give them the power to resist with a simple hand gesture and a requirement that all others be subservient to their demand. You do the math.

To give an example, the first time I saw a block used at Occupy was at one of the first general assemblies in August 2011. There were about a hundred people that day and in the middle of the meeting a proposal was made to join Verizon workers on the picket line as a gesture of solidarity in the hope that they might also support us in return. People loved the idea and there was quite a bit of positive energy until one woman in the crowd, busy tweeting on her phone, casually raised her hand and said, "I block that". The moderator, quite flabbergasted asked why she blocked and she explained that showing solidarity with workers would alienate the phantasm of our right-wing supporters. Discussion then abruptly ended and the meeting went on. The truth was irrelevant, popular opinion didn't matter, and solidarity—the most important of all leftist values—was thrown to the wind based on the whims of just one individual. Occupy had to find a new way to do outreach.

But as bad as that sounded, it was actually one of the most graceful instances I've seen of a block being used. This is because the proposal was actually dropped as though it never happened. Things don't always go so smoothly. Blocks have a tendency to bring out the worst in people. The thing they don't tell you about consensus, is that it only works if you're willing to exclude others from it. When faced with a block, it's common for people to use psychological manipulation, threats, invent process to deny that person a vote, or even pressure them to leave the group entirely. Oftentimes when such people don't get their way, they'll leave the group themselves. Consensus invites the most awful type of conflict because there can be no agreeing to disagree. But at the same time consensus also quells the more constructive forms of dissent because most considerate and rational people aren't masochistic enough to welcome the hatred and backlash inherent in blocking a proposal.

Consensus process can also be hacked. This is because it leaves too much to interpretation, doesn't actually specify procedure, and doesn't make sense! Take for instance kicking someone out of your group. Do you need consensus to kick them out? Or do you need consensus to keep them on board? Oftentimes such things aren't clear, so the system becomes ripe for manipulation and exploitation. If you ever want to be evil and push a proposal through a consensus body, just make a compelling argument that you need consensus to not pass your proposal (rather than the other way around). If that doesn't work, try writing your proposal with the opposite language and blocking it yourself. If people call you out on your shenanigans, just accuse them of being authoritarians who refuse to follow process and demand that they either step down or reach consensus on creating a rule to forbid what you're doing. Then block that proposal too. If they tell you that you're not allowed to block then you can always complain that true consensus cannot be reached until there's a quorum of every single group member present.

Grassroots activist groups also follow the spirit of consensus regardless of what process they use. This is because participation in occupy assemblies, working groups, and affinity groups is entirely voluntary. Generally speaking, these groups do not control any land or resources upon which their members depend, therefore making it nearly impossible to practice any real coercion. When freedom of association exists in the truest sense of the words, the act of participation in and of itself can be considered itself a form of a consent, even if decision-making power rests in the hands of the majority or an individual leader.

Consensus should be reserved to teams (small groups where people work well together and trust one another) as de facto rather than official process. Many of us operate by implicit consensus without even realizing it. It's a natural human behavior to not want to piss off and ignore other members of your team. But when the occasional irresolvable conflict arises, a majority vote isn't the end of the world. It's called democracy. If those conflicts happen too often, then perhaps it's time to reconsider why you're working with such people.

When it comes to deliberative process for larger groups that can't be considered teams, start off with what's been known to work and has stood the test of time, like Robert's Rules of Order. It's not the ideal system to prevent all forms of hierarchy, but it's at least been proven to work in organizing democratic assemblies that are capable of functioning. Why must we reinvent the wheel? The only clear explanation is that it's fun to fetishize process rather than accomplishing work. There are actually people who've devoted much of their careers as activists to unnecessarily reinventing process, and for years they've been using entire activist communities as guinea pigs in their experiments. Why must we allow ourselves to be pawns in someone else's game? Our goal should be fighting power and injustice, and we should settle for no less than the best tools for the job.

But we also shouldn't have to follow Robert's Rules by the book all the time. Oftentimes people will forgo formal process entirely until it's needed. It's also perfectly reasonable to borrow good ideas from other processes. One such example is the "progressive stack" which Occupy has used from its very first general assembly meeting. This means when you have a meeting and ten people want to speak at once, one person will be assigned to "take stack" by writing down the names of whoever has their hand raised. The person taking stack will then prioritize speaking order in favor of people belonging to groups whose voices have traditionally been marginalized. Examples of such groups include women, people of color, and the lgbtq community. This is great news if you're a queer trans woman of color, but not such great news for straight white middle class cis men whose voices have far too often dominated discussion. Another great tool for facilitating collective thought is the temperature check, where everyone in the room twinkles their fingers to express how favorably they feel about the topic of deliberation. But in reality, that's just a more fabulous variation of Robert's Rules where the chair will try to gauge support for a proposal during deliberation by asking everyone in the room to say aye / nay or give a show of hands.

The only significant experimentation we should be doing with process at this time is trying to find ways to use modern technology to make democracy more democratic. For the first time in the history of civilization, we are able to scale up conversations to span the entire globe. A deliberative assembly no longer must be limited to the number of people capable of fitting in a single room. Why are we not taking advantage of this? Several attempts have been made to develop such systems, but most of the existing solutions are either shoddy, hard to use, or focus on anonymous voting rather than deliberation. These systems also do not make an effort to define the procedural conventions to govern the aspects of software use which cannot be digitized. Engineers, please start teaming up with process experts to accomplish this.

To learn more about the follies of consensus, read the essays

"Blocking Progress" by Howard Ryan

http://www.connexions.org/CxLibrary/CX6187.htm


and "Fetishizing Process" by Mark Lance.

http://www.academia.edu/1110507/fetishizing_process

[Via OccupyWallSt.org]

Report this post as:


by crazy_inventor Saturday, Feb. 16, 2013 at 9:49 AM


I've been saying for years that the consensus process was bunk, that it's intentionally designed to maintain the status quo, and sabotage real activism.

As soon as I saw the occupy tactic infested with it, I knew it would lead them nowhere. This happened only a few weeks into the first encampments.

Thats how long it takes to get operatives embedded to rot the effort from the inside. Recently released FOIA documents bear this out - the occupy tactic was infiltrated almost a month before the first encampment by spooks, agents, moles and spies.

I only bothered to post this here as a "I told you so" confirmation. This will probably be censored too after a few days. The foundation funded puedo-activists consider real info and actions a threat to their monopoly. Look what happened with rove..

Since the above is directly from occupy wall street, now you know where IMC stands in contrast to occupy.

Occupy happened because of years of puedo-activists not getting things done, and involves the working class, the poor and the homeless standing up for themselves. The occupy tactic was infiltrated by the same puedo-activists to neutralize it.

But the driving force behind occupy, are the working class, the poor and the homeless, whos numbers continue to grow. The occupy tactic hasn't went away, it's only been submerged beneath puedo-activists and their foundation funded gatekeeping operations.



Report this post as:


by 'told you so' Saturday, Feb. 16, 2013 at 10:57 AM


you could also tell us all about the tactics of gatekeeping as in denial of global 'depleted' uranium contamination and HAARP weather warfare, ya freaking spook.
Blow it out your ass.
Trying to get some street credit by your punditations?

Report this post as:


by crazy_inventor Saturday, Feb. 16, 2013 at 12:30 PM


uranium from coal power plants


Coal Ash Is More Radioactive than Nuclear Waste: Scientific American

http://www.scientificamerican.com/article.cfm?id=coal-ash-is-more-radioactive-than-nuclear-waste


Coal-Fired Power Plant Emissions | RadTown USA | US EPA

http://www.epa.gov/radtown/coal-plant.html



Coal Ash Is More Radioactive than Nuclear Waste | Preda

http://www.preda.org/en/news/environment/coal-ash-is-more-radioactive-than-nuclear-waste/

At issue is coal's content of uranium and thorium, both radioactive




Radon-222 Content of Natural Gas Samples

http://pubs.usgs.gov/of/2012/1159/ofr2012-1159.pdf


Radon Exposures from the Use of Natural Gas in Buildings

http://rpd.oxfordjournals.org/content/97/3/259



Radon in Natural Gas from Marcellus Shale

http://www.nirs.org/radiation/radonmarcellus.pdf



Radon in Unconventional Natural Gas from Gulf Coast

http://pubs.acs.org/doi/abs/10.1021/es00151a014



I actually measure radiation, and the only radiation I see is from coal and gas.

Present your documentation or measurements that show DU from the middle east here in the U.S.


back to topic

all cred goes to OccupyWallSt.org

I don't make the news I only air it.

what do you do?

Report this post as:


by excuuussse me! Saturday, Feb. 16, 2013 at 2:08 PM


you were talking gate keepers, dickweed. You are a prime example. You and your lickspittle assistant, johnk. You know, the mole which has given you such a comfortable billboard here. And disabled the report system.
Like you posted how DU is like lead in a battery? What a duplicitous asshole.

Report this post as:


by crazy_inventor Saturday, Feb. 16, 2013 at 3:07 PM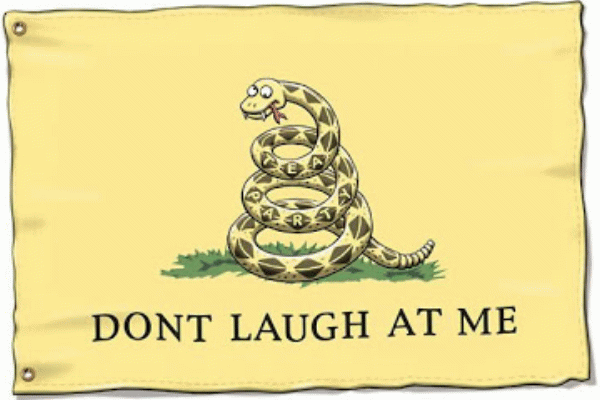 party_flag.png, image/png, 600x400

been having a rough time?


PS nice links



Report this post as:


by why not? Saturday, Feb. 16, 2013 at 3:42 PM


It's not just me, everyone laughs at you.
While holding their nose from your sick stench. No matter which alter ego you use. Go play with yourself somewhere else where your other zionist assholes gather, hex. You7 make me wanna puke.

Report this post as:


by crazy_inventor Saturday, Feb. 16, 2013 at 4:26 PM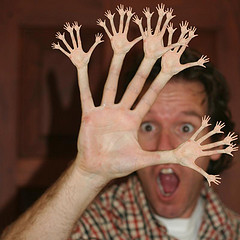 americas_future_is_in_my_hands.jpg, image/jpeg, 240x240

america's future is in my hands

Report this post as:


by ccrider Sunday, Feb. 17, 2013 at 6:10 AM


Well let's see, the tea party got some of their members elected to national office, Now tell me, how many did occupy get elected? Fools.


Report this post as:


by realist Sunday, Feb. 17, 2013 at 6:12 AM


yes we can all see what this spook is so good at.
being one of those that poison the discussion about even its own topic. Being a gatekeeper for the mentally crippled.
Another prime example of the topic it brought up in its own thread. Where it chooses to lecture the reader upon.
Notice that all the other spam has ceased to appear...
Coincidence? I think not.

Report this post as:


by crazy_inventor Sunday, Feb. 17, 2013 at 8:35 AM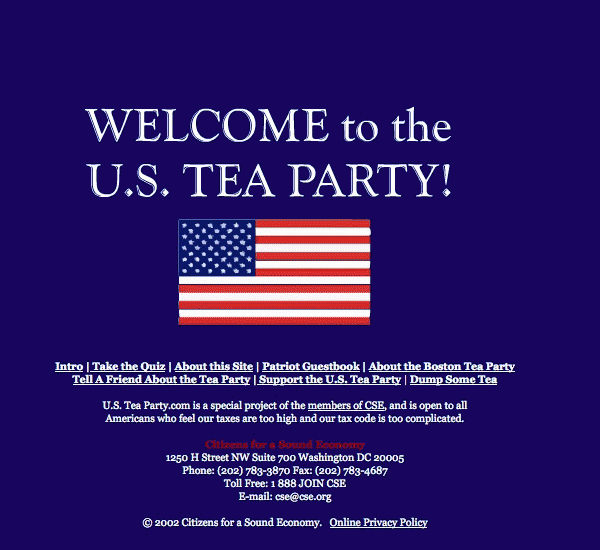 teabaggers_a_fake_billionaire_astroturf_front_group.png, image/png, 600x550

Here's a screenshot of the archived U.S. Tea Party site, as it appeared online on Sept. 13, 2002.

the republican party is attempting to dis-associate themselves from them IE; rove's new PAC


the teabaggers are a tiny minority 3 - 8 % depending on who you believe, and shrinking more every year, as they die off.


and this is despite heavy media exposure, and hundreds of millions pumped into it by billionaires.

on top of that, the koch brothers attempted to start the 'grass roots' (astroturf) teabaggers over 10 years ago, new evidence shows -


Study: Kochs Tried To Start 'Grassroots' Tea Party In 2002

http://crooksandliars.com/susie-madrak/study-kochs-tried-start-grassroots-te




Send this one to your teabagger relatives and watch their heads explode:

Study Confirms Tea Party Was Created by Big Tobacco and Billionaires

http://www.desmogblog.com/2013/02/11/study-confirms-tea-party-was-created-big-tobacco-and-billionaires


A new academic study confirms that front groups with longstanding ties to the tobacco industry and the billionaire Koch brothers planned the formation of the Tea Party movement more than a decade before it exploded onto the U.S. political scene.

Far from a genuine grassroots uprising, this astroturf effort was curated by wealthy industrialists years in advance. Many of the anti-science operatives who defended cigarettes are currently deploying their tobacco-inspired playbook internationally to evade accountability for the fossil fuel industry's role in driving climate disruption.


The common public understanding of the origins of the Tea Party is that it is a popular grassroots uprising that began with anti-tax protests in 2009.However, the Quarterback study reveals that in 2002, the Kochs and tobacco-backed CSE designed and made public the first Tea Party Movement website under the web address www.usteaparty.com

Report this post as:


by crazy_inventor Sunday, Feb. 17, 2013 at 8:46 AM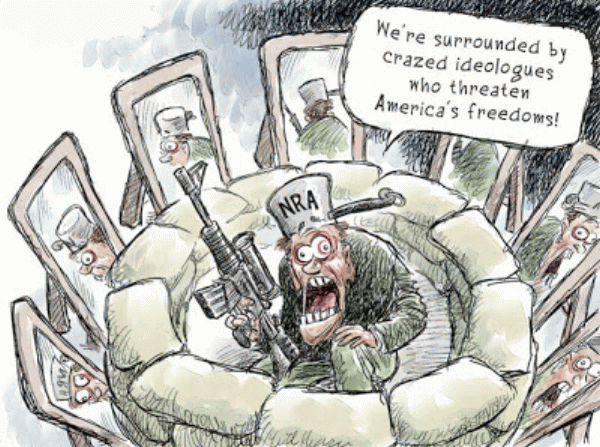 paranoia_will_distroya.png, image/png, 600x447

projection is such an ugly thing

Report this post as:


by one trick dickweed Sunday, Feb. 17, 2013 at 9:24 AM


It can't refute its own psychosis but it sure can post moronic graphics!
Projection indeed. BTW, the NRA actually helped bring in the 1968 gun control act. The NRA does not represent the 2nd Amendment.

Report this post as:


by crazy_inventor Sunday, Feb. 17, 2013 at 9:47 AM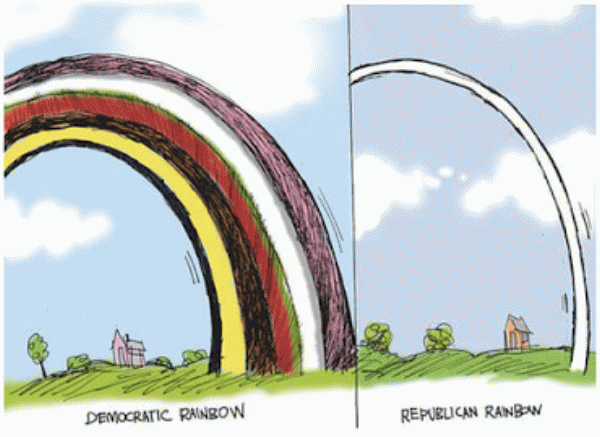 rainbows.png, image/png, 600x437

In order to gain the political power they've enjoyed for decades, Republican moderates and fiscal conservatives made a pact with the devil (faux Christians, bigots, racists, sexists = teabaggers) to achieve the numbers they needed to defeat Democrats. They made a strategic decision to manipulate and exploit the ignorance, fears and hatreds of dysfunctional, malleable and misanthropic voters in order to win elections rather than lose them by being intellectually and morally HONEST.

Today, those who conspired with the devil are caught between wanting to disassociate themselves with/casting out the demons they empowered and the karmic reality that they don't have the numbers to hold on to or regain power without accepting and "advocating" the immoral bigotries, hypocrisies and corruptions that are dividing and destroying their party.

The survival of today's disparate Republican Party is so dependent on extremism that they have no significant power left WITH or WITHOUT the support of America's increasingly pernicious lunatic fringe.

The idiom "caught between the devil and the deep blue sea" is appropriate as Republicans are facing the dilemma of choosing between two equally undesirable alternatives that both result in Republican impotence in mainstream American politics. They are suffering the consequences of their treachery.

Their irresponsible propping up of George W. Bush cost them their credibility, and the malicious dissonance of teabaggers, birthers and deathers exacerbated by the incendiary exhortations of mercenary egomaniacs like Limbaugh and Hannity are costing them their viability.


Report this post as:


by a one trick dick Sunday, Feb. 17, 2013 at 4:12 PM


while 'hex' the unstable_tinker espouses about infiltration [ something it knows all too much about ] it just can't hide its own role in doing the precise thing it pretends to 'expose'.
We can see that it merely wants to open a window to its fellow spooks who now have a platform to pontificate their own twisted ideologies. Amid the stupid graphics and needless spacing we have come to know so well.

Report this post as:


by crazy_inventor Sunday, Feb. 17, 2013 at 7:22 PM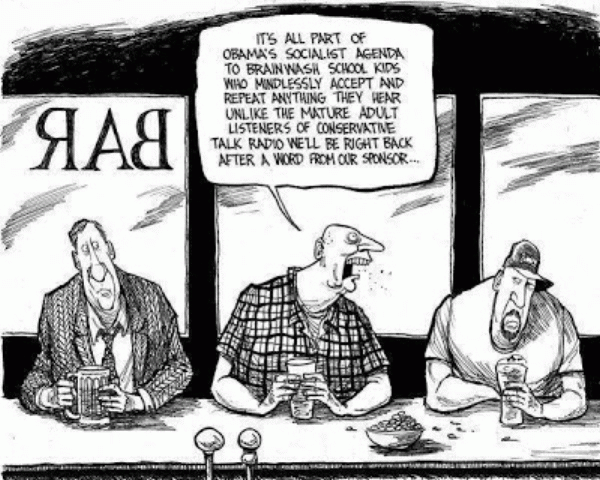 fox_listeners.png, image/png, 600x480

weekly fukushima update, for.

february seventeenth, 2013

Radiation levels, over the past week, have averaged, around 120 counts per minute, which is about, 10 times, normal background level.


no alpha emissions, have been detected, in rain samples.

also.

70,000 U S Service Personnel, Exposed To Radiation.

They've got leukemia, they have growths, they're undergoing surgery to remove lesions in their brains,
a couple of them have had them, and have lost the sight in their eye.


Some of the exposed U S Navy sailors, are bleeding from their asses, and some have sores, all over their bodies.

One guy, has testicular cancer, he was aboard the Reagan, he's 21, he had one of his testicles removed already.

and, in other news.


Global wind generation, as of 20 12, is 282 Gigawatts.

and, global solar generation, is over 100 Gigawatts.



Heads up, people.

The corporate media, is not your friend.

It is not America's friend.

It is not Democracy's friend.

The corporate media, has a single bottom line, insatiable greed.

The corporate media's friends are, only, bankster crooks, war profiteers, and billionaires.

Report this post as:


by yup Monday, Feb. 18, 2013 at 6:18 AM


they certainly aren't friends to the common people,

Report this post as:


by crazy_inventor Monday, Feb. 18, 2013 at 9:18 AM


see, theres a few things we agree on.

and zionists, in fact I play clips exposing AIPAC, their influence on our media, and refer to known israhell businesses (like hertz car rental, starbucks, home depot) as 'israhell fisters', and get really nasty on the air, with them.

'hertz - when you're ready to lick steaming israhell shit off your fist' (hertz offers a discount for rentals to travelers to israhell)



Report this post as:



Local News

Anti-Eviction Mapping Project Shows Shocking Eviction Trends in L.A. M16 5:40PM

Steve Mnuchin video at UCLA released M15 12:34AM

Actress and Philanthropist Tanna Frederick Hosts Project Save Our Surf Beach Clean Ups M06 12:10PM

Resolution of the Rent Strike in Boyle Heights M01 6:28PM

Step Up As LAPD Chief Charlie Beck Steps Down F14 2:44PM

Our House Grief Support Center Hosts 9th Annual Run For Hope, April 29 F13 12:51PM

Don't let this LA County Probation Department overhaul proposal sit on the shelf F13 11:04AM

Echo Park Residents Sue LA Over Controversial Development F12 8:51AM

Former Signal Hill police officer pleads guilty in road-rage incident in Irvine F09 10:25PM

Calif. Police Accused of 'Collusion' With Neo-Nazis After Release of Court Documents F09 7:14PM

Center for the Study of Political Graphics exhibit on Police Abuse posters F07 9:50AM

City Agrees to Settle Lawsuit Claiming Pasadena Police Officer Had His Sister Falsely Arre F04 3:17PM

Professor's Study Highlights Health Risks of Urban Oil Drilling F04 12:42PM

Claims paid involving Pasadena Police Department 2014 to present F04 10:52AM

Pasadenans - get your license plate reader records from police F03 11:11PM

LA Times Homicide Report F03 1:57PM

Last of California's nuclear power plants is on its way out J30 3:44PM

Patrisse Khan-Cullors explains why Black Lives Matter J26 7:02PM

Women's March L.A., 2018 J24 4:39PM

The case for US government sanctions on Israel J23 5:36PM

 Women of LA Rise Again to Denounce Trump Photoset 4 J22 9:07PM

Women of LA Rise Again to Denounce Trump Photoset 3 J22 8:24PM

Women of LA Rise Again to Denounce Trump PhotoSet 2 J22 7:36PM

Women of LA Rise Again to Denounce Trump PhotoSet 1 J22 7:14PM

Women's Political Representation & Electoral Reform J21 12:43PM

Trial Starts for Woman with Erb's Palsy Punched in Face Repeatedly by LAPD Officers J10 1:38PM

Dear District Attorney Jackie Lacey, Prosecute Killer Cops, Signed: Your Constituents J09 10:09PM

Great solidarity action today J06 10:22PM
More Local News...
Other/Breaking News

La révolution psychologique M23 12:22AM

The Shortwave Report 03/23/18 Listen Globally! M22 4:24PM

OBEY Clothing Partner with Children Incorporated M22 4:10PM

5 Questions on Tax Justice M21 10:27AM

Paraphysique de domination/scotomisation M21 2:51AM

legal blog - police surveillance M20 4:25PM

FBI Tracked Activists Involved With Black Lives Matter as They Travelled Across the U.S. M20 12:10PM

Important report on fbi atrocities M20 12:56AM

Questions for TSA after reports of laptop and phone searches on domestic flights M20 12:31AM

No, Robert Mueller And James Comey Aren't Heroes M19 7:02PM

Baltimore cops and the rotten core of policing M19 5:08PM

Spring 2018 National Immigrant Solidarity Network News Alert! M19 2:02PM

Six Months After Maria, Puerto Rico and US Virgin Islands Wait for Relief M19 12:37PM

Trump - Hard as Steel M19 6:57AM

Paraphysique de l'hologramme M19 1:44AM

Fbi crimes and cover-up by local authorities M19 1:29AM

what does a mexican driver's license look like? M18 12:10PM

One Way to Respond to Foreign Ops in Our Elections M18 11:54AM

Stratégie onirique du coup du monde M17 3:03AM

Tour Announcement: Whole Milk's California Cruising Tour 2018 M16 8:41PM

50 years have passed since the Kerner & McCone Commissions M16 6:21PM

Crash on the Horizon M16 9:45AM

Caribbean Religious Leaders Call for Debt Relief in Face of Disasters M16 7:28AM

America's judiciary is in collapse M15 8:53PM

Under the Gun in Ireland M15 5:37PM

The Shortwave Report 03/16/18 Listen Globally! M15 4:54PM

Travail de l'idéologie M15 12:02AM

Crisis 2.0: A Policy for the 99% M14 2:06AM
More Breaking News...