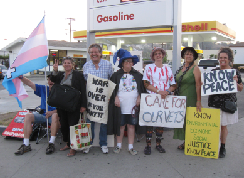 The Eagle Rock Peace Vigil Marks 15 Years
The Eagle Rock Peace Vigil began in November of 2002. Like the many other weekly vigils that existed all over Southern California (listing of vigils circa '03 included with story), it was against the then-looming invasion of Iraq. In subsequent months and years signs have addressed other issues while still emphasizing war.
Full story and photos: The Eagle Rock Peace Vigil Marks 15 Years by R.P.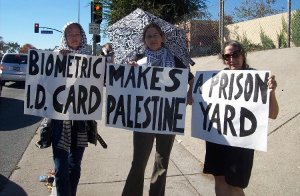 Protesting Hewlett-Packard on Black Friday
On Black Friday, three demonstrations against Hewlett-Packard occurred in front of large stores in Greater Los Angeles.
Besides its involvement with Israel, HP is involved in government surveillance of citizens around the world, including in the U.S. About a dozen people turned out for each of the two-hour demonstrations.
Report and photos: Protesting Hewlett-Packard on Black Friday by RP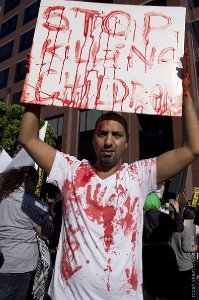 Los Angeles Joins World Wide Protest Against Israeli Aggression
On Sunday July 20th, in response to the latest incursion by Israeli forces into the Gaza Strip, protests erupted world wide on every continent and in many countries out of outrage for the current West Bank Israeli incursion.
There was a spirited Sunday protest at the Federal Building on Wilshire Blvd in Los Angeles of about 3000 people that was fervent and mildly disruptive to traffic. This was the second protest in two weeks with the first rally resulting in some clashes between Israeli and Palestinian activists ending in four arrests and one homeland security officer discharging a firearm into the air.
The crowd was overwhelmingly family centered with many children, parents, grandparents and extended relatives all marching together down Wilshire Boulevard to the Israeli Consulate. There were Jewish protesters carrying signs against the Israeli action and surprisingly no counter pro Israel protests.
People protested who had been directly affected by the invasion such as Abir El Zawidi who lost five family members.
Full story and picture galleries: Los Angeles Joins World Wide Protest Against Israeli Aggression by Robert Stuart Lowden | Story and photos: Protest Israeli Shelling of Gaza by Johnk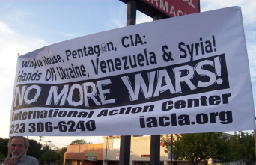 Protest Against Latest U.S. Meddling
March 14, 2014: On Friday afternoons, the corner of Sunset and Echo Park is usually the site of the weekly Echo Park peace vigil (now in its 12th year). This week, however, special emphasis was placed on U.S. meddling in Venezuela and Ukraine. This author counted 25 people (though I left early). Flyers were handed out to the fairly heavy foot traffic. As has been the pattern lately at community demonstrations, a police car was present. (A demonstration against U.S.-backed instability in Venezuela has also been held in
San Francisco
.)
"Nobody should be fooled here, especially left forces," said John Parker of the International Action Center. "History shows you what the U.S. is about--they're not about democracy, they're about profits by any means."
Story and photos: Protest Against Latest U.S. Meddling by RP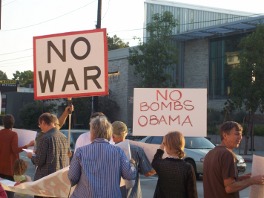 Syria Invasion Protested in Northeast L.A.
On Monday evening, MoveOn called for vigils around the country against the threatened U.S. bombing of Syria. In Silver "Lake," the turnout was large--67 people were counted an hour into it (and by that time several had left). (Other local vigils listed
here
.) People of all ages participated. Unlike the demonstrations against invading Iraq in '02-'03, public response was overwhelmingly positive. The honking was almost non-stop at the busy intersection of Glendale and Silver Lake Boulevards and could be heard from blocks away. Also, there was media coverage by NBC and NPR. All four corners of the intersection were occupied.
The crowd was passionate. One participant made a trip to the west side to fetch a banner for this event. Due to the large turnout, the one-hour vigil (originally scheduled from 6-7) was extended by an additional half hour.
Additional actions were planned for the following day, September 10, in and in front of the office of Congressman Adam Schiff in Hollywood.
Photos and report: Silver "Lake" Protests Invasion of Syria by R. Plesset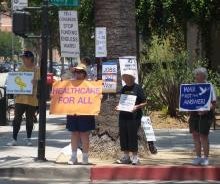 Schiff Happens
On the third Wednesday of each month, a vigil is held outside Congressman Adam Schiff's Pasadena office. Due to redistricting, Schiff, who currently represents areas including Pasadena, South Pasadena, Alhambra, San Gabriel, Temple City, Monterey Park, Burbank, and parts of Glendale, will soon "represent" La Canada Flintridge, Glendale, Burbank, Echo Park, Silver Lake, Hollywood, and West Hollywood. This vigil will continue up to and after the redistricting goes into effect in January 2013, organizers say.
In 2002, Schiff voted to give President Bush powers to invade Iraq--despite very large protests held outside his office beforehand.
Nine people turned out for the June 2012 vigil. Other issues addressed included universal healthcare, support for Representative Pete Stark's Save Our Climate Act, and job creation. Recently, Schiff has talked of an orderly U.S. withdrawal from Afghanistan but has not followed through with any concrete actions. However, some of his current constituents are thankful for his recently introducing a constitutional amendment to overturn Citizens United.
Full story and pictures: Schiff Happens by R. Plesset
Occupy the Military Industrial Complex (report back)

A series of demonstrations drew attention to one of the biggest (and least-discussed) government welfare programs: the Military Industrial Complex. Although Boeing was the main target, demonstrations also occurred in front of Northrop Grumman and Raytheon. By late afternoon, there were about 50 participants. That number increased to approximately 75 by early evening. Most response from vehicular traffic seemed positive.

Emphasis was placed on the staggering amounts of public money spent on weapons (over 50% of government spending) while people here and abroad suffer from hunger, disease, and illiteracy. And despite the huge Military budget, various demonstrators observed that they do not feel any safer. Various participants also spoke out against the current U.S. military build-up in the Pacific--against America's greatest trading partner, China. There was considerable emphasis, too, on flying drones. "We are in secret wars in Yemen [and] Pakistan," read a widely-distributed leaflet. "There will soon be thousands of weaponized predator drones in the United States airspace."

Story and photos: Occupy the Military Industrial Complex (report back) by Rick Panna



la-imc (top)