Tell the NSA:
StopWatching.US
Features
•
latest news
•
best of news
•
syndication
•
commentary

Feature Categories



KILLRADIO

printable version - json version - email this article - view hidden posts - tags and related articles
by crazy_inventor Saturday, Feb. 16, 2013 at 9:28 AM

Consensus process (the idea that a group must strictly adhere to a protocol where all decisions are unanimous) is the absolute worst idea that has ever been introduced to the activist community.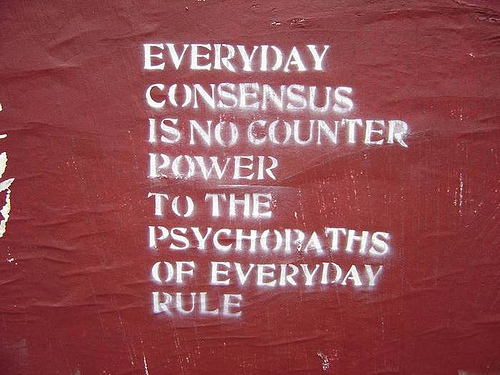 occupiers_stop_using_consensus.jpg, image/jpeg, 500x375
Consensus process is the tyranny of the individual. It is the most anti-social of all processes because it allows any one person to assert irrational authority over an entire group of people and block any sort of decision making. It has nothing do with anarchism (even the IWW doesn't use consensus!) because it was invented by Quakers for religious reasons. It's stood in the way of progress, destroyed social movements, destroyed groups, destroyed communities, and relegated radicals to the fringes of American politics since the 70's when it was first popularized.
Consensus process is in many ways an attempt to formalize the act of resistance, which I suspect is what makes it so popular in activist communities. Let's compare this to democracy, a system which was invented to formalize dissent. With democracy, you could fight and disagree without resorting to violence. Feathers could be ruffled, progress could be made, and life moved on according to plan. Resistance on the other hand is when you're so angry at something, that you're willing to go on a crusade and use all available means to stop that thing from happening. Resistance knows no rules. It is something that should never happen, yet is the responsibility of any socially conscious individual. It's a wild beast which cannot be tamed. Now ask yourself what happens when you get a bunch of people in one room, people whose nature inclines them towards resistance, and then give them the power to resist with a simple hand gesture and a requirement that all others be subservient to their demand. You do the math.
To give an example, the first time I saw a block used at Occupy was at one of the first general assemblies in August 2011. There were about a hundred people that day and in the middle of the meeting a proposal was made to join Verizon workers on the picket line as a gesture of solidarity in the hope that they might also support us in return. People loved the idea and there was quite a bit of positive energy until one woman in the crowd, busy tweeting on her phone, casually raised her hand and said, "I block that". The moderator, quite flabbergasted asked why she blocked and she explained that showing solidarity with workers would alienate the phantasm of our right-wing supporters. Discussion then abruptly ended and the meeting went on. The truth was irrelevant, popular opinion didn't matter, and solidarity—the most important of all leftist values—was thrown to the wind based on the whims of just one individual. Occupy had to find a new way to do outreach.
But as bad as that sounded, it was actually one of the most graceful instances I've seen of a block being used. This is because the proposal was actually dropped as though it never happened. Things don't always go so smoothly. Blocks have a tendency to bring out the worst in people. The thing they don't tell you about consensus, is that it only works if you're willing to exclude others from it. When faced with a block, it's common for people to use psychological manipulation, threats, invent process to deny that person a vote, or even pressure them to leave the group entirely. Oftentimes when such people don't get their way, they'll leave the group themselves. Consensus invites the most awful type of conflict because there can be no agreeing to disagree. But at the same time consensus also quells the more constructive forms of dissent because most considerate and rational people aren't masochistic enough to welcome the hatred and backlash inherent in blocking a proposal.
Consensus process can also be hacked. This is because it leaves too much to interpretation, doesn't actually specify procedure, and doesn't make sense! Take for instance kicking someone out of your group. Do you need consensus to kick them out? Or do you need consensus to keep them on board? Oftentimes such things aren't clear, so the system becomes ripe for manipulation and exploitation. If you ever want to be evil and push a proposal through a consensus body, just make a compelling argument that you need consensus to not pass your proposal (rather than the other way around). If that doesn't work, try writing your proposal with the opposite language and blocking it yourself. If people call you out on your shenanigans, just accuse them of being authoritarians who refuse to follow process and demand that they either step down or reach consensus on creating a rule to forbid what you're doing. Then block that proposal too. If they tell you that you're not allowed to block then you can always complain that true consensus cannot be reached until there's a quorum of every single group member present.
Grassroots activist groups also follow the spirit of consensus regardless of what process they use. This is because participation in occupy assemblies, working groups, and affinity groups is entirely voluntary. Generally speaking, these groups do not control any land or resources upon which their members depend, therefore making it nearly impossible to practice any real coercion. When freedom of association exists in the truest sense of the words, the act of participation in and of itself can be considered itself a form of a consent, even if decision-making power rests in the hands of the majority or an individual leader.
Consensus should be reserved to teams (small groups where people work well together and trust one another) as de facto rather than official process. Many of us operate by implicit consensus without even realizing it. It's a natural human behavior to not want to piss off and ignore other members of your team. But when the occasional irresolvable conflict arises, a majority vote isn't the end of the world. It's called democracy. If those conflicts happen too often, then perhaps it's time to reconsider why you're working with such people.
When it comes to deliberative process for larger groups that can't be considered teams, start off with what's been known to work and has stood the test of time, like Robert's Rules of Order. It's not the ideal system to prevent all forms of hierarchy, but it's at least been proven to work in organizing democratic assemblies that are capable of functioning. Why must we reinvent the wheel? The only clear explanation is that it's fun to fetishize process rather than accomplishing work. There are actually people who've devoted much of their careers as activists to unnecessarily reinventing process, and for years they've been using entire activist communities as guinea pigs in their experiments. Why must we allow ourselves to be pawns in someone else's game? Our goal should be fighting power and injustice, and we should settle for no less than the best tools for the job.
But we also shouldn't have to follow Robert's Rules by the book all the time. Oftentimes people will forgo formal process entirely until it's needed. It's also perfectly reasonable to borrow good ideas from other processes. One such example is the "progressive stack" which Occupy has used from its very first general assembly meeting. This means when you have a meeting and ten people want to speak at once, one person will be assigned to "take stack" by writing down the names of whoever has their hand raised. The person taking stack will then prioritize speaking order in favor of people belonging to groups whose voices have traditionally been marginalized. Examples of such groups include women, people of color, and the lgbtq community. This is great news if you're a queer trans woman of color, but not such great news for straight white middle class cis men whose voices have far too often dominated discussion. Another great tool for facilitating collective thought is the temperature check, where everyone in the room twinkles their fingers to express how favorably they feel about the topic of deliberation. But in reality, that's just a more fabulous variation of Robert's Rules where the chair will try to gauge support for a proposal during deliberation by asking everyone in the room to say aye / nay or give a show of hands.
The only significant experimentation we should be doing with process at this time is trying to find ways to use modern technology to make democracy more democratic. For the first time in the history of civilization, we are able to scale up conversations to span the entire globe. A deliberative assembly no longer must be limited to the number of people capable of fitting in a single room. Why are we not taking advantage of this? Several attempts have been made to develop such systems, but most of the existing solutions are either shoddy, hard to use, or focus on anonymous voting rather than deliberation. These systems also do not make an effort to define the procedural conventions to govern the aspects of software use which cannot be digitized. Engineers, please start teaming up with process experts to accomplish this.
To learn more about the follies of consensus, read the essays
"Blocking Progress" by Howard Ryan
http://www.connexions.org/CxLibrary/CX6187.htm
and "Fetishizing Process" by Mark Lance.
http://www.academia.edu/1110507/fetishizing_process
[Via OccupyWallSt.org]
Report this post as:
LATEST COMMENTS ABOUT THIS ARTICLE
Listed below are the 10 latest comments of 17 posted about this article.
These comments are anonymously submitted by the website visitors.

| | | |
| --- | --- | --- |
| TITLE | AUTHOR | DATE |
| remember IMC's charter | crazy_inventor | Saturday, Feb. 16, 2013 at 9:49 AM |
| you should really know about that, hex | 'told you so' | Saturday, Feb. 16, 2013 at 10:57 AM |
| off topic, attack the messenger | crazy_inventor | Saturday, Feb. 16, 2013 at 12:30 PM |
| it's on topic, asshole | excuuussse me! | Saturday, Feb. 16, 2013 at 2:08 PM |
| I insult | crazy_inventor | Saturday, Feb. 16, 2013 at 3:07 PM |
| without its stupid graphics it's merely another moron | why not? | Saturday, Feb. 16, 2013 at 3:42 PM |
| Go play with yourself | crazy_inventor | Saturday, Feb. 16, 2013 at 4:26 PM |
| Who has the last laugh | ccrider | Sunday, Feb. 17, 2013 at 6:10 AM |
| not so much a gatekeeper than a clown | realist | Sunday, Feb. 17, 2013 at 6:12 AM |
| the teabaggers are dying | crazy_inventor | Sunday, Feb. 17, 2013 at 8:35 AM |
| spook zionist freaking spook | crazy_inventor | Sunday, Feb. 17, 2013 at 8:46 AM |
| notice anything? | one trick dickweed | Sunday, Feb. 17, 2013 at 9:24 AM |
| THE TEABAGGERS ARE DIVIDING AND CONQUERING THE GOP | crazy_inventor | Sunday, Feb. 17, 2013 at 9:47 AM |
| so much alike | a one trick dick | Sunday, Feb. 17, 2013 at 4:12 PM |
| nice links and data | crazy_inventor | Sunday, Feb. 17, 2013 at 7:22 PM |
| the sane ones pushing a carbon tax | yup | Monday, Feb. 18, 2013 at 6:18 AM |
| I agree, the carbon tax is a scam | crazy_inventor | Monday, Feb. 18, 2013 at 9:18 AM |
Local News

Labor Laws Learned by Studying OUR Walmart #2 D03 4:25AM

Labor Laws Learned by Studying OUR Walmart #1 D01 11:19PM

Local Black Friday Protests at Walmart D01 4:18PM

TPP Protesters Greet President Obama in Beverly Hills — in Pictures N29 8:17PM

Trans Pacific Partnership Tutorial N28 2:25PM

Elevated Rates of Thyroid Disease in California Newborn Linked to Fukushima Fallout N22 10:06PM

"Valentino's Ghost" screening in Orange Country today, Nov 15th, 8pm. N15 11:20AM

My Occupy LA Arrest, by Patrick Meighan O27 10:45PM

LAPD's Secret Reporting Getting Public Airing O27 10:37PM

Retired LAPD Officers Confirm Racism inside LAPD O27 10:17PM

Ballona Wetlands Again in Jeopardy O20 8:12PM

All Nighter in Eagle Rock, Los Angeles California O19 11:42AM

Hamid Kahn: Discusses the LAPD SPYING SCANDAL and the LA Council's next move O17 10:05PM

Palos Verdes Teen Podcasters Awarded by Transom (Atlantic Public Media) O16 10:51AM

Save the World Stage O16 2:28AM

Alberto Pathistan Political prisioner O15 3:15PM

Columbus and The Legacy of Genocide O12 1:48PM

Chicken Disease And Boycott Cause KFC Sales To Drop O10 8:35AM

Protest and March Against Columbus and White Supremacy! O09 12:05PM
More Local News...
Other/Breaking News

Bolivarianism Triumphs D09 10:40AM

Tea Party: Extremism of the Middle D09 4:46AM

Orange County citizens call for investigation into District Attorney D09 1:16AM

Ukrainian Protests Continue D08 11:45PM

John Kerry's Anti-Palestinian Agenda D08 11:44PM

Anarcho-Cafe and Fundraiser, Dec 14th, 5pm, @ 3 Worlds Cafe D08 10:33PM

Badoo Social Media and Dating D08 4:08PM

Venezuelan Municipal Elections D08 11:04AM

Paraphysique de la prostitution D08 10:55AM

Mandela Eulogies: Reinventing His Disturbing Legacy D07 11:42PM

Western Officials Collaborating Against Ukraine's Government D07 11:39PM

The Semantics Of Violence D07 8:18AM

Mandela's Disturbing Legacy D06 11:42PM

NSA Mass Monitoring Cell Phone Calls Globally D06 11:40PM

The Corporate Tax Rate Debate, 30pp D06 5:37PM

New People's Daily Building in China D06 4:35PM

Free workshop helps undocumented youths become DACA-mented D06 1:25PM

A Global Ban on Left-Wing Politics D06 6:55AM

Obama's Rogue Agenda D05 11:40PM

Honoring Lynne Stewart D05 11:38PM

the house of cards D05 5:16PM

Press Release: 2013 LA Anarchist Bookfair D05 4:37PM

The Shortwave Report 12/06/13 Listen Globally! D05 3:55PM

Representatives Doggett and DeLauro Introduce Legislation to End Sequestration and Corpora D05 1:24PM

EU Fines Financial Institutions $2.3bn Over Manipulation of LIBOR, One of Largest Banking D05 12:48PM

Hillary's Habitat is Sorry We Revealed "Prince of Wales Farted in The Queens Rose Garden D05 12:16PM

Citizens United GaveTwitter Unlimited Free $peech & They Censor www Political Speech ? D05 9:10AM

Unsafe at any speed - Irans nuclear ambitions D05 3:23AM
More Breaking News...