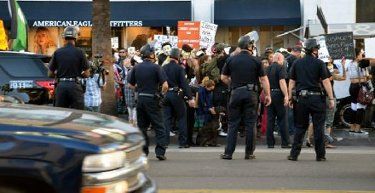 Los Angeles Questions Oversized LAPD Response to Million Mask March
LOS ANGELES--People assembled the morning of November 5, 2014 outside Los Angeles City Hall to participate in the worldwide #Anonymous Million Mask March. Signs bearing the messages "We Don't Want to Live in a World Government for the Corporations" and "Occupy Love" were among the dozens on display.
. . . As the march moved into the open space of the shopping mall at Hollywood & Highland, LAPD officers ringed the protest in pairs. Private security officers also came out to confront the masked masses, who continued dancing and waving signs. By remaining in one place for over a half an hour, the scattered participants were able to reunite, and the march was hundreds strong as it resumed down the Walk of Fame.
@LAPDHollywood tweeted "Please avoid Hollywood Blvd near highland due to protest" around 1:30 PM. LAPD Media Relations advised CBSLA.com "An anti-police brutality protest shut down a stretch of Hollywood Boulevard. More than 100 protesters took part in the march."
. . . Citizen journalist @PMBeers expressed her feelings about police: "The fact that riot cops come to peaceful protests and that intimidates people and makes them afraid to express their grievances is insulting. The fact that people equate protesting with getting arrested even if no laws are broken is insulting. It took me two years to realize that yes, in fact, all cops actually are bastards even if they think they are good people doing good things." #ACAP
Full story and pictures: Los Angeles Questions Oversized LAPD Response to Million Mask March by Los Angeles Peoples Media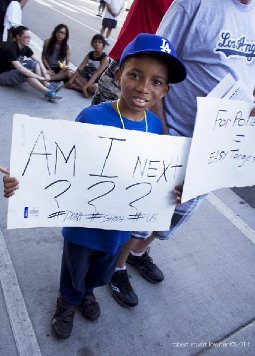 LA Fields Two Marches Against Police Executions
As part of a vast national response in 37 cities to The Ferguson, Missouri shooting of 18 year old Michael Brown, Los Angeles saw two protests over two days. Citing LA's own tragic losses and police abuse of Ezell Ford, Omar Abrego, Damon Jackson and Barry Montgomery the streets hosted two wildcat marches. The first was on Sunday August 17th outside of LAPD Headquarters and the second was the following day in front of both the Ford family home and the Abrego family home in South Central Los Angeles.
The story of police abuse is being seen by most as a a black male issue but these crowds gave pause to that notion. The protesters were a very mixed crowd both racially and culturally.
There were families of the slain and abused men holding large photos of their brothers, fathers and sons.
Three of the deceased men were challenged mentally. Two of them Ezell Ford and Damon Jackson were killed by Los Angeles police while a young schizophrenic named Barry Montgomery was beaten and hidden inside the Los Angeles jail system for days while his family searched for him frantically.
The police response was very light. There were bike cops and motorcycle police along with a fair amount of regular LAPD at the first action. Some streets were roped off while others streets were quickly blocked to traffic as the crowd sporadically wound it's way wildcat style through downtown. The response was essentially the opposite of the Ferguson display of force.
Story and photos: LA Fields Two Marches Against Police Executions Photoset 1of 2 | Photoset 2 of 2 by Robert Stuart Lowden
More: Los Angeles Declares "Hands Up!" in Peaceful Protest of LAPD Murder of Ezell Ford by Los Angeles People's Media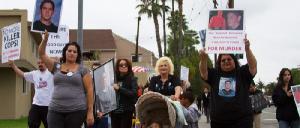 A Coalition of Mothers, Family and Community Members Fed Up With the Injustices by Anaheim
Family and community members demonstrated near Manuel Diaz's memorial last Sunday as they continue to build momentum in their fight for justice for Manuel and all victims of the recent Anaheim shootings. Diaz was shot and killed by Anaheim police on July 21st this year. On the day of the incident, Diaz had been shot on the back of the leg following a pursuit, where he was brought to his knees, and then shot again in the head, execution style. Manuel Diaz was not armed. Videos circulated the internet that day showed Diaz on the floor just moments after being shot. People could be heard shouting at officers, asking why they had shot him and stating that Diaz was still alive. The video also shows officers more concerned with moving people away form the scene, than getting immediate medical attention for Diaz who passed away at a hospital a few hours later.
Full article: A Coalition of Mothers, Family and Community Members Fed Up With the Injustices by Anaheim by Oceloyotl X via The Rebel Press
Previous IndyMedia Coverage here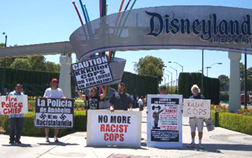 Protests Continue in Anaheim Over Police Killings
ANAHEIM - July 29th 2012 was a sunny Sunday in Anaheim that brought over 250 protesters from all over California to demand justice for the series of recent officer involved shootings in Anaheim, during the last week and a half alone, two of which were fatal.
People lined the sidewalk down Harbor Blvd from the police station to the corner of Broadway. Many were holding signs with such sentiments as "Am I next" and "Stop Police Brutality". The protesters were not the only ones present. Orange County Sheriffs Department were on horseback lining both sides of the street.
This is the start of an ongoing protest every weekend in Anaheim until justice for the police brutality and the end of such police presence is had. After speaking to a few community members the overall feeling in regards to the police presence is uneasiness, they are tired of the racism and class discrimination that is the deciding factor when officers pull the trigger on unarmed citizens only to be later called "self defense". never seeing justice for their harmed and lost loved ones.
Full Report: Anaheim Police Protest Bring the Camouflage Out by The Lizard Queen | | Also: Demonstration in front of Disneyland by Rick Panna
Commentary: A Letter to the Residents of Anaheim by Federica
Anaheim PD Chief Hints 'Outside Agitators' and 'Occupy Wall Street' Caused 'Civil Unrest' by Duane Roberts
Latest news: "This Is What a Police State Looks Like" by Federica
Free Mario Rocha Film and Discussion, August 27
Youth Justice Coalition, members of the Centro Cultural de Mexico, Colectivo Pixen, and members of the Rocha family present a film about Mario Rocha, who is fighting his conviction for murder, and host a discussion about youth incarceration.
Mario is one of many teenagers tried as adults, during an era when young people of color were demonized and public demands to have violent youth tried as adults. He was arrested at a flyer party in East LA, tried for a murder he maintains is a false charge, and now doing 29 years. Thanks to evidence presented by this film, he is awaiting retrial.
August 27th, 321 W. 5th St., Santa Ana, CA. Corner of 5th and Broadway.
08/15/2006
PATHWAYS mentoring program currently has children, ages 8-12 years old, who are waiting to spend just one hour a week with a mentor! The majority of our kids live in the Long Beach/Norwalk areas and they have at least one parent who is incarcerated. In L.A. County alone there are over 110,000 children who have a parent who is incarcerated. Our mentors need to be at least 18 years old and have to complete an application/screening process to ensure the safety of our kids.
Local Mentoring Pgm. For Children Of Incarcerated Parents by Lisa Delmar Edmonds

LAPD Internal Affairs Launches Investigation into Zine's Visit to Farm

SOUTH CENTRAL LOS ANGELES, April 14, 2006 - According to south central farmers a unit from the LAPD Department of Internal Affairs came to the farm on Thursday to take statements from witnesses about the events surrounding Council Member Zine's visit to the farm last Tuesday night.

Full Story

Update: ... In Los Angeles we need angels of hope, amnesty, empathy, and equality. We do not need "Angelinos of Retribution". This is the role that Mr. Zine presented when he publicly humiliated a 13-year old girl who went to testify about her traumatic experience in a dark night in South Central Los Angeles. ...
Full report: Los Angeles City Council Member Dennis P. Zine does a drive-by in South Central by Tezozomoc



la-imc (top)