Tell the NSA:
StopWatching.US
Features
•
latest news
•
best of news
•
syndication
•
commentary

Feature Categories



KILLRADIO
printable version - json version - email this article - view hidden posts - tags and related articles

View article without comments by Jose Maria Sison Wednesday, Nov. 28, 2012 at 2:40 AM

We, the International League of Peoples´ Struggle (ILPS), express our warmest greetings of solidarity to GABRIELA as you hold your 11th National Congress and celebrate your 28th year of activism and service to the Filipino women and the Filipino people in the struggle for national freedom and democracy.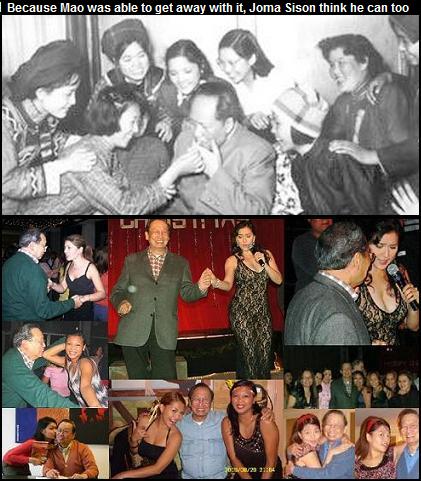 1-jose-maria-sison-cpp-ndf-ilps-gabriela-women-mao-playboy.jpg, image/jpeg, 421x481

We congratulate you for successfully gathering the women activists from the ranks of workers, peasants, urban poor, migrants, youth and professionals in order to take up the goal-oriented theme: "Advance and Strengthen the Women's Struggle towards the Upsurge of People's Resistance Against the Worsening Attacks on Livelihood and Human Rights!"

Your call to action is timely and important. The world and our country today are in the throes of a severe crisis. This is the result of the anti-worker and anti-people laws of motion of monopoly capitalism, particularly the super-exploitativeness and bankruptcy of the neoliberal policy of "free market" globalization. The economic and social crisis is generating state terrorism and wars of aggression. Under these conditions, women suffer and must fight for justice and peace.

Before you can define your tasks, you must know the situation, sum up your experience and evaluate your current strength and prospects. We welcome your highlighting of GABRIELA´s triumphs in the last three years, particularly in campaigns, public education, services and organizing work on the issues of violence against women, women's economic and political rights, and women's right to health care and basic social services.

You must continue to respond to the challenges posed by national oppression, exploitation and poverty, lack of access to jobs and livelihood, increasing incidences and emerging forms of violence against women, human rights violations and foreign military presence, and the effects of climate change and environmental destruction on the lives of Filipino women. You must criticize the semi-colonial and semifeudal ruling system and the current Aquino regime of big compradors and landlords who are servile to US imperialism.

It is timely for your Congress to discuss and prepare for the forthcoming national elections in 2013. You must agree on the ways to promote and expand grassroots women's political participation and push the women's agenda for needed reforms through policy advocacy at all levels of governance. You must also strive to strengthen solidarity with the women of the world against imperialist attacks and intervention.

We commend your decision to honor the women who have dedicated their lives to the defense and advancement of women´s rights and to the struggle for the liberation of the oppressed women and for the improvement of their social conditions. It is fitting to render homage to the women who work tirelessly and selflessly for a future with genuine democracy, justice and peace, where women can fully and truly participate in the development of society.

We wish your Congress the utmost success as a form and method of consolidation, laying the basis for further advances. We are confident that GABRIELA will become stronger and will win greater victories as a result of your Congress. We are certain that you shall celebrate ever greater victories at your next Congress.

Uphold, Defend and Advance Women's Rights!

Long live Gabriela and Filipino women!

Win greater victories in the struggle for national freedom and democracy!

Jose Maria Sison

Communist Party of the Philippines (CPP) - Founding Chairman

National Democratic Front (NDFP) - Chief Political Consultant

http://la.indymedia.org/news/2012/11/257067.php http://la.indymedia.org/news/2012/11/256866.php http://www.indybay.org/newsitems/2012/11/15/18725766.php

Report this post as:


by Jose Maria Sison Wednesday, Nov. 28, 2012 at 2:40 AM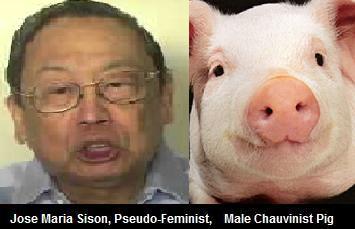 jose-maria-sison.jpg, image/jpeg, 355x229

Report this post as:


by Jose Maria Sison Wednesday, Nov. 28, 2012 at 2:40 AM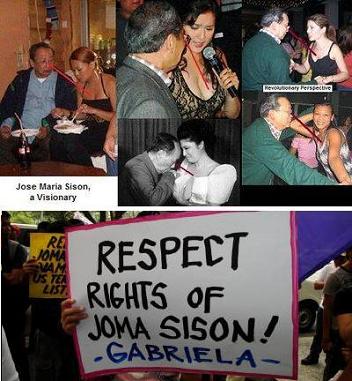 2-jose-maria-sison-cpp-ndf-gabriela-women-party-list.jpg, image/jpeg, 352x381

Report this post as:


by Jose Maria Sison Wednesday, Nov. 28, 2012 at 2:40 AM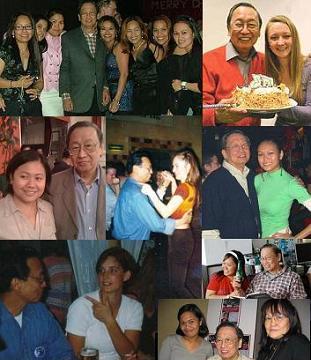 3-jose-maria-sison-sisoning-noynoying.jpg, image/jpeg, 311x360

Report this post as:


by Jose Maria Sison Wednesday, Nov. 28, 2012 at 2:40 AM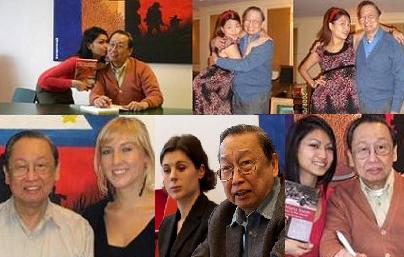 4-jose-maria-sison-kiss-halik-ndf-ilps-lips.jpg, image/jpeg, 404x257

Report this post as:


by Jose Maria Sison Wednesday, Nov. 28, 2012 at 2:40 AM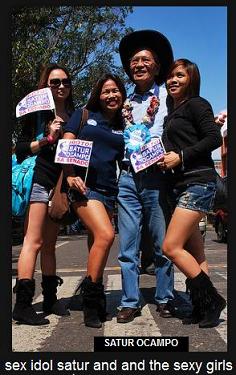 5-satur-ocampo-bayan-muna-sexy-girls.jpg, image/jpeg, 236x375

Report this post as:


by Jose Maria Sison Wednesday, Nov. 28, 2012 at 2:40 AM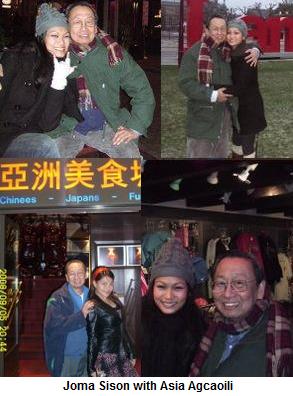 6-jose-maria-sison-cpp-ndf-amsterdam-window-shopping-bayan-muna-bago-ang-sarili.jpg, image/jpeg, 293x396

Report this post as:


by oweo! I Say Wednesday, Nov. 28, 2012 at 8:09 AM


You know what bothers me about these constant attacks towards this individual?
It's the inferred innuendos about this obvious political target that amount to hearsay and strawman associations.
Repression is a fertile breeding ground for revolution.
And the target of this piece likes woman. Wow. Somehow I can relate to that, considering that leadership is the ultimate aphrodisiac.
Makes you want to show your ability to 'lead'.

Report this post as:


by Meow Wednesday, Apr. 30, 2014 at 12:37 AM


3some-jose-maria-sison-pinoy-meme.jpg, image/jpeg, 500x375
You know what bothers me about these constant attacks towards this individual? They are true. They are based on real photos you can gather by using Google images.

Jose Maria Sison is a womaniser and a hypocrite. His organization the Communist Party of the Philippines and New People's Army imposes conservative "proletarian" discipline among their members in relation to gender relations and suffer hard life fighting in the jungle while their leader can party abroad and live a life of a playboy debonair.

Report this post as:
Local News

Protest Israeli Shelling of Gaza J21 1:58AM

#SaveTheInternet Rally J20 11:24AM

PACIFICA is shify-ing more J18 8:55PM

Radical Women Study Group J16 4:43PM

KIDS REPLANT WILSHIRE FRUIT TREES UPROOTED BY VANDALS J16 2:34PM

Emails Needed by Thursday, July 17 to Save the South Central Farm (Again) J15 4:40PM

Is AFT Pres Weingarten On The Take? J12 7:45AM

LA Living in Vehicle Law Found UnConstitutional J11 12:22PM

KPFK News covers the Che Cafe struggle J10 9:33PM

Public Comment on South Central Farm Site J07 10:44PM

Successful Protest at new Burbank Hobby Lobby on 4th J06 5:17PM

Protesters Violently Arrested in Murietta J05 12:44AM

Gallery Opening Highlights Journalist's Creativity, Insights, and Passions J03 11:52AM

Indymedia On Air - Che Cafe show J02 10:27AM

Save the Che: Letter from Zack de la Rocha J29 8:47PM

Political Thriller Citizen Koch Premieres in Los Angeles J28 2:35AM

Veteran and Families of Military hold Press Conference J18 7:36AM

Furious Homeowners Occupy Lobby of Fannie Mae in Pasadena J16 4:15AM

Change Links Revival J12 12:09PM

Election Day with Occupy Los Angeles: Know Your Rights Juror Education Rally J05 9:39PM

United We Stand Festival Ignites a Wave of Action for Indy Journalists and Active Citizens J05 7:36PM

San Pedro Born Activist Yuri Kochiyama Dies J02 12:04PM

NEW REPORT EXPOSES GOVERNMENT SPY NETWORK USED AGAINST OCCUPY MOVEMENT M28 10:14PM

Producers/Community Oppose Cancellation of MM M26 7:06PM

Black Flag "Nature of Anarchism" Special Issue Now Available M26 6:32PM

An Open Letter To Sonali Kolhatkar, Host Of Uprising On KPFK M26 5:46PM

Los Angeles community members unite in Hollywood to #FarmLA and Plant Against Monsanto M26 3:37PM

Venice Beach: Over 500 students and local community leaders march against violence M24 7:22PM
More Local News...
Other/Breaking News

Capitalism and War: Pope Francis J22 4:18AM

Geekouts Link's for June and July 2014 J22 1:14AM

ADI holds Week of Action Against Circus Suffering J21 11:41AM

phantom protests J21 7:35AM

Précis de la tyrannie ou les 64 bourgeoisies J21 3:32AM

The Abiding Economics of John Kenneth Galbraith J19 3:19PM

The Word J18 1:12PM

Burn Cut Poison: Toxic Trillion Dollar Cancer Industrial Complex Of Radiation, Surgery, Ch J18 10:17AM

Abrégé de déictique J18 2:04AM

The Shortwave Report 07/18/14 Listen Globally! J17 2:54PM

carta a mi hija J17 1:40PM

SANTA MONICA ACTRESS TANNA FREDERICK TO VIETNAM TO INSTALL WATER FILTERS J17 11:21AM

Nationwide Air Conditioning and Heating Company Hiring in Southern California J17 9:18AM

Ariz. law enforcement: Marijuana shouldn't be legalized J16 5:27PM

Philippines: 5 Makabayan bloc legislators got P481M pork barrel J16 1:31AM

Lauren Kuby - Harry Mitchell - Tempe City Council J15 1:48PM

The Average Vegan Weighs 23 Lbs Less Than The Average Nonvegetarian J15 9:08AM

TTIP Undermines the Constitutional State J15 7:03AM

5,000 Show up in los Angeles Rally J13 7:40PM

Andrew Myers wants dispensaries to have monopoly on growing marijuana??? J13 8:22AM

Protest against Jewish terrorism & genocide in Palestine J12 7:28AM

israel training Georgia police J12 7:22AM

Paraphysique du capital J11 2:26AM

The Shortwave Report 07/11/14 Listen Globally! J10 5:29PM

Those missing IRS emails??? J10 8:16AM

Free Trade Agreement: Special Rights for Corporations J10 5:53AM

Castoriadis_pdf_Library J09 7:44PM

Tom Hanks- Tom Hanks: The CIA's Guy in Hollywood J08 4:26PM
More Breaking News...