Tell the NSA:
StopWatching.US
Features
•
latest news
•
best of news
•
syndication
•
commentary

Feature Categories



KILLRADIO
printable version - json version - email this article - view hidden posts - tags and related articles

View article without comments by Jose Maria Sison Wednesday, Nov. 28, 2012 at 2:40 AM

We, the International League of Peoples´ Struggle (ILPS), express our warmest greetings of solidarity to GABRIELA as you hold your 11th National Congress and celebrate your 28th year of activism and service to the Filipino women and the Filipino people in the struggle for national freedom and democracy.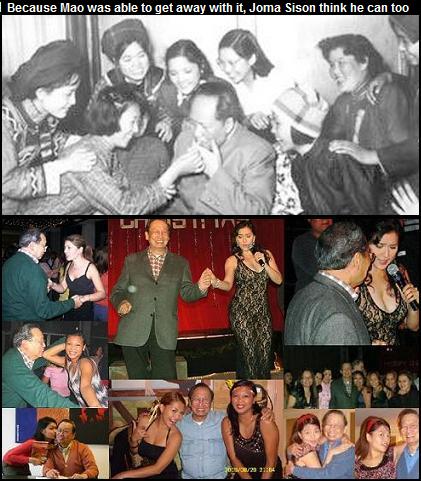 1-jose-maria-sison-cpp-ndf-ilps-gabriela-women-mao-playboy.jpg, image/jpeg, 421x481

We congratulate you for successfully gathering the women activists from the ranks of workers, peasants, urban poor, migrants, youth and professionals in order to take up the goal-oriented theme: "Advance and Strengthen the Women's Struggle towards the Upsurge of People's Resistance Against the Worsening Attacks on Livelihood and Human Rights!"

Your call to action is timely and important. The world and our country today are in the throes of a severe crisis. This is the result of the anti-worker and anti-people laws of motion of monopoly capitalism, particularly the super-exploitativeness and bankruptcy of the neoliberal policy of "free market" globalization. The economic and social crisis is generating state terrorism and wars of aggression. Under these conditions, women suffer and must fight for justice and peace.

Before you can define your tasks, you must know the situation, sum up your experience and evaluate your current strength and prospects. We welcome your highlighting of GABRIELA´s triumphs in the last three years, particularly in campaigns, public education, services and organizing work on the issues of violence against women, women's economic and political rights, and women's right to health care and basic social services.

You must continue to respond to the challenges posed by national oppression, exploitation and poverty, lack of access to jobs and livelihood, increasing incidences and emerging forms of violence against women, human rights violations and foreign military presence, and the effects of climate change and environmental destruction on the lives of Filipino women. You must criticize the semi-colonial and semifeudal ruling system and the current Aquino regime of big compradors and landlords who are servile to US imperialism.

It is timely for your Congress to discuss and prepare for the forthcoming national elections in 2013. You must agree on the ways to promote and expand grassroots women's political participation and push the women's agenda for needed reforms through policy advocacy at all levels of governance. You must also strive to strengthen solidarity with the women of the world against imperialist attacks and intervention.

We commend your decision to honor the women who have dedicated their lives to the defense and advancement of women´s rights and to the struggle for the liberation of the oppressed women and for the improvement of their social conditions. It is fitting to render homage to the women who work tirelessly and selflessly for a future with genuine democracy, justice and peace, where women can fully and truly participate in the development of society.

We wish your Congress the utmost success as a form and method of consolidation, laying the basis for further advances. We are confident that GABRIELA will become stronger and will win greater victories as a result of your Congress. We are certain that you shall celebrate ever greater victories at your next Congress.

Uphold, Defend and Advance Women's Rights!

Long live Gabriela and Filipino women!

Win greater victories in the struggle for national freedom and democracy!

Jose Maria Sison

Communist Party of the Philippines (CPP) - Founding Chairman

National Democratic Front (NDFP) - Chief Political Consultant

http://la.indymedia.org/news/2012/11/257067.php http://la.indymedia.org/news/2012/11/256866.php http://www.indybay.org/newsitems/2012/11/15/18725766.php

Report this post as:


by Jose Maria Sison Wednesday, Nov. 28, 2012 at 2:40 AM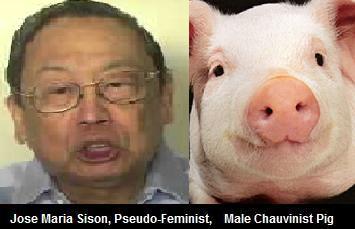 jose-maria-sison.jpg, image/jpeg, 355x229

Report this post as:


by Jose Maria Sison Wednesday, Nov. 28, 2012 at 2:40 AM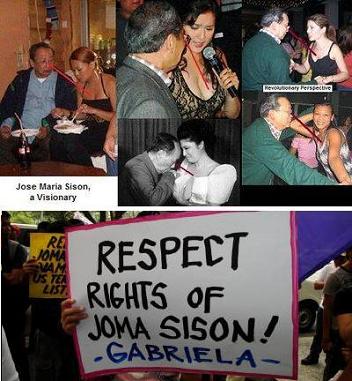 2-jose-maria-sison-cpp-ndf-gabriela-women-party-list.jpg, image/jpeg, 352x381

Report this post as:


by Jose Maria Sison Wednesday, Nov. 28, 2012 at 2:40 AM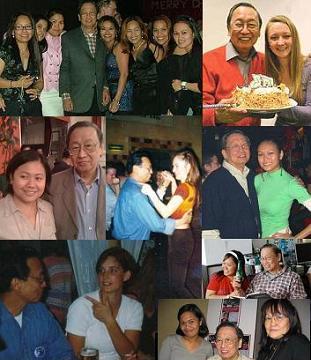 3-jose-maria-sison-sisoning-noynoying.jpg, image/jpeg, 311x360

Report this post as:


by Jose Maria Sison Wednesday, Nov. 28, 2012 at 2:40 AM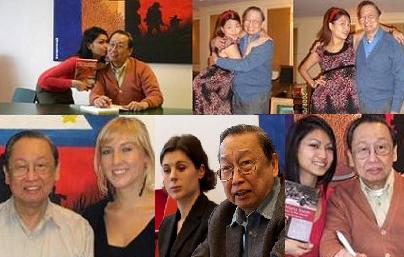 4-jose-maria-sison-kiss-halik-ndf-ilps-lips.jpg, image/jpeg, 404x257

Report this post as:


by Jose Maria Sison Wednesday, Nov. 28, 2012 at 2:40 AM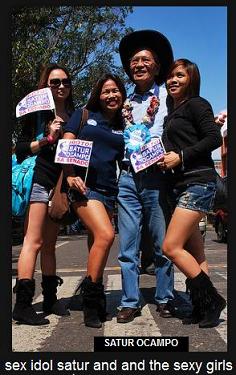 5-satur-ocampo-bayan-muna-sexy-girls.jpg, image/jpeg, 236x375

Report this post as:


by Jose Maria Sison Wednesday, Nov. 28, 2012 at 2:40 AM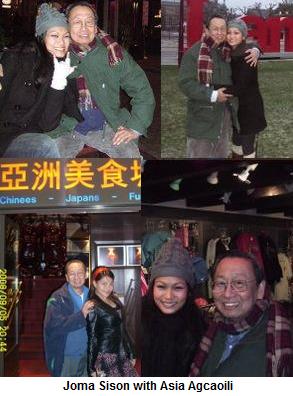 6-jose-maria-sison-cpp-ndf-amsterdam-window-shopping-bayan-muna-bago-ang-sarili.jpg, image/jpeg, 293x396

Report this post as:


by oweo! I Say Wednesday, Nov. 28, 2012 at 8:09 AM


You know what bothers me about these constant attacks towards this individual?
It's the inferred innuendos about this obvious political target that amount to hearsay and strawman associations.
Repression is a fertile breeding ground for revolution.
And the target of this piece likes woman. Wow. Somehow I can relate to that, considering that leadership is the ultimate aphrodisiac.
Makes you want to show your ability to 'lead'.

Report this post as:



Local News

Mormon Perspective on #BundyRanch, U.S. Federal Government, and Divinity of Constitution A22 2:10PM

Livestreamer @PMBeers interviews Bundy Ranch supporters during BLM stand-off A22 8:13AM

Will Hundreds of Years of Contract Law be Eradicated in Santa Ana Court? A22 12:32AM

John Johnson A21 10:25AM

Los Angeles Joins Nationwide March Against Mainstream Media #MAMSM A20 3:04PM

Has KPFK's GM Duncan just dis-appeared? A20 12:35PM

Michael Ruppert dead. A18 6:17PM

Pacifica voting in secret with no accountability? Is this part of KPFK ? A18 3:39PM

Kassim Alhimidi convicted of murder A17 8:33PM

Members of Bundy Family Explain Bundy Ranch Stand-Off With Bureau of Land Management (BLM) A17 1:03AM

Here's some interesting privatization connections in regards to the LAUSD District 1 race A15 4:25PM

Rock, Rap & Speakout vs Poverty, Prisons & War A13 3:16PM

Report Back: 4th Annual Hahamongna Walkabout A13 2:33PM

Pacifica Exe Director position is in confusion still putting KPFK at risk A10 3:52PM

Bernard Duncan, prior GM of KPFK is still in play A08 5:01PM

San Diego May Dai Workers Film Festival A06 5:11PM

Southern California Joins Worldwide Wave Of Action A05 2:31AM

Pacifica board members named here, who attempted ousting ED A04 1:06PM

LA Weekly promotes a slanted view of Pacifica/ KPFK A04 10:36AM

More Info about Pacifica, which holds KPFK's license, etc. A03 2:08PM

Listen to KPFK's staff talking to Pacifica Exe Director M29 7:31PM

Pacifica IS also KPFK, so let's not ignore what going on M29 5:42PM

Reported excerpts of Pacifica's - and that's KPFK's - incidents happening - update M29 5:14PM

Repost from Counterpunch re Pacifica - KPFK too involved M29 2:10PM

Forever intertwined: KPFK, WBAI, Gary Null ? M28 4:10PM

Why is KPFK still failing to thrive ? M28 3:32PM

GLOBAL DAY of ACTION for the Indonesian Rainforests! M27 3:06PM

Opponents of SB County Jail's Letter Ban to Share Progress, Next Steps M27 9:58AM
More Local News...
Other/Breaking News

The Shortwave Report 04/25/14 Listen Globally! A24 4:42PM

Crushing defeat for BDS at San Diego State University A24 7:00AM

Re-feudalization A24 4:42AM

Kiev Declares War A24 12:46AM

Israel Wants Temple Mount Control A24 12:44AM

American Oligarchs: Thieving Koch Brothers A23 3:05PM

PLO/Hamas Detente? A23 12:49PM

Well, the #MyNYPD hashtag sure backfired quickly A23 9:07AM

US Threatens Russia A23 12:48AM

Outrageous Pro-Kiev Op-Ed A23 12:46AM

Propaganda alert: US and UN object to the holding of presidential elections in Syria A22 10:45AM

Cold War 2.0 A22 12:51AM

Marwan Barghouti on Sham Peace Talks A22 12:50AM

F*ck One Democratic state A21 10:55PM

Uranium Madhouse unleashes The Duchess of Malfi in Hollywood A21 8:48PM

Major BDS Donor Owned Shares of Caterpillar While Campaigning for Divestment A21 8:23PM

There Is A Petition For Single Payer Health Insurance A21 2:10PM

Proposal: Piketty and Saez Meme Project A21 1:24PM

The Great Shakespeare On Animal And Plant Rights A21 12:40PM

Kropotkin Prison A21 4:58AM

The Earth a Common Treasury for All A21 3:38AM

Kiev Breaks Easter Truce A21 12:44AM

Unacceptable State-Sponsored Murder A21 12:43AM

"Believing without Seeing" A20 4:13PM

Trolling ...what is that ? A20 1:01PM

Canada Targets Russia A20 11:45AM

Russia Bashing Continues A20 12:45AM

Koch Brothers-Style Free Society A20 12:43AM
More Breaking News...