Features
•
latest news
•
best of news
•
syndication
•
commentary

Feature Categories



KILLRADIO
printable version - js reader version - email this article - view hidden posts - tags and related articles


View article without comments by Jack Heyman Friday, Jul. 21, 2017 at 10:18 AM

ILWU Local 10 retired longshoreman Jack Heyman talks about technology and the danger of a proposed 8 year contract.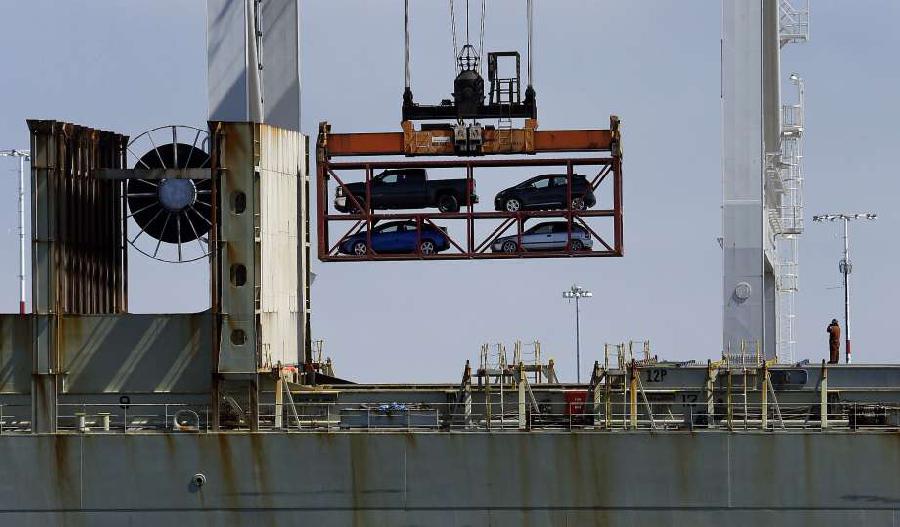 dockers_automation_tech.jpg, image/jpeg, 920x539

Class War on the Waterfront: Longshore Workers Under Attack

https://www.counterpunch.org/2017/07/21/class-war-on-the-waterfront-longshore-workers-under-attack/

by JACK HEYMAN



Photo by ROBERT HUFFSTUTTER | CC BY 2.0
The ink wasn't even dry on the West Coast longshore contract when the head of the employers' group, the Pacific Maritime Association, proposed an additional 3-year extension to the president of the International Longshore and Warehouse Union (ILWU), making it an eight-year contract. While the number of registered longshore jobs, 14,000, is the about same as in 1952, revenue tonnage has increased 14 times to a record-breaking 350 million revenue tons.

Under the current contract employers have already eliminated hundreds of longshore jobs through automation on marine terminals like the fully-automated Long Beach Container Terminal and semi-automated TraPac in the port of Los Angeles. "By the end of an extended contract in 2022, several thousand longshore jobs will be eliminated on an annual basis due to automation" warned Ed Ferris, president of ILWU Local 10 of San Francisco. With driverless trucks and crane operators in control towers running three cranes simultaneously, the chances of serious and deadly accidents are enormous.

Now maritime employers are pulling out all stops to push through this job-killing contract extension, using both Democratic and Republican politicians, high-powered PR firms and even some union officials.

A Chronicle op-ed appeared this week by Democrat Mickey Kantor, former Secretary of Commerce who was responsible for creating the World Trade Organization and the North American Free Trade Association which lost millions of jobs and Norman Mineta, another Democrat former Secretary of Commerce, from the public relations firm Hill and Knowlton. The first public relations firm was hired by Rockefeller to clean up his public image after nearly 100 people, men, women and children were killed in a 1914 Colorado miners strike known as the Ludlow Massacre and employers continue to use PR firms today.

The authors of this week's SF Chronicle pro-company PR piece talk of preserving "labor peace" and refer to West Coast port shutdowns over the last 15 years. Yes, there is a class war on the waterfront, but it's being waged by the employers. Those port closures were caused by employer lockouts in 2002, 2013 and 2014 during longshore contract negotiations. The 2002 lockout was ended after Democrat Diane Feinstein called on President Bush to invoke the anti-labor Taft-Hartley Act directed not against the maritime employers' lockout but the longshore union. The only time the ILWU shutdown Pacific Coast ports in that period was May Day 2008 to protest the wars in Iraq and Afghanistan in the first-ever labor strike in the United States against a war.

The two Democrats cite distorted figures for wages and pensions that only reflect the highest skill level after a lifetime of work in one of the most dangerous industries. And then they threaten that "if the contract proposal is rejected" it could lead Republicans and Democrats alike to impose anti-strike legislation on the waterfront. The ILWU backed Bernie Sanders in the last election and then Hillary Clinton. Yet no matter who leads it, the Democratic Party represents the employer class, Wall Street on the waterfront. Clearly what's needed now is a workers party to fight for a workers government that would expropriate the maritime industry, in ports and at sea, while establishing workers control.

The so-called "friends of labor" Democrats have been enlisted by PMA because earlier this year at the Longshore Caucus, a union meeting representing dockworkers on all West Coast ports, the San Francisco longshore delegates voted unanimously to oppose a contract extension. Last week they held a conference at their union hall on automation and the proposed contract extension. One proposal was to make automation benefit dockworkers by reducing the workweek to 30 hours while maintaining 40 hours pay, creating another work shift.

There are tens of millions of unemployed in this country. The labor movement should launch a new campaign for a shorter workweek at no loss in pay as part of a struggle for full employment to benefit all, not Trump and his Wall Street bankster cronies. In resisting the push for this contract extension to automate jobs out of existence, ILWU waterfront workers can stand up for all workers.

Jack Heyman is a retired Oakland longshoreman who edits the Maritime Worker Monitor and chairs the Transport Workers Solidarity Committee.
www.transportworkers.org


The ILWU, Automation, Longshore Workers & The 8 Year Contract With Jack Heyman
https://youtu.be/WHjq-MNnr5s
Jack Heyman a retired ILWU Local 10 member and chair of the Transport Workers Solidarity Committee spoke at a conference on Longshore Work, Automation, Technology and the Future of Our Work and Lives. The conference took place on July 15, 2017 at ILWU Local 10 in San Francisco.
For additional media:
http://www.sfchronicle.com/news/article/Dockworkers-squeezed-by-automation-abandoned-by-11303754.php
https://www.youtube.com/watch?v=WGTcJXCDjq0
https://youtu.be/FNbvWfS1HYs
https://www.youtube.com/watch?v=5LbMYXeRElM&feature=
https://youtu.be/SNcU37rL2Ng
https://www.youtube.com/watch?v=WGTcJXCDjq0
https://raquelcardeiravarela.wordpress.com/2017/07/20/automation-in-ports-and-labour-relations-in-xxi-century/
https://raquelcardeiravarela.files.wordpress.com/2017/07/studyautomation-2.pdf
Production of Labor Video Project
www.laborvideo.org

Longshore, Automation, Technology & The Future of Our Work & Lives By MUA Queensland Branch Secretary Bobby Carnegi
https://youtu.be/FNbvWfS1HYs
Longshore Work , Automation, Technology and the Future of Our Work and Lives was the title of an education conference held at the ILWU Local 10 in San Francisco on July 15, 2017. This presentation was made to the conference by Bobby Carnegi, MUA Queensland Branch Secretary.
The conference was sponsored by LaborTech.net, LaborFest.net, ILWU Local 10, Transport Workers Solidarity Committee TWSC.
For additional media:
https://www.youtube.com/watch?v=5LbMYXeRElM&feature=
Production of Labor Video Project
www.laborvideo.org

AUTOMATION IN PORTS AND LABOUR RELATIONS IN XXI CENTURY-Raquel Varela International Dock Workers Council Miami Meeting SEP 2016
https://www.youtube.com/watch?v=WGTcJXCDjq0
For more information
AUTOMATION IN PORTS AND LABOUR RELATIONS IN XXI CENTURY
https://raquelcardeiravarela.wordpress.com/2017/07/20/automation-in-ports-and-labour-relations-in-xxi-century/
Posted on July 20, 2017
By Raquel Varela, labour historian IISH, UFF, UNL) , Henrique Silveira, mathematician (IST)
robertngregg@yahoo.comholdfam@comcast.netbobirm@sbcglobal.netleithkahl@gmail.comsasha@greens.org
Abstract. In this part of the work we analyse mathematically the costs and benefits of automation in ports. In particular we analyse automation in cranes and its implications to labour, unemployment, and net financial benefits and losses for the operators. We studied the concept of eficiency viewed by operators and by port clients. We concluded that automation is in general not profitable for the operators. We discussed briefly the losses for the public of the automation process, measured in net loss of taxes collected by the states and by unemployment subsidies conceded to discharged dockers. Finally we discussed the losses in GNP generated by the processes of automation. This is a general study using averages to generate general results applicable to almost all cases, we had to make general simplifying assumptions always trying to minimize possible errors. Particular studies can be rendered with actual data
from each local port and social and legislative data for each particular country.
In the second part of this work in the first section we relate the analysis of precarious work to the state, in particular, as a direct participant functioning as both employer and mediator. In the second section we present a short overview of the evolution of casualization in the context of employment and unemployment in contemporary Portugal (1974-2014). In the third section we discuss state policies on labour relations, particularly in the context of the welfare state. Finally, we compare this present analysis with Swedish research done from the perspective of the state as a direct participant and mediator
over the past four decades.
Full study in pdf
https://raquelcardeiravarela.files.wordpress.com/2017/07/studyautomation-2.pdf
Production of
Labor Video Project
www.laborvideo.org

Report this post as:


by Jack Heyman Friday, Jul. 21, 2017 at 10:18 AM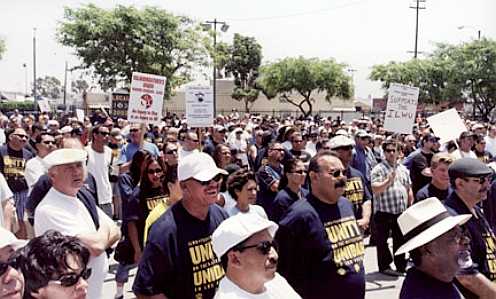 australia_ilwu_la_labor_solidarity2002_.jpg, image/jpeg, 496x299

LA ILWU Local 13/63 supported MUA dockers who were fighting union busting. More and more docks are now automated in Australia

Report this post as:


by Jack Heyman Friday, Jul. 21, 2017 at 10:18 AM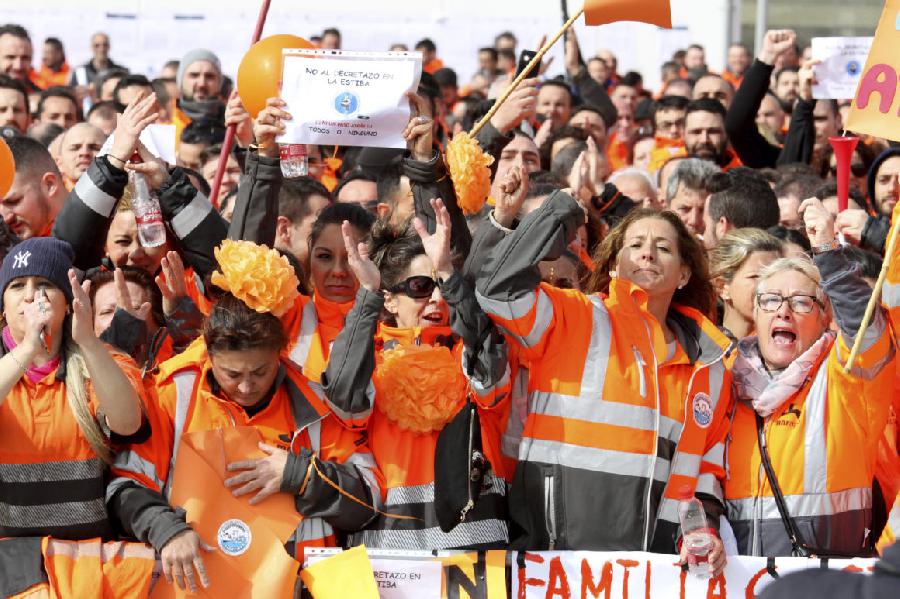 spanish_dockworkers_protest_deregulation.jpg, image/jpeg, 1160x773

Spanish dockers are fighting deregulation, union busting and privatization pushed by the EU and the shipping companies.

Report this post as:


by Registered Monday, Oct. 16, 2017 at 6:51 PM


This was a tactic used to get the South African and South Korean governments to release Mr. Kim Dae Jung who had been held as a political prisoner for years see his book "Prison Writings" and the late Nelson Mandela who was arrested and held on Robbins Island. Amnesty International took the side of both prisoners.

Report this post as:



Local News

Chris Ballew beat up by Pasadena police J05 5:01PM

Retired LAPD Sgt. Cheryl Dorsey explains how the LAPD's Board of Rights hearings work J05 3:40PM

An Ex-Cop Talks About Police Shootings J05 3:39PM

Do Nukes Kill? J02 4:40PM

Letter: Support Proportional Representation for the California State Legislature J01 1:23PM

Community Rallies in Santa Barbara in Solidarity with Inmate Firefighters D22 9:59PM

LAWSUIT ALLEGING FEDERAL VOTING RIGHTS VIOLATIONS IN KERN COUNTY D22 8:56PM

The Video ICE Wishes Was Never Made Public D22 8:39PM

Mitchell Englander going after homeless people D18 5:24PM

"Animaniacs in Concert!" with Voice Artist Rob Paulsen, Sat., Jan. 20 in Santa Clarita D18 4:30PM

The Eagle Rock Peace Vigil Marks 15 Years N27 11:23AM

12/2-3 LA Binational Conference To Cancel NAFTA and Unite Workers Of Mexico and the US N27 3:44AM

Winter 2017 National Immigrant Solidarity Network Monthly News Alert! N26 9:22PM

Nuclear Shutdown News November 2017 N26 4:23PM

Report Back on November 18th Counter Demonstration Against Anti-Muslim March N20 10:57AM

Report Back on November 18th Counter Demonstration Against Anti-Muslim March N19 7:12PM

National US Gov as wellas EPA slow to act on Abandoned uranium Mines Cleanup in Southwest N15 10:50AM

OUR HOUSE Grief Support Center Hosts 9th Annual Comedy Fundraiser N14 10:47AM

BUSTED: Watch LAPD cops plant drugs in black suspect's wallet – unaware body cams were on N10 5:32PM

lapd shootings 1998 - 2015 N06 11:21PM

"Oh Say Can You See" How the LAPD Singing the National Anthem Cost the Dodgers WS Game 7? N03 7:30AM

Car drives into immigration protesters outside Rep. Ed Royce's office in Brea N02 2:06PM

PACIFICA RADIO BOARD SECRETLY OK'S BANKRUPTCY FILING & SEEKS NY SIGNAL SWAP O25 4:49PM

LAUSD, Privatization, Charters And The Fight To Defend Public Education Education Conferen O04 12:10PM

Afghan Women Read RAWA.org founded 1977 S27 9:42PM

[France] The State Attacks Indymedia-Grenoble and Indymedia-Nantes… Solidarity! S25 5:18PM

Segregation in the City of Angels: A 1939 Map of Housing Inequality in L.A. A15 7:44PM

Justice Dept. seeking info, IDs on 1.3M visitors to protest website DisruptJ20.org A15 1:04PM
More Local News...
Other/Breaking News

Paraphysique du No Future J18 2:14AM

Is Economic Speculation a Form of Structural Violence? J16 6:07AM

De Malik Oussekine à Rémi Fraisse, éréthisme policier J16 5:01AM

Epilogue: Pakistan on the chopping block in 2018? Zahir Ebrahim | Project Humanbeingsfirst J15 3:16PM

Friends J14 4:13PM

Pro domo J13 9:06PM

Part 3: Honduras Coup Repeat Update 15 December 2017 to 31 December 2017 J13 4:26AM

Paraphysique du fait divers J12 6:20PM

Brazil wants true justice for Lula! J12 4:14PM

Trilogy Exposing Crimes by fbi et al J11 8:22PM

The Shortwave Report 01/12/18 Listen Globally! J11 4:33PM

The Trump Election J11 4:43AM

Advocates for Terror: Why Ahed Tamimi and Her Family are No Heroes J10 9:47PM

Trial Starts for Woman with Erb's Palsy Punched in Face Repeatedly by LAPD Officers J10 1:38PM

Dear District Attorney Jackie Lacey, Prosecute Killer Cops, Signed: Your Constituents J09 10:09PM

Free Fire Battlegrounds Diamond Cheats J09 3:44PM

"Animaniacs in Concert!" with Voice Artist Rob Paulsen, Sat., Feb. 3 at the Tilles Center J09 11:41AM

BDS Palestine Movement J09 8:07AM

Rotule doublement cassée, ouverte, joyeux anniversaire J09 12:21AM

Anosognosie généralisée du capital J08 12:42AM

Great solidarity action today J06 10:22PM

How a Supreme Court Ruling Could Embolden Police Retaliation Against Political Speech J05 3:37PM

Baltimore Students Offer Solutions to Stop Police Brutality J05 3:35PM

Judge Orrick on Sanctuary Cities, 28 pp J05 1:12PM

The Perfect Totalitarian Rule: Orwell J05 3:55AM

The Shortwave Report 01/05/18 Listen Globally! J04 4:59PM

2 Alabama Hospitals as well as State of Mississippi file class action suit vs. opatecomp J02 7:17PM

Time to Start Imagineering a Post-Ayatollah Iran J02 1:38PM
More Breaking News...