Features
•
latest news
•
best of news
•
syndication
•
commentary

Feature Categories



KILLRADIO
printable version - js reader version - email this article - view hidden posts - tags and related articles

by Joseph Santolan Saturday, Jun. 18, 2016 at 7:10 AM

Philippine President-elect Rodrigo Duterte announced in the wake of his election in May that he intended to grant the late dictator Ferdinand Marcos a state burial in the Libingan ng mga Bayani (Heroes Cemetery). Preparations are now being made for a state funeral on September 11, the 99th birth anniversary of the former president.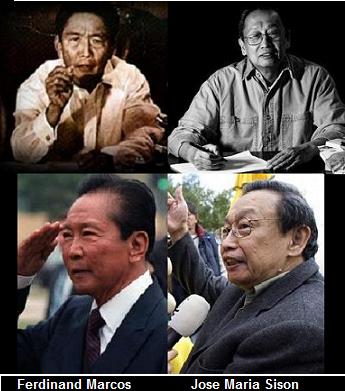 1-jose-maria-sison-dictator-ferdinand-marcos.jpg, image/jpeg, 345x391

The Maoist Communist Party of the Philippines (CPP) has supported Duterte for years and their front organizations are now enthusiastically supporting his presidency. Three CPP selected candidates have been installed in Duterte's cabinet, and the CPP itself is actively engaged in peace talks with the president. On June 4, Joma Sison, the head of the CPP, announced that he did not oppose Duterte's intention to give Marcos a state burial.

In calling for a state burial for Marcos, Duterte is looking to close ranks with the influential Marcos political dynasty. The children of the late dictator, Imee and Bongbong Marcos, are the governor of Ilocos Norte and a Senator respectively. Bongbong Marcos narrowly lost the vice-presidency in the recently concluded election.

Duterte is doing more than securing the support of the Marcos dynasty, however. He is refurbishing the politics of the martial law dictator, as he himself prepares the instruments of police-state rule. Since his election, Duterte has been advancing a fascistic political agenda, promoting the use of death squads and police murder against alleged criminals.

Ferdinand Marcos ruled the Philippines for nearly 20 years. Elected to office in 1965 and re-elected in 1969, he retained his hold on power by declaring Martial Law in 1972 with full support from Washington. During his military dictatorship, he implemented a regime of arrest without warrant, of torture and extrajudicial murder.

A new word entered Filipino English during martial law—someone who was "salvaged" simply disappeared, suddenly taken by police, military or paramilitary forces. Their brutally tortured corpses would later be found in empty lots on the outskirts of Manila. The official tally of extra-judicial murders during the Martial Law regime is 3,257. The torturers and murderers of the Marcos' dictatorship were trained by the CIA.

When Marcos fell from power in 1986, he was granted asylum by the United States where he lived in exile in Hawaii. He died in 1989 in Honolulu. In 1993, President Ramos allowed Marcos's remains to be repatriated to the Philippines on the condition that he would not be allowed a state funeral in Libingan. The Marcos family, funded by its immense stolen wealth, rapidly recovered their prominence in Philippine politics. The late dictator's waxy, embalmed corpse was put on display in a mausoleum in Batac, Ilocos, in the northern Philippines.

From 1993 until 2016, the CPP and its front organizations always denounced the idea of a state burial for Marcos. Joma Sison's 2004 autobiography stated that "an enraged people refused to let his body have a state funeral or be buried, as Imelda [Marcos] wanted, in the Heroes' Cemetery." All of the representatives of the Makabayan Coalition, the political front organization of the CPP, introduced a resolution in Congress in 2011 describing the proposal to bury Marcos in Libingan as a "grave travesty of justice and monumental historical distortion tantamount to declaring hero a dictator who committed crimes against humanity." Rafael Mariano, a signatory of this resolution, now heads Duterte's Department of Agrarian Reform (DAR).

In April 2011, Ang Bayan, the official paper of the CPP, denounced any attempt to bury Marcos in Libingan as an attempt to make him a "hero."

The CPP is now entering an alliance with Duterte, and Joma Sison is changing his tune to match that of the incoming president. Neither Sison, nor any of the CPP installed members of Duterte's cabinet have raised a word of objection to Duterte's proposal to give Marcos a state burial.

Sison issued a press statement in which he stated that he was not opposed to the state burial of Marcos in the Heroes' Cemetery. He justified this position with the most dishonest language. Sison stated that the burial was being carried out by the "president of the reactionary government." This is the same man—Duterte—whom Sison is holding up as a "socialist" and a "progressive," and in whose cabinet the CPP has now integrated itself. Sison's duplicitous references to Duterte's government as "reactionary" cannot cover up the ongoing support which the CPP is giving to the administration.

Sison then stated that the cemetery is not a burial ground of "heroes," but of "reactionaries." Marcos was entitled to a burial there, Sison argued, not as a hero, but as a former soldier. On this lying basis, Sison has given a green light to according a state burial to a murderous dictator. He reassured Duterte and the press that the decision to bury Marcos would not "upset peace negotiations" between the government and the CPP.

Among the "reactionaries" buried in Libingan, Sison listed "three puppet and corrupt former presidents." The presidents buried in Libingan are Elpidio Quirino, Carlos Garcia and Diosdado Macapagal. These "reactionary," "corrupt" presidents had been supported by the Communist Party.

The front organizations of the Stalinist Partido Komunista ng Pilipinas (PKP, Communist Party of the Philippines) actively campaigned to support the nationalist "Filipino First" policy of the Garcia presidency, 1957–61. This policy targeted businesses owned by Chinese Filipinos, and, under the rubric of "nationalization," transferred private ownership to individuals of Filipino ancestry. The front organizations of the PKP worked to expand this policy to target Chinese immigrant labor, calling on Garcia to "nationalize labor" and take jobs away from Chinese Filipino workers and give them to workers of Filipino ancestry.

Sison entered the PKP in 1962 and was immediately thrust into its leadership. In 1963, Sison led the newly-formed Lapiang Manggagawa (Workers Party), which was under the leadership of the PKP, to enter a coalition government with Diosdado Macapagal. Sison hailed Macapagal as a "revolutionary" and wrote the handbook which was printed and distributed by the Macapagal administration in support of its land reform program.

In November 1964, Sison led the founding of the PKP's youth wing, the Kabataan Makabayan (KM, Nationalist Youth). In 1965 they broke with Macapagal, and Sison began denouncing their erstwhile ally as a "reactionary."

Sison and the KM supported Ferdinand Marcos and his Nacionalista Party for the presidency in 1965. Claiming that the Nacionalista Party represented the interests of "patriotic businessmen" and that Marcos would keep the Philippines out of the Vietnam War, Sison called for support for Marcos. Two weeks after his election, Marcos announced that he would be sending troops to Vietnam. Despite this, Sison wrote a supportive public letter to the Marcos government as late as November 1967, advising Marcos on what Sison argued was the "correct nationalist course." The letter was signed "Very truly yours, Jose Ma. Sison."

The reactionaries, whom Sison now denounces, including Marcos, were political figures that he led the Communist Party to support. He relies on decades of lies and a carefully cultivated historical amnesia within the CPP to cover up for the constant alterations in his political line.

In 1967, the PKP split into two parties. Both were Stalinist—opposed to the political independence of the working class, and looking to ally with a section of the bourgeoisie in the name of nationalism—but they were divided by loyalty to either Moscow or Beijing. Sison founded the new pro-Beijing party, the CPP. The CPP allied with the opposition to Marcos and began denouncing Marcos as a "fascist." The PKP, seeing Marcos begin to open diplomatic and trade ties with the Soviet Union, moved to support him. In the wake of the declaration of Martial Law, the leadership of the PKP entered into an alliance with Marcos, murdering those of their members who opposed this policy.

Sison's CPP had brought the mass opposition to Marcos under the leadership of his bourgeois rivals. With the declaration of Martial Law, the majority of the bourgeois opposition quietly acquiesced. The CPP channeled all residual resistance to the countryside. The Stalinist parties—PKP and CPP—were thus directly responsible for allowing Marcos to establish a police state.

As Duterte is moving rapidly to bring back the methods of dictatorial rule, the CPP is supporting him. In order to secure their place within his regime, Sison and the CPP are endorsing the state burial of Ferdinand Marcos.
___________________________________________________


Marcos burial at Libingan no big deal -- Joma Sison

by Efren Montano

Communist Party of the Philippines (CPP) founder Jose Maria "Joma" Sison has said it is a non-issue for him and the National Democratic Front of the Philippines if the late President Ferdinand E. Marcos will be buried at the Libingan ng mga Bayani.

THE burial of former President Ferdinand Marcos at the Libingan ng mga Bayani will not upset the peace negotiations with the Reds, according to Communist Party of the Philippines (CPP) founding chairman Jose Maria Sison.

Sison is expected to fly home between June and August this year for peace talks with the Duterte administration after the Davao City mayor assumes the presidency on June 30.

Sison reiterated his previous statement that he sees no problem with the Marcos burial at the Libingan ng mga Bayani

In a Facebook post, Sison, who has been in exile in The Netherlands since 1987, stressed that Marcos will be buried there not as a hero but as a soldier.

"I have been asked by the journalists whether the decision of President Duterte to allow the burial of Marcos' remains at the so-called Libingan ng mga Bayani would upset the peace negotiations in view of widespread protest and resistance on the premise that Marcos would be honored as hero by being buried in what I consider a cemetery of many traitors," Sison said in his post.

"I said no and I pointed out that President Duterte himself had clarified that Marcos was being buried at the Libingan not as a hero but as a soldier."


_____________________________________

Joma Sison, Marcos victims split on Libingan issue

by Delfin T. Mallari Jr., Jovic Yee

Exiled Communist Party of the Philippines (CPP) founder Jose Maria "Joma" Sison and a group of victims of martial law do not see eye to eye when it comes to the issue of burying the late dictator Ferdinand Marcos at the Libingan ng mga Bayani.

For Joma, it's no big deal, but for the Campaign Against the Return of the Marcoses to Malacañang (Carmma) burying Marcos at the Libingan ng mga Bayani, which is reserved for war veterans, soldiers, statesmen and former presidents, among others, would "whitewash" the crimes he committed to the Filipino people during his two decades of dictatorial rule.

Carmma convener Bonifacio Ilagan has called on presumptive President-elect Rodrigo Duterte to reconsider his position to allow the burial of the dictator at the heroes' cemetery.

"FM cannot be considered a hero. Burying him at the Libingan will whitewash all crimes he committed against the people and will send the wrong message to the world that in the Philippines crime pays," Ilagan told the Inquirer in a text message on Tuesday.

On Monday night, Duterte said he would allow the burial of the dictator at the Libingan ng mga Bayani "not because he is a hero but because he was a Filipino soldier."

"The issue of President Ferdinand Marcos' burial at the Libingan ng mga Bayani has created division among our people…I am sure that I will erase among our people one hatred [persisting in our country]," Duterte said.

Sison, one the country's many personalities who were hunted by the Marcos regime during martial law, said: "Personally, I think that it is not a big deal for Marcos to be buried in a cemetery for soldiers of the reactionary government."



Report this post as:


by Joseph Santolan Saturday, Jun. 18, 2016 at 7:10 AM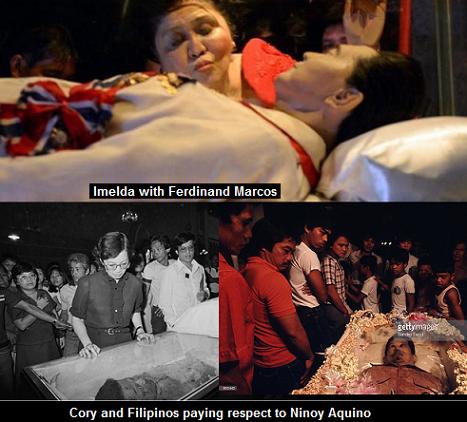 2-imelda-marcos-cory-aquino-ninoy.jpg, image/jpeg, 467x422

error

Report this post as:


by Joseph Santolan Saturday, Jun. 18, 2016 at 7:10 AM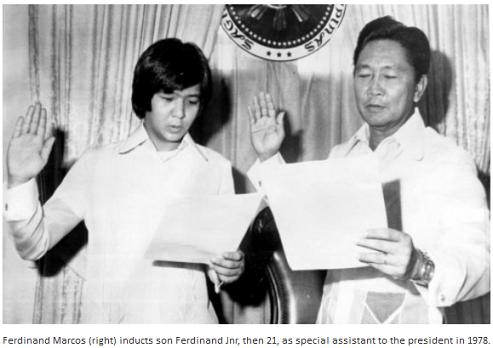 3-ferdinand-bongbong-marcos.jpg, image/jpeg, 493x348

error

Report this post as:


by Joseph Santolan Saturday, Jun. 18, 2016 at 7:10 AM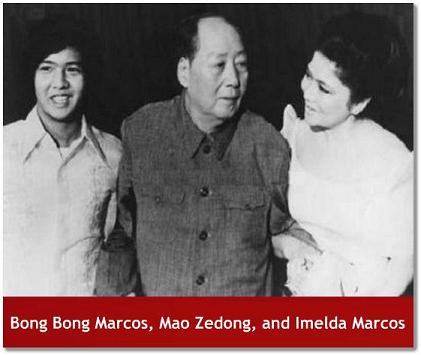 4-mao-zedong-bongbong-imelda-marcos.jpg, image/jpeg, 421x355

error

Report this post as:


by Joseph Santolan Saturday, Jun. 18, 2016 at 7:10 AM


5-mao-imelda-marcos-pol-pot-us-imperialism.jpg, image/jpeg, 409x311

error

Report this post as:


by Joseph Santolan Saturday, Jun. 18, 2016 at 7:10 AM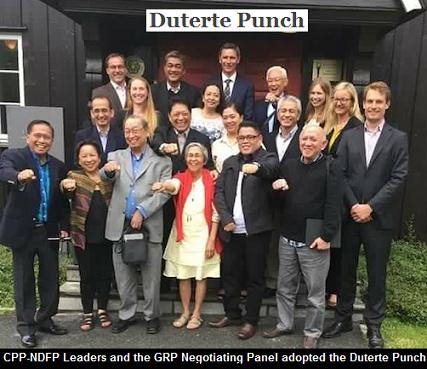 joma-juliet-sison-luis-connie-jalandoni-fidel-asia-agcaoili-cpp-ndf-duterte.jpg, image/jpeg, 427x369
error
Report this post as:
Local News

Chris Ballew beat up by Pasadena police J05 5:01PM

Retired LAPD Sgt. Cheryl Dorsey explains how the LAPD's Board of Rights hearings work J05 3:40PM

An Ex-Cop Talks About Police Shootings J05 3:39PM

Do Nukes Kill? J02 4:40PM

Letter: Support Proportional Representation for the California State Legislature J01 1:23PM

Community Rallies in Santa Barbara in Solidarity with Inmate Firefighters D22 9:59PM

LAWSUIT ALLEGING FEDERAL VOTING RIGHTS VIOLATIONS IN KERN COUNTY D22 8:56PM

The Video ICE Wishes Was Never Made Public D22 8:39PM

Mitchell Englander going after homeless people D18 5:24PM

"Animaniacs in Concert!" with Voice Artist Rob Paulsen, Sat., Jan. 20 in Santa Clarita D18 4:30PM

The Eagle Rock Peace Vigil Marks 15 Years N27 11:23AM

12/2-3 LA Binational Conference To Cancel NAFTA and Unite Workers Of Mexico and the US N27 3:44AM

Winter 2017 National Immigrant Solidarity Network Monthly News Alert! N26 9:22PM

Nuclear Shutdown News November 2017 N26 4:23PM

Report Back on November 18th Counter Demonstration Against Anti-Muslim March N20 10:57AM

Report Back on November 18th Counter Demonstration Against Anti-Muslim March N19 7:12PM

National US Gov as wellas EPA slow to act on Abandoned uranium Mines Cleanup in Southwest N15 10:50AM

OUR HOUSE Grief Support Center Hosts 9th Annual Comedy Fundraiser N14 10:47AM

BUSTED: Watch LAPD cops plant drugs in black suspect's wallet – unaware body cams were on N10 5:32PM

lapd shootings 1998 - 2015 N06 11:21PM

"Oh Say Can You See" How the LAPD Singing the National Anthem Cost the Dodgers WS Game 7? N03 7:30AM

Car drives into immigration protesters outside Rep. Ed Royce's office in Brea N02 2:06PM

PACIFICA RADIO BOARD SECRETLY OK'S BANKRUPTCY FILING & SEEKS NY SIGNAL SWAP O25 4:49PM

LAUSD, Privatization, Charters And The Fight To Defend Public Education Education Conferen O04 12:10PM

Afghan Women Read RAWA.org founded 1977 S27 9:42PM

[France] The State Attacks Indymedia-Grenoble and Indymedia-Nantes… Solidarity! S25 5:18PM

Segregation in the City of Angels: A 1939 Map of Housing Inequality in L.A. A15 7:44PM
More Local News...
Other/Breaking News

Women's Political Representation & Electoral Reform J21 12:43PM

L'impermanence capitalisée J21 1:02AM

Brazil: Thanks to the supportive American democratic congressmen! J20 3:54PM

Homeless Mentally Ill: Some History J20 12:17PM

Where are the women rights advocates J20 4:45AM

USA:A Decadent, Immoral Society J20 2:40AM

Irénisme d'antinomie J20 1:51AM

Social media giants feel the heat at Palestinian digital conference J19 7:52PM

2017 Reflection: Palestine Teaches Us We Must Unite Around a Common Vision for Liberation J19 7:45PM

With U.S. Backing, Turkey Invades Kurdish Syrian Afrin J19 6:43PM

Tekken Cheats | Tekken Hack Coins and Gems J19 5:45PM

Progressive Reforms Were the Reaction to the Recessions and Social Turmoil in the 1880s J19 2:41PM

Brazil: And now what, Mr. lawfare man of the year? J19 2:23PM

Government Shutdown Solutions Could Leave Out Disaster Aid for Puerto Rico J19 11:01AM

The Shortwave Report 01/19/18 Listen Globally! J18 4:26PM

Tax Reform in the US: Trump's Attack on America J18 4:05AM

Paraphysique du No Future J18 2:14AM

Is Economic Speculation a Form of Structural Violence? J16 6:07AM

De Malik Oussekine à Rémi Fraisse, éréthisme policier J16 5:01AM

Epilogue: Pakistan on the chopping block in 2018? Zahir Ebrahim | Project Humanbeingsfirst J15 3:16PM

Friends J14 4:13PM

Pro domo J13 9:06PM

Part 3: Honduras Coup Repeat Update 15 December 2017 to 31 December 2017 J13 4:26AM

Paraphysique du fait divers J12 6:20PM

Brazil wants true justice for Lula! J12 4:14PM

Trilogy Exposing Crimes by fbi et al J11 8:22PM

The Shortwave Report 01/12/18 Listen Globally! J11 4:33PM

The Trump Election J11 4:43AM
More Breaking News...