Features
•
latest news
•
best of news
•
syndication
•
commentary

Feature Categories



KILLRADIO
printable version - js reader version - email this article - view hidden posts - tags and related articles

by Tony Iltis Wednesday, Apr. 13, 2016 at 4:21 AM

On April 1, police opened fire on indigenous and rural poor protesters who were blocking the highway into Kidapawan in the landlocked province of Cotabato on the island of Mindanao, killing three protesters and injuring at least 116.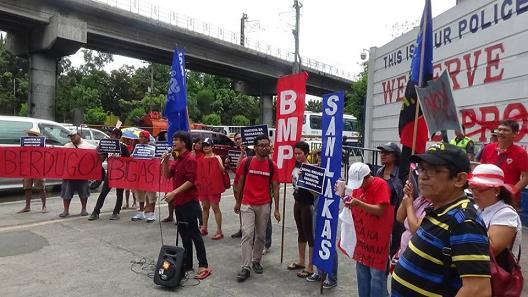 2016-bmp-plm-kidapawan-protest.jpg, image/jpeg, 528x297

While no investigation of the police action has yet taken place, 71 protesters remain detained. On April 4 a police spokesperson announced that Cotabato police chief Alexander Tagum would be suspended pending an investigation.

The next day contingents from the Sanlakas multisectoral alliance, the BMP trade union federation and the Party of the Labouring Masses (PLM) held a picket in front of the Philippine National Police (PNP) headquarters in Manila to condemn the shootings.

PLM chairperson Sonny Melencio told Green Left Weekly: "The farmers, together with their families, numbering around 6,000, barricaded the highways to press for the release of 15,000 sacks of rice to alleviate the hunger caused by drought in the region since last year.

"The provincial governor of Cotabato and the Kidapawan City mayor ordered the dispersal of the protestors at all cost. Three farmers died (two instantly during the dispersal), scores are missing and hundreds are wounded. Independent videos of the event, showing killing by the PNP when the farmers are running away from the site, are all over the social media.

"The national and local governments under the ruling Liberal Party promised the food relief since January but no relief came. Government agencies supposedly released billions of pesos for the El Niño relief, but the farmers believed that these are being used for the Liberal Party's election machinery."

The drought is the result of the exacerbation of the El Niño phenomenon by climate change — caused by carbon emissions predominantly from rich countries like Australia and the US.

The Philippine Atmospheric, Geophysical and Astronomical Services Administration (PAGASA) said that the El Niño phenomenon will cause drought to 85% of the Philippines by April this year, affecting 68 provinces. Mindanao will suffer the most with most of the island to experience drought up to June or July.

"The protests in Kidapawan will soon spread to other places in Mindanao. Our members in Mindanao are talking about hunger and worsening water crisis in Bukidnon, the Lanao and Davao provinces," Roldan Gonzales, chair of Sanlakas Mindanao, told the April 2 Palawan News.

Gonzales, a climate justice and anti-mining activist, told the Palawan News that mining activity, as well as climate change, were worsening the water situation in Mindanao and called on the government "to cushion impacts by ordering a price freeze on basic commodities, expedite the release of financial aid, provide immediate employment, and ensure proper management of water resources among others".

In an April 1 statement, left-wing senate candidate and well known global justice movement leader, Waldon Bello said: "The protesters are farmers and Lumads [indigenous people] who have been suffering for months now the devastating impacts of El-Niño induced drought. They came and put up the barricade to demand urgent action from government both at the local and national levels. Theirs is a legitimate course of action, as they hope for a response in the form of rice and food to alleviate their hunger, but were met instead with deadly force and violence.

"Based on news reports, the number of people affected by drought in North Cotabato alone has reached over 30,000 people, mostly corn, rice, rubber and coconut farmers. In Maguindanao, another 20,000 more suffer the same fate. There are reports of people driven to eating feeds meant for their livestock and toxic root crops just to survive. This is clearly unacceptable."

In an April 4 press release he said: "I simply cannot understand why hungry farmers and their families demanding rice are dispersed with live bullets. This is a manifestation both of a culture of impunity and lack of professionalism among the police.

"This violent dispersal in North Cotabato follows that in Santa Cruz, Zambales, where the community protesting the mudslides caused by mining were also dispersed by police. It seems like the war between the rich and the dispossessed is heightening as the electoral competition comes to a climax."

General Dado Valeroso, PLM senate candidate and former leader of the Young Officers Union — an underground left-wing movement inside the armed forces — who was jailed in the 1990s, said in a statement read at the April 2 protest: "This is General Diosdado Valeroso. I am troubled by the inhumanity of those involved in the dispersal operation against our farmers. I ask my colleagues in PNP not to allow themselves to be used as killers by the capitalist-hacendero politicians and to unite with our farmers in their fight for food, land and justice.

"I condemn in the strongest term possible the senseless use of force against our Kidapawan farmers. I know that no words can comfort the families of victims who were twice victimized by the inaction of government to provide food subsidies at this time of drought and hunger and were doubly brutalised by the injustice committed against them. I demand relief to our hungry kababayans. Bigas, hindi bala! Pagkain, hindi karahasan! [Rice, not bullets! Food, not violence!]

"We are facing the brunt of El Niño phenomenon that wrought drought and devastation to certain agricultural areas in Mindanao. The problem of drought and hunger was solved by a hail of bullets against our own farmers who were asking for food subsidies. Have we degenerated into a country of calloused-hearted morons? Social revolution is the answer to this injustice and oppression!"

Melencio told GLW that the PLM would be joining ongoing nationwide protests and would also be repeating a form of people-to-people solidarity that the PLM used in response to 2013's Typhoon Yolanda — another catastrophe caused by rich nations' carbon emissions:

"We are also planning to launch a food caravan from Manila to Mindanao, bringing sacks of rice and other food aid to the starving farmers in Kidapawan and other areas," he said.

"We are soliciting kilos of rice in our base, and seeking the support of religious groups and civic organisations which had helped us in the past during the People's Caravan that we organised during the Typhoon Yolanda's devastation in Leyte. We are organising people's solidarity as it is clear to many now that the government does not care about our farmers and is just using the calamity fund for electoral purposes."

Report this post as:


by Tony Iltis Wednesday, Apr. 13, 2016 at 4:21 AM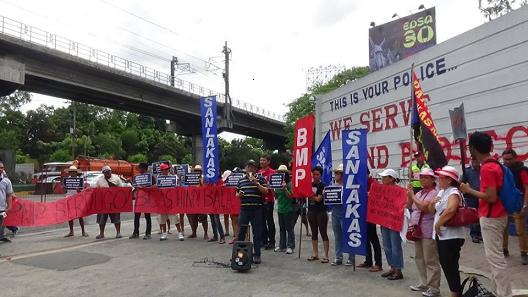 2016-bmp-sanlakas-plm.jpg, image/jpeg, 528x297

error

Report this post as:


by Tony Iltis Wednesday, Apr. 13, 2016 at 4:21 AM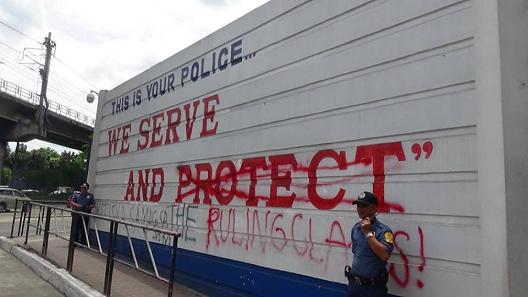 2016-protest-human-rights-violations-philippines.jpg, image/jpeg, 528x297
error
Report this post as:
Local News

Chris Ballew beat up by Pasadena police J05 5:01PM

Retired LAPD Sgt. Cheryl Dorsey explains how the LAPD's Board of Rights hearings work J05 3:40PM

An Ex-Cop Talks About Police Shootings J05 3:39PM

Do Nukes Kill? J02 4:40PM

Letter: Support Proportional Representation for the California State Legislature J01 1:23PM

Community Rallies in Santa Barbara in Solidarity with Inmate Firefighters D22 9:59PM

LAWSUIT ALLEGING FEDERAL VOTING RIGHTS VIOLATIONS IN KERN COUNTY D22 8:56PM

The Video ICE Wishes Was Never Made Public D22 8:39PM

Mitchell Englander going after homeless people D18 5:24PM

"Animaniacs in Concert!" with Voice Artist Rob Paulsen, Sat., Jan. 20 in Santa Clarita D18 4:30PM

The Eagle Rock Peace Vigil Marks 15 Years N27 11:23AM

12/2-3 LA Binational Conference To Cancel NAFTA and Unite Workers Of Mexico and the US N27 3:44AM

Winter 2017 National Immigrant Solidarity Network Monthly News Alert! N26 9:22PM

Nuclear Shutdown News November 2017 N26 4:23PM

Report Back on November 18th Counter Demonstration Against Anti-Muslim March N20 10:57AM

Report Back on November 18th Counter Demonstration Against Anti-Muslim March N19 7:12PM

National US Gov as wellas EPA slow to act on Abandoned uranium Mines Cleanup in Southwest N15 10:50AM

OUR HOUSE Grief Support Center Hosts 9th Annual Comedy Fundraiser N14 10:47AM

BUSTED: Watch LAPD cops plant drugs in black suspect's wallet – unaware body cams were on N10 5:32PM

lapd shootings 1998 - 2015 N06 11:21PM

"Oh Say Can You See" How the LAPD Singing the National Anthem Cost the Dodgers WS Game 7? N03 7:30AM

Car drives into immigration protesters outside Rep. Ed Royce's office in Brea N02 2:06PM

PACIFICA RADIO BOARD SECRETLY OK'S BANKRUPTCY FILING & SEEKS NY SIGNAL SWAP O25 4:49PM

LAUSD, Privatization, Charters And The Fight To Defend Public Education Education Conferen O04 12:10PM

Afghan Women Read RAWA.org founded 1977 S27 9:42PM

[France] The State Attacks Indymedia-Grenoble and Indymedia-Nantes… Solidarity! S25 5:18PM

Segregation in the City of Angels: A 1939 Map of Housing Inequality in L.A. A15 7:44PM

Justice Dept. seeking info, IDs on 1.3M visitors to protest website DisruptJ20.org A15 1:04PM
More Local News...
Other/Breaking News

Tax Reform in the US: Trump's Attack on America J18 4:05AM

Paraphysique du No Future J18 2:14AM

Is Economic Speculation a Form of Structural Violence? J16 6:07AM

De Malik Oussekine à Rémi Fraisse, éréthisme policier J16 5:01AM

Epilogue: Pakistan on the chopping block in 2018? Zahir Ebrahim | Project Humanbeingsfirst J15 3:16PM

Friends J14 4:13PM

Pro domo J13 9:06PM

Part 3: Honduras Coup Repeat Update 15 December 2017 to 31 December 2017 J13 4:26AM

Paraphysique du fait divers J12 6:20PM

Brazil wants true justice for Lula! J12 4:14PM

Trilogy Exposing Crimes by fbi et al J11 8:22PM

The Shortwave Report 01/12/18 Listen Globally! J11 4:33PM

The Trump Election J11 4:43AM

Advocates for Terror: Why Ahed Tamimi and Her Family are No Heroes J10 9:47PM

Trial Starts for Woman with Erb's Palsy Punched in Face Repeatedly by LAPD Officers J10 1:38PM

Dear District Attorney Jackie Lacey, Prosecute Killer Cops, Signed: Your Constituents J09 10:09PM

Free Fire Battlegrounds Diamond Cheats J09 3:44PM

"Animaniacs in Concert!" with Voice Artist Rob Paulsen, Sat., Feb. 3 at the Tilles Center J09 11:41AM

BDS Palestine Movement J09 8:07AM

Rotule doublement cassée, ouverte, joyeux anniversaire J09 12:21AM

Anosognosie généralisée du capital J08 12:42AM

Great solidarity action today J06 10:22PM

How a Supreme Court Ruling Could Embolden Police Retaliation Against Political Speech J05 3:37PM

Baltimore Students Offer Solutions to Stop Police Brutality J05 3:35PM

Judge Orrick on Sanctuary Cities, 28 pp J05 1:12PM

The Perfect Totalitarian Rule: Orwell J05 3:55AM

The Shortwave Report 01/05/18 Listen Globally! J04 4:59PM

2 Alabama Hospitals as well as State of Mississippi file class action suit vs. opatecomp J02 7:17PM
More Breaking News...