Features
•
latest news
•
best of news
•
syndication
•
commentary

Feature Categories



KILLRADIO
printable version - js reader version - view hidden posts - tags and related articles

by Anonymous Wednesday, Aug. 12, 2015 at 3:15 PM

The week of June 7, 2015, Mexico´s midterm elections, saw an unprecedented surge in anti-government rebellion stemming from an electoral boycott and disruption called for by a diverse coalition of militant resistance groups. The legitimacy of government itself lay at stake in intense actions that signified state destitution. Among the manifestations, the indigenous autonomous pueblo of Álvaro Obregón called on anarchists to converge and help defend the community against the political party and police apparatus seeking to retake the territory. This piece outlines the regional events that unfolded, the general context of plummeting government legitimacy, and a firsthand account of anarchist-indigenous collaboration in defense of autonomous territory.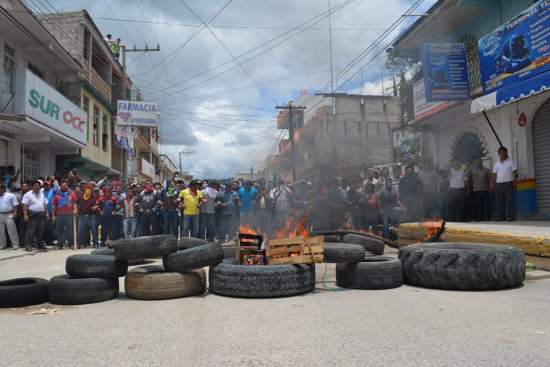 barricade_1_oax.jpg, image/jpeg, 550x367

BY THE BULLET OR THE BURNING BALLOT

The week of June 7, 2015, Mexico´s midterm elections, saw an unprecedented surge in anti-government rebellion stemming from an electoral boycott and disruption called for by a diverse coalition of militant resistance groups. The legitimacy of government itself lay at stake in intense actions that signified state destitution. Among the manifestations, the indigenous autonomous pueblo of Álvaro Obregón called on anarchists to converge and help defend the community against the political party and police apparatus seeking to retake the territory. This piece outlines the regional events that unfolded, the general context of plummeting government legitimacy, and a firsthand account of anarchist-indigenous collaboration in defense of autonomous territory.

The resistance was strongest in Guerrero, Oaxaca, Michoacan, and Chiapas:

• Hundreds of thousands of ballots were removed from Instituto Nacional Electoral (INE) offices, polling stations, and trucks and then burned. A few INE offices, at least one INE truck, and dozens of polling stations were set ablaze.

• Hundreds of road and highway blockades were placed using burning tires, expropriated buses, rocks, felled trees, and debris.

• Major demonstrations took place across the country. Clashes involving rock throwing, Molotov cocktails, tear gas, and even live ammunition broke out between masked protesters, police, paramilitaries, and political party thugs in many states.

• Hundreds of protesters were arrested and dozens of movement leaders were flown to a maximum security prison in Mexico City. Hundreds of protesters were wounded, several sustained gunshot wounds, and one was shot and killed by Federal Police.

• Two police were shot, multiple sustained injuries, and at least 3 police vehicles were torched.

• Multiple banks and government offices were firebombed by anarchists claiming a Black June.

• Paramilitary/police raided an anarchist home, severely beating 10 women and men. Others received death threats and were followed by police to homes, work, and family residences. Many anarchists were forced to flee for their lives.

• Teacher's union occupied an oil refinery for a week, cutting off gasoline distribution pipelines and trucks. The union also expanded its plantón tent occupation in Mexico City with 40k teachers.

• Autonomous zones were blockaded and defended by force against military and police forces. Elections 100% prevented in multiple autonomous zones.



CONTEXT OF THE MEXICAN STATE'S DE-LEGITIMIZATION

To many in the global north, Mexico is known as the third world neighbor of the United States, rife with corruption, mass migration, poverty, and narco violence. Through deregulatory pacts like the North American Free Trade Agreement, the US and international corporations have directly created these conditions, all in the interest of capitalist profit and resource extraction.

Enrique Peña Nieto won Mexico's presidency in a highly unpopular and widely contested victory 3 years ago. His triumph represented the reclamation of Federal State power by the PRI, the old conservative institutional ruling party. His administration has made major reforms in the energy sector like privatizing Mexico's previously nationalized oil reserves and refinery infrastructure, PEMEX. The ruling party is clearly cashing out on selling the nation's resources to international corporations, and blatantly working to line its own pockets by facilitating the profiteering. This behavior is the norm across all political parties in every office of government. It extends from legislators to judges to governors to the Federal Police to mayors down to the lowest level municipal cop, and effects all elements of life from the privatization of water to a completely failed justice system. Of course, under capitalism all government officials function to enrich themselves by facilitating corporate profiteering and resource extraction. It is only called corruption when this is carried out too rapidly, blatantly, or when force is used.

It is no surprise that under such corrupt and deregulated conditions the narco cartels would thrive, and with such impunity. Since 2007, an estimated 150,000 people have been murdered and 30,000 disappeared, by an industry that makes an estimated $US 6.6 billion per year and effects every sector of Mexican life. As the narcos gained so much power they diversified their financial interests to include kidnapping, extortion, migrant smuggling, weapons smuggling, video and music piracy, and very interestingly, the facilitation of profiteering and resource extraction that the government was unable to accomplish. The narcos were able to pacify resistance through sheer violence, not requiring the legitimacy that prevented the government from doing the same. For example, narcos illegally logged sacred forests on indigenous communally owned land in Michoacan. Finding themselves serving the same master, international capitalist interests, narcos and police often collaborate or turn a blind eye with temporary agreements to accomplish mutually beneficial goals. It is widely suspected that generally the narco cartels act as the paramilitary hands of the political parties running government, with regional variances. Through the destabilization that the cartels have created, transnational corporations have been able to secure billions in profits.

Under this hyper-capitalist narco-state collaboration, the quality of life and dignity of Mexico's people continues to be attacked and degraded at a regularity whereby many feel they have no future at all. Though the situation has largely lead to desperation and apathy, inspirational militant movements are rising to confront the beast:

1) Armed indigenous autonomous and autodefensa resistance formations have emerged as the only models capable of materially contesting narco violence and liberating territory from their grip. The spanish colonial project enacted a vast genocide and greater assimilation effort, dividing the population through white supremacist mestizo privilege and a rigid hetero-patriarchal order implemented by the catholic church. However, the brutal project was never fully completed and large populations of indigenous communities in remote areas of Mexico were never conquered. Though poor, these communities frequently retain a strong social fabric and hold healthier and more sustainable relationships to their land. For over 500 years they have resisted government imposition to varying degrees of success. As part of the Constitution of 1917, many still hold communally owned land. Within their cultures, they also hold a direct memory of pre-governmental social organization models to fall back on. Their way of life often includes a civil infrastructure that allows for autonomous self-reproduction outside of capital. More than only the Zapatistas, a multitude of indigenous pueblos hold varying degrees of autonomy with varying non-state community police, armed autodefensa, counsel of elder, and community assembly formats.

2) The CNTE, the teachers' union strongest in Oaxaca, Michoacan, Guerrero, and Chiapas, is by far the largest militant union in Mexico, boasting over a hundred thousand members. This past year the PRI run federal government made moves to dismantle them, pursuing a centralized education curriculum and forcing all teachers to obtain a certification or lose their ability to teach. Fed up with the political parties, the teachers have moved beyond lobbying or voting, and now pursue their objectives using direct action. The teachers are most well known for their role in the 2006 Oaxaca uprising, which held the state capital ungovernable for 8 months and implemented its own popular assembly, the APPO. More recently, they have been involved in freeway blockades and the occupations of town squares in protest of the conservative government.

3) The parents of the 43 students disappeared by police in Ayotzinapa have retained an anti-state position for obvious reasons, but continue to inspire by not pursuing electoral reforms. Instead, they have gone on speaking tours, strengthening the networks of resistance within Mexico and internationally. They carry a deep influence, calling attention to the frustration and deep loss felt by so many affected by senseless murders and disappearances. As their message demanding the return of their children alive and accounting for all the disappeared falls upon the deft ears of narcos and state, their militancy rises. At the protest marking 8 months since the disappearance, election propaganda was torn down along the route and set ablaze in the streets. When riot police approached to confront, they were met with Molotov cocktails that lit up more than one granadero.

4) The anarchists of Mexico are a small but potent militant force, deeply involved in various social struggles and organizations. They are well known for holding down independent radical media, doing radical political prisoner support, holding urban squats with community projects, militant resistance within marches and protests, and frequent incendiary attacks against corporate and state targets. Most recently, multiple groups called for a "Junio Negro"(Black June), a concentrated series of sabotage and incendiary attacks during the election month.

In this context of plummeting state legitimacy and militant social rebellion in the summer of 2015, an unprecedented rupture occurred. The above mentioned groupings, along with social activists formed a militant coalition of seemingly impossible partners that called for a complete boycott of the mid-term elections against the farce of democracy. The call was militant in that it was not only to abstain, but to disrupt, impede, and destroy the electoral (INE) apparatus. The call was to prevent the elections from happening at all.

When people enter the voting booth not to vote but to destroy the utensils of voting, something special is happening. Its one thing to protest one corrupt politician or abstain from voting for this or that political party, it is another to sabotage and block the operation of democratic governance. It is an act of resistance to governance all together. When the state is forced to summon its military and police to enforce participation in democracy there is a true crisis, a real destitution in the legitimacy of the state. People no longer believe, or never have believed that the forces of hegemony can provide a dignified form of life.

Disclaimer: The context and analysis in this piece were produced by outsiders with input from many Mexicans, indigenous and mixed. Our description reflects our understanding of the situation and is not intended to provide the dominant narrative or speak for others. This piece is intended to explore analysis and personal accounts for further dialogue, growth, and development over time.



THE BATTLE OF ÁLVARO OBREGÓN

The following is a first hand account of the defense of the indigenous autonomous pueblo of Álvaro Obregón, Oaxaca, on June 7, 2015. The pueblo is a small Zapoteco fishing community that holds a strong decolonial legacy of autonomous resistance. Four years ago a massive multinational corporation began using state and local government to push through a wind energy project that would seize communally owned land and destroy the fishing waters that sustain the people. Faced with a thoroughly corrupt government, the community fell back on an old indigenous form, the "consejo de ancianos" (council of elders), which advised the convergence of an "asamblea general comunitaria" (community general assembly) which consensed upon taking the "palacia municipal" (town hall) by force. And so, a year and a half ago, the people chose life over death, and rose in arms, taking over the palacia and its police station. They created a "policia comunitaria" (people's community police) force with the seized arsenal and police truck. Standing against overwhelming opposition, they looked for allies in the region, and found that anarchist philosophy most closely aligned with their values. Since then, Mexican anarchists have been building connections and fighting alongside the community. This anarchist-indigenous collaboration of decolonial, anti-state, and anti-capitalist struggle is new in Álvaro Obregón, and in telling the story of this battle in its full first hand account, the lessons of resistance in motion gain living significance.

*****

We exited the stolen 60´s Volkswagen Bug that had taken us to our destination, a small pueblo in remote Oaxaca. The sun beat down on us as we reached the occupied palacia. The building now housed anarquistas called in from all over by the the indigenous asamblea general comunitaria to assist in maintaining the autonomy of the pueblo.

In the shade of the palacia an interesting mix of people were preparing for what looked like a small scale civil war. Anarchist punks, students and street kids of different genders from across Mexico gathered rocks, sharpened sticks, and collected bottles to make Molotovs. Then there was a group of mostly middle aged men who made up the indigenous policia comunitaria, the armed wing of the autonomous pueblo. They were charged with defending the territory from both the state outside (federal police, military, etc.) and the "contras" from within the pueblo. The contras included newly deputized "policia municipal" (municipal police, pigs, separate and in opposition to the policia communitaria) and the PRI henchmen of the recently ousted government, loyal to the capital wind project. And all around, there were strong indigenous women working hard at making preparations for the fight. One of the policia comunitaria approached, he had a worn face, a face that had seen battle, and asked for us to sit with him at the consejo de ancianos. They asked about our politics, our reasons for coming to the community, and our willingness to fight. After a short conversation the man showed us to a dusty room upstairs in the palacia, and told us we could sleep on the floor.

As the sun began to set over the desert, las anarquistas held their assembly on the floor of the palacia. We numbered about 50, shared information and rumbled about tactics. The policia comunitaria met outside, determining the strategic logistics of the barricades, where they would be placed, and how they would be defended. When the plan was set, the policia comunitaria addressed the anarchist assembly, with different roles people could volunteer for and the needs of the strategy. The anarchists were left to determine themselves how and by who those roles would be filled, maintaining self-determination for each fighter. The relationship between the two decision making bodies was important, as the indigenous policia comunitaria were given respect to make their strategy and outline the tactical parameters, and in turn they never gave orders to anyone and respected the voluntary association and self determination of the anarchists. Communication was clear and concise. Once, the term "la banda" (gang) endearingly referred to trusted anarchists. Now, fighting together, it included the indigenous policia communitaria as well. One squad, fighting for liberation.

There would be three barricades, with a mix of anarchists and policia comunataria at each, supported by roving truck patrols and an auxiliary at the palacia providing food, water, and coffee, and collecting and distributing information. The objective was to build the barricades at major entry and exit points to keep out any attempts by the state to set up polling stations for the elections to take place the following day. Autonomy would be maintained via the non-recognition of the state's authority altogether, in this case casting any type of vote to consent to being governed would be stopped.

Out into the cool night air the expropriated police truck was loaded to take supplies to our respective barricades. Crates of Molotovs and rocks were slowly loaded into the back of the pick up, and a dozen of la banda left to the first barricade. There where hoots and cheers coming from all over, the anarchists dawned their black masks, so familiar in an unfamiliar environment, no longer in the urban metropolis, but in the countryside.

The truck trudged forward on the dirt road away form the palacia. La banda rolled past the enemy municipal police station to the jaw dropping shock of the policia municipal, who did nothing but watch the truckload of masked creatures proceed past them and build the first barricade half a mile down the road.

The barricade was erected under the midnight stars, using large boulders and branches from the nearby desert. We slept in shifts, some on the barricade itself, others on the porches of the nearby houses. As the sun began to rise it emitted a fierce banner red into the sky that set an overtone of tranquility, a calm before the storm.

At approximately 9:00am a motorcycle delivered breakfast, coffee and bread prepared by the people of the pueblo for those of us on the barricades. It cannot be over-stated the importance of popular support; they housed, fed, and later tended to our wounds and gave us sanctuary. There was little distinction made between those physically fighting and those 'supporting'; one could not exist without the other. Along with breakfast new objectives where given from the palacia. A new polling station had been set up in a nearby town, the new objective was to keep the loyalists from leaving the town to cast votes. The barricades not only served to keep the state out, but was now used to keep the contras in.

At 10:30am around 40 contras could be seen pouring out of the new municipal police station down the road in between the two barricades. Obscenities were yelled, the policia municipal hopped in their truck, and slowly headed for our barricade with the other contras walking alongside. The policia communitaria fired signal shots into the air, the battle was on. Only two members of la banda at our barricade were armed, one rifle and one pistol each held by a member of the policia comunitaria.

Like clockwork the masks went up and the truck loaded with weapons pulled up to gather la banda for the fight. We pulled off and into the neighborhood, stopping abruptly. The contras were facing the other direction already engaged in a fire fight with comrades from the other barricade. La banda quickly jumped out of the truck and seized the opportunity to attack them from the rear. Molotovs and rocks rained on the pigs. It didn't take long for them to realize that they were surrounded, and turn around and begin opening fire in our direction. La banda retreated and took cover where they could, still lobbing rocks. An anarchist was shot in the hip. A few of the policia comunitaria took cover behind a tree and began firing back at the contras. The "commander" was hit by a ricochet bullet and handed his pistol to a trusted anarchist who then unloaded on the pigs. The pigs retreated to the side streets of the neighborhood blocks. Again la banda loaded up on the truck in pursuit.

No mames guey! Ten seconds in the back of the truck to reflect on the intensity. Most of us had never been in a political confrontation with live rounds. But our conviction enabled focus, and we fought on. La banda jumped out of the truck, the policia municipal and contras in the middle of the street, but this time they where already facing in our direction. Homemade explosives, rocks, and Molotovs where thrown as la banda exited the truck charging toward contras firing rounds. A policia comunitaria was shot in the leg. Some of us took cover on the sides of buildings, others just lay flat on their stomachs periodically standing up to throw more shit at the pigs. Three anarchists from the other barricade were hit with shotgun blast spray, one critically in the face. The armed policia comunitaria fired back, hitting two policia municipal, one in the stomach and the other in the groin, both serious. The contras started retreating, but before they did they shot an anarchist in the head, grazing his skull and causing serious hemorrhaging. After a seemingly lengthy gun fight that died down with the contras retreating, la banda made its way back to the barricades in the sweltering heat.

The people of the pueblo gave us sanctuary as we triaged gunshot wounds, assessed our damages, and reconfigured. While heavy emotions set in, they fed us, let us use showers and tended to injuries. Even curious children helped; we were all in this together. We sent our critically wounded to the regional hospital, and held the barricades that the wounded enemy not do the same.

As we were licking our wounds a rumbling started to creep closer. La banda exited the safe house and out into the street to see the contras had regrouped just down the way. Our hearts dropped as we saw military and Federal Police trucks approach the barricade with masks up and automatic weapons drawn. We thought we'd be gunned down right there. We considered making a break for the desert to avoid being massacred. Time slowed in the heat. The policia comunitaria told us to hide and played it cool. Guns in hand, they held the barricade and denied the military and Federal Police access to the pueblo. After a brief negotiation, the policia comunitaria refused to let the injured policia municipal leave the town to seek medical attention, but agreed to stop shooting if the military and federal police left immediately. A huevo. To everyone's surprise it was a deal, and they left. Relief. Although the fight was over for the day, blood vengeance sat thick in the tense air. Evening approached and we cautiously made our way back to the palacia.

As the sun set the desert air cooled the indigenous asamblea general comunitaria was convened, talking in their native Zapoteco. The anarchists rested, processed emotions, tended to their wounds, or retreated into their shells. After a while we were invited to join the assembly. Switching to spanish the commander of the policia comunitaria addressed everyone, recounting the day. He read a prepared statement that denounced the violence of the PRI henchmen and their policia municipal for the media. Then he acknowledged and praised the role of the anarchist fighters - their wounds a reflection of their offensive courage - being essential to the success of the day. The assembly erupted in cheers. Álvaro Obregón had maintained its autonomy through resisting the elections and would continue under the control of the indigenous assembly. A thick boisterous policia comunitaria belted, "¡Que viva la anarquia!" We all shouted, "¡Viva!" Then, "¡Fuera el mal gobierno!" "¡Fuera!" "¡Que viva la autonomia!" "¡Viva!" "¡Fuera los partidos politicos!" "¡Fuera!" After hugs and smiles we debriefed, highlighting how our struggles were inextricably connected. The militant indigenous-anarchist collaboration had succeeded.

*****

ANALYSIS AND CONCLUSION

People changed after the battle. Fannon spoke about the transformation that occurs while wielding violence against the colonizer. It is at this moment, the realization of potential, the act of materially willing a different world into reality that the subject moves away from their colonized identity. A new dignified person is born. This person will have new capacities, new tastes, and a new boldness about living that make up the foundational elements of dealing with the task of decolonization.

Yet violence outside the context of popular struggle and intentional processing is as benign as a passing storm. Violence gains its revolutionary force and capacity from its inseparability from the population. Without those who feed, house, give medical attention, and otherwise support violent resistance, the potential revolutionary force is nothing but the alienated act alone. Throwing stones into the lake or at the police have the same political significance without popular support.

It can be said that birthing a politic to life has violence as its midwife. The events surely transformed the lives of everyone involved, and perhaps a new anarchist-indigenous political synthesis is being born through struggle.

Localized violent rupture is happening more frequently on a global scale. Moments where anarchist and indigenous groups meet each other, whether at the tar sands of Canada, or the mines of Chile, seem to be occurring over land grabs and ecological destruction based around resource extraction in the countryside. A line is drawn in the sand by the people, and governments use force as they always have in the interest of capital projects. Too often, the activists, NGOs, and advocates are nowhere to be found during actual violent struggle, and anarchists and indigenous are the ones with the determination to fight back. An unplanned partnership in the moment of rupture. These moments present an opportunity to bridge and cross pollinate. Of course each indigenous grouping and struggle is unique and distinct, so each experience will be different. We have much to learn from one another.

Rural resource extraction is a direct result of the ever growing metropolis. As the demands of the metropolis continue to increase with its insatiable hunger and exponential growth, these struggles will become more intense. And in the city we see the other common form of rupture proliferating globally. It is resistance to local development projects like Gezi Park in Turkey, and the brutality of the police that maintain property and race relations like Ferguson and Baltimore in the United States. In both countryside and city, the common conflict is against the expansion of capitalist interests and its facilitation and protection by the state.

Understanding and analyzing the different ways in which these struggles and relationships are successful ensures our preparedness for the future that lies ahead:

- A notable element of the players in Mexico's coalition is that they each gained their legitimacy by fighting like hell about their particular local or regional issue. These are dedicated fighters and organizers that have taken time to build the relationships necessary to engage in longer term militant struggle with local relevancy. From here, the groupings were ready to collaborate on a national boycott from a landed base of support. This in turn gave legitimacy to the strength of the call out.

- Part of Mexico's recent success in building a large multidimensional coalition to resist the elections was its call for regional autonomous action. There was no central leadership that jumped to the front, or even an agreement about "diversity of tactics" the only agreement was made about time. The ability and capacity for different local groups to manifest actions that suited the locality lent itself to more intense struggle and wider participation. These small autonomous drops of actions added up into a sea of resistance that made regional waves.

- In Álvaro Obregón, anarchists were able to engage successfully as outside fighters and embraced by the community. An essential element to this collaboration was the long term relationship building that individuals had been engaged in for years to build trust. Second, is that the community made an overt call for anarchists to converge to fight, because of their reputation for militancy and philosophical overlap of values. Third, that the anarchists had generally agreed to struggle within the tactical parameters that the community set. Lastly, there was a good reason that the community needed able bodied fighters: many had left the pueblo in search for work.

Given the transnational nature of capital and its effect on all governments, the cross pollination of international resistance is as essential as grounded local struggle. The rupture against the elections in Mexico in the summer of 2015 represents an exciting new example toward the kinds of autonomous coordination necessary to destroy the poisonous global order of capitalist governance. Further, militant anarchist-indigenous collaboration is happening and points toward possibilities in future struggles that will only increase in frequency and intensity.



Report this post as:


by Anonymous Wednesday, Aug. 12, 2015 at 3:16 PM



ao_palacia.jpg, image/jpeg, 3141x1021

The anarchist flag and a banner fly over the occupied palacia municipal in Alvaro Obregon

Report this post as:


by Anonymous Wednesday, Aug. 12, 2015 at 3:16 PM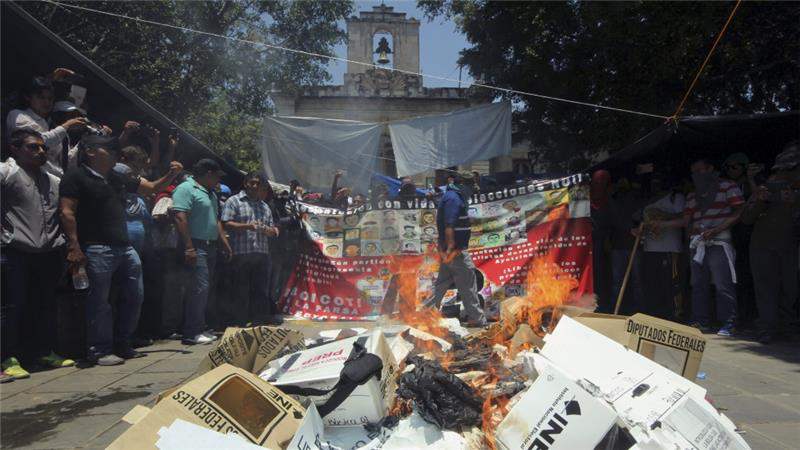 ballots_1_oax.jpg, image/jpeg, 800x450

Ballots are burned at the Zocalo in Oaxaca City

Report this post as:


by Anonymous Wednesday, Aug. 12, 2015 at 3:16 PM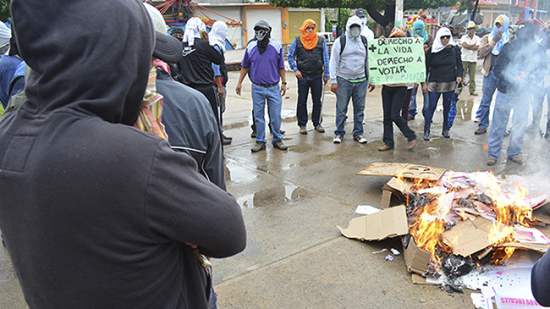 ballots_1_guer.jpg, image/jpeg, 550x309

Ballots are burned by masked protesters in Guerrero

Report this post as:


by Anonymous Wednesday, Aug. 12, 2015 at 3:16 PM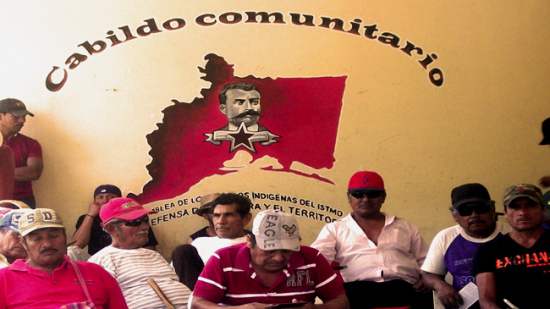 cabildo_communitario.jpg, image/jpeg, 550x309

Some of Alvaro Obregons community members

Report this post as:


by Anonymous Wednesday, Aug. 12, 2015 at 3:16 PM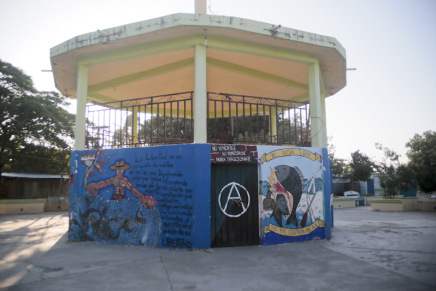 plaza_gazebo_alvaro.jpg, image/jpeg, 436x291

Anarchist murals in the town center next to the municipal palace

Report this post as:


by Anonymous Wednesday, Aug. 12, 2015 at 3:16 PM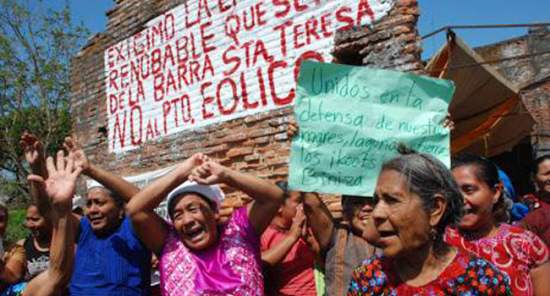 indigenous_women.jpg, image/jpeg, 550x296

Some of the strong women fighting for autonomy

Report this post as:


by Anonymous Wednesday, Aug. 12, 2015 at 3:16 PM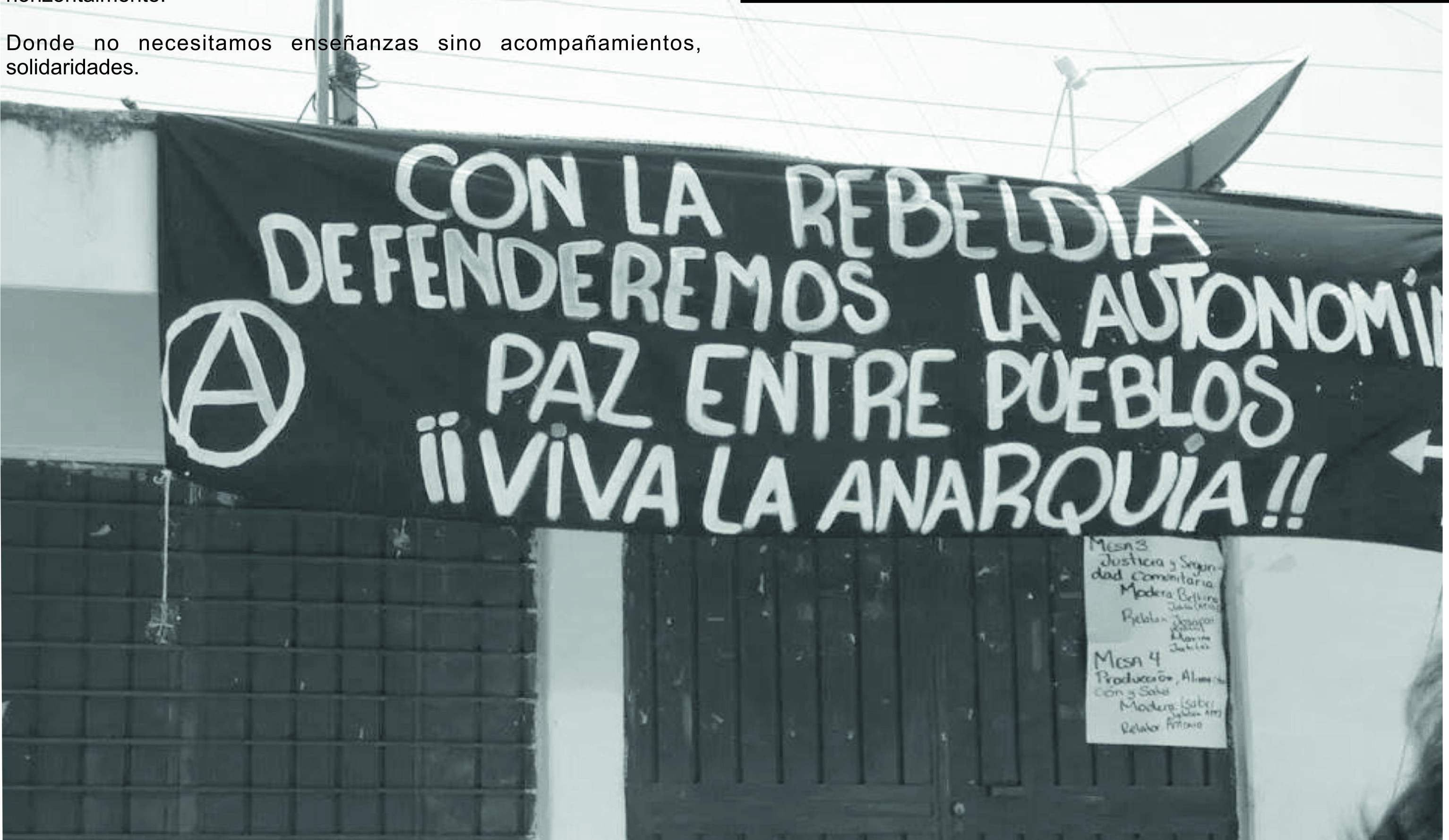 p_alvaro_ob_banner.jpg, image/jpeg, 3067x1779

Another banner that flew on the municipal palace

Report this post as:


by Anonymous Wednesday, Aug. 12, 2015 at 3:16 PM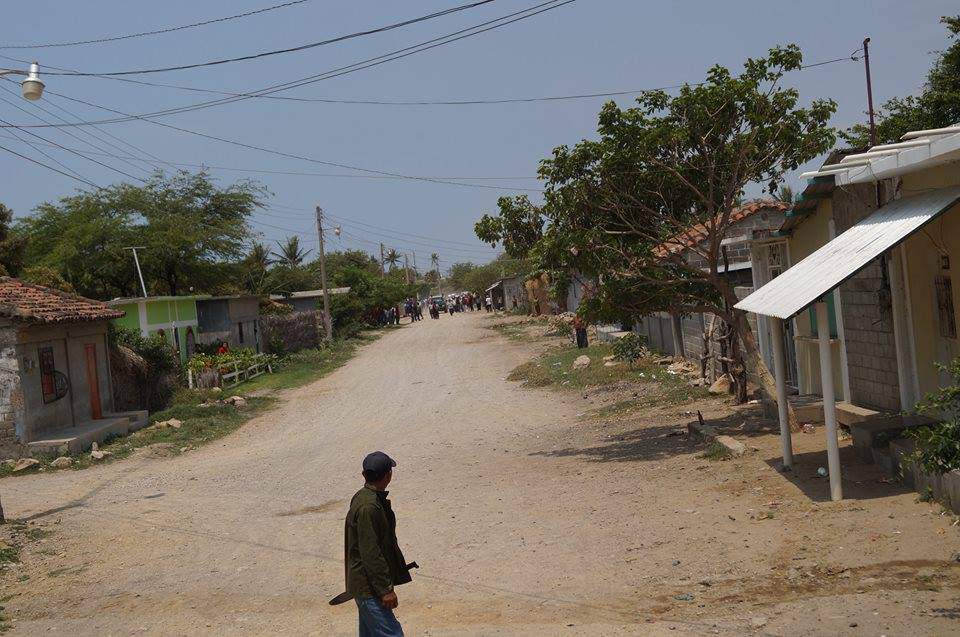 contras_approach_barricade.jpg, image/jpeg, 960x637

A view of the dirt road from the barricade (not pictured). The contras can be seen in the distance approaching.

Report this post as:


by Anonymous Wednesday, Aug. 12, 2015 at 3:16 PM


hip_shot_a.jpg, image/jpeg, 960x720

An anarchist is shot in the hip

Report this post as:


by Anonymous Wednesday, Aug. 12, 2015 at 3:16 PM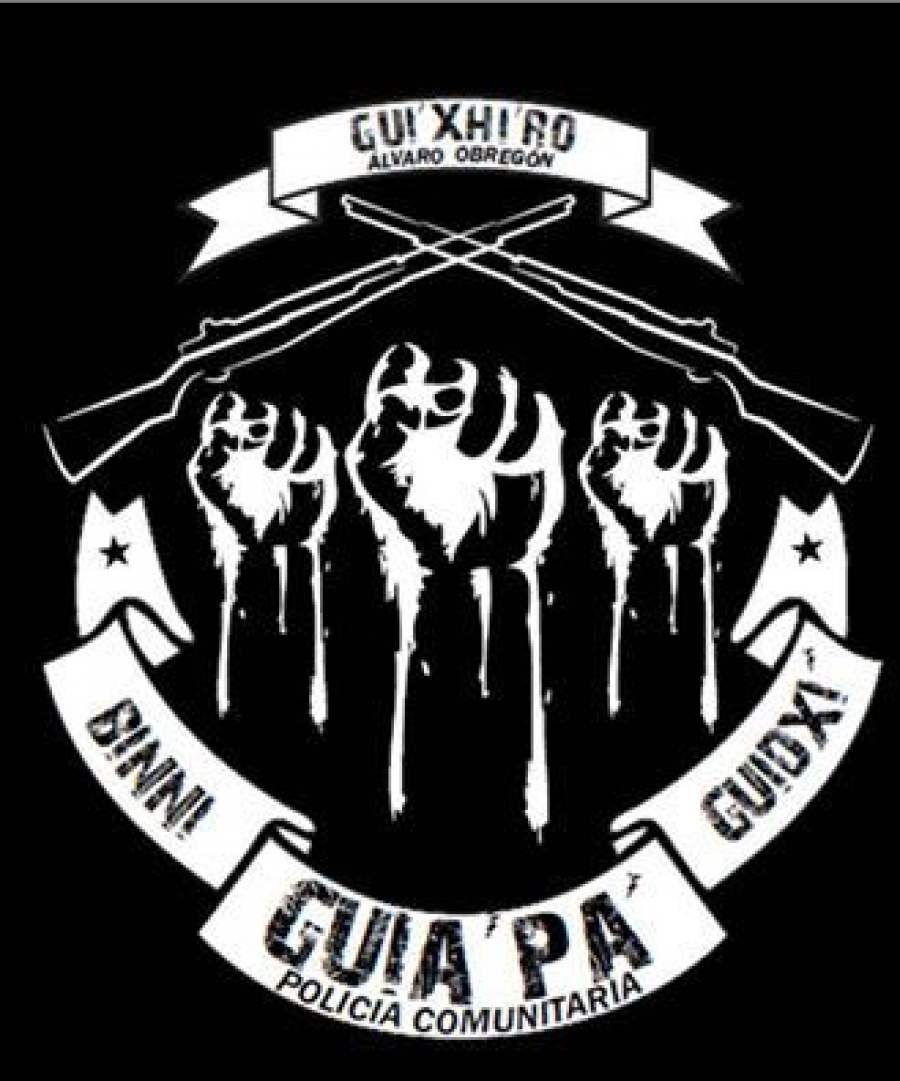 policia_comunitaria.jpg, image/jpeg, 900x1081
Emblem of the Policia Comunitaria of Alvaro Obregon
Report this post as:
Local News

GUIDE TO REBEL CITY LOS ANGELES AVAILABLE A12 5:39PM

lausd whistle blower A10 11:58PM

Website Upgrade A10 3:02AM

Help KCET and UCLA identify 60s-70s Chicano images A04 1:02PM

UCLA Luskin: Casting Youth Justice in a Different Light A02 11:58AM

Change Links April 2018 A01 11:27AM

Nuclear Shutdown News March 2018 M31 6:57PM

Join The Protest Rally in Glendale on April 10, 2018! M29 7:00PM

Join The Protest Rally in Glendale on April 10, 2018! M29 6:38PM

Spring 2018 National Immigrant Solidarity Network News Alert! M19 2:02PM

Anti-Eviction Mapping Project Shows Shocking Eviction Trends in L.A. M16 5:40PM

Steve Mnuchin video at UCLA released M15 12:34AM

Actress and Philanthropist Tanna Frederick Hosts Project Save Our Surf Beach Clean Ups M06 12:10PM

After Being Told He's 'Full of Sh*t' at School Event, Mnuchin Demands UCLA Suppress Video M02 11:44AM

Resolution of the Rent Strike in Boyle Heights M01 6:28PM

What Big Brother Knows About You and What You Can Do About It M01 3:30PM

Step Up As LAPD Chief Charlie Beck Steps Down F14 2:44PM

Our House Grief Support Center Hosts 9th Annual Run For Hope, April 29 F13 12:51PM

Don't let this LA County Probation Department overhaul proposal sit on the shelf F13 11:04AM

Echo Park Residents Sue LA Over Controversial Development F12 8:51AM

Former Signal Hill police officer pleads guilty in road-rage incident in Irvine F09 10:25PM

Calif. Police Accused of 'Collusion' With Neo-Nazis After Release of Court Documents F09 7:14PM

Center for the Study of Political Graphics exhibit on Police Abuse posters F07 9:50AM

City Agrees to Settle Lawsuit Claiming Pasadena Police Officer Had His Sister Falsely Arre F04 3:17PM

Professor's Study Highlights Health Risks of Urban Oil Drilling F04 12:42PM

Claims paid involving Pasadena Police Department 2014 to present F04 10:52AM

Pasadenans - get your license plate reader records from police F03 11:11PM

LA Times Homicide Report F03 1:57PM
More Local News...
Other/Breaking News

Tech workers organize A24 6:24PM

Architect Stephen Francis Jones A24 3:01PM

UN Forum Wrestles with Economic Policies 10 Years After Financial Crisis Islands Call for A24 12:34PM

Xyloglossie attitudinale A23 8:07AM

Shadowgun Legends Hack and Cheats A23 7:24AM

What does the Quran Say About Islamic Dress?? A21 4:15PM

Biodiversité ou la nature privatisée A20 11:22AM

The Market is a Universal Totalitarian Religion A20 7:14AM

Book Available about Hispanics and US Civil War by National Park Service A19 5:52PM

The Shortwave Report 04/20/18 Listen Globally! A19 4:01PM

The Republican 'Prolife' Party Is the Party of War, Execution, and Bear Cub Murder A19 11:48AM

Neurogenèse involutive A18 9:21AM

Paraphysique de la dictature étatique A16 10:13AM

Book Review: "The New Bonapartists" A16 3:45AM

The West Must Take the First Steps to Russia A14 12:25PM

Théorie générale de la révolution ou hommage à feu Mikhaïl Bakounine A14 3:30AM

The Shortwave Report 04/13/18 Listen Globally! A12 3:50PM

"Lost in a Dream" Singing Competition Winner to Be Chosen on April 15 for ,000 Prize! A12 3:48PM

The World Dependent on Central Banks A12 4:43AM

Ohio Governor Race: Dennis Kucinich & Richard Cordray Run Against Mike DeWine A11 9:40PM

March 2018 Honduras Coup Again Update A10 10:52PM

Apologie du zadisme insurrectionnel A10 3:33PM

ICE contract with license plate reader company A10 1:14PM

Palimpseste sisyphéen A09 11:23PM

Black Portraiture(S) IV: The Color of Silence...Cuba No...Cambridge Yes A09 5:32AM

Prohibiting Micro-Second Betting on the Exchanges A09 4:18AM

Prosecutors treat Muslims harsher than non-Muslims for the same crimes A08 10:33PM

Amy Goodman interview on cell phone safety A08 10:29PM
More Breaking News...