Features
•
latest news
•
best of news
•
syndication
•
commentary

Feature Categories



KILLRADIO
printable version - js reader version - email this article - view hidden posts - tags and related articles


View article without comments by Jessica Lux Friday, May. 15, 2015 at 6:08 AM

Long Beach patrol officer Jeffrey A. Meyer killed teenager Hector Morejon on April 23, 2015. Officer Meyer was responding to a trespassing call. Hector was unarmed. No verbal warning was given. From next door, Hector's mom heard gunfire, and she ran outside. Hector called to his mother, but the police would not let Lucia Morejon ride in the ambulance with her dying son. #HectorMorejon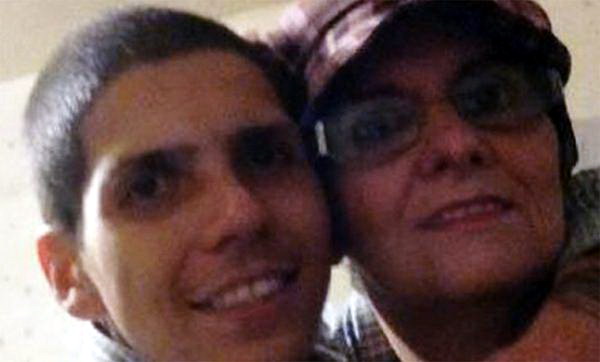 hectormorejon.jpg, image/jpeg, 600x362

LONG BEACH, CA—Dozens of grieving community members took to the streets Wednesday afternoon to demand #JusticeForHECTOR in response to the murder of unarmed teenager Hector Morejon by Long Beach police officer Jeffrey A. Meyer.

Hector Morejon, the 19-year-old youngest son of Long Beach resident Lucia Morejon, was fatally wounded when two officers of the Long Beach Police Department responded to a trespassing call in the mid-afternoon of Thursday, April 23.

According to the Long Beach Police Department (LBPD), officers arriving at an unoccupied multi-unit residential building on the 1100 block of Hoffman Ave observed a male inside through a broken window. The police state that Hector was shot after he turned, bent his knees, and extended his arm.

Why did Hector extend his arm? Could it perhaps have been to indicate to his friends that the cops were outside the window? In the words of the LBPD, Hector extended his arm out "as if pointing an object which the officer perceived was a gun." A weapon was not recovered from the scene.

Hector's mother was home when she heard gunfire next door. She heard her son call to her from the ambulance, but she was not permitted to ride with him to the hospital, where he was pronounced dead.

At the May 13th afternoon press conference, Lucia Morejon pleaded in Spanish, "Who are we going to turn to when we're in need of help if those same police officers are killing us?"

The Long Beach Police Department claims to "thoroughly review all use of force incidents through a rigorous multi-step process that evaluates legal, policy, tactical and equipment issues. In addition, all officer involved shootings where a death occurs, are independently investigated by the Los Angeles County District Attorney's Office and the Los Angeles County Coroner's Office."

Signs at Wednesday's rally revealed the community's lack of confidence in the official investigation: "The Police Can't Investigate Themselves."

The Long Beach police murder of Hector Morejon on April 23 marked the beginning of a two-week period in which three young men were killed by law enforcement in Los Angeles County. On the evening of May 6, Brendon Glenn (age 29) was killed in Venice by an officer of the Los Angeles Police Department later identified to be either Clifford Proctor (badge #39171) or Jonathan Kawahara (badge #37839). On May 7, a Los Angeles County Sheriff deputy shot and killed Nephi Arriguin (age 21) under suspicious circumstances in Cerritos.

The LBPD press release about the officer-involved shooting of Hector Morejon includes an allegation that the residence was covered with gang-related graffiti. Yet when police arrested Hector's four surviving friends—two males and two females between the ages of 20 and 22—the only charges were trespassing.

The only people confirmed to have damaged property on the afternoon of Thursday, April 23 are the Long Beach Police Department, who stained the concrete with the blood of slain teenager Hector Morejon.

Rest in power, Hector. #BrownLivesMatter #BlackLivesMatter #StopTheKilling

Hector Morejon's Funeral Fund

http://www.gofundme.com/Hector_Morejon

OFFICER INVOLVED SHOOTING 4/24/2015

Long Beach Police Department Press Release

http://www.longbeach.gov/civica/press/display.asp?layout=4&Entry=5065

Report this post as:


by Jessica Lux Friday, May. 15, 2015 at 6:08 AM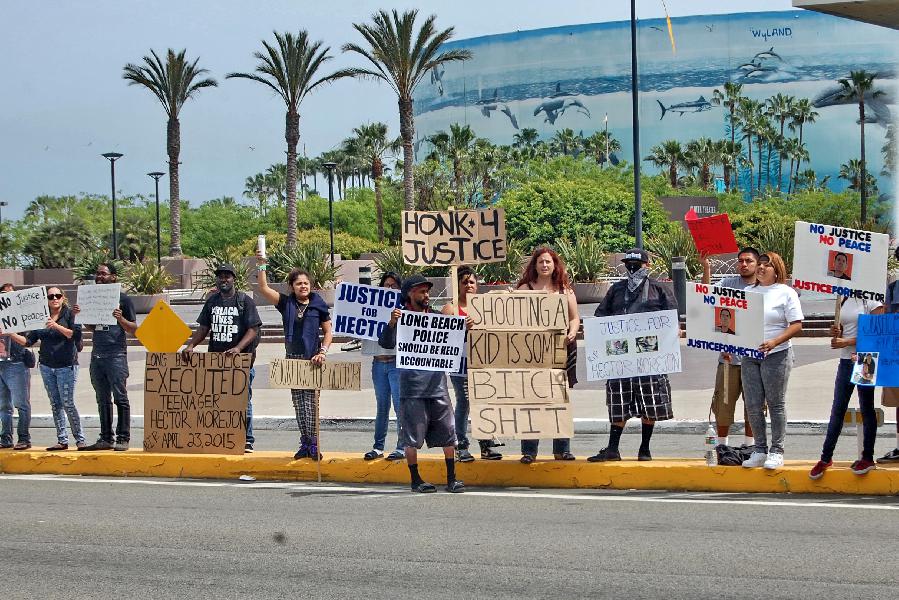 justiceforhectoroceanblvd.jpg, image/jpeg, 2425x1617

Dozens of grieving community members took to the streets May 13, 2015 to demand #JusticeForHECTOR in response to the murder of unarmed teenager Hector Morejon by Long Beach police officer Jeffrey A. Meyer.

Report this post as:


by Jessica Lux Friday, May. 15, 2015 at 6:08 AM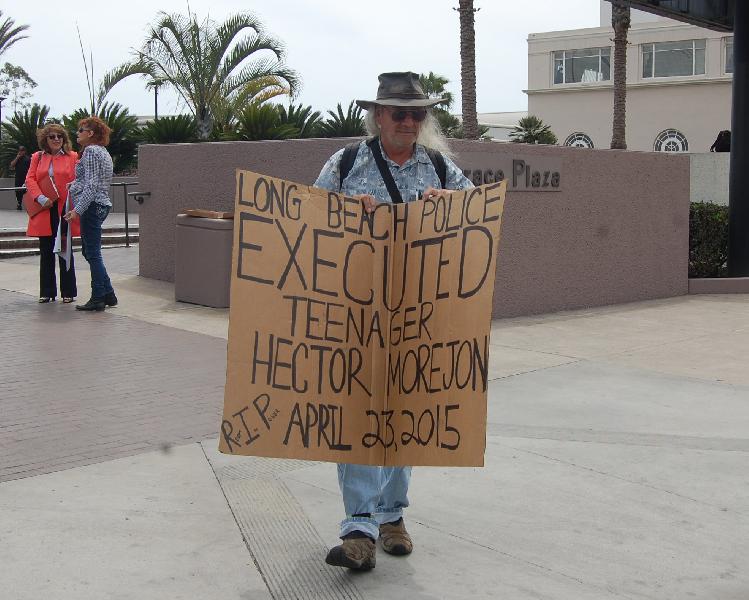 lbpd_execution_sign.jpg, image/jpeg, 1971x1577

Rest in power, Hector. #StopKillerCops #JusticeForHECTOR #BrownLivesMatter #BlackLivesMatter #StopTheKilling

Report this post as:


by Jessica Lux Friday, May. 15, 2015 at 6:08 AM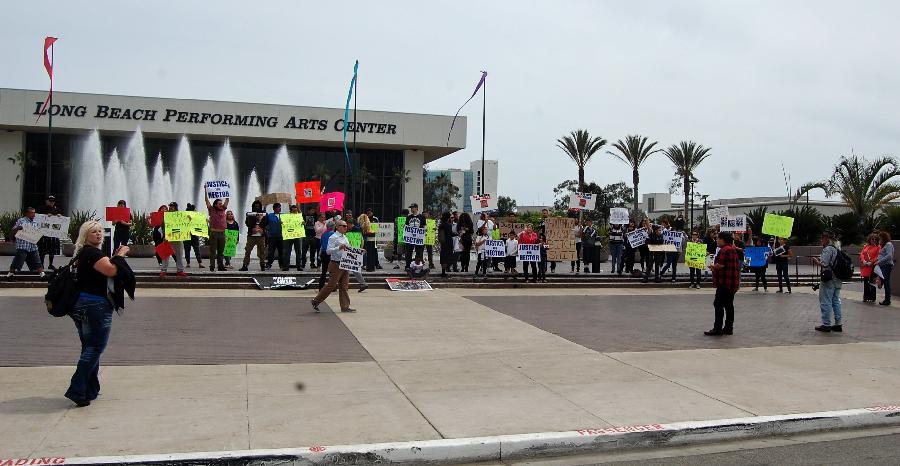 justice_for_hector_protest_plaza.jpg, image/jpeg, 2751x1426

Outraged community members gathered on May 13, 2015 to protest the murder of teenager Hector Morejon by Long Beach police officer Jeffrey A. Meyer. Phrases "The Police Can't Investigate Themselves" and "LBPD Officer Jeffrey A. Meyer = Murderer" appeared on multiple signs.

Report this post as:


by Jessica Lux Friday, May. 15, 2015 at 6:08 AM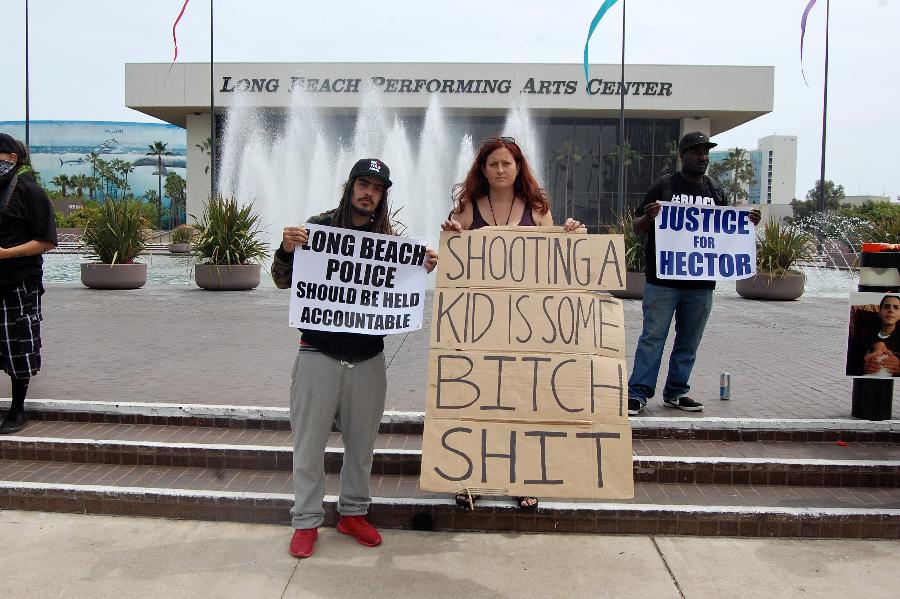 lb_performing_arts_center_justice_for_hector.jpg, image/jpeg, 2738x1824

#JusticeForHECTOR protest of Long Beach Police murder of Hector Morejon, held Wednesday, May 13, 2015 in downtown Long Beach. There is no honor in killing unarmed kids.

Report this post as:


by Jessica Lux Friday, May. 15, 2015 at 6:08 AM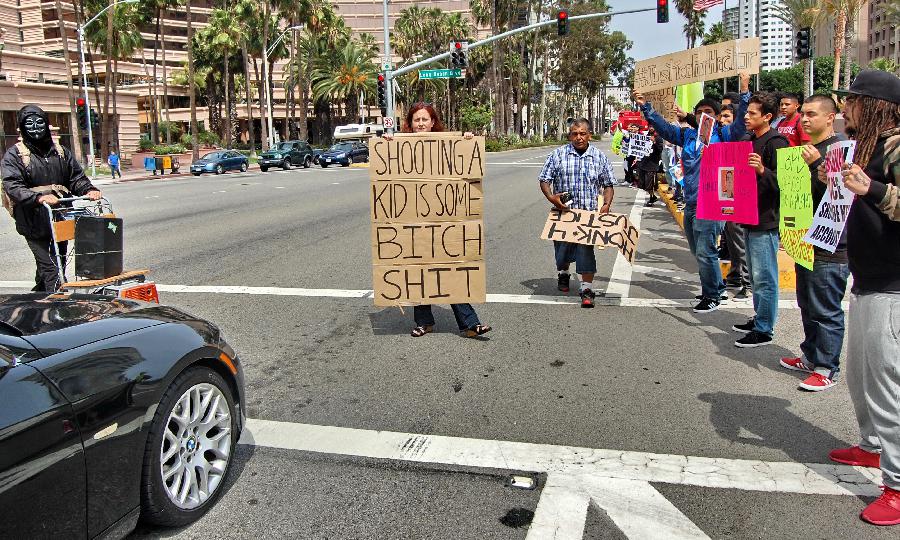 justiceforhectorcrossingoceanblvd.jpg, image/jpeg, 2898x1739

Outraged community members gathered on May 13, 2015 to protest the murder of teenager #HectorMorejon by Long Beach police officer Jeffrey A. Meyer. Phrases "The Police Can't Investigate Themselves" and "LBPD Officer Jeffrey A. Meyer = Murderer" appeared on multiple signs.

Report this post as:


by Jessica Lux Friday, May. 15, 2015 at 6:08 AM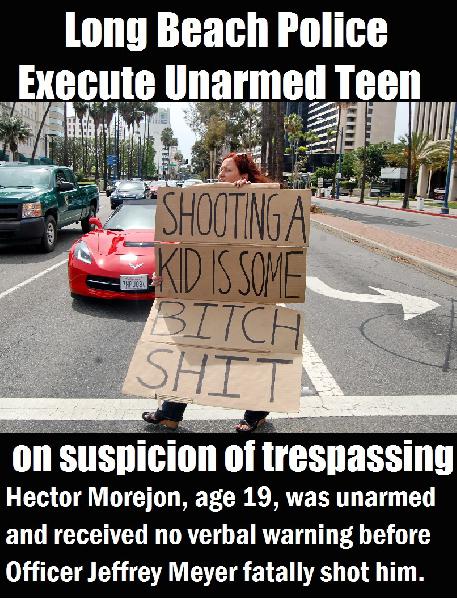 lbpdshootkid.jpg, image/jpeg, 806x1058

Hector Morejon, age 19, was unarmed and received no verbal warning before Officer Jeffrey Meyer fatally shot him. #JusticeForHECTOR

Report this post as:


by Jessica Lux Friday, May. 15, 2015 at 6:08 AM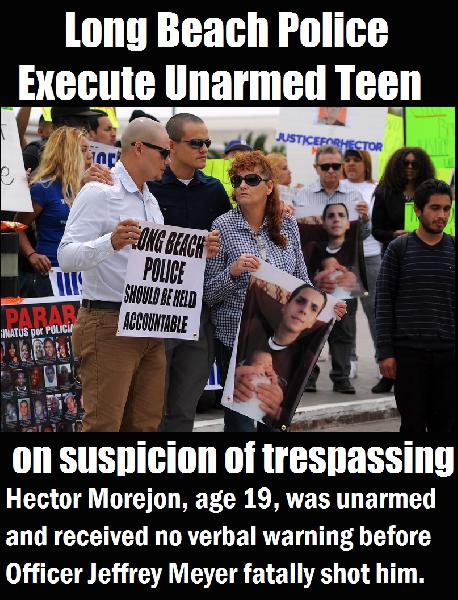 lbpdexecuteteen.jpg, image/jpeg, 807x1055

Hector Morejon, age 19, was unarmed and received no verbal warning before Officer Jeffrey Meyer fatally shot him. #JusticeForHECTOR

Report this post as:


by Jessica Lux Friday, May. 15, 2015 at 6:08 AM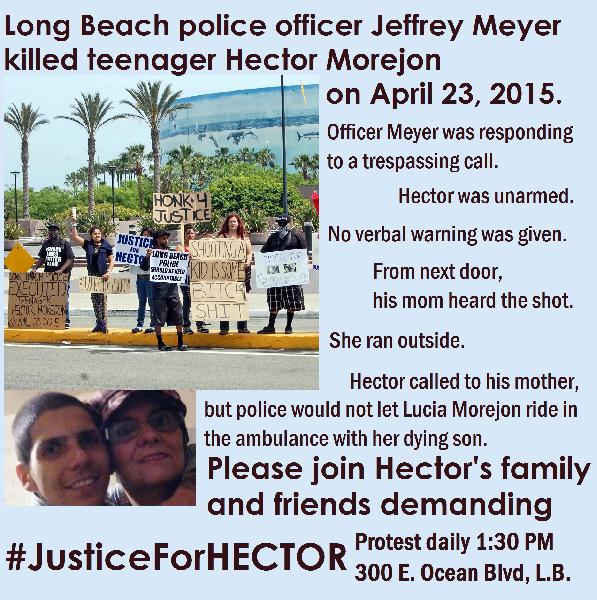 hectormorejonunarmedteen.jpg, image/jpeg, 1869x1877

error

Report this post as:


by Mr. SOLO RAMIREZ idVer:cfe14366b9c934e82255f3 Monday, Jun. 08, 2015 at 5:14 PM
ramirez.solo13@gmail.com 5626610344 1328 Martin Luther King Jr. Ave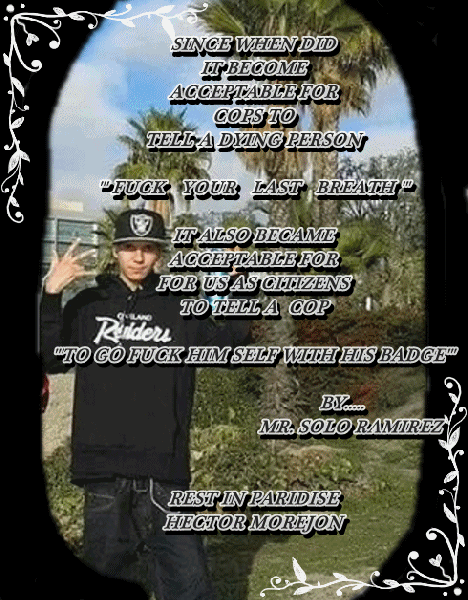 new_pixx.gif, image/gif, 490x628

IF YOU GO BACK SAY 10 YEARS THE LBPD HAS BEEN HARASSING LATINOS AND AFRICAN AMERICANS ALWAYS WITH THE SAME LAIM EXCUSE ""YOU FIT THE DISCRIMINATION ""
Even thou theybare not looking for anyone at the momoment just to stop them and run there names ..
Enough is enough. Its time we fight back to much blood has been shed many family have cryed we replace the oceans with the fall tears. The mothers have cryed i have personally seen officer's drive by were Hector Morejon's shrine is on hoffman off of Anaheim st and seen them point towards the and laugh and jeep driving. Thats rite there is. Is DISREPECT. To hector but also to the family i say.
The Long beach PD has taken an. Incident life on april 23, 2015. AND MANY MORE SINCE THEN. STOP TURNING YOUR HEADS LIKE NOTHING HAS HAPPEND THE NEXT ONE CAN BE YOU GOING THRW THIS. PLEASE IF YOU DONT HAVE ANY THING NICE TO SAY PLEASE KEEP YOUR OPINIONS TO YOUR SELF. THE FAMILY'S HAVE BEEN THRW ENOUGH AS IT IS THEY DONT NEED YOUR DISRESPECT AS WELL. I HAVE READ MANY SAY HE WAS THIS AND THAT HE DESERVE TO DIE HE WAS A GANGSTER OR OTHER THINGS . GIVE YOUR SELF AN OPPORTUNITY AND AT LEAST GET TO KNOW THE PERSON YOU ARE GOING TO TALK ABOUT FROM THE PEOPLE THAT NEW THEM PERSONALY BEFORE YOU SPEAK NEGATIVELY REGARDING HECTOR MOREJON I GOT THE OPERTUNITY TO MEET HECTOR THRW MY NIECE. A LITTLE MORE THAN 2 YEARS AGO. AND I CAN HONESTLY TELL YOU HE WAS A PERSON WHO PUT OTHER PEOPLE'S PROBLEMS BEFORE HIS OWN AND TRIED TO HELP OUT ANY WAY HE COULD REGARDLESS OF WHAT HE WAS GOING THEW. AT THE TIME EVERY ONE IN MY FAMILY SEEN HECTOR AS A FAMILY MEMBER
TO HECTOR WE WERE HIS AUNTS AND UNCLE'S. AND HE WAS OUR NEPHEW LOVED AND RESPECTED BY US I KNOW MANY OTHERS HE HELP OUT
TO THEM AND MY FAMILY ITS LIKE WE LOST OUR FAMILY MEMBER AS WELL WE STAND ALONG SIDE THE MOREJON FAMILY IN THE FIGHT AGAINST
POLICE BRUTALITY AND JUSTICE FOR HECTOR MOREJON
WITH LOVE AND RESPEC TO THE MOREJON FAMILY

SINCERELY
SOLO RAMIREZ AND THE RAMIREZ FAMILY
JUSTICE FOR HECTOR MOREJON
REST IN PARADISE MI BOI HECTOR
GONE BUT NEVER FORGOTTEN
TILL WE MEET ONCE AGAIN


Report this post as:


by The CIA's Satanic Monkey Boys in Blue Tuesday, Jun. 09, 2015 at 10:04 PM


The CIA's Satanic Monkey Boys with Badges and Guns doing their usual Gory Satanic Ritual Serial Murders of Civilians with Fiendish Glee and having Coffee and Doughnuts over his Dead Body to Celebrate their latest Satanic Serial Murder. This is what happens when Police become Militarized. The War in Iraq has found it's way back home in The USSA. Witness the continuing Implications of The CIA's Post 9-11 Expanded Police Powers and how it victimizes The Innocent while it Protects and serves The Guilty.

Report this post as:


by geral idVer:4865f8d79e65b812f2c3fc4d99a734f0c Thursday, Jun. 11, 2015 at 11:48 AM
gsosbee@gmail.com na usa

Report this post as:



Local News

KPFK's Indy Media on Air Now on Wednesdays J25 9:13AM

Lessons From Portland's Clashes With Fascists J13 7:36PM

Dr. Maryse Narcisse of Haiti Visits Southern California M20 5:55PM

May Day March in Riverside M02 10:35PM

Nuclear Shutdown News: April 2017 M02 4:38PM

Jewish "Defense" League: Nazis in Skull-caps A07 11:13AM

Nuke Shutdown News 3/17 A01 4:13PM

RELATIONS STILL STRAINED BETWEEN SOUTH LOS ANGELES RESIDENTS AND THE POLICE M22 3:22PM

Elect a Green to Congress in Los Angeles M15 2:18AM

Prop. H Activists March on Hollywood to House and Help the Homeless M01 1:46PM

Prop. H Activists March on Hollywood to House and Help the Homeless M01 1:09PM

Prop. H Activists March on Hollywood to House and Help the Homeless M01 12:19PM

24TH ANNUAL LOS ANGELES WOMEN'S THEATRE FESTIVAL HONORS COMPOSER MEGAN CAVALLARI ON MARCH F24 2:40PM

Activists Mark 150 Years Since Chimney Rock Massacre F21 7:00PM

Indivisible local events F16 4:07PM

Help Wanted: How You Can Act Locally To Stymie Trump's Agenda F16 11:24AM

RACE RELAY - race relations dialogue F16 7:01AM
More Local News...
Other/Breaking News

Example of fbi hacking my reports J20 10:07PM

The Shortwave Report 07/21/17 Listen Globally! J20 4:29PM

Alternative Media Fraud Secrets - Part 1 J20 2:04PM

Alternative Media Fraud Secrets - Part 1 J20 2:04PM

PHILIPPINES: Call for a National Conference Against Dictatorship J20 12:51AM

Stéréotypie des idéologies dominantes J20 12:16AM

Few Care About fbi Atrocities J19 8:16PM

Strategy from a US perspective J19 2:01PM

Fbi crime spree supported by all high officials J19 11:24AM

Reem's bakery: Entrepreneurialism takes an ugly turn in Oakland, California. J19 11:06AM

Vicente Ramirez Sandoval J19 9:23AM

Limits to Growth Published Forty Years Ago J18 5:15AM

L'anarchie contre l'idéologie J16 10:51PM

GERAL's Interests Include... J16 9:55PM

Video: After Words with Naomi Klein, 57 min J16 6:32PM

GERAL SOSBEE Opens Pandora's Box of fbi Atrocities J16 4:47PM

Free our people, jail the fbi & cops J16 8:31AM

Saharia compliant haircuts J15 5:11PM

Crimes & Cover Up By Government Officials J15 4:54PM

Biomorphisme anéchoïque J15 10:59AM

Biomorphisme anéchoïque J15 1:59AM

June 2017 Honduras Coup update J15 1:29AM

Fbi nervous J14 9:08PM

My success measured by big response J14 1:11PM

Now Hear This J13 10:00PM

The Shortwave Report 07/14/17 Listen Globally! J13 4:53PM

PBS POV "The Uprising of 1934" Textile workers in the SE challenge unjust order J13 1:50PM

Impostures d'impostures J12 10:54PM
More Breaking News...