Tell the NSA:
StopWatching.US
Features
•
latest news
•
best of news
•
syndication
•
commentary

Feature Categories



KILLRADIO
printable version - js reader version - email this article - view hidden posts - tags and related articles
by Los Angeles People's Media Tuesday, Apr. 22, 2014 at 2:10 PM

In April 2014, the U.S. Bureau of Land Management (BLM) acted on a court order to seize the cattle of southern Nevada rancher Cliven Bundy. Hundreds of western men and women traveled to Bunkersville, NV to stand with the Bundy family against federal tyranny. Several reporters from Los Angeles People's Media went to the site of the #BundyRanch #RangeWar to interview supporters about the stand-off.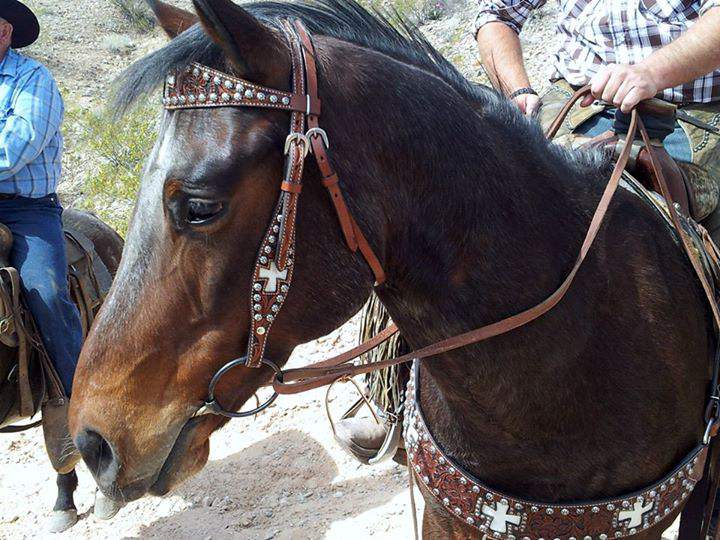 11_horse_at_bundy_ranch_by_pm_beers.jpg, image/jpeg, 720x540

As tensions between Cliven Bundy and the Bureau of Land Management skyrocketed in early April 2014, comparisons to the battle of Lexington and Concord were made—some were preparing for a second American Revolution. Mainstream media remained silent on the arrests at the property as well as property destruction at the hands of the BLM. To witness the truth from the people on the ground, livestreamer Patti Beers (@PMBeers) carpooled to Bunkersville, NV to join the hundreds of volunteers at Bundy Ranch.

On Saturday, April 12, 2014, the Bureau of Land Management formally announced retreat and released the 300-400 cattle who had been rounded up during the previous week. The Bundys invited everyone to a barbeque the following weekend, to celebrate the temporary halt to the federal pressure and thank everyone from their support. At the patriot party on Friday, April 18, @PMBeers interviewed one of the many LDS members who came out in support of Cliven Bundy.

He explained the history of Mormon relations with the federal government: "The Church of Jesus Christ of Latter Day Saints, LDS, or Mormons, were chased out of the United States in the mid-1800's. There was an extermination order in Illinois on us. We left the United States and we went to Mexico. It was called Mexico Salt Lake City. Right as we moved out here there was a Mexican-American war going on and the area turned into the United States again. We were back in America. We never got out!"

The Mormons were run out of the United States into Mexican territory, but "as they were traveling the war got won, and the United States got pushed all the way to the Pacific Coast."

As a result, "as a culture we have a little distrust for the federal government. They didn't protect us. They were actually letting us be persecuted. We have a natural suspicion. We're not a terrorist-type people, but we have a little suspicion of power over us."

In addition to having a natural distrust of state authority, the Mormon religion teaches humility and moderation. "In the Book of Mormon, which is another book of scriptures (whether that all really happened or not, we still read it, and it's still something that helps us), all through the book, there are stories about people getting righteous, and then they get free. The stories are about people being wicked and getting put under enslavement, then getting humble and breaking out of it and getting free. Then they get wealthy again and they get prideful... Up and down and up and down…"

"These little children here, like the Bundy children, every little person as they grow up hears these stories. As you get rich and wicked you will lose perspective and you will end up being enslaved. Then you humble out, you call up on God, you start looking for true principles, and you become free again. The message there is we need to be humble. I'm just trying to tell you a little bit of culture here.

"We think the Constitution is scripture. It's inspired by God, and if it's inspired by God, that sounds kind of like scripture? If God inspired it, it must be more than just a little news article. We take it seriously."

Watch the video:

http://youtu.be/rFmQxKC4p3Q

Livestream channel for @PMBeers:

http://www.ustream.tv/channel/pmbeers

Report this post as:


by Los Angeles People's Media Tuesday, Apr. 22, 2014 at 2:10 PM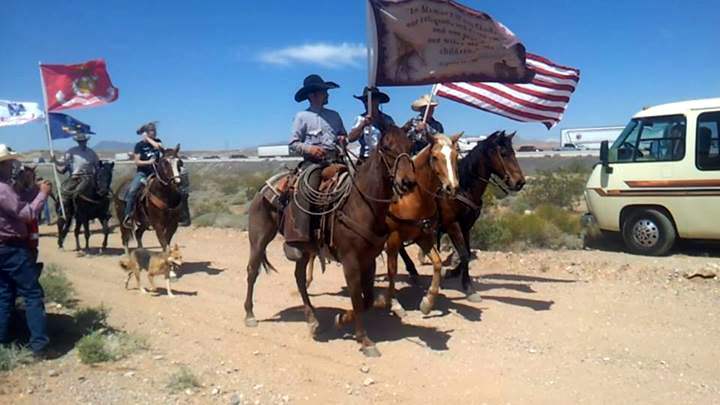 2_volunteer_cowboys_at_bundy_ranch_12apr2014_by_pmbeers.jpgcuziyk.jpg, image/jpeg, 720x405

Report this post as:


by Los Angeles People's Media Tuesday, Apr. 22, 2014 at 2:10 PM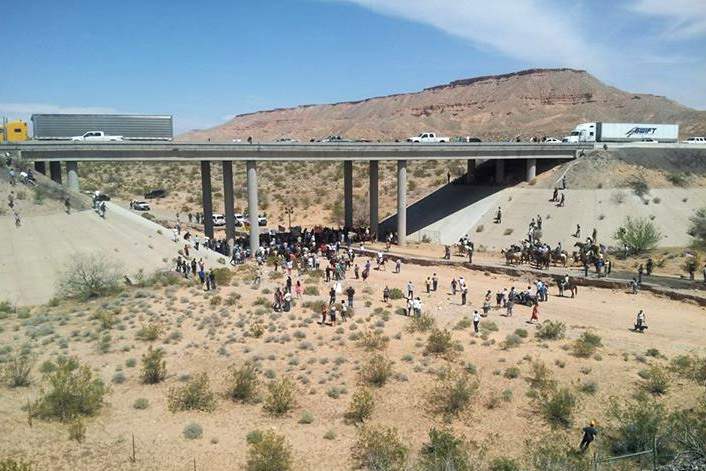 3_bunkersville_nv_overpass_by_pm_beers.jpgzgasqu.jpg, image/jpeg, 706x471

Report this post as:


by Los Angeles People's Media Tuesday, Apr. 22, 2014 at 2:11 PM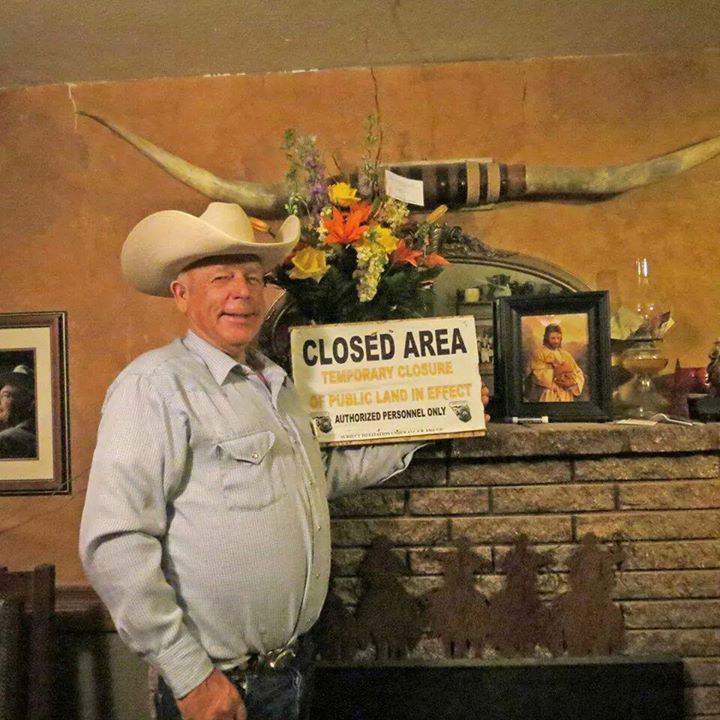 4a_cliven_with_sign.jpg, image/jpeg, 720x720

Report this post as:


by Los Angeles People's Media Tuesday, Apr. 22, 2014 at 2:11 PM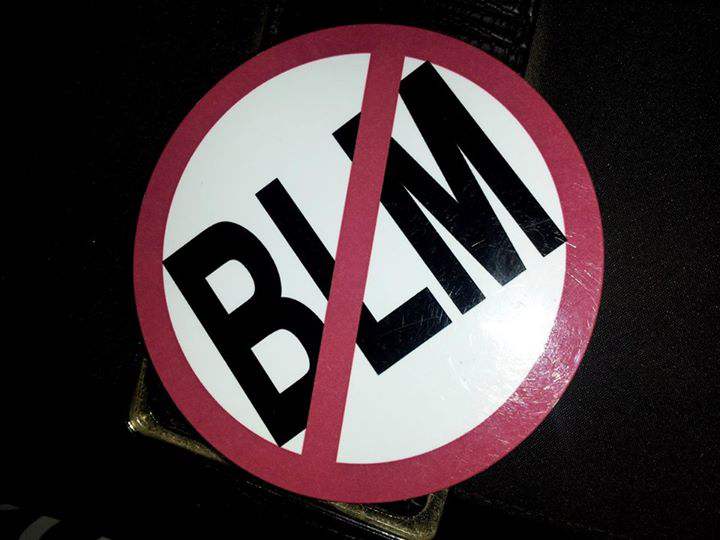 5-fire_the_blm.jpg, image/jpeg, 720x540

Report this post as:


by Los Angeles People's Media Tuesday, Apr. 22, 2014 at 2:11 PM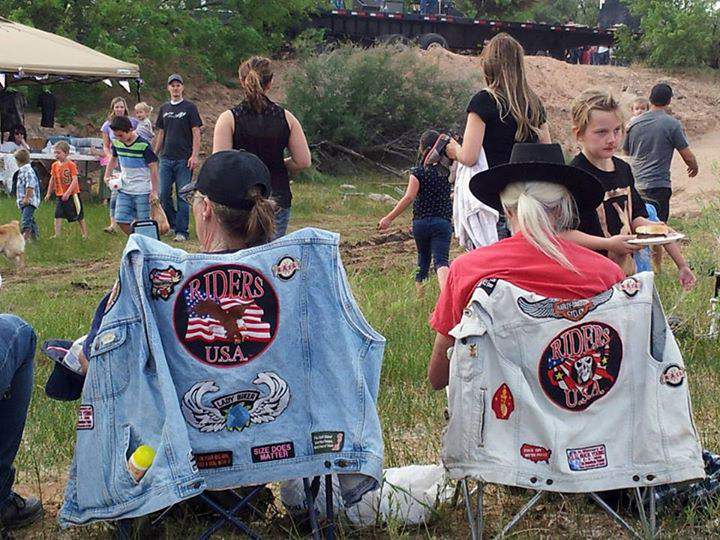 6_riders_usa_jackets_at_bundy_bbq_18_apr_2014.jpg, image/jpeg, 720x540

Report this post as:


by Los Angeles People's Media Tuesday, Apr. 22, 2014 at 2:11 PM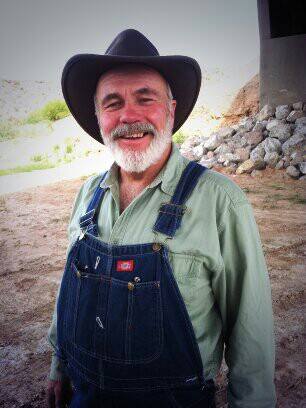 7_bundy_ranch_bbq.jpg, image/jpeg, 306x408

From the photographer, "I would like actual democracy as a representative republic was great 200 years ago when people had to stay and work on their farms and could not travel to vote and did not have technology to participate in the democratic process."

This man at the ranch said, "Well, that's Anarchy."

" I was so happy to see someone use that word correctly for the first time," concluded the photographer.


Report this post as:


by Los Angeles People's Media Tuesday, Apr. 22, 2014 at 2:11 PM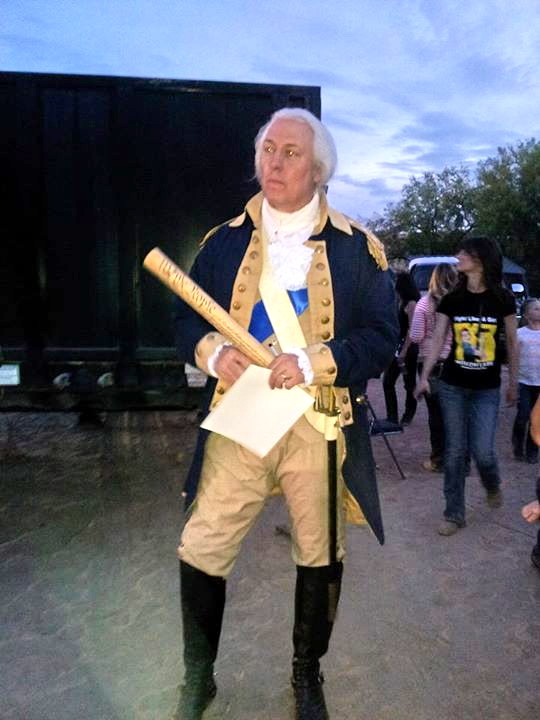 8_patriot_at_bundy_ranch_april_2014_by_pmbeers.jpg, image/jpeg, 540x720
Report this post as:
LATEST COMMENTS ABOUT THIS ARTICLE
Listed below are the 10 latest comments of 4 posted about this article.
These comments are anonymously submitted by the website visitors.

Local News

5 Reasons to Support RAC-LA This Month J20 11:10PM

Viacom CBS' Sumner Redstone Promotes Brutal Treatment Of Pot Smokers J19 1:20PM

Summer 2015 National Immigrant Solidarity Network Monthly News Alert! J15 12:33PM

Housing Board Member is an Evicter! J11 11:37PM

KPFK & PAPCIFICA forum in LA J11 5:45PM

LA Times goes to bat for killer cops in Salinas J10 10:34PM

NUCLEAR SHUTDOWN NEWS MAY 2015 J04 12:48PM

Los Angeles Uranium Film Festival J04 7:18AM

KPFK difficulties continue J01 4:22PM

KPFK buys premiums to re-sell them for donations -so J01 4:00PM

Latest Long Beach Police Execution: Murder of Youth In Mental Distress J01 8:19AM

How can california deal with this water crisis? M31 1:46PM

Four Winds of March Against Monsanto Los Angeles Take The Streets of Hollywood M27 2:49PM

Foreclosure Victims Occupy Senate Stump Speech of Kamala Harris M21 4:58AM

LA Nakba Anniversary protest at the Israel Consulate M19 12:56AM

Long Beach Police Execute Unarmed Teen Hector Morejon on Suspicion Of Trespassing M15 6:08AM

Eagle-Con 2015 at Cal State L.A. M13 4:15PM

Brendon Glenn Dies and Venice S/Weeps M08 7:45PM

JOIN CLASS ACTION LAWSUIT AGAINST RONALD L. HAVNER JR's PREDATORY BUSINESS, PUBLIC STORAGE M08 4:48PM

Councilmember Bonin Calls People of Venice Outraged by Police Murder "Outside Agitators" M08 10:45AM

May Day March, LA 2015 M07 7:33PM

LA Progressive: Ref Rodriguez—What the PUC Is Going on Here? M05 11:26PM

L.A. Stands in Solidarity with Australian Aborigines M05 11:12AM

KPFK'S rep to Pacific Bd Whitleblower -being kicked out ...plse sign petiton here M04 2:38PM
More Local News...
Other/Breaking News

Governor SIgns SB 277, Citing Science J30 6:54PM

Corruption of Law & Society by fbi J30 9:20AM

Russia Vows Continued Support for Embattled Syria J30 9:19AM

Dreyer's, Another Ice Cream Maker, Is Owned By Nestle J30 9:09AM

No Deal as June 30 Iranian Nuclear Talks Deadline Arrives J30 7:17AM

Greece May Become BRICS Member J30 4:58AM

Greece May Become BRICS Member J30 4:54AM

High-Seas Piracy: Israel's Latest Bandit Act J30 2:31AM

Gov Mulls SB 277 (SATIRE) J29 10:47PM

Video: The Age of Uncertainty-The Big Corporation, 56 min J29 3:51PM

KPFK in Pacifica's meeting - more descriptions J29 2:57PM

KPFK hosted PACIFICA's board in LA. Missed it? here's some for ya J29 2:16PM

Khader Adnan Ends Hunger Strike J29 12:12PM

Sitemeter blocks my account, prevents tracking of visitors J29 11:47AM

ISIS: US Proxy Foot Soldiers J29 10:50AM

Greece Declares Bank Holiday, Capital Controls Imposed J29 8:37AM

Netanyahu's Statement Following His Latest Bandit Act J29 5:34AM

Israel Hijacks Humanitarian Ship to Gaza in International Waters J29 3:27AM

Going for Broke. Why Financialization is the Wrong Fix for Infrastructure, 60 pp J28 6:50PM

Covert assaults for hideous agendas J28 5:31PM

BDS Effect on Israel's Economy J28 11:55AM

EU Bashes "Russian Propaganda" J28 9:51AM

Troika Intends Starving Greece Into Submission J28 6:46AM

Israel Is Murdering Khader Adnan J28 3:55AM

Paraphysique du taulard J28 1:51AM

Our Duty, Yours & Mine J27 6:54PM

NUCLEAR SHUTDOWN NEWS JUNE 2015 J27 6:18PM

Restorative Justice Is Needed For Albert Woodfox, The Black Panther Party And The Nation J27 2:44PM
More Breaking News...