Tell the NSA:
StopWatching.US
Features
•
latest news
•
best of news
•
syndication
•
commentary

Feature Categories



KILLRADIO
printable version - js reader version - email this article - view hidden posts - tags and related articles

View article without comments by Teach Everywhere ABout Community Health Saturday, Mar. 23, 2013 at 10:40 PM
thefluguru@hotmail.com
Tuberculosis and influenza spreading in Southern California houseless blamed on official disruption of peer education in cough hygiene.Advocating for information that will allow shelter operators to contact persons who may have been exposed to infections.
Advent of the LA-tuberculosis situation problematizes the lack of training in good habits of hygiene amongst the homeless. Programs in WASH (water sanitation and hygiene) have been proven to reduce the incidence of disease in programs on a global level, but in the developed nations many vulnerable populations lack the kind of outreach and training that prevent disease in WHO programs around the world.

Homeless emergency shelter operators came under fire at the Santa Barbara Board of for failure to respond to well established internationally recognized disease control imperatives. In 2012, homelessness organizers were criticized on the basis that people were quartered on grounds of a local Episcopal Church without access to sanitation of any kind: no water and not even portable sanitation units.Subsequent peer advocacy training in Cough Hygiene were initially well received, but later led to bitter factionalization as warming center shelter operators, spurred by religious missionaries, rejected such measures as criticism contrary to staff morale.

TEACH Cough Hygiene Initiative project coordinator Geof Bard spoke to the county noard about the problems exacerbated by Freedom Warming Center's "foot dragging and obfuscation" with regard to infectious disease, citing the outbreak of tuberculosis in Los Angeles hot on the heels of an unusually active national influenza season.

Speaking to the bipartisan panel, he pointed out how [Community Development Block Grant] funding of the warming centers could lead to increased costs when otherwise-healthy homeless people are crammed one hundred to a room and end up with higher incidence of disease. "Everything I am advocating [is based on guidelines] from the Center for Disease Control" and the County Health Department.

With the SBCDPH Director Takahashi Wada, M.D., M.P.H. in the audience, he pointed out tension between the Department and the warming center staff, underscoring that their resistance to implementing any kind of infection control plan places them at odds with established health authority. Elsewhere, it had been noted that a Public Health employee had complained of an epidemic of "deafness" amongs homeless careeer specialists. Mr. Bard pointed out that lack of appropriate response led to more preventable "influenza, and now tuberculosis", as reported widely with regard to the LA TB situation currently under investigation by the CDC.

In an earlier email, he had called for additional disease control protocols to include contact tracing information for homeless persons. Under current warming center policy, names, or nicknames, are taken only occasionally and sporadically, and no cellphone, address or email addresses are written down. Thus, if it were determined that one of the warming center guests or staff had been disseminating bacterial, viral or other type of infection, there would be no way to implement the standard contact tracing by which health professionals alert possible victims and direct them to diagnostic and therapeutic resources.

In separate communications, TEACH had advocated for confidential contact trace methods based upon STF testing, advocating for information that will allow shelter operators to contact persons who may have been exposed to infections.

Report this post as:


by Alliance to T.E.A.C.H. Saturday, Mar. 23, 2013 at 10:58 PM


Board of Supervisors, 2nd Paragraph

Note also correct website address is

http://www.causes.com/teach

NOTE: Contact information such as anonymous email addresses (possibly through riseup.net) or pay-as-you-go cell phone numbers can be encouraged, not mandatory, at all congregate shelters with free cell phones available for all indigent persons. This would allow notification should any kind of airborne infectiion such as respiratory syncytial virus, pneumonia, influenza, TB or novel coronavirus become problematic at the shelters, while simultaneously preserving the anonymity of persons utilizing the shelters.

Report this post as:


by TEACH Saturday, Mar. 23, 2013 at 11:02 PM


Comment at the Board of Supervisors suggested that anonymous contact tracing would be modeled on HIV/STD testing.

http://www.causes.com/teach

Report this post as:


by TEACH Saturday, Mar. 23, 2013 at 11:02 PM


Comment at the Board of Supervisors suggested that anonymous contact tracing would be modeled on HIV/STD testing.

http://www.causes.com/teach

Report this post as:


by TEACH Saturday, Mar. 23, 2013 at 11:09 PM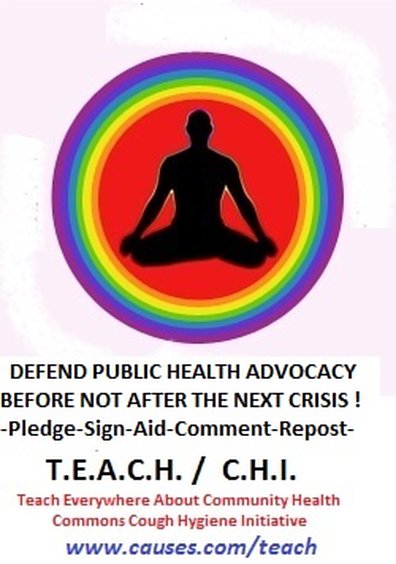 teach.jpg, image/jpeg, 396x564
View photos of houseless people who received free headlamps for participating in the Cough Hygiene Intitiative and sign the petition to help us combat censorship.
Report this post as:
Local News

5 Reasons to Support RAC-LA This Month J20 11:10PM

Viacom CBS' Sumner Redstone Promotes Brutal Treatment Of Pot Smokers J19 1:20PM

Summer 2015 National Immigrant Solidarity Network Monthly News Alert! J15 12:33PM

Housing Board Member is an Evicter! J11 11:37PM

KPFK & PAPCIFICA forum in LA J11 5:45PM

LA Times goes to bat for killer cops in Salinas J10 10:34PM

NUCLEAR SHUTDOWN NEWS MAY 2015 J04 12:48PM

Los Angeles Uranium Film Festival J04 7:18AM

KPFK difficulties continue J01 4:22PM

KPFK buys premiums to re-sell them for donations -so J01 4:00PM

Latest Long Beach Police Execution: Murder of Youth In Mental Distress J01 8:19AM

How can california deal with this water crisis? M31 1:46PM

Four Winds of March Against Monsanto Los Angeles Take The Streets of Hollywood M27 2:49PM

Foreclosure Victims Occupy Senate Stump Speech of Kamala Harris M21 4:58AM

LA Nakba Anniversary protest at the Israel Consulate M19 12:56AM

Long Beach Police Execute Unarmed Teen Hector Morejon on Suspicion Of Trespassing M15 6:08AM

Eagle-Con 2015 at Cal State L.A. M13 4:15PM

Brendon Glenn Dies and Venice S/Weeps M08 7:45PM

JOIN CLASS ACTION LAWSUIT AGAINST RONALD L. HAVNER JR's PREDATORY BUSINESS, PUBLIC STORAGE M08 4:48PM

Councilmember Bonin Calls People of Venice Outraged by Police Murder "Outside Agitators" M08 10:45AM

May Day March, LA 2015 M07 7:33PM

LA Progressive: Ref Rodriguez—What the PUC Is Going on Here? M05 11:26PM

L.A. Stands in Solidarity with Australian Aborigines M05 11:12AM

KPFK'S rep to Pacific Bd Whitleblower -being kicked out ...plse sign petiton here M04 2:38PM
More Local News...
Other/Breaking News

Corruption of Law & Society by fbi J30 9:20AM

Russia Vows Continued Support for Embattled Syria J30 9:19AM

Dreyer's, Another Ice Cream Maker, Is Owned By Nestle J30 9:09AM

No Deal as June 30 Iranian Nuclear Talks Deadline Arrives J30 7:17AM

Greece May Become BRICS Member J30 4:58AM

Greece May Become BRICS Member J30 4:54AM

High-Seas Piracy: Israel's Latest Bandit Act J30 2:31AM

Gov Mulls SB 277 (SATIRE) J29 10:47PM

Video: The Age of Uncertainty-The Big Corporation, 56 min J29 3:51PM

KPFK in Pacifica's meeting - more descriptions J29 2:57PM

KPFK hosted PACIFICA's board in LA. Missed it? here's some for ya J29 2:16PM

Khader Adnan Ends Hunger Strike J29 12:12PM

Sitemeter blocks my account, prevents tracking of visitors J29 11:47AM

ISIS: US Proxy Foot Soldiers J29 10:50AM

Greece Declares Bank Holiday, Capital Controls Imposed J29 8:37AM

Netanyahu's Statement Following His Latest Bandit Act J29 5:34AM

Israel Hijacks Humanitarian Ship to Gaza in International Waters J29 3:27AM

Going for Broke. Why Financialization is the Wrong Fix for Infrastructure, 60 pp J28 6:50PM

Covert assaults for hideous agendas J28 5:31PM

BDS Effect on Israel's Economy J28 11:55AM

EU Bashes "Russian Propaganda" J28 9:51AM

Troika Intends Starving Greece Into Submission J28 6:46AM

Israel Is Murdering Khader Adnan J28 3:55AM

Paraphysique du taulard J28 1:51AM

Our Duty, Yours & Mine J27 6:54PM

NUCLEAR SHUTDOWN NEWS JUNE 2015 J27 6:18PM

Restorative Justice Is Needed For Albert Woodfox, The Black Panther Party And The Nation J27 2:44PM

Russia Blasts Increased NATO Provocations J27 11:53AM
More Breaking News...