Tell the NSA:
StopWatching.US
Features
•
latest news
•
best of news
•
syndication
•
commentary

Feature Categories



KILLRADIO
printable version - json version - email this article - view hidden posts - tags and related articles
by Walden Bello Sunday, Mar. 10, 2013 at 4:29 PM

I'll miss Hugo. When I first was introduced to him in Porto Alegre in 2003, he greeted me, "Mi padre," and said he learned a lot from me. I was dubious about this and thought he was simply buttering me up, like any two-bit politician. Then he started telling me what he learned from Development Debacle, Deglobalization, and Dark Victory. I was stupefied; the guy actually read my stuff!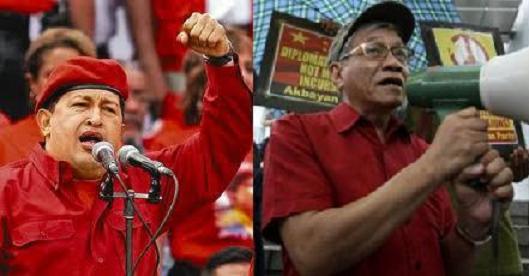 _hugo_chavez_walden_bello.jpg, image/jpeg, 529x276
About two years later, we met again, this time in Caracas. He told me he was seriously concerned about my safety since he had heard that the Darth Vader Battalion had marked me as a "counterrevolutionary" and targeted me for elimination. He invited me to cool off in Venezuela, telling me he would take me on a tour of the whole country. Thank you, I said, but he shouldn't worry since I was dealing with a bunch of space cadets, though crazy ones. He asked me through the translator what a "space cadet" was. I tried my best to explain, then he said, "Ahh, un pendejo," and roared in laughter.

In January 2006, during the World Social Forum in Caracas, he had several of us sit with him on stage and introduced us one by one. When it came to me, he declared grandiloquently that "in his veins runs the blood of Asian martyrs." I didn't know whether to laugh or crawl under my chair, while he went on to construct an image of me that, wow, I wish were true!

The next day, at a forum of representatives of social movements, he asked me what I thought about what was happening in Venezuela. I don't know what came over me, but I made use of the occasion to criticize his government for going back on its promise not to sign the Declaration of the World Trade Organization Ministerial Meeting in Hong Kong in December 2005, which would have led to the third collapse of a WTO ministerial, one that would have been the last nail in the coffin of that anti-development mafia dominated by the North. "As a revolutionary, you can't go back on your word," I said. He was silent, but that was the last time I got invited to Caracas. The guy was great, but he could not take criticism.

I didn't take that personally, though, since nobody could kick the US in the ass like he did. He did and got away with what we all wanted to do, and he entertained us in the process, with unparalleled humor, as when he ascended the rostrum at the United Nations General Assembly where US President George W. Bush had spoken the day before and declared that he still smelled the sulfur that was the odor of el diablo.

His was a life that was larger than life, from his conversion to progressive views during the Caracas riots against the International Monetary Fund (IMF) in 1989, to his failed coup in 1992, when he declared on national television that his plans for the country had to be put on hold "por ahora, for now," to his victory in the 1998 presidential elections, to his being reinstated in power by the urban poor when the right removed him in a coup in 2002. Along with Nestor Kirchner of Argentina, Evo Morales in Bolivia, and Rafael Correa in Ecuador, he put an end to the reign of neoliberal IMF policies that had impoverished the masses of Latin America and inaugurated a new order of resource nationalism cum income redistribution that favored the poor and the marginalized. Perhaps nothing better captures the realities of the life and times of Hugo Chavez than the title of former Financial Times correspondent Hal Weitzman's recent book, Latin Lessons: How South America Stopped Listening to the United States and Started Prospering.

Washington, of course, hated him and pilloried him for his support of progressive movements throughout the world, like the Palestinian resistance. What galled the Americans even more was that he won all his elections and referenda fair and square. Despite his anti-Yankee bluster, however, Chavez always made a distinction between the rulers and the people of the United States: during the oil price spike in 2007, he ordered the Venezuelan government-owned oil supplier CITGO to provide heating fuel at cut-rate prices to poor neighborhoods in New York, Boston, and other US cities.

Goodbye, Comandante Hugo. You were a class act, one impossible to follow. Wherever you are right now, give 'em hell.

- Walden Bello represents Akbayan (Citizens' Action Party) in the Philippine House of Representatives

Report this post as:
LATEST COMMENTS ABOUT THIS ARTICLE
Listed below are the 10 latest comments of 1 posted about this article.
These comments are anonymously submitted by the website visitors.

Local News

Los Angeles Declares "Hands Up!" in Peaceful Protest of LAPD Murder of Ezell Ford A18 4:09AM

Ezell Ford and Ferguson Solidarity A17 6:35PM

Family and Supporters of #Justice4Fords Protest LAPD Execution of Ezell Ford in South L.A. A17 2:49PM

Southern California Swarms to Save the Bees in Solidarity with Honey Bee Day Around the Gl A17 5:30AM

L.A Supports August 2nd International Gaza Protest Photoset 4 A05 7:03PM

L.A Supports August 2nd International Gaza Protest Photoset 3 A05 6:45PM

More about KPFK via Pacifica turmoils A05 6:29PM

L.A Supports August 2nd International Gaza Protest Photoset 2 A05 6:23PM

L.A Supports August 2nd International Gaza Protest Photoset 1 A05 11:36AM

Demonstration in Support of Persecuted Christians Saturday A02 10:40AM

Water in California - info proliferated now is dubious J28 5:04PM

Pacifica clearly endangered. Reposting info here: J28 2:34PM

Video: Occupy Love (2013), 1 hr 19 min J28 4:43AM

Who declares themselves to be the ultimate-only-valid-authority here on current wars elsew J27 11:11AM

MDRC's Rent Reform Assault: Section 8 tenants vs. affordable housing industry J24 12:24AM

Obama at LA Trade Tech J23 3:23PM

Los Angeles Joins World Wide Protest Against Israeli Aggression J22 6:33PM

Los Angeles Joins World Wide Protest Against Israeli Aggression J22 5:48PM

Los Angeles Joins World Wide Protest Against Israeli Aggression J22 5:28PM

Protest Israeli Shelling of Gaza J21 1:58AM
More Local News...
Other/Breaking News

Western Leaders Support Israeli Genocide A21 6:55AM

Israel's Genocidal War Continues A21 1:09AM

Paraphysique de la collaboration A20 10:55PM

Running Down the Walls 2014 A20 8:48PM

Kiev's Dirty War A20 12:09PM

Clinton, Obama and the New Era of American Empire A20 11:12AM

Failure in Cairo A20 3:02AM

Weaving the Past: Journey of Discovery Extends Exclusive Engagement A19 3:37PM

Thinkers replaced by Social Controllers on massive scale. A19 6:11AM

Gaza Ceasefire Extended A19 6:05AM

8 Things to Know About the Iraq Crisis A19 4:58AM

Huge Rescue Mission Launched in Peru to Save Suffering Circus Animals A18 3:47PM

III ANARCHIST AND PUNK FILM FESTIVAL - SÃO PAULO – BRASIL A18 1:47PM

Russia: Waging Peace in Ukraine A18 10:41AM

Promoting Confrontation with Russia A18 4:56AM

Anti-Democratic Straitjackets A18 4:23AM

Militarization of our police A17 11:47AM

Kiev's War Without Mercy Continues A17 11:36AM

The risse of political extremism A17 11:21AM

Block the Boat for gaza A17 10:37AM

Netanyahu: Israel's Pinochet A17 6:10AM

As Quartermaster Memory Returns, Nuclear Disaster Directly off So Cal Coast 1983 A16 3:42PM

The New York Times War on Truth A16 5:53AM

MSM War on Gaza A16 5:11AM

Terrorizing Southeastern Ukrainians: Heading Toward East/West Confrontation A15 1:56PM

New giant spy airship-or is it already here? A15 11:42AM

The Great Israeli Iron Dome Hoax A15 2:03AM

Mad, Maleficent, Murderous Main Street Media A14 12:17PM
More Breaking News...