Features
•
latest news
•
best of news
•
syndication
•
commentary

Feature Categories



KILLRADIO

printable version - email this article - view hidden posts - tags and related articles
by Walden Bello Saturday, Mar. 09, 2013 at 5:29 PM

I'll miss Hugo. When I first was introduced to him in Porto Alegre in 2003, he greeted me, "Mi padre," and said he learned a lot from me. I was dubious about this and thought he was simply buttering me up, like any two-bit politician. Then he started telling me what he learned from Development Debacle, Deglobalization, and Dark Victory. I was stupefied; the guy actually read my stuff!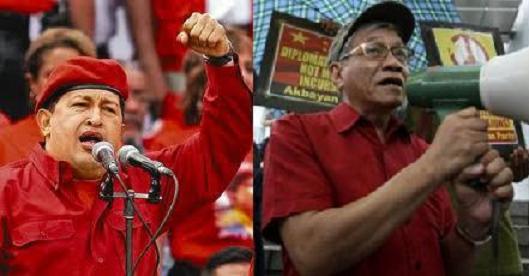 _hugo_chavez_walden_bello.jpg, image/jpeg, 529x276
About two years later, we met again, this time in Caracas. He told me he was seriously concerned about my safety since he had heard that the Darth Vader Battalion had marked me as a "counterrevolutionary" and targeted me for elimination. He invited me to cool off in Venezuela, telling me he would take me on a tour of the whole country. Thank you, I said, but he shouldn't worry since I was dealing with a bunch of space cadets, though crazy ones. He asked me through the translator what a "space cadet" was. I tried my best to explain, then he said, "Ahh, un pendejo," and roared in laughter.

In January 2006, during the World Social Forum in Caracas, he had several of us sit with him on stage and introduced us one by one. When it came to me, he declared grandiloquently that "in his veins runs the blood of Asian martyrs." I didn't know whether to laugh or crawl under my chair, while he went on to construct an image of me that, wow, I wish were true!

The next day, at a forum of representatives of social movements, he asked me what I thought about what was happening in Venezuela. I don't know what came over me, but I made use of the occasion to criticize his government for going back on its promise not to sign the Declaration of the World Trade Organization Ministerial Meeting in Hong Kong in December 2005, which would have led to the third collapse of a WTO ministerial, one that would have been the last nail in the coffin of that anti-development mafia dominated by the North. "As a revolutionary, you can't go back on your word," I said. He was silent, but that was the last time I got invited to Caracas. The guy was great, but he could not take criticism.

I didn't take that personally, though, since nobody could kick the US in the ass like he did. He did and got away with what we all wanted to do, and he entertained us in the process, with unparalleled humor, as when he ascended the rostrum at the United Nations General Assembly where US President George W. Bush had spoken the day before and declared that he still smelled the sulfur that was the odor of el diablo.

His was a life that was larger than life, from his conversion to progressive views during the Caracas riots against the International Monetary Fund (IMF) in 1989, to his failed coup in 1992, when he declared on national television that his plans for the country had to be put on hold "por ahora, for now," to his victory in the 1998 presidential elections, to his being reinstated in power by the urban poor when the right removed him in a coup in 2002. Along with Nestor Kirchner of Argentina, Evo Morales in Bolivia, and Rafael Correa in Ecuador, he put an end to the reign of neoliberal IMF policies that had impoverished the masses of Latin America and inaugurated a new order of resource nationalism cum income redistribution that favored the poor and the marginalized. Perhaps nothing better captures the realities of the life and times of Hugo Chavez than the title of former Financial Times correspondent Hal Weitzman's recent book, Latin Lessons: How South America Stopped Listening to the United States and Started Prospering.

Washington, of course, hated him and pilloried him for his support of progressive movements throughout the world, like the Palestinian resistance. What galled the Americans even more was that he won all his elections and referenda fair and square. Despite his anti-Yankee bluster, however, Chavez always made a distinction between the rulers and the people of the United States: during the oil price spike in 2007, he ordered the Venezuelan government-owned oil supplier CITGO to provide heating fuel at cut-rate prices to poor neighborhoods in New York, Boston, and other US cities.

Goodbye, Comandante Hugo. You were a class act, one impossible to follow. Wherever you are right now, give 'em hell.

- Walden Bello represents Akbayan (Citizens' Action Party) in the Philippine House of Representatives

Report this post as:
LATEST COMMENTS ABOUT THIS ARTICLE
Listed below are the 10 latest comments of 1 posted about this article.
These comments are anonymously submitted by the website visitors.

Local News

Divestment Fails at UC Santa barbara M15 4:19PM

Uncensored Manifesto from Retired LAPD Officer Christopher Dorner M15 9:37AM

Santa Ana Police Department: taking payoffs to jail the innocent M14 5:31PM

California's vigilante police justice: Trial by machine gun M14 5:23PM

Nevada Tribes Walk 272 Miles to Protest SNWA Pipeline M14 11:44AM

RAISE THE FIST MOBILE APP! M08 2:02AM

CA Safe Schools Honors LA Unified & Local Heroes! M07 6:13PM

Proposition C M07 1:13AM

VENICE OPDs ARE BACK! BUT WHY? M06 1:20AM

May Day 2013 Los Angeles M04 3:18AM

May Day 2013 Los Angeles M03 6:32PM

May Day 2013 Los Angeles M03 5:47PM

Join Demo At Farmer John Slaughterhouse A22 8:52AM

LAPD spying using StingRay A21 11:28AM

May Day Workers Film Festival San Diego A17 1:21AM

L.A born Actor James Cromwell Arrested in Animal Rights Action A16 1:46PM
More Local News...
Other/Breaking News

Syrian foes move towards talks but fighting rages M22 1:52AM

Obama's War on Free Expression M22 12:03AM

Israel Heads Closer to War on Syria M21 11:56PM

"DEVELOPER PAUL SOLOMON" An Artist's Worst Nightmare M21 5:03PM

Are Japanese Bonds Signaling Trouble? M21 11:38AM

14 rue du Sergent Godefroy M21 6:03AM

Economic Ethics After the Crisis M21 5:42AM

Reinventing Guatemalan History M21 12:02AM

Supreme Court Colludes with Monsanto M20 11:57PM

BE TEMPERATE. Discourage people from taking drugs. M20 9:02AM

Creative Destruction M20 4:14AM

America: A Modern-Day Sparta M19 11:45PM

Guantanamo Force-Feeding Constitutes Torture M19 11:42PM

Disconnect: Soaring Markets/Troubled Economies M19 12:19AM

Assad: Syria transition talks are internal matter M19 12:12AM

America Honors Its Worst M19 12:03AM

Assad: Syria transition talks are internal matter M18 11:58PM

Federal terrorism USA? Handshake germ warfare M18 10:54PM

reiniciar chamán M18 10:19AM

Paraphysique du cerveau M18 5:49AM

IRS Scandal: More Than Meets the Eye M18 12:03AM

Putin v. Obama et al M17 11:59PM

Monica Ratliff for School Board M17 4:25PM

Colombia Takes Another Step Towards Circus Animal Ban M17 3:35PM

Stop and Frisk: NYPD Racial Profiling M17 12:08AM

Israel Threatens More Syrian Attacks M17 12:03AM

The Shortwave Report 05/17/13 Listen Globally! M16 2:11PM

Counter-Currents on the Run! M16 10:27AM
More Breaking News...