Tell the NSA:
StopWatching.US
Features
•
latest news
•
best of news
•
syndication
•
commentary

Feature Categories



KILLRADIO
printable version - json version - email this article - view hidden posts - tags and related articles
by Ramona Sunday, Jan. 27, 2013 at 6:20 PM
ramona@laantievictioncampaign.org
A South Central resident finds her voice in the midst of her eviction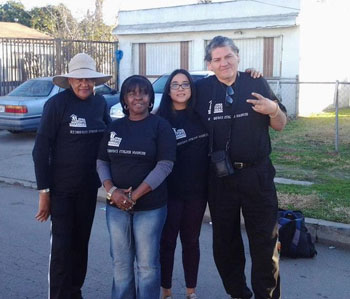 hughes___laaec_med.jpguu0e6c.jpg, image/jpeg, 350x299
LOS ANGELES, January 24, 2013--One more person might end up on Skid Row, adding to the 85,000 homeless in Los Angeles, because of an eviction yesterday. At noon, sheriff's deputies drove into the Broadway-Manchester neighborhood of South Central and changed the locks on the door of 72-year-old Cathelene Hughes' home of nine years.

Mrs. Hughes' story is too familiar now. In 2012, the U.S. saw an estimated 2.1M foreclosures, nearly double the rate in 2006 when the banks began their assault on U.S. homeowners, grabbing their investments and their property. In the intervening six years, nearly 20M families have been displaced. The lieutenant at Mrs. Hughes' house admitted that the Los Angles County sheriffs evict more than 3000 people each month.

Mrs. Hughes story is unusual, too. The spirited grandmother enlisted the aid of the Los Angeles Anti-Eviction Campaign, and together they leafletted door to door and block to block in this downscale community to ask for her neighbors' help. She went to Supervisor Mark Ridley-Thomas's office, and he called the county's Community and Senior Services. They promised her a social worker and gave her the number for the Elder Abuse Hotline. She dialed that number two weeks ago, the first time the sheriffs came to evict her. They left.

This time, it was a neighbor who saw the sheriffs pull up just after Ms. Hughes left her home to run some errands. He called her, and he called LAAEC. His phone call got her back to the home in time to rescue her pet chihuahua Prince before the sheriffs snared the pet in a wire loop at the end of a catch pole, and she was able to put some clothes and her telephone charger in her car.

Mrs. Hughes is another victim of bank fraud. Her income was inflated on her loan application, and her mortgage nearly doubled after just two years. Ms. Hughes explained, "I was denied a modification ten times because my loan was adjusting. I had no idea it was an adjustable. A guy from Countrywide called and told me that it was adjusting a couple weeks before they did it. Then he explained the situation to me." Mrs. Hughes has paid thousands of dollars to people promising to negotiate modifications.

Bank of America, which took over her original lender Countrywide in 2008, sold her house to Colony Realty, even as her bankruptcy application, which would have given her time to find an attorney, was pending in court. In the intervening six months, not only Bank of America, but Colony tried to wash their hands of culpability, passing off the property to its subsidiary, Colfin. At Wednesday's eviction, the notice in the window said the property now belonged to a company called Signature. "That's my property, and I knew it was illegal, the fraud they committed. I never received anything from the bank saying that my property had been sold, or that anyone had purchased it," said Mrs. Hughes. She hasn't been offered a penny of the government settlements with Bank of America for fraud and discrimination.

Cathelene Hughes, an ardent Obama supporter, learned a hard lesson, as people often do when their human rights are snatched from them. Musing over what happened, she concluded, "The L.A, Sheriffs are not protecting the people. They're protecting the investors who are stealing our homes. They're being paid to let the investors take property from homeowners. Our elected officials aren't backing the citizens who are trying to build neighborhoods, homes, they're letting investors come in and take people's properties. When it comes to voting, they promise us this, and they promise us that, but they still throw the people out. We'll be fighting this until it turns around, and I know I'm in the fight until it turns around."

The social worker hadn't returned Mrs. Hughes's daily, sometimes hourly, calls over the two weeks since the first arrival of the sheriffs. This time, a call to Supervisor Ridley-Thomas's office got a response in hours. Community and Adult Services had found a $200/month bed for her at a women's shelter on Skid Row. Mrs. Hughes and Prince decided instead to see if her aunt would take her in for a few days. After all, she was still hopeful that she would be back in her home soon. Before she drove away, she confided, "I'm feeling good because I know that I will prevail and get my property back. I'm a little disgusted because the system is not helping me keep my property. It went along all this fraud that's going on." With a bit of fierceness, she added, "The whole system is corrupt."
Report this post as:
Local News

Water in California - info proliferated now is dubious J28 5:04PM

Pacifica clearly endangered. Reposting info here: J28 2:34PM

Video: Occupy Love (2013), 1 hr 19 min J28 4:43AM

Who declares themselves to be the ultimate-only-valid-authority here on current wars elsew J27 11:11AM

MDRC's Rent Reform Assault: Section 8 tenants vs. affordable housing industry J24 12:24AM

Obama at LA Trade Tech J23 3:23PM

Los Angeles Joins World Wide Protest Against Israeli Aggression J22 6:33PM

Los Angeles Joins World Wide Protest Against Israeli Aggression J22 5:48PM

Los Angeles Joins World Wide Protest Against Israeli Aggression J22 5:28PM

Protest Israeli Shelling of Gaza J21 1:58AM

#SaveTheInternet Rally J20 11:24AM

PACIFICA is shify-ing more J18 8:55PM

Radical Women Study Group J16 4:43PM

KIDS REPLANT WILSHIRE FRUIT TREES UPROOTED BY VANDALS J16 2:34PM

Emails Needed by Thursday, July 17 to Save the South Central Farm (Again) J15 4:40PM

Is AFT Pres Weingarten On The Take? J12 7:45AM

LA Living in Vehicle Law Found UnConstitutional J11 12:22PM

KPFK News covers the Che Cafe struggle J10 9:33PM

Public Comment on South Central Farm Site J07 10:44PM

Successful Protest at new Burbank Hobby Lobby on 4th J06 5:17PM

Protesters Violently Arrested in Murietta J05 12:44AM

Gallery Opening Highlights Journalist's Creativity, Insights, and Passions J03 11:52AM

Indymedia On Air - Che Cafe show J02 10:27AM

Save the Che: Letter from Zack de la Rocha J29 8:47PM

Political Thriller Citizen Koch Premieres in Los Angeles J28 2:35AM

Veteran and Families of Military hold Press Conference J18 7:36AM

Furious Homeowners Occupy Lobby of Fannie Mae in Pasadena J16 4:15AM

Change Links Revival J12 12:09PM
More Local News...
Other/Breaking News

Our Land, Our Business J29 4:40PM

Argentina Braces For Default J29 12:09PM

Back To School Fair J29 11:43AM

Dirt Dog J29 11:19AM

Christian Zionism: The Heresy that Undermines Middle East Peace J29 7:53AM

Memorandum 2014 J29 4:01AM

Paraphysique de la violence J28 9:49AM

Philippine President told: Re-energize the campaign for reforms J28 3:23AM

Panthers in the Hole: French Angola 3 Book Illustrates US Prison Crisis J27 12:13PM

¡Abajo las nuevas exacciones criminales de Israel! J27 11:41AM

looks ok to me... J27 10:32AM

Down with the latest criminal abuses by the Israeli State! J27 10:21AM

THE BOOK OF JOSHUA | ZIONAZIS J26 9:52PM

Video: Left Forum on Thomas Paine 1 hr, 23 min J26 4:21PM

Surpopulation et paupérisation J26 9:13AM

AVAAZ_GAZA_war crimes J26 8:07AM

Israeli-Palestinian Science Organization (IPSO) Struggles for Peace J26 8:02AM

Snake Valley Festival in Baker NV fights SNWA 'Water Grab' J26 6:59AM

Nuclear Bomb LA 1983, Revelations tortured Witness Recovers from 14 year coma J25 7:52PM

The Shortwave Report 07/25/14 Listen Globally! J24 5:00PM

Come for the education, Stay for the fun at the OC Health & Wellness Fair J23 10:59PM

Philippine president signs law requiring tobacco companies to put graphic health warnings J23 3:55AM

Rockets found in Gaza school J22 10:57PM

Statement on the Gaza Genocide J22 8:32PM

Capitalism and War: Pope Francis J22 4:18AM

Geekouts Link's for June and July 2014 J22 1:14AM

ADI holds Week of Action Against Circus Suffering J21 11:41AM

phantom protests J21 7:35AM
More Breaking News...