Tell the NSA:
StopWatching.US
Features
•
latest news
•
best of news
•
syndication
•
commentary

Feature Categories



KILLRADIO
printable version - json version - email this article - view hidden posts - tags and related articles
by Ramona Sunday, Jan. 27, 2013 at 6:20 PM
ramona@laantievictioncampaign.org
A South Central resident finds her voice in the midst of her eviction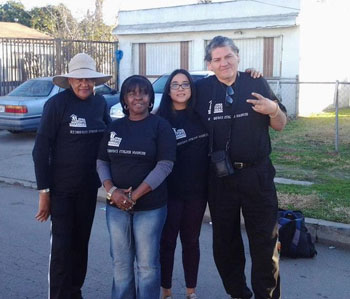 hughes___laaec_med.jpguu0e6c.jpg, image/jpeg, 350x299
LOS ANGELES, January 24, 2013--One more person might end up on Skid Row, adding to the 85,000 homeless in Los Angeles, because of an eviction yesterday. At noon, sheriff's deputies drove into the Broadway-Manchester neighborhood of South Central and changed the locks on the door of 72-year-old Cathelene Hughes' home of nine years.

Mrs. Hughes' story is too familiar now. In 2012, the U.S. saw an estimated 2.1M foreclosures, nearly double the rate in 2006 when the banks began their assault on U.S. homeowners, grabbing their investments and their property. In the intervening six years, nearly 20M families have been displaced. The lieutenant at Mrs. Hughes' house admitted that the Los Angles County sheriffs evict more than 3000 people each month.

Mrs. Hughes story is unusual, too. The spirited grandmother enlisted the aid of the Los Angeles Anti-Eviction Campaign, and together they leafletted door to door and block to block in this downscale community to ask for her neighbors' help. She went to Supervisor Mark Ridley-Thomas's office, and he called the county's Community and Senior Services. They promised her a social worker and gave her the number for the Elder Abuse Hotline. She dialed that number two weeks ago, the first time the sheriffs came to evict her. They left.

This time, it was a neighbor who saw the sheriffs pull up just after Ms. Hughes left her home to run some errands. He called her, and he called LAAEC. His phone call got her back to the home in time to rescue her pet chihuahua Prince before the sheriffs snared the pet in a wire loop at the end of a catch pole, and she was able to put some clothes and her telephone charger in her car.

Mrs. Hughes is another victim of bank fraud. Her income was inflated on her loan application, and her mortgage nearly doubled after just two years. Ms. Hughes explained, "I was denied a modification ten times because my loan was adjusting. I had no idea it was an adjustable. A guy from Countrywide called and told me that it was adjusting a couple weeks before they did it. Then he explained the situation to me." Mrs. Hughes has paid thousands of dollars to people promising to negotiate modifications.

Bank of America, which took over her original lender Countrywide in 2008, sold her house to Colony Realty, even as her bankruptcy application, which would have given her time to find an attorney, was pending in court. In the intervening six months, not only Bank of America, but Colony tried to wash their hands of culpability, passing off the property to its subsidiary, Colfin. At Wednesday's eviction, the notice in the window said the property now belonged to a company called Signature. "That's my property, and I knew it was illegal, the fraud they committed. I never received anything from the bank saying that my property had been sold, or that anyone had purchased it," said Mrs. Hughes. She hasn't been offered a penny of the government settlements with Bank of America for fraud and discrimination.

Cathelene Hughes, an ardent Obama supporter, learned a hard lesson, as people often do when their human rights are snatched from them. Musing over what happened, she concluded, "The L.A, Sheriffs are not protecting the people. They're protecting the investors who are stealing our homes. They're being paid to let the investors take property from homeowners. Our elected officials aren't backing the citizens who are trying to build neighborhoods, homes, they're letting investors come in and take people's properties. When it comes to voting, they promise us this, and they promise us that, but they still throw the people out. We'll be fighting this until it turns around, and I know I'm in the fight until it turns around."

The social worker hadn't returned Mrs. Hughes's daily, sometimes hourly, calls over the two weeks since the first arrival of the sheriffs. This time, a call to Supervisor Ridley-Thomas's office got a response in hours. Community and Adult Services had found a $200/month bed for her at a women's shelter on Skid Row. Mrs. Hughes and Prince decided instead to see if her aunt would take her in for a few days. After all, she was still hopeful that she would be back in her home soon. Before she drove away, she confided, "I'm feeling good because I know that I will prevail and get my property back. I'm a little disgusted because the system is not helping me keep my property. It went along all this fraud that's going on." With a bit of fierceness, she added, "The whole system is corrupt."
Report this post as:
Local News

Los Angeles Declares "Hands Up!" in Peaceful Protest of LAPD Murder of Ezell Ford A18 4:09AM

Ezell Ford and Ferguson Solidarity A17 6:35PM

Family and Supporters of #Justice4Fords Protest LAPD Execution of Ezell Ford in South L.A. A17 2:49PM

Southern California Swarms to Save the Bees in Solidarity with Honey Bee Day Around the Gl A17 5:30AM

L.A Supports August 2nd International Gaza Protest Photoset 4 A05 7:03PM

L.A Supports August 2nd International Gaza Protest Photoset 3 A05 6:45PM

More about KPFK via Pacifica turmoils A05 6:29PM

L.A Supports August 2nd International Gaza Protest Photoset 2 A05 6:23PM

L.A Supports August 2nd International Gaza Protest Photoset 1 A05 11:36AM

Demonstration in Support of Persecuted Christians Saturday A02 10:40AM

Water in California - info proliferated now is dubious J28 5:04PM

Pacifica clearly endangered. Reposting info here: J28 2:34PM

Video: Occupy Love (2013), 1 hr 19 min J28 4:43AM

Who declares themselves to be the ultimate-only-valid-authority here on current wars elsew J27 11:11AM

MDRC's Rent Reform Assault: Section 8 tenants vs. affordable housing industry J24 12:24AM

Obama at LA Trade Tech J23 3:23PM

Los Angeles Joins World Wide Protest Against Israeli Aggression J22 6:33PM

Los Angeles Joins World Wide Protest Against Israeli Aggression J22 5:48PM

Los Angeles Joins World Wide Protest Against Israeli Aggression J22 5:28PM

Protest Israeli Shelling of Gaza J21 1:58AM

#SaveTheInternet Rally J20 11:24AM
More Local News...
Other/Breaking News

Weaving the Past: Journey of Discovery Extends Exclusive Engagement A19 3:37PM

Thinkers replaced by Social Controllers on massive scale. A19 6:11AM

Gaza Ceasefire Extended A19 6:05AM

8 Things to Know About the Iraq Crisis A19 4:58AM

Huge Rescue Mission Launched in Peru to Save Suffering Circus Animals A18 3:47PM

III ANARCHIST AND PUNK FILM FESTIVAL - SÃO PAULO – BRASIL A18 1:47PM

Russia: Waging Peace in Ukraine A18 10:41AM

Promoting Confrontation with Russia A18 4:56AM

Anti-Democratic Straitjackets A18 4:23AM

Militarization of our police A17 11:47AM

Kiev's War Without Mercy Continues A17 11:36AM

The risse of political extremism A17 11:21AM

Block the Boat for gaza A17 10:37AM

Netanyahu: Israel's Pinochet A17 6:10AM

As Quartermaster Memory Returns, Nuclear Disaster Directly off So Cal Coast 1983 A16 3:42PM

The New York Times War on Truth A16 5:53AM

MSM War on Gaza A16 5:11AM

Terrorizing Southeastern Ukrainians: Heading Toward East/West Confrontation A15 1:56PM

New giant spy airship-or is it already here? A15 11:42AM

The Great Israeli Iron Dome Hoax A15 2:03AM

Mad, Maleficent, Murderous Main Street Media A14 12:17PM

Blocking Russian Humanitarian Aid A14 10:51AM

Sham Cairo Talks Continue A14 10:19AM

Philippines: Vocal DAP critic Bayan Muna Neri Colmenares also got P25M from fund A14 4:28AM

No laughing matter:Comedian Robin Williams' longstanding contribution to US war propaganda A13 1:19PM

Obama's War on Iraq A13 1:14PM

Impasse in Cairo A13 6:12AM

Capture of Philippine fugitive general Jovito Palparan hailed as victory for Aquino A13 4:11AM
More Breaking News...