printable version - js reader version - email this article - view hidden posts - tags and related articles
by Fábio de Oliveira Ribeiro Sunday, Dec. 02, 2012 at 11:45 AM
sithan@ig.com.br
What modern Americans consider a dream the ancient Greeks would consider a nightmare.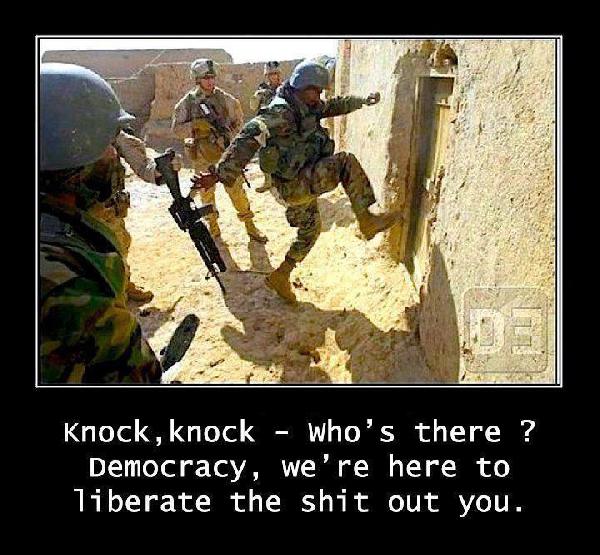 democracy.jpg, image/jpeg, 720x667
In the center of public activity in USA is not politics (which comes from the Greek word Polis) but the economy (which comes from the Greek word Oikos). So Americans treat the private (Oikos) as if it were public thing and the public (Polis) as if it were private.

The ancient Greeks, in turn, only dealt with the economy (Oikos) in the recess of the home. At the meeting they took care of the city (Polis). The only conclusion we can reach is that American Democracy has no resemblance to the Greek Democracy. In fact the USA is a Oikoscracy.
Report this post as:
Local News

Dutchman Opens Limited Engagement at Edgemar Center for the Arts on July 15 J01 9:21AM

KPFK in Pacifica's meeting - more descriptions J29 2:57PM

KPFK hosted PACIFICA's board in LA. Missed it? here's some for ya J29 2:16PM

5 Reasons to Support RAC-LA This Month J20 11:10PM

Viacom CBS' Sumner Redstone Promotes Brutal Treatment Of Pot Smokers J19 1:20PM

Summer 2015 National Immigrant Solidarity Network Monthly News Alert! J15 12:33PM

Housing Board Member is an Evicter! J11 11:37PM

KPFK & PAPCIFICA forum in LA J11 5:45PM

LA Times goes to bat for killer cops in Salinas J10 10:34PM

NUCLEAR SHUTDOWN NEWS MAY 2015 J04 12:48PM

Los Angeles Uranium Film Festival J04 7:18AM

KPFK difficulties continue J01 4:22PM

KPFK buys premiums to re-sell them for donations -so J01 4:00PM

Latest Long Beach Police Execution: Murder of Youth In Mental Distress J01 8:19AM

How can california deal with this water crisis? M31 1:46PM

Four Winds of March Against Monsanto Los Angeles Take The Streets of Hollywood M27 2:49PM

Foreclosure Victims Occupy Senate Stump Speech of Kamala Harris M21 4:58AM

LA Nakba Anniversary protest at the Israel Consulate M19 12:56AM

Long Beach Police Execute Unarmed Teen Hector Morejon on Suspicion Of Trespassing M15 6:08AM

Eagle-Con 2015 at Cal State L.A. M13 4:15PM

Brendon Glenn Dies and Venice S/Weeps M08 7:45PM

JOIN CLASS ACTION LAWSUIT AGAINST RONALD L. HAVNER JR's PREDATORY BUSINESS, PUBLIC STORAGE M08 4:48PM

Councilmember Bonin Calls People of Venice Outraged by Police Murder "Outside Agitators" M08 10:45AM
More Local News...
Other/Breaking News

Stop Circus Animal Suffering – Protestors Urge Audiences to Shun the Wild Animal Circus J07 5:50PM

fbi national academy for murder J07 1:43PM

US-Installed Ukrainian-Style "Democracy" J07 11:37AM

Deadlock in Vienna J07 10:59AM

Planned US Coup in Greece? J07 6:54AM

Obama Declares Permanent War on Humanity J07 2:54AM

Greek Voters Reject Financing Plan J06 1:54PM

Hillary Clinton Wants BDS Campaign Undermined J06 12:35PM

Turkey Mobilized to Invade Syria? J06 9:58AM

"No" Supporters Win in Greece: Now What? J06 2:10AM

Israeli Military Court Justice: Rubber-Stamp Guilt J06 1:48AM

Nazi Holocaust & fbi Extermination J05 10:34PM

Who's behind The Burnings of Black Churches? Who wants a Race War? The Feds J05 9:11PM

Similarities between the Holocaust and modern extermination of Targeted Individuals J05 7:23PM

Iran Bashing in Late Stage Nuclear Talks J05 11:48AM

Hillary Clinton Threatens World Peace J05 9:54AM

UN Human Rights Council Denounces Israeli War Crimes J05 5:42AM

Greek Bailouts for Creditors, not Economic Recovery J05 3:41AM

Génétique de l'environnement J05 1:13AM

GA AS P J04 3:33PM

ACT: Ask Oprah Winfrey to Renounce Leviev's Angolan Blood Diamonds and Israeli Settlements J04 2:39PM

Video: Rise of the Robots, 1 hr J04 1:27PM

White Supremacists tied to human trafficking and a series of unsolved murders J04 1:22PM

Thoughts on Independence Day Weekend J04 12:20PM

US-Orchestrated Coup Attempt in Ecuador J04 10:31AM

Tentative Deal on Iran Sanctions Relief? J04 10:07AM

Hillary Clinton Warns of Nonexistent Iranian Threat to Israel J04 7:25AM

Scare-mongering Greeks to Vote "Yes" on Sunday J04 3:24AM
More Breaking News...