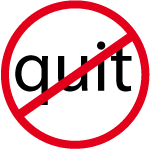 Taking an "L" is without a doubt a part of life. There really is no way to lose at life itself, as once you are born the only certainty is that you will die, all the rest is choices, happenstance and luck. There is such a thing as losing in various individual endeavors be they long term or short, but you really can't lose in life, you'll die, people on the opposite side of whatever it is you do shall also die, whatever it is, and we all go eventually. In between it's up to you. It is your life.
A person can't just decide to accomplish serious goals without planning and making smart choices to get there, but happenstance and luck also play a role. The longer you live, the more you realize it. There are just some things you cannot plan for, like natural disasters – you can have all the insurance you want, but if, for example, you were an author working on a book just commissioned with a deadline, and you lose all your data in a storm, including backups, you'll have to start over.
That's the situation we're all in, and we are all vulnerable to one extent or another, even the wealthiest people fall victim to forces beyond their control, and they too will die eventually. So the idea of fatalism and adopting a negative mentality to adverse circumstances in some ways makes no sense, especially if you are serious about the bigger picture goals you may have with regards to the place or circumstances causing you hardships. In other words, even when it seems as if things are impossible, there is always a way. The question becomes what is more important, leaving or attaining the goals you set in that particular circumstance? If it's the latter, for those that face harsh circumstances, you're in luck, there is a light at the end of the tunnel in far more cases than many think.
I know, because when I was a student at the University of Connecticut I faced discriminatory harassment based on my race. It was harsh and seemed as though my harassers essentially had the system down and were in an advantageous position given their place within that system. They were right initially and certainly on the face of it. I mean one of the worst was one of my professors. Pretty advantageous position for him in that setting.
But, I felt I had little choice, but to go on. I could have quit, but to do so would have meant more problems in the long term, thus if I could just make it through without having some type of permanent psychological injury, or making a terrible misstep that I would regret the rest of my life, I would in the end be much better off. In my mind I had to.
So the choice to remain there was easy. How to deal with the harassment was not so simple. I really had to dig deep and search myself. There were absolutely days I drove to school nervous about what I knew was sure to come. But I had to get past that. See, it wasn't about what was going to happen. I knew what was going to happen one way or another. I was going to get it. The harassment had started, stayed active and in fact got worse with time.
The whole focus was what was I going to do about it. Given that it was the professor and students he had recruited, and that the others were scared to say or do anything for fear of what would happen to them, I took a big risk if I immediately went and reported it. Now I would not recommend that to anyone else, but I had thought about my situation long and hard and the professor was also well known within his field and had a certain level of prestige. My word against his and all of theirs without tangible solid proof would be hard to navigate successfully and had a high risk of backfiring.
I chose to wait and instead read up on my rights, as a student and what a professor and other students could or could not do. I mean I already knew what they were doing was illegal, but I wanted some specifics. It helped to ease my mind with the power of knowledge.
Moreover, it helped when making my next choice – to form counter measures to the strategies and tactics they used to harass me. After reading about my rights, I found they were actually not as confident as they seemed. I began to realize they were very aware of the rules, and were working hard to avoid being caught.
They didn't know I knew or how much. This became advantageous. They figured their strength was in numbers and this was great. But actually, they were engaging in a criminal enterprise and there was no way around it. Just because the politician doesn't get caught taking the bribe doesn't mean they didn't commit a crime. Just because the spouse doesn't get caught cheating doesn't mean they didn't commit a breach of trust and transgression in terms of the trust placed in them by their partner, their children and other people. In the end, I was in the right. Knowing my position helped.
See, I committed myself to finishing and graduating and chose to look at what they were doing, what my rights were and, without breaking the laws myself, implemented tactics and strategies to cause their failure. They cannot win. That was the attitude. Even if they cheated and got me out that way, it would not have been a win for them. Their goal was to get me to make the choice and then stop doing what I was doing by choice. None of my choices ever resulted in that, and I did graduate.
Whether you're being discriminated against because of your color, have a different religious or spiritual belief than those around you, are of a different ethnicity, are of a different lifestyle or sexual orientation or are discriminated against because you are a woman, when you decide to go through it to get what you want, be smart, be aware and never stop. There is always a way. They cannot win has to be your mantra and sooner or later you'll find the path that makes failure something you watch those trying to stop you go through. Believe.
To read about my inspiration for this article go to www.lawsuitagainstuconn.com.
What a boring bunch of whining shit. You spam this shit constantly bitching about what happened to you in college. Nobody gives a shit. Man up and shut up, asshole. There was nothing racist about your treatment, you are a convicted arsonist and terrorist wannabe and you were treated as such. Fuck off.