Tell the NSA:
StopWatching.US
Features
•
latest news
•
best of news
•
syndication
•
commentary

Feature Categories



KILLRADIO
printable version - json version - email this article - view hidden posts - tags and related articles
by RPM-M Monday, Nov. 26, 2012 at 7:23 PM

Official Statement of the Rebolusyonaryong Partido ng Manggagawa - Mindanao (RPM-M) on the Peace Framework Signing between the Government of the Philippines (GPH) and the Moro Islamic Liberation Front (MILF)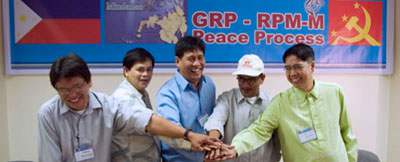 1-grp-rpmm-peace-mindanao-philippines.jpeg, image/jpeg, 400x162

The Revolutionary Workers Party – Mindanao (RPM-M) would like to congratulate the Moro Islamic Liberation Front (MILF) in reaching this historic moment in its quest for the National Liberation of its people. The signing of the framework Agreement on the Bangsamoro can be a new phase of our long quest for achieving genuine peace in Mindanao through our consistent and legitimate struggle as validated in what we achieved in the negotiating table.

The RPM-M and the Revolutionary Peoples' Army (RPA) have been consistent on its support towards the legitimate struggles of oppressed nationalities around the world for their respective Right to Self-Determination (RSD). However, the Party is a believer of a pro-people and people-centered peace process. Thus we have also been consistently vocal on our comradely criticisms to processes which only have the revolutionary group and the government panels that are talking without involving the broad masses in whose name revolutions and uprisings are waged. Thus we are calling for a very exhaustive process involving the Bangsamoro and the non-Bangsamoro Masses. This development today could be a concrete milestone for the process to further pursue and democratically address issues and concerns affecting not only the Bangsamoro PEOPLE.

We call upon our MILF comrades to be ever vigilant by learning from the past experiences especially with our MNLF brothers and sisters, that to achieve concrete reforms in the ARMM or the Bangsamoro a holistic approach is necessary and hence peace can be achieved in the Bangsamoro if the whole country can also in the process of peace building. Peace and development can never be compartmentalized in a country of multi nationalities like ours. May this framework Agreement provide added atmosphere for the empowerment of the Bangsamorto people- the real stakeholders in the whole process.

The RPM-M and the RPA call upon the Government of the Philippines not to disregard the issues and concerns raised by stakeholders like the Indigenous Peoples and the Christian Settlers. It is the responsibility of the State/GPH to bring into the negotiating table the concerns of its constituents and ensure that no one is left behind.

Both parties shall always be reminded not to short cut any process, be inclusive and be transparent to prevent doubts and speculations. Sincerity and patience of both parties can be put into test by these basic principles.

We also call on the Bangsamoro masses to take part, importantly today in the whole process and not just a mere expectator since the process will define the future of the Bangsamoro people. We encourage you to not allow the elite and unscrupulous politicians and even the extremists to hi-jacked this victory just like what had.

In this historic juncture, we call on all social actors in Mindanao and the Philippines to express their views, insights, criticisms and apprehensions of the process and its direction in the most civilized and reasonable ways. This is in keeping with the commitment of both parties involved to make this process an inclusive one. This is an opening of a door for all inputs to be put forward towards the peace and progress of Mindanao and the empowerment of its peoples.

To the revolutionary forces in the Philippines and in Mindanao, we have roles to play to help enrich the debate on the revolutionary framework to the benefit of the oppressed classes and nationalities in this part of the world.

Revolutionary Greetings!
Revolutionary Workers Party – Mindanao (RPM-M) Revolutionary Peoples' Party (RPA)
Mindanao, Philippines



Report this post as:


by RPM-M Monday, Nov. 26, 2012 at 7:23 PM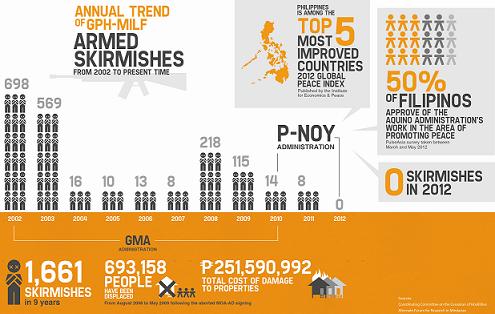 2-armed-skirmishes-gph-milf-mindanao-philippines-peace-pnoy.jpg, image/jpeg, 495x314
Report this post as:
Local News

Los Angeles Declares "Hands Up!" in Peaceful Protest of LAPD Murder of Ezell Ford A18 4:09AM

Ezell Ford and Ferguson Solidarity A17 6:35PM

Family and Supporters of #Justice4Fords Protest LAPD Execution of Ezell Ford in South L.A. A17 2:49PM

Southern California Swarms to Save the Bees in Solidarity with Honey Bee Day Around the Gl A17 5:30AM

L.A Supports August 2nd International Gaza Protest Photoset 4 A05 7:03PM

L.A Supports August 2nd International Gaza Protest Photoset 3 A05 6:45PM

More about KPFK via Pacifica turmoils A05 6:29PM

L.A Supports August 2nd International Gaza Protest Photoset 2 A05 6:23PM

L.A Supports August 2nd International Gaza Protest Photoset 1 A05 11:36AM

Demonstration in Support of Persecuted Christians Saturday A02 10:40AM

Water in California - info proliferated now is dubious J28 5:04PM

Pacifica clearly endangered. Reposting info here: J28 2:34PM

Video: Occupy Love (2013), 1 hr 19 min J28 4:43AM

Who declares themselves to be the ultimate-only-valid-authority here on current wars elsew J27 11:11AM

MDRC's Rent Reform Assault: Section 8 tenants vs. affordable housing industry J24 12:24AM

Obama at LA Trade Tech J23 3:23PM

Los Angeles Joins World Wide Protest Against Israeli Aggression J22 6:33PM

Los Angeles Joins World Wide Protest Against Israeli Aggression J22 5:48PM

Los Angeles Joins World Wide Protest Against Israeli Aggression J22 5:28PM

Protest Israeli Shelling of Gaza J21 1:58AM

#SaveTheInternet Rally J20 11:24AM
More Local News...
Other/Breaking News

Kiev's Dirty War A20 12:09PM

Clinton, Obama and the New Era of American Empire A20 11:12AM

Failure in Cairo A20 3:02AM

Weaving the Past: Journey of Discovery Extends Exclusive Engagement A19 3:37PM

Thinkers replaced by Social Controllers on massive scale. A19 6:11AM

Gaza Ceasefire Extended A19 6:05AM

8 Things to Know About the Iraq Crisis A19 4:58AM

Huge Rescue Mission Launched in Peru to Save Suffering Circus Animals A18 3:47PM

III ANARCHIST AND PUNK FILM FESTIVAL - SÃO PAULO – BRASIL A18 1:47PM

Russia: Waging Peace in Ukraine A18 10:41AM

Promoting Confrontation with Russia A18 4:56AM

Anti-Democratic Straitjackets A18 4:23AM

Militarization of our police A17 11:47AM

Kiev's War Without Mercy Continues A17 11:36AM

The risse of political extremism A17 11:21AM

Block the Boat for gaza A17 10:37AM

Netanyahu: Israel's Pinochet A17 6:10AM

As Quartermaster Memory Returns, Nuclear Disaster Directly off So Cal Coast 1983 A16 3:42PM

The New York Times War on Truth A16 5:53AM

MSM War on Gaza A16 5:11AM

Terrorizing Southeastern Ukrainians: Heading Toward East/West Confrontation A15 1:56PM

New giant spy airship-or is it already here? A15 11:42AM

The Great Israeli Iron Dome Hoax A15 2:03AM

Mad, Maleficent, Murderous Main Street Media A14 12:17PM

Blocking Russian Humanitarian Aid A14 10:51AM

Sham Cairo Talks Continue A14 10:19AM

Philippines: Vocal DAP critic Bayan Muna Neri Colmenares also got P25M from fund A14 4:28AM

No laughing matter:Comedian Robin Williams' longstanding contribution to US war propaganda A13 1:19PM
More Breaking News...