Features
•
latest news
•
best of news
•
syndication
•
commentary

Feature Categories



KILLRADIO

printable version - email this article - view hidden posts - tags and related articles
by Rockero Sunday, Oct. 16, 2011 at 8:34 AM
rockero420@yahoo.com
October 16, 2011

RIVERSIDE (California) - After an event-filled launch of the occupation of Riverside timed to coincide with Saturday's international day of action, just under 100 people of conscience successfully held the pedestrian walkway of the downtown mall, despite police threats of arrest for those determined to sleep in the public thoroughfare.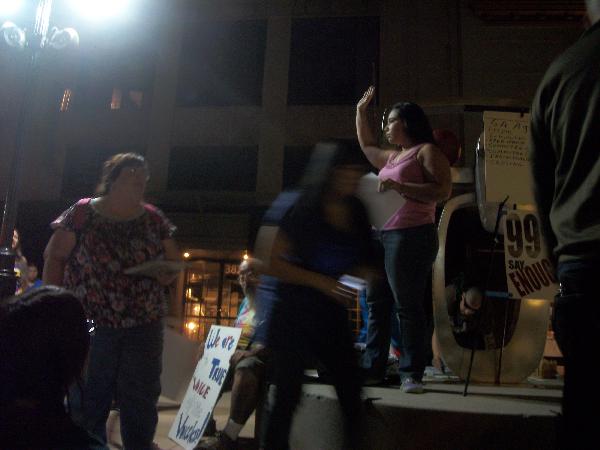 100_8740.jpg, image/jpeg, 4000x3000
Preparatory committees began arriving and setting up infrastructure at about 11 Saturday, and crowds began arriving at noon. By 12:PM, approximately 400 occupiers had gathered and began announcing the occupation to passersby with signs and chants. Soon, the inevitable spontaneous marches began, but they had returned in time for a 1:PM orientation. Homeland Security sent two trucks labeled "Federal Preventive Services," whose heavily-equipped members photographed and otherwise attempted to intimidate the nonviolent crowd.

At two, Hannah led a politically-conscious yoga workshop that drew about 15 participants, followed by the legal team's know your rights workshop with Q&A at 2:30. Spontaneous marches continued, and the final teach-in centered around "Economics & Power." Facilitator Kevin emphasized the fundamental economic problem of the appropriation of the surplus value of toilers by their exploiters in the 1%.

At 6:PM the facilitation committee met to finalize the agenda for the general assembly and choose roles for the evening, and at 7, all present convened to make collective decisions as a body. There were between 400-500 present!

During the GA, Food Not Bombs served salad, pasta, rice, yams, beans, potato salad, and other side dishes to grateful participants.

Shortly after the GA, local band Inner Prisms entertained and many political discussions took place.

The tensest moment of the night came at about 11:30, when police came in to "negotiate" with occupiers. They had demanded that nobody set up tents, use sleeping bags, or sleep in the plaza. Nonetheless, defiant revolters had done precisely that, prompting the police incursion. Cops soon realized that creating problem would not behoove them, and retreated for the night.

Sunshine roused us at about 8, and volunteers dropped off coffee and donuts. A schedule for Sunday was posted, listing workshops, committee meetings, outreach opportunities, actions and the general assembly.

The revolution continues.
Report this post as:
Local News

Divestment Fails at UC Santa barbara M15 4:19PM

Uncensored Manifesto from Retired LAPD Officer Christopher Dorner M15 9:37AM

Santa Ana Police Department: taking payoffs to jail the innocent M14 5:31PM

California's vigilante police justice: Trial by machine gun M14 5:23PM

Nevada Tribes Walk 272 Miles to Protest SNWA Pipeline M14 11:44AM

RAISE THE FIST MOBILE APP! M08 2:02AM

CA Safe Schools Honors LA Unified & Local Heroes! M07 6:13PM

Proposition C M07 1:13AM

VENICE OPDs ARE BACK! BUT WHY? M06 1:20AM

May Day 2013 Los Angeles M04 3:18AM

May Day 2013 Los Angeles M03 6:32PM

May Day 2013 Los Angeles M03 5:47PM

Join Demo At Farmer John Slaughterhouse A22 8:52AM

LAPD spying using StingRay A21 11:28AM

May Day Workers Film Festival San Diego A17 1:21AM

L.A born Actor James Cromwell Arrested in Animal Rights Action A16 1:46PM
More Local News...
Other/Breaking News

Iraq Today: America's Imperial Legacy M23 12:12AM

Mission Creep Toward Full-Scale War on Syria M23 12:06AM

LA Election Results Commentary M22 11:03AM

Evidence of Police State, USA M22 10:08AM

Global-warming debate shouldn't exclude role of livestock M22 10:00AM

Syrian foes move towards talks but fighting rages M22 1:52AM

Obama's War on Free Expression M22 12:03AM

Israel Heads Closer to War on Syria M21 11:56PM

"DEVELOPER PAUL SOLOMON" An Artist's Worst Nightmare M21 5:03PM

Are Japanese Bonds Signaling Trouble? M21 11:38AM

14 rue du Sergent Godefroy M21 6:03AM

Economic Ethics After the Crisis M21 5:42AM

Reinventing Guatemalan History M21 12:02AM

Supreme Court Colludes with Monsanto M20 11:57PM

BE TEMPERATE. Discourage people from taking drugs. M20 9:02AM

Creative Destruction M20 4:14AM

America: A Modern-Day Sparta M19 11:45PM

Guantanamo Force-Feeding Constitutes Torture M19 11:42PM

Disconnect: Soaring Markets/Troubled Economies M19 12:19AM

Assad: Syria transition talks are internal matter M19 12:12AM

America Honors Its Worst M19 12:03AM

Assad: Syria transition talks are internal matter M18 11:58PM

Federal terrorism USA? Handshake germ warfare M18 10:54PM

reiniciar chamán M18 10:19AM

Paraphysique du cerveau M18 5:49AM

IRS Scandal: More Than Meets the Eye M18 12:03AM

Putin v. Obama et al M17 11:59PM

Monica Ratliff for School Board M17 4:25PM
More Breaking News...