Features
•
latest news
•
best of news
•
syndication
•
commentary

Feature Categories



KILLRADIO
printable version - js reader version - view hidden posts - tags and related articles

by RP Monday, Aug. 08, 2011 at 1:49 PM

What was probably intended as a quiet move by Jan Perry gets media attention and puts two organizations with an adversarial history on the same side. Four companies are named in regards to Ralph Horowitz's sale of the land (now in escrow). People are encouraged to print out copies of a petition against this plan and gather signatures.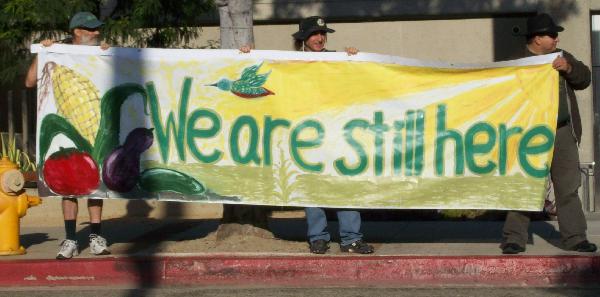 scfwearestillherecropped.jpg, image/jpeg, 2783x1381

In an apparent attempt to make the 14-acre space at 41st and Alameda more attractive to developers, city councilmember and mayoral candidate Jan Perry is trying to waive the requirement that 2.6 acres be devoted to green space. Instead, seller Ralph Horowitz would pay about three million dollars to existing park services nearby.

On Thursday August 4, the Harbor Commission in San Pedro held a public hearing to consider Perry's proposal. (The disputed land at 41st and Alameda was placed under the jurisdiction of the Harbor Department after eminent domain was declared years ago.)

There was a large presence outside the building prior to the meeting. At one point (9:20 am) this author counted 22 South Central Farm supporters holding banners and signs. They were soon joined by Aztec dancers.

The media presence was significant: there was a Los Angeles Times reporter, a camera crew from KTLA along with reporter Elizabeth Espinosa, Channel 62, Azteca TV, and at least two radio stations.

"The city is accepting a blank check in exchange for a waiver of city rights to property that cannot be replaced," said one Farm supporter during the hearing. "I don't think that it's spelled out exactly what this man [developer Ralph Horowitz] is expecting in exchange for the carrot that he's dangling to pay for parks programs. It's part of his pattern, it's been part of his litigation. The 2.6 acres was, as National Resources Defense Council attorney Joel Reynolds said, hard-won and negotiated on behalf of the community. . . ."

Bruce Campbell expressed concerns about possible conflicts of interest among the commissioners, one of whom is linked with Forever 21, which had proposed to build a large warehouses and distribution center on the site a few years ago. (See: http://la.indymedia.org/news/2008/12/222947.php.) He also pointed out the contradiction of Perry's stated concern about pollution and health as a rationale for eliminating the green space requirement—yet she seemed fine with Forever 21's warehouses, which would have "added 2,581 additional diesel truck trip a day to this already heavily-impacted area."

"Lastly I'm concerned that Councilwoman Perry would have too much leeway with a slush fund which would be set up under this proposal," he added.

Environmental scientist Woodsin Joseph-Sandberg brought up environmental issues, including the Compton watershed. "The water percolates down through the green space," he explained. "It will not flow through pavement or warehouses, it will just flow off into ocean. And Los Angeles has serious water problems. We need to protect the watershed that we have, and we need to allow that water into the ground. That is an important factor in allowing the green space to keep existing where it is. To create the farm again will create more water retention in the area. It also helps with flood control to have a place where water can go into the ground instead of just flowing across the surface of the pavement. We have way too much pavement in this city. You need to get more green spaces.

"We're at a time of environmental collapse in many of our ecosystems, so we need to have more green space and not less in this city if we want to survive in the long-term.

"Another environmental factor is the wildlife utilization of this area. There were 500 trees, there were species using these trees, including birds, reptiles, insects. And these species are important not only for the existence of ecosystems but also for our quality of life, and we need to take that [as] a factor. There are Fish and Game codes (3503.5) that need to be taken into account. There have been no mitigations for these endangered species. So I'd ask the council to take theses factors into account as well as the air pollution."

Claudia Cano, a local resident and mother, referred to the documentary The Garden and remarked, "I sympathize with what their struggle has been thus far. We oppose the proposal. Nothing good comes of it. Although Jan Perry wrote a very nice letter showing all these benefits it would bring to the community, we've clearly deciphered the letter and [concluded] that there are hidden agendas.

"We need to see the bigger picture here. Why did it take so long? Eight years is a long time to build a soccer field. It was part of the original settlement. She's taking back things that she promised, which has pretty much always been her case. She says something and then figures out a way to unsay what she says.

"Again, as a mother, I am here to say I oppose this proposal. We need more green space, a soccer field, and you've clearly seen that. The South Central Farmers [and] the Concerned Citizens of South Central L.A. coming together is showing you that we can figure out how to make things better for our youth and for our communities."

Mauricio of the South Central Neighborhood Council, who both lives and works in the area, said that Jan Perry has been ignoring "years of research" regarding the environment. He also expressed concern for the children and the possibility sweatshops at any developments, and he conveyed support by his organization for the Farmers.

Another resident of the area, Bernette, also opposed Jan Perry's proposal. She said that for 15 years the Farm already fulfilled the need for recreational park use which Perry is now proposing. "That was our safe space, that was our community space." She favors a return of the Farm as well as recreation space.

Refugio Ceballos, an elder member of the South Central Farm Cooperative whose involvement with the farm goes back about 10 years, underscored the connection of farming and the well-being of children. "I've been working with children, and I've spoke to many of the teachers in the schools nearby, and they've all told me the same thing: when the South Central Farm was there, the children seemed to be calmer, easier to deal with. They seemed more motivated because they were rested, they had somewhere to use up their energy. We would put them there and have them work in the soil with their parents, eat with family. They had a place to go to. Right now what they have is little houses all bundled up like apartments, they can't even grow so much as a rose, even in a pot, without some landlords asking the families to leave. This is not sane, it's not humanitarian—we all need a piece of green somewhere. And not just a park, a place where we can get our hands in the dirt and be with our parents when we wish.

"I speak for the children. . . ."

One surprising development to many was an alignment of Concerned Citizens of South Central Los Angeles and the Farmers. Historically the two groups have been at odds (and some traces of hostility was evidenced by each side). "I'm here on the behalf of 5,000 families--not people but families—that reside in the immediate area surrounding the Lancer site," said Mark Williams of Concerned Citizens. "We need safer places than our streets for our kids to play. We need the land—money is not the most precious resource that we need to help our children, it's the land. The money is readily available to develop the soccer field that would be of quality of the initial settlement [for which] Mr. Horowitz was going to donate land.

"This mean-spirited, irresponsible vilification of Mr. Horowitz is the reason why there's no farm and there's no soccer field there now. He's been responsive to the needs of this community as he's understood them, as they've been presented by the elected representatives.

"Please do not approve this. Money is readily available, land is not.

"[Inaudible sentence.] We support farms. We're willing to work again to secure the resources to purchase the entire property from Mr. Horowitz, but that irresponsible rhetoric... Mr. Horowitz said that he would not sell the property to the folks who represent the so-called farmers at any price because of this irresponsible, mean-spirited rhetoric. He's no villain.

"Please, for the needs of the local community, we need the land for a soccer field, and we can provide the resources to develop it, operate it, and maintain it. . . ."

"We've been vilified in this process also," said Noreen McClendon, also of Concerned Citizens of South Central Los Angeles and daughter of the late Juanita Tate. "The real villain in this whole process is Jan Perry. Jan Perry has pitted the Concerned Citizens against the Farmers from the very beginning behind our backs. We are in favor of farm space there, we are in favor of the soccer field. [Inaudible sentence.] The issue is that Jan has a history of duplicity and serving her financial interests over the interests of the constituents on the south end of her district, and this is no different.

"Please know that Concerned Citizens—and since the Farmers are here now, and I can say this publicly, and we can't be vilified later--we will join any lawsuit to prevent this from happening. This is absolutely wrong. . . . "

The two people who spoke in support of the revised settlement included Marie Rumsey, Senior Deputy at City of Los Angeles, who represented Jan Perry. "This land is zoned for industrial purposes," she began. "It is not a park right now, it's not a community garden right now, it's vacant land that was up for sale and currently in escrow. It's not a hidden agenda, and the fact that we're all here talking about it today proves that.

"I'm here to ask you to approve the [revised settlement]. This action will put money into the neighborhood and help improve parks at [inaudible term] at Roberts Park and Ross Snyder Park."

The commission asked her who the land is in escrow with. "It's in escrow with four Korean manufacturing garment companies," she replied. "I do have their names, and I can grab them." She eventually came back with a list of company names: Impact, Active, Miss Me, and Poetry.

The next speaker was a female resident of the area surrounding Alameda/41st (identified by last name only: Jones). "I don't know all those people that [were] up here, but I can tell you from experience [about] when that farm was there," she said. "Before that place was closed, people were living in that place almost on the grounds. It was almost becoming a homeless encampment. All sorts of rodents, such as rats [were] coming out of that place, along with dogs of all sorts, and something that looked like a cat! It also came out of that place."

She added that "the settlement of that property would benefit us" because of the large senior population in the area ("approximately 189") and the lack of bus benches. Also, she stated that the money from the land sale, would allow improvements to park facilities. "We need new swings for our kids, we need new tables, we need games of all sorts."

The statements were followed by an open discussion among the commissioners. Robin Kramer and David Arian expressed sympathy for those against Perry's proposal and strong reservations about supporting it themselves. However, there were also legal concerns about them getting involved at all, partly because the issue concerned another community outside their jurisdiction. (There was a perception among Farm supporters that the commission had gotten caught up in something bigger than they were used to.) Ultimately, it was decided to table the issue, thus returning it to L.A. City Council.

This decision was considered a victory of sorts for the Farm because at least the settlement was not approved.

A petition against this proposal is being circulated. People are encouraged to print out the petition featured here http://www.southcentralfarmers.com/ and collect signatures.



Report this post as:


by RP Monday, Aug. 08, 2011 at 1:49 PM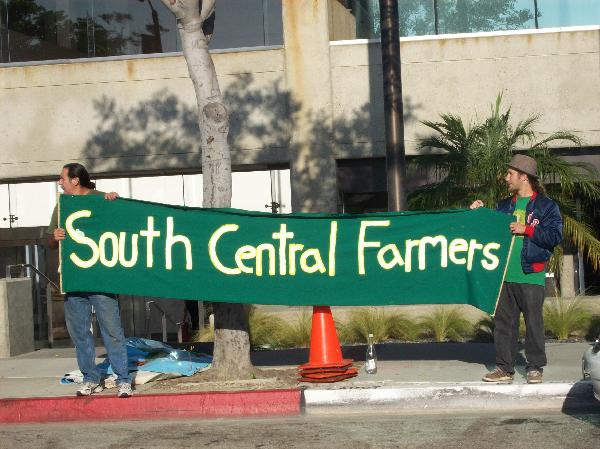 scfbannerscf.jpg, image/jpeg, 2848x2134

Report this post as:


by RP Monday, Aug. 08, 2011 at 1:49 PM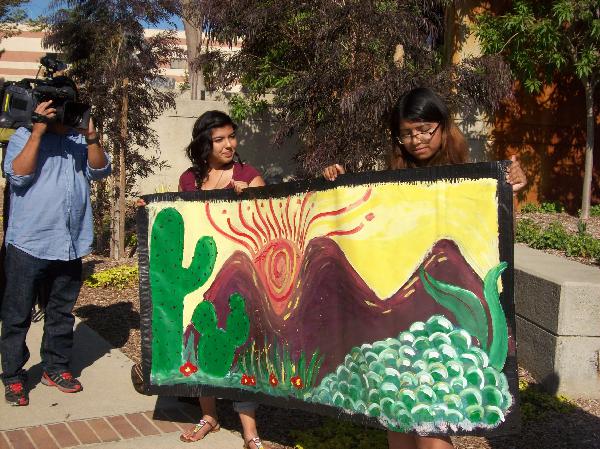 scfbannersunmountainsfoodcameramanktla.jpg, image/jpeg, 2848x2134

Report this post as:


by RP Monday, Aug. 08, 2011 at 1:49 PM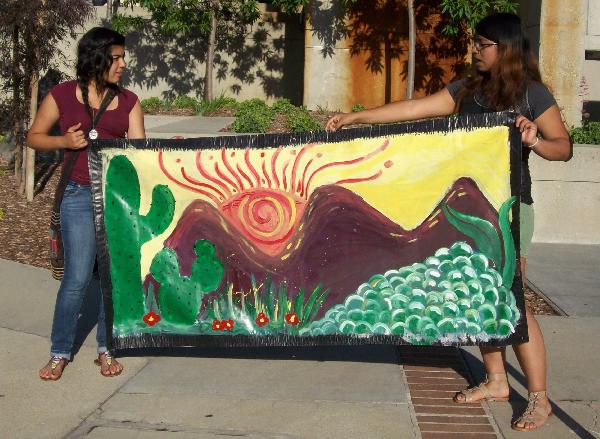 scfbannersunmountains.jpg, image/jpeg, 2267x1662

Report this post as:


by RP Monday, Aug. 08, 2011 at 1:49 PM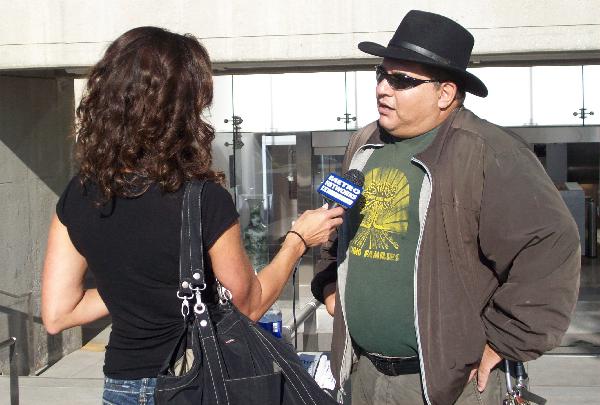 scfinterviewt.jpg, image/jpeg, 2731x1847

Report this post as:


by RP Monday, Aug. 08, 2011 at 1:49 PM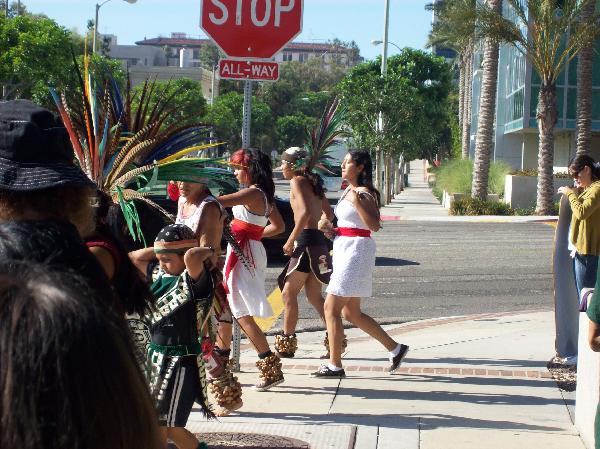 scfdancers.jpg, image/jpeg, 2848x2134

Report this post as:


by RP Monday, Aug. 08, 2011 at 1:49 PM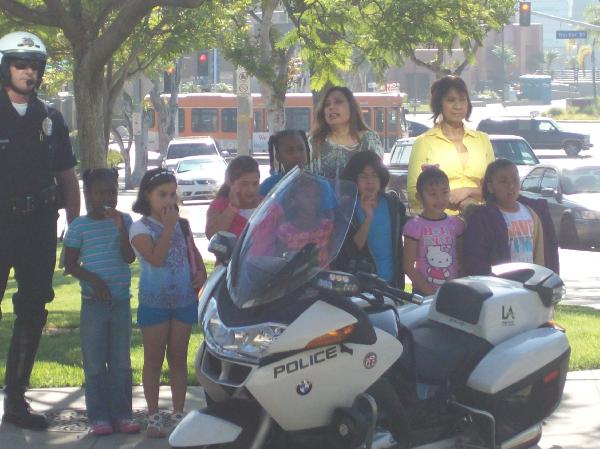 scfchildrenwatching.jpg, image/jpeg, 2848x2134

Report this post as:


by RP Monday, Aug. 08, 2011 at 1:49 PM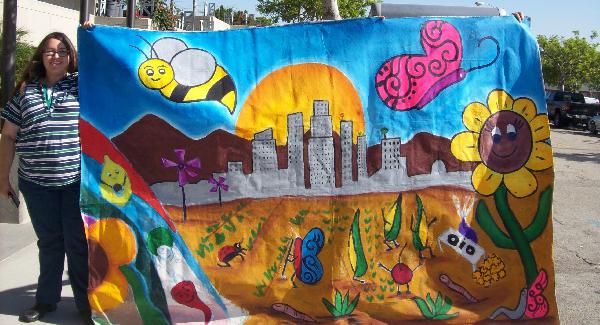 scflargemuralbanner.jpg, image/jpeg, 2835x1539

Report this post as:


by RP Monday, Aug. 08, 2011 at 1:49 PM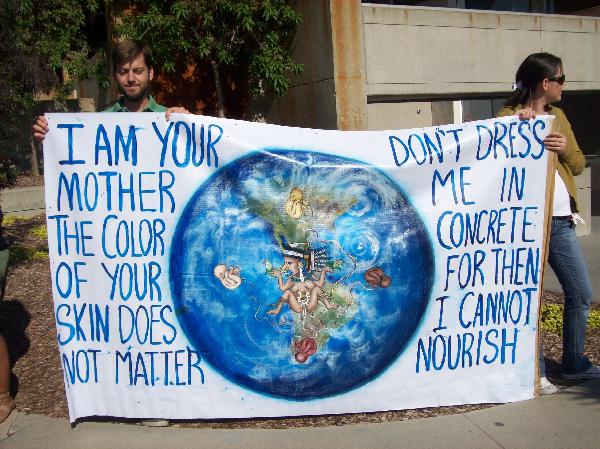 scgearthbanner.jpg, image/jpeg, 2848x2134

Report this post as:


by RP Monday, Aug. 08, 2011 at 1:49 PM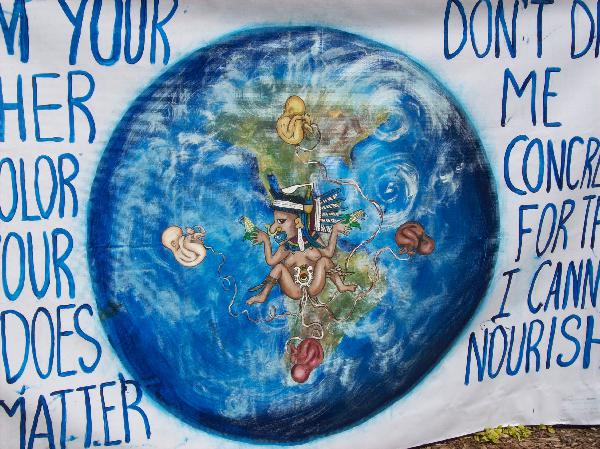 scfearthbannercu.jpg, image/jpeg, 2848x2134

Report this post as:


by RP Monday, Aug. 08, 2011 at 1:49 PM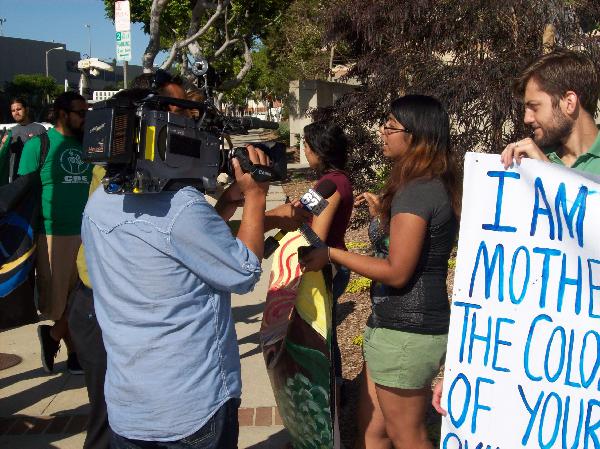 scfktlacamerademonstratorbanner.jpg, image/jpeg, 2848x2134

Report this post as:


by RP Monday, Aug. 08, 2011 at 1:49 PM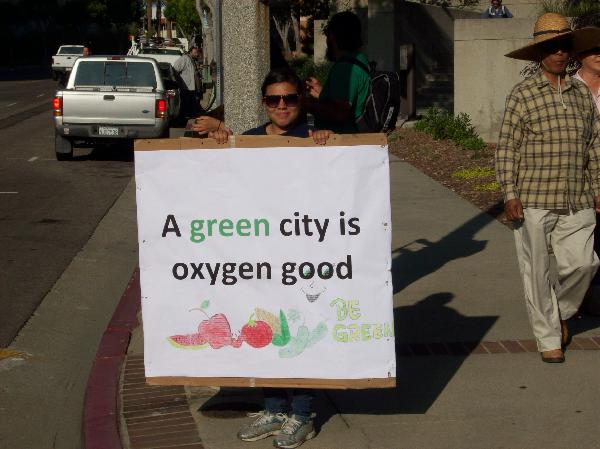 scflargesigngreencity.jpg, image/jpeg, 2848x2134

Report this post as:


by RP Monday, Aug. 08, 2011 at 1:49 PM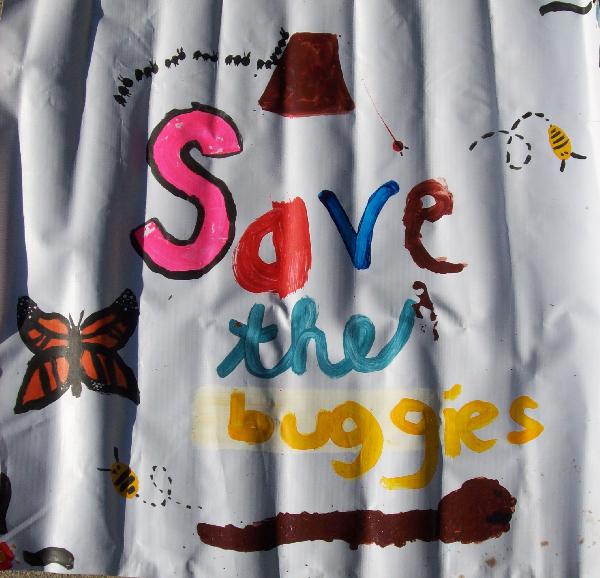 scfsavethebuggies.jpg, image/jpeg, 2120x2044

Report this post as:


by RP Monday, Aug. 08, 2011 at 1:49 PM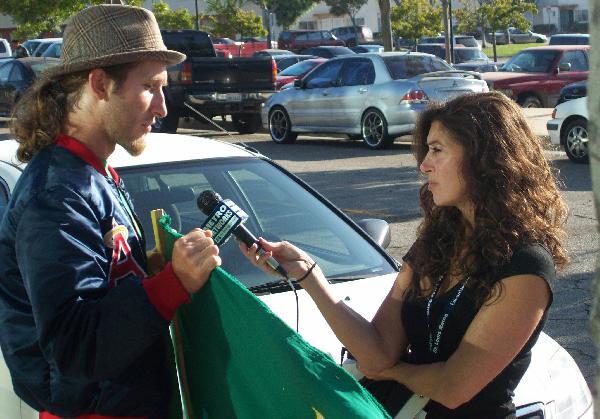 scfradiointerviewbannerholder.jpg, image/jpeg, 2748x1923

Report this post as:


by RP Monday, Aug. 08, 2011 at 1:49 PM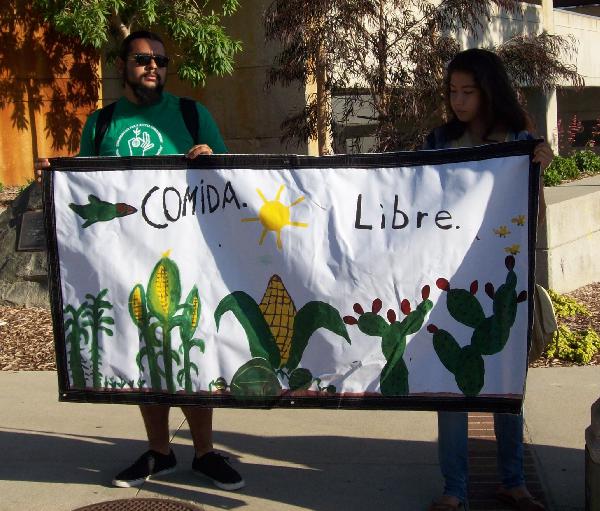 scfbannercorncropped.jpg, image/jpeg, 2057x1752

Report this post as:


by RP Monday, Aug. 08, 2011 at 1:49 PM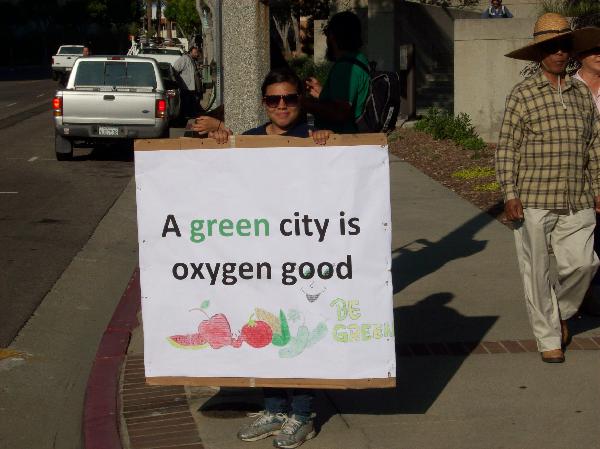 scflargesigngreencity.jpgszvtc4.jpg, image/jpeg, 2848x2134

Report this post as:


by RP Monday, Aug. 08, 2011 at 1:49 PM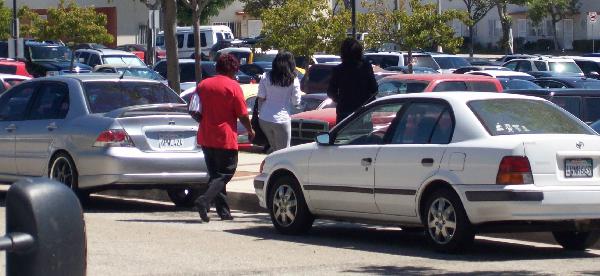 scfperrysupporters2.jpg, image/jpeg, 2230x1026
Report this post as:
LATEST COMMENTS ABOUT THIS ARTICLE
Listed below are the 10 latest comments of 2 posted about this article.
These comments are anonymously submitted by the website visitors.

Local News

OUR HOUSE Grief Support Center Presents Night for Hope O30 5:38PM

Marshall Tuck's racist dog whistle O27 5:01AM

Marshall Tuck's ethnocentrism contradicts Californian values O27 4:32AM

Contra Costa-Hawkins O25 3:48AM

Debunking Some Anti-Prop 10 Propaganda O12 6:56AM

Why Should California Choose De Leon Over Feinstein? O10 9:55PM

Change Links September 2018 posted S02 10:22PM

More Scandals Rock Southern California Nuke Plant San Onofre A30 11:09PM

Site Outage Friday A30 3:49PM

Change Links August 2018 A14 1:56AM

Setback for Developer of SC Farm Land A12 11:09PM

More problems at Shutdown San Onofre Nuke J29 10:40PM

Change Links 2018 July posted J09 8:27PM

More Pix: "Families Belong Together," Pasadena J02 7:16PM

"Families Belong Together" March, Pasadena J02 7:08PM

Short Report on the Families Belong Together Protest in Los Angeles J30 11:26PM

Summer 2018 National Immigrant Solidarity Network News Alert! J11 6:58AM

Watch the Debate: Excluded Candidates for Governor of California M31 5:20AM

Change Links June 2018 posted M28 7:41AM

The Montrose Peace Vigil at 12 Years M22 8:01PM

Unity Archive Project M21 9:42AM
More Local News...
Other/Breaking News

Allo, quelqu'un ? Allo, quelqu'une ? D09 9:16AM

deral Government Officials are not allowed to take leaflets nor pick up items in privste D09 4:15AM

Communist Mouthwash Hides Nature of Nations Suffering in Comm Pyramids Ploys D09 12:01AM

Atlanta: metro Pillage, Poison Gas, Pricks D08 9:13PM

Atlanta Metro Suffers Under Pillage, Shame lso Political Poison Gases D08 8:41PM

Fed Says College Students Have More Debt than Previous Generations D07 3:08PM

Paraphysique de l'insurrection et de l'émeute D07 9:55AM

Corruption of USA government D06 4:14AM

"We live in a time of radical counter-enlightenment" D04 1:45AM

Did Woolsey Fire Cause Radioactive Fallout? D03 10:26PM

G20 Discusses Preventing Financial Crisis and Small Island Economies N30 3:10PM

Driver near Campbell San Jose researches Bus Traffic from Northern Mexico N29 4:04AM

The Death of Small Businesses in Big Cities, Explained N28 3:43PM

Felons Shw Ninjasred Heavy Truck Tyres N28 2:28PM

Paraphysique de la consommation/pollution N28 8:08AM

Paraphysique de l'effet spectateur N26 11:13AM

Condominium, terrorisme du capital N24 8:52AM

Debt and Tax Policies Needed to Prevent Crisis Says Finance Watchdog Group N23 2:40PM

Independent Media Crackdown and Global Social Movements N22 9:45PM

Abécédaire du fascisme restreint et général N22 8:41AM

"Animaniacs in Concert!" Starring Voice Legend Rob Paulsen Heads to Portland, Oregon N20 8:39PM

Socialism in American English N20 12:04PM

Noske, noskisme réactualisé N20 11:29AM

Oprah Please Stop Selling Dead Animal Pieces N20 3:32AM

Down In Smoke SF N20 12:03AM

Lucifers Banker N18 7:38PM

Paraphysique du scientisme N18 9:19AM

USDA Withholds Names Of Turkey Companies Spreading Salmonella N17 7:51PM
More Breaking News...