Features
•
latest news
•
best of news
•
syndication
•
commentary

Feature Categories



KILLRADIO
printable version - js reader version - view hidden posts - tags and related articles

by Mark Gabrish Conlan/Zenger's Newsmagazine Tuesday, Oct. 19, 2010 at 9:33 AM
mgconlan@earthlink.net (619) 688-1886 P. O. Box 50134, San Diego, CA 92165
Though the guest of honor, Southern Poverty Law Center (SPLC) director Morris Dees, didn't show up — his mother-in-law was terminally ill and he canceled with less than a day's notice — the September 22 program honoring the Center went on anyway, with the group's president, Richard Cohen, the main attraction. Cohen and other SPLC staff members discussed the group's history, its spectacular lawsuits holding the Ku Klux Klan and other white-supremacist organizations responsible for the deaths of people of color, and the links between the ultra-radical Right and the supposedly "respectable" Tea Party.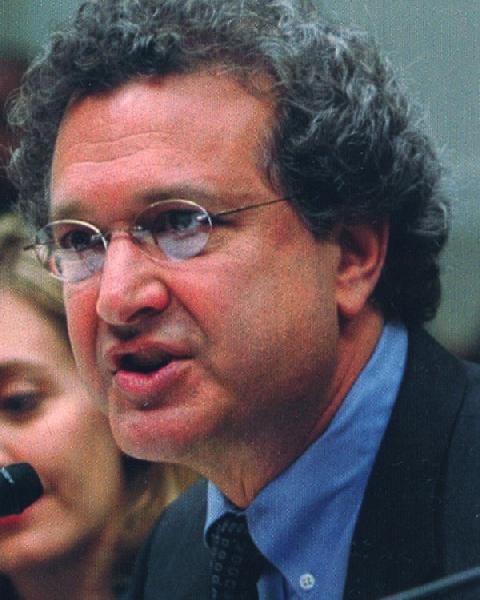 cohen_2.a.jpg, image/jpeg, 600x749
Church Program Honors Southern Poverty Law Center

Show Targeting Right-Wing Extremists Goes On Without the Star

by MARK GABRISH CONLAN

Copyright © 2010 by Mark Gabrish Conlan for Zenger's Newsmagazine • All rights reserved

PHOTO: Southern Poverty Law Center president Richard Cohen testifies before Congress in 2007. Courtesy Southern Poverty Law Center.

The party continued even though the guest of honor didn't show up. The Southern Poverty Law Center (SPLC) had scheduled a program called "The State of Hate and Extremism in America" for St. Paul's Episcopal Cathedral in Bankers' Hill September 22, but the group's co-founder, veteran civil rights attorney Morris Dees, was detained in his home town, Montgomery, Alabama, by the terminal illness of his mother-in-law. The audience didn't find out about Dees' cancellation until they were in the church hall and the program was already under way, but the other advertised guest, SPLC board chair Richard Cohen, was there — and so were other staff members and local attorneys who've worked with the group.

"I spoke with Morris this afternoon and he told me, 'Lecia, let them know SPLC is not a one-man band,'" said staff member Lecia Brooks, an African-American woman who joked about how the organization's reputation was so powerful she was lured from California to Alabama to work for it. "Morris is our best-known figure, but our work is a collective effort with 100 people who share Morris' passion for justice. We also know you share our vision."

Dees and fellow civil rights attorney Joseph Levin, Jr. founded SPLC in 1971, just seven years after the passage of the landmark Civil Rights Act of 1964. One of that law's provisions created opportunities for private attorneys to enforce its provisions by filing lawsuits against businesses and government agencies that discriminated based on race or gender. Dees sold a profitable book-publishing business to start SPLC, and over the years expanded the focus of his group to challenging white-supremacist movements like the Ku Klux Klan and American Nazi Party.

A Lynching in 1981

Though Dees didn't attend the St. Paul's event in person, he sent a videotape which was shown towards the end of the program. "Many of you have contributed to us and have been supporting our work for five, 10, 15 or 20 years," Dees said. "You were with us when the Klan burned down our building; when we represented Beulah Mae Donald when her son Michael was lynched by Klansmen in 1981; when we sued the United Klans of America and the Aryan Nations in Idaho."

Dees recalled that the Beulah Mae Donald case began when a Klan chapter in Mobile, Alabama in 1981 — the same group, he said, that had burned down a Black church in Birmingham and killed four little girls in 1963 — threatened to murder one African-American every day if an African-American defendant on trial for allegedly killing a white police officer was found not guilty. "When the Black man's jury deadlocked," Dees recalled, "the Klan considered that a defeat, and they drove their car around until they found a Black man, a student at Mobile Junior College who worked at a pressroom."

According to Dees, the Klansmen lured him to their car by pretending to ask for directions to a local restaurant. "They held a gun on him and forced him into their car," Dees said. "He tried to run, and they hit him with a club. They put him in a noose and pulled it tught until there was no life left in him, and left his body in a Black neighborhood in Mobile. They had a criminal trial, and I watched it as a lawyer for the Donald family. I saw one of the two defendants turn and testify against the other. The principal defendant was sentenced to death, and eventually executed — the first time in Alabama history that a white man was executed for killing a Black man."

The SPLC brought a civil suit against the Klan groups that had been involved in the attack — the United Klans of America and the Knights of the Ku Klux Klan — and also against Bennie Jack Hays, the Klansman who had participated in the attack and then turned state's evidence in the criminal case. "I asked the jury to render a verdict so people will recall the name of Michael Donald along with Martin Luther King and Medgar Evers," Dees said. "When the judge charged the jury, Hays asked to address them and he said, 'Everything Mr. Dees said we did, we did, and we did it because these people'" — the leaders of the Klan groups — "'told us to. Now I'll never be able to be with my family again.'"

What followed next, as Dees recalled it, was a dramatic scene in which Hays turned to Beulah Mae Donald and said, "Can you forgive me for what I did to your son?" Ms. Donald said, "Son, I've already forgiven you."

"There wasn't a dry eye at our counsel table or in the jury box," Dees recalled. "This woman had the look of understanding that she could forgive him, and her words were a higher justice than the million verdict we won for her."

Taking On Metzger

SPLC has been best known for its civil rights cases and its targeting of Right-wing racist extremists, but Dees mentioned other causes it's also taken on, including a lawsuit against Del Monte and tree planting companies that imported undocumented immigrants for jobs and then refused to pay them. Dees also talked about the group's efforts to stop Queer-bashing in schools and the group's most recent major case, "a woman from Mexico whose baby was taken away from her just two days after she was born." The incident happened in Mississippi, and SPLC's lawsuit charges state authorities and the private hospital where the child was born with taking the baby away from her mother, Cirila Baltazar Cruz, and turning her over to a white couple.

"Sometimes people think these things couldn't happen outside the South," SPLC president Cohen told the St. Paul's audience. But one of SPLC's most famous cases against a white supremacist organization took place in Portland, Oregon and involved one of the most infamous residents of San Diego's North County. Tom Metzger ran a TV repair shop in Fallbrook and also headed a local chapter of the Ku Klux Klan and even won a Democratic Party nomination for Congress in 1980. (The San Diego County Democratic Party repudiated him and endorsed the incumbent Republican instead.) Later he ditched the Klan name and formed his own organization, which went through several name changes before he settled on "White Aryan Resistance," or "WAR" for short.

In the late 1980's Metzger sent his son John to Portland as a "recruiter," Cohen explained, on a mission to reach out to young skinheads and recruit them for WAR. One day in 1988, Cohen said, a group of WAR-affiliated skinheads "ran into Muguleta Seraw, a student from Ethiopia who had come to pursue the American dream, and they beat him to death with a baseball bat. The Portland police arrested the skinheads, but we uncovered secret recordings that linked the Metzgers to the killings. The civil suit SPLC filed against Tom and John Metzger and their organization was controversial even among some progressives, but SPLC was able to establish in court that the murder of Seraw had been directly inspired by the Metzgers' call to turn hate into action and thereby the Metzgers' statements were direct incitements to violence rather than constitutionally protected speech. The upshot was a .5 million judgment against the Metzgers and WAR that took all the property and forced them out of the San Diego area.

For local attorney Jim McElroy, who assisted SPLC with the Metzger case and then joined the Center's staff, the case had an interesting sequel. Sent by Cohen to Ethiopia to meet with Seraw's family and arrange for an equitable division of the judgment, McElroy was confronted by Seraw's widow telling him that her husband had come to the U.S. for a better life and she wanted, more than anything else, to see that hope fulfilled by someone in her family. The result was that McElroy adopted Seraw's son and raised him in the U.S. "He introduces me as his father," McElroy said, "and a lot of people say, 'How did such a handsome kid get such an ugly father?' I tell them he's the love child of me and Halle Berry." Today the son has returned to Ethiopia and is using his U.S. training as a pilot to fly for Ethiopian Airlines.

More recently the Center has prosecuted a similar case against Ron Edwards, leader of a Klan splinter group called the Imperial Klans of America (IKA). Like Tom Metzger, Edwards sought to reach out to young skinheads and used his son as a liaison. In 2006 two IKA members, Jarred Hensley of Cincinnati and Andrew Watkins of Louisville, attacked 15-year-old Jordan Gruver, a part-Native American whom they mistook for Latino. Gruver was knocked to the ground and repeatedly kicked with steel-toed boots; he survived but suffered a broken arm, broken jaw and cracked ribs.

"We saw this as an opportunity to sue not only those people but the Edwards organization itself," said Cohen. "We got the usual threats — 'Blow up their building!' 'Hitler was right!'" Cohen and the rest of SPLC's staff took the threats seriously because their building has been burned down before, and Dees in particular has received so many threats against his life that 24 people have gone to jail for making them. Indeed, just before their suit against Edwards and IKA came to trial, Cohen recalled, a book called Into the Devil's Den was released which detailed a plot to assassinate Dees masterminded by Ron Edwards himself.

"I sat next to Ron Edwards at the trial, and I got the feeling that his feelings about us had not softened," Cohen laconically said. Indeed, Edwards was wearing his opinions on his face — literally: one side of his head was tattooed "FUCK SPLC" and the other was tattooed "KILL ZOG." ["ZOG" stands for "Zionist-Occupied Government," a way many white supremacists refer to the current U.S. government, claiming it's secretly dominated by Jews who want to take over the world for nefarious purposes.] SPLC won a .5 million verdict against Edwards and IKA, and Cohen joked to Edwards he should have the amount of the judgment against him tattooed on his forehead.

One of the guests at the SPLC program was Bill McMurray, a Louisville-based attorney SPLC recruited to help with the case against Edwards. "In my world, Morris Dees is a modern-day Perseus, half-man, half-god and the best of both," McMurray said. "Until Morris asked me to serve as co-counsel in the IKA case, I didn't know about the extent of hatred in America. If Jordan Gruver had gone to every lawyer in Kentucky and asked them to take his case, the answer would have been, 'No, there's no money in it.' I value my life and my family, and I realized I could lose my life. … I had to wear a bulletproof vest to court every day, and my family had to stay in a safe house 45 miles away, but I was impressed by SPLC's security detail."

McMurray said the case was an eye-opener for him, making him aware both of the sheer extent of prejudice in America and the dedication of SPLC in fighting it. "I was honored when Morris asked me to handle the direct examination of our client," McMurray recalled. "I worked with Jordan for weeks. He talked about what had happened to him and how his injuries had affected his life." McMurray said that even Morris Dees broke down and cried when he heard Gruver's testimony. While Edwards represented himself in the trial and argued that his racist statements were protected by the First Amendment, SPLC argued — as they had in the Metzger case — that by recruiting members with violent histories and encouraging them to attack people of color, he and his organization were legally responsible for Gruver's injuries.

A Broader Focus

But SPLC's activities extend beyond spectacular lawsuits against white supremacists and their organizations for fomenting violence against people of color. They maintain a civil rights memorial wall in Montgomery a short distance from the church where Martin Luther King was the minister when the 1955 Montgomery bus boycott was launched. They produce books, magazines and videos not only exposing hate groups but also advancing mutual acceptance — including a series called Teaching Tolerance aimed at schools. Jim McElroy joked that Cohen is the only person who's both argued a case before the Supreme Court and won an Academy Award.

Though SPLC is sometimes criticized on the Left for making a big deal about tiny hate groups while ignoring the broader threat of the radical Right, Cohen said the group is well aware of the connection between the two. They have the statistics to prove that hate-group membership and activity rises when a Democrat is elected President; it spiked up under Bill Clinton and has grown even more under Barack Obama since Obama is not only a Democrat but an African-American. Cohen quoted former Ku Klux Klan leader and U.S. Congressmember David Duke as calling Obama "a visual symbol for white America" and said his election reinforces the feeling among white racists that the U.S. has been "stolen" by Jews on behalf of people of color. (These groups make a big deal of the fact that Obama's campaign manager, David Axelrod, is Jewish.)

One symptom of the way Obama's election has sparked the Right, Cohen said, is the "unprecedented number of plots against the President." Indeed, Obama got so many death threats that the U.S. Secret Service assigned a detail to protect him as early as May 2007 — long before they took up security for any of the other 2008 Presidential candidates. Cohen named at least two people who had plotted to kill Obama, including a foot soldier in Ron Edwards' organization and an active-duty U.S. Marine. "We're asking the Pentagon for a zero-tolerance policy, not against Gays and Lesbians, but against neo-Nazis," Cohen said.

Cohen also discussed the Tea Party movement and the popularity of Right-wing media personalities like Glenn Beck, whom he said reaches many times more people than the white nationalists but preaches essentially the same message. "Beck and the others who are vilifying the President 24/7 don't have responsibility for the death threats, but they do deserve to be held accountable for the atmosphere of hate," Cohen said. "There's a Facebook page calling for Obama's death and over 100,000 people have signed it." He quoted Jeff Schoep of the National Socialist Movement (NSM), a Midwestern neo-Nazi movement headquartered in Minneapolis, as calling the economic crisis an organizing opportunity and saying their movement is "the answer for white people" who've been hurt by the failing economy.

That's not all that different from what the Tea Party groups have been saying, Cohen pointed out. Both the Tea Parties and the violent Right "are responding to something very real," he said. "We all know government has made terrible mistakes in the economy and foreign policy. But there are elements [in the Tea Parties] that are very conspiratorial and very racist. There's been a 200 percent increase in [Right-wing] militia organizations since Obama took office. The last time something like this happened was in 1994, when we sent a letter of warning to [then-]Attorney General Janet Reno — and six months later the Oklahoma City bombings happened. We see signs it's happening again, including people flying planes into Internal Revenue Service (IRS) buildings and people threatening to kill police officers and members of progressive organizations."

Cohen ended his part of the program with the expected fundraising pitch. "We'd love to continue sending free materials into schools, to train law enforcement personnel and, when things happen, to go into court and hold the perpetrators accountable," he said. "No matter how hard a task it is, we will not stop until justice rolls down like waters and righteousness like a mighty stream" — the last a famous quote from Martin Luther King (who in turn was quoting the Book of Isaiah) that emblazons the SPLC civil rights memorial wall.
Report this post as:
LATEST COMMENTS ABOUT THIS ARTICLE
Listed below are the 10 latest comments of 3 posted about this article.
These comments are anonymously submitted by the website visitors.

| | | |
| --- | --- | --- |
| TITLE | AUTHOR | DATE |
| wow | SPLC? | Tuesday, Oct. 19, 2010 at 1:14 PM |
| KKK = Democrat | truth | Wednesday, Oct. 20, 2010 at 9:09 AM |
| paid off the pastor? | SPLC and You | Wednesday, Oct. 20, 2010 at 2:13 PM |
Local News

GUIDE TO REBEL CITY LOS ANGELES AVAILABLE A12 5:39PM

lausd whistle blower A10 11:58PM

Website Upgrade A10 3:02AM

Help KCET and UCLA identify 60s-70s Chicano images A04 1:02PM

UCLA Luskin: Casting Youth Justice in a Different Light A02 11:58AM

Change Links April 2018 A01 11:27AM

Nuclear Shutdown News March 2018 M31 6:57PM

Join The Protest Rally in Glendale on April 10, 2018! M29 7:00PM

Join The Protest Rally in Glendale on April 10, 2018! M29 6:38PM

Spring 2018 National Immigrant Solidarity Network News Alert! M19 2:02PM

Anti-Eviction Mapping Project Shows Shocking Eviction Trends in L.A. M16 5:40PM

Steve Mnuchin video at UCLA released M15 12:34AM

Actress and Philanthropist Tanna Frederick Hosts Project Save Our Surf Beach Clean Ups M06 12:10PM

After Being Told He's 'Full of Sh*t' at School Event, Mnuchin Demands UCLA Suppress Video M02 11:44AM

Resolution of the Rent Strike in Boyle Heights M01 6:28PM

What Big Brother Knows About You and What You Can Do About It M01 3:30PM

Step Up As LAPD Chief Charlie Beck Steps Down F14 2:44PM

Our House Grief Support Center Hosts 9th Annual Run For Hope, April 29 F13 12:51PM

Don't let this LA County Probation Department overhaul proposal sit on the shelf F13 11:04AM

Echo Park Residents Sue LA Over Controversial Development F12 8:51AM

Former Signal Hill police officer pleads guilty in road-rage incident in Irvine F09 10:25PM

Calif. Police Accused of 'Collusion' With Neo-Nazis After Release of Court Documents F09 7:14PM

Center for the Study of Political Graphics exhibit on Police Abuse posters F07 9:50AM

City Agrees to Settle Lawsuit Claiming Pasadena Police Officer Had His Sister Falsely Arre F04 3:17PM

Professor's Study Highlights Health Risks of Urban Oil Drilling F04 12:42PM

Claims paid involving Pasadena Police Department 2014 to present F04 10:52AM

Pasadenans - get your license plate reader records from police F03 11:11PM

LA Times Homicide Report F03 1:57PM
More Local News...
Other/Breaking News

Doxa du lobby A25 2:03AM

Tech workers organize A24 6:24PM

Architect Stephen Francis Jones A24 3:01PM

UN Forum Wrestles with Economic Policies 10 Years After Financial Crisis Islands Call for A24 12:34PM

Xyloglossie attitudinale A23 8:07AM

Shadowgun Legends Hack and Cheats A23 7:24AM

What does the Quran Say About Islamic Dress?? A21 4:15PM

Biodiversité ou la nature privatisée A20 11:22AM

The Market is a Universal Totalitarian Religion A20 7:14AM

Book Available about Hispanics and US Civil War by National Park Service A19 5:52PM

The Shortwave Report 04/20/18 Listen Globally! A19 4:01PM

The Republican 'Prolife' Party Is the Party of War, Execution, and Bear Cub Murder A19 11:48AM

Neurogenèse involutive A18 9:21AM

Paraphysique de la dictature étatique A16 10:13AM

Book Review: "The New Bonapartists" A16 3:45AM

The West Must Take the First Steps to Russia A14 12:25PM

Théorie générale de la révolution ou hommage à feu Mikhaïl Bakounine A14 3:30AM

The Shortwave Report 04/13/18 Listen Globally! A12 3:50PM

"Lost in a Dream" Singing Competition Winner to Be Chosen on April 15 for ,000 Prize! A12 3:48PM

The World Dependent on Central Banks A12 4:43AM

Ohio Governor Race: Dennis Kucinich & Richard Cordray Run Against Mike DeWine A11 9:40PM

March 2018 Honduras Coup Again Update A10 10:52PM

Apologie du zadisme insurrectionnel A10 3:33PM

ICE contract with license plate reader company A10 1:14PM

Palimpseste sisyphéen A09 11:23PM

Black Portraiture(S) IV: The Color of Silence...Cuba No...Cambridge Yes A09 5:32AM

Prohibiting Micro-Second Betting on the Exchanges A09 4:18AM

Prosecutors treat Muslims harsher than non-Muslims for the same crimes A08 10:33PM
More Breaking News...