One of the IMC readers sent the above photo to us. Apparently, it's circulating around the internet among the right-wingers and anti-immigration people. Worse, they think it's a real protest sign.
The photo is a photoshopped hoax. Someone superimposed lettering onto the sign.
If you look at other handmade signs, you see a specific difference: the lines on the lettering of real handmade signs are not uniform. Also, the letters look more like block letters than handwriting. See the image below for examples.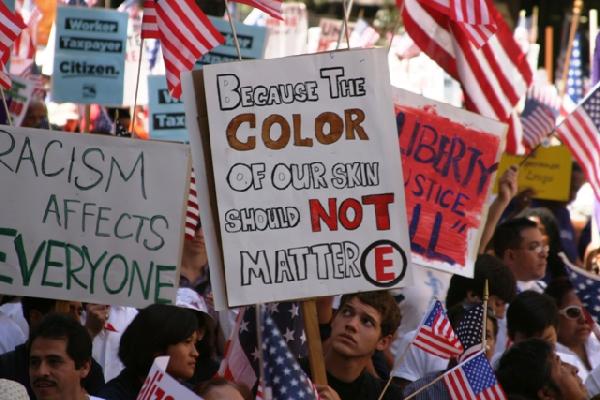 In the image being circulated, the lines are more uniform, and, more notably, they are thick. People generally do not own pens thick enough to make those lines, and use regular chisel-point permanent markers instead. These markers are so thin that you have to go over the lines to make them visible.
The image below is the same sign, but with the rest of the photo removed. By removing the context, it's easier to examine the sign. Your mind is not adding its own biases to the image. Just look at it a few minutes, and it'll be obvious how they make their "sign". Just for fun, I won't say what they did. You can figure it out yourself and add a comment.
So if you see anyone falling for this prank or hoax, tell them it's a fake.
(Incidentally, the way to make one of these thick markers is probably described on graffiti websites. You fill a small bottle with ink or diluted paint, and then stuff cloth into the neck to make a "brush". It's a lot of trouble, and most people should use a cheap foam brush and some dark paint if they want more visible signs.)
This is the portion of the image that's been isolated from the photo.