Features
•
latest news
•
best of news
•
syndication
•
commentary

Feature Categories



KILLRADIO
printable version - js reader version - view hidden posts - tags and related articles

by Philippines Cultural Studies Center Monday, Mar. 15, 2010 at 8:27 AM

Millions of US taxpayers' money are supporting de facto President Arroyo's despotic rule in the Philippines. The continuing torture of 43 health workers may be an alibi to cover up the horrendous Ampatuan massacre and numerous corruption scandals, a preparation for martial rule by May 20. Fascist violence will surely be met by the enraged mobilization of the masses. The US public needs to protest the use of their taxdollars to fund Arroyo's extrajudicial killings, torture, and forced disappearances of thousands of Filipino civilians.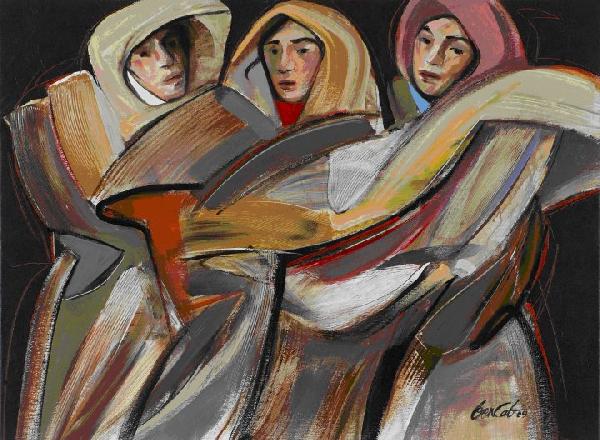 lost_bencab_painting1.jpgv2cmj7.jpg, image/jpeg, 720x528
GLOBAL PROTESTS MOUNTING AGAINST U.S.-FINANCED STATE TERRORISM AND MILITARY BRUTALITY IN THE PHILIPPINES

by E. San Juan, Jr.

Philippines Cultural Studies Center



After the terrible catastrophes in Haiti and Chile, the ongoing Philippine social "earthquakes" may seem trite, though they impact on close to a hundred million Filipinos. Its tremors are being registered by 3 million Filipino residents in the U.S. and a million in Canada. Apart from the paltry statistic that the majority in the U.S.'s longest neocolony, the Philippines, subsists on less than a day, and ten percent of the population live abroad as low-paid migrant workers around the planet, one of the worst massacres in recent history occurred in Maguindanao, a strife-torn province in the southern Philippines.

The 2009 Human Rights Report of the US State Department released a few days ago scored the regime of de facto president Gloria Arroyo as guilty of the "killing of civilians and journalists." To quote the Report: "Arbnitrary, unlawful, and extrajudicial killings by elements of the security services and political killings…continued to be major problems…Members of the [State] security services committed acts of physical and psychological abuse on suspects and detainees, and there were instances of torture" (GMA News.TV, 14 March 2009). An unprecedented indictment, inconceivable during the Bush-Cheney-Rumsfeld tenure.

Rehearsal for Draconian Martial Rule

A flagrant instance of the impunity with which the Arroyo military and police are inflicting atrocities on civilians is the case of the "Morong 43." On Feb. 6, 43 medical and healthcare workers were abducted and illegally detained while attending training seminars in Morong, Rizal. The event was sponsored by the prestigious Community Medicine Foundation Inc. and the Council for Health and Development. Over 300 soldiers and police barged into the farmhouse of well-known professor-physician, Dr. Melecia Velmonte, roughly blindfolded and handcuffed all 43 unarmed civilians and subjected them to 24-hours interrogation and all kinds of torture in Camp Capinpin, headquarters of the 202nd Infantry Brigade, Armed Forces of the Philippines (AFP).

After their lawyers filed a petition for habeas corpus, the AFP filed charges against them for illegal possession of explosives and firearms—evidences planted by the military and police. The Court of Appeals, relying on an outdated legal precedent (the 1985 "Ilagan versus Enrile" ruling) denied their right to be innocent before being proved guilty, ignoring the defective warrant of arrest and the AFP's brutality. Punished physically and mentally by the shock of being judged criminals, the Morong 43 continue to be harassed and persecuted daily A recent update names Vincent Paulino, Glenda Murillo and Dr. Alex Montes as suffering the effects of torture, according to Dr. Julie Caguiat of the Community Health Development Foundation, and Dr. Geneve Rivera, president of the Health Alliance for Democracy (report by Marya Salamat, Bulatlat, 1 March 2010).

Universal condemnation of the regime's abuse has reached the imperialist heartland. US Senators Barbara Boxer and Daniel Inoueye, and Rep. Loretta Sanchez, as well as officials of the US State Department, have been informed of the military abuses. The United Methodist Church sent observers to Camp Capinpin, while the World Council of Churches and the Permanent People's Tribunal demanded the release of the Morong 43 (Philippine Daily Inquirer, 17 Feb. 2010; http://newsinfo.inquirer.net/). Joining them are two national labor groups, the American Federation of Labor-Congress of Industrial Relations and the Asia Pacific American Labor Alliance, as well as numerous local Amnesty International chapters, BAYAN USA, and over 500 people's organizations around the U.S. and Canada, that support the Filipino human-rights monitor, KARAPATAN, as well as the efforts of Chair Leila de Lima of the Commission on Human Rights who vowed to conduct hearings on the case by March 18.

Criminalizing Civil Rights

Fascist military officials manipulate the legal system to deprive citizens of fundamental human rights. Philippine Senators Jamby Madrigal and Pia Cayetano blasted the arrogant AFP officials, particulary Gen. Victor Ibrado, for criminalizing membership in leftist organizations and even lawful party-list groups such as Bayan Muna (illustrated by the persecution of Representatives Satur Ocampo and Crispin Beltran). Sen. Madrigal accused the AFP of arrogant conduct, insulting the victims by awarding medals to officials guilty of blatant human-rights violations (report by Michael Ubac and Alcuin Papa, Philippine Daily Inquirer, 24 Feb. 2010). Romeo Clamor, deputy secretary general of KARAPATAN, whose wife Dr Merry Mia-Clamor is one of those detained, noted that this outrage forms part of the regime's failed counter-insurgency plan, Oplan Bantay Laya, which brands progressive critics of Arroyo as fronts for the Communist Party and New People's Army in order to label them "enemies of the state, " thus justifying their warrantless arrest, kidnapping or disappearance, and summary execution (report by Janess Ellao, Bulatlat, 7 Feb. 2010; see the criticism of AFP vigilantism by Prof. Michael Tan, Pinoy Kasi column, Philippine Daily Inquirer, 9 Feb. 2010).

Consequently, Arroyo's butchers, headed by Gen. Jorge Segovia, Col. Aurelio Baladad, and Col. Jaime Abawag, and their superiors refuse to be deterred. They take pride that no military personnel has so far been charged guilty for over 1,000 extrajudicial murders and forced "disappearances" since Arroyo usurped power in 2002. As Atty. Edre Olalia of the National Union of People's Lawyers clarified the chain of accountability, Arroyo cannot leave office with impunity: "These illegal acts are being condoned or sanctioned by the highest officials of the land, from the Commander-in-chief and the AFP chief of staff" (Bulatlat 26 Feb. 2010).

Apprenticeship in Barbarism

The fascist militarization of the Philippine government started with the beginning of the Cold War. as noted by Renato Constantino (Insight and Foresight, 1977). Since Col. Edward Lansdale, the notorious creator of the "Phoenix" assassination program in Vietnam in the Sixties, trained AFP officials in US CIA schemes, the AFP and state security agencies have been infamous in terrorizing ordinary citizens. Hernando Abaya (in his biography, The Making of a Subversive, 1984), CIA agent Joseph Smith's account, Portrait of a Cold Warrior, 1976), William Chapman (Inside the Philippine revolution, 1987), and Jose Diokno (Anti-Americanism, 1984), among others, have documented US interference in local politics. AFP officials now entrenched in government and their apologists in the local court system are implementing all the torture and psy-war techniques learned from the CIA and US Special Forces in Latin America, Iraq, Afghanistan (as reviewed in Naomi Klein's The Shock Doctrine, 2009): electric shock, beatings, sexual molestation, bad food, deprivation of sleep and privacy, bribes, intimidation, separating detainees, threatening their families, and so on. This is synchronized with propaganda that the health workers are bogus, and they are members of the New People's Army (stigmatized as "terrorist" by the Bush administration). All their Constitutional rights, as well as their basic human rights guaranteed by the United Nations Human Rights Charter and Covenants (to which the Philippine government is bound). are violated everyday.

A Filipina-American victim of the Arroyo paramilitary "death-squad," Melissa Roxas, survived to tell her story of abduction and torture while on a medical mission to the Philippines last year. Roxas insisted that no human being should be deprived of liberty and dignity while trying to help people's medical needs for lack of government concern. "Every day that the 43 health workers are not released," Roxas argued, "it is one more day they have to endure pain, fear, and torture" ((report by Jerrie M. Abella, GMANews.TV, 26 Feb. 2010)

Experienced observers of the Philippine situation have suggested that the Morong 43 is just an alibi, a media distraction to cover up Arroyo's complicity in a far more heinous crime on top of unresolved corruption scandals. After all, the 43 health care workers are still alive, but 57 murdered people cannot be brought back to life. On November 23, 2009, those 57 civilians—including 32 journalists, with most of the female victims sexually mutilated—fell to the trap of Arroyo's favored warlord, the Ampatuan clan of Maguindanao. By fake ballots and control of the electoral machinery in their fiefdom, the Ampatuans delivered the crucial thousands of votes that allowed Arroyo's victory in the 2004 elections.

On December 2, 2009, in a special Press Release, the UN Special Rapporteur on human rights Philip Alston, and Frank La Rue, UN rapporteur on freedom of expression, both condemned "the pre-meditated killing of political opponents" –a "tragedy of the first order." They urged Arroyo to go "beyond a criminal law response" and take measures to prevent "election-related violence." Last March 6, in London, UK, a joint forum of Amnesty International, the International Federation of Journalists (IFJ) and the National Union of Journalists in Great Britain and Ireland, together with the Campaign for Human Rights in the Philippines, held a commemoration program on the occasion of the 100th day of seeking justice for victims of the Maguindanao massacre. Jim Boumelha, president of IFJ, criticized in particular Arroyo's Executive Order 546 which allowed the creation of neighborhood-watch type armed "force multipliers" (also known as Civilian Volunteer Organizations) as responsible for the Ampatuan massacre, as well as for countless disappearances and extrajudicial murders of activists (report by Rose Eclarinal, ABS-CBN Europe News Bureau, 6 March 2010).

From Impunity to Complicity

In the eyes of most Filipinos, Arroyo is directly and indirectly implicated with this ruthless bloodletting. The think-tank CENPEG (Center for People Empowerment in Governance) probed the origin of more than 200 private armies that Arroyo hypocritically vowed to dismantle after attempting to legitimize her martial-law exercise on Dec. 4 (Proclamation 1959). CENPEG traced it to Arroyo's own support for political dynasties and their coercive instrumentalities: "It is an open secret that Pres. Arroyo coddled a local dynasty into a monster. The Ampatuans' private armies were augmented not only to make sure that votes went to preferred candidates and political parties but also to pit lawless elements against rebels who threatened the clan's local hegemony. Military soldiers, policemen and paramilitary units became part of the Ampatuans' private armies….Civilian volunteer organizations (CVOs), said to be illegally formed, were armed as 'force multipliers' under Arroyo's Executive Order 546, thus providing the pretext for their use not only by the Ampatuans but also by other local kingpins" (Issue Analysis No. 02, 27 Jan. 2010).

The Brussels-based International Crisis Group concurred in its 18-pages report that Arroyo "bears overwhelming responsibility for creating the conditions that led to the bloody massacre" (report by John Berthelsen, Asia Sentinel, 22 Dec. 2009). It concluded that "Political patronage by successive governments in Manila, most notably by the Arroyo administration, allowed the Ampatuans to amass great wealth and unchecked power." Judging from the initial cavalier treatment of the Ampatuans by Arroyo's advisers, and the failure of the AFP to apprehend all 183 suspects (one of them is Saudi Mokamad, head of the government's 1507th Mobile Police Group) and the officious bureaucratic process of the investigations and trial, the consensus is that none of the private armies will be disbanded, nor will the collusion between political dynasties of oligarchs, military, local bureaucrats, compradors and transnational coporate interests, that have spawned the Abu Sayyaf and other bandit-groups, be diminished. It is even doubtful if any of the Ampatuans will be fully held accountable by the lopsided, heavily politicized justice system that tolerates the torture of the Morong 43.



Patronage over the Neocolony

On December 8, Representatives Howard Berman and Chris Smith introduced a concurrent Resolution in the US Congress condemning the senseless killing and called on the Arroyo regime to combat corruption and terrorism. This is like the proverbial appeal to the butcher to take care of the flock in the slaughter-house. But it is a symptom of ruling-class disenchantment at Arroyo's gangsterism. Alarmed by the pattern of extrajudicial killings and forced disappearances of activists such as Jonas Burgos, and the torture of Melissa Roxas, the US Congress voted to withhold million of the 2009 military aid to the Arroyo regime for failure to implement human rights stipulations attached to the Foreign Military Financing Act. The Senate Committee on Appropriations headed by Sen. Inouye is being pressured by various constituencies to cut off the use of American tax-payers' money to finance Arroyo's fascist measures to nourish her Bonapartist ambitions.

What can we expect in the weeks before the presidential brouhaha in May? The most likely scenario is that some of the health workers will be released on bail while others will continue to bear the brunt of military violence. "Divide and rule" policy will be applied. The Ampatuan trial will drag on until a compromise is reached with the incoming administration (assuming Arroyo does not grab emergency powers, declare a failure of elections due to defective automated poll machines, or stage bombings in line with the Marcos dictatorship's formula for legitimizing martial despotism). The VFA will be modified to permit substantial US Special Forces, Balikatan Military Exercises, and other unconscionable practices to continue. It all depends on whether the US will be able to accomodate the Moro insurgents, or else shift their attention to Indonesia and Malaysia. Meanwhile, the war on terror will maintain the Abu Sayyaf as the scapegoat and pretext for continuing intervention in the Philippines. A dialectical-materialist analysis of the conjuncture of all the trends noted above spells the further disintegration of the neocolonial oligarchic status quo due to internal splits, the loss of US hegemonic sway with its gradual economic decline, and the resurgence of nationalist-democratic

influence on the middle strata, indigenous communities, and other sectors allied to peasant and proletarian mobilizations.

Seismic Alternatives to "Shock and Awe"

However, new developments might alter the balance of political forces. With the Feb. 3 murder of a Filipino civilian, Gregan Cardenozz, employed by the US military in Camp Ranao, Marawi City, where the Philippine Army 103rd Brigade is based, and the electoral circus heating up to an obscene climax, the plight of the Morong 43 might be overshadowed—unless mass rallies and protests can connect it with the Ampatuan massacre. Surely, there will be the usual count of bodies in hotly contested electoral spots. Armed confrontations might heat up in regions where mining, plantations, and logging businesses flourish. The issue of the Visiting Forces Agreement (VFA), as well as fear of new corruption inquiries, will force Arroyo to stifle any media expose of the maltreatment and sodomization of Cardenozz by US soldiers.

It's not all quiet in the "western" front. Mobilization of OFWs in North America is going on parallel to those in Hong Kong, Europe and the Middle East. Not all such initiatives are enlightened, but most are symptomatic of neocolonial malaise. For example, a petition by concerned Filipino Americans concerning electoral fraud and violence was presented to Secretary of State Hillary Clinton last March 10, with the request that a US delegation be sent to the Philippines. The model of Senator Richard Lugar's observer team to the dictator Marcos' 1986 "snap elections" was invoked. This is rather foolish and misplaced. What business tycoon Loida Nicolas Lewis and others should be persuading the Obama administration to do is to investigate and publicize to the US public the barbaric acts of their clients, Arroyo and her military minions. They should also demand the scrapping of the VFA which allows covert disastrous US military operations within Camp Navarro, Zamboanga City, for example, and allows US forces to engage in actual combat operations killing and wounding civilians under the guise of humanitarian and training exercises. The VFA violates not only the Philippine Constitution but flagrantly nullifies Philippine sovereignty. Countless Filipino lives have been sacrificed to service US imperial adventures since the slaughter of 1.4 million Filipinos in the Filipino-American War (1899-1913) with its inauguration of "waterboarding." Not least of these global interventions are the genocidal disaster-capitalist (to borrow Klein's rubric) wars against oppressed peoples in Iraq, Afghanistan, Pakistan, Colombia, and elsewhere. Many of the victims of US drone bombings are women and children in villages in Pakistan, Afghanistan, Yemen, Sudan, and other countries. As Sister Mary Soledad Perpinan, chair of the Third World Movement against the Exploitation of Women, recently urged, "For the sake of gender security and nationwide peace, the urgent call is to put an end to US military presence and intervention. The time is to act now!" --##


Report this post as:
Local News

More Pix: "Families Belong Together," Pasadena J02 12:16PM

"Families Belong Together" March, Pasadena J02 12:08PM

Short Report on the Families Belong Together Protest in Los Angeles J30 4:26PM

Summer 2018 National Immigrant Solidarity Network News Alert! J10 11:58PM

Watch the Debate: Excluded Candidates for Governor of California M30 10:20PM

Change Links June 2018 posted M28 12:41AM

The Montrose Peace Vigil at 12 Years M22 1:01PM

Unity Archive Project M21 2:42AM

Dianne Feinstein's Promotion of War, Secret Animal Abuse, Military Profiteering, Censorshi M17 3:22PM

CA Senate Bill 1303 would require an independent coroner rather than being part of police M10 2:08PM

Three years after OC snitch scandal, no charges filed against sheriffs deputies M10 1:57PM

California police agencies violate Brown Act (open meetings) M02 1:31PM

Insane Company Wants To Send Nuke Plant Waste To New Mexico A29 4:47PM

Change Links May 2018 A27 1:40AM

Worker-Owned Car Wash on Vermont Closed A26 10:37PM

GUIDE TO REBEL CITY LOS ANGELES AVAILABLE A12 5:39PM

lausd whistle blower A10 11:58PM

Website Upgrade A10 3:02AM

Help KCET and UCLA identify 60s-70s Chicano images A04 1:02PM

UCLA Luskin: Casting Youth Justice in a Different Light A02 11:58AM

Change Links April 2018 A01 11:27AM

Nuclear Shutdown News March 2018 M31 6:57PM

Join The Protest Rally in Glendale on April 10, 2018! M29 7:00PM

Spring 2018 National Immigrant Solidarity Network News Alert! M19 2:02PM

Anti-Eviction Mapping Project Shows Shocking Eviction Trends in L.A. M16 5:40PM

Steve Mnuchin video at UCLA released M15 12:34AM

Actress and Philanthropist Tanna Frederick Hosts Project Save Our Surf Beach Clean Ups M06 12:10PM

After Being Told He's 'Full of Sh*t' at School Event, Mnuchin Demands UCLA Suppress Video M02 11:44AM
More Local News...
Other/Breaking News

3 Essential Videos J19 3:53AM

The System Question as a Survival Question J18 8:54PM

"Animaniacs in Concert!" Starring Voice Legend Rob Paulsen J18 2:41PM

Nation's Largest Voting Machine Co., ESS, Admits Lying Re Having Installed Remote Control J18 11:55AM

Du pain et des jeux J18 9:53AM

Fbi joins with Facebook to remove this report J18 7:08AM

Paraphysique de martyrologie J17 8:00AM

Asian Countries:Cambodia, Vietnam, N. Korea do not permit unlawful immigration J16 8:06PM

Children Incorporated Earns 4-Star Rating on Charity Navigator J16 11:24AM

Democratic Socialists of America J14 4:57PM

Leonard Peltier Non Violent Native American Political Prisoner since 1970's J14 4:18PM

Paraphysique miscellanées de l'aggiornamento J14 12:54AM

Actress and Philanthropist Tanna Frederick Hosts Project Save Our Surf Beach Cleanup J13 4:14PM

FBI Investigated LA County Sheriff Baca,Why Not Hank Skinner's Persecution? J13 3:52PM

Updated Partial List Of Famous Vegetarians, Vegans, & Fruitarians J13 2:59PM

The Shortwave Report 07136/18 Listen Globally! J12 4:36PM

Social Policy as Social Infrastructure J12 3:38AM

Vol I: 84 Varieties Of GOP Election Fraud J12 1:50AM

Texas Can Call it An Execution,But It is A State Sponsored Murder of Hank Skinner.. J11 6:48PM

June 2018 Honduras coup update J11 3:35PM

Maria Estrada doubles down on racist support J11 1:40PM

New York Women in Film & Television Announces 2018 NYWIFT Ha Phuong Scholarship Recipients J11 10:14AM

Trapps de la domination, trapps de l'aliénation J11 1:31AM

Please Work For The Defeat Of Brett Kavanaugh And Why J09 8:54PM

Change Links 2018 July posted J09 1:27PM

Transinhumanisme ( transe inhumanisme ) J09 12:44PM

Google, World's Biggest Censor, Was Founded By The CIA J09 10:25AM

For a World Free of Nuclear Risks J09 8:29AM
More Breaking News...