Features
•
latest news
•
best of news
•
syndication
•
commentary

Feature Categories



KILLRADIO
printable version - js reader version - view hidden posts - tags and related articles

View article without comments by Never Been UAW Monday, Nov. 23, 2009 at 9:39 PM
neverbeenuaw@hushmail.com
Fourteen new pictures from inside the recent occupation at UCLA show student-improved admin whiteboards, etc.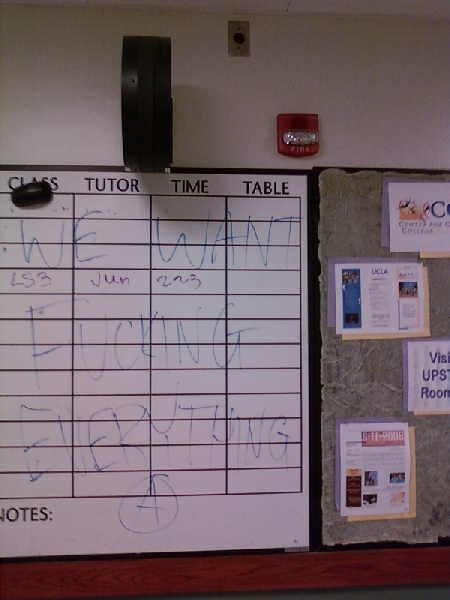 imcla5wewant.png, image/png, 600x800

Fourteen new pictures from inside the recent occupation at UCLA show the opening hours of the event from the perspective of a visiting student behind a cellphone. Although these photos are often shaky and blurry, they are valuable for revealing the messages students left on whiteboards that have surely all been erased by now. They enrich the outside understanding of the mood at the beginning of the occupation, when a ragtag band of adventurists was learning to shout with their own voice.

Other members of this jubilant youth strike force are encouraged to network with the uploader/picture taker by email. Your humble author was there from right after the beginning to right before the end and deeply regrets failing to exchange contact information. The student struggle in California can only grow on top of the foundations that have already been laid down. Here is a visual summary of some of the verbalizations of these foundations.

Report this post as:


by Never Been UAW Monday, Nov. 23, 2009 at 9:39 PM
neverbeenuaw@hushmail.com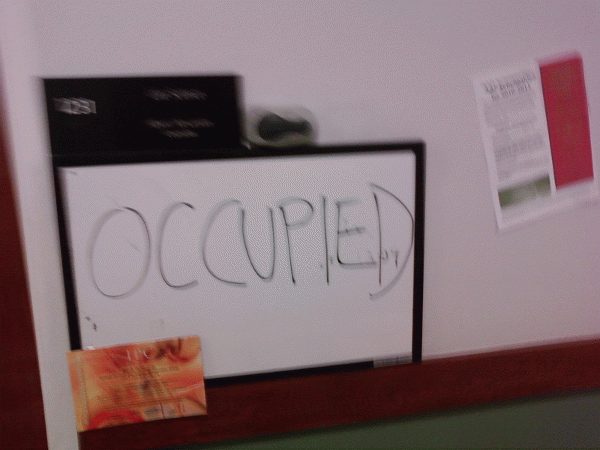 imcla1.png, image/png, 600x450

One of many offices where students updated the bureaucrats' whiteboards outside the door to reflect the reality of the situation. Other ones read "Zing! You got furlough'd!" but your humble photog's camera battery died before they could be immortalized.

Report this post as:


by Never Been UAW Monday, Nov. 23, 2009 at 9:39 PM
neverbeenuaw@hushmail.com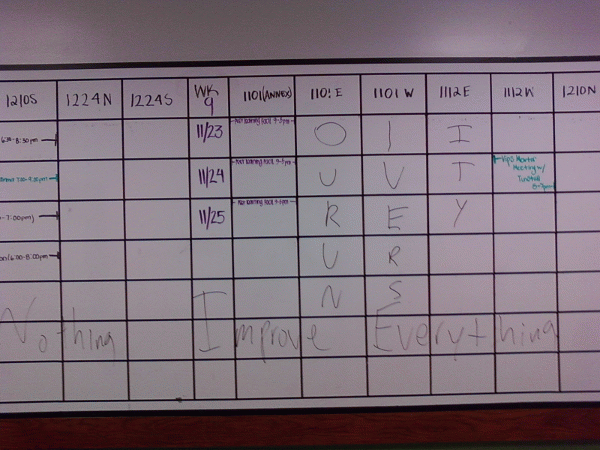 imcla2.png, image/png, 600x450

Ironically, "Erase Nothing Improve Everything" was partially erased later in the day.

Report this post as:


by Never Been UAW Monday, Nov. 23, 2009 at 9:39 PM
neverbeenuaw@hushmail.com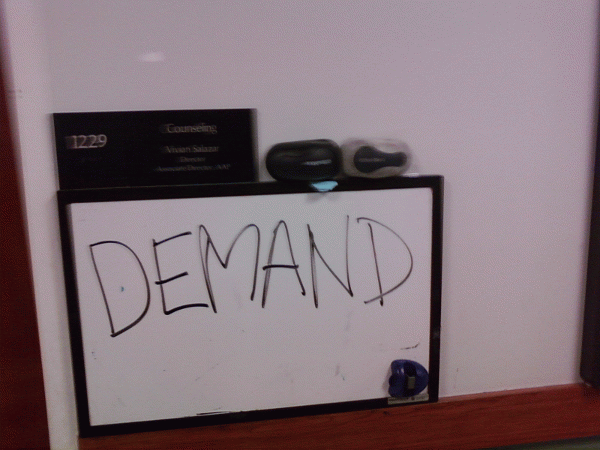 imcla3demand.png, image/png, 600x450

Report this post as:


by Never Been UAW Monday, Nov. 23, 2009 at 9:39 PM
neverbeenuaw@hushmail.com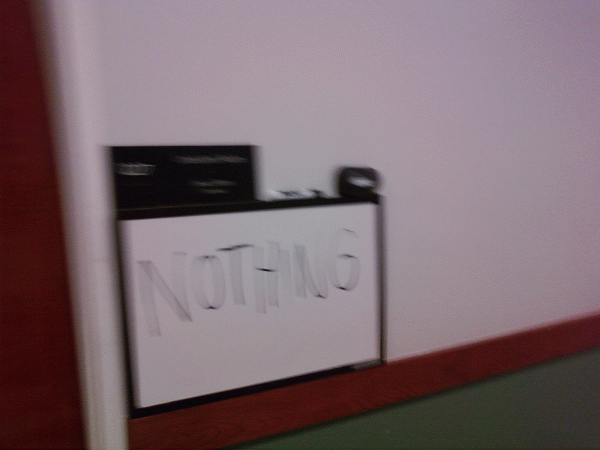 imcla3nothing.png, image/png, 600x450

Report this post as:


by Never Been UAW Monday, Nov. 23, 2009 at 9:39 PM
neverbeenuaw@hushmail.com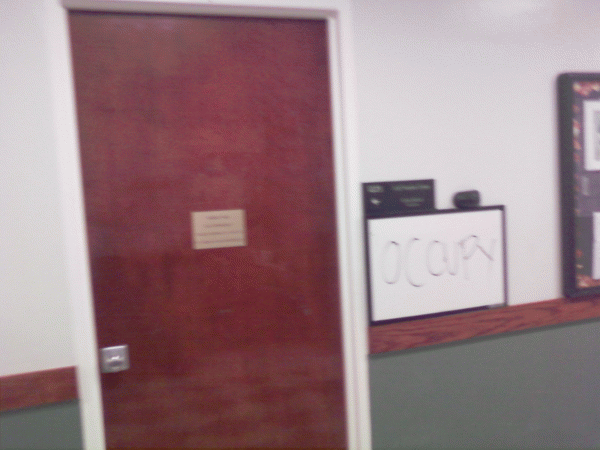 imcla3occupy.png, image/png, 600x450

Report this post as:


by Never Been UAW Monday, Nov. 23, 2009 at 9:39 PM
neverbeenuaw@hushmail.com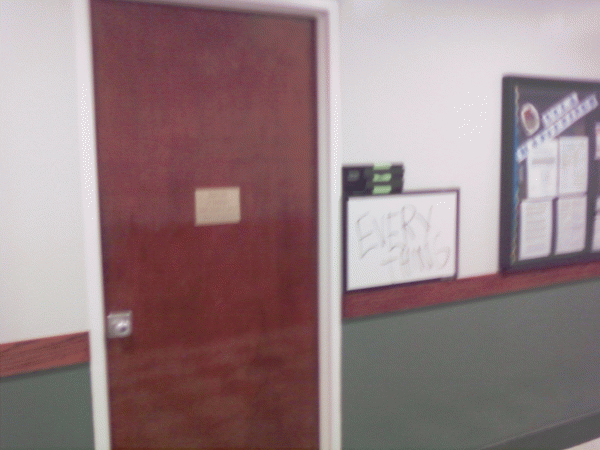 imcla3zeverything.png, image/png, 600x450

Report this post as:


by Never Been UAW Monday, Nov. 23, 2009 at 9:39 PM
neverbeenuaw@hushmail.com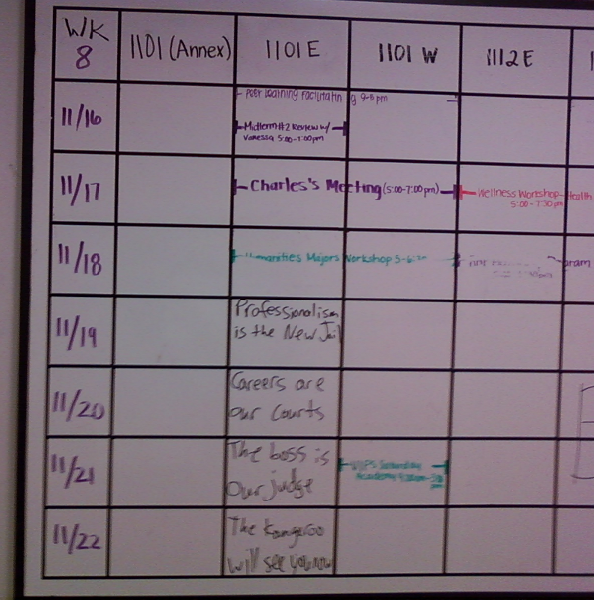 imcla4poem.png, image/png, 600x606

Professionalism is the new jail

Careers are our courts

The boss is our judge

The kangaroo will see you now

Report this post as:


by Never Been UAW Monday, Nov. 23, 2009 at 9:39 PM
neverbeenuaw@hushmail.com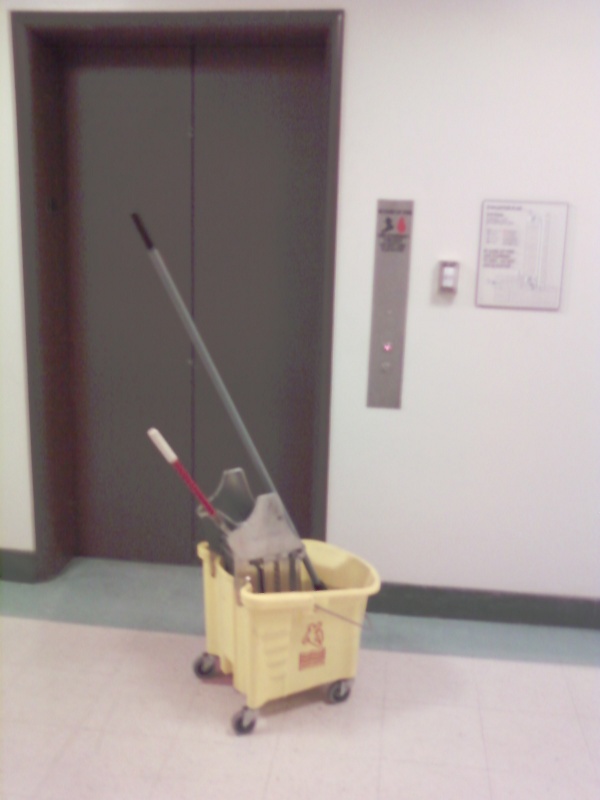 imcla6mop.jpg, image/jpeg, 600x800

The elevator, doubling as a strategic basement entrance, was shut down early by prescient students. You can see the button light on, the same state it was in all day and night. Our caution was vindicated when the snitch who called herself "Diedre" made a move for the elevator once she realized she'd been sniffed out. As with everything, the UCLA students lent vital local understanding to this statewide manifestation of the struggle.

Custodial workers were proudly mopping their hall when we took it over. These campus laborers are not only comrades but key members of our struggle, as illuminated by a terrifying situation in which a custodian was trapped inside while her boss threatened to fire her if she walked out through the only available exit, instead demanding that she walk out through the front door and confront her jefe. The boss then used the awkward situation to declare that we were holding her employee hostage, while the once-proud worker herself was paralyzed with fear. This interaction was one of many microcosms of the world just outside our doors, and one of many acts of psychological warfare by administration and bosses throughout the occupation.

Report this post as:


by Never Been UAW Monday, Nov. 23, 2009 at 9:39 PM
neverbeenuaw@hushmail.com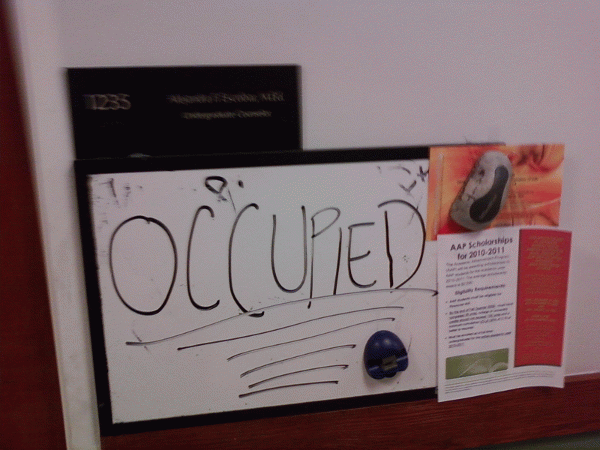 imcla7a.png, image/png, 600x450

A continuation on a theme.

Report this post as:


by Never Been UAW Monday, Nov. 23, 2009 at 9:39 PM
neverbeenuaw@hushmail.com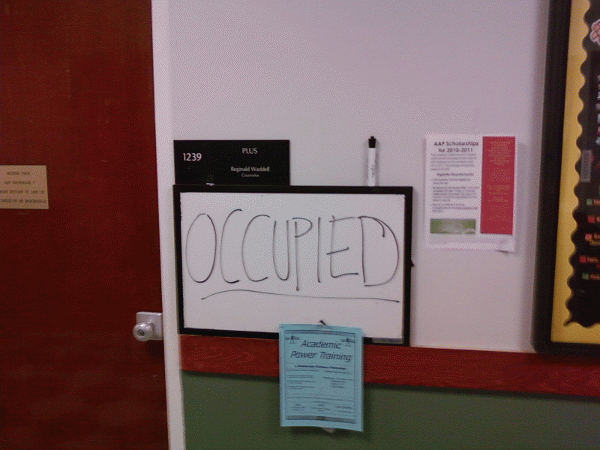 imcla7occupied.png, image/png, 600x450

Many flyers and other posted bills within Campbell Hall took on new meanings when it was transformed into Carter-Huggins Hall. Other flyers understated the situation by proclaiming that an individual professor or advisor would be out of the office "today" without specifying a date.

Report this post as:


by Never Been UAW Monday, Nov. 23, 2009 at 9:39 PM
neverbeenuaw@hushmail.com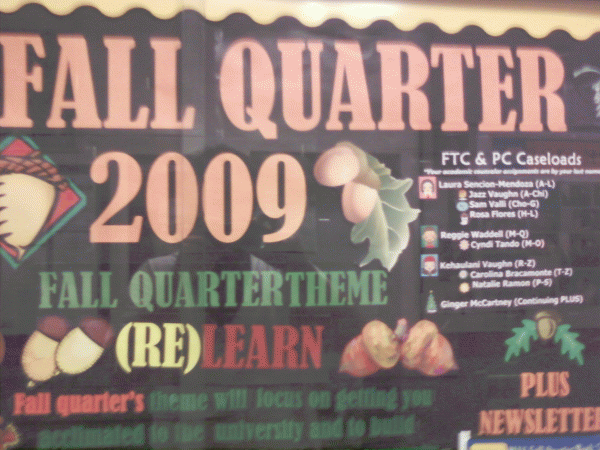 imcla8apropos.png, image/png, 600x450

Another flyer, this one larger, which could hardly be more appropriate, especially because you can see your humble photographer without being able to make out any individually identifying details.

Report this post as:


by Never Been UAW Monday, Nov. 23, 2009 at 9:39 PM
neverbeenuaw@hushmail.com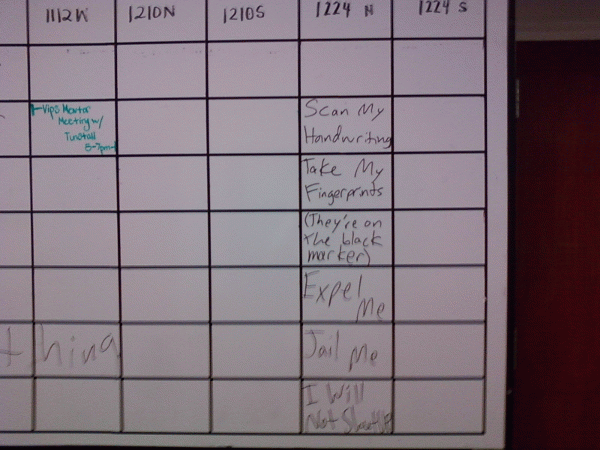 imcla9wontshutup.png, image/png, 600x450

Scan my handwriting

Take my fingerprints

(They're on the black marker)

Expel me

Jail me

I will not shut up

Report this post as:


by Never Been UAW Monday, Nov. 23, 2009 at 9:39 PM
neverbeenuaw@hushmail.com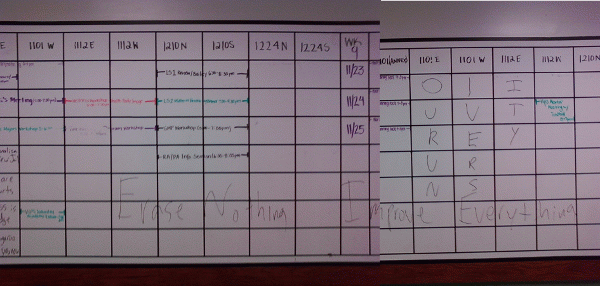 imclaten.png, image/png, 600x286

Report this post as:


by Never Been UAW Monday, Nov. 23, 2009 at 11:51 PM
neverbeenuaw@hushmail.com

Oops! Looks like I posted this twice. I like the newer one (3PM) better, so please mark the earlier one (1PM) as the double post. Thanks!

Report this post as:


by UCLA student Tuesday, Nov. 24, 2009 at 10:55 PM


how uncute and unartistic these photos are...and presumably someone is proud to display these ?

and why not show us the photo of the walkway down to Kaufman or Fowler bldgs where the spray painted walls of [not even artistic graphitic] words that make little relevance to the concerns of fees being increased

are now DEFACING PROPERTY .

This is "protest" and considered " legitimate' by those who dont want to pay their fees and yet want grants and low cost loans ? huh ?

and those who have worked and saved up to pay for tuition and will continue to do so, personally, not just relying on family wealth, do they too have to pay to clean up the messes and police presences at a legitimate meeting of Regents - who are not salaried

employees and only get stipends to attend meetings ?

and blame the 'parents-called-Regents or Chancellors] for the economic downturns and for not keeping freebees up forever as 'promised' or assumed by those who are spoiled and want what they THINK they are "owed". huh ?

No, higher fees are not good or fun. The increase goes up for those whose families earn OVER ,000 YEAR [ mine dont ] which may seem 'low' to those consumerist elites that have bought into the middle class position of pride which they cannot maintain well, once anything flounders or fails.

All UCLA employees except some of the lowest paid ones get reduced work by having furlough days and thus less pay, but also less work available [tho they can work 1 day elsewhere maybe ? ], some even have 12 days/yr 'off' w/o pay now...other salaries have been reduced, the lower part timers down 4% and some let go too.

too bad, bad enough, but defacing anything and then proudly showing how childish they can be is not a good sign of how our students will act in the future whenthey are needed to do important global improvements.

sure scares me !

Report this post as:


by hand biter Wednesday, Nov. 25, 2009 at 4:39 AM


That ,000 line is total bullshit, for one thing. I don't make anywhere near ,000 and I'm still forced to throw away my bottom dollar every quarter and get less and less and return.

Also, you're not fit to complain about student analysis of the issues if you lack an understanding of the issues involved, which is clearly the case. The last UC President, Dynes, struck a deal with Gov. Schwarzenegger to the effect that the UC Regents were allowed to raise fees as high as they want as long as they don't ask the state for any more money. This was a good deal for Sacramento because they'd rather spend money on incarcerating youth than educating us, and it was a good deal for the Regents because the money is NOT the same to them either way - money from Sacramento has to be accounted for and must be spent on education, while money from education fees can be spent however the Regents want.

And what the Regents do with this money is:

1. Pay ridiculous salaries to a handful of assholes at the top - Yudof makes twice as much as Barack Obama AND has a mansion AND lives in a ,000/month apartment that we pay for. He could pay his own rent for ONE MONTH--he can afford it!--and that would save enough money to give one student a 100% fee waiver. His salary and rent alone make up some 0,000 a year. That's JUST Yudof. Students have proved they can run libraries, admin halls, etc. for free and keep them open 24/7--as long as the student-paid cops don't bust in with the pepper spray and the batons, that is. What are we paying bookoo administrators for on every single campus?

2. Invest it in lucrative weapons research programs that have no accountability to students and in fact most students find offensive.

3. Invest it in off-campus real estate that turns profits for UC administrators without doing anything for our education.

4. Build and contract out restaurant spaces and concert venues, which essentially amount to privatized, expensive corporate presences on campus without any student accountability and don't do anything for our education.

5. Before any of this spending even happens, the educational fee income is pledged to a bond holding bank in New York, where the UC system maintains its Aa1 credit rating (for construction loans, etc.) by promising investors that it can raise our tuition every year without giving us any recourse or input.

This information is all out there--start with UC faculty president Bob Meister's series of critical letters called "They Pledged Your Tuition" at http://www.cucfa.org -- you just have to go read it and, you know, think critically about the world around you, instead of just eating bullshit out of Yudof's hand.

If you think the pictures here are supposed to be "artistic" or pretty, you should try reading the text that goes along with them. Especially if you're going to insult students' intelligence afterwards--at least prove you can read words and not just pictures.

By the way, if you can really pull ,000 out of a hat every year, PLUS textbook costs, PLUS housing fees and other living expenses, either you've invented some lucrative new breakthrough (in which case, why are you going to school? clearly you're not interested in learning how to think critically about the world around you) OR you work for the administration OR you're some other kind of capitalist who's managed to step on enough people's heads to get where you are without losing any sleep about it, which makes me wonder how you manage to care about anything at all.

Even if you're rich, well, gee, we're all happy for you and everything, but not everyone is rich. This isn't about you, it's about those of us who went to UC because it was ONCE an educational institution, not because we like the fancy new restaurants.

Report this post as:


by Hitler Youth Academy Wednesday, Nov. 25, 2009 at 9:50 PM


http://www.hyphenmagazine.com/blog/2009/04/new-uc-admissions-policy-is-af.html

April 25, 2009

New UC Admissions Policy Is 'Affirmative Action for Whites'

The headlines say Asian Americans are angry over changes to the University of California's admissions policy. Why? Because the new standards may reduce the number of Asian Americans students, who currently make up 40 percent of the undergraduates at UC's nine campuses.

UC enacted the policy a couple of months ago, but an Associated Press story published Friday put it back in the news.

"I like to call it affirmative action for whites," Ling-chi Wang, a retired Asian American Studies professor at the University of California, Berkeley, told the Associated Press. "I think it's extremely unfair to Asian Americans on the one hand and underrepresented minorities on the other."

That's a bold statement, and if the projections of fewer Asian American and more white students are true, this will surely become a contentious issue for years to come. Get a flavor of this in the comments on SFGate.

UC says it's trying to widen the pool of applicants, and perhaps, to get around slyly a state law that forbids the use of race as a factor in admissions. But, as the article says, it could also be an effort to cut down the number of Asian Americans. If you're the group getting cut out, naturally you're going to feel it's unfair. There are many who would downplay this because of the perception that Asian Americans, already so numerous at UC, don't need any affirmative action, stealth or not.

California voters passed Prop. 209 in 1996, a constitutional amendment that prohibits state institutions from considering race, ethnicity or gender in employment, education or contracting. Taking race out of the equation in higher education, especially for coveted undergraduate spots in the UC system, has increased the numbers of Asian Americans at the expense of other groups. Do we want that?

Do we want 40 percent of UC's undergrads to be Asian American? Do we want 40 percent to be white or black or Latino or any other group? I think not, but at least here in California, we seem to be creating policies that make it happen. Given that, would you vote for Prop. 209 or something like it?

Report this post as:


by mous Sunday, Nov. 29, 2009 at 4:46 AM


The SF Bay is around 30% AsAm and LA is around 20%. So, yes, overrepresented, but look at the demographics.

Immigration laws basically close the door on working class immigrants, so, the immigrants from Asia tend to be overwhelmingly middle class. That gives the population an edge in knowing about college, and preparing to enter college. (There are working class AsAms, but, where they were once the majority, they are now a minority within a minority group.)

Also, the population of Whites in CA are kept at their levels by in-migrants from other states, and they come in after college age. (I've worked in so many places where nearly all the White people were from other states. They're surprised to learn that I'm a native born Angeleno.) The local Whites also tend to move out of state to pursue job opportunities, causing out-migration of residents who might go to UC.

I've seen this a lot - the better, education-required jobs in a company go to people who moved to L.A., and the administrative or less skilled jobs go to locals. There are always some locals in the upper end, but, they're a minority. They are often people of color, too.

And on the flipside, I've seen a lot of people move away from L.A., but it's mostly the middle class people with dreams to pursue, and educations to support their endeavors. Race doesn't seem to matter as much - people of color take off, too. The issue is class - and in L.A. white people are heavily middle class. Asians are as well, but more of an emergent middle class in the past 40 years, or an immigrant middle class, rather than a postwar middle class of 60 years ago. So, AsAms are likely to feel the pull of family and community that need their help.

So is 40% too much? Maybe, but there are explanations for it, and the policy has to be designed to take these factors into account.

More importantly. it would behoove the UC to consider the needs of specific ethnic communities. Some populations need assistance more than others. This applies for all ethnic groups.

Report this post as:


by Here's the problem Sunday, Nov. 29, 2009 at 9:19 PM


the Asian folks are about 14 years too late in denouncing the UC admissions policy. There weren't that many of them concerned with the end of Affirmative Action in 1995. Now, and only now, are they screaming bloody murder.

The concept is that as a public institution, the UC student body should reflect the general population.



Report this post as:


by Hitler Would Be Proud ! Tuesday, Dec. 01, 2009 at 11:12 PM


MSNBC.com

http://www.msnbc.msn.com/id/30393117/



New UC admissions policy angers Asians

They say new standards are unfair, will reduce their numbers on campus

The Associated Press

updated 3:34 p.m. PT, Fri., April 24, 2009

SAN FRANCISCO - A new admissions policy set to take effect at the University of California system in three years is raising fears among Asian-Americans that it will reduce their numbers on campus, where they account for a remarkable 40 percent of all undergraduates.

University officials say the new standards — the biggest change in UC admissions since 1960 — are intended to widen the pool of high school applicants and make the process more fair.

But Asian-American advocates, parents and lawmakers are angrily calling on the university to rescind the policy, which will apply at all nine of the system's undergraduate campuses.

They point to a UC projection that said the new standards would sharply reduce Asian-American admissions while resulting in little change for blacks and Hispanics, and a big gain for white students.

"I like to call it affirmative action for whites," said Ling-chi Wang, a retired professor at UC Berkeley. "I think it's extremely unfair to Asian-Americans on the one hand and underrepresented minorities on the other."

Asian-Americans are the single largest ethnic group among UC's 173,000 undergraduates. In 2008, they accounted for 40 percent at UCLA and 43 percent at UC Berkeley — the two most selective campuses in the UC system — as well as 50 percent at UC San Diego and 54 percent at UC Irvine.

Asian-Americans are about 12 percent of California's population and 4 percent of the U.S. population overall.

The new policy, approved unanimously by the UC Board of Regents in February, will greatly expand the applicant pool, eliminate the requirement that applicants take two SAT subject tests and reduce the number of students guaranteed admission based on grades and test scores alone. It takes effect for the freshman class of fall 2012.

President defends policy

Some Asian-Americans have charged that the university is trying to reduce Asian-American enrollment. Others say that may not be the intent, but it will be the result.

UC officials adamantly deny the intent is to increase racial diversity, and reject allegations the policy is an attempt to circumvent a 1996 voter-approved ban on affirmative action.

"The primary goal is fairness and eliminating barriers that seem unnecessary," UC President Mark Yudof said. "It means that if you're a parent out there, more of your sons' and daughters' files will be reviewed."

Yudof and other officials disputed the internal study that projected a drop of about 20 percent in Asian-American admissions, saying it is impossible to accurately predict the effects. "This is not Armageddon for Asian-American students," Yudoff said.

At San Francisco's Lowell High School, one of the top public schools in the country, about 70 percent of the students are of Asian descent and more than 40 percent attend UC after graduation.

"If there are Asian-Americans who are qualified and don't get into UC because they're trying to increase diversity, then I think that's unfair," said 16-year-old junior Jessica Peng. "I think that UC is lowering its standards by doing that."

Doug Chan, who has a teenage son at Lowell, said: "Parents are very skeptical and suspicious that this is yet another attempt to move the goalposts or change the rules of the game for Asian college applicants."

Increased competition

One of the biggest changes is scrapping the requirement that applicants take two SAT subject tests. UC officials say the tests do little to predict who will succeed at UC, no other public university requires them, and many high-achieving students are disqualified because they do not take them.

The policy also widens the pool of candidates by allowing applications from all students who complete the required high school courses, take the main SAT or ACT exams and maintain a 3.0 grade-point average. Under the current policy, students have to rank in the top 12.5 percent of California high school graduates to be eligible.

Students still have to apply to individual campuses, where admissions officers are allowed to consider each applicants' grades, test scores, personal background, extracurricular activities and other factors but not race.



The policy is expected to increase competition for UC admission. This year the university turned away the largest number of students in years after it received a record number of applications and cut freshman enrollment because of the state's budget crisis.

"I'm getting all sorts of e-mails from parents, alumni and donors who are quite upset by the action UC took," said state Assemblyman Ted Lieu, chairman of the Legislature's 11-member Asian-American caucus.



Copyright 2009 The Associated Press. All rights reserved. This material may not be published, broadcast, rewritten or redistributed.





Report this post as:


by Hitler Youth Academy Friday, Feb. 19, 2010 at 10:19 PM


your tax dollars at work: UC system last bastion of aryan privilige and entitlement



ktla.com /news/landing/ktla-compton-cookout,0,2673438.story

KTLA

Fraternity Mocks Black History Month With "Compton Cookout"

KTLA News

3:57 AM PST, February 18, 2010

SAN DIEGO -- Officials at UC San Diego are condemning a ghetto-themed party organized by fraternity students to mock Black History Month.

A Facebook posting advertising Monday's 'Compton Cookout' invited people to a condominium complex off-campus.

The invitation urged all participants to wear chains, rapper-style urban clothing by makers such as FUBU and speak very loudly.

Female participants were encouraged to be "ghetto chicks" with gold teeth, cheap clothes and "short, nappy hair."

The invitation said the party would serve watermelon, chicken, malt liquor, cheap beer and a purple sugar-water concoction called "dat Purple Drank."

The party was organized by members of several UCSD fraternities, according to an e-mail from Gary Ratcliff, assistant vice chancellor for student life.

UCSD Chancellor Marye Anne Fox called the party, "offensive" and a "blatant disregard of our campus values."

"We reject acts of discrimination ... and we will confront and appropriately respond to such acts," Fox said.

---------------------------------

Read The Invitation To The "Compton Cook Out," As Posted On Facebook:

"February marks a very important month in American society. No, i'm not referring to Valentines day or Presidents day. I'm talking about Black History month. As a time to celebrate and in hopes of showing respect, the Regents community cordially invites you to its very first Compton Cookout.

For guys: I expect all males to be rockin Jersey's, stuntin' up in ya White T (XXXL smallest size acceptable), anything FUBU, Ecko, Rockawear, High/low top Jordans or Dunks, Chains, Jorts, stunner shades, 59 50 hats, Tats, etc.

For girls: For those of you who are unfamiliar with ghetto chicks-Ghetto chicks usually have gold teeth, start fights and drama, and wear cheap clothes - they consider Baby Phat to be high class and expensive couture. They also have short, nappy hair, and usually wear cheap weave, usually in bad colors, such as purple or bright red. They look and act similar to Shenaynay, and speak very loudly, while rolling their neck, and waving their finger in your face. Ghetto chicks have a very limited vocabulary, and attempt to make up for it, by forming new words, such as "constipulated", or simply cursing persistently, or using other types of vulgarities, and making noises, such as "hmmg!", or smacking their lips, and making other angry noises,grunts, and faces. The objective is for all you lovely ladies to look, act, and essentially take on these "respectable" qualities throughout the day.

Several of the regents condos will be teaming up to house this monstrosity, so travel house to house and experience the various elements of life in the ghetto.

We will be serving 40's, Kegs of Natty, dat Purple Drank- which consists of sugar, water, and the color purple , chicken, coolade, and of course Watermelon. So come one and come all, make ya self before we break ya self, keep strapped, get yo shine on, and join us for a day party to be remembered- or not. "

Copyright © 2010, KTLA-TV, Los Angeles



Report this post as:


by Hitler Youth Academy Friday, Apr. 16, 2010 at 9:37 PM


http://www.mercurynews.com/news/ci_14882207

UC Berkeley acceptances from outside California hit record high

By Lisa M. Krieger

lkrieger@mercurynews.com

Posted: 04/14/2010 10:57:23 AM PDT

Updated: 04/14/2010 09:56:18 PM PDT

UC Berkeley has doubled the number of admission offers to out-of-state and international students — while cutting spaces for California residents.

Saying the state did not provide enough money to support California students, the university dropped the number of in-state offers by 15 percent — from 11,184 for the current school year to 9,459 for next fall's freshman class, according to data released Wednesday by the University of California.

This created vacancies for out-of-state students, who pay three times as much in tuition and fees as students from California, translating to more than ,000 more per student. About half of their fees are profit for the university.

"These students do not take space from a California student," said Susan Wilbur, director of undergraduate admissions for the University of California. "They are bringing more money to the university, which enables us to teach our California students at the same high-quality level that they are used to."

California students still make up the majority of UC Berkeley's student body. But out-of-state students will comprise 18.5 percent of next year's freshman class, up from 8 percent last year. The percentage of international student acceptances also climbed, to 8.3 percent from 5.7 percent.

It's a way to bring in more revenue at a time when the state budget has cut back, said Walter Robinson, assistant vice chancellor and director of undergraduate

admissions.

"The additional nonresident funds will help UC Berkeley maintain academic excellence for all students," he said.

Increasing the numbers of non-California residents at UC Berkeley is expected to ultimately generate about million a year.

Robinson noted that nonresident students bring more with them than dollars. "They are all outstanding students and their diversity of experiences and perspectives will further enrich the university experience for the entire student population."

The trend is less pronounced at other UC campuses because they get fewer applications from outside the state, Wilbur said. At all UC schools, 14 percent of accepted students come from out of the state or country, up from 12 percent last year.

Winston Thomas of San Mateo was relieved that his daughter Georgia was accepted to UCLA for the fall term and UC Berkeley for next spring, but he is worried about what further state budget cuts could mean for her classmates and other Californians.

"I do think it is frustrating for California kids today to find out it just got even harder to get in," he said. Concerning out-of-state students, "I wonder if they will stay in the state and 'give back' to the local economy?" he asked.

For the first time in UC history, seven campuses created wait lists for state residents. About 200 students are wait-listed at UC Berkeley, 1,181 at UC Santa Cruz and more than 5,000 at UC Davis. Wait-listed students will hear by the end of May if they are offered an opening.

UC Santa Cruz admitted 65 percent of the California high-school seniors who applied for fall 2010, maintaining a trend in which undergraduate admission to the campus has become increasingly competitive. Three years ago, the campus admitted 83 percent of the prospective freshmen who applied.

"This was an exceptionally competitive year," said Wilbur. Competition was boosted by two factors: an increase in applicants and a reduction in available seats. UC received 100,428 applicants, up from 98,119 last year. And it reduced enrollment by 1,500 students.

Systemwide, 71.6 percent of California freshman applicants were offered admission for fall 2010, compared with 72.5 percent in 2009 and 75.4 percent in 2008.

There was a systemwide increase in admission offers to Asian, Latino and African-American students, according to UC. Offers to white applicants declined because they represented a smaller portion of the application pool. UC's admitted class is 56 percent female and 44 percent male.

But no student who met the university's entrance requirements was fully turned away. During the next several weeks, about 11,000 students who didn't get their school of choice will be offered space at two campuses to which they didn't apply, Riverside and Merced.

Other public university systems, such as Michigan and Vermont, also enroll much higher percentages of out-of-state students. But these states have declining in-state populations, so the campuses need filling.

Critics of the UC trend warn that it could squeeze out qualified California students.

"When we start chasing that money as a substitute for state money, that's bad public policy," Lt. Gov. John Garamendi said last year, when the issue was under discussion by UC regents.

"The UCs are really a state jewel," said Thomas, the San Mateo father. "It takes a lot of time and effort to build a reputation like UCB and UCLA. But it seems it could drop even faster if the state doesn't fund them appropriately."

www.mercurynews.com/news/ci_14882207

Report this post as:


by Hitler Youth Academy Wednesday, Apr. 21, 2010 at 12:09 AM


Racism on Campus

What post-racial America?

By Alvaro Huerta | Published on LatinoLA: April 19, 2010

Racism is alive and well at American universities and beyond. The racist incidents in the past few weeks throughout the University of California system and country refute the simplistic notion that we live in a post-racial society, as often referred to by the election of the first African American president.

Although many conservative leaders, elected officials and talk-show celebrities, like Glenn Beck and Rush Limbaugh, talk about a color-blind society where racial minorities should not be given any "special considerations" since we live in a country where everyone has an equal opportunity to succeed, the ongoing racist incidents against racial minorities reveal that we still have a long way to go when it comes to matters of race and equality.

The racist acts at UC San Diego (UCSD) against African Americans include a campus fraternity party called "Compton Cookout," a campus television program using racial slurs, the hanging of a noose on a lamp fixture in a library and KKK-like hood placed on statue outside the main library. While the organizers of the so-called "Compton Cookout" encouraged attendees to dress up in so-called "ghetto" attire, including XXXL T-Shirts, fake gold teeth and cheap clothes, the food to be served included fried chicken and watermelon.

Although many community leaders, students and UCSD officials have condemned these insidious acts, we should not be surprised that such racially intolerant and hateful actions exist on a campus where African Americans students represent a meager 2% of all undergrads. Apart from this campus, hate crimes have occurred on other UC campuses, such as graffiti of a noose on a bathroom door at UC Santa Cruz and carved swastika on the door of a Jewish student at UC Davis.

Latino students have also been victims of hate crimes at elite public universities. As someone who first entered UCLA as a freshman back in 1985, for example, I can still recall the stories by student activists, such as Adrian Alvarez, who led a week-long protest against the Beta Theta Pi fraternity for their racist Mexican-themed party, "Tequila Sunrise." At these parties, the mostly white fraternity members mocked Mexican culture by dressing up in so-called Mexican attire and engaging in racist acts.

These racist fraternity parties against people of Mexican descent also took place in the late 1960s through the early 1980s when another fraternity, Phi Kappa Psi, organized their annual "Viva Zapata" theme-parties. At these parties, mostly white fraternity members displayed a Mexican flag where a hand showing the middle finger replaced the eagle with the following words: "No Negroes, no Japs, no Zapatas, no Zorros, no dogs."

While the 1978 movie "National Lampoon's Animal House" glorified fraternities as a bunch of kids who simply love to party and defy authority, we know full well that the real life fraternity members who engage in racist acts during their college years become influential lawyers, entrepreneurs, doctors, judges and elected officials. Some even grow up to be the president of the United States.

Racism, however, is not confined to California's elite university system. Racist and insensitive comments by conservative leaders occur on a regular basis. Rush Limbaugh, for example, when referring to Haiti's earthquake recovery efforts, argued that the U.S. should not provide disaster relief to this devastated country because we already support Haitians through our tax dollars. This inhumane comment only promotes an environment of hate and mockery against racial minorities.

While some people argue that all we need to do is to educate those who commit racist actions, I strongly believe that until we address the systemic problems that create an environment of racial and economic inequality in this country, we will continue to see the ugly head of bigotry displayed in public arenas.

If we consider the case of higher education, instead of outlawing affirmative action programs in California and other states, we need to re-instate and expand these programs, now more than ever, to address the historical and structural inequalities that remain rooted throughout the U.S.. While UCLA and UC Berkeley have taken positive steps in implementing a comprehensive review approach toward undergraduate admissions, the current ban against affirmative action restricts the amount of underrepresented minorities at the best public universities in the world.

Moreover, it's not enough to have Brad and Jane take a required class on Chicano or African American history at the university to make them more sensitive to diverse cultures. We need more racial and class diversity in higher education to reflect the interests of racial minorities and working class individuals from the inner-cities and rural communities.

Until people commit themselves to systemic and progressive change in this country, university students, conservative cable-hosts and average Americans will continue to resort to the policies and practices of the Jim Crow era when racial segregation and discrimination ruled the day.

Alvaro is a writer, social activist and social scientist. He lives with his wife Antonia and family in Califas.

Find this story online at

www.latinola.com/story.php?story=8556



www.latinola.com/story.php?story=8556

Report this post as:


by Hitler Youth Academy Wednesday, Mar. 16, 2011 at 8:37 PM


...when Affirmative Action get rescinded at the UC... you get racists like Alexandra Wallace at UCLA

http://www.youtube.com/watch?v=u7XAJo3rQn8

Report this post as:


by Hitler Youth Academy Saturday, Nov. 30, 2013 at 10:45 PM


http://www.latimes.com/local/lanow/la-me-ln-black-judge-ucla-police-20131125

,0,7110117.story#axzz2ltiFNSTU

By Richard Winton

November 25, 2013, 1:44 p.m.

A prominent African American judge has filed a complaint against two UCLA police officers, accusing them of using excessive force when they pulled him over for not wearing a seat belt.

Los Angeles Superior Court Judge David S. Cunningham III, a former Los Angeles Police Commission president, said the officers shoved him against his car, handcuffed him, locked him in the back of their police cruiser and told him he was being detained for resisting arrest.

Cunningham's complaint does not attribute the incident to his race, but his attorney said race was clearly a factor in the officers' behavior.

"Do you think this would have happened if he was a white judge?" the attorney, Carl Douglas, said Monday, calling for both officers to be removed from the field immediately.

UCLA said it is investigating the incident.

The 60-year-old judge, dressed in a black gym shirt and shorts, was pulled over as he was leaving L.A. Fitness in Westwood about 10 a.m. Saturday.

Cunningham said in his complaint that he was in the process of buckling his belt after paying a parking attendant when a UCLA police cruiser stopped his Mercedes at 1050 Gayley Avenue, according to his complaint.

After pulling Cunningham over, two officers got out of their patrol car, the complaint says.

When Cunningham asked why he was being stopped, one of the officers told him it was because he began buckling his seat belt when he saw them, Douglas said.

Officer Kevin Dodd asked to see his driver's license. Cunningham handed them his wallet, then the officers requested registration and insurance.

When Cunningham reached for his glove box to retrieve the documents, an officer "yelled at me not to move," he said in the complaint. "I became irritated and told him that I need to look for the paper."

A prescription pill bottle rolled out of the glove compartment, prompting the officer to ask if he was carrying drugs. Douglas said the medicine was for high blood pressure.

Cunningham couldn't find his registration and insurance paperwork in the glove compartment and told officers he thought it was in the trunk.

"When I go out of the car to search my trunk, Officer Dodd shoved me against my car, told me I was under arrest for resisting and locked me in the back seat," Cunningham wrote in the complaint, which was first reported by NBC News.

Douglas said the judge was tossed into the back of the police cruiser's back seat with such force that his feet flew up in the air. The second officer, identified as James Kim, accused him of "kicking."

The judge, who as an L.A. police commissioner had reviewed hundreds of potential police misconduct matters, began to fear for his safety, Douglas said.

"He lost his cool," Douglas said. "He began yelling about police brutality and about being a 60-year-old man slapped in handcuffs in the back of a patrol car for not wearing a seat belt. A crowd was gathering and he demanded they call a watch commander."

After about 10 minutes, a UCLA police sergeant arrived and released Cunningham, who was appointed to the bench in 2009 by former Gov. Arnold Schwarzenegger.

UCLA police, citing the pending investigation, provided only limited information about the traffic stop. They said the judge was pulled over at 10:05 a.m. Saturday and "temporarily handcuffed during the course of a traffic stop."

He was cited for failing to wear a seat belt and released.

Douglas said both officers should be removed from the field and undergo "extensive cultural sensitivity training," Douglas said.

"Incidents like these should be a clarion call for us to remember the struggle is not over," Douglas said.

Twitter: @lacrimes| Google+

richard.winton@latimes.com

Copyright © 2013, Los Angeles Times

.

http://www.latimes.com/local/lanow/la-me-ln-black-judge-ucla-police-20131125

,0,7110117.story#ixzz2mAhtyDdh

Report this post as:


by Hitler Youth Academy Thursday, Dec. 26, 2013 at 9:42 PM


http://dailybruin.com/2013/11/14/ucla-grad-students-stage-sit-in-following-recent-discrimination-report/

UCLA grad students stage sit-in following recent discrimination report

Students staged a sit-in Thursday in Moore Hall in response to a report released in October outlining how UCLA insufficiently treated incidents of racial discrimination.

November 14, 2013

3:50 pm

This post was updated at 7:06 p.m.

About 25 graduate students staged a sit-in in a Moore Hall classroom Thursday afternoon, in response to a recent investigative report which stated that UCLA's policies and procedures do not sufficiently address racial discrimination incidents among faculty members.

The protest took place during a graduate class, where students participated in a mock oral examination, said Professor Val Rust, who led the class.

Nora Cisneros, a graduate student, read a letter written collectively by several students, which described the class – and the graduate school as a whole – as being an unsafe climate for students of color.

"There are documented and undocumented stories of a hostile and toxic environment for students of color here in Moore Hall and throughout the campus," she said, reading from the letter.

The 25 students in the class represented most of the students of color in the division, said Marianna Anaya, a graduate student and one of the organizers of the sit-in.

A majority of the students at the sit-in were graduate students at the UCLA Graduate School of Education and Information Studies, though some undergraduate students also attended. Many of the students were clad in UCLA T-shirts.

At the sit-in, students took turns sharing their personal experiences with racial discrimination as others listened. Some said they wanted the university to investigate these incidents and provide additional funding for improving campus climate.

Other students were emotional as they spoke about their experiences.

Alma Flores, a graduate student in the Graduate School of Education and Information Studies, became tearful as she talked about the racial discrimination she has faced at UCLA.

"As a woman of color, I should not have to get up every single day to have my identity questioned. … I am tired of it," she said, crying as she spoke. "I'm tired, and it hurts me so much."

The report the students at the sit-in were addressing was drafted by former California Supreme Court Justice Carlos Moreno after 30 faculty asked administrators for a review of the "campus racial climate." Chancellor Gene Block released the report and a statement in an email to administrative heads and faculty members last month. He announced plans to hire a full-time discrimination officer and work with the Academic Senate to ensure that UCLA's policies regarding discrimination are clear.

Nichole Garcia, another student in the Graduate School of Education and Information Studies, said Thursday's sit-in is one of a series of steps the students hope to take to address their concerns. "As grad students, we sometimes forget we can take action like when we were undergrads," she said.

The university said it did not want to comment further regarding the sit-in on Thursday.

Compiled by Yael Levin, Bruin senior staff. Contributing reports by Sam Hoff, Bruin reporter, and Samah Pirzada and Madeleine Wright, Bruin contributors.

http://dailybruin.com/2013/11/14/ucla-grad-students-stage-sit-in-following-recent-discrimination-report/

Report this post as:



Local News

OUR HOUSE Grief Support Center Presents Night for Hope O30 5:38PM

Marshall Tuck's racist dog whistle O27 5:01AM

Marshall Tuck's ethnocentrism contradicts Californian values O27 4:32AM

Contra Costa-Hawkins O25 3:48AM

Debunking Some Anti-Prop 10 Propaganda O12 6:56AM

Why Should California Choose De Leon Over Feinstein? O10 9:55PM

Change Links September 2018 posted S02 10:22PM

More Scandals Rock Southern California Nuke Plant San Onofre A30 11:09PM

Site Outage Friday A30 3:49PM

Change Links August 2018 A14 1:56AM

Setback for Developer of SC Farm Land A12 11:09PM

More problems at Shutdown San Onofre Nuke J29 10:40PM

Change Links 2018 July posted J09 8:27PM

More Pix: "Families Belong Together," Pasadena J02 7:16PM

"Families Belong Together" March, Pasadena J02 7:08PM

Short Report on the Families Belong Together Protest in Los Angeles J30 11:26PM

Summer 2018 National Immigrant Solidarity Network News Alert! J11 6:58AM

Watch the Debate: Excluded Candidates for Governor of California M31 5:20AM

Change Links June 2018 posted M28 7:41AM

The Montrose Peace Vigil at 12 Years M22 8:01PM

Unity Archive Project M21 9:42AM
More Local News...
Other/Breaking News

Oppose Environmentally-Harmful Development D10 4:03AM

Oppose Environmentally-Harmful Development D10 3:58AM

Allo, quelqu'un ? Allo, quelqu'une ? D09 9:16AM

deral Government Officials are not allowed to take leaflets nor pick up items in privste D09 4:15AM

Communist Mouthwash Hides Nature of Nations Suffering in Comm Pyramids Ploys D09 12:01AM

Atlanta: metro Pillage, Poison Gas, Pricks D08 9:13PM

Atlanta Metro Suffers Under Pillage, Shame lso Political Poison Gases D08 8:41PM

Fed Says College Students Have More Debt than Previous Generations D07 3:08PM

Paraphysique de l'insurrection et de l'émeute D07 9:55AM

Corruption of USA government D06 4:14AM

"We live in a time of radical counter-enlightenment" D04 1:45AM

Did Woolsey Fire Cause Radioactive Fallout? D03 10:26PM

G20 Discusses Preventing Financial Crisis and Small Island Economies N30 3:10PM

Driver near Campbell San Jose researches Bus Traffic from Northern Mexico N29 4:04AM

The Death of Small Businesses in Big Cities, Explained N28 3:43PM

Felons Shw Ninjasred Heavy Truck Tyres N28 2:28PM

Paraphysique de la consommation/pollution N28 8:08AM

Paraphysique de l'effet spectateur N26 11:13AM

Condominium, terrorisme du capital N24 8:52AM

Debt and Tax Policies Needed to Prevent Crisis Says Finance Watchdog Group N23 2:40PM

Independent Media Crackdown and Global Social Movements N22 9:45PM

Abécédaire du fascisme restreint et général N22 8:41AM

"Animaniacs in Concert!" Starring Voice Legend Rob Paulsen Heads to Portland, Oregon N20 8:39PM

Socialism in American English N20 12:04PM

Noske, noskisme réactualisé N20 11:29AM

Oprah Please Stop Selling Dead Animal Pieces N20 3:32AM

Down In Smoke SF N20 12:03AM

Lucifers Banker N18 7:38PM
More Breaking News...