Features
•
latest news
•
best of news
•
syndication
•
commentary

Feature Categories



KILLRADIO
printable version - js reader version - view hidden posts - tags and related articles

by Mark Gabrish Conlan/Zenger's Newsmagazine Friday, Oct. 30, 2009 at 2:41 PM
mgconlan@earthlink.net (619) 688-1886 P.O. Box 50134, San Diego, CA 92165
The predominantly Queer San Diego Democratic Club took two different tacks in its endorsements in City Council races at its regular meeting October 22. In District 6 they endorsed veteran politician Howard Wayne over Steve Hadley, chief of staff to incumbent Councilmember Donna Frye. In District 8 they endorsed the grass-roots Latino candidate, David Alvarez, over two better connected candidates from established local Latino political families: Felipe Hueso, older brother of incumbent Councilmember Ben Hueso; and Nick Inzunza, uncle of former Councilmember Ralph Inzunza.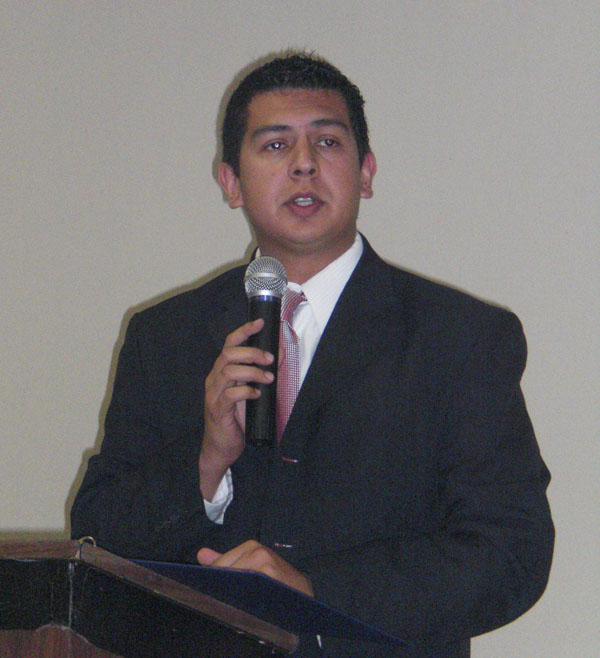 alvarez.a.jpg, image/jpeg, 600x658

Queer Democrats Endorse Alvarez, Wayne for City Council

Discussion Lively but Not Bitter in 2 1/2-Hour Meeting

by MARK GABRISH CONLAN

Copyright © 2009 by Mark Gabrish Conlan for Zenger's Newsmagazine • All rights reserved

PHOTOS, top to bottom: David Alvarez, Howard Wayne

The predominantly Queer San Diego Democratic Club took two different directions in considering endorsements for the San Diego City Council at its October 22 meeting. In District 6, currently represented by Donna Frye, the club picked former Assemblymember Howard Wayne, an established candidate who boasted of a long list of endorsers — including the San Diego County Democratic Party, former State Senator DeDe Alpert, State Assemblymember Mary Salas, current State Senator and former City Councilmember Christine Kehoe and her two successors on the City Council, Toni Atkins and Todd Gloria — over Steve Hadley, Frye's chief of staff, whose endorsers, aside from Frye, former City Council candidate Stephen Whitburn and former mayoral candidate Steve Francis, are mostly community activists within the district little known in the rest of the city.

In District 8, by contrast, the club picked grass-roots candidate David Alvarez, a member of the staff of State Senator Denise Moreno Ducheny, over two more prominent Latino candidates: Felipe Hueso, older brother of incumbent District 8 Councilmember Ben Hueso; and South Bay Union School District board member Nick Inzunza, Sr. Inzunza's nephew Ralph resigned the District 8 Council seat in disgrace in 2005 after being convicted of accepting illegal campaign contributions from a strip-club owner, and his son Nick Jr. quit the position of mayor of National City in 2006 after the local media exposed him as a slumlord — though the San Diego Hispanic Chamber of Commerce disregarded that part of his background when it hired him as their executive director in March 2009. A fourth candidate, B. D. Howard, also appeared at the club's October 22 candidates' forum.

In the District 6 race, Wayne cited not only his long list of endorsers but his history in the Assembly. "I've been a member of this club since 1991, and a few years later you helped send me to the state legislature," he recalled. "[Former state legislator] Sheila Kuehl asked us to vote on her bill to end discrimination in public education based on sexual orientation. She held open the vote to give any member the opportunity to change a vote in favor if it might hurt them politically. We got 36 votes — five short of the number needed to pass — and all the 'yes' votes stayed on all night. A few years later, we debated the bill again, and there was talk from the floor about how it was part of a 'Satanic Gay agenda.' I said, 'I've finally figured out what the "Gay agenda" is: that people in the Gay community demand the same rights as everyone else.' This time we got 41 votes, the bare minimum."

Hadley, a former minister who went to law school in San Diego but whose law license is from Washington, D.C., has been on Frye's staff all but one year since 2001 and has been her chief of staff since 2004. "I've always been an activist," he said. "I helped ordain the first women in my denomination and hired the first women on the staff. My family left the Republican Party in 1980 when the Moral Majority joined it." After saying he'd supported a female-to-male Transgender person on his church staff and helped him through his transition, Hadley said he had helped Frye on church-state issues including opposing the Boy Scouts' lease on city parkland, opposing the cross on Mount Soledad and supporting the California Supreme Court case for marriage equality. "The pastors in my town don't like me very much," he said. (Hadley avoided mentioning the name of his church, but he went to college at Loma Linda University, associated with the Seventh-Day Adventists.)

Club members questioned both candidates on why they hadn't been more aggressive supporters of marriage equality. Asked why he hadn't supported Assemblymember Mark Leno's same-sex marriage bills, Wayne pointed out that he left the Assembly before Leno arrived. Hadley was questioned about his refusal to oppose school vouchers, and both candidates were asked about whether creationism should be taught in schools. Hadley said it should be kept out of science classes but should be mentioned in classes teaching "myths and fables." Wayne flatly stated that the Genesis myth "belongs in church, not in education."

Asked about the city's ongoing budget crisis, Wayne said, "We're going to have to live with sacrifices from the public and the employees, but we should not be contracting out city jobs." Hadley, whose boss Frye has launched a controversial initiative with Republican City Councilmember Carl DeMaio to revamp the city's budget process, said, "There is still huge waste at City Hall. We just found a consultant who was being paid $7 million, not for anything specific but just to have him around in case the city wanted to consult with him. I would also go back and look at the COLA (cost of living adjustment) for our retirees. When federal retirees do not get COLA's, neither should our retirees."

The debate over the District 6 endorsement pitted two former San Diego Democratic Club presidents against each other. Jess Durfee, who has served as chair of the San Diego County Democratic Central Committee since leaving the club presidency, said the committee recommending an endorsement to the full central committee came out 85 percent in support of Wayne. "Howard did an exceptional job," Durfee said. "He's been elected three times. He has the name recognition. He has the ability to access money. If we don't have a strong candidate in this race, we will lose this seat — and our carefully won City Council majority — to the Republicans."

"Either Howard or Steve would serve us tremendously, but I'd like to put in a good word for Steve," said Stephen Whitburn. "He worked on our City Council campaign, and I came to admire him. You will rarely meet a more decent person than Steve. Steve is someone who makes up his own mind. Steve works with a church that usually doesn't support marriage equality, and he's stood up for us. He knows the city and the district inside out." Wayne eventually won the endorsement, but by a surprisingly close margin — 36 votes, one more than the minimum required, to 18 for Hadley and four for no endorsement.

With four candidates present, the District 8 forum was more sprawling. Felipe Hueso used his opening statement to try to establish a more progressive reputation than his brother's. "I've represented injured workers — the people who pick your fruit and lettuce — for 20 years," he said. "I've been advising on their behalf through a lawyers' organization. I'm a consensus builder. I started Inter-American College in National City 13 years ago, and now we have 150 students, we're fully accredited and our graduates are bilingual teachers and nurse-practitioners. You need someone with business experience and accomplishments."

"I'm running because I don't like what's been going on in District 8," said Nick Inzunza. "Whatever is going on in the district is being imposed on it from outside. There's discussion about modernizing Brown Field — which will mean 747's landing in our backyard — but the people at the meetings are not from District 8. Also we have people from outside the district holding meetings on extending Donovan prison. We stopped 300 parolees from coming into our community. There was a proposal to put them in the Super Easy-8 motel on Palm Avenue. That would not have been a good environment for our kids."

"I am running because I love the community," said David Alvarez. "I was born, raised and grew up in Barrio Logan. My dad was a farm worker, a maid, a dishwasher and a janitor. My mom flipped burgers at McDonald's. I was the first Alvarez [in his family] to graduate from high school and then go to college." Like his opponents, he said infrastructure would be one of his priorities: "We have unpaved and eroded sidewalks, and eroded streets. We have a need for lighting. Another need is public safety. At a time when crime is increasing, we need money for more police officers and firefighters."

Howard began with Benjamin Franklin's famous quote after the 1787 Constitutional Convention, when he told a woman who asked what form of government the convention had given the country, replied, "A republic — if you can keep it." He said his priorities were "making sure the government is responsive, setting up a satellite office near the border, adequate police and fire protection and the city budget. We're going to have to figure out how to keep the deficit under control." Asked whether they supported outsourcing city workers' jobs to private companies, Hueso ducked the question, Alvarez and Inzunza both said no, and Howard said the voters had already decided to outsource when they passed the ballot measure allowing it, so the city had no choice but to go forward with privatization.

Alex Sachs, the club's vice-president in charge of political action, chaired the candidates' forum and moved it along so relentlessly that at one point he told the candidates they had 30 seconds each to answer a convoluted question about discrimination against people with HIV or AIDS in immigration and access to social services. One club member pointed out it had taken Sachs more than 30 seconds just to read the question, and therefore he should allow the candidates more time to answer it. Carlos Marquez, club member and labor activist who had written the question, later said he had sent it up to target Howard, who he said had told previous audiences he didn't oppose discrimination against people with HIV and AIDS.

Alvarez actually won his endorsement more easily than Wayne had. Though club member and city union activist Michelle Krug said "Felipe Hueso is not his brother," she came out for Alvarez — as did every other club member who spoke during the debate. Alvarez won the endorsement with 40 votes to one each for Howard and Hueso, none for Inzunza and three for no endorsement.

In addition to the City Council races, the club also heard from Assemblymember Hector de la Torre about his campaign for state insurance commissioner — mostly about how his attempts to reform the health care system, especially his bill to block health insurance companies from canceling people's policies just when they start making claims on them (a practice called "rescission"), had been frustrated by Governor Schwarzenegger — and gave a tepid endorsement to Palm Springs Mayor Steve Pougnet in his campaign for Congress against incumbent Mary Bono Mack. The club expressed concerns about Pougnet's willingness to bar undocumented immigrants from health coverage and his apparent support of parental notification requirements for some minor girls seeking abortions. Eventually the members took the unusual step of directing the club's board to write Pougnet a letter about these issues.

Report this post as:


by Mark Gabrish Conlan/Zenger's Newsmagazine Friday, Oct. 30, 2009 at 2:41 PM
mgconlan@earthlink.net (619) 688-1886 P.O. Box 50134, San Diego, CA 92165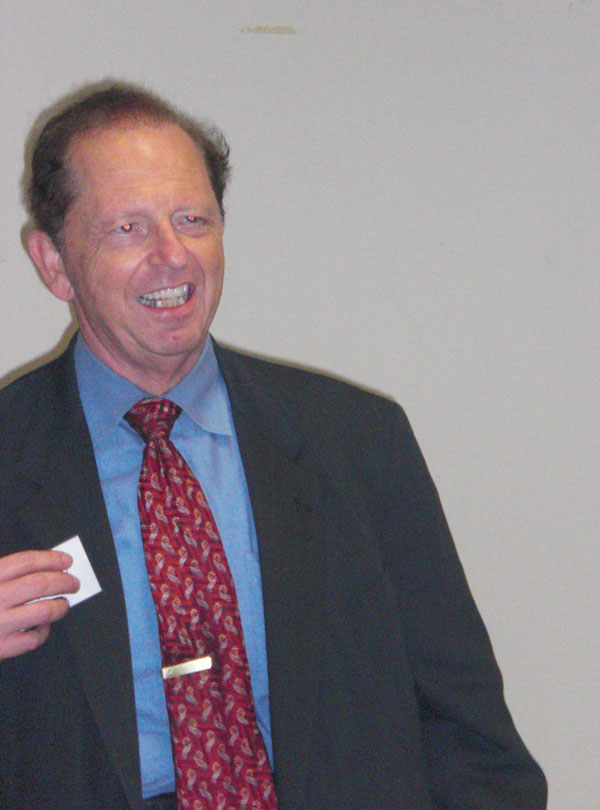 wayne.a.jpg, image/jpeg, 600x810
error
Report this post as:
LATEST COMMENTS ABOUT THIS ARTICLE
Listed below are the 10 latest comments of 1 posted about this article.
These comments are anonymously submitted by the website visitors.