Tell the NSA:
StopWatching.US
Features
•
latest news
•
best of news
•
syndication
•
commentary

Feature Categories



KILLRADIO
printable version - json version - email this article - view hidden posts - tags and related articles
by Linda Krausen Friday, Jan. 04, 2008 at 6:04 PM

A small band of South Pasadena and Highland Park Activists Show Humorous ImPEACH banner to parade spectators along the whole length of the Rose Parade route .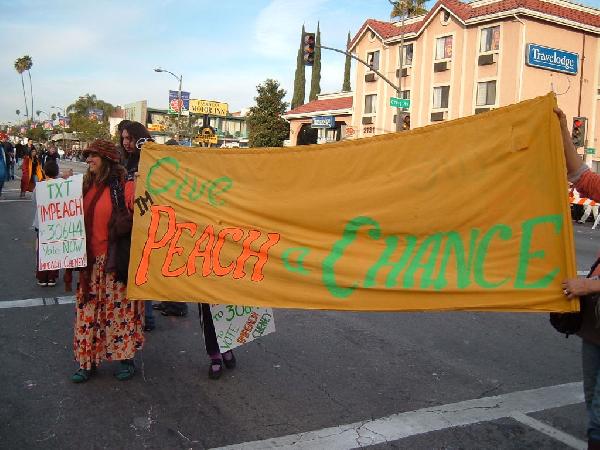 impeachparadebanner2004-01-21.jpgo2gdpu.jpg, image/jpeg, 1024x768
Three of us with one of our daughters carried a huge banner we made the day before and carried in front of the 2 million people waiting to see the Rose Parade
It said "Give (im)PEACH a Chance!

As we walked along the route by the waiting crowd with our two-sided banner, I usually had this thing I said, "Not Roses- Peaches, ImPEACH BUSH, ImPEACH CHENEY! Give ImPEACHMENT a Chance." At one point, a Sheriff laughed and said "Impeachment is very 'PEACHY". I instantly incorporated that line too! Sometimes I would just say, "One American is killed per day in Iraq , "Whose Mother will cry Tonight?". That got a lot of sober attention, especially from women. I could see it left them thinking.

I did experience some negative comments – but only about 4-- that here in South Pasadena where more common perhaps 2 years ago, proof we are ahead here on the Left Coast than from other parts of the country. One young 12 year old who looked like he was from somewhere else in the country, asked me if I was a Hippy. He didn't mean ill, this was obviously something he heard from his parents, who obviously listened to Rush or Bill .

This year our group, who did the big IMPEACH sign at the precise Darth Vadar moment of maximum interest and for 20 minutes thereafter, decided not to aim for Media coverage. We felt that there were upwards of 2 million people who could be exposed to the idea of Impeachment along the parade route itself, and that's what we went for. We felt that the advanced publicity would give time to the authorities and the TV coverage to plan how not get the impeachment message on camera. As I reconnoitered the area this year the day before this parade, there were already two security guards standing at the Norton Simon spot where we had positioned ourselves for our action last year.

The Parade, being a national holiday of good cheer and family feeling, made us decide we wanted to do something humorous. That way we would be with people in the spirit of the event. We offered them an immediate way to text a vote for impeachment if they wanted to Plus, it's always rewarding to be present directly with the actual people of America , direct contact and the back and forth banter can teach people more, and it's so personally satisfying.

As it turned out, our-play-on-words sign generated a lot of "aha- I get it!" comments among the people waiting there in the cold morning for the parade to start. They smiled and laughed once they got it, and commented to each other and to us. Only 4 negative responses I heard. We did get some non-committal stares, many mostly women, perhaps tourists- turned their gaze away. Once towards Sierra Madre, we got lots of individual cheers, and several kids stopped us and asked to take a picture with us and our banner. It was a fun situation.

Among the ethnic groups we encountered along the route, the Asian people and the Black people were more apt to cheer us on. There were many many Hispanics there, many of whom seemed to speak only Spanish. Later we found out that there were two bands, one from El Salvador and one from Puerto Rico, who played in the parade. So To my exhortations in Spanish of "Down with Bush, Down with Cheney, End this Stupid War, Down with the White House Thieves."

I got many deliberately stone faced silent stares. but I've seen that look before. It's the look of someone who wants to say something but is holding back. It is not necessarily hostile, but just shows a decision to not to make verbal the persons' thoughts.

As I walked back to Pasadena City Hall over the whole parade route as the parade was wending its way down Colorado towards its end in Sierra Madre , there were no other signs of any political presence outside the media area for the 2 million people who had come to see the parade. In listening to the media coverage later, it seemed obvious that the Corporate media had put the fix on to downplay- or not even to mention- the presence of protesters at the parade.

I think you always have to respect the people and to be very clear about what your goal is for any political action.. Our goal was to bring the impeachment issue to people to think about, but to stay within the spirit of what for most of America is a happy event. I wanted to throw peaches or peach candy into the crowd, but none were available and it would have been too expensive. But the idea in my head afterward was that after seeing us at the parade with our "Peachy" banner, every time people saw a peach or something peachy from then on they would think of ImPEACHment. I think we made the correct choice

Linda Krausen , South Pasadena Peace Vigil ( 4 to 6 Saturdays - Fair Oaks and Mission - South Pas) , Highland Park Vigil (Sundays 11:15am to 1:30pm at York and figueroa). Come see the Banner!
Report this post as:
LATEST COMMENTS ABOUT THIS ARTICLE
Listed below are the 10 latest comments of 1 posted about this article.
These comments are anonymously submitted by the website visitors.

Local News

LA Fields Two Marches Against Police Executions Photoset 2 of 2 A21 9:09PM

LA Fields Two Marches Against Police Executions Photoset 1of 2 A21 7:01PM

Running Down the Walls 2014 A20 8:48PM

Weaving the Past: Journey of Discovery Extends Exclusive Engagement A19 3:37PM

Los Angeles Declares "Hands Up!" in Peaceful Protest of LAPD Murder of Ezell Ford A18 4:09AM

Ezell Ford and Ferguson Solidarity A17 6:35PM

Family and Supporters of #Justice4Fords Protest LAPD Execution of Ezell Ford in South L.A. A17 2:49PM

Southern California Swarms to Save the Bees in Solidarity with Honey Bee Day Around the Gl A17 5:30AM

L.A Supports August 2nd International Gaza Protest Photoset 4 A05 7:03PM

L.A Supports August 2nd International Gaza Protest Photoset 3 A05 6:45PM

More about KPFK via Pacifica turmoils A05 6:29PM

L.A Supports August 2nd International Gaza Protest Photoset 2 A05 6:23PM

L.A Supports August 2nd International Gaza Protest Photoset 1 A05 11:36AM

Demonstration in Support of Persecuted Christians Saturday A02 10:40AM

Water in California - info proliferated now is dubious J28 5:04PM

Pacifica clearly endangered. Reposting info here: J28 2:34PM

Video: Occupy Love (2013), 1 hr 19 min J28 4:43AM

Who declares themselves to be the ultimate-only-valid-authority here on current wars elsew J27 11:11AM

MDRC's Rent Reform Assault: Section 8 tenants vs. affordable housing industry J24 12:24AM

Obama at LA Trade Tech J23 3:23PM
More Local News...
Other/Breaking News

Infobésité ou faux évergétisme A28 11:49PM

The Shortwave Report 08/29/14 Listen Globally! A28 4:40PM

Wasecans hope trip to Ghana makes a difference A28 1:27PM

Targeting Syria A28 11:42AM

The Russians Are Coming Big Lies A28 5:11AM

Washington Sabotages Russian/Ukrainian Summit A27 1:29PM

The unconditional basic income - a social concept for Europe A27 10:49AM

Gaza Ceasefire: Hold the Cheers A27 6:04AM

Ottawa, Kansas Police Cure for Depression is 16 Bullets A27 4:08AM

Turkey is training ISIS / Islamic State A26 2:58PM

Did Obama really save the Yezidis? A26 2:38PM

Obama Declares War on Syria A26 12:43PM

What we're being told about ISIS just doesn't add up A26 12:29PM

Another No-Peace Ceasefire A26 12:23PM

Mejicanada angelina rechaza contundentemente al "Presidente" Peña Nieto A26 12:19PM

Joseph Stiglitz Calls for Fair Taxes for All A26 5:05AM

Israel v. Palestine: MSM Unreported Truths A26 4:05AM

Russia and America: Geopolitical Opposites A26 3:40AM

Anarchie ou barbarie A26 12:11AM

Steven Salaita's Academic Lynching A25 10:32AM

America's Mind Manipulators Meet New Members A25 10:27AM

Pharma Corps Act as Mafia Dons by Suppressing Cancer Treatment Alternatives A25 7:35AM

in-human rights in the U.S. A25 6:46AM

Fascism Grips Israel A25 5:55AM

The Free Trade Trap A25 4:30AM

Shocks The Conscience, Offends Sensibilities A24 2:53PM

Ukraine's Independence Day A24 12:12PM

Israel's Genocidal Killing Machine A24 7:58AM
More Breaking News...