Features
•
latest news
•
best of news
•
syndication
•
commentary

Feature Categories



KILLRADIO

printable version - email this article - view hidden posts - tags and related articles
by Linda Krausen Thursday, Jan. 03, 2008 at 6:04 PM

A small band of South Pasadena and Highland Park Activists Show Humorous ImPEACH banner to parade spectators along the whole length of the Rose Parade route .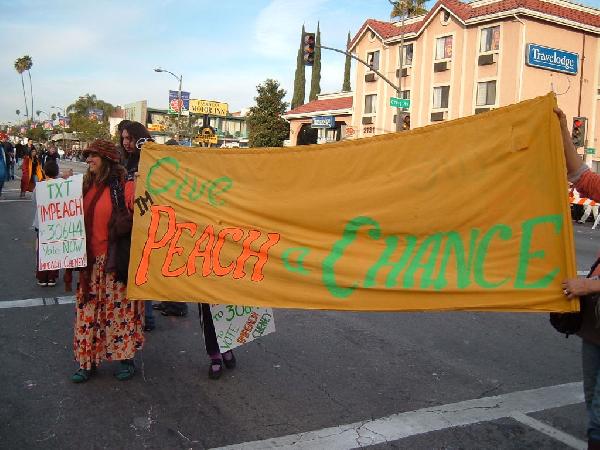 impeachparadebanner2004-01-21.jpgo2gdpu.jpg, image/jpeg, 1024x768
Three of us with one of our daughters carried a huge banner we made the day before and carried in front of the 2 million people waiting to see the Rose Parade
It said "Give (im)PEACH a Chance!

As we walked along the route by the waiting crowd with our two-sided banner, I usually had this thing I said, "Not Roses- Peaches, ImPEACH BUSH, ImPEACH CHENEY! Give ImPEACHMENT a Chance." At one point, a Sheriff laughed and said "Impeachment is very 'PEACHY". I instantly incorporated that line too! Sometimes I would just say, "One American is killed per day in Iraq , "Whose Mother will cry Tonight?". That got a lot of sober attention, especially from women. I could see it left them thinking.

I did experience some negative comments – but only about 4-- that here in South Pasadena where more common perhaps 2 years ago, proof we are ahead here on the Left Coast than from other parts of the country. One young 12 year old who looked like he was from somewhere else in the country, asked me if I was a Hippy. He didn't mean ill, this was obviously something he heard from his parents, who obviously listened to Rush or Bill .

This year our group, who did the big IMPEACH sign at the precise Darth Vadar moment of maximum interest and for 20 minutes thereafter, decided not to aim for Media coverage. We felt that there were upwards of 2 million people who could be exposed to the idea of Impeachment along the parade route itself, and that's what we went for. We felt that the advanced publicity would give time to the authorities and the TV coverage to plan how not get the impeachment message on camera. As I reconnoitered the area this year the day before this parade, there were already two security guards standing at the Norton Simon spot where we had positioned ourselves for our action last year.

The Parade, being a national holiday of good cheer and family feeling, made us decide we wanted to do something humorous. That way we would be with people in the spirit of the event. We offered them an immediate way to text a vote for impeachment if they wanted to Plus, it's always rewarding to be present directly with the actual people of America , direct contact and the back and forth banter can teach people more, and it's so personally satisfying.

As it turned out, our-play-on-words sign generated a lot of "aha- I get it!" comments among the people waiting there in the cold morning for the parade to start. They smiled and laughed once they got it, and commented to each other and to us. Only 4 negative responses I heard. We did get some non-committal stares, many mostly women, perhaps tourists- turned their gaze away. Once towards Sierra Madre, we got lots of individual cheers, and several kids stopped us and asked to take a picture with us and our banner. It was a fun situation.

Among the ethnic groups we encountered along the route, the Asian people and the Black people were more apt to cheer us on. There were many many Hispanics there, many of whom seemed to speak only Spanish. Later we found out that there were two bands, one from El Salvador and one from Puerto Rico, who played in the parade. So To my exhortations in Spanish of "Down with Bush, Down with Cheney, End this Stupid War, Down with the White House Thieves."

I got many deliberately stone faced silent stares. but I've seen that look before. It's the look of someone who wants to say something but is holding back. It is not necessarily hostile, but just shows a decision to not to make verbal the persons' thoughts.

As I walked back to Pasadena City Hall over the whole parade route as the parade was wending its way down Colorado towards its end in Sierra Madre , there were no other signs of any political presence outside the media area for the 2 million people who had come to see the parade. In listening to the media coverage later, it seemed obvious that the Corporate media had put the fix on to downplay- or not even to mention- the presence of protesters at the parade.

I think you always have to respect the people and to be very clear about what your goal is for any political action.. Our goal was to bring the impeachment issue to people to think about, but to stay within the spirit of what for most of America is a happy event. I wanted to throw peaches or peach candy into the crowd, but none were available and it would have been too expensive. But the idea in my head afterward was that after seeing us at the parade with our "Peachy" banner, every time people saw a peach or something peachy from then on they would think of ImPEACHment. I think we made the correct choice

Linda Krausen , South Pasadena Peace Vigil ( 4 to 6 Saturdays - Fair Oaks and Mission - South Pas) , Highland Park Vigil (Sundays 11:15am to 1:30pm at York and figueroa). Come see the Banner!
Report this post as:
LATEST COMMENTS ABOUT THIS ARTICLE
Listed below are the 10 latest comments of 1 posted about this article.
These comments are anonymously submitted by the website visitors.

Local News

Divestment Fails at UC Santa barbara M15 4:19PM

Uncensored Manifesto from Retired LAPD Officer Christopher Dorner M15 9:37AM

Santa Ana Police Department: taking payoffs to jail the innocent M14 5:31PM

California's vigilante police justice: Trial by machine gun M14 5:23PM

Nevada Tribes Walk 272 Miles to Protest SNWA Pipeline M14 11:44AM

RAISE THE FIST MOBILE APP! M08 2:02AM

CA Safe Schools Honors LA Unified & Local Heroes! M07 6:13PM

Proposition C M07 1:13AM

VENICE OPDs ARE BACK! BUT WHY? M06 1:20AM

May Day 2013 Los Angeles M04 3:18AM

May Day 2013 Los Angeles M03 6:32PM

May Day 2013 Los Angeles M03 5:47PM

Join Demo At Farmer John Slaughterhouse A22 8:52AM

LAPD spying using StingRay A21 11:28AM

May Day Workers Film Festival San Diego A17 1:21AM

L.A born Actor James Cromwell Arrested in Animal Rights Action A16 1:46PM
More Local News...
Other/Breaking News

Iraq Today: America's Imperial Legacy M23 12:12AM

Mission Creep Toward Full-Scale War on Syria M23 12:06AM

LA Election Results Commentary M22 11:03AM

Evidence of Police State, USA M22 10:08AM

Global-warming debate shouldn't exclude role of livestock M22 10:00AM

Syrian foes move towards talks but fighting rages M22 1:52AM

Obama's War on Free Expression M22 12:03AM

Israel Heads Closer to War on Syria M21 11:56PM

"DEVELOPER PAUL SOLOMON" An Artist's Worst Nightmare M21 5:03PM

Are Japanese Bonds Signaling Trouble? M21 11:38AM

14 rue du Sergent Godefroy M21 6:03AM

Economic Ethics After the Crisis M21 5:42AM

Reinventing Guatemalan History M21 12:02AM

Supreme Court Colludes with Monsanto M20 11:57PM

BE TEMPERATE. Discourage people from taking drugs. M20 9:02AM

Creative Destruction M20 4:14AM

America: A Modern-Day Sparta M19 11:45PM

Guantanamo Force-Feeding Constitutes Torture M19 11:42PM

Disconnect: Soaring Markets/Troubled Economies M19 12:19AM

Assad: Syria transition talks are internal matter M19 12:12AM

America Honors Its Worst M19 12:03AM

Assad: Syria transition talks are internal matter M18 11:58PM

Federal terrorism USA? Handshake germ warfare M18 10:54PM

reiniciar chamán M18 10:19AM

Paraphysique du cerveau M18 5:49AM

IRS Scandal: More Than Meets the Eye M18 12:03AM

Putin v. Obama et al M17 11:59PM

Monica Ratliff for School Board M17 4:25PM
More Breaking News...