printable version - email this article - view hidden posts - tags and related articles

View article without comments by John Q. Public Monday, Jun. 25, 2007 at 1:11 AM

Rally permit expired. Infighting among Minutemen. Ego battles take place for control. Rally is abandoned by Minutemen as Hayes and four others are arrested.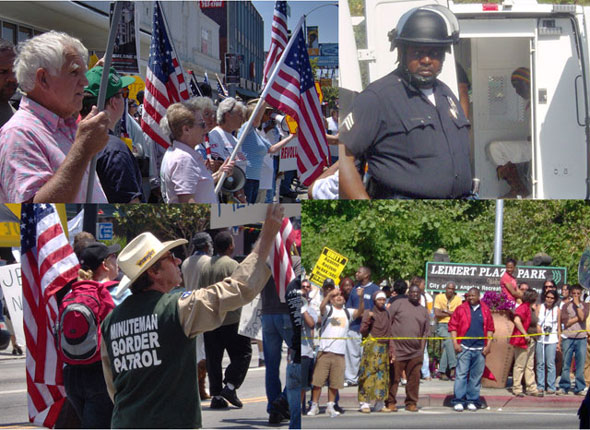 leimertpark2007aa.jpg, image/jpeg, 590x430

JUNE 23, 2007, LEIMERT PARK -- Ex-Minuteman and ex-homeless advocate Ted Hayes led an "anti-illegal immigration" march/rally in the heart of the Crenshaw/Leimert Park community. The march took place, but the rally never happened. Members of the Minuteman Project and supporters of "Choose Black America" marched from the Baldwin Hills shopping center to the street adjacent to Leimert Park. The march was an attempt to recruit Black members to assist in the Minuteman Project.

Prior to the march, Hayes denounced "Black-Brown unity". In turn, members of the Crenshaw/Leimert Park community denounced Hayes and his support of the Minuteman Project.

See video on community response to Hayes' comments:

http://media.putfile.com/Minuteman-Rally-Leimert-Park-2007

Meanwhile at Leimert Park, LAPD officers in riot gear and over 300 counter-protesters waited for the Minuteman marchers to arrive. LAPD refused to allow the marchers to proceed into the park, citing that they were concerned for the security of both the marchers and counter-protesters across the street. Despite over two hours of repeated promises --made by Ted Hayes-- to march into the park against police orders, the rally permit expired and the event was declared an unlawful assembly. The march into the park never took place, with Hayes and four others arrested by LAPD for the unlawful assembly.

Several members of the Minutemen expressed anger toward Hayes for promising a dramatic show of civil disobedience, but failing to follow through with it. One attendee -- who will only be described as "Roswell"-- exclaimed that "Ted Hayes blew it. This was his chance. He's finished." Another Minuteman -- who will be described as "Desert Storm"-- threw his hand in Hayes' face and said "All this just to end up Politically Correct?!" Other Minuteman supporters began to argue with Hayes and with each other.

See video of Minuteman infighting:

http://media.putfile.com/Minuteman-infighting-Leimert-Park-2007

Ego and tempers flared between Hayes and Frank Jorge ("Latino Against Illegal Immigration") during a television interview.

See video of ego fight between Hayes and Jorge, as the television cameras are rolling:

http://media.putfile.com/Ted-Hayes-Frank-Jorge-ego-fight

At one point, an enraged Frank Jorge grabbed a megaphone and threatened the counter-protesters across the street. "If these policemen go away, I will cross that street and I will get it out with you, because you are pieces of s**t!"

See video of threat by Frank Jorge:

http://media.putfile.com/Frank-Jorge-threat-Leimert-Park-2007

As the hours passed, and as Hayes continued to delay for more time to march into the park, his own members began to desert him. The march/rally was a disaster in many ways for Hayes. The local community was able to stand off the Minuteman/Hayes group, and infighting and calls for "Slave Reparations" offended many of the Minutemen in attendance (who muttered their disapproval unknowingly in front of this reporter.).

None of the Minutemen members were arrested.

See video of Crenshaw/Leimert Park reaction to Ted Hayes and the Minutemen:

http://media.putfile.com/Minuteman-Rally-Leimert-Park-2007

Report this post as:


by John Q. Public Monday, Jun. 25, 2007 at 1:24 AM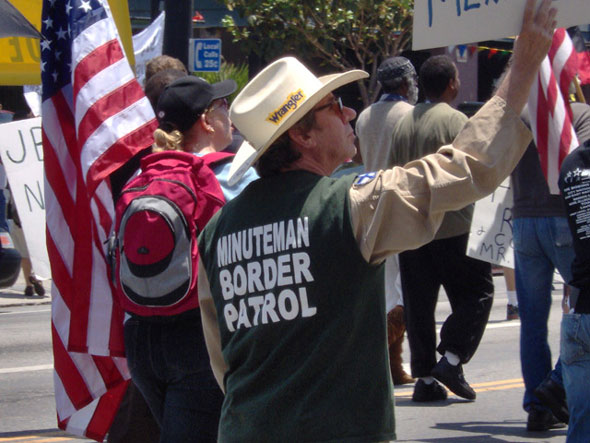 minutemanleimerta.jpg, image/jpeg, 590x443

Report this post as:


by John Q. Public Monday, Jun. 25, 2007 at 1:24 AM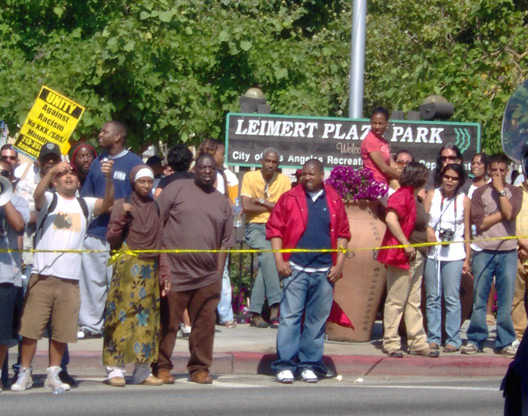 leimertcommunity2.jpglwfrlk.jpg, image/jpeg, 528x416

Report this post as:


by John Q. Public Monday, Jun. 25, 2007 at 1:24 AM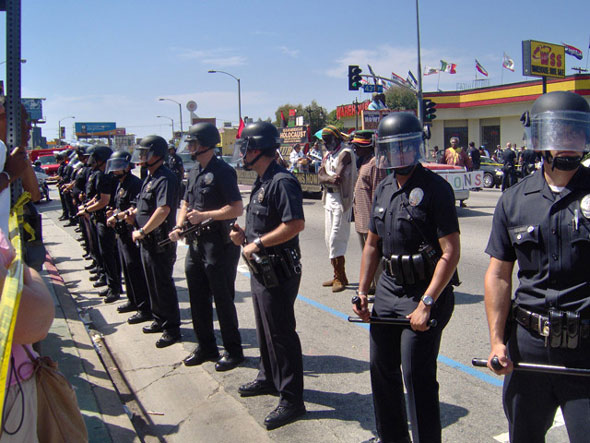 police_leimert2007a.jpg, image/jpeg, 590x443

Report this post as:


by John Q. Public Monday, Jun. 25, 2007 at 1:24 AM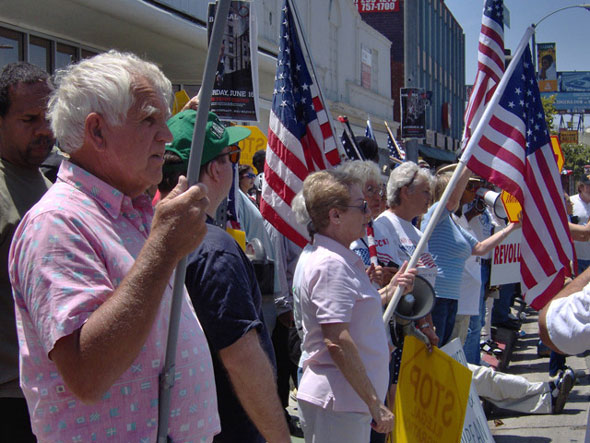 minuteklan1a.jpg, image/jpeg, 590x443

Report this post as:


by John Q. Public Monday, Jun. 25, 2007 at 1:24 AM


leimertcommunity1a.jpg, image/jpeg, 590x443

Report this post as:


by John Q. Public Monday, Jun. 25, 2007 at 1:24 AM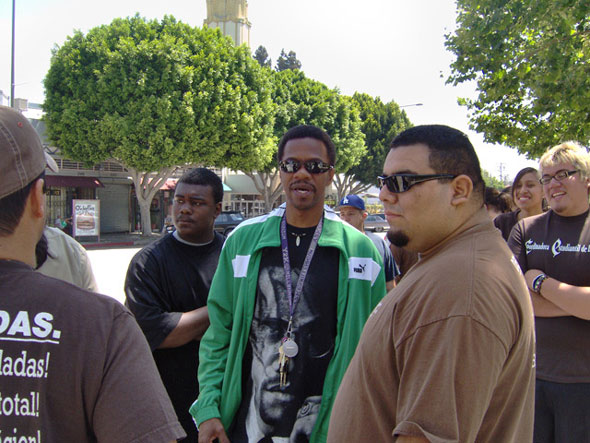 blackbrownunity1a.jpg, image/jpeg, 590x443

Report this post as:


by John Q. Public Monday, Jun. 25, 2007 at 1:24 AM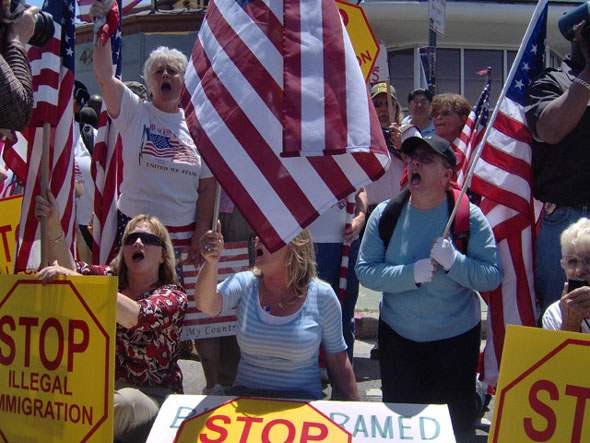 hatefulminutewomena.jpg, image/jpeg, 590x443

Report this post as:


by John Q. Public Monday, Jun. 25, 2007 at 1:24 AM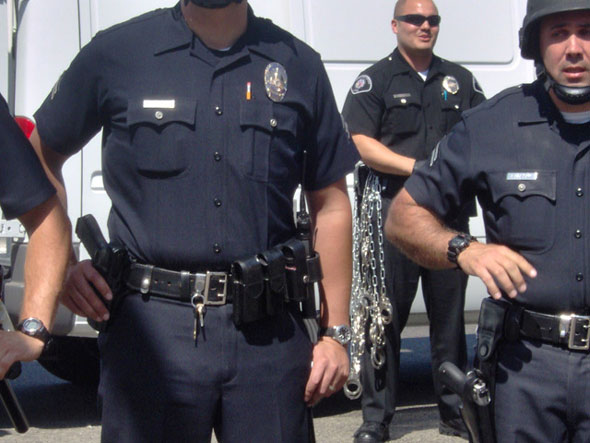 handcuffs_leimert2007a.jpg, image/jpeg, 590x443

Report this post as:


by John Q. Public Monday, Jun. 25, 2007 at 1:24 AM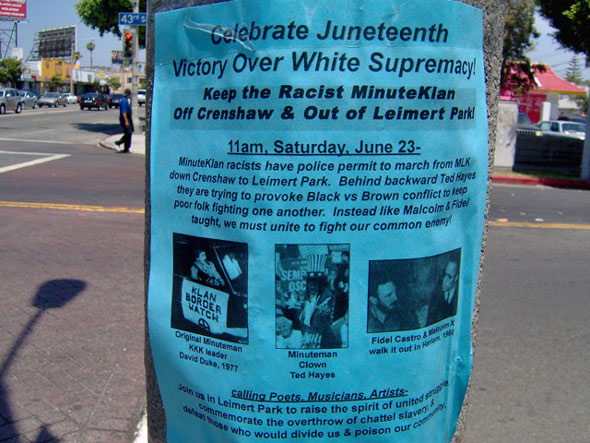 leimertflyera.jpg, image/jpeg, 590x443

Report this post as:


by John Q. Public Monday, Jun. 25, 2007 at 1:24 AM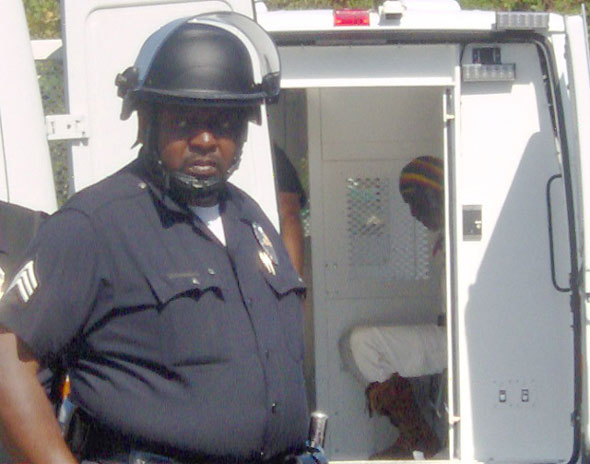 hayes_arresteda.jpg, image/jpeg, 590x464

His supporters waiting over 2 hours for a defiant march into the park. Hayes never followed through.

Report this post as:


by John Q. Public Monday, Jun. 25, 2007 at 1:24 AM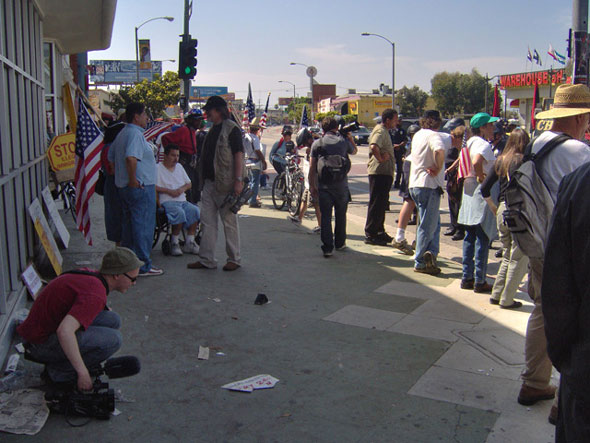 minuteklan_leave_leimerta.jpg, image/jpeg, 590x443

He promised to lead them into the park in defiance of LAPD. That never happened.

Report this post as:


by 1st hand source Monday, Jun. 25, 2007 at 9:27 AM


Great job of "infiltrating" to get those pics, John Q.
Everyone who defended the park was AWESOME!

Report this post as:


by TruthBTold Monday, Jun. 25, 2007 at 4:37 PM


OMG!!! What an amazing job you did!!! You got video footage of 2 Minutemen/SOS members fighting over camera time!!!!!!!!!!!!!!!!!!!!!!!!!!!!!!

More proof SOS is circling the toliet like a giant turd!!!!!!!!!!

VICTORY!!!

Everyone needs to pass this video along!!

Report this post as:


by Mexica Movement Monday, Jun. 25, 2007 at 11:42 PM


If you liked our photos and videos here, come over to our YouTube page for even more:

http://youtube.com/user/TheMexicaMovement

Report this post as:


by anahuac warrior Tuesday, Jun. 26, 2007 at 4:18 PM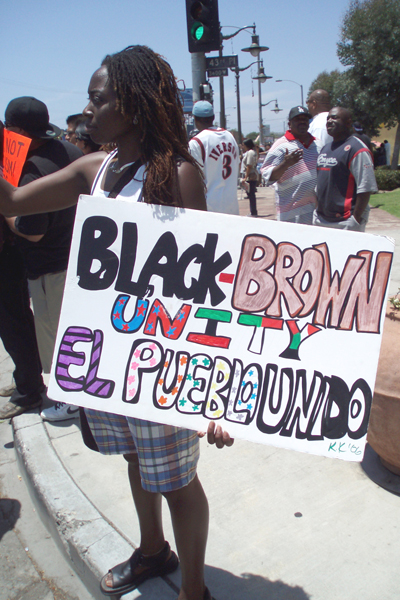 13.jpg, image/jpeg, 400x600

the following images show the large african-american presence at the protest.

Report this post as:


by anahuac warrior Tuesday, Jun. 26, 2007 at 4:21 PM


very odd, the image above is NOT the one that i uploaded. if you click the image, you will see the one of a young african-american woman holding a sign. i was going to post more pix, but will hold off til this problem is resolved.

Report this post as:


by citlalmina Tuesday, Jun. 26, 2007 at 7:12 PM


Great work! John Q! You captured the most disgusting aspects of the colonizers tactics: Divide and conquer! It felt great to see so many of African and Indigenous people come together to fight these idiots. It was interesting how many of the African/Black participants automatically knew that they KKK had invaded South Central. The KKK under the title of MINUTEMEN and shit like that. THey were not fooled at all by the Puppet they are using : ted hayes etc.Great videos as well. The racism against Ted Hayes: he does not even get it. They dont want HIM to be the representative of the Minutemen. Gee! I wonder why?

Keep up the great work!

C

Report this post as:


by Jammer CC Tuesday, Jun. 26, 2007 at 7:19 PM


Naui has some nice videos from this event on youtube. Check out the one with the white truck when one of them answers the question why do they hate Mexicans with the answer, "because they're f***ing idiotic!"

The video of Frank Jorge and Ted Hayes fighting each other over a news interview was hilarious.

Report this post as:


by ubee Tuesday, Jun. 26, 2007 at 7:54 PM
pootie11@cox.net 202-615-8742

I 'm an African American and I agree with you 100%. Everything you say I believe to be the truth, but the Europeans have tricked my people and yours into believing that they are apart of the American movement. It's no coincidence that our people suffer and their people are the riches on earth. I wish you well in you fight.



Report this post as:


by animamous Wednesday, Jun. 27, 2007 at 1:33 AM


Unity has to be built on common ground, as well as an honest appraisal of issues. One issue is that unemployment among African Americans is high. People blame immigrants for this. Immigrant advocates say it isn't true. Most people, I think, don't believe that 100%. How is unity to be built?

Report this post as:


by BorderRaven Wednesday, Jun. 27, 2007 at 3:03 AM
BorderRaven@aol.com

The CBA group had a goal to assemble peaceably in the park. The counters created a situation, causing the police to deny that right. By having civil rights denied, CBA wins. Thank you all.

Report this post as:


by Mexica Wednesday, Jun. 27, 2007 at 8:51 AM


BR,
Aren't you the same guy who attends White Supremacist concerts like Prussian Blue, and then publicly defends it?

Did you take any Black people to that Prussian Blue concert with you?

Didn't think so.



Report this post as:


by Atheist Wednesday, Jun. 27, 2007 at 12:10 PM


Blob, if you're so for choose black america, why didnt I see your enormous bulk at the protest?

Why, because you're Against reparations that's why.

I'm personally For reparations from this evil empire because of its visious, racist crimes, but I was there protesting Against Ted.

Why, because he's letting himself be used by known white supremacist John Tanton, the puppet master of FAIR, who funded his march last saturday.

Hayes is also best of friends with Karl Rove, bush's brain, who has disenfranchised Millions of black voters this decade and is gearing up to do so again in 2008. Rove has reversed the voting rights of millions, a right many thought was won in the 60s. Theres a recent picture of Rove and Hayes practicaly kissing each other.

So tell me Gerry Nance, which side is really on the side of Black America! NOT that you really care.

So just keep on listening to Prussian Blue, you racist!



Report this post as:


by Burger Raven-ous is a Nazi Wednesday, Jun. 27, 2007 at 3:18 PM


he needs to go back to Europe. He'll be happy there.

Report this post as:


by BorderRaven Thursday, Jun. 28, 2007 at 7:08 AM


The reason I was not at the march? I was out of town, where I was going to try to make a citizen's arrest of an employer at a day labor site. You know how you all don't want us Minutemen harassing the workers, and how we should go after the greedy, capitalist employers who exploit the workers? Well, if the employer is transporting the illegal alien, it is a felony, so I want to punish those greedy capitalist slavers. No need to thank me, I am only serving the workers. Shhh! Promise u won't tell SOS. OK?

Report this post as:


by BorderRaven Thursday, Jun. 28, 2007 at 7:21 AM
BorderRaven@aol.com

If you educate youself to the history of humanity, you'll learn Arab slavers from North Africa kidnapped white Europeans, long before white Europeans settled on the North American Continent and used African slaves to kick start the economy. Reparations is a dead horse. If it is paid, your tax dollars, if you ever get a job, will pay for it. BTW -- Gray Davis, already paid reparations to the blacks a few years ago.

Report this post as:


by BorderRaven Thursday, Jun. 28, 2007 at 7:24 AM
BorderRaven@aol.com

If you want to call me a Nazi, or a racist, take your mask off.

Report this post as:


by BorderRaven Thursday, Jun. 28, 2007 at 7:37 AM
BorderRaven@aol.com

I'd like to invite you to go with me to a Prussian Blue concert sometime, what's your number, I'll call you. I think you'll love to meet Lynx and Lamb. Hey, after the concert, if you want, we can go to cross lighting ceremony. Come on!

Report this post as:


by Cover that Nazi mug!!! Thursday, Jun. 28, 2007 at 2:24 PM


if I wanted to see Jabba the Hutt I would watch a Star Wars DVD

Report this post as:


by Want action? Protest ADM, Cargill, Monsanto!! Thursday, Jun. 28, 2007 at 4:09 PM


What is one of the primary reasons for undocumented immigration (from Mexico) to the US?

The root cause of migrations under duress is poverty and landlessness of Mexican farmers (campesinos). The reason for this landlessness can be traced to NAFTA/WTO and the imports of (taxpayer subsidized) biotech corporate corn (maize) into Mexico, flooding their market of indigenous maize landraces, and the added contamination from biotech corn's pollen drift..

As probable CIA planted mental engineering operatives, the heirarchal Minutemen group spends their days scapegoating the Mexican migrants themselves who are victims of the economic process without focusing ANY of the needed blame on the US based agribusiness corporations (ADM, Cargill, Monsanto, etc..) who weaken the Mexican economy by importing US biotech corn..

"Cargill Can't Lose in Mexico

When the national price of corn flour hits the roof, Cargill the Mexican processor and wholesaler comes out the big winner. When more corn has to be imported from the United States, Cargill the American exporter profits. When Cargill the producer exports to other countries, it receives subsidies from the Mexican government. When it bids on the use of port grain terminals, it comes away the winner."

article @;

http://www.worldpress.org/Americas/2812.cfm

Based on the protest photos, the Minutemen/SOS supporters appear as flag waving psuedo-patriotic fools and the counterprotesters as educated socialists who care deeply about immigrant rights. The Minutemen/SOS "ground troops" could be easily led conservative reactionaries who would scapegoat any other group who doesn't conform to their narrow Euro-centric world view. The Minutemen leaders are most likely (CIA plants) encouraging the scapegoating of Mexican migrants and division between so-called "Nativists" (naturalized Euro-americans??) and (Mexican) migrants, distracting the public from the root source of poverty induced undocumented immigrations..

Why then do the educated "pro-immigrant" counterprotesters refuse to recognize that the root source of undocumented immigrations is the landlessness and poverty faced by Mexican farmers following their bankruptcy from imported US biotech corn??

Do Mexican immigrants (documented or not) really desire to work on US agribusiness plantations (or slaughterhouses) for below minimum wage, often times increasing the wealth of the very corporations (ADM, Cargill, Monsanto, etc..) who forced them off their land in the first place??

Since i don't expect anything positive from the psuedo-patriotism of the Minutemen, am asking the supporters of Mexicans in the US AND Mexico to become more vocal in the opposition to the policies of NAFTA/WTO and their biotech agribusiness corporations (ADM, Cargill, Monsanto, etc..) despite the entrechment of said corporations with neo-liberal radio programs (NPR)..

"no hay pais sin maiz" - there is no country without corn.

"Competing with highly subsidized U.S. farmers is driving their Mexican counterparts into bankruptcy. Whereas south of the border, guaranteed prices for farmers' crops is a thing of the past, corporate corn growers north of the Rio Bravo can receive up to $21,000 an acre in subsidies from their government, enabling them to dump their corn over the border at 80% of cost. The impact of this inundation has been to force 6,000,000 farmers and their families here to abandon their plots and leap into the migration stream, according to a 2004 Carnegie Endowment study.

This assault on poor farmers down at the bottom of the food chain will be exacerbated at the end of 2007 when all tariffs on U.S. corn are abolished. Meanwhile President Calderon seeks to tamp down tortilla prices by importing up to 2,000,000 duty-free tons to augment what Mexican farmers can or cannot produce. Such a solution is guaranteed to drive more farmers off the land. Even worse is that much of the new influx of NAFTA corn will be transgenic."

article cont's @;

http://www.counterpunch.org/ross02142007.html

Just as the Democrats are ineffective against the militarism of the GW Bush regime's Iraqi occupation, the "pro-immigrant" counterprotesters appear equally ineffective against the Minutemen/CIA-ops as they are unable to discuss the root source of immigrations. This is accomplished by the positioning of the Minutemen ("Immigration BAD!") needing a direct response ("Immigration GOOD!" ) without any discourse about how NAFTA/WTO is worsening landlessness in Mexico and resulting undocumented immigration..

Reframing the position as opposing NAFTA/WTO policies will attract the more rational people of both "sides" to further investigate the role of agribusiness corporations in exploiting Mexican farmers TWICE;

ONCE in Mexico as they are driven off their farms by subsidized corn imports from U.S. corporations, then TWICE as the now landless Mexican farmers migrate to el norte and labor for below minimum wage in dangerous conditions (heat stroke, pesticide exposure, injury, etc..) to benefit the agribusiness corporations inside the U.S..

NO border wall, NO ICE raids, NO divisive politics!

Let's all protest the U.S. agribusiness corporations (ADM, Cargill, Monsanto, etc..) who exploit Mexicans on both sides of the border together!!

Since this problem from NAFTA/WTO won't be solved overnight, this summer many Mexican farmworkers will be subjected to rising summer temperatures without any shade (Sorry, the naturalized Euro-americans chopped down all the indigenous people's old growth oak tree groves) and are at risk of severe heat stroke. CA agribusinesses (patrons, landowners, growers, etc..) are grumbling about the costs of providing shade canopy coverage. So far the UFW is the only visible organization attempting to remedy this problem..

"In a recent issue of the agricultural newspaper Capital Press, Carl Borden, counsel for the California Farm Bureau, said the new rule requiring access to shade during heat spells could potentially cause problems. The newspaper quoted Borden: "That could pose compliance issues for employers in certain situations where you may have dozens [and] dozens of employees (sic) out there working (and asking for shade) and essentially it requires the erection of a number of shade canopies, for example…That can be somewhat daunting if we're talking about a field situation."

Farm workers do not need to die to save growers an inconvenience. Come on, how hard is it to put up a canopy?"

article @;

http://www.ufw.org/_board.php?mode=view&b_code=cre_leg&b_no=4&page=1&field=&key=&n=2

Remember, once upon a time the oak trees provided a cool canopy AND delicious acorns!!

"According to ARCHEOLOGICAL EVIDENCE including numerous Kumeyaay cave paintings in the area, the Kumeyaay Indians have lived in this area for thousands of years.

The surrounding countryside substantiates this fact with a large assortment of Kumeyaay Indigenous plants on Rancho Tipai that appear with greater concentration than would be expected to occur naturally.

Further, very large oak trees, many hundreds of years old, and beautiful oak groves provide the Kumiai Ranch area with large acorn harvests — a staple of early Kumeyaay Indian diet.

Even further than that, many ancient grinding stones drilled into surrounding rocks — evidence their was a lot of seed grinding — further indicate Rancho Tipai is very old tribal village site that likely supported a large Kumeyaay Indian population."

article @;

http://www.kumeyaay.info/la_huerta.html

Report this post as:


by Mexica Thursday, Jun. 28, 2007 at 8:18 PM


No thanks, BorderCraven.

The Prussian Blue lyrics are online nowadays:

http://www.sing365.com/music/lyric.nsf/Aryan-Man-Awake-lyrics-Prussian-Blue/5E89BA3B121E49E8482570A60005AAC7

"Aryan Man Awake" Lyrics

Artist(Band):Prussian Blue

When the man who plows the fields is driven from his lands. When the carpenter must give away what he's built with his own hands. When a mother's very children belong to her no more. And black masked men with guns come bashing down the doors. Where freedom exists for only those with darker skin. Where lies and propaganda will never let you win. Where symbols of your heritage are held with such contempt, and benefits of country 'cept tax are you exempt .

Aryan man awake, How much more will you take, Turn that fear to hate, Aryan man awake.

Report this post as:


by Minutemen Thursday, Jun. 28, 2007 at 10:20 PM


No Amensty GO HOME!

Report this post as:


by BorderRaven Friday, Jun. 29, 2007 at 1:22 AM
BorderRaven@aol.com

Mexica, how does the Prussian Blue lyrics make you feel?

Can you see the parallel but converging lines on a collission course?



Report this post as:


by BorderRaven Friday, Jun. 29, 2007 at 1:22 AM
BorderRaven@aol.com

Mexica, how does the Prussian Blue lyrics make you feel?

Can you see the parallel but converging lines on a collission course?



Report this post as:


by nazis for target practice Friday, Jun. 29, 2007 at 2:47 AM


BR, finish that last beer and go to bed. You're tired and being very stupid. Prussian Blue isn't saying anything that hasn't been said for 500 years, and I don't think their lyrics are news to anyone here.

Report this post as:


by jubilee shine Friday, Jun. 29, 2007 at 1:50 PM
jubileeshine@hotmail.com

"parallel but converging lines"?

umm...

one of 2 things-

your personal fascisms are behind the early 15th century understandings of Filippo Brunelleschi, or

you jes caint see straight!

Report this post as:


by jubilee shine Friday, Jun. 29, 2007 at 1:50 PM
jubileeshine@hotmail.com

"parallel but converging lines"?

umm...

one of 2 things-

your personal fascisms are behind the early 15th century understandings of Filippo Brunelleschi, or

you jes caint see straight!

Report this post as:


by gee mom Friday, Jun. 29, 2007 at 2:18 PM


vanashing points and vanishing ideals.
MM should attack the real dicks who run their corporations like death camps.
Drink much diet coke? Or is Pepsi your fav? Ha ha.
Little ducklets following their momy.

Report this post as:


by speaking of Coke & Pepsi Friday, Jun. 29, 2007 at 5:46 PM


Why don't these concerned citizens get together to:
1 support the heroic struggle of the valiant people of Mexico in their resistance to the criminal American controlled government that pulls as many election frauds that we do but have the testicles to fight it...
2 engage in adversarial actions to the corporations of exploitation like banks, soda companies etc. ...
Or are marginalized, 2nd class citizens the only fight you ' .....' can spend your spare time 'fighting'?
Wise up.

Report this post as:


by BorderRaven Friday, Jun. 29, 2007 at 9:30 PM
BorderRaven@aol.com

in their Revolicion, for Liberty., by encouraging self-deportation, and the fighting to improve their life and the life of their children, by fighting against the drug cartels and the oppression and corruption in government. The only path to Mexican independence is through the blood of the Mexicans who are brave enough and willing to sacrifice enough, for to realize it, for the future of Mexico. Viva la Mexico!

Report this post as:


by StopFreeTrade Friday, Jun. 29, 2007 at 9:40 PM


There are people on both sides of this issue who agree that NAFTA is a huge factor in the increased border crossings. Pat Buchanan and Ralph Nader both agreed on this in a joint interview, which you can find online.

Why can't people on both sides of this issue work together to get NAFTA and CAFTA repealed and stop any future free trade agreement (such as the one being planned between the U.S. and South America)?

We can continue to disagree on other significant aspects of this whole controversy, but why don't we unite on this one major root cause?

Report this post as:


by BorderRaven Saturday, Jun. 30, 2007 at 1:42 AM
BorderRaven@aol.com

What if someone started a group called, "StopNaftaCafta.org?

And held meeting and rallies under that banner.

Forums, blogs, Cafe Press, etc...

I would attend/login, but not as BorderRaven of SOS fame, but as another persona...

Thoughts?

Could we come together on some common ground?





Report this post as:


by BorderRaven Saturday, Jun. 30, 2007 at 1:47 AM
BorderRaven@aol.com

Mexico is not going to get any better until conditions in Mexico improve and Mexicans get involved in the process.



Report this post as:


by Damn Saturday, Jun. 30, 2007 at 3:06 AM


"Mexicans get involved"?
They are more involved than the American sheep who whine and do nothing about the obvious frauds the 2000, 2002 and 2004 elections.


Report this post as:


by StopFreeTrade Saturday, Jun. 30, 2007 at 7:55 AM


Here is a conversation between Buchanan and Nader regarding NAFTA from

American Conservative

:

PB: Let's move to immigration. We stop 1.5 million illegal aliens on our borders each year. One million still get through. There are currently 8-14 million illegal aliens in the United States. The president is mandated under the Constitution to defend the States against foreign invasion, and this certainly seems to constitute that.

RN: As long as our foreign policy supports dictators and oligarchs, you are going to have desperate people moving north over the border.

Part of the problem involves NAFTA. The flood of cheap corn into Mexico has dispossessed over a million Mexican farmers, and, with their families, they either go to the slums or, in their desperation, head north.

===

Here's another from Time.com:

bradknick asks: Have Messrs. Nader and Buchanan discussed WTO-related issues in depth together? Or is it strictly a marriage of convenience - "the enemy of my enemy is my friend" sort of thing?

Ralph Nader: Nonsense. We've discussed this for five years. We've held press conferences. And it's a cooperation of convictions that we must defend and improve our democracy so that we can agree to disagree freely.

Pat Buchanan: Ralph and I have been in this battle for almost six years since the great NAFTA fight. And we stand together firmly on one principle, that whatever the decisions about the economic destiny of Americans are, they will be made by the American people and not by the trans-national corporations in collusion with this embryonic institution of world government.

===

My father is very much on the side of the Minute Men. I'm very much against them. Both of us agree that NAFTA is a major part of the problem and that it should go (as should CAFTA).

I know a diehard Bush supporter who thinks NAFTA should go as well as leftists who want NAFTA & CAFTA repealed.

Report this post as:


by STOP FREE TRADE Saturday, Jun. 30, 2007 at 8:06 AM


Border Raven wrote:

What if someone started a group called, "StopNaftaCafta.org?

And held meeting and rallies under that banner.

Forums, blogs, Cafe Press, etc...

I would attend/login, but not as BorderRaven of SOS fame, but as another persona...

Thoughts?

Could we come together on some common ground?

===

Yes, I strongly think that should happen. I listen to people who disagree with me all the time, but sometimes we can find common ground.

One of the problems with activism in this country is that people splinter up because of competing agendas, and they forget about the big picture. I see this happen all the time within the peace movement and the environmental movement.

We don't have to all love each other, and we can have profound disagreements, but we can still get some important things done.

Or we can keep fighting amongst ourselves as things get worse.


Report this post as:


by cw Saturday, Jun. 30, 2007 at 10:51 PM


Ted Hayes has done so much for the black community. It's a real shame that so many of them don't understand what's about to happen to them. They should be listening to Hayes.

Report this post as:


by BorderRaven Saturday, Jun. 30, 2007 at 11:07 PM
BorderRaven@aol.com

If the Mexicans and Central Americans of today, were as involved in Revolucion, in their repective nations, as the Americans in the 13 US colonies were, then they would achvieve Independence from the USA.

Report this post as:


by StopFreeTrade Sunday, Jul. 01, 2007 at 8:24 AM
GrizzWasMyCat@Yahoo.com

I know this is a very volatile issue--which I, too, feel passionately about --but I think we should try to refrain from name-calling and try to establish a more civilized tone.

BorderRaven has indicated a willingness to work with us on at least one VERY IMPORTANT issue in which most of us are in agreement: repealing NAFTA and CAFTA.

Also, I see that in an older thread (i.e., Interview & Photos from the South Central Farm) that an SOS person supports community farms, is against globalization, and the U.S. aggression in Iraq (it's the second post below):

what corporations fear the most by people growing their own food Monday, Oct. 17, 2005 at 1:10 PM

What corporations fear the most is people growing their own food on community gardens. If enough people grew their own food on community land space, the large agriculture corporations and supermarkets would go out of business..

After all, why commute and work long hours for some corporation to buy pesticide soaked vegetables at a chain supermarket when u could volunteer in the community garden and then enjoi the nutritional fruits and vegetables of your shared labor??

Bioregionalism will result in the collapse of corporations, that is the reason that community gardens are under attack by development. They attempt to cover the productive soil that feeds the community with a non-living warehouse. Just another example of US corporate culture as a culture of death and disease. Bury the corporate culture and maybe some nice floras will grow in their place..

luna moth

Luna Moth by SOS person Monday, Oct. 17, 2005 at 1:37 PM

This Minuteman agrees 100%

civilizedcontact@yahoo.com

The land in this particular case by SOS person Monday, Oct. 17, 2005 at 1:39 PM

I couldn't speak on however.

Who...? by Gumby Monday, Oct. 17, 2005 at 4:28 PM

Who actually has legal ownership of the land? The article at the top of this page doesn't say one way or the other.

Good question by SOS person again Monday, Oct. 17, 2005 at 6:10 PM

I'm wondering that myself. I couldn't say if these farmers in particular should continue farming. I just like the idea though.

There's a place in Irvine, CA, along a paved bike trail between Culver and Jeffrey, near the 5 freeway, where people are independently growing food crops. I rode by there and was very impressed and saw citizens tending the crops. I asked them about it, as far as I can remember it was some type of charity or aid effort for needy people. If anyone lives in that area, I think the path is along or by Warner Ave. Up Jeffrey, towards the 5 but before it, and the path starts to your left. Ride your bike by there for some inspiration.

I'm a member of SOS and I hope it's okay if I post on Indymedia as I also have concerns about the war and globalization. I used to be involved in anti-war efforts but I just jumped into any protest I could find. I have to now find some organizations I'm more comfortable with, so I don't unknowingly march with an organization that actually supports an open-borders policy. I made that mistake by marching with ANSWER in Hollywood some time last year.

=== Yesterday, I mentioned this thread to another person who supports undocumented workers and participated in the recent protest against Hayes. S/he agrees that we should work together on common goals. This person is just too busy to participate in this discussion.

I'm not trying to criticize people for making infammatory remarks--I've done it myself in regards to this issue--but I think some very positive things could potentially result from a more civil discourse.

One of the m.o.s at many weekly peace vigils is to try and engage peopple who disagree with us--especially when there are signs of common ground--rather than to be confrontational.

Report this post as:


by V Sunday, Jul. 01, 2007 at 10:56 AM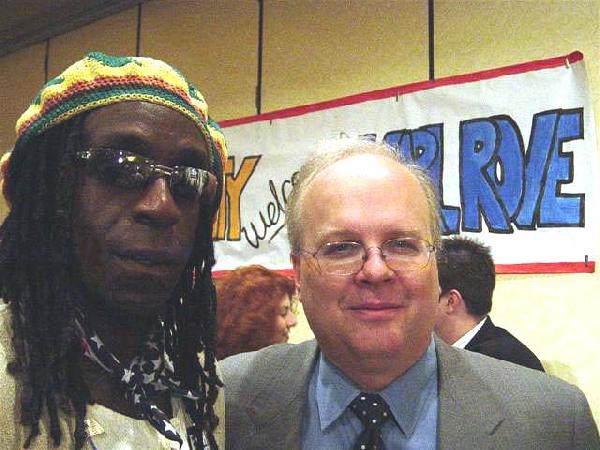 tedhayesandkarlrove_1_.jpg, image/jpeg, 640x480

Hayes has been with the republicans still. He will bring the sos members to the republicans camps. what did the republicans do to the minority voters in florida and ohio? and in this pic he is with Rove.

Report this post as:


by where did you get that? Sunday, Jul. 01, 2007 at 11:53 AM


"Ted Hayes has done so much for the black community"
Like what?
Fronting for AIPAC?
Wanking about Muslim churches, implying that they are potential terrorists?
Bunk. He is a dull tool and will be tossed aside at the earliest opportunity.
He is the antithesis of racial justice.

Report this post as:


by Atheist Tuesday, Jul. 03, 2007 at 7:52 PM


V,
thanks for finding and posting that pic-- the self-styled "Black Moses" posing with the "Evil Genius",
says it all.

Report this post as:


by Atheist Tuesday, Jul. 03, 2007 at 7:52 PM


V,
thanks for finding and posting that pic-- the self-styled "Black Moses" posing with the "Evil Genius",
says it all.

Report this post as: