Tell the NSA:
StopWatching.US
Features
•
latest news
•
best of news
•
syndication
•
commentary

Feature Categories



KILLRADIO
printable version - json version - email this article - view hidden posts - tags and related articles
by a friend Monday, Jun. 04, 2007 at 9:04 PM

This month marks the one year anniversary of the brutal and violent eviction of the South Central Farmers. Today, they gather for a special monthly gatheringi at their Tianguis to reflect and celebrate moving forward.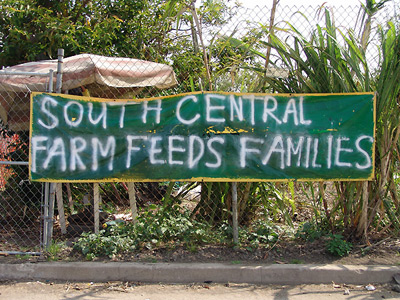 south_central_farm_feeds_families.jpg, image/jpeg, 400x300

(This report is an individual person's reflection upon visiting the South Central Farmers Tiuangis today, almost one year after the eviction)

I have to admit feeling very sad driving to the bulldozed remains of what was once the South Central Farm this afternoon. The wounds of this loss run deep in many--from the pain felt by the 350+ families and campesinos whose livlihood, community and culture revolved around this 14 acre self-maintained land, to the thousands from California to New York, Canada to Europe, who made the trek out to this enchanted land and made attachment to it.

But today, the strength of the campesinos and community from the farm prevailed. Rufina, one of the elected spokespersons of the South Central Farmers, addressed the crowd during today's monthly (first Sunday of the month) tianguis and declared--"we have been displaced, but not defeated."

Although the pain from the loss of this land has been great, they have had not time to cry, says Rufina, because they have been continuing to move forward, farming new spaces of land, continuing to supply their community with fresh organic produce.

A couple hundred or so people visited today's festivities that featured performances of "boletos" (hope I'm spelling that correctly), and son jarocho--many jaraneros originating from the farm, and then hip hop performances from the Farm Life collective.

People were dancing on the pavement, while others were eating freshly made tortillas stuffed with queso and flor de calabasas, drinking aguas frescas de limon, jamaica, tamarindo, or watermelon, and youngsters entertained themselves with crafts, drawing pictures of vegetables, posters about the farm, and other games.

All of this taking place along the southern perimeter of the 3 times now bulldozed remains of the South Central Farm.
It seems that even with that particular piece of land hurt and damaged, that the spirits of her people are still prospering, and that this land is still somehow providing similar refuge, community, culture to the people just as it always has.

Remnants of posters and fabric still can be seen hanging from the fence outside the farm. There are now many more holes in the fencing, and the once huge walnut tree inside has huge trenches dug around its roots and it struggling to stay alive. But from what I they tell me, no matter how many times they bulldoze, more green continues to pop out, and those nopales I think are still sure to return.

The grief of losing this piece of land is still great, but the message today was clear--that the South Central Farmers still exist and are still carrying on. They are now among the rest of the displaced groups and communities thru out the world who are perhaps suffering from their loss but still continuing forward.

Displacement is a reality for indigeous peoples everywhere--from Mexico to Guatemala, Amazon forests of Peru to China. The amazing thing is---that a group of people actually got to become "indigenous" to this parcel of land surrounded by concrete and pavement, narcotics and police helicopters, in L.A. They brought seeds from generations passed down, and the farm became a living preserve for history and legacy of these seeds, families, culture, rituals, and people.

The miracle I think is that we even got to know this struggle here in the "belly of the beast" of the United States.

This to me--is progress. The time I spent in Mexico with the farmers of San Salvador Atenco made it clear to me that their idea of progress was to continue as they have for centuries, cultivating their land and passing down their traditions to their children; and we (our life here in the U.S) represent the regression and loss from this prosperity.

Therefore, it is a great stride forward that the farmers of South Central L.A. brought this struggle back to our domestic front in the U.S. of fighting for land and liberty. And this struggle contagiously captivated the hearts and energy of many, forever changing the hearts and consciousness of so many who have come in contact with it.

I'm happy that my son will forever remember the _inside_ of the farm. When we arrived today--he still was surprised despite our many visits since the eviction. My 7-yr. old son asked why the farm looked so different--still confused that we were not going to return inside of it. Then he said--"oh yeah, that's right. They destroyed it, didn't they?"

I guess I will conclude this "reflection" by just saying thank you to the farmers, and to those who opened up their hearts and land to share it with all those who loved it.

The 13th of June marks one year since the city of Los Angeles broke the hearts of thousands in Los Angeles, and farmers and friends of the farm will gather from 6pm to 8pm outside of the farm in vigil and reflection.

Location:
Alameda and 41st, Los Angeles, CA

Report this post as:


by a friend Monday, Jun. 04, 2007 at 9:04 PM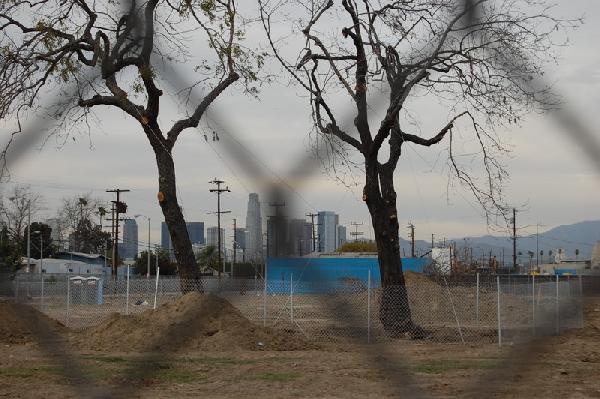 dsc_0171-1.jpg, image/jpeg, 800x532

Report this post as:


by a friend Monday, Jun. 04, 2007 at 9:04 PM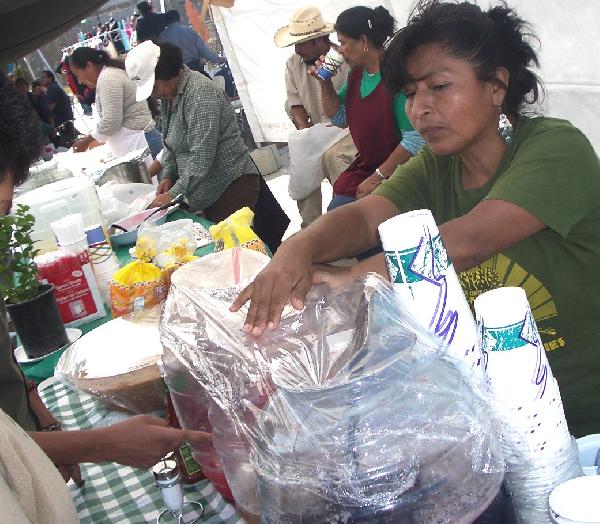 fresh_waters_to_drink.jpg, image/jpeg, 1041x910

Report this post as:


by a friend Monday, Jun. 04, 2007 at 9:04 PM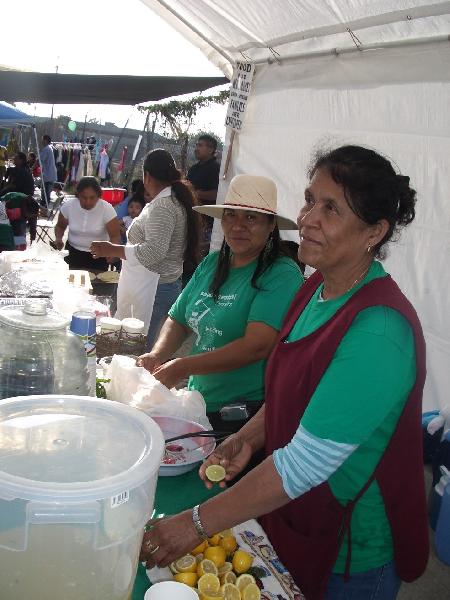 fresh_limonada.jpg, image/jpeg, 984x1312

Report this post as:


by a friend Monday, Jun. 04, 2007 at 9:04 PM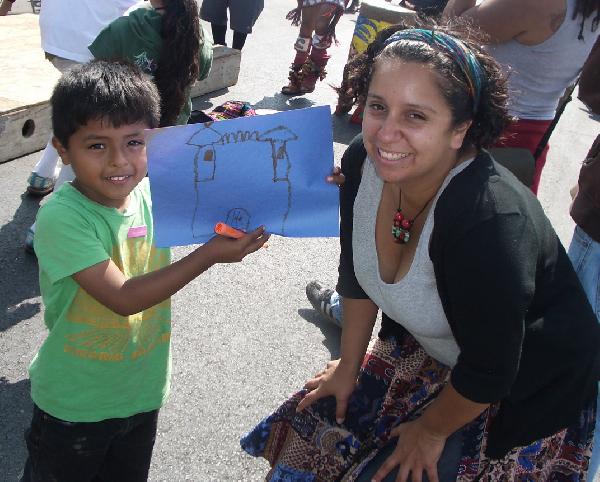 little_ones_drawing.jpg, image/jpeg, 1072x862

Report this post as:


by a friend Monday, Jun. 04, 2007 at 9:04 PM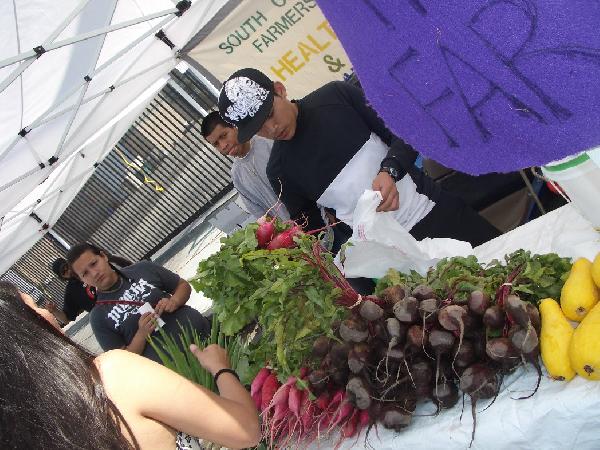 farmers_selling_fresh_produce.jpg, image/jpeg, 1048x786

Report this post as:


by a friend Monday, Jun. 04, 2007 at 9:04 PM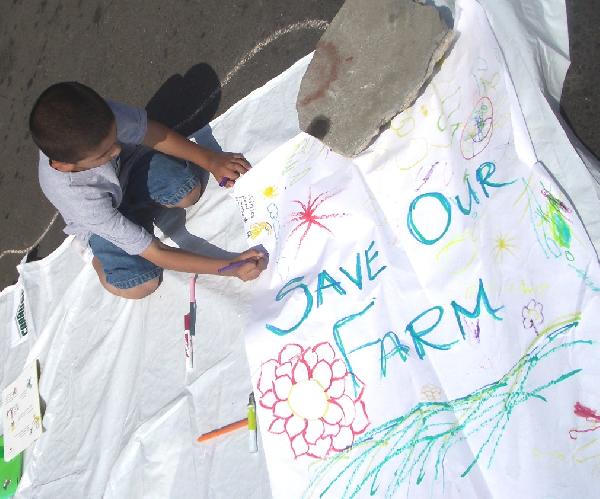 kids_craft_corner_save_our_farm.jpg, image/jpeg, 1012x842

Report this post as:


by a friend Monday, Jun. 04, 2007 at 9:04 PM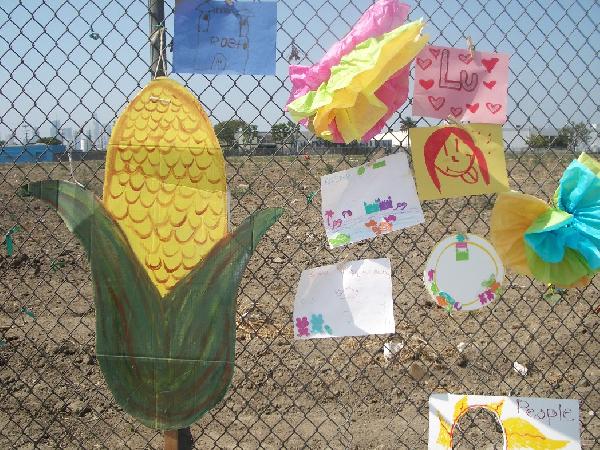 elote_outside_the_farm.jpg, image/jpeg, 1048x786

Report this post as:


by a friend Monday, Jun. 04, 2007 at 9:04 PM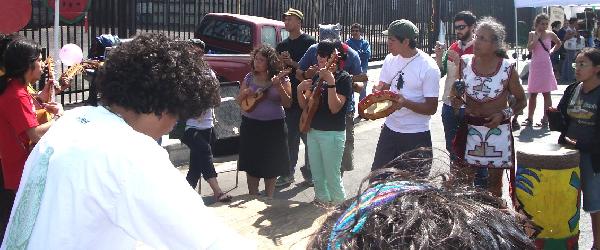 luna_negra.jpg, image/jpeg, 1131x473

Report this post as:


by a friend Monday, Jun. 04, 2007 at 9:04 PM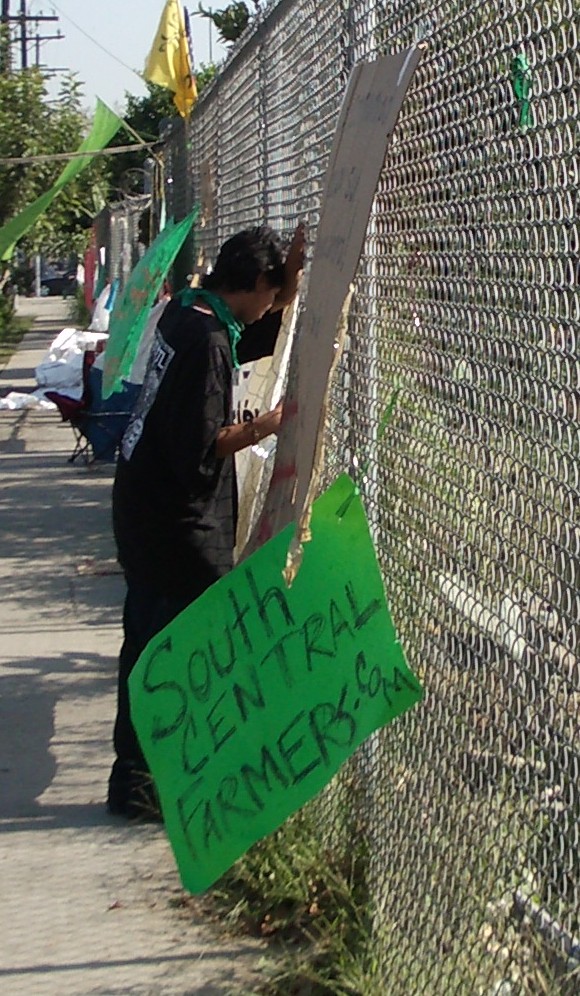 devestated_farmers_and_supporters.jpg, image/jpeg, 580x996

Report this post as:


by a friend Monday, Jun. 04, 2007 at 9:04 PM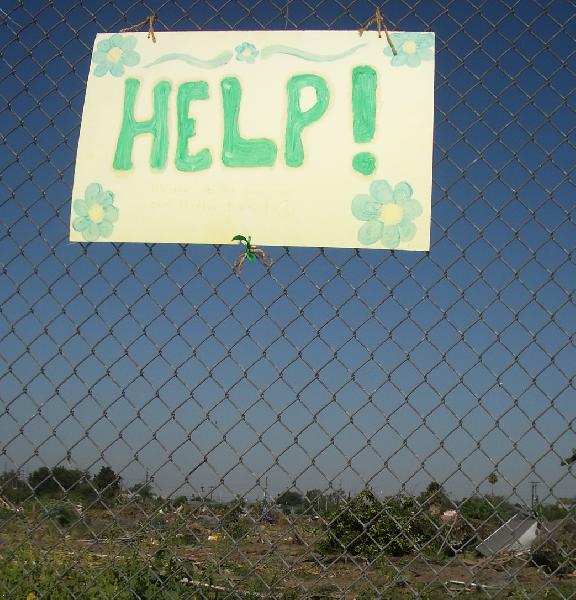 help.jpg, image/jpeg, 1043x1085

Report this post as:


by a friend Monday, Jun. 04, 2007 at 9:04 PM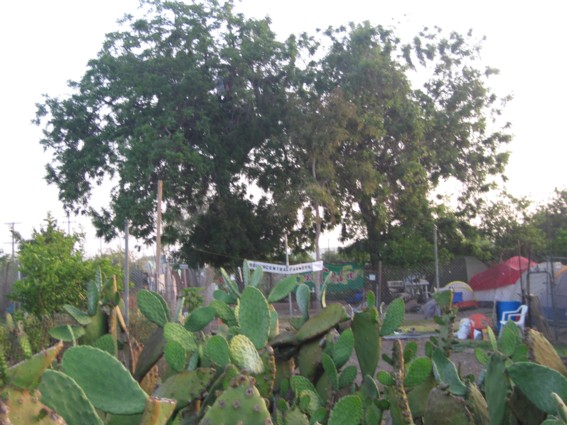 protecting_the_tree.jpg, image/jpeg, 567x425
Report this post as:
LATEST COMMENTS ABOUT THIS ARTICLE
Listed below are the 10 latest comments of 11 posted about this article.
These comments are anonymously submitted by the website visitors.

Local News

MDRC's Rent Reform Assault: Section 8 tenants vs. affordable housing industry J24 12:24AM

Obama at LA Trade Tech J23 3:23PM

Los Angeles Joins World Wide Protest Against Israeli Aggression J22 6:33PM

Los Angeles Joins World Wide Protest Against Israeli Aggression J22 5:48PM

Los Angeles Joins World Wide Protest Against Israeli Aggression J22 5:28PM

Protest Israeli Shelling of Gaza J21 1:58AM

#SaveTheInternet Rally J20 11:24AM

PACIFICA is shify-ing more J18 8:55PM

Radical Women Study Group J16 4:43PM

KIDS REPLANT WILSHIRE FRUIT TREES UPROOTED BY VANDALS J16 2:34PM

Emails Needed by Thursday, July 17 to Save the South Central Farm (Again) J15 4:40PM

Is AFT Pres Weingarten On The Take? J12 7:45AM

LA Living in Vehicle Law Found UnConstitutional J11 12:22PM

KPFK News covers the Che Cafe struggle J10 9:33PM

Public Comment on South Central Farm Site J07 10:44PM

Successful Protest at new Burbank Hobby Lobby on 4th J06 5:17PM

Protesters Violently Arrested in Murietta J05 12:44AM

Gallery Opening Highlights Journalist's Creativity, Insights, and Passions J03 11:52AM

Indymedia On Air - Che Cafe show J02 10:27AM

Save the Che: Letter from Zack de la Rocha J29 8:47PM

Political Thriller Citizen Koch Premieres in Los Angeles J28 2:35AM

Veteran and Families of Military hold Press Conference J18 7:36AM

Furious Homeowners Occupy Lobby of Fannie Mae in Pasadena J16 4:15AM

Change Links Revival J12 12:09PM

Election Day with Occupy Los Angeles: Know Your Rights Juror Education Rally J05 9:39PM

United We Stand Festival Ignites a Wave of Action for Indy Journalists and Active Citizens J05 7:36PM

San Pedro Born Activist Yuri Kochiyama Dies J02 12:04PM
More Local News...
Other/Breaking News

The Shortwave Report 07/25/14 Listen Globally! J24 5:00PM

Come for the education, Stay for the fun at the OC Health & Wellness Fair J23 10:59PM

Philippine president signs law requiring tobacco companies to put graphic health warnings J23 3:55AM

Rockets found in Gaza school J22 10:57PM

Statement on the Gaza Genocide J22 8:32PM

Capitalism and War: Pope Francis J22 4:18AM

Geekouts Link's for June and July 2014 J22 1:14AM

ADI holds Week of Action Against Circus Suffering J21 11:41AM

phantom protests J21 7:35AM

Précis de la tyrannie ou les 64 bourgeoisies J21 3:32AM

The Abiding Economics of John Kenneth Galbraith J19 3:19PM

The Word J18 1:12PM

Burn Cut Poison: Toxic Trillion Dollar Cancer Industrial Complex Of Radiation, Surgery, Ch J18 10:17AM

Abrégé de déictique J18 2:04AM

The Shortwave Report 07/18/14 Listen Globally! J17 2:54PM

carta a mi hija J17 1:40PM

SANTA MONICA ACTRESS TANNA FREDERICK TO VIETNAM TO INSTALL WATER FILTERS J17 11:21AM

Nationwide Air Conditioning and Heating Company Hiring in Southern California J17 9:18AM

Ariz. law enforcement: Marijuana shouldn't be legalized J16 5:27PM

Philippines: 5 Makabayan bloc legislators got P481M pork barrel J16 1:31AM

Lauren Kuby - Harry Mitchell - Tempe City Council J15 1:48PM

The Average Vegan Weighs 23 Lbs Less Than The Average Nonvegetarian J15 9:08AM

TTIP Undermines the Constitutional State J15 7:03AM

5,000 Show up in los Angeles Rally J13 7:40PM

Andrew Myers wants dispensaries to have monopoly on growing marijuana??? J13 8:22AM

Protest against Jewish terrorism & genocide in Palestine J12 7:28AM

israel training Georgia police J12 7:22AM

Paraphysique du capital J11 2:26AM
More Breaking News...