Features
•
latest news
•
best of news
•
syndication
•
commentary

Feature Categories



KILLRADIO

printable version - email this article - view hidden posts - tags and related articles
by Sean Duenser Thursday, May. 03, 2007 at 1:38 AM

May 1st celebration and observation of immigrant and labor rights in MacArthur Park, crashed by terrorist LAPD.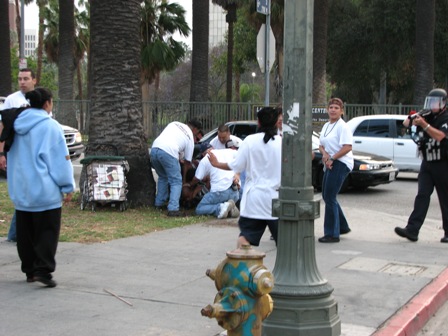 may1st2007rally_217q.jpg, image/jpeg, 448x336

During the Mayday rally at Macarthur Park in Los Angeles, the LAPD surge into formation and cowardly shot on civilians as they fled a jovial community gathering. Just as a crowd of some 5,000 plus non-violent demonstrators enjoyed a day for observance of immigrant and labor rights with their families, several children ran up the hill away from the main stage at the rally in an attempt to catch a glimpse at a disturbance up towards Alvarado and 7th street. Suddenly, dozens of people began running into the park as shots of tear gas and rubber bullets flew behind them. As I ran to get a closer view, multiple black suits appeared wearing vests, headgear, and holding guns in order to protect themselves from consciousness. The terrorists had arrived in LA and they were prepared and organized for a full assault. The LAPD shot at the backs of individuals running in my direction then climbed around the tunnel which links the park together while others ran through in order to advance on the rally. They pushed the crowd to the sidewalks and made it to the grassy area as numerous motorcycle cops drove up and a helicopter circled overhead calling for the peaceful crowd to disperse without any given reason. The force lined up along the park efficiently and began to sweep down towards the audience. Several officers began firing on the crowd and shoved reporters to the floor as they Billy clubbed a young man waving an American flag. Aimless rubber bullets flew as fast as they were randomly and indiscriminately fired. An elderly man attempted to get out of their way but was unable to lift his bike. Three squad men surrounded him screaming at him to move. One picked up his bike and threw it into the grass telling him to leave it and "move in 5 seconds or I'll beat you with my stick!" I suppose that was his way of saying, 'I'm trying to protect you', kind of like the boyfriend that beats his girl for her own good. As I photographed the incident, they scolded me and continued to advance on the crowd. I began taking pictures of the empty stage and sand area which had been completely abandoned with the exception of a few photographers. As I took a photo inland, the same cop who assaulted the elderly man shot me in the stomach. Luckily, the round ricocheted of my arm and hit me in the gut. Others were not so lucky. The LAPD rushed the stage in one final victorious push but got caught in a retaliatory quagmire down 6th street as the once peaceful protestors became legitimately infuriated civilians. Young teens threw WMD water bottles in frustration as they splashed 10 feet away from the terror squadron, almost sprinkling on an officer's pants in frightening fashion. The police again began sweeping up 6th street towards Rampart, firing back on mostly children. As one kid revealed his wounds to a camera man and others were trying to interview with independent media outlets, the police ran at them and fired on them to prevent any such interaction from occurring. The kids created a garbage can blockade in the street out of fear and in resistance of the proceeding oppressors; while behind me; several undercover white-shirts swarmed an unarmed man, tackling him against a palm tree. Officers on the scene pointed their guns viciously at anyone who attempted to intervene on behalf of the beaten individual. By this point, the police had cornered the other side of the street and there was no place for anyone to run. These are simply a few actual events that occurred May 1st, 2007 in Los Angeles. Such actions are not uncommon, unbecoming, or unsurprising of the LAPD. After all, these are the same monsters that shoot colored children and deal cocaine.

Report this post as:


by Sean Duenser Thursday, May. 03, 2007 at 1:38 AM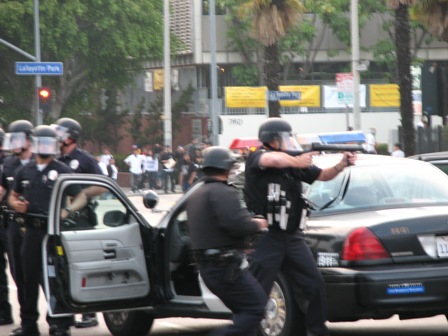 may1st2007rally_218q.jpg, image/jpeg, 448x336

Report this post as:


by Sean Duenser Thursday, May. 03, 2007 at 1:38 AM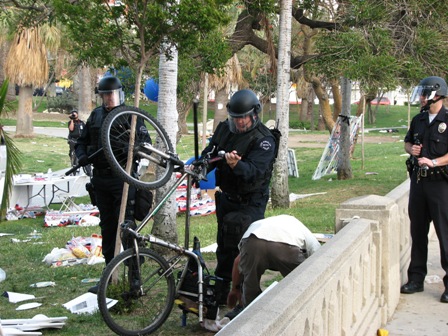 may1st2007rally_171q.jpg, image/jpeg, 448x336

Report this post as:


by Sean Duenser Thursday, May. 03, 2007 at 1:38 AM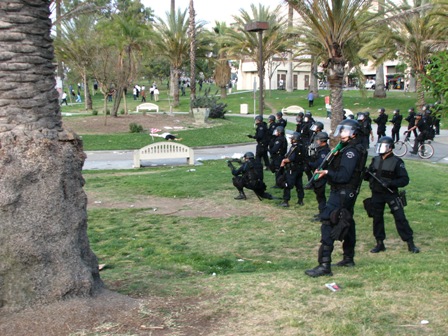 may1st2007rally_147q.jpg, image/jpeg, 448x336

Report this post as:


by Sean Duenser Thursday, May. 03, 2007 at 1:38 AM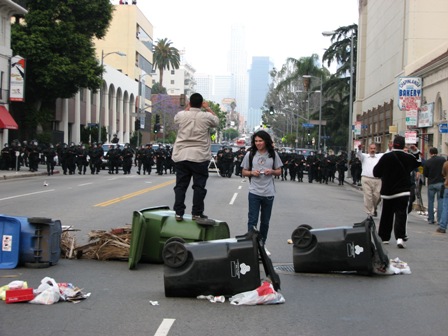 may1st2007rally_206q.jpg, image/jpeg, 448x336

Report this post as:


by Sean Duenser Thursday, May. 03, 2007 at 1:38 AM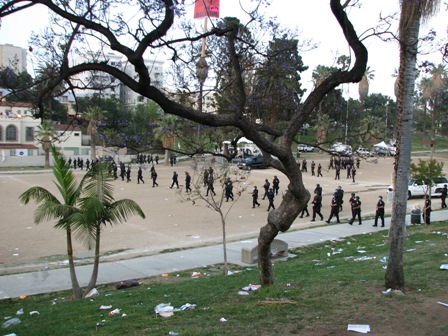 may1st2007rally_189q.jpg, image/jpeg, 448x336
Report this post as:
LATEST COMMENTS ABOUT THIS ARTICLE
Listed below are the 10 latest comments of 1 posted about this article.
These comments are anonymously submitted by the website visitors.

Local News

Divestment Fails at UC Santa barbara M15 4:19PM

Uncensored Manifesto from Retired LAPD Officer Christopher Dorner M15 9:37AM

Santa Ana Police Department: taking payoffs to jail the innocent M14 5:31PM

California's vigilante police justice: Trial by machine gun M14 5:23PM

Nevada Tribes Walk 272 Miles to Protest SNWA Pipeline M14 11:44AM

RAISE THE FIST MOBILE APP! M08 2:02AM

CA Safe Schools Honors LA Unified & Local Heroes! M07 6:13PM

Proposition C M07 1:13AM

VENICE OPDs ARE BACK! BUT WHY? M06 1:20AM

May Day 2013 Los Angeles M04 3:18AM

May Day 2013 Los Angeles M03 6:32PM

May Day 2013 Los Angeles M03 5:47PM

Join Demo At Farmer John Slaughterhouse A22 8:52AM

LAPD spying using StingRay A21 11:28AM

May Day Workers Film Festival San Diego A17 1:21AM

L.A born Actor James Cromwell Arrested in Animal Rights Action A16 1:46PM
More Local News...
Other/Breaking News

LA Election Results Commentary M22 11:03AM

Evidence of Police State, USA M22 10:08AM

Global-warming debate shouldn't exclude role of livestock M22 10:00AM

Syrian foes move towards talks but fighting rages M22 1:52AM

Obama's War on Free Expression M22 12:03AM

Israel Heads Closer to War on Syria M21 11:56PM

"DEVELOPER PAUL SOLOMON" An Artist's Worst Nightmare M21 5:03PM

Are Japanese Bonds Signaling Trouble? M21 11:38AM

14 rue du Sergent Godefroy M21 6:03AM

Economic Ethics After the Crisis M21 5:42AM

Reinventing Guatemalan History M21 12:02AM

Supreme Court Colludes with Monsanto M20 11:57PM

BE TEMPERATE. Discourage people from taking drugs. M20 9:02AM

Creative Destruction M20 4:14AM

America: A Modern-Day Sparta M19 11:45PM

Guantanamo Force-Feeding Constitutes Torture M19 11:42PM

Disconnect: Soaring Markets/Troubled Economies M19 12:19AM

Assad: Syria transition talks are internal matter M19 12:12AM

America Honors Its Worst M19 12:03AM

Assad: Syria transition talks are internal matter M18 11:58PM

Federal terrorism USA? Handshake germ warfare M18 10:54PM

reiniciar chamán M18 10:19AM

Paraphysique du cerveau M18 5:49AM

IRS Scandal: More Than Meets the Eye M18 12:03AM

Putin v. Obama et al M17 11:59PM

Monica Ratliff for School Board M17 4:25PM

Colombia Takes Another Step Towards Circus Animal Ban M17 3:35PM

Stop and Frisk: NYPD Racial Profiling M17 12:08AM
More Breaking News...