Tell the NSA:
StopWatching.US
Features
•
latest news
•
best of news
•
syndication
•
commentary

Feature Categories



KILLRADIO
printable version - json version - email this article - view hidden posts - tags and related articles
by Leslie Radford Thursday, May. 03, 2007 at 4:29 AM
leslie@radiojustice.net
The police shoot and tear gas families celebrating immigrants and May Day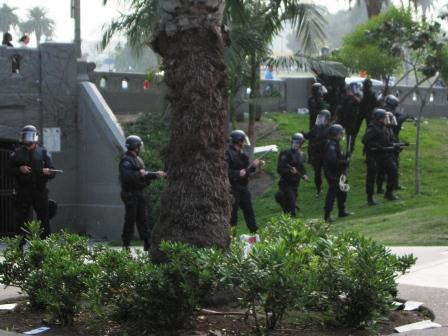 2007-05-01_police_invasion6.jpgmyfkob.jpg, image/jpeg, 448x336
Reporter: "What's the police's excuse going to be?"
Witness: "Besides racism?"
MACARTHUR PARK, May Day 2007--Police stormed a workers' and immigrants' rally at 5:30 p.m. this afternoon in MacArthur Park, sending thousands of families running in terror as they cleared MIWON Immigrant rally and festival with foam and beanbag bullets, batons, and, according to some observers, tear gas. The cops marched through the park in riot gear, indiscriminately clubbing down people in their wake. Young people formed the front line against the onslaught, running in retreat for a few yards at each thud-like explosion and then turning back to the cops, while older and younger people ran through the single open exit in fear that it, too, would be barricaded.
A few moments before, children had been playing on the hillside and dancing with puppet dragons. A drum circle was beating out a rhythm, hot dog and shaved ice vendors strolled through the crowd, and speakers at the north end stage called out for solidarity among immigrant and and non-immigrant workers.
According to a witness, the melee began when someone in a crowd gathered on Alvarado Street between 7th and 8th Streets hurled something toward the police, as the Aztec danzantes performed for a group gathered on Alvarado. The witness reported that the motorcycle cops nudged the audience, then cops on foot split the crowd in the street and stormed them.
A National Lawyers' Guild observer, Sanjukta Paul, was beaten repeatedly, including a blow to the kidneys, as she attempted to separate the police from the crowd. She had demanded that she had the right to be there as she tried to move people off the street, but a cop replied, "No, you don't," then clubbed her with his baton.
From inside the park, the first warning was a single thud. Then a line of squad cars, sirens wailing, raced down 6th Street and turned onto S. Park View to 7th Street. Crowds from the street began pouring into the south end of the park, as parents scooped up children from impromptu wrestling matches and pulled them out of trees where they had climbed. Finally a helicopter overheard blared out the dispersal order, telling the crowd to leave the park and return to their cars. Another round of cop cars tore down the crowded street.
"I've been in protests in the '50s, the '60s, '70's. I've never seen anything like this," an elderly woman reported. She had been on Alvarado when the cops had charged. The people had lifted the woman over a fence onto private property, where the owner offered her sanctuary. Her daughter, frantically seeking her child as she retreated, was batoned in the stomach three times by a pig who said she wasn't moving back "fast enough."
As the police entered the park, vendors at the entrance frantically tried to escape with their carts. Organization members desperately tried to clear tables and literature in the path of the incursion. Roughly eighty pigs formed a diagonal line and marched across the park, sweeping everybody into a shrinking semicircle.
The police used foam and bean bag bullets against the people in the park. At least one guy left with blood soaking through his white T-shirt and a massive bruise already forming. Foam bullets carry the impact of a 95 m.p.h. fastball or a baseball bat. Last month, David K. Maxson from McHenry County, Illinois died in a "justified" police shooting with a beanbag gun.
IF tear gas was used, a slight breeze wafted much it away, but those in the park felt welling eyes and difficulty breathing. One woman complained that the fracas had triggered an asthma attack.
The police arbitrarily fired on and beat those within range. Several reporters were beaten, and at least one was taken in away in an ambulance for a wound to his leg. One white-haired guy reported that his wife had been shot in the chest.
A few stray rocks from the park did little to slow the advance of the armed and firing pigs. Someone in the retreating crowd smashed a brick on the sidewalk so that others in front of him could hurl the shards at the police, but no one picked them up. For a few moments some of the ralliers reorganized in a march on 6th Street and stopped traffic, but the cops ordered that they leave the area. The marchers threw the rocks in their hands onto the asphalt in frustration as they left. A number of people circled around the clock and came back down to the park on 6th Street, but the cops kept them at a distance, and a legal observer convinced them to leave the area.
By 8:00 p.m. the park was clear, but the Pico Union district was filled with people in the streets, sitting on stoops, and hanging out on street corners. Last year's May Day march also ended with police violence in Alvarado Street. The district was a hot spot during the 1992 Rebellion, and Pico Union is the home of the infamous Rampart Police CRASH unit, which cost the city millions of dollars for lawsuits involving drug dealing, perjured testimony, and framing innocent people. A federal investigation of CRASH was suspended when it was revealed that the FBI was likely complicit in the unit's abuses of immigrants.
Report this post as:
by Leslie Radford Thursday, May. 03, 2007 at 4:29 AM
leslie@radiojustice.net


2007-05-01_police_invasion3.jpgm5k4sj.jpg, image/jpeg, 588x230
Report this post as:
LATEST COMMENTS ABOUT THIS ARTICLE
Listed below are the 10 latest comments of 47 posted about this article.
These comments are anonymously submitted by the website visitors.

| | | |
| --- | --- | --- |
| TITLE | AUTHOR | DATE |
| Is it true that it was the anarchists... | Daniel Maldonado | Thursday, May. 03, 2007 at 1:26 PM |
| Who's to blame? | nazis for target practice | Thursday, May. 03, 2007 at 1:50 PM |
| right-wing dressed as left wing | spiegel | Thursday, May. 03, 2007 at 2:25 PM |
| Laws that people don't notice till it effects them! | Niki Belmonte | Thursday, May. 03, 2007 at 3:54 PM |
| in El Salvador, San Salvador more gangsters | Jim Anarchrist | Thursday, May. 03, 2007 at 7:41 PM |
| Anarchists | second hand | Thursday, May. 03, 2007 at 9:39 PM |
| Freedom in the park | Justice | Thursday, May. 03, 2007 at 9:40 PM |
| Send these LAPD cops to Iraq! | Freedom Lover | Friday, May. 04, 2007 at 12:32 AM |
| heh | Lord Locksley | Friday, May. 04, 2007 at 10:51 AM |
| yeah, so what? | To Lord Dunce | Friday, May. 04, 2007 at 11:32 AM |
| heh | Lord Locksley | Friday, May. 04, 2007 at 12:50 PM |
| sure there was... | To Lord Dunce | Friday, May. 04, 2007 at 1:10 PM |
| heh heh | To Lord Dunce | Friday, May. 04, 2007 at 1:19 PM |
| chum | Sir Gaylord | Friday, May. 04, 2007 at 1:32 PM |
| Awesome Report | Latinos Unidos | Friday, May. 04, 2007 at 1:40 PM |
| infiltration | frank | Friday, May. 04, 2007 at 1:49 PM |
| ignorance | Crystal | Sunday, May. 06, 2007 at 2:56 AM |
| nice try, chum | unorganized? | Monday, May. 07, 2007 at 5:52 AM |
| the anarchists | n/a | Monday, May. 07, 2007 at 6:07 AM |
| la lucha el movimiento | chicano power | Monday, May. 07, 2007 at 1:31 PM |
| la lucha el movimiento | chicano power | Monday, May. 07, 2007 at 1:31 PM |
| ANarchists? | watchale | Tuesday, May. 08, 2007 at 12:14 AM |
| LEAVE IT TO THE LA BRUTAL FORCE? | LINDA SAFLEY | Friday, May. 11, 2007 at 8:14 AM |
| To protect and to serve? | Student | Saturday, Jul. 26, 2008 at 4:43 PM |
Local News

black activista, white racists meet to discuss civil rights M01 12:55PM

Q: are we safely anonymous on Indy or can someone chose to find us for their personal ... F26 3:54PM

Meeting for upcoming April 4, Dr. King Workshop. F26 6:46AM

Race Discrimination in Los Angeles County F20 2:19PM

Indymedia being inundated by repeaters F14 11:38AM

Divestment defeated at UC Riverside F13 9:26PM

LA Workers Ask for Solidarity F09 8:51PM

Van Nuys Neighborhood Council Supports Hundreds of Residents F05 6:36PM

West Hollywood Police Department: "We Don't Need a Reason to Interrogate Pedestrians" F02 9:16PM

The Rent Crisis in Los Angeles F02 12:28PM

National Reparations Day at Tragniew Park in Compton , March 6 , 2014 J31 10:47PM

California Safe Schools Celebrates Pearl August Humanitarian Award Recipients J30 4:56AM

Taking over public areas by homeless means overuse not moderate fair-share-use J29 4:18PM

KPFK turmoils continue, this one comes from Christine Blosedale critics J29 12:50PM

Los Angeles Marches in the Second Global March Against Chemtrails & Geoengineering J25 9:15PM

Joseph Pitruzzelli, The Hypocrisy Never Ends. J24 7:40PM

The Anti-Artist of LA Arts District Joseph Pitruzzlli, Falsely Praised as "Good Neighbor". J23 8:50PM

Activist Sentenced to 2.5 Years for Wire Cutters J21 9:29AM

CITIZENS TO PICKET WEHO CITY COUNCIL J20 10:09PM

On MLK Day: Racist Bullying Cover-up In Riverside Dear Coach Rice J20 1:43PM

The Kelly Thomas Protest In Fullerton J19 2:34PM

Interview with Chuck MorseHe founded the Institute for Anarchist Studies J14 7:14PM

KPFK SECRECY, TURMOILS, CONFLICTS, OPAQUENESS, and HYPOCRISY too ? J13 5:27PM

Marx, White Supremacy and the Left J13 9:51AM

Fukushima Keeps Pouring Poisons Into Pacific J12 12:37PM

KPFK: self-destructing? or is it again the usual dysfunctioning? J10 6:01PM

Protesting Xavier Becerra's Support of TPP J10 5:53PM

John Dingler's "Ten Prosecuted Whistleblowers J09 8:09PM
More Local News...
Other/Breaking News

Glow In The Dark: Consume Radioactive Fish Oil Or Fish M11 10:28AM

TTIP: A Tranatlantic Constitution of Corporations? M11 4:48AM

Paraphysique de la haine M11 3:07AM

Yatsenyuk Comes to Washington M11 12:50AM

Putin on Ukraine M11 12:48AM

Trade: Time for a New Vision, 20pp M10 5:14AM

US Private Military Contractors in Ukraine? M10 1:18AM

Heightened US/Russian Tensions M10 12:49AM

Paraphysique de la pathognomonie M09 11:43PM

Gerrard Winstanley Memes M09 2:34PM

The clash in Crimea is the fruit of western expansion M09 11:34AM

Big Lies Drown Out Truth M08 11:56PM

Israel Denies 45,000 Palestinians Water M08 11:54PM

CASTORIADIS. THE HUNGARIAN REVOLUTION .pdf M08 9:24PM

The Snowdown - Wikileaks - Sibel Edmonds - Whistleblower Effect By Zahir Ebrahim M08 8:46PM

Walking the New Broadway M08 5:40PM

Spring 2014 National Immigrant Solidarity Network Monthly News Alert! M08 11:21AM

Israel Hypes Nonexistent Iranian Threat M08 12:01AM

Putin v. Obama: Geopolitical Opposites M06 11:57PM

Talking Peace While Waging War M06 11:49PM

Ongoing Operation Gladio Redux in Pakistan Written by Zahir Ebrahim M06 8:59PM

The Shortwave Report 03/07/14 Listen Globally! M06 4:16PM

Propaganda War on Russia M05 11:52PM

Evidence Shows Kiev Putschists Recruited Euromaidan Snipers M05 11:51PM

Global turn-around: to persuade Western Powers to adopt 'bottom-up' ethical human rights. M05 3:04AM

Crisis in Ukraine M05 12:08AM

Media Scoundrels on the Wrong Side of History M04 11:50PM

California Drought: Is this the big one? M04 4:28PM
More Breaking News...