Tell the NSA:
StopWatching.US
Features
•
latest news
•
best of news
•
syndication
•
commentary

Feature Categories



KILLRADIO
printable version - json version - email this article - view hidden posts - tags and related articles
by Amy L. Dalton Monday, Apr. 16, 2007 at 5:22 AM
ald[[at]]riseup[[dot]]net
Harsh response to anti-sweatshop sit-in threatens to obscure campaign details at a critical time: Breaking with a norm of accommodation of student protesters, the University of Southern California last week dramatized their willingness to evade responsibility for the repercussions of their business practices.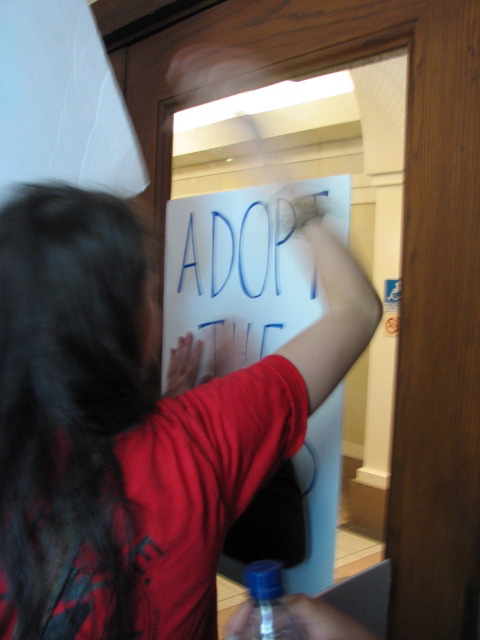 1atthedoor.jpg, image/jpeg, 480x640

On Tuesday April 10, thirteen members of the Student Coalition Against Labor Exploitation (SCALE) were threatened with immediate suspension if they did not leave Bovard Hall just minutes after it closed to the public at 5pm. The letters even stipulated that the students would have to vacate their dorm rooms by 9am the following morning. The students were occupying the waiting room outside of President Steven B. Sample's office in an effort to force a meeting on USC's policies for contracting with apparel companies.

SCALE wants the university to switch to an independent regulatory agent called Worker Rights Consortium (WRC), and independent monitoring group that they say provides accountable, non-biased assessment of the subcontractors utilized by each clothing company. Instead, the university is affiliated with the Fair Labor Association (FLA), an alternative monitoring organization whose Board of Directors includes representatives from the companies being reviewed.

SCALE also wants USC to sign on to an initiative of the WRC, the Designated Suppliers Program (DSP), which obligates universities to contract with supplier factories that respect the rights of their employees to organize unions and be paid a living wage.

Instead of meeting with the students about these policy questions, the Administration spent time and resources making threats and even calling their parents, a move that students found manipulative and unethical.

The university community seemed to agree, and indignation has been widely expressed in the aftermath of Tuesday's actions. Some have even called for the resignation of Michael Jackson, the Director of Student Affairs who delivered the threat. But SCALE member Teresa Cheng says this is distracting. "A lot of the attention we've gotten has been focused on defaming the university, but I think it's important that we don't turn this into a sidetrack or a tangent. These sorts of actions are nothing new."

According to Carlo Cattaneo Adorno, the students have been requesting a meeting with President Sample for 8 years, with absolutely no luck. During this year alone, he said, they have requested a meeting every single day, in the form of a written correspondence. Each day SCALE sends a letter that reiterates this request and includes a different "fact of the day" regarding the exploitation of workers in the global south who make USC's apparel.

The students have met with lower-level administrators, including Director of Trademarks and Licenses Liz Kennedy. But the students say this is inadequate, and note that Kennedy serves on the board of the FLA.

According to movement documentarian Liza Featherstone, it is thanks to student actions of exactly this sort that the WRC exists at all. The monitoring group was developed cooperatively by student activists and workers' advocates here and in the developing world, following a surge in protests coordinated by United Students Against Sweatshops (USAS). 168 colleges and universities have since signed onto the WRC, thanks to pressure brought by the students' efforts. (Read Featherstone's Report)

Featherstone says last week's actions are "part of a likely wave of sit-ins on US campuses, as students are escalating a campaign for basic human rights for the workers, mostly young women, who make clothing bearing school logos." See reports from: University of Washington and University of Michigan.

Much of this action will be focused on the Designated Suppliers Program (DSP), which actively secures contracts for factory suppliers who monitoring has shown to be respecting workers rights. "The DSP is a step beyond adopting an independent factory monitor," explains Cheng. "It would really blaze a trail in supporting workers rights. It's really essential for schools like USC to sign onto this in order for it to be implemented effectively." So far, 31 schools have adopted the DSP, including the entire UC system.

Despite the escalation of administrative resistance, SCALE plans to keep up the pressure on USC and President Sample. "Regardless of whether we win this campaign, everyone in our group is resolved to never stop challenging our university, because we've really experienced the degree to which it will go to avoid doing the right thing," says Cheng. She clarified that SCALE is not supporting a boycott of university apparel, which some independent voices called for last week an attempt at solidarity with the protesters. Cheng says this is a misunderstanding of the campaign's goals. "If the workers called for a boycott, we would support them," she said. "But they're not calling for a boycott. Our camping is not about not buying clothes, it's about supporting workers -- and right now there's no correlation between not buying clothes and supporting workers."

More Information: Daily Trojan Coverage & Discussion | Annenberg TV News | www.uscwatch.org

Report this post as:


by Amy L. Dalton Monday, Apr. 16, 2007 at 5:22 AM
ald[[at]]riseup[[dot]]net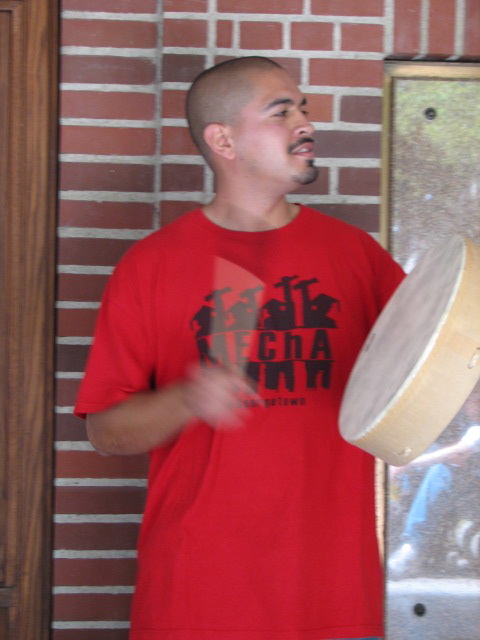 2keepingthebeat.jpg, image/jpeg, 480x640

Report this post as:


by Amy L. Dalton Monday, Apr. 16, 2007 at 5:22 AM
ald[[at]]riseup[[dot]]net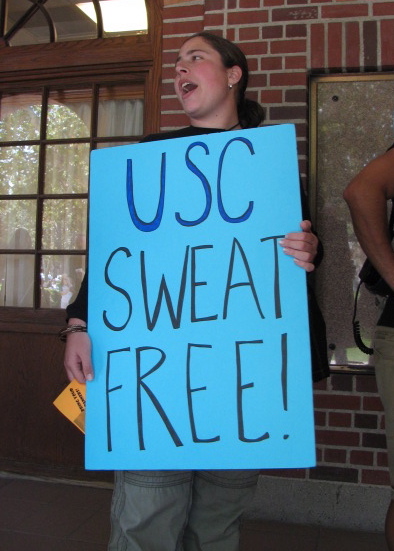 3uscsweatfree.jpg, image/jpeg, 394x551

Report this post as:


by Amy L. Dalton Monday, Apr. 16, 2007 at 5:22 AM
ald[[at]]riseup[[dot]]net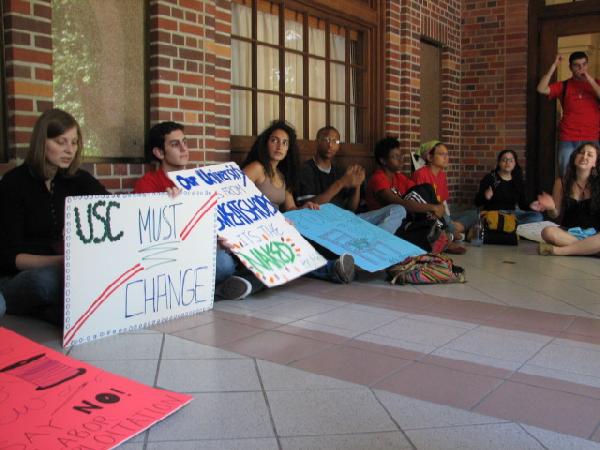 4waiting.jpg, image/jpeg, 640x480

Report this post as:


by Amy L. Dalton Monday, Apr. 16, 2007 at 5:22 AM
ald[[at]]riseup[[dot]]net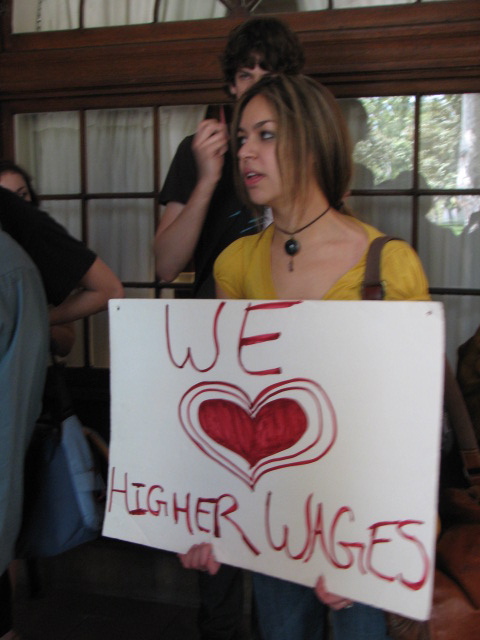 5welovehigherwages.jpg, image/jpeg, 480x640

Report this post as:


by Amy L. Dalton Monday, Apr. 16, 2007 at 5:22 AM
ald[[at]]riseup[[dot]]net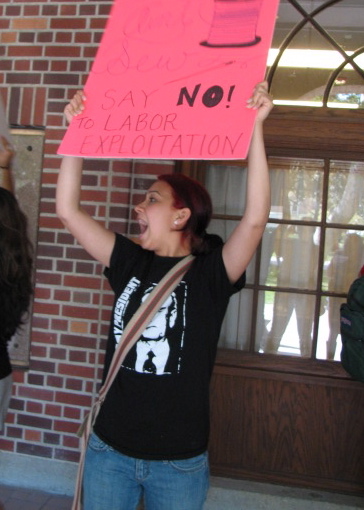 6sayno.jpg, image/jpeg, 364x510

Report this post as:


by Amy L. Dalton Monday, Apr. 16, 2007 at 5:22 AM
ald[[at]]riseup[[dot]]net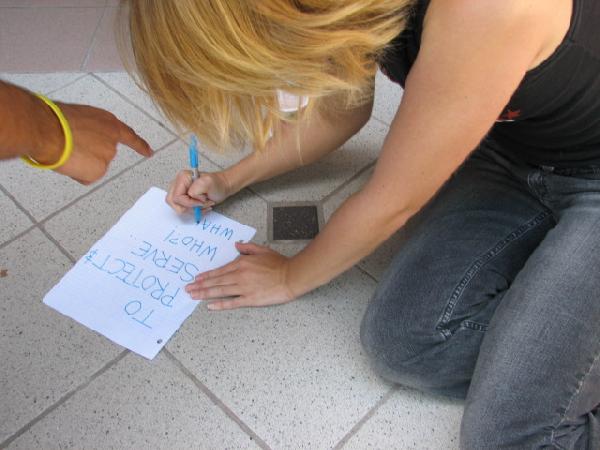 7toprotectwho.jpg, image/jpeg, 640x480

Report this post as:


by Amy L. Dalton Monday, Apr. 16, 2007 at 5:22 AM
ald[[at]]riseup[[dot]]net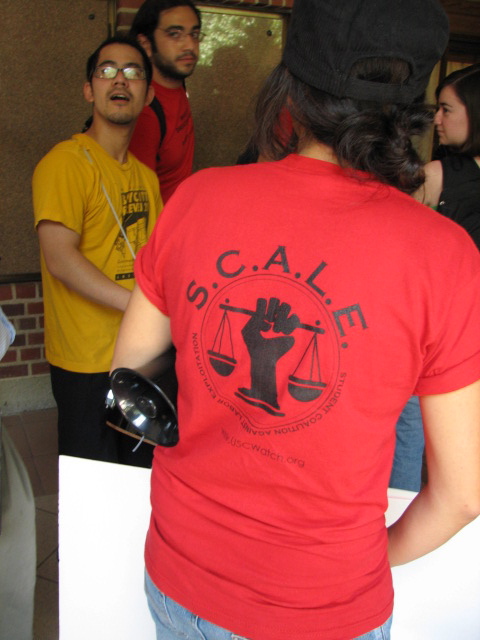 8shirt.jpg, image/jpeg, 480x640

Report this post as:


by Amy L. Dalton Monday, Apr. 16, 2007 at 5:22 AM
ald[[at]]riseup[[dot]]net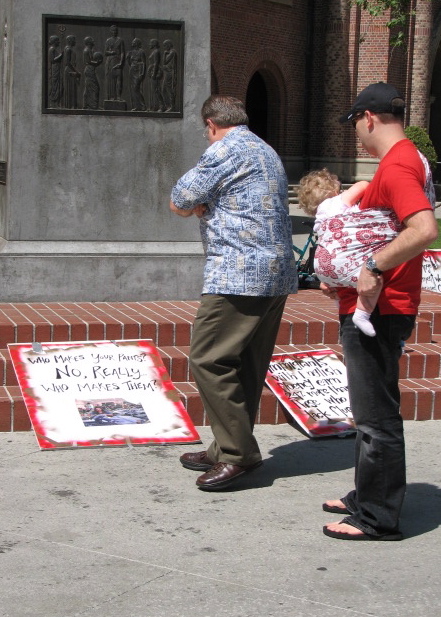 9whomakesyourpants.jpg, image/jpeg, 441x617
Report this post as:
Local News

black activista, white racists meet to discuss civil rights M01 12:55PM

Q: are we safely anonymous on Indy or can someone chose to find us for their personal ... F26 3:54PM

Meeting for upcoming April 4, Dr. King Workshop. F26 6:46AM

Race Discrimination in Los Angeles County F20 2:19PM

Indymedia being inundated by repeaters F14 11:38AM

Divestment defeated at UC Riverside F13 9:26PM

LA Workers Ask for Solidarity F09 8:51PM

Van Nuys Neighborhood Council Supports Hundreds of Residents F05 6:36PM

West Hollywood Police Department: "We Don't Need a Reason to Interrogate Pedestrians" F02 9:16PM

The Rent Crisis in Los Angeles F02 12:28PM

National Reparations Day at Tragniew Park in Compton , March 6 , 2014 J31 10:47PM

California Safe Schools Celebrates Pearl August Humanitarian Award Recipients J30 4:56AM

Taking over public areas by homeless means overuse not moderate fair-share-use J29 4:18PM

KPFK turmoils continue, this one comes from Christine Blosedale critics J29 12:50PM

Los Angeles Marches in the Second Global March Against Chemtrails & Geoengineering J25 9:15PM

Joseph Pitruzzelli, The Hypocrisy Never Ends. J24 7:40PM

The Anti-Artist of LA Arts District Joseph Pitruzzlli, Falsely Praised as "Good Neighbor". J23 8:50PM

Activist Sentenced to 2.5 Years for Wire Cutters J21 9:29AM

CITIZENS TO PICKET WEHO CITY COUNCIL J20 10:09PM

On MLK Day: Racist Bullying Cover-up In Riverside Dear Coach Rice J20 1:43PM

The Kelly Thomas Protest In Fullerton J19 2:34PM

Interview with Chuck MorseHe founded the Institute for Anarchist Studies J14 7:14PM

KPFK SECRECY, TURMOILS, CONFLICTS, OPAQUENESS, and HYPOCRISY too ? J13 5:27PM

Marx, White Supremacy and the Left J13 9:51AM

Fukushima Keeps Pouring Poisons Into Pacific J12 12:37PM

KPFK: self-destructing? or is it again the usual dysfunctioning? J10 6:01PM

Protesting Xavier Becerra's Support of TPP J10 5:53PM

John Dingler's "Ten Prosecuted Whistleblowers J09 8:09PM
More Local News...
Other/Breaking News

Israel Hypes Nonexistent Iranian Threat M08 12:01AM

Putin v. Obama: Geopolitical Opposites M06 11:57PM

Talking Peace While Waging War M06 11:49PM

Ongoing Operation Gladio Redux in Pakistan Written by Zahir Ebrahim M06 8:59PM

The Shortwave Report 03/07/14 Listen Globally! M06 4:16PM

Propaganda War on Russia M05 11:52PM

Evidence Shows Kiev Putschists Recruited Euromaidan Snipers M05 11:51PM

Global turn-around: to persuade Western Powers to adopt 'bottom-up' ethical human rights. M05 3:04AM

Crisis in Ukraine M05 12:08AM

Media Scoundrels on the Wrong Side of History M04 11:50PM

California Drought: Is this the big one? M04 4:28PM

"Fair Harvard" Lacks Fairness M04 11:56AM

RENT may not be Controlled in LA City soon...watch out ! M04 9:16AM

TTIP: International Mega-corporations prevent social and ecological globalization M04 5:42AM

East/West Confrontation Looms M03 11:51PM

Scoundrel Media War on Russia M03 11:50PM

Interview with Jose Maria Sison M03 10:27PM

Structural Weaknesses of Capitalism M03 3:36AM

The Damn Fool in the White House M02 11:50PM

Ukrainian Neo-Nazis Mobilize for War M02 11:48PM

Kropotkin Memes Part 2 for LA IMC M02 7:41PM

Racism in the Netherlands/Party for Freedom/PVV, Wilders and the poison of racism M02 5:49PM

Israel Accused of War Crimes in West Bank M02 11:39AM

Obama Warns Russia M01 11:50PM

Turmoil in Ukraine M01 11:49PM

Take Action Now to Stop Your Rent From Skyrocketing! M01 7:22PM

Flashback to 1991: "Kuwait freed, Iraqis crushed" M01 9:58AM

L'anarchie de l'idéologie M01 9:26AM
More Breaking News...