Features
•
latest news
•
best of news
•
syndication
•
commentary

Feature Categories



KILLRADIO
printable version - js reader version - email this article - view hidden posts - tags and related articles

by Amy L. Dalton Monday, Apr. 16, 2007 at 5:22 AM
ald[[at]]riseup[[dot]]net
Harsh response to anti-sweatshop sit-in threatens to obscure campaign details at a critical time: Breaking with a norm of accommodation of student protesters, the University of Southern California last week dramatized their willingness to evade responsibility for the repercussions of their business practices.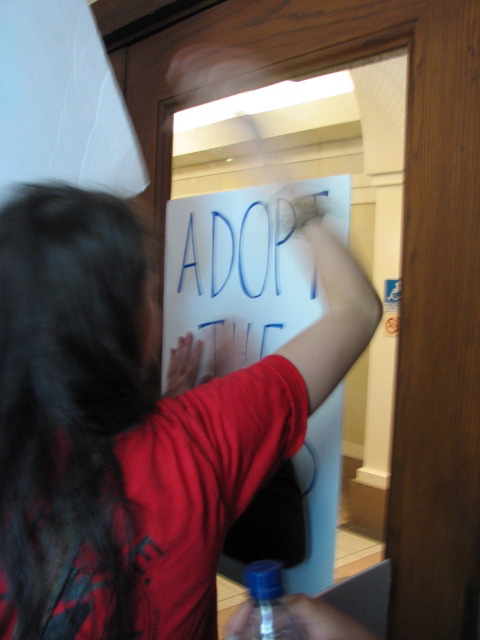 1atthedoor.jpg, image/jpeg, 480x640

On Tuesday April 10, thirteen members of the Student Coalition Against Labor Exploitation (SCALE) were threatened with immediate suspension if they did not leave Bovard Hall just minutes after it closed to the public at 5pm. The letters even stipulated that the students would have to vacate their dorm rooms by 9am the following morning. The students were occupying the waiting room outside of President Steven B. Sample's office in an effort to force a meeting on USC's policies for contracting with apparel companies.

SCALE wants the university to switch to an independent regulatory agent called Worker Rights Consortium (WRC), and independent monitoring group that they say provides accountable, non-biased assessment of the subcontractors utilized by each clothing company. Instead, the university is affiliated with the Fair Labor Association (FLA), an alternative monitoring organization whose Board of Directors includes representatives from the companies being reviewed.

SCALE also wants USC to sign on to an initiative of the WRC, the Designated Suppliers Program (DSP), which obligates universities to contract with supplier factories that respect the rights of their employees to organize unions and be paid a living wage.

Instead of meeting with the students about these policy questions, the Administration spent time and resources making threats and even calling their parents, a move that students found manipulative and unethical.

The university community seemed to agree, and indignation has been widely expressed in the aftermath of Tuesday's actions. Some have even called for the resignation of Michael Jackson, the Director of Student Affairs who delivered the threat. But SCALE member Teresa Cheng says this is distracting. "A lot of the attention we've gotten has been focused on defaming the university, but I think it's important that we don't turn this into a sidetrack or a tangent. These sorts of actions are nothing new."

According to Carlo Cattaneo Adorno, the students have been requesting a meeting with President Sample for 8 years, with absolutely no luck. During this year alone, he said, they have requested a meeting every single day, in the form of a written correspondence. Each day SCALE sends a letter that reiterates this request and includes a different "fact of the day" regarding the exploitation of workers in the global south who make USC's apparel.

The students have met with lower-level administrators, including Director of Trademarks and Licenses Liz Kennedy. But the students say this is inadequate, and note that Kennedy serves on the board of the FLA.

According to movement documentarian Liza Featherstone, it is thanks to student actions of exactly this sort that the WRC exists at all. The monitoring group was developed cooperatively by student activists and workers' advocates here and in the developing world, following a surge in protests coordinated by United Students Against Sweatshops (USAS). 168 colleges and universities have since signed onto the WRC, thanks to pressure brought by the students' efforts. (Read Featherstone's Report)

Featherstone says last week's actions are "part of a likely wave of sit-ins on US campuses, as students are escalating a campaign for basic human rights for the workers, mostly young women, who make clothing bearing school logos." See reports from: University of Washington and University of Michigan.

Much of this action will be focused on the Designated Suppliers Program (DSP), which actively secures contracts for factory suppliers who monitoring has shown to be respecting workers rights. "The DSP is a step beyond adopting an independent factory monitor," explains Cheng. "It would really blaze a trail in supporting workers rights. It's really essential for schools like USC to sign onto this in order for it to be implemented effectively." So far, 31 schools have adopted the DSP, including the entire UC system.

Despite the escalation of administrative resistance, SCALE plans to keep up the pressure on USC and President Sample. "Regardless of whether we win this campaign, everyone in our group is resolved to never stop challenging our university, because we've really experienced the degree to which it will go to avoid doing the right thing," says Cheng. She clarified that SCALE is not supporting a boycott of university apparel, which some independent voices called for last week an attempt at solidarity with the protesters. Cheng says this is a misunderstanding of the campaign's goals. "If the workers called for a boycott, we would support them," she said. "But they're not calling for a boycott. Our camping is not about not buying clothes, it's about supporting workers -- and right now there's no correlation between not buying clothes and supporting workers."

More Information: Daily Trojan Coverage & Discussion | Annenberg TV News | www.uscwatch.org

Report this post as:


by Amy L. Dalton Monday, Apr. 16, 2007 at 5:22 AM
ald[[at]]riseup[[dot]]net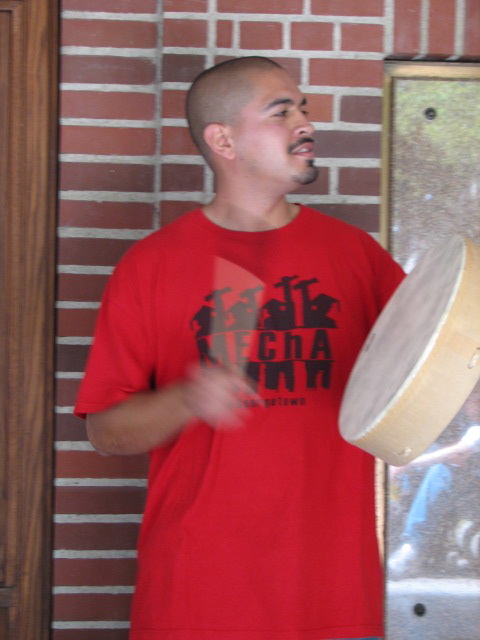 2keepingthebeat.jpg, image/jpeg, 480x640

error

Report this post as:


by Amy L. Dalton Monday, Apr. 16, 2007 at 5:22 AM
ald[[at]]riseup[[dot]]net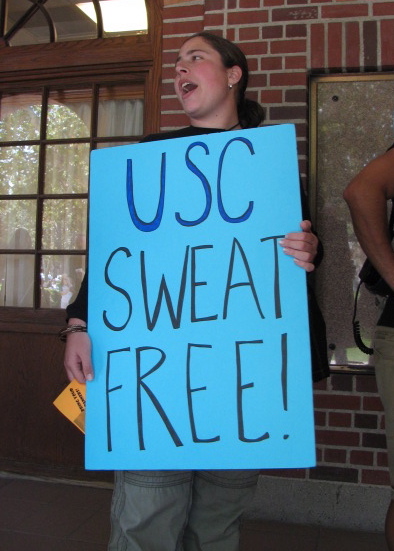 3uscsweatfree.jpg, image/jpeg, 394x551

error

Report this post as:


by Amy L. Dalton Monday, Apr. 16, 2007 at 5:22 AM
ald[[at]]riseup[[dot]]net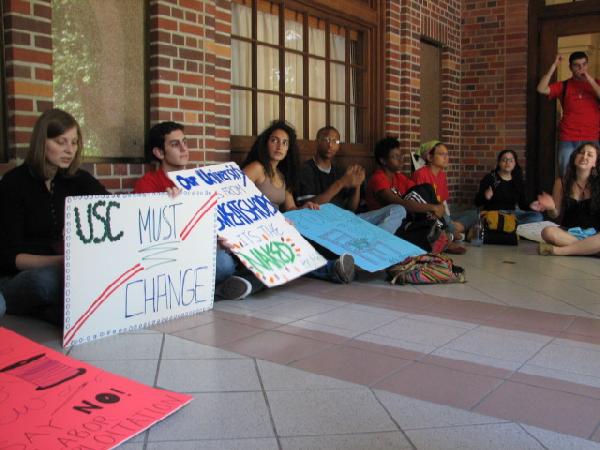 4waiting.jpg, image/jpeg, 640x480

error

Report this post as:


by Amy L. Dalton Monday, Apr. 16, 2007 at 5:22 AM
ald[[at]]riseup[[dot]]net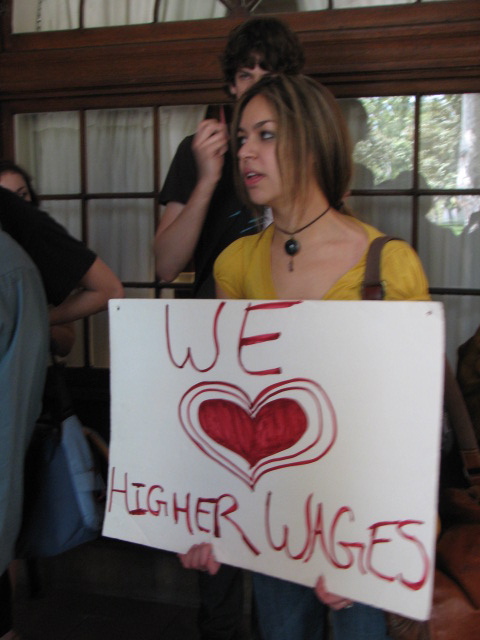 5welovehigherwages.jpg, image/jpeg, 480x640

error

Report this post as:


by Amy L. Dalton Monday, Apr. 16, 2007 at 5:22 AM
ald[[at]]riseup[[dot]]net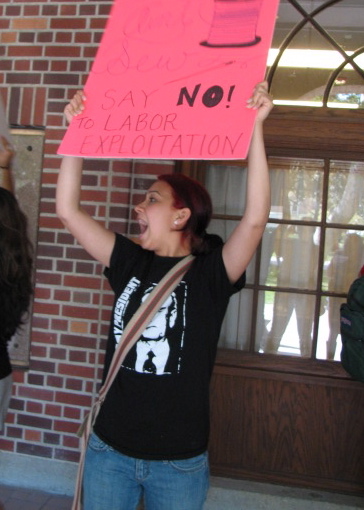 6sayno.jpg, image/jpeg, 364x510

error

Report this post as:


by Amy L. Dalton Monday, Apr. 16, 2007 at 5:22 AM
ald[[at]]riseup[[dot]]net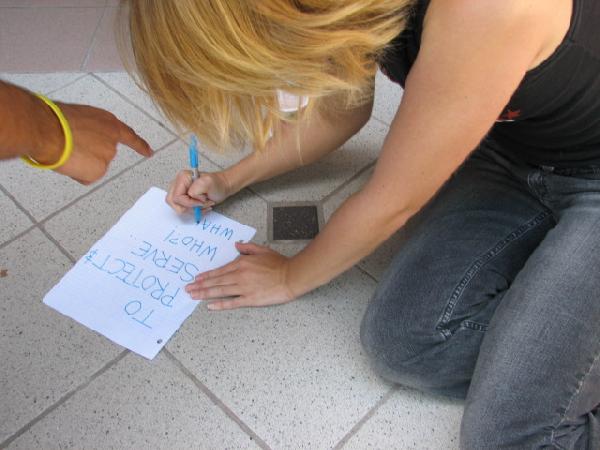 7toprotectwho.jpg, image/jpeg, 640x480

error

Report this post as:


by Amy L. Dalton Monday, Apr. 16, 2007 at 5:22 AM
ald[[at]]riseup[[dot]]net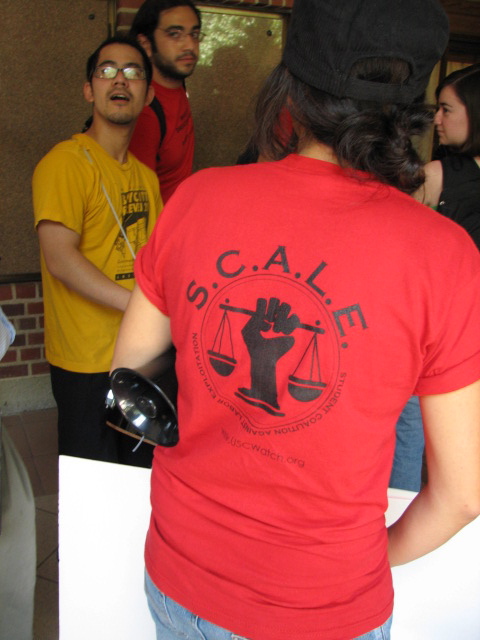 8shirt.jpg, image/jpeg, 480x640

error

Report this post as:


by Amy L. Dalton Monday, Apr. 16, 2007 at 5:22 AM
ald[[at]]riseup[[dot]]net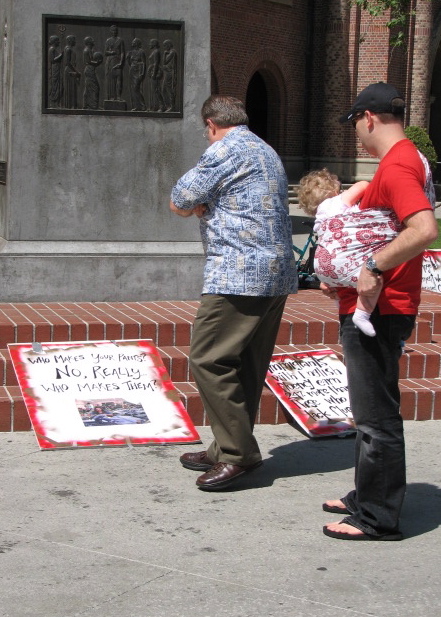 9whomakesyourpants.jpg, image/jpeg, 441x617
error
Report this post as:
Local News

Jane Fonda Divests From Wells Fargo J03 8:27PM

LA Solidarity Protest Rally For Japanese American Apparel Workers Who Face Loss D16 1:49PM

Architect Chris Mercier Unveils Mural in Rogers Park, Inglewood D16 9:13AM

Peace Vigils D15 8:20PM

Standing Rock Solidarity Action D11 9:59PM

Large Turnout for Dakota Pipeline Protest N16 3:35PM

NODAPL N15 2:24PM

Cruel Teacher Taunts 6th Grade Kids, Fired N12 8:47PM

How Cities Can Protect People Threatened By Trumpism N12 8:17PM

What ThisMeans, How This Happened, What to Do Now N12 5:03AM

PROTEST TRUMP TONITE N11 2:55PM

Westside Thanksgiving for everyone in LA ! N11 12:36PM

FOR A WORLD WITHOUT NUCLEAR RISKS   N10 5:05AM

Non-violent protest ideas; hooch bomb recipe N09 7:42AM

Nuclear Shutdown News October 2016 N05 6:17PM

State Legislature is where it's at N03 10:16PM

Tom Hayden on The Unfinished Business of Democracy O28 4:49AM

Video: Tom Hayden, Listen Yankee! 2015 O25 10:56AM

Art About Privilege Censored on Facebook O23 3:16AM

SAG-AFTRA video game performers on strike O22 11:04PM

Stop Circus Animal Suffering – Protestors Urge Audiences to Shun the Wild Animal Circus O20 3:04PM

KPFK LSB statement on DAPL arrests O19 10:25AM

Transit Dependent Residents Need a Guaranteed Right to Stay O15 11:36PM

My letter to JJJ on JJJ O11 12:33PM

Prop 60, Condom Law O10 12:43PM

KPFK-Pacifica Radio Archives being sold off on ebay? O10 10:31AM

KPFK struggles without re-solutions O07 2:25PM

Problems with Measure M O05 5:24PM
More Local News...
Other/Breaking News

De l'éducastration chattemite J19 10:15PM

The Shortwave Report 01/20/17 Listen Globally! J19 5:33PM

"Trump does not read much" J19 1:28PM

Important Discoveries J18 6:50PM

#J20 CalArts in SoCal Plan Walkout; NY Galleries & Nonprofits Plan Art Strike J18 5:25PM

FBI's "Suicide Letter" to Dr. Martin Luther King, Jr., and the Dangers of Unchecked Survei J18 5:10PM

Camp 120 Will Hold Space in Front of City Hall Until Inauguration Day to Protest the Inac J18 5:03PM

Teamsters Local 2010 Initiates Mass Walkout and Strikes at University of California J18 4:12PM

Civil Rights Groups Sue Caltrans to Stop Illegal Raids Against California's Homeless J18 4:05PM

This Week in Palestine, January 13th, 2016 J18 3:44PM

Littératie ou numératie ou La loi J18 4:14AM

Nurses Storm The Boulevard To Pressure Trump on the ACA J17 4:49PM

Nurses Storm The Boulevard To Pressure Trump On the ACA J17 3:12PM

Gangstar New Orleans Hack J16 6:18PM

All Government Officials can be Sued for Actions Outside their Authority – Robert Tronge J16 12:36PM

The Effectiveness of Sex Offender Treatment Programs – Robert Tronge J16 12:32PM

Inevitable Conclusion J15 7:48PM

Trump and the Consequences: Democracy at a Crossroads J15 9:07AM

Nuclear Shutdown News January 2017 J14 8:17PM

Honduras coup update December 2016 J14 6:06PM

Evidence that fbi corrupts all of society at will J14 4:15PM

Intellectuels d'élevage, intellectuels de batterie, intellectuels industriels J14 8:03AM

Paraphysique de virologie politicienne J12 10:58PM

The Shortwave Report 01/13/17 Listen Globally! J12 5:23PM

Code Pink on the temple Mount J12 8:36AM

The Civilization Crisis: Post-Factual Criticism of Politics J12 6:43AM

L'enterrement de la liberté d'expression J11 10:23PM

Control of major news media by fbi J11 8:04AM
More Breaking News...