Features
•
latest news
•
best of news
•
syndication
•
commentary

Feature Categories



KILLRADIO
printable version - js reader version - view hidden posts - tags and related articles

by Ross Plesset Wednesday, Feb. 21, 2007 at 2:35 AM

Friends of the Southwest Museum Coalition recently presented three alternative plans for preserving the facility as a complete museum with additional uses. The Autry National Center, which owns the property, wants to change its use to a cultural center and scale down the exhibition of the Southwest Museum Collection to just a fraction of space, with much of the collection relocated to a yet-to-be-built building in Griffith Park. Among the new features proposed by the Coalition are a scenic restaurant that is being likened to Castaways in Burbank, expanded parking, new space for exhibition of the collection, and a cultural and education center. Council person Huizar said he would oppose Autry's plan to downsize the original museum.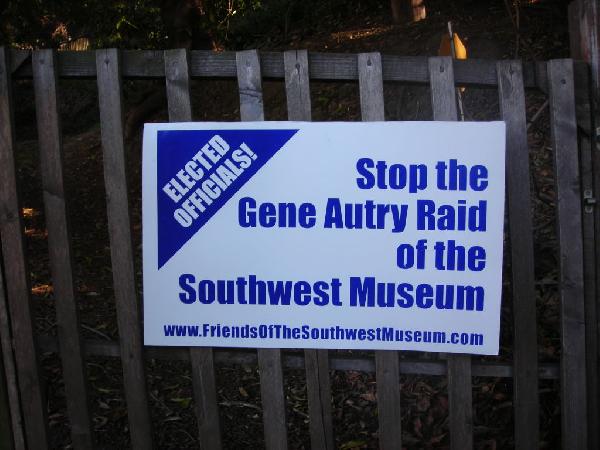 swyardsign22007-02-16_1.jpg, image/jpeg, 1024x768

On January 31, a meeting was held at Highland Park's Ramona Hall to update the community on the campaign to save Southwest Museum. The exhibit halls closed last summer, and the Autry National Center, the museum's current owner, has not yet presented a concrete plan for the future, except that much of the collection will eventually be relocated to a yet-to-be-constructed building adjacent to their Museum of the American West in Griffith Park.

As for the existing site, "there will be a museum in the Arroyo campus in Mount Washington," said John Gray, president and chief executive of the Autry, last June. "The collection will be stored and displayed in Griffith Park. There are two main galleries [at the Mount Washington site] that will show curated shows." The Southwest's remaining galleries, he said, are "not built at a level of museum standards that would be enticing." He also mentioned cultural and educational events for the facility, preserving the ethnobotanic garden, and continued accessibility of the research library. (More about the Autry's announced plans can be found at: Autry National Center.)

However, "[W]e champion a larger vision, not a reduction," said Nicole Possert, co-chair of the Friends of the Southwest Museum Coalition, on January 31st. "[W]e want new spaces. We want the site to be a better economic generator, and attendance generator, and a cultural center, and education [center], but we primarily want to keep it a museum.

". . . We call [the Autry plan] the Reduction Plan, and that's to give us two rooms or only 25% of what could be exhibition space. Now that's a good thing because it's better than zero, but I'm sure that if you were wanting to pay .50 or to go to a museum, it would be a little bigger than this room [at Ramona Hall] and the foyer next door. It wouldn't be very much to see. So it's not really enough of a museum experience to say it's a museum anymore."

Possert proceeded to discuss three alternative plans for the museum. She explained that these proposals, prepared by Garavaglia Architecture , include a rehab of the Museum as well as "everything the community talked about for the last three years that would be other uses complimentary to a museum use, things that we already think that a museum does: community service, education activities, lectures, and those things."

Slides were shown of the concepts as she continued. "It all starts with parking," she explained. "I know that's a bad word, because transit is also a key component But the first time I met with Mr. Gray at the Autry before the merger occurred, the only two things they said were constraints at the time were there wasn't enough parking and the building was too small. So, this is 150 parking spaces. We propose to scoop it out from underneath the current parking lot area and use that current parking lot area as the place that we could put additional uses on the site."

She elaborated:

"Concept One would add staff work space on the lower level and utilize the space of the existing parking lot to construct new spaces [in order] to accommodate more gallery/exhibition space, new space for education or cultural center uses, and a new entryway to the Southwest Museum. This concept proposes the demolition of the current building housing the Braun Library in order to open up and provide more space for an outdoor plaza and community events.

"Concept Two retains all the current buildings but rearranges the new additional spaces in the area of the existing parking lot and would take the new space almost to the current driveway entrance. This concept puts some overflow parking spaces over at the edge of the hill that overlooks the Arroyo. And it adds a restaurant that might be tucked into the hill with very nice views.

"Concept Three also retains all the existing buildings and places the additional space in the area of the existing parking lot. This concept proposes a very long plaza with a fountain feature at the back. It also proposes a curved-shaping parking lot and an interesting canoe-shaped building tucked into the hill at the back that would be the space for the cultural center. It's envisioned to be built with a green , sustainable roof to help compliment the views from a new restaurant building proposed above it. The restaurant would be placed at the highest elevation on the Autry property to take advantage of the spectacular views of the Arroyo/San Gabriel Mountains in one direction and the downtown LA skyline in the other."

She said later that no thought had been given to the type of food that would be served at the restaurant. However, "we know, because of a community survey done by the Mount Washington Home Owners Alliance, that there is strong Mount Washington resident support for a sit-down restaurant, not a café or fast food establishment. We know that Autry indicated that they needed uses that would enhance [the] museum experience. A restaurant would drive more visitors to the site and possibly contribute actual revenues that would support the museum operations."

Various other details of the plans have yet to be thought through(1), such as ways of making the facility ecologically sound (measures that could, perhaps, include solar power, permeable pavements, and compost toilets). However, "it seems quite prudent to think that ANY new development should be in keeping with these principles of respecting nature and the environment," commented Possert.

Also, John Gray of the Autry noted last summer: "[T]o actually embed solar energy on top of the building is inappropriate given its historic nature. That isn't to say that a store of solar energy certainly couldn't be placed above the parking lot on the hills." Additionally, "We haven't gotten to the level of redoing all the plumbing, but when we do, we're going to try to do flushless toilets."

Possert further discussed the alternative plans. "We have vetted this with a preservation architect, who did the analysis to make sure that this was in keeping with the integrity of the site. So it is a preservation solution.

"We have done a cost estimate, based on the Brenda Levin study that started at almost million. This concept would be in the million range, but that includes the million that Ms. Levin's plan originally estimates. And yes, that's a lot of money, but Griffith Observatory just got million to do its retrofit and expansion."

Council member Jose Huizar then took the floor and discussed the importance of preserving "what is arguably the heart and soul of Northeast Los Angeles."

He continued: "In the last few months I've been meeting with the Autry as well as some members from the Coalition on Thursday mornings. A number of meetings have gone back and forth, and we set out a plan where I would meet with the Autry board. We said, 'What can we do to move forward, to ensure that the Autry knows that we're serious about making sure that we actually have an expanded vision of what we want to see, that we have a financial agreement that will ensure that they are committed, that we have we have the commitment that they've been giving us verbally but not in writing; and that they give us a master plan to lay out the future of the Southwest Museum.

"We know that the Autry wants to expand its Griffith [Park] site in order to possibly put more of our resources [there]. I will be opposed to any move to expand that site until we take care of the commitments [applause] we've laid out today.

"There was a question [as] to whether we would have support on the [city] council or even the mayor's office to move forward. Interestingly, with my discussions with the other council members that represent an area in proximity to this area, council member Ed Reyes and council member Eric Garcetti have told us—now you will have to get this commitment from them—but they told me that they will be generally supportive of the direction I would want to take, since I'm the council member of this area. I think that's very, very good news.

"My discussions with the mayor's office have indicated the same, but again, we have to get that commitment from the mayor's office. But generally speaking, they would be open to following the direction I would like to take. And the direction I'm taking is those items that have been expressed by the Coalition.

"That's the leverage we have right now."

Isa-Kae Meksin, a veteran activist from Echo Park, asked: "Is it possible to get a timeline so they won't wait you out? Because they've got time and money, and you will not be there forever. So is there something more concrete [so] that by a deadline decisions are made?"

"I think that's a very good piece of advice, " replied Huizar, "and I will work with the Coalition members I've been meeting with to come up with a timeline. You're right: we're waiting on them. They're either going to apply for the expansion or not. What we would need to do is let us set the tone."

Another audience member suggested declaring eminent domain for the Southwest Museum building. The council person said he would look into that as well.

Next, Dan Wright of the Coalition outlined a proposal to create a new entity capable of enforcing the Autry's pledge to keep the Mount Washington museum operating. "We have been looking at how to handle the enforcement activity," he said. "[I]f we have to go down, regrettably, the road of some type of legal action, the question that immediately came to mind was, is the Coalition structured appropriately to undertake such an effort? And we felt that it's not.

"We believe that perhaps we need to have a second entity formed that have merely the job of legal enforcement activities. For the purposes of discussion, we'll call it the Merger Enforcement Group or MEG.

"Our coalition is a broad group of concerned organizations and individuals. The Coalition has no formal decision-making structure. It essentially requires a consensus for decision-making. The Coalition's large size is really great for grassroots organizing, but it's not great for being responsive, nimble, or apt at confidential negotiations, which may be necessary a little bit further down the road."

Wright then discussed how groups and individuals can support this on-going endeavor. He stressed that money needs to be raised to aid in hiring law firms that would help devise a strategy of enforcement (though, it is hoped some of their time will be donated ). "But, even if that happens," Wright continued, "we're still talking about many thousands of dollars, five thousand maybe." He added that additional money would be needed to hire experts to flesh out the alternative plans. This would help raise public funds, which in-turn would create a "much bigger carrot to bring to the Autry."

So, he encouraged people to buy fence and/or yard signs publicizing the plight of the museum. Letters of support from groups and organizations are also being encouraged.

Also, additional community actions are planned for the future, and large numbers of participants will be needed. "At some point in the next number of months we would like to maybe do a large demonstration down at Hancock Park at the mayor's residence. This mayor stood in this room [during the mayoral debates] and said that he would jerk the chain of the Autry. Well, from my perspective, I haven't seen any chain being jerked. So we need to remind this mayor that he made solemn promise to this organization, and we expect him to come forward with his commitment."

The meeting climaxed with a series of questions and comments. David Sanchez, who helped found the Brown Berets in the 1960s and in 2005 ran for city council against Huizar, remarked: "What you're going through is terrible: look what they did to the [Griffith] Observatory. Here we had a[n] observatory where the community could go, and then all of a sudden they made it into a tourist attraction and a club for the elite. You just can't go there anymore. I'm sure the same kind of business people want to do the same thing to the museum here, to exploit the museum and everything they can. These exploiters are everywhere. They take every dime, every penny, and everything that we have out of our community." He stressed the importance for people to continue protesting and fighting.

-----

(1)Additional ideas that have been discussed by Mount Washington residents have included the growing of food at the site along with a farmers' market. Also, "I even suggested goats for the hillside," said one neighbor with a laugh. Some residents have also expressed interest in removing or replacing the American flag which the Autry attached to the exterior, but that has not been seriously addressed.

Report this post as:


by Ross Plesset Wednesday, Feb. 21, 2007 at 2:35 AM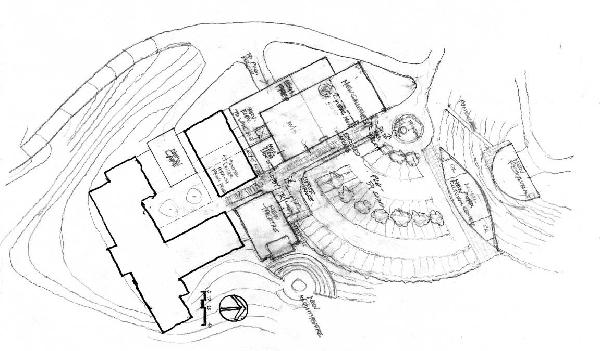 swmuseumplans1.jpg, image/jpeg, 1151x675

This is one of three scenarios being suggested by the Friends of the Southwest Museum Coalition

Report this post as:


by Ross Plesset Wednesday, Feb. 21, 2007 at 2:35 AM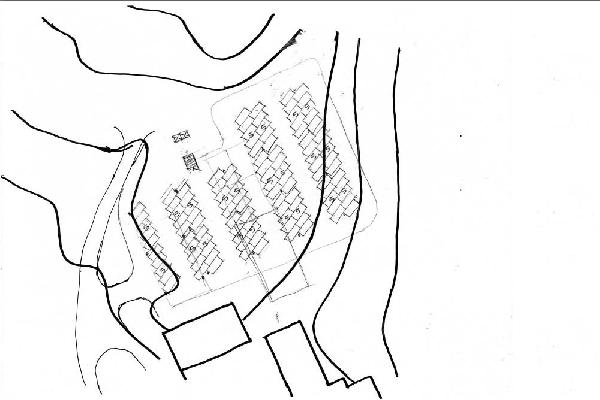 swmuseumplans2.jpg, image/jpeg, 1001x668

Report this post as:


by Ross Plesset Wednesday, Feb. 21, 2007 at 2:35 AM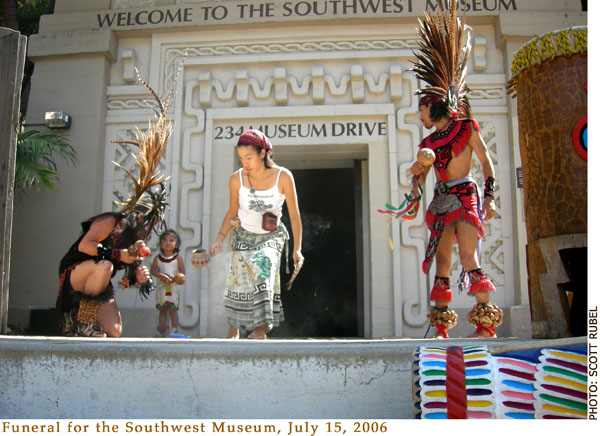 014_swfuneral_dancers1.jpg, image/jpeg, 600x436

Photos of the Funeral by Scott Rubel. Used with permisssion.

Report this post as:


by Ross Plesset Wednesday, Feb. 21, 2007 at 2:35 AM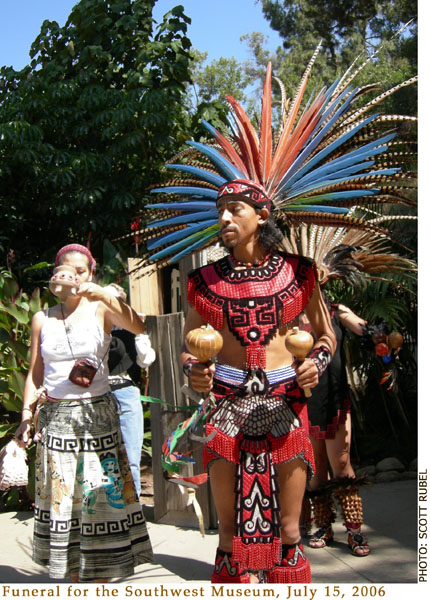 012_swfuneral_dancers2.jpg, image/jpeg, 430x600

Report this post as:


by Ross Plesset Wednesday, Feb. 21, 2007 at 2:35 AM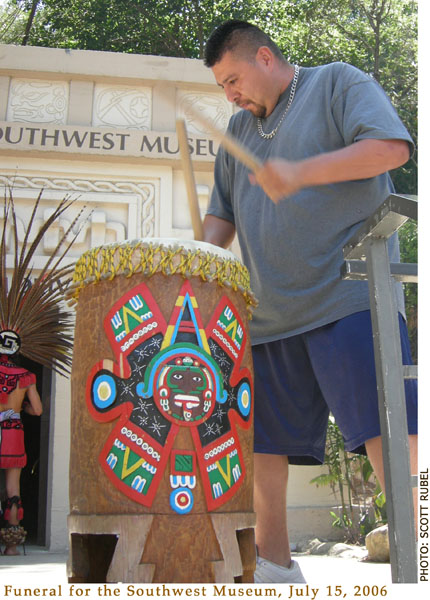 013_swfuneral_drummer.jpg, image/jpeg, 430x600

Report this post as:


by Ross Plesset Wednesday, Feb. 21, 2007 at 2:35 AM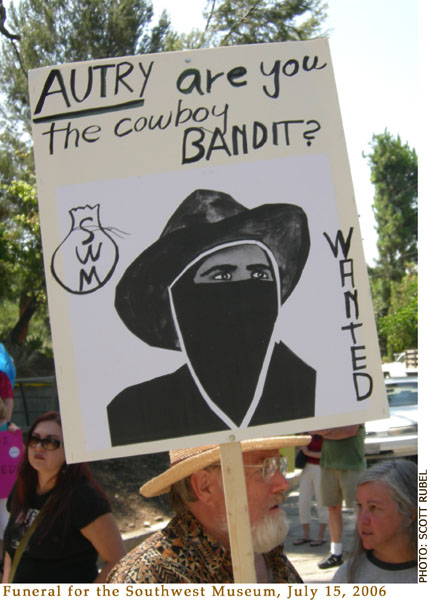 002_swfuneral_bandit.jpg, image/jpeg, 430x600

Dan Wright of Friends of the Southwest Museum expects future demonstrations, possibly including on in front of Mayor Villaraigosa's mansion in Hancock Park.

Report this post as:


by Ross Plesset Wednesday, Feb. 21, 2007 at 2:35 AM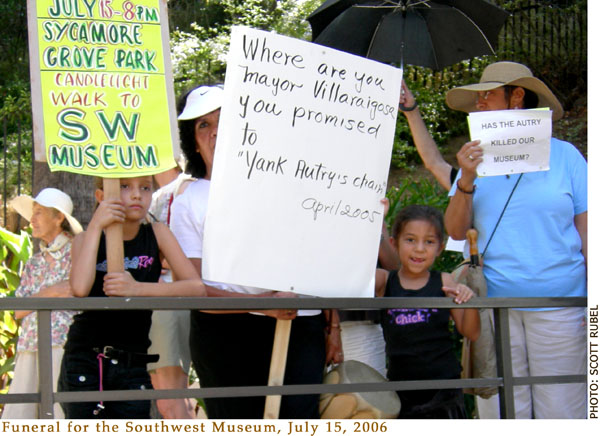 008_swfuneral_mourners1.jpg, image/jpeg, 600x436

Report this post as:


by Ross Plesset Wednesday, Feb. 21, 2007 at 2:35 AM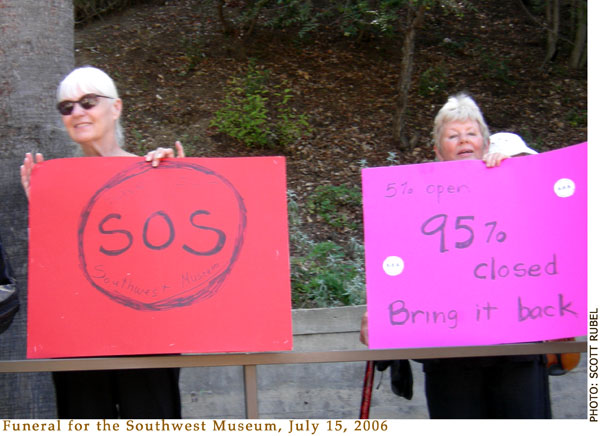 009_swfuneral_mourners2.jpg, image/jpeg, 600x436
Report this post as:
LATEST COMMENTS ABOUT THIS ARTICLE
Listed below are the 10 latest comments of 2 posted about this article.
These comments are anonymously submitted by the website visitors.

| | | |
| --- | --- | --- |
| TITLE | AUTHOR | DATE |
| Loved Gene Audry | sharon wortman farnham | Friday, Feb. 23, 2007 at 11:44 AM |
| tribes | zorro | Wednesday, Mar. 21, 2007 at 3:14 AM |
Local News

OUR HOUSE Grief Support Center Presents Night for Hope O30 5:38PM

Marshall Tuck's racist dog whistle O27 5:01AM

Marshall Tuck's ethnocentrism contradicts Californian values O27 4:32AM

Contra Costa-Hawkins O25 3:48AM

Debunking Some Anti-Prop 10 Propaganda O12 6:56AM

Why Should California Choose De Leon Over Feinstein? O10 9:55PM

Change Links September 2018 posted S02 10:22PM

More Scandals Rock Southern California Nuke Plant San Onofre A30 11:09PM

Site Outage Friday A30 3:49PM

Change Links August 2018 A14 1:56AM

Setback for Developer of SC Farm Land A12 11:09PM

More problems at Shutdown San Onofre Nuke J29 10:40PM

Change Links 2018 July posted J09 8:27PM

More Pix: "Families Belong Together," Pasadena J02 7:16PM

"Families Belong Together" March, Pasadena J02 7:08PM

Short Report on the Families Belong Together Protest in Los Angeles J30 11:26PM

Summer 2018 National Immigrant Solidarity Network News Alert! J11 6:58AM

Watch the Debate: Excluded Candidates for Governor of California M31 5:20AM

Change Links June 2018 posted M28 7:41AM

The Montrose Peace Vigil at 12 Years M22 8:01PM

Unity Archive Project M21 9:42AM
More Local News...
Other/Breaking News

Oppose Environmentally-Harmful Development D10 4:03AM

Oppose Environmentally-Harmful Development D10 3:58AM

Allo, quelqu'un ? Allo, quelqu'une ? D09 9:16AM

deral Government Officials are not allowed to take leaflets nor pick up items in privste D09 4:15AM

Communist Mouthwash Hides Nature of Nations Suffering in Comm Pyramids Ploys D09 12:01AM

Atlanta: metro Pillage, Poison Gas, Pricks D08 9:13PM

Atlanta Metro Suffers Under Pillage, Shame lso Political Poison Gases D08 8:41PM

Fed Says College Students Have More Debt than Previous Generations D07 3:08PM

Paraphysique de l'insurrection et de l'émeute D07 9:55AM

Corruption of USA government D06 4:14AM

"We live in a time of radical counter-enlightenment" D04 1:45AM

Did Woolsey Fire Cause Radioactive Fallout? D03 10:26PM

G20 Discusses Preventing Financial Crisis and Small Island Economies N30 3:10PM

Driver near Campbell San Jose researches Bus Traffic from Northern Mexico N29 4:04AM

The Death of Small Businesses in Big Cities, Explained N28 3:43PM

Felons Shw Ninjasred Heavy Truck Tyres N28 2:28PM

Paraphysique de la consommation/pollution N28 8:08AM

Paraphysique de l'effet spectateur N26 11:13AM

Condominium, terrorisme du capital N24 8:52AM

Debt and Tax Policies Needed to Prevent Crisis Says Finance Watchdog Group N23 2:40PM

Independent Media Crackdown and Global Social Movements N22 9:45PM

Abécédaire du fascisme restreint et général N22 8:41AM

"Animaniacs in Concert!" Starring Voice Legend Rob Paulsen Heads to Portland, Oregon N20 8:39PM

Socialism in American English N20 12:04PM

Noske, noskisme réactualisé N20 11:29AM

Oprah Please Stop Selling Dead Animal Pieces N20 3:32AM

Down In Smoke SF N20 12:03AM

Lucifers Banker N18 7:38PM
More Breaking News...