Tell the NSA:
StopWatching.US
Features
•
latest news
•
best of news
•
syndication
•
commentary

Feature Categories



KILLRADIO
printable version - json version - email this article - view hidden posts - tags and related articles
by Geronimo Sunday, Jan. 28, 2007 at 9:11 PM

Photos from the massive downtown Los Angeles antiwar march and rally. Local television stations reported between 5 and 7 thousand demonstrators. The antiwar movement is once again on the march - and this time we're not stopping until the troops come home!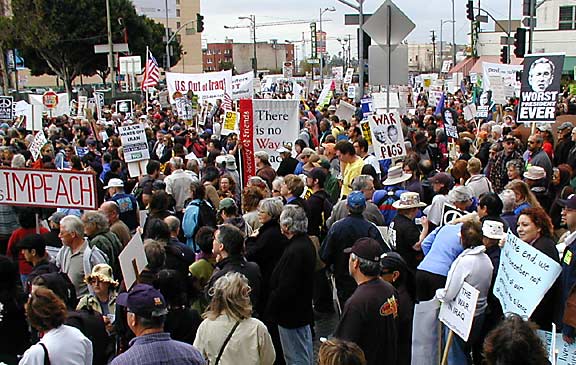 war1.jpg, image/jpeg, 576x365

The great awakening has begun! It wasn't the biggest antiwar march ever held in Los Angeles, that's coming soon, but the January 27th L.A. march marked a real sea change. At the start of the march, thousands gathered at the Democratic Party headquarters (where this photo was taken), to put the Dems on notice, "The antiwar movement is watching you - and we expect you to cut funding for this war."

America's antiwar movement is not only back, it's bigger, smarter, and determined to have its way. Everyone was at this demonstration, and by that I don't mean the usual suspects, I mean EVERYONE. Middle class housewives danced with Aztec warriors. Korean drummers exchanged telephone numbers with African American union activists from San Pedro. Punk rockers marched alongside Iraq war veterans while downtown artists decided to join the revolution and start making art for the movement. The police thought about quitting their jobs and starting new careers, while corporate news crews desperately sought out someone from Indymedia they could surrender to. I'm telling you.... the great awakening has begun!

Report this post as:


by Geronimo Sunday, Jan. 28, 2007 at 9:11 PM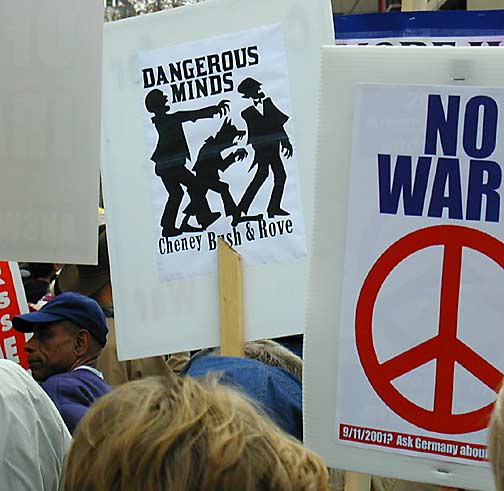 war2.jpg, image/jpeg, 504x491

So many signs! One of my favorites read, "WE'RE THE DECIDERS!" That's right baby! We're here and we're taking the country by storm! Hillary doesn't lead us! Obama doesn't lead us! The Republican politicians CERTAINLY don't lead us. We lead, they follow. We speak, they listen. No compromise.... democracy is coming to the USA.

Report this post as:


by Geronimo Sunday, Jan. 28, 2007 at 9:11 PM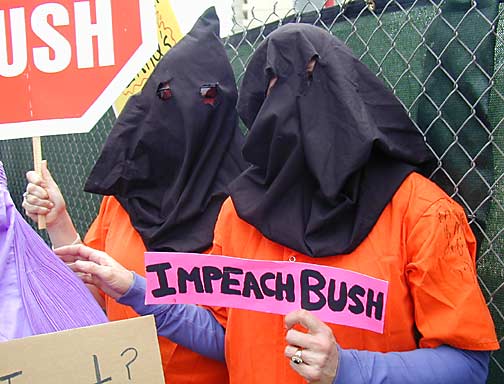 war3.jpg, image/jpeg, 504x384

Of course, if democracy wins and plutocracy looses... you won't have to go to Gitmo. Instead, Bu$hco. Inc. will be wearing the funny little orange jumpsuits.

Report this post as:


by Geronimo Sunday, Jan. 28, 2007 at 9:11 PM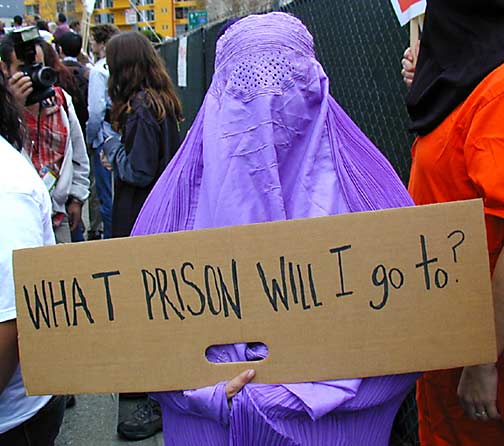 war4.jpg, image/jpeg, 504x446

The U.S. "liberates" women by installing right-wing fundamentalist regimes. Oh yes... America loves the poor people of the Middle East and wishes to free them - of their oil! Let's see now, America controls Afghanistan while that country harvests a bumper crop of opium. Heroin epidemic in the U.S. - NO CONNECTION. NOTHING TO SEE HERE PEOPLE, JUST MOVE ALONG!

Report this post as:


by Geronimo Sunday, Jan. 28, 2007 at 9:11 PM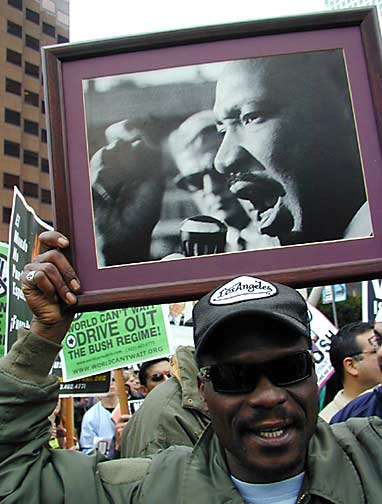 war5.jpg, image/jpeg, 382x504

The ONLY Commander in Chief WE follow is Martin Luther King Jr.

Report this post as:


by Geronimo Sunday, Jan. 28, 2007 at 9:11 PM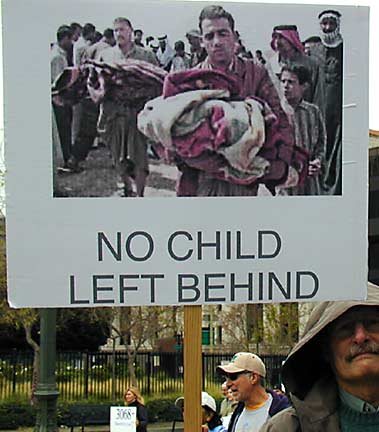 war6.jpg, image/jpeg, 379x432

Left behind in the Gulf States, left behind in the Gulf. Need a job, join the army, but don't expect veteran's benefits when you come home with half your body and mind missing. Remember, real Americans pull themselves up by their own bootsraps. It's sink or swim, pal. Watch 'em sink in the mud of Luisiana... watch 'em sink in the sands of Iraq.

Report this post as:


by Geronimo Sunday, Jan. 28, 2007 at 9:11 PM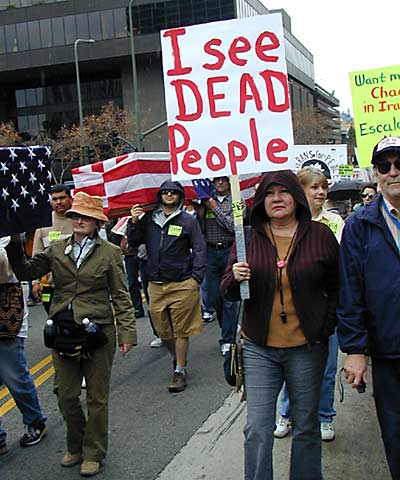 war7.jpg, image/jpeg, 400x480

"I don't wanna see them... I wanna go shopping. I support my president, he knows what's best, and he says we should support his war on terror by acting like nothins wrong, otherwise the terrorists win. We should shop and spend lots of money on our credit cards and show the terrorists that we're not afraid. We can show support for our troops and the war effort by buying HUMVEES that look just like the ones they drive around in Iraq (except ours will look so much spiffier with all that crome), that way we can have vehicles big enough to carry all the stuff we purchase at shopping malls to show the evil doers we are not affaid of them and that we are sacrificing for our country!"

Report this post as:


by Geronimo Sunday, Jan. 28, 2007 at 9:11 PM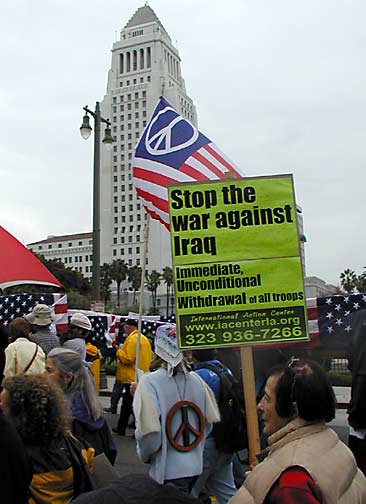 war8.jpg, image/jpeg, 366x504

At the end of the demonstration, thousands of marchers walked directly passed Los Angeles City Hall. Mayor Antonio Villaraigosa went into hiding on the day of the march. He did not speak before the 7,000 or so Angelinos who marched against the Iraq war, and he released no statement supporting the demands of the antiwar marchers. Instead, in his weekly radio address, he made an appeal to the Republicans, "In Iraq and here at home, it's time for a new direction. We must stop talking about challenges, like energy, and work together to solve them." The ONLY "new direction" for Iraq we are interested in is the one that points out the IMMEDIATE DIRECTION HOME for U.S. Troops! Remember - Mayor Villaraigosa attended a pro-Israel rally on July 23rd, 2006, to show his "support for Israel" as it was bombing Lebanon into the stone age. THAT HE CAN DO - but he can't address the people of L.A. to say that he supports what the majority of Americans want - an immediate withdrawal of U.S. troops from Iraq!

Report this post as:


by Geronimo Sunday, Jan. 28, 2007 at 9:11 PM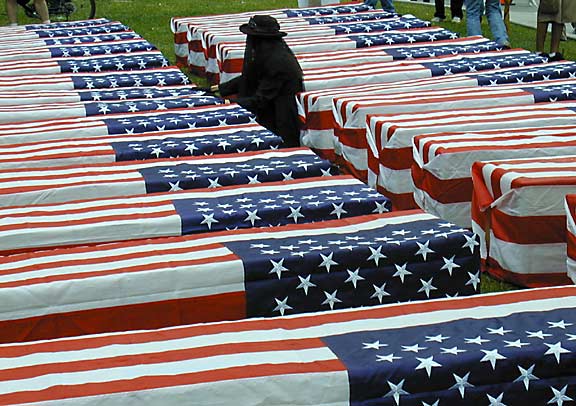 war9.jpg, image/jpeg, 576x406

Dozens of flag drapped coffins are placed on the steps of Los Angeles City Hall. How many more thousands of U.S. Soldiers will die in this bloody war for oil? Where was Mayor Villaraigosa hiding when the people of L.A. marched in their thousands to demand an end to this war? Where was his statement of support for the antiwar movement?

Report this post as:


by Geronimo Sunday, Jan. 28, 2007 at 9:11 PM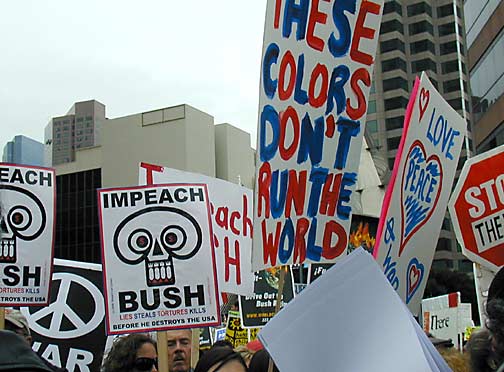 war10.jpg, image/jpeg, 504x372

"Lies, Steals, Tortures, Kills - before he destroyes the USA." A sea of signage. "These Colors Don't Rule The World."

Report this post as:


by Geronimo Sunday, Jan. 28, 2007 at 9:11 PM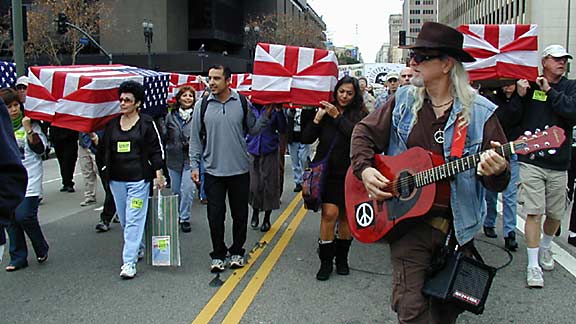 war11.jpg, image/jpeg, 576x324
Marchers carrying dozens of flag drapped coffins representing the thousands of American G.I.'s killed so far in this war for oil.
Report this post as:
LATEST COMMENTS ABOUT THIS ARTICLE
Listed below are the 10 latest comments of 2 posted about this article.
These comments are anonymously submitted by the website visitors.

| | | |
| --- | --- | --- |
| TITLE | AUTHOR | DATE |
| thanks | thanker | Monday, Jan. 29, 2007 at 1:13 AM |
Local News

Water in California - info proliferated now is dubious J28 5:04PM

Pacifica clearly endangered. Reposting info here: J28 2:34PM

Video: Occupy Love (2013), 1 hr 19 min J28 4:43AM

Who declares themselves to be the ultimate-only-valid-authority here on current wars elsew J27 11:11AM

MDRC's Rent Reform Assault: Section 8 tenants vs. affordable housing industry J24 12:24AM

Obama at LA Trade Tech J23 3:23PM

Los Angeles Joins World Wide Protest Against Israeli Aggression J22 6:33PM

Los Angeles Joins World Wide Protest Against Israeli Aggression J22 5:48PM

Los Angeles Joins World Wide Protest Against Israeli Aggression J22 5:28PM

Protest Israeli Shelling of Gaza J21 1:58AM

#SaveTheInternet Rally J20 11:24AM

PACIFICA is shify-ing more J18 8:55PM

Radical Women Study Group J16 4:43PM

KIDS REPLANT WILSHIRE FRUIT TREES UPROOTED BY VANDALS J16 2:34PM

Emails Needed by Thursday, July 17 to Save the South Central Farm (Again) J15 4:40PM

Is AFT Pres Weingarten On The Take? J12 7:45AM

LA Living in Vehicle Law Found UnConstitutional J11 12:22PM

KPFK News covers the Che Cafe struggle J10 9:33PM

Public Comment on South Central Farm Site J07 10:44PM

Successful Protest at new Burbank Hobby Lobby on 4th J06 5:17PM

Protesters Violently Arrested in Murietta J05 12:44AM

Gallery Opening Highlights Journalist's Creativity, Insights, and Passions J03 11:52AM

Indymedia On Air - Che Cafe show J02 10:27AM

Save the Che: Letter from Zack de la Rocha J29 8:47PM

Political Thriller Citizen Koch Premieres in Los Angeles J28 2:35AM

Veteran and Families of Military hold Press Conference J18 7:36AM

Furious Homeowners Occupy Lobby of Fannie Mae in Pasadena J16 4:15AM

Change Links Revival J12 12:09PM
More Local News...
Other/Breaking News

Review of Hamas violations of international law (updated) A01 9:36AM

Analysis of the TTIP chapter on food safety A01 6:05AM

Paraphysique de l'interactivité J31 11:40PM

The Shortwave Report 08/01/14 Listen Globally! J31 4:08PM

$5.3 Trillion Daily J31 7:22AM

Free Rasmea Odeh J30 11:18PM

Our Land, Our Business J29 4:40PM

Argentina Braces For Default J29 12:09PM

Back To School Fair J29 11:43AM

Dirt Dog J29 11:19AM

Christian Zionism: The Heresy that Undermines Middle East Peace J29 7:53AM

Memorandum 2014 J29 4:01AM

Paraphysique de la violence J28 9:49AM

Philippine President told: Re-energize the campaign for reforms J28 3:23AM

Panthers in the Hole: French Angola 3 Book Illustrates US Prison Crisis J27 12:13PM

¡Abajo las nuevas exacciones criminales de Israel! J27 11:41AM

looks ok to me... J27 10:32AM

Down with the latest criminal abuses by the Israeli State! J27 10:21AM

THE BOOK OF JOSHUA | ZIONAZIS J26 9:52PM

Video: Left Forum on Thomas Paine 1 hr, 23 min J26 4:21PM

Surpopulation et paupérisation J26 9:13AM

AVAAZ_GAZA_war crimes J26 8:07AM

Israeli-Palestinian Science Organization (IPSO) Struggles for Peace J26 8:02AM

Snake Valley Festival in Baker NV fights SNWA 'Water Grab' J26 6:59AM

Nuclear Bomb LA 1983, Revelations tortured Witness Recovers from 14 year coma J25 7:52PM

The Shortwave Report 07/25/14 Listen Globally! J24 5:00PM

Come for the education, Stay for the fun at the OC Health & Wellness Fair J23 10:59PM

Philippine president signs law requiring tobacco companies to put graphic health warnings J23 3:55AM
More Breaking News...