Features
•
latest news
•
best of news
•
syndication
•
commentary

Feature Categories



KILLRADIO
printable version - js reader version - view hidden posts - tags and related articles

by Laban ng Masa (Fight of the Masses) Wednesday, May. 03, 2006 at 8:25 PM

Agrarian violence claimed two more lives this month. A leader of Task Force Mapalad (TFM), Rico Adeva, 39, was gunned down by three men as he and his wife Nenita were walking to their home in Barangay Dos Hermanas, Silay City, Negros Occidental on Black Saturday. He suffered seven bullet wounds – in the head, stomach, chest, and hand. Meanwhile, in Davao, the Secretary General of the National Coordination of Autonomous Local Rural People's Organizations (UNORKA), Eric Cabanit, was assassinated by two masked men while he was in a public market in Panabo last April 24, 2006. His daughter, who was with him when the shooting happened, was also wounded and is still in critical condition.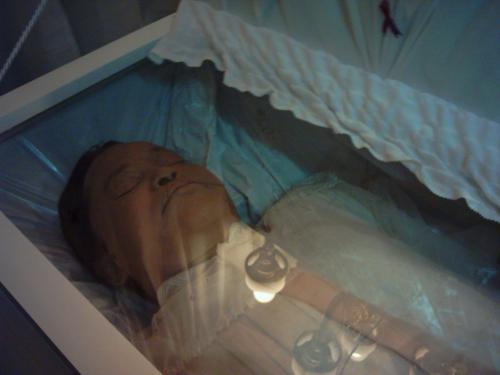 eric-cabanit.jpg, image/jpeg, 500x375

by AKBAYAN Rep. Risa Hontiveros

The killing of Adeva and Cabanit are clearly agrarian reform-related. Indeed, we expect more cases of violence because CARP is already in its last – and arguably most difficult – stretch. The government has already distributed non-controversial public and private lands, while controversial and large haciendas remain untouched. Big land owners have cultivated a sense of impunity hardened by the government's coddling of landed interests, private armies, and the lack of political will to redistribute lands.

Adeva's organization, TFM, a network of more than 300 peasant groups, has confronted several cases of agrarian violence in the past and some of its members had been killed by private armies supported by landlords who are opposed to the full implementation of the Comprehensive Agrarian Reform Program (CARP). In one case in Negros, a sixty-year old CARP beneficiary fondly 'Nanay Teresa Mameng' by her fellow peasants, was found dead after gunmen randomly fired at an agrarian reform community. Nanay Mameng's case resulted in a congressional investigation on agrarian violence in Negros, where vast lands, some of them owned by the Arroyos or protected by the Arroyos, still have to be acquired and distributed under CARP. In Congress, we have been challenging Rep. Iggy Arroyo and President GMA herself to make a firm stand against agrarian violence and pave the way for the full implementation of agrarian reform in the island. In both Negros Occidental and Oriental, more than 2, 000 Certificate of Land Ownership Award (CLOA) holders have not been installed in farm lands given to them because of strong resistance from hacienderos who resort to legal manipulations and violence to retain control over their land.

In the case of Ka Eric from UNORKA, the redistribution of the 5, 000 hectare Davao Penal Colony (DAPECOL), which is still controlled by the Floirendo clan, is being eyed as the main motive behind his assassination. DAPECOL should have been distributed years ago, but the Floirendos have successfully blocked attempts to give the land to more than 8, 000 workers.

We are posting below a very moving statement released by the Partnership for Agrarian Reform and Rural Development Services (PARRDS), where Ka Eric served as a Board Member. The statement was subsequently published in Land and Justice, a special publication by PARRDS, UNORKA, and PEACE Foundation to cover the justice campaign for slain peasant leaders. (Click here for more updates on the killing of Ka Eric)

TO FALL LIKE A SEED

Throughout his entire life, Enrico Cabanit has grown accustomed to the art of seed-planting—memorizing each and every step, closely following every ritual, and singing his paean to the heavens upon the coming of harvest. In the end, Ka Eric fell like the seeds that he has tendered with his firm yet loving hands, commingling with the earth with no intent of burying the past, but to instead allow new lives to sprout. This was the essence of his sacrifice.

On 24 April 2006, at around 6:10 in the evening, Ka Eric Cabanit and his daughter Daffodil was in the public market of Pandao buying what was probably their evening meal when they were shot by two identified men on top of a motorcycle. The father died instantly, sustaining at least five gunshot wounds in the head, practically destroying his skull. His daughter, on the other hand, was rushed to the Davao Regional Hospital in Tagum where she is now in ICU, suffering from a single gunshot wound that left a hole in her lungs.

The Secretary General of the Pambansang Ugnayan ng mga Nagsasariling Organisasyon sa Kanayunan (UNORKA), Ka Eric has just concluded a dialogue with a number officials from the Department of Agrarian Reform (DAR) when he was gunned down by his assailants.

During the said interface, no less than the Undersecretary for Field Operations Narciso Nieto had pledged to issue an order to the DAR regional office to release a decision by today (25 April 2006) regarding UNORKA's petition to place the 300-hectare citrus farms of the Worldwide Agricultural Development Corporation (WADECOR) under CARP.

He further promised to send a technical team to the said 1,023-hectare plantation at the soonest possible time to determine why it was exempted from the government's land reform program by former DAR Secretary Ernesto Garilao.

It is for this reason that his colleagues in UNORKA have placed the blame on the politically influential Floirendo clan which has the sole motive for his murder, being the owners of WADECOR and other similar plantations in Davao del Norte.

Ka Eric's death sets a very alarming precedent for agrarian reform advocates. It must be recalled that even prior to his murder, a spate killings were reported in April alone, targeting peasant leaders and rural activists known for their outspoken resistance to landlord domination.

And Ka Eric was no different. Not only was he a national leader of UNORKA, he was also member of our own Board of Directors and was very much active in the National Anti-Poverty Commission's (NAPC) Farmers' Sectoral Council—a legally created body that is tasked to monitor the government's poverty alleviation programs. He was also a Presidium member of the Citizens' Congress for Truth and Accountability (CCTA) which sought to disclose the truth behind the now infamous "Hello, Garci" tapes.

We believe that the masterminds of Ka Eric's murder have reckoned that with his death, it would create a chilling effect on the farmer communities in Davao del Norte, thus paralyzing their efforts to implement agrarian reform and secure the landowners' continued control of their plantations.

But they are gravely mistaken. For those of us who are left behind are even more inspired to take the cudgels for Ka Eric, to seek the perpetrators and place them before the bar of justice and finally end the centuries-old struggle for land in favor of the farmers. This is our task and we will see to it to the end.

Indeed, we are the new plants that have sprouted from Ka Eric's humble kernel.

April 29th, 2006

http://akbayanrisa.wordpress.com/

__________________________________________________________________________________________________________________

Social movement groups denounce killing of Ka Eric Cabanit, other peasants

by Dong Calmada (PEACE Foundation)

Sunday, 30 April 2006

Various social movement groups and personalities here and abroad have expressed their deepest sympathies for and solidarity with the family and colleagues of Ka Enrico Cabanit, who was assassinated by an unidentified man last April 24, few hours after a peaceful dialogue between the Department of Agrarian Reform (DAR) and Mindanao plantation workers, including Ka Eric and his group at Panabo, Davao del Norte.

Expressing shock, anger, and dismay in their respective statements were La Via Campesina, a global network of regional, subregional and national peasant movements, Movimiente Sin Tierras (MST, Brazil), FIAN International, Transnational Institute (TNI, Netherlands), ICCO, Rapid Agrarian Conflict Appraisal (RACA, Indonesia), German Bondoc Solidarity Group, Kilos-AR, Laban ng Masa (Struggle of the Masses), PARRDS, PAHRA, NOFFA, KASAMAKA, FIAN Philippines, BISIG, Peter Lavina (City Councilor of Davao), and Roger Daenekindt. All expressed a loss of a brave farmer leader and called on the Philippine government to do something concrete to bring justice to Ka Eric and other peasants killed.

Other groups and personalities have also extended support in other ways. FGN (Philippine Solidarity Group in the Netherlands) helps in generating moral, political and financial support from the Netherlands. Bishop Oscar Cruz of the Silent Majority Movement has committed to mobilize support from the Catholic Bishops Conference of the Philippines (CBCP).

More support have been coming in through the nightly mass and vigil taking place at the DAR Central Office entrance gate.

http://peace.net.ph

Profile

Ka Eric's real name is Enrico Gallardo Cabanit. His family lives in Phase 7, Gamao Subdivision, San Francisco, Panabo City, Davao del Norte. He was born on March 6, 1953 in Daliao, Toril, Davao City and married to Yolanda Almero Cabanit with three children, namely, Eric Paul, Rapunzel, and Daffodil.

Ka Eric is one of the eight children of Paulino Cuyno Cabanit and Anacita Gallardo Cabanit.

Organizational affiliations

Secretary-General, Pambansang Ugnayan Ng Mga Nagsasariling Lokal Na Organisasyon Sa Kanayunan (UNORKA)

Chairman, Wadecor Employees Agrarian Reform Beneficiaries Association, Inc. (WEARBAI)

Member, National Anti-Poverty Commission-Farmers Council

Member, AKBAYAN Peasant Caucus

Member, Laban ng Masa National Council

Vice-Chair, Philippine Ecumenical Action for Community Empowerment Foundation, Inc. (PEACE)

Board Member, Mindanao Farmworkers Development Center (MFDC)

Board Member, Foodfirst Information Action Network (FIAN)-Philipines

Board Member, Partnership for Agrarian Reform and Rural Development Services (PARRDS)



Educational Attainment

Ka Eric finished his elementary school in Magsaysay Elementary School (1960-66) in Toril, Davao City. He graduated high school at Davao Central College in 1970. He took two college courses, Bachelor of Science in Agricultural Engineering in Mindanao Institute of Technology and Bachelor of Science in Commerce in University of Mindanao.



Employment

Senior Supervisor (1976-1980), Desidal Fruits, Inc./Minda, Carmen, Davao del Norte (DFI)

Part-time Instructor (1977-1980), Manay Barangay High School/Manay, Panabo, Davao del Norte

Farm Overseer (1981-1996), Worldwide Agricultural Dev't. Corp/Minda, Carmen, Davao Norte

Assistant Secretary, Mayor's Office (1998-1999), Local Government Unit of Carmen/Municipality of Carmen, Davao Norte

KB Chairman (1977-1981), SB Secretary (1977-1983), Councilman Elect (1983-1985), Minda Barangay Council/Minda, Carmen, Davao del Norte



Organizations and individuals that issued statements

11.11.11 http://www.11.be

BISIG: Bukluran para sa Ikauunlad ng Sosyalistang Isip at Gawa, http://www.filipinosocialist.org/

Bondoc Solidarity Group, Germany

FIAN: Foodfirst Information Action Network, Germany, http://www.fian.org

FIAN-Belgium

FIAN-Honduras

FIAN-Philippines

Fr. Robert Reyes

ICCO: International Organization for Development Cooperation, Utrect, the Netherlands

KASAMAKA: Kalipunan ng mga Samahang ng Maralitang Magsasaka sa Kanayunan

Kilos AR: Kilusan para sa Pagsusulong ng Repormang Agraryo

Laban ng Masa Kanayunan (Struggle of the Masses-Rural), http://www.labanngmasa.org/

La Via Campesina, http://www.viacampesina.org

MST: Movimiente Sin Tierra (Movement of the Landless, Brazil), http://www.mstbrazil.org

NOCPED: Negros Oriental Center for People's Empowerment and Development

NOFFA: Negros Occidental Federation of Farmers' Associations

PAHRA: Philippine Alliance of Human Rights Advocates

PARRDS: Partnership for Agrarian Reform and Rural Development Services, Inc.

Peter Lavina, Davao City Councilor, http://www.funchain.com/~peterlavina

RACA: Rapid Agrarian Conflict Appraisal, Indonesia

Roger Daenekindt, Belgium

TNI: Transnational Institute, the Netherlands, http://www.tni.org

Supporting Groups

AGAPE: Advocates for Genuine Advancement of People Empowerment

Akbayan (Citizens' Action Party), http://www.akbayan.org

DAR-Bahay Ugnayan

FGN: Philippine Solidarity Group, the Netherlands

Kilos AR

Laban ng Masa (LnM), http://www.labanngmasa.org/

Sarilaya

http://peace.net.ph

More Photos: http://peace.net.ph/index.php?option=com_paxgallery&Itemid=36&task=table&gid=4



__________________________________________________________________________________________________________________

Murder of TFM community organizer , Rico Adeva, condemned

Wednesday, 19 April 2006

The Kilusan para sa Pagsusulong ng Repormang Agraryo (Kilos AR, Movement Advancing Agrarian Reform in the Philippines) last April 17 condemned the killing of Task Force Mapalad's community organizer, Rico Adeva, 39 years old. According to TFM, Adeva and his wife were walking home after buying food when three men emerged from the sugarcane fields and shot him down. The incident took place in Silay City.

Kilos AR's statement is as follows:

The Kilusan para sa Pagsulong ng Repormang Agraryo [Kilos AR], a coalition of peasant and non-government organizations working for agrarian reform, strongly condemns the inherently inhuman attack against fellow advocate, Rico Adeva, a known community organizer of Task Force Mapalad, who was shot to death by unknown armed men in Silay City, Negros Occidental.

We stand by the families of the victim in grief and sadness over the unjustified tragedy they had to face at the eve of the commemoration of Easter Sunday and firmly demand that justice be served for the sake of the five children left by the victim.

At the same time, we believe that Adeva's killing has something to do with silencing known advocates of farmers' right since it is the latest assault among the documented cases of shooting, mauling, straffing, intimidation and burning of houses and farms of known members and affiliates of Task Force Mapalad in Negros Occidental and Oriental.

In the wake of this event, we urge the government to relentlessly pursue land reform in Negros in favor of the farmers to end the decadelong agrarian related violence instigated by resisting landowners in an effort to obstruct and delay the implementation of a legitimate program until it expires in 2008.

We believe that Mrs. Gloria Macapagal-Arroyo must condemn and denounce such act of landowners and lessees as counter-productive, anti-government and worthy of life imprisonment.

At the very least, the Department of Agrarian Reform must protect the gains of agrarian reform program as well as defend the farmers against the use of power and violence to discourage beneficiaries in pursuing their legitimate claims for land that are rightfully theirs in the very first place.

Hence, together with the broader community of agrarian reform and human rights advocate, we earnestly sought for the just resolution of the killing of Rico Adeva and demand that the government act swiftly on its mandate to enforce agrarian reform program and protect its beneficiaries. #

http://peace.net.ph/

__________________________________________________________________________________________________________________

KPD condemned the brutal slaying of PKMM Kabankalan Chair Porferio Maglasang

The Kilusan para sa Pambansang Demokrasya (KPD) - Negros, in a statement, has condemned the brutal slaying of its leader. While demanding an investigation of the extra-judicial killings, KPD- Negros asked the local government of Negros to put a stop to the series of human rights violations.

BACOLOD CITY - Another leader of a farmer's group was killed in Brgy. Camansi, Kabankalan City, by three unidentified armed men on Saturday, a week after a community organizer of Task Force Mapalad was also gunned down in Silay City, Negros Occidental.

The victim was identified as Porferio Maglasang, a father of eight children and chairperson of the Pambansang Katipunan ng Makabayang Magbubukid-Kabankalan chapter.

Supt. Roderick Alba, Kabankalan police chief, yesterday said Maglasang was forcibly taken out from his residence, and shot by his executioners in his own backyard in Sitio Caraan, Brgy. Camansi, Kabankalan City.

Alba said Maglasang sustained multiple gunshot wounds in different parts of his body, which led to his death.

The Kilusan para sa Pambansang Demokrasya (KPD) - Negros, in a statement, has condemned the brutal slaying of its leader.

While demanding an investigation of the extra-judicial killings, KPD- Negros asked the local government of Negros to put a stop to the series of human rights violations.

The slaying came exactly a week after a community organizer of the Task Force Mapalad was gunned down in Silay City, Negros Occidental. The police has yet to establish the identities of the gunmen who killed TFM leader Rico Adeva.

Adeva,39, also suffered multiple wounds - four in the head and one each in the stomach, right side of his chest, beside the mouth and left ear, waist and right hand, after he was shot by four unidentified men in Brgy. Bagtic, Silay City.

KPD- Negros said Maglasang was among the leaders of evacuees who fled during the launching of Oplan Thunderbolt by the military in southern Negros, especially in the areas of Sipalay, Cauayan, Candoni, Ilog and Kabankalan areas.

Prior to his death, Maglasang and other PKMM members were in a long-drawn out struggle over some 2,000 hectares of cogonal land in the upland areas of Kabankalan City, being tilled by almost 1,000 families.

Alba said they have not yet established the motive of the killing of Maglasang, except that the suspects were all young men.

Task Force Mapalad said in a statement that an independent committee composed of lawyers, church workers and human rights advocates, will be formed to investigate the killing of Adeva.

TFM-Negros president Rodito Angeles said the probe body will gather facts and information to shed light the murder of Adeva, and help the police in developing strong leads in identification of the suspects



__________________________________________________________________________________________________________________



Report this post as:


by Laban ng Masa (Fight of the Masses) Wednesday, May. 03, 2006 at 8:25 PM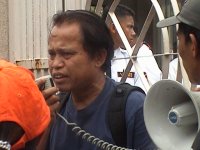 eric_cabanit.jpg, image/jpeg, 200x150

Report this post as:


by Laban ng Masa (Fight of the Masses) Wednesday, May. 03, 2006 at 8:25 PM


eric-cabanit-indignation-rally.jpg, image/jpeg, 500x375
Report this post as:
Local News

GUIDE TO REBEL CITY LOS ANGELES AVAILABLE A12 5:39PM

lausd whistle blower A10 11:58PM

Website Upgrade A10 3:02AM

Help KCET and UCLA identify 60s-70s Chicano images A04 1:02PM

UCLA Luskin: Casting Youth Justice in a Different Light A02 11:58AM

Change Links April 2018 A01 11:27AM

Nuclear Shutdown News March 2018 M31 6:57PM

Join The Protest Rally in Glendale on April 10, 2018! M29 7:00PM

Join The Protest Rally in Glendale on April 10, 2018! M29 6:38PM

Spring 2018 National Immigrant Solidarity Network News Alert! M19 2:02PM

Anti-Eviction Mapping Project Shows Shocking Eviction Trends in L.A. M16 5:40PM

Steve Mnuchin video at UCLA released M15 12:34AM

Actress and Philanthropist Tanna Frederick Hosts Project Save Our Surf Beach Clean Ups M06 12:10PM

After Being Told He's 'Full of Sh*t' at School Event, Mnuchin Demands UCLA Suppress Video M02 11:44AM

Resolution of the Rent Strike in Boyle Heights M01 6:28PM

What Big Brother Knows About You and What You Can Do About It M01 3:30PM

Step Up As LAPD Chief Charlie Beck Steps Down F14 2:44PM

Our House Grief Support Center Hosts 9th Annual Run For Hope, April 29 F13 12:51PM

Don't let this LA County Probation Department overhaul proposal sit on the shelf F13 11:04AM

Echo Park Residents Sue LA Over Controversial Development F12 8:51AM

Former Signal Hill police officer pleads guilty in road-rage incident in Irvine F09 10:25PM

Calif. Police Accused of 'Collusion' With Neo-Nazis After Release of Court Documents F09 7:14PM

Center for the Study of Political Graphics exhibit on Police Abuse posters F07 9:50AM

City Agrees to Settle Lawsuit Claiming Pasadena Police Officer Had His Sister Falsely Arre F04 3:17PM

Professor's Study Highlights Health Risks of Urban Oil Drilling F04 12:42PM

Claims paid involving Pasadena Police Department 2014 to present F04 10:52AM

Pasadenans - get your license plate reader records from police F03 11:11PM

LA Times Homicide Report F03 1:57PM
More Local News...
Other/Breaking News

Worker-Owned Car Wash on Vermont Closed A26 10:37PM

TheMilitary of Yemen IN In The 1990's A26 5:42PM

The Shortwave Report 04/27/18 Listen Globally! A26 4:03PM

Federal Bank Examiner FDIC recalls year long 1999 robbery in 2017 A26 3:24PM

Doxa du lobby A25 2:03AM

Tech workers organize A24 6:24PM

Architect Stephen Francis Jones A24 3:01PM

UN Forum Wrestles with Economic Policies 10 Years After Financial Crisis Islands Call for A24 12:34PM

Xyloglossie attitudinale A23 8:07AM

What does the Quran Say About Islamic Dress?? A21 4:15PM

Biodiversité ou la nature privatisée A20 11:22AM

The Market is a Universal Totalitarian Religion A20 7:14AM

Book Available about Hispanics and US Civil War by National Park Service A19 5:52PM

The Shortwave Report 04/20/18 Listen Globally! A19 4:01PM

The Republican 'Prolife' Party Is the Party of War, Execution, and Bear Cub Murder A19 11:48AM

Neurogenèse involutive A18 9:21AM

Paraphysique de la dictature étatique A16 10:13AM

Book Review: "The New Bonapartists" A16 3:45AM

The West Must Take the First Steps to Russia A14 12:25PM

Théorie générale de la révolution ou hommage à feu Mikhaïl Bakounine A14 3:30AM

The Shortwave Report 04/13/18 Listen Globally! A12 3:50PM

"Lost in a Dream" Singing Competition Winner to Be Chosen on April 15 for ,000 Prize! A12 3:48PM

The World Dependent on Central Banks A12 4:43AM

Ohio Governor Race: Dennis Kucinich & Richard Cordray Run Against Mike DeWine A11 9:40PM

March 2018 Honduras Coup Again Update A10 10:52PM

Apologie du zadisme insurrectionnel A10 3:33PM

ICE contract with license plate reader company A10 1:14PM

Palimpseste sisyphéen A09 11:23PM
More Breaking News...