Features
•
latest news
•
best of news
•
syndication
•
commentary

Feature Categories



KILLRADIO
printable version - js reader version - email this article - view hidden posts - tags and related articles


View article without comments by . Wednesday, Nov. 10, 2004 at 10:27 PM

Tanks on the streets of LA
LOS ANGELES, November 9, 2004 - At 7:50 PM two armored tanks showed up at an anti-war protest in front of the federal building in Westwood. The tanks circled the block twice, the second time parking themselves in the street and directly in front of the area where most of the protesters were gathered. Enraged, some of the people attempted to block the tanks, but police quickly cleared the street. The people continued to protest the presence of the tanks, but about ten minutes the tanks drove off. It is unclear as to why the tanks were deployed to this location. Uploaded here is video from the event.

Report this post as:


by . Wednesday, Nov. 10, 2004 at 11:31 PM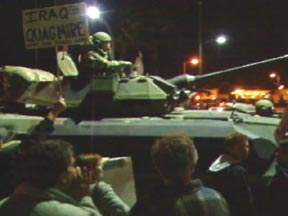 tank.jpeg, image/jpeg, 288x216

.

Report this post as:


by T Thursday, Nov. 11, 2004 at 4:33 AM


Report this post as:


by Jeremy Savage Thursday, Nov. 11, 2004 at 6:40 AM


Just watched the video. Damn I hate ANSWER rallies

Report this post as:


by Baton guy Thursday, Nov. 11, 2004 at 7:51 AM


while the rest of the sheep remained safely on the sidewalk a few of us brave souls were willing to put our lives on the line to protect our right to desent. what will do you when the time comes?

Report this post as:


by KPC Thursday, Nov. 11, 2004 at 9:43 AM


Report this post as:


by getreal Wednesday, Nov. 10, 2004 at 3:46 AM


Report this post as:


by cathytrione Wednesday, Nov. 10, 2004 at 3:49 AM
cathytrione@yahoo.com

Im sure the tanks were very successful against the "rebels" who probably were long gone--typical guerrilla manoeuver: retreat and wait...the "coalition" will find that the enemy they defeated will make peculiar reappearances...

Report this post as:


by Just Insanity Wednesday, Nov. 10, 2004 at 3:51 AM


Report this post as:


by tamara Wednesday, Nov. 10, 2004 at 3:55 AM


Report this post as:


by Steve Wednesday, Nov. 10, 2004 at 4:00 AM


Report this post as:


by David Wednesday, Nov. 10, 2004 at 4:04 AM


Heh I was thinking Army Strykers. The Marines use a completly different set of Strykers.

Report this post as:


by bananaman Wednesday, Nov. 10, 2004 at 4:04 AM
bananaman@spammail.com

Don't the Police ususally deal with those sot of incidents? John Mc Clean on holiday I take it. DUH

Report this post as:


by Steve Wednesday, Nov. 10, 2004 at 4:09 AM


Report this post as:


by Eggie Thursday, Nov. 11, 2004 at 4:22 PM


Anyone seen another source?

Report this post as:


by Michael Boldin Thursday, Nov. 11, 2004 at 4:23 PM
mboldin@populistamerica.com

Report this post as:


by Brendon Thursday, Nov. 11, 2004 at 4:25 PM


Report this post as:


by Steve Thursday, Nov. 11, 2004 at 4:29 PM


Report this post as:


by Andrew Murphy Thursday, Nov. 11, 2004 at 4:33 PM
imandrewmurphy@yahoo.com

This is totally amazing. You know, they had a lot of reporting on the protest on tv early in the evening, but there was no late coverage and certainly no mention of tanks.

Report this post as:


by Let's kill dumb people Thursday, Nov. 11, 2004 at 4:35 PM


Report this post as:


by Patriot Thursday, Nov. 11, 2004 at 4:42 PM


Report this post as:


by Jesuit Thursday, Nov. 11, 2004 at 4:48 PM


Report this post as:


by steve Thursday, Nov. 11, 2004 at 4:51 PM


Anybody that thinks this is no big deal must not remember Ohio. The problem is that the same morons that support bu$h believe nothing bad happened at Ohio State either.

Report this post as:


by Mairead Thursday, Nov. 11, 2004 at 5:03 PM


The 'lost' explanation sounded plausible...til I thought of GPS positioning and route-finding. Why wouldn't such vehicles have that when it's already an option in many common-or-garden-variety cars? (I'm not trying to impeach the author who offered the explanation; it might be the correct one, in which case other questions arise)

Report this post as:


by ANSWER Thursday, Nov. 11, 2004 at 5:05 PM


Report this post as:


by Ruth Slater Thursday, Nov. 11, 2004 at 5:07 PM
terrianda@msn.com

God bless those protestors , america is behind you. Arizona is behind you , we are fighting our own war with the illegal invassion. Bush is a madman , and he is destroying this country. I am a Republican and a conservative and I never voted for the dictator , don't blame us , we have no idea who voted for him , well ,yes we do , the election was a fraud and the final part of the cuop has taken place. Stay in there if they want a battle let it begin here. We have the right to protest and protest we will.

Report this post as:


by fine with me Thursday, Nov. 11, 2004 at 5:09 PM


Report this post as:


by Daniels Thursday, Nov. 11, 2004 at 5:09 PM


Report this post as:


by American Rationalist Party Thursday, Nov. 11, 2004 at 5:12 PM


Report this post as:


by Steve1 Thursday, Nov. 11, 2004 at 5:16 PM


Report this post as:


by Matt Hamon Thursday, Nov. 11, 2004 at 5:21 PM
matt@hopecaravan.com

Report this post as:


by Syphoon Thursday, Nov. 11, 2004 at 5:26 PM


Does anyone else think the guy in the turret is dressed like Master Chief from Halo? Given that the tank is an obvious fake, and Halo 2 was released Nov 9, I'm laughing right now at this "story".

Report this post as:


by Steve1 Thursday, Nov. 11, 2004 at 5:27 PM


Report this post as:


by Thom Thursday, Nov. 11, 2004 at 5:32 PM


Report this post as:


by RD Thursday, Nov. 11, 2004 at 5:35 PM
candour@earthlink.net

Report this post as:


by slowroll Thursday, Nov. 11, 2004 at 5:43 PM


Report this post as:


by Xmas Thursday, Nov. 11, 2004 at 5:47 PM


Report this post as:


by . Thursday, Nov. 11, 2004 at 6:02 PM


.

Report this post as:


by Sheepdog Thursday, Nov. 11, 2004 at 6:08 PM


Report this post as:


by the party we came for Thursday, Nov. 11, 2004 at 6:16 PM


Report this post as:


by dkdale Thursday, Nov. 11, 2004 at 6:18 PM


I agree with Daniels' Rev post about not blaming the soldiers and learning from what was done to Vietnam vets. Soldiers don't run the war, and the generals who do are carrying out directives from the current administration. It absolutely is important to be clear about what you are protesting and then direct it at someone who's in a position to do something about it, or at least in a position to correctly take blame. Especially if you're delivering your protest at shriek level, as the woman in his post was described as doing. Aiming venom at someone who isn't in charge isn't going to change anything, and doesn't really accomplish anything, except potentially lose people who might otherwise be on your side of the issue.

Report this post as:


by George Rosenbaum Thursday, Nov. 11, 2004 at 6:25 PM


So it begins...

Report this post as:


by buffy Thursday, Nov. 11, 2004 at 7:01 PM


Captain America: Seig heil, mein fuhrer! Let the killing begin!

Report this post as:


by proberts Thursday, Nov. 11, 2004 at 7:07 PM


Report this post as:


by Daniels Thursday, Nov. 11, 2004 at 7:14 PM


Report this post as:


by Author Thursday, Nov. 11, 2004 at 7:30 PM


Report this post as:


by poor richard Thursday, Nov. 11, 2004 at 7:37 PM


Report this post as:


by anarchist Thursday, Nov. 11, 2004 at 8:07 PM


I've read that gasoline and Quaker Instant Oatmeal in a (glass) Perrier bottle is pretty good tank repellent.

Report this post as:


by Eddie V. Thursday, Nov. 11, 2004 at 8:29 PM


If the picture proves fraud it won't be too long before you see the real thing.

Report this post as:


by intel Thursday, Nov. 11, 2004 at 8:52 PM


Report this post as:


by Jerzy Thursday, Nov. 11, 2004 at 9:04 PM


What do police need LAVs for in this situation? Intimidation. You know what intimidation is? It is an effort to curtail freedom of speech not to mention driving a tank (or parading a military unit) into an area of protest is a violation of the right of assembly. So you can try to distract from the issue by quibbling about details all you want, the facts speak for themselves.

Report this post as:


by Greasy sock Thursday, Nov. 11, 2004 at 9:18 PM


But is not safe so do not use without proper super vision by trained and qualified individuals. Soap suds work well with wheeled vehicles as do bee bees. Armor without infantry is fool hardy.

Report this post as:


by kobrien Thursday, Nov. 11, 2004 at 9:56 PM


The Canadian Government has decided to annex California. We have sent 3 of our 10 armored vehicles in to enforce discipline. If there is any dissent Celine Dion will sing the theme from Titanic on all radio stations until submission is complete. Get used to poutine and back bacon people, we've had enough and we're taking over. Also, we know how to swear in french.

Report this post as:


by Person Thursday, Nov. 11, 2004 at 10:15 PM


Far to much tinfoil in this thread.

Report this post as:


by fred in phx Thursday, Nov. 11, 2004 at 10:18 PM


Report this post as:


by chicagoan Thursday, Nov. 11, 2004 at 10:23 PM


http://www.infoshop.org/inews/stories.php?story=04/11/10/0844742

Report this post as:


by Debi White Thursday, Nov. 11, 2004 at 10:27 PM
HeartSoulHumor@yahoo.com

Story is also at www.DemWatch.blogspot.com and www.MyDD.com

www.HeartSoulandHumor.blogspot.com

Report this post as:


by none Thursday, Nov. 11, 2004 at 10:35 PM


Those weren't 'tanks' they were Marine APCs. They were obviously on their way to another location and crossed paths with the protest. Apparently a lot conspiratorial overreactors seem to think it was planned. The Marines on the other hand looked befuddled about the whole thing.

Report this post as:


by Allan In SF Thursday, Nov. 11, 2004 at 10:58 PM


Report this post as:


by Zed Thursday, Nov. 11, 2004 at 11:00 PM


Why the tanks? Such an over kill, all the wasted fuel to drive them there,wasted man power and time spent all for a handful of unarmed protesters, but then it isn't their money they are wasting it is ours,we pay for all their childlish reactions to popcorn fart protests like they were on the front lines in Iraq or something. This whole situation sucks big time!! Zed.

Report this post as:


by octavian Thursday, Nov. 11, 2004 at 11:05 PM


Report this post as:


by xx Thursday, Nov. 11, 2004 at 11:13 PM


Report this post as:


by Joe Palacios Thursday, Nov. 11, 2004 at 11:36 PM
militaryrocks0311

I a Non Commissioned Officer that was in the so-called tanks, which to be correct they are Light Armored Vehicles, I would just like to let everyone that has read your article know, we were not sent out in response of any protest. I do believe that in this country we all have the right to gather peacefully and voice our opinions. I take great pride in that, why else would I join the very thing that ensures us of that right. I mean the US Marines who have been safe guarding this nation from all enemies that would attempt to take those very rights the group last night was exercising. I would just like to add that there is nothing wrong with protesting a war you feel is wrong, but there is something very wrong, when during your protest of that war to wish harm on those young men and women who have sworn an oath to protect you and to make it so you can go out a voice your opinion. I think it is amazing how so many people protest us for doing our jobs. Did any of you know that in Iraq before we were there they would not gather to voice their dislike of Saddam policies do you think it because they like the policies... or maybe because they knew that if they did protest him tanks would show up and it wouldn't be because they took the wrong turn off the highway and need to find there way to a celebration of freedom, and to honor those men and women who serve the very people who protest them. They would be there to, an I am sorry to say, kill them. Well not in this country, not on my watch. So, please voice your opinions yell them out, but in the future don't jump to conclusions, and please for safety reasons don't jump in front a tank, or any type of armored vehicle it just not safe or very smart. I also hope that you would support your troops we would prefer to be home, but we don't leave until our job is done and done right because then the deaths suffered on both side are for nothing. I really hope that every who reads this will take the true meaning of my response. Which is I love this country, I love the people of this great place, I love the liberties we have, and I would fight against all who tried to take those liberties from us whether it be some rouge nation or if it where right here. We are not your enemy we are your shield we lay our lives down so you may be free. Thank You

Report this post as:


by David Jordan Thursday, Nov. 11, 2004 at 11:36 PM


Wait, a second. wasn't this the same day as that Mexican standoff at the Mexican consulate? That is on Wilshire and MacArthur park, maybe the APCs were on their way back from that situation. I heard on NPR that they had armored vehicles at that incident.

Report this post as:


by LAV Marine Thursday, Nov. 11, 2004 at 11:48 PM


Report this post as:


by intel Thursday, Nov. 11, 2004 at 11:54 PM


Report this post as:


by tian Thursday, Nov. 11, 2004 at 11:56 PM


Report this post as:


by @ Friday, Nov. 12, 2004 at 12:13 AM


Report this post as:


by more rational Friday, Nov. 12, 2004 at 12:19 AM


These kids need to be trained to use "mapquest." You can search for it on the web. It's very high tech, just like the web.

Report this post as:


by pissed Friday, Nov. 12, 2004 at 12:21 AM


Report this post as:


by @ Friday, Nov. 12, 2004 at 12:24 AM


Report this post as:


by pissed Friday, Nov. 12, 2004 at 12:24 AM


Report this post as:


by pissed Friday, Nov. 12, 2004 at 12:27 AM


Report this post as:


by Double G Friday, Nov. 12, 2004 at 12:38 AM


To the person who commented that the Mexican Consulate is a federal building..consulates are sovereign property, technically belonging to the country it houses. In the case of the Mexican Consulate, officially the property it sits on is considered Mexican land and law enforcement officials need the country's permission before entering. It is NOT a federal building.

Report this post as:


by Uncertain Friday, Nov. 12, 2004 at 12:53 AM
shira.aliza@gmail.com

Report this post as:


by ame Friday, Nov. 12, 2004 at 12:54 AM


Furthermore the article on the Mexican Consulate incident states that it happened Tuesday morning, so if the tanks really were trying to find the Consulate as implyed above they were at least 10 hours late.

Report this post as:


by more rational Friday, Nov. 12, 2004 at 12:59 AM


Report this post as:


by more rational Friday, Nov. 12, 2004 at 1:26 AM


Report this post as:


by Brad Friday, Nov. 12, 2004 at 1:50 AM
donnor@hotmail.com

Report this post as:


by Abraxas Friday, Nov. 12, 2004 at 2:35 AM


Report this post as:


by Douglas Friday, Nov. 12, 2004 at 2:53 AM


Report this post as:


by teacher Friday, Nov. 12, 2004 at 3:30 AM


Report this post as:


by T.McConnell Friday, Nov. 12, 2004 at 3:46 AM
supericanman@hotmail.com 805-478-6551

Report this post as:


by kbfresh Friday, Nov. 12, 2004 at 5:34 AM
kbfresh1@yahoo.com

This video APPEARS to be evidence of intimidation much like the protestors at he Republican National Convention recieved(but without the tanks). I just wish the insurgents (or as the French now call them Resistance Fighters) could see these types of protests going on in America so that they would know that not all Americans are in support of what this administration is doing to them and their country.

Report this post as:


by Common Sense Friday, Nov. 12, 2004 at 5:54 AM
jason78@eml.cc

California.......the land of fruits and nuts. Answer is a completely useless organization.

Report this post as:


by Please Friday, Nov. 12, 2004 at 6:39 AM


Report this post as:


by Common Sense Friday, Nov. 12, 2004 at 6:47 AM


California is known worldwide as being one giant rubber room

Report this post as:


by Civilian Casualty of the War on Civil Liberty Friday, Nov. 12, 2004 at 7:16 AM


Report this post as:


by Kunundrum Friday, Nov. 12, 2004 at 7:28 AM


Report this post as:


by Let's kill dumb people Friday, Nov. 12, 2004 at 8:43 AM


Would anyone really be surprised if there were tanks, or LAVs or whatever they are, rolling down the streets of any town in the U.S.? Isn't that where we're headed, toward a facist police state? It must be what we want, since we've let it happen by being stupid and apathetic. Like Adlai Stevenson said 50 years ago, people get the government they deserve, and the ignorant bumpkins that comprise the majority of this country, the great unwashed Wal-Mart masses, have got exactly what they deserve. That's why I think it's time for smart people to get rid of dumb people, the evolved do away with the unevolved. One moment of pain, then bliss.

Report this post as:


by Sheepdog Friday, Nov. 12, 2004 at 8:48 AM


The killing has been underway for centuries. The smart people are the problem if they have that annoying moral sense. They are the target of the culling process known as war.

Report this post as:


by Bill Hicks Friday, Nov. 12, 2004 at 9:06 AM


No, truly evolved, aware people, those who keep their third eye squeeged clean, are not the problem, and that is who I believe Mr. Let's kill dumb people is referring to. Just being smart isn't enough, awareness must be there too. Our education system is failing, by design, to produce aware citizens, and that is why the lower classes vote heavily in favor of the rich and powerful - they are conditioned, through junk culture, to respond to primitive imagery, like Bush holding the Bible in one hand and the U.S. flag in the other while spewing lies. The poor, dumb, uneducated, unaware masses don't realize they're being manipulated....

Report this post as:


by Let's kill dumb people Friday, Nov. 12, 2004 at 9:17 AM


Yes, Mr. Hicks, thank you, that is exactly right! I don't really advocate violence, I'm a tree-hugging long-hair hippy frustrated at the direction this country is heading and I think people need to be shocked into thinking about what's really going on. 'Nuff said.

Report this post as:


by jas Friday, Nov. 12, 2004 at 9:35 AM


Report this post as:


by waltervee Friday, Nov. 12, 2004 at 9:36 AM
gudchinafoud@mindspring.com

Go join your other terrorists in Fallujada and get what you deserve.

Report this post as:


by Jimmy James Friday, Nov. 12, 2004 at 9:57 AM
jimmyjames@gmail.com

Those aren't tanks... Those are strykers.

Report this post as:


by dacos Friday, Nov. 12, 2004 at 10:00 AM


Report this post as:


by Neutral-guy Friday, Nov. 12, 2004 at 10:03 AM


Report this post as:


by jeff whitefield Friday, Nov. 12, 2004 at 10:03 AM
chomskyreader@gmail.com

what did this change? will george w. bush stop the war now? sometime protesting just seems misguided and unproductive, but i guess someone has to do it. i mean i understand we cant let them get away with this shit, but isnt there a more productive way? one that will actually bring about change?

Report this post as:


by nells Friday, Nov. 12, 2004 at 10:11 AM
nells@dodgeit.com

Welcome to the new U.S.A WAKE UP AMERICA INFOWARS.COM

Report this post as:


by lost Friday, Nov. 12, 2004 at 10:12 AM


I am the tanks author, you were right not to buy it we were there for a parade for the following day, and were lost la streets are a bit difficult to navigate and thank you for your very intellegent comments I thank you for being so kind to us we are your tools of freedom. I hope you continue to demand change I wouldn't have it any other way

Report this post as:


by Angela Lynn Friday, Nov. 12, 2004 at 10:53 AM


www.conspiracyfact.blogspot.com

Report this post as:


by JB Friday, Nov. 12, 2004 at 11:07 AM
jb@aol.com n/a

Report this post as:


by more rational Friday, Nov. 12, 2004 at 11:19 AM


Report this post as:


by Murray Friday, Nov. 12, 2004 at 11:23 AM


Report this post as:


by lost Friday, Nov. 12, 2004 at 11:24 AM


Hey this vehicle the LAV -25 with a bushmaster cannon does not have a built-in GPS. The GPS we would use is a hand-held device that must be check out of an armory. Instead we did used map-quest which we all know is not very accurate. Do you really believe we were sent to intimidate you I think you are not being practical, and the parade was on the 10th, look it up? I am so trying to be understanding toward your cause, but you make it so hard with your rhetoric. You on one side calling troops murderers, poor dumb red necks and, how horrible our country is, and then the administration on the complete opposite you mean there is no compromise, no understanding you all are starting to make me sick and I mean both sides. Also, we all take offence to all the OH they are poor and do not know better. You think we get paid well here? You are so wrong, no one joins for money, it is something you obviously will never understand. FYI most of our unit are college graduates and come from affluent areas of Orange County and San Diego County so much for the dumb poor red neck myth.

Report this post as:


by lost Friday, Nov. 12, 2004 at 11:25 AM


Hey this vehicle the LAV -25 with a bushmaster cannon does not have a built-in GPS. The GPS we would use is a hand-held device that must be check out of an armory. Instead we did used map-quest which we all know is not very accurate. Do you really believe we were sent to intimidate you I think you are not being practical, and the parade was on the 10th, look it up? I am so trying to be understanding toward your cause, but you make it so hard with your rhetoric. You on one side calling troops murderers, poor dumb red necks and, how horrible our country is, and then the administration on the complete opposite you mean there is no compromise, no understanding you all are starting to make me sick and I mean both sides. Also, we all take offence to all the OH they are poor and do not know better. You think we get paid well here? You are so wrong, no one joins for money, it is something you obviously will never understand. FYI most of our unit are college graduates and come from affluent areas of Orange County and San Diego County so much for the dumb poor red neck myth.

Report this post as:


by more rational Friday, Nov. 12, 2004 at 11:30 AM


Report this post as:


by lost Friday, Nov. 12, 2004 at 11:32 AM


Hey this vehicle the LAV -25 with a bushmaster cannon does not have a built-in GPS. The GPS we would use is a hand-held device that must be check out of an armory. Instead we did used map-quest which we all know is not very accurate. Do you really believe we were sent to intimidate you I think you are not being practical, and the parade was on the 10th, look it up? I am so trying to be understanding toward your cause, but you make it so hard with your rhetoric. You on one side calling troops murderers, poor dumb red necks and, how horrible our country is, and then the administration on the complete opposite you mean there is no compromise, no understanding you all are starting to make me sick and I mean both sides. Also, we all take offence to all the OH they are poor and do not know better. You think we get paid well here? You are so wrong, no one joins for money, it is something you obviously will never understand. FYI most of our unit are college graduates and come from affluent areas of Orange County and San Diego County so much for the dumb poor red neck myth.

Report this post as:


by Angela Lynn Friday, Nov. 12, 2004 at 11:39 AM


www.conspiracyfact.blogspot.com

Report this post as:


by more rational Friday, Nov. 12, 2004 at 11:52 AM


Report this post as:


by smaze one Friday, Nov. 12, 2004 at 12:02 PM


Report this post as:


by American Rationalist Party Friday, Nov. 12, 2004 at 12:21 PM


Report this post as:


by American Rationalist Party Friday, Nov. 12, 2004 at 12:27 PM


Oh yeah, and calling our soldiers misled rednecks, and then insisting we should do good deeds just goes to show how hypocritical you are, how twisted up and sick in the head you are, taht you are so self-righteous, you feel the need to force "good" on everyone. Wasn't there a certain Iraqi dictator just like that? Hmmm....

Report this post as:


by ukliberal Friday, Nov. 12, 2004 at 1:01 PM


this looks like a stunt. i doubt the military would behave in this way...

Report this post as:


by smaze one Friday, Nov. 12, 2004 at 1:05 PM


Report this post as:


by Police State Friday, Nov. 12, 2004 at 2:38 PM


neither the tanks nor the baton blow i took in the back by the cowardly Westside pigs for stopping them was staged. this was clearly a show of force by the US Army reserve unit in West L.A.

Report this post as:


by Gordo Friday, Nov. 12, 2004 at 3:07 PM


Report this post as:


by Bah-Bah Demlib Sheep Friday, Nov. 12, 2004 at 3:20 PM


Report this post as:


by dano Friday, Nov. 12, 2004 at 4:00 PM


Report this post as:


by ex corporate share-cropper Friday, Nov. 12, 2004 at 4:04 PM


ahh, right and left wing part of the same bird of oppression from international money holders .. indeed .. let us remember the words of Rothschild. Everyone, find "secret weapons for silent wars" on the net and study the ideas presented. They may not be completely true, or wholesome and complete, but it provides the fuel to start the fires of cleansing. Money runs the world motherfuckers learn that, then start the search for truth. Socialism is another ploy to trick the people out of the wealth they hold in their soul as well as their land (which was bought out already, all that is left is the "human resources"), and capitalism is unabashed theft under the guise of wealth for all ... lol

Report this post as:


by Police State Friday, Nov. 12, 2004 at 4:11 PM


you are probably one the many Deomnazi's i ran into on the streets who told me i couldn't vote for Nader or that voting my conscience (Nader) was a vote for Bush. Now who are you going to blame? You don't have Nader to blame this on. how about the fact that Kerry is a right-wing democrat and people like you who believe the war "can be won" aren't needed on the protest line anyhow.

Report this post as:


by Katrin Howard Friday, Nov. 12, 2004 at 5:08 PM


Report this post as:


by Mackensie Friday, Nov. 12, 2004 at 5:31 PM


Report this post as:


by Michael Boldin Friday, Nov. 12, 2004 at 6:54 PM
mboldin@populistamerica.com

Report this post as:


by guyontheturret Friday, Nov. 12, 2004 at 9:10 PM


Hi, I'm actually on top of that LAV and we didnt know about your little protest. We were on our way to a parade that was going to happen the next morning. Please don't think this is a police state or we were sent to take you guys out. Before i go, why is it that there were people with signs saying bring the troops home, but then at the same time they were giving us the middle finger and telling us they wanted us dead and they themselves were going to kill us?

Report this post as:


by D Friday, Nov. 12, 2004 at 9:12 PM


Report this post as:


by D Friday, Nov. 12, 2004 at 9:14 PM


Report this post as:


by 2nd guy on the right Friday, Nov. 12, 2004 at 11:02 PM


Report this post as:


by YourInnerAdult Saturday, Nov. 13, 2004 at 6:04 AM


Report this post as:


by X Saturday, Nov. 13, 2004 at 6:13 AM


Report this post as:


by Ida Saturday, Nov. 13, 2004 at 7:03 AM


Report this post as:


by Me Saturday, Nov. 13, 2004 at 11:23 AM


Seriously the guy in the tank looks like master chief!

Report this post as:


by Dig Saturday, Nov. 13, 2004 at 11:50 AM


Report this post as:


by the guy standing down the tanks Saturday, Nov. 13, 2004 at 11:54 AM


you want proof this was not staged? Perhaps you should come by my home sometime this weekend and take a look at the bruises i sustained because i stood down the tanks last Tuesday night? would that be proof enough for you you f-king coward.

Report this post as:


by Report from the event Saturday, Nov. 13, 2004 at 12:11 PM


audio: MP3 at 573.1 kibibytes

MP3 file

Report this post as:


by i was there!!! Saturday, Nov. 13, 2004 at 1:22 PM


I'LL TELL YOU ALL THIS, Y'ALL STUPID!!! THOSE MANIACS BLOCKED THE LAVS THEY WOULDNT LET THEM THROUGH. THEY ARE NOT SOLDIERS THEY ARE MARINES THEY WERE THERE FOR THE PARADE THAT WAS TO BE HELD THE NEXT DAY. THIS IS WHY AMERICA IS STUPID. YOU ALL SIT AROUND AND THINK OF CONSPIRACY THEORIES AND THAT YOUR LITTLE CAUSE AND PROTEST WOULD EVEN GET THE ATTENTION OF THE MARINE CORPS OR THE UNITED STATES GOVERNMENT. GET OVER IT STOP TRYING TO MAKE A BIG DEAL OUT OF IT YOU LOSERS. NO ONE CARES IF YOU PROTEST OR NOT. YOU ALL MUST BE A BUNCH OF BORED PEOPLE WITH NOTHING GOING ON IN YOUR LIVES TO EVEN MAKE A BIG DEAL OUT OF THIS AND I BET THAT WHEN YOUR OLDER YOU'LL ALL TELL YOUR KIDS HOW THE EVIL GOVERNMENT TRIED TO RUN YOU OVER WITH TANKS... THEY'RE NOT TANKS!!!! SHAME ON EVERYBODY FOR TALKING BAD ABOUT THE MILITARY AND TELLING THEM TO DIE AND GO TO HELL. ITS BECAUSE OF THESE FINE YOUNG MEN THAT YOU CAN EVEN STAND OUT THERE AND PROTEST. YOU WOULD NOT BE ABLE TO PROTEST IN OTHER COUNTRIES. YOU ALL TAKE FOR GRANTED AND DO NOT APPRECIATE WHAT YOU HAVE.

Report this post as:


by deeperpolitics Saturday, Nov. 13, 2004 at 3:16 PM
woollam1@telus.net 250-748-6997 Canada

Report this post as:


by james Saturday, Nov. 13, 2004 at 3:34 PM
frye@cs.unr.edu

Report this post as:


by Just curious Saturday, Nov. 13, 2004 at 4:33 PM


I'm sure you've read the relevant Supreme Court decision, then?

Report this post as:


by Sheepdog Saturday, Nov. 13, 2004 at 5:24 PM


Yes, let's have common courtesy Keep the damned armor off of our streets. And it's either sloppy logistcs by getting lost or willfull intent to intimadate us with heavy weapons unless we get to carry RPG's also on the streets.

Report this post as:


by Jadeite Saturday, Nov. 13, 2004 at 6:29 PM


See? This is why us liberals lost the election, it's because people get turned off to tinfoil conspiracies like this. "OMG Tianammen Square111!" is not a way to win people over. Your lives were never in danger, and comparing yourselves and this protest to the Chinese crackdown is an insult to real protestors, not charlatans like yourselves!

Report this post as:


by Rutiger Saturday, Nov. 13, 2004 at 6:30 PM


Report this post as:


by fellow american Saturday, Nov. 13, 2004 at 8:44 PM


regarding kilichins comment. his words dont upset me. i understand he doesnt understand. hes a product of society. dont hate him. love him so he can learn. like jesus said. anyway,"ACCEPT". accept what? that people are being unjustly killed. and who is to say what is just anyway. people are getting killed, mothers sisters brothers, who cares which side of the imaginary line they are 'from'. we are all humans. weall love, all cry when a loved one dies and the pain is just the same. so why. why accept it. babies dying. i dont accept it!!!!!!!!!! i wish i would grow some balls and do something more. life deserves it.

Report this post as:


by fellow american Saturday, Nov. 13, 2004 at 9:07 PM
dont give up, freedom awaits

I like how they did it back in the day when the king or bush was at the front line commanding the army. it kept em honest. if a leader wont fight his own war...

Report this post as:


by fellow american Saturday, Nov. 13, 2004 at 9:07 PM
dont give up, freedom awaits

I like how they did it back in the day when the king or bush was at the front line commanding the army. it kept em honest. if a leader wont fight his own war...

Report this post as:


by TW Saturday, Nov. 13, 2004 at 10:04 PM


I wonder if the military could explain this deployment? Is this constitutional? Why are we not seeing this in our newspapers or TV news? Do I see an implied threat and/or belligerency towards a group of people who appeared to be expressing their opinion, as you do, in a free society? Yes. Let the military explain this.

Report this post as:


by fellow american Saturday, Nov. 13, 2004 at 10:09 PM
please read

us humans have the tech to have fast clean burning cars and trucks. the oil companies get the patents and hold them in their pockets and sell their earthly life destroying devices. maybe this is what the bible was talking about. maybe gods waiting for one of us to be jesus. maybe we have to save ourselves or suffer the conciquence. what the hell do i do!!!!!!!!!. i think we must unite and rebel. the earth can not phisically wait for us to systematically chage. by the way... if the devil ran the world he wouldnt let you know. he'd have us kill god in the name of god

Report this post as:


by Sheepdog Saturday, Nov. 13, 2004 at 10:15 PM


Report this post as:


by TW Saturday, Nov. 13, 2004 at 10:36 PM


I think the protesters should demand an accounting and full explanation from the military as to the reasons for the presence of the military vehicles. I saw the movie again and I find it very disturbing. The military vehicles appeared to be quite out of place. GET THEM TO EXPLAIN.

Report this post as:


by Ich Bin Ein Fallujan Saturday, Nov. 13, 2004 at 10:57 PM


Report this post as:


by G.O.D Saturday, Nov. 13, 2004 at 11:41 PM


LET ME TELL YOU SOMETHING TW. YOUR STUPID HAVNT YOU BEEN READING ALL THESE COMMENTS AND WHAT THE LA TIMES DISCOVERED?? THEY CALLED UP CAMP PENDLETON AND WERE TOLD THAT 2 LAV'S LEFT TO GO TO A PARADE THAT WAS TO BE HELD ON THE 10TH. THOSE GUYS WERE CLEARLY LOST IN LA AND IF U WATCHED THE VIDEO YOU'D HEAR SOME IDIOT YELLING OUT " HEY BLOCK THEM GET IN FRONT OF THEM." THEY WERE TRYING TO TURN BUT GOT BLOCKED BY THOSE IDIOTS. STOP THINKING THAT ANYBODY NEEDS AN APOLOGY OR AN EXPLAINATION, CAUSE ITS ALREADY BEEN EXPLAINED. SO TO ALL YOU IDIOTS OUT THERE THAT WANT TO MAKE A BIG DEAL OUT OF THIS. GET OVER IT. WHY WOULD THE UNITED STATES MARINE CORPS SEND OUT 2 LAV 25'S FROM 90 MILES AWAY, UNARMED, TO SQUASH A GROUP OF BORED HOUSEWIVES AND DADS. LAV'S HAVE TIRES THEY CAN DRIVE ON THE STREETS. CAN YOU IMAGINE HOW MUCH MONEY THE MILITARY WOULD WASTE IF EVERYTIME THEY HAD TO MOVE ONE OF THESE THINGS THEY HAD TO CALL UP A FLAT BED??? HEY ITS GOT WHEELS DRIVE IT. Y'ALL JUST A BUNCH OF CLOWNS SITTING AT HOME WATCHING TOO MUCH CONSPIRACY THEORY. NOW LETS STOP ARGUING ABOUT WHAT THESE THINGS ARE... THEY ARE LAV 25'S. THEY WERE THERE FOR A PARADE THAT WAS GOING TO BE HELD THE NEXT DAY. THEY GOT LOST IN LA. THESE FOOLS GOT IN FRONT OF THE LAV'S AND BLOCKED THEM. WHAT DO Y'ALL WANT THEM TO DO??? RUN THE PEOPLE OVER OR JUST SIT THERE FOR 5 MINUTES LIKE THEY DID??? THE MARINES DIDNT SAY ANYTHING TO THE PROTESTERS. THEY DIDNT CARE ABOUT THE PROTEST THEY JUST WANTED TO FIND THE ARMY RESERVE CENTER, WHICH WAS ON THE SAME BLOCK , AND GO TO SLEEP. IF ANY ONE OF YOU ARE EVER IN OCEANSIDE , WHEN I DRIVE BY THERE I ALWAYS SEE LAV'S DRIVING ON THE FREEWAY. THOSE MARINES WERE AS SURPRISED TO SEE THE PROTEST AS THE PROTESTERS WERE SURPRISED TO SEE THEM. OK SO ENOUGH ABOUT THIS " TANKS AT THE PROTEST CRAP" IM SICK OF HEARING ABOUT IT. DON'T Y'ALL GOT SOMETHING ELSE BETTER TO DO??? LIKE BUY STUFF ON EBAY?? OR MAKE SIGNS AND PRATICE YOUR HELL NO WE WONT GO CHANTS???

Report this post as:


by M Sunday, Nov. 14, 2004 at 1:31 AM


Report this post as:


by Dr. Demento Sunday, Nov. 14, 2004 at 5:49 AM


Report this post as:


by John Kerry-Kohn Sunday, Nov. 14, 2004 at 7:45 AM


Report this post as:


by Kevin Puppos Sunday, Nov. 14, 2004 at 9:22 AM
t.puppos@solarstop.net

Report this post as:


by Kevin Puppos Sunday, Nov. 14, 2004 at 10:04 AM


Report this post as:


by John Kerry-Kohn Sunday, Nov. 14, 2004 at 10:14 AM


Report this post as:


by Dartagnion Sunday, Nov. 14, 2004 at 12:58 PM

Local News

Large Turnout for Dakota Pipeline Protest N16 3:35PM

NODAPL N15 2:24PM

Cruel Teacher Taunts 6th Grade Kids, Fired N12 8:47PM

How Cities Can Protect People Threatened By Trumpism N12 8:17PM

What ThisMeans, How This Happened, What to Do Now N12 5:03AM

PROTEST TRUMP TONITE N11 2:55PM

Westside Thanksgiving for everyone in LA ! N11 12:36PM

FOR A WORLD WITHOUT NUCLEAR RISKS   N10 5:05AM

Non-violent protest ideas; hooch bomb recipe N09 7:42AM

Nuclear Shutdown News October 2016 N05 6:17PM

State Legislature is where it's at N03 10:16PM

Tom Hayden on The Unfinished Business of Democracy O28 4:49AM

Video: Tom Hayden, Listen Yankee! 2015 O25 10:56AM

Art About Privilege Censored on Facebook O23 3:16AM

SAG-AFTRA video game performers on strike O22 11:04PM

Stop Circus Animal Suffering – Protestors Urge Audiences to Shun the Wild Animal Circus O20 3:04PM

KPFK LSB statement on DAPL arrests O19 10:25AM

Transit Dependent Residents Need a Guaranteed Right to Stay O15 11:36PM

My letter to JJJ on JJJ O11 12:33PM

Prop 60, Condom Law O10 12:43PM

KPFK-Pacifica Radio Archives being sold off on ebay? O10 10:31AM

KPFK struggles without re-solutions O07 2:25PM

Problems with Measure M O05 5:24PM

Stop Circus Animal Suffering – Protestors Urge Audiences to Shun the Wild Animal Circus S07 5:57PM

Nuclear Shudown News Aufust 2016 A30 3:46PM

WIKIpedia is not what we readers Thought nor is it even current about Pacifica or KPFK A24 3:10PM

"KPFK has a $500,000 deficit " !! Can this be true? A19 6:10AM

Nuclear Shutdown News July 2016 A01 1:36PM
More Local News...
Other/Breaking News

Vive l'anarchie vive l'humanité D11 12:58AM

Rapist Donald Trump and His Collaborators vs Successful Revolution D10 1:06AM

Insights D09 7:10PM

O YOU NEED AN URGENT LOAN FOR XMAS!!!!!! D09 11:30AM

(A-Radio) Anarchist Black Cross Czech: Presentation on Operation Fenix and related issues D09 9:33AM

US Election as a Turn of an Era D09 5:03AM

The Shortwave Report 12/09/16 Listen Globally! D08 4:29PM

Collaborationnisme holiste D07 10:31PM

USA's Cowards D07 6:48PM

Paraphysique du cyberespace D05 10:39PM

Require a Citizenship and Constitutionality test for all Lawmaking Bodies – Robert George D05 1:17PM

Mobile Combat Generator D05 6:14AM

Stop Jeff Sesssions From Making U.S. into a Sadistic State! D05 5:04AM

Democracy and the Uncanny Power of Money D05 4:29AM

Global Warming / Climate Change - What's it all About? D04 10:22PM

Mobile Combat Live Generator D04 2:15PM

Don't Deforest For The Holidays D04 10:20AM

Movies and Series Online D03 8:04AM

Dissymétrie symétrique D03 1:19AM

Dissymétrie symétrique D03 1:12AM

Human rights Group applaudes Anti-Semitism Awareness Bill D02 9:39PM

Philippines: Marcos burial forms part of pattern towards authoritarianism D02 6:51PM

The Shortwave Report 12/02/16 Listen Globally! D01 5:58PM

Bullet Force Live Hack D01 8:14AM

Gamification d'incommunicabilité N30 10:21PM

Fukushima quake rock's Japan's and the globe's N30 5:37PM

Award Winning Action Documentary "Lion Ark" Available on DVD N30 10:50AM

Donald Trump as the Antithesis of Liberal Politics N29 6:23AM
More Breaking News...