Animal Rights: 1 next page | single feature archives | weekly archives
---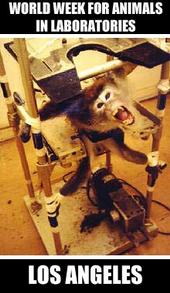 WORLD WEEK FOR ANIMALS IN LABS 2010
About 50 activists gathered in Westwood to protest the use of live animals in outdated experiments at UCLA. Four activists dressed as a monkey, rabbit, beagle and cat with bloody bandages sat in cages for hours until they were "liberated" by masked activists dressed in black.
Since the early 80's UCLA has been funded by government agencies NIH and NEI to perform questionable experiments on live animals such as methamphetamine and tobacco addiction in non-human primates. Joaquin Fuster has received over $5,000,000.00 to study the stimuli of non-human primates brains. A barbaric experiment which involves restraining non human primates in restraint chairs, drilling into their skulls, inserting electrodes and in order to force them to "reach" for sustenance deprives them of food and water for up to 24 hours. These experiments often result in infections of the brain and are most certainly invasive, painful and unnecessary causing extreme stress and eventual death of the monkey. Virtually identical research funded by taxpayers is being done in other Californian universities as well as hundreds of labs across the states with no benefit to medical advancement.
Full report: WORLD WEEK FOR ANIMALS IN LABS 2010 by Igraine Pendragon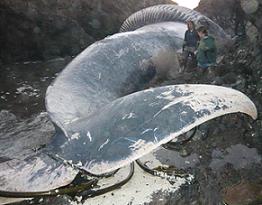 Navy's New Sonar System Suspected in Blue Whale Deaths
On August 31, 2009 an appeals judge lifted an existing ban on Navy sonar, and ruled against a lawsuit that would have prevented the U.S. Navy from resuming sonar training exercises off Southern California. The training exercises thus commenced on September 11, 2009 off San Diego. Within two weeks at least three great blue whales were reported floating dead off the Southern California coast. On October 12, another great blue whale was found dead off Big Sur. On Monday, October 19 yet another blue whale washed ashore, this time at Fort Bragg in Northern California. The latest incident has raised serious questions of whether or not the sonar used by the survey vessel confirmed to have hit the whale might have been responsible.
Full report: Blue Whale Deaths Off the California Coast by David Gurney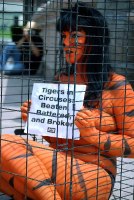 PETA vs. Ringling
Thursday, June 25, 2009: PETA activists staged a 'caged tiger' protest in downtown Anaheim. Their goal: to educate the public about Ringling Circus animal abuse. One supporter pointed out that animals suffer as do humans, and that "the planet belongs to them, too."
"I think it's very sad that we use animals for entertainment," remarked another supporter. A passerby was more critical, saying that "you" need to start by learning to respect people first.
Photos and video: PETA vs. Ringling by df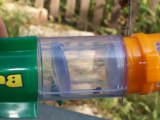 Obama Needs a Bug Vacuum
There is a better way to deal with insects. Various companies make a science toy called the Bug Vacuum. (The one I've been using is made by a company called Summit, which I bought at a school supply store .) It sucks insects into a transparent holding area so that children can study them and then turn them loose. However, for the last several years, I've been using it to catch bugs in my home and set them free outside.
Story and photos: Obama Needs a Bug Vacuum by RP
12/05/2008
The LA Zoo recently spammed its member email list and urged everyone to call local government and to take shuttles to city council meetings to voice their support for the Pachyderm Forest elephant exhibit that is currently under construction. The used a very nasty tone in emails sent and referred to the animal rights activists and city council member who are against the exhibit as "a small group of extremists" and continued on to say they were trying "to deny your families and your children the opportunity to see these magnificent creatures in a spacious, nurturing environment at the Zoo." . . . I strongly disagree with the zoo and side with those opposing this exhibit. The zoo should be spending their money and using their extra space to expand and repair the existing animal exhibits to make life a bit better for the creatures already having to live there. . . .
Announcement/essay: LA Zoo Elephant Drama by Kalimac Brandagamba
---
Animal Rights: 1 next page | single feature archives | weekly archives