printable version - js reader version - view hidden posts - tags and related articles

by April Ingram Thursday, Feb. 02, 2012 at 10:31 PM
323 850 8580
Actor Rik Martino claimed his pigeons at animal control, only to find that they have been euthanized.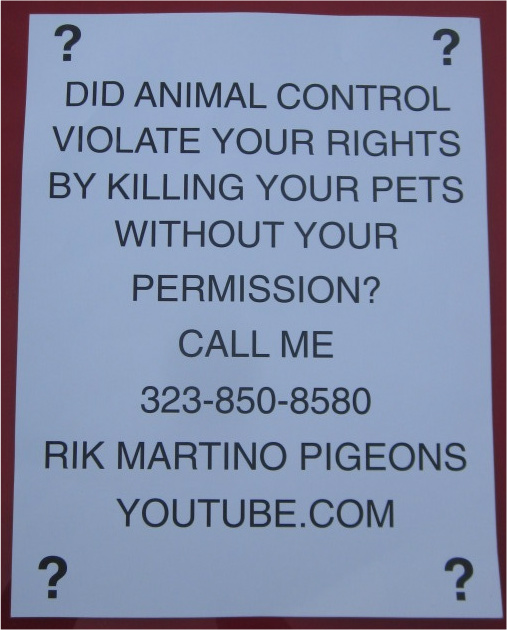 img_3249.jpg, image/jpeg, 507x630
Rik Martino loves pigeons, and he has rescued and cared for many pigeons that were injured and ill. In the summer of 2011, hard times fell on Martino and he lost his apartment. But that did not get him down, as he found a street on East Hollywood to "occupy" with about 20 of his pet pigeons. The pigeons were kept in cages because of broken wings, feet, or were too old to fight for food in the survival-of-the-fittest world of feral pigeons. None of the pigeons were sick enough to put down, and responded well to the care that Martino gave them.

However, one can only occupy public space so long before someone complains, and one day an overly-concerned citizen complained about Martino and his pigeons. Animal control confiscated Martino's pigeons, because they did not approve of the type of cages they were housed in. The officer told Martino he could claim the pigeons at the animal shelter after a few days. When Martino came back to claim his pigeons, animal control told him there wasn't enough room in the shelter to house the pigeons so they euthanized them. "These people are criminals who killed my pets," said Martino.

www.youtube.com/watch?v=lmPcIvV33kc
Report this post as: