Anti-War: 1 next page | single feature archives | weekly archives
---
Carlos Montes Arraignment and Protest in Alhambra, California
June 16, 2011: Seven thirty in the morning at the Alhambra Court House in southern California saw a strong showing of anti-FBI repression activists protesting the recent charges filed against veteran community activist and Brown Beret founder Carlos Montes. This demonstration was one of many being held across the country for Mr. Montes in the wake of new expansive FBI rules and an apparent new surge of repression against American anti-war and internationalist activism. There have been raids on citizens in Minneapolis, Chicago, Michigan and North Carolina as well as Los Angeles.
Mister Montes's home was raided by Los Angeles county Sheriffs and the FBI on May 17th of this year. The charges revolve around a firearms charge, however all of Mr. Monte's political and historical documents, computers and cell phones were confiscated making the original charge appear as a mere pretext for political harassment.
Story and pictures: Carlos Montes Arraignment and Protest in Ahambra, California by Robert Stuart Lowden | | Carlos Montes Arraignment and Protest in Alhambra, California (photo set 2) by Robert Stuart Lowden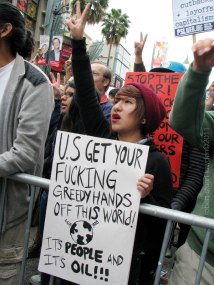 Eighth Anniversary of the Invasion of Iraq
Hollywood saw in the eighth anniversary of the official start of the Iraq war with a demonstration numbering in the mid-thousands against the the American invasion. The action was organized by the ANSWER Coalition of Los Angeles and joined by groups as diverse as 911 truth advocates, CODEPINK, Iraq and Afghanistan Vets Against the War, Ron Kovich, Military Families Speak Out, Gold Star Families for Peace, California Wellness Centers, Los Angeles Jews for Peace and a wide swath of Los Angeles Social Justice groups.
Report and photos: Los Angeles Stages Hollywood Antiwar Protest for Eighth Year,Photo Set 2, and Photo Set 3 by Robert Stuart Lowden | | More: 03-19 Antiwar March in Hollywood (1 of 3), (2 of 3), and (3 of 3) by scha-la | | Photos and videos from the March 19th Anti War Rally by Give Peace a Chance | | Related: Santa Barbara Says "No!" to War by Isla Vista Chess Clique | | March 19 Anti-War Protesters Target Obama by Mark Gabrish Conlan
Meanwhile: Despite the best efforts of the City of Claremont and the Claremont Consortium of Colleges to obstruct, befuddle, and otherwise thwart a popular demonstration against fascism, the Southern California community succeeded in doing precisely that at two parallel demonstrations in response to a heavily-armed presence of a band of racist paramilitaries and their state-funded protectors. Story and photos: Claremont Authorities Promote Fascism at Hate Rally by Rockero | | VIDEO : Rally Against Hate and Nazi Rally March 19, 2011 - Claremont, Ca by NouvelleMaude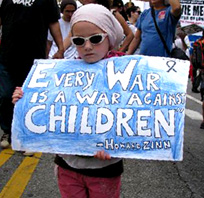 Hollywood Protest Marks Seven Years of US Occupation of Iraq
LOS ANGELES, March 20, 2010 - Hollywood Boulevard was the scene of an anti war protest marking the seventh year of the war in Iraq. It was well attended with thousands of people in the street. Groups such as Iraq Veterans Against the War, Anarcha LA, AnswerLA, Code Pink, KPFK, Goldstar Families, Military Families Speak Out, the Los Angeles Bus Riders Union and others were there making their case for the quick cessation of America's wars in Iraq and Afghanistan.
Speeches given at the end of the march focused on the immorality, imperialistic motivations, illegality, the cost to each American taxpayer and the profiteering aspects of these adventures. Speakers such as Ron Kovic, Margaret Prescod and Ryan Endicott gave fiery and impassioned testimonials.
Reports from the Newswire: Los Angeles Stages Protests Marking Seven Years of American War by Robert Stuart Lowden | | STOP THE WAR, BRING OUR TROOPS HOME, NOW! by Alliance-Philippines (AJLPP)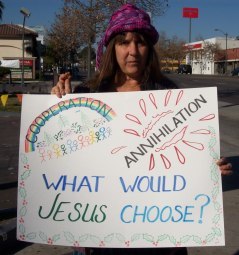 "Peace on Earth" vigil 2009
This was the sixth consecutive year (a conservative count) that the Northeast LA Radical Neighbors have held vigils on December 25. The last several vigils have been a joint collaboration with the weekly Montrose Peace Vigil.
Locations of our December 25 vigil have changed over the years. Yesterday, we had it in Eagle Rock. Six of us turned out. While many passersby were non-committal, many others gave us peace signs (and we exchanged waves with a police car). A few even thanked us for being there.
Many of ours signs addressed the fighting in Iraq and Afghanistan, but support for same-sex marriage was also prominent.
Story and photos"Peace on Earth" vigil 2009 by R of the Northeast LA Radical Neighbors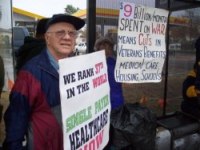 Vigiling in the Rain
The weekly peace vigil in Eagle Rock, which has only missed two weeks since it started in November 2002, has never been interrupted by weather. Yet, in past years, turnout on rainy days has ranged from one to three. Yesterday our presence peaked at six. Much of the time we vigiled in a bus shelter. One of us was recovering from the flu but came out anyway. Besides the ongoing wars, signs addressed the continued militarization of our society vis-a-vis war toys, repealing Proposition 8, and universal health care. Even though fewer people noticed us due to the weather, there was ample positive response.
Story and photos: Vigiling in the Rain by R of the Northeast LA Radical Neighbors
---
Anti-War: 1 next page | single feature archives | weekly archives