Police State: 1 next page | single feature archives | weekly archives
---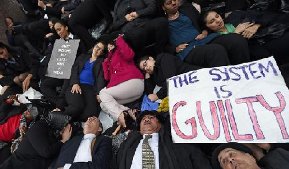 #BlackLivesMatter Massive Lawyer Die-In at Los Angeles Courthouse
A coalition of lawyers, law students, and others acting in solidarity protested police killings of unarmed people by staging a die-in outside Stanley Mosk Courthouse on the raining morning of Tuesday, December 16, 2014. The call to action encouraged others "to protest these police killings, the failure to hold police accountable for these deaths, and the system that perpetuates these racist practices. We act in solidarity with others taking action to show that Black Lives Matter."
Article, photos, and links: #BlackLivesMatter Massive Lawyer Die-In at Los Angeles Courthouse by Occupy Los Angeles OWS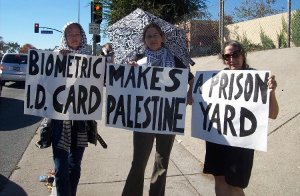 Protesting Hewlett-Packard on Black Friday
On Black Friday, three demonstrations against Hewlett-Packard occurred in front of large stores in Greater Los Angeles.
Besides its involvement with Israel, HP is involved in government surveillance of citizens around the world, including in the U.S. About a dozen people turned out for each of the two-hour demonstrations.
Report and photos: Protesting Hewlett-Packard on Black Friday by RP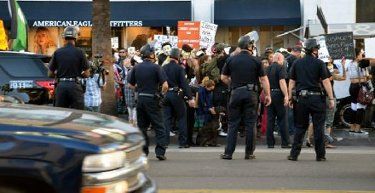 Los Angeles Questions Oversized LAPD Response to Million Mask March
LOS ANGELES--People assembled the morning of November 5, 2014 outside Los Angeles City Hall to participate in the worldwide #Anonymous Million Mask March. Signs bearing the messages "We Don't Want to Live in a World Government for the Corporations" and "Occupy Love" were among the dozens on display.
. . . As the march moved into the open space of the shopping mall at Hollywood & Highland, LAPD officers ringed the protest in pairs. Private security officers also came out to confront the masked masses, who continued dancing and waving signs. By remaining in one place for over a half an hour, the scattered participants were able to reunite, and the march was hundreds strong as it resumed down the Walk of Fame.
@LAPDHollywood tweeted "Please avoid Hollywood Blvd near highland due to protest" around 1:30 PM. LAPD Media Relations advised CBSLA.com "An anti-police brutality protest shut down a stretch of Hollywood Boulevard. More than 100 protesters took part in the march."
. . . Citizen journalist @PMBeers expressed her feelings about police: "The fact that riot cops come to peaceful protests and that intimidates people and makes them afraid to express their grievances is insulting. The fact that people equate protesting with getting arrested even if no laws are broken is insulting. It took me two years to realize that yes, in fact, all cops actually are bastards even if they think they are good people doing good things." #ACAP
Full story and pictures: Los Angeles Questions Oversized LAPD Response to Million Mask March by Los Angeles Peoples Media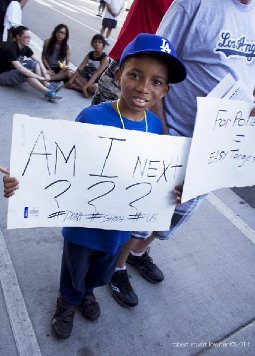 LA Fields Two Marches Against Police Executions
As part of a vast national response in 37 cities to The Ferguson, Missouri shooting of 18 year old Michael Brown, Los Angeles saw two protests over two days. Citing LA's own tragic losses and police abuse of Ezell Ford, Omar Abrego, Damon Jackson and Barry Montgomery the streets hosted two wildcat marches. The first was on Sunday August 17th outside of LAPD Headquarters and the second was the following day in front of both the Ford family home and the Abrego family home in South Central Los Angeles.
The story of police abuse is being seen by most as a a black male issue but these crowds gave pause to that notion. The protesters were a very mixed crowd both racially and culturally.
There were families of the slain and abused men holding large photos of their brothers, fathers and sons.
Three of the deceased men were challenged mentally. Two of them Ezell Ford and Damon Jackson were killed by Los Angeles police while a young schizophrenic named Barry Montgomery was beaten and hidden inside the Los Angeles jail system for days while his family searched for him frantically.
The police response was very light. There were bike cops and motorcycle police along with a fair amount of regular LAPD at the first action. Some streets were roped off while others streets were quickly blocked to traffic as the crowd sporadically wound it's way wildcat style through downtown. The response was essentially the opposite of the Ferguson display of force.
Story and photos: LA Fields Two Marches Against Police Executions Photoset 1of 2 | Photoset 2 of 2 by Robert Stuart Lowden
More: Los Angeles Declares "Hands Up!" in Peaceful Protest of LAPD Murder of Ezell Ford by Los Angeles People's Media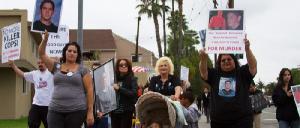 A Coalition of Mothers, Family and Community Members Fed Up With the Injustices by Anaheim
Family and community members demonstrated near Manuel Diaz's memorial last Sunday as they continue to build momentum in their fight for justice for Manuel and all victims of the recent Anaheim shootings. Diaz was shot and killed by Anaheim police on July 21st this year. On the day of the incident, Diaz had been shot on the back of the leg following a pursuit, where he was brought to his knees, and then shot again in the head, execution style. Manuel Diaz was not armed. Videos circulated the internet that day showed Diaz on the floor just moments after being shot. People could be heard shouting at officers, asking why they had shot him and stating that Diaz was still alive. The video also shows officers more concerned with moving people away form the scene, than getting immediate medical attention for Diaz who passed away at a hospital a few hours later.
Full article: A Coalition of Mothers, Family and Community Members Fed Up With the Injustices by Anaheim by Oceloyotl X via The Rebel Press
Previous IndyMedia Coverage here
---
Police State: 1 next page | single feature archives | weekly archives