Tell the NSA:
StopWatching.US
Features
•
latest news
•
best of news
•
syndication
•
commentary

Feature Categories



KILLRADIO
printable version - json version - email this article - view hidden posts - tags and related articles
by Oceloyotl X via The Rebel Press Wednesday, Dec. 05, 2012 at 12:47 PM

Family and community members demonstrated near Manuel Diaz's memorial last Sunday as they continue to build momentum in their fight for justice for Manuel and all victims of the recent Anaheim shootings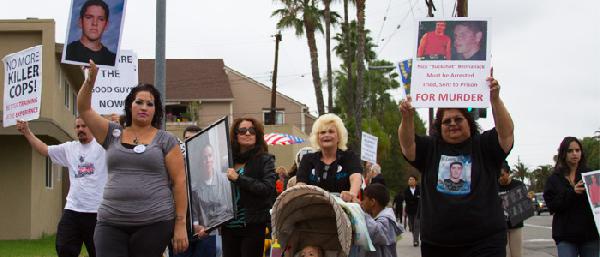 12032012_momentum_in_anaheim.jpg, image/jpeg, 700x300
Family and community members demonstrated near Manuel Diaz's memorial last Sunday as they continue to build momentum in their fight for justice for Manuel and all victims of the recent Anaheim shootings.

Manuel Diaz was shot and killed by Anaheim police on July 21st this year. On the day of the incident, Diaz had been shot on the back of the leg following a pursuit, where he was brought to his knees, and then shot again in the head, execution style. Manuel Diaz was not armed. Videos circulated the internet that day showing Diaz on the floor just moments after being shot. People could be heard shouting at officers, asking why they had shot him and stating that Diaz was still alive. The video also shows officers more concerned with moving people away form the scene, than getting immediate medical attention for Diaz who passed away at a hospital a few hours later.

The shooting sparked protests hours later that day where officers quickly responded by shooting military grade rubber bullets at the group of protestors, which included elders, women, and children. A police dog "accidentally escaped" its owner's control and attacked a man and woman who was protecting the stroller carrying her months-old baby.

Today, Anaheim lawyers, Police Chief John Welters, and Nick Banallack, the officer who shot and killed Manuel, insist that the killing of Diaz was justified since the conduct of the officers "was in the interests of officer safety, self-defense, defense of others".

The community knows that what happened to Manuel was unjust and showed their support by joining the families of other police-involved shooting victims in the fourth, of series of protests being held at the various memorial sites.

Shortly after people began to gather at the corner of La Palma Ave and N Anna Dr Sunday afternoon, a police vehicle drove up and stationed itself at the Anna Dr alley. Sergeant "Rudy" (Rudolf) Delgado (B#179) stepped out and immediately requested to speak to Manuel Diaz's mother. He directed his conversation to her, claiming he was out to "help" maintain the action "peaceful":

"I just wanted to come by and say hi, we're here to help you out, protect you – I'm just touching base on behalf of the Chief. So if you have any problems, or there's something we could do for you in helping keeping this peaceful I went ahead and gave you my card."
Manuel's mother, Genevieve, informed the officer that everyone at the action had been peaceful and would continue to demand justice for all the families of the victims of the fatal police shootings.

After leaving, Sergeant Delgado continued to drive up and down La Palma Ave, while another officer parked in front of Sycamore Junior High could be seen taking pictures at a distance. Yet, the people continued to protest as they marched westward down La Palma Ave towards East St.

Many of them carried signs that said, "Jail Killer Cops" and "FTP – Film The Police". Manuel's sister carried a photo of him while his mother held a poster demanding Nick "Buckshot" Bennallack to be "arrested, tried and sent to prison for murder."

With a growing number of people every week, the group has been building up on a base, mostly consisting of Anaheim residents. Supporters from Fullerton, Downey, and Santa Ana understand the importance of solidarity between them, and assure the family members that they aren't alone in their struggle.

NBC Los Angeles reports a "reform" in the city of Anaheim after the recent police shootings, where Chief John Welter has put "new foot patrols to walk the beat in some neighborhoods" and has created "anti-gang programs and started community meetings to spark dialogue." Meanwhile, family members of the victims continue to face the realities of endless harassment and intimidation by the police. Just last month, Donna Castro's 28-year-old son, Christopher Hill, was arrested by the Anaheim Police Gang Unit. One of the officers involved in a raid at Hill's home was none other than gang investigator Kelly Phillips, the same officer who shot and killed Donna's other son, Joel Acevedo last July. Kelly Phillips was also involved in the shooting of Cesar Cruz at a Walmart parking lot in December of 2009. Even though Hill had no prior convictions as a gang member, he was later transported into custody by the Anaheim Gang Unit in a purple, unmarked van. He still remains in custody today.

Even with the intimidation by police, the united group of mothers joins their efforts and has made it clear they are not afraid of the police, nor will they stop demanding justice. Manuel's mother, Genevieve, appreciates the growing support from the community and expresses her will to continue fighting until justice is met:

"We are growing week by week, we want to be able to make the biggest statement to the APD, we will not give up our fight. I am so proud of all we have been able to accomplish, and we know we will be heard throughout the world. The guilty officers must be arrested, charged for murder, and taken off the streets."
The action ended with everyone gathering in a circle and Genevieve leading the group in a prayer. Rain began to pour as she shared some last words of encouragement, of strength, and empowerment. They left with reassuring looks on their faces, knowing that their movement is growing in support and numbers.

The next action is set to take place next Sunday at the Walmart parking lot on N Euclid St and W Crescent Ave, where Cesar Cruz was shot and killed by Anaheim Police in 2009.
therebelpress.com/articles/show?id=24
Report this post as:
Local News

black activista, white racists meet to discuss civil rights M01 12:55PM

Q: are we safely anonymous on Indy or can someone chose to find us for their personal ... F26 3:54PM

Meeting for upcoming April 4, Dr. King Workshop. F26 6:46AM

Race Discrimination in Los Angeles County F20 2:19PM

Indymedia being inundated by repeaters F14 11:38AM

Divestment defeated at UC Riverside F13 9:26PM

LA Workers Ask for Solidarity F09 8:51PM

Van Nuys Neighborhood Council Supports Hundreds of Residents F05 6:36PM

West Hollywood Police Department: "We Don't Need a Reason to Interrogate Pedestrians" F02 9:16PM

The Rent Crisis in Los Angeles F02 12:28PM

National Reparations Day at Tragniew Park in Compton , March 6 , 2014 J31 10:47PM

California Safe Schools Celebrates Pearl August Humanitarian Award Recipients J30 4:56AM

Taking over public areas by homeless means overuse not moderate fair-share-use J29 4:18PM

KPFK turmoils continue, this one comes from Christine Blosedale critics J29 12:50PM

Los Angeles Marches in the Second Global March Against Chemtrails & Geoengineering J25 9:15PM

Joseph Pitruzzelli, The Hypocrisy Never Ends. J24 7:40PM

The Anti-Artist of LA Arts District Joseph Pitruzzlli, Falsely Praised as "Good Neighbor". J23 8:50PM

Activist Sentenced to 2.5 Years for Wire Cutters J21 9:29AM

CITIZENS TO PICKET WEHO CITY COUNCIL J20 10:09PM

On MLK Day: Racist Bullying Cover-up In Riverside Dear Coach Rice J20 1:43PM

The Kelly Thomas Protest In Fullerton J19 2:34PM

Interview with Chuck MorseHe founded the Institute for Anarchist Studies J14 7:14PM

KPFK SECRECY, TURMOILS, CONFLICTS, OPAQUENESS, and HYPOCRISY too ? J13 5:27PM

Marx, White Supremacy and the Left J13 9:51AM

Fukushima Keeps Pouring Poisons Into Pacific J12 12:37PM

KPFK: self-destructing? or is it again the usual dysfunctioning? J10 6:01PM

Protesting Xavier Becerra's Support of TPP J10 5:53PM

John Dingler's "Ten Prosecuted Whistleblowers J09 8:09PM
More Local News...
Other/Breaking News

Putin v. Obama: Geopolitical Opposites M06 11:57PM

Talking Peace While Waging War M06 11:49PM

Ongoing Operation Gladio Redux in Pakistan Written by Zahir Ebrahim M06 8:59PM

The Shortwave Report 03/07/14 Listen Globally! M06 4:16PM

Propaganda War on Russia M05 11:52PM

Evidence Shows Kiev Putschists Recruited Euromaidan Snipers M05 11:51PM

Medicinal Marijuana, Is it Actually Good for your Health? M05 11:05AM

Global turn-around: to persuade Western Powers to adopt 'bottom-up' ethical human rights. M05 3:04AM

Crisis in Ukraine M05 12:08AM

Media Scoundrels on the Wrong Side of History M04 11:50PM

California Drought: Is this the big one? M04 4:28PM

"Fair Harvard" Lacks Fairness M04 11:56AM

RENT may not be Controlled in LA City soon...watch out ! M04 9:16AM

TTIP: International Mega-corporations prevent social and ecological globalization M04 5:42AM

East/West Confrontation Looms M03 11:51PM

Scoundrel Media War on Russia M03 11:50PM

Interview with Jose Maria Sison M03 10:27PM

Structural Weaknesses of Capitalism M03 3:36AM

The Damn Fool in the White House M02 11:50PM

Ukrainian Neo-Nazis Mobilize for War M02 11:48PM

Kropotkin Memes Part 2 for LA IMC M02 7:41PM

Racism in the Netherlands/Party for Freedom/PVV, Wilders and the poison of racism M02 5:49PM

Israel Accused of War Crimes in West Bank M02 11:39AM

Obama Warns Russia M01 11:50PM

Turmoil in Ukraine M01 11:49PM

Take Action Now to Stop Your Rent From Skyrocketing! M01 7:22PM

Flashback to 1991: "Kuwait freed, Iraqis crushed" M01 9:58AM

L'anarchie de l'idéologie M01 9:26AM
More Breaking News...