Education: 1 next page | single feature archives | weekly archives
---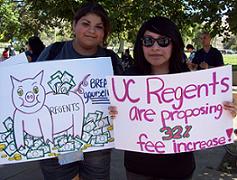 UC Students Walk Out Statewide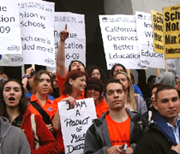 College Students March on State Capitol to Protest Budget Cuts
SACRAMENTO March 16, 2009 - Students and educators from public colleges all over the state converged on Sacramento on March 16th to demand that California fully fund higher education and not raise tuition. An estimated 6,000 students, teachers, administrators, and education workers converged on the State Capitol. They came to demand, "Keep the doors open," "No budget cuts," "Bail out colleges, not banks," "Fund education, not war," and "Money for schools, not prisons."
Students from Los Angeles Mission College boarded buses before 3 am to arrive in Sacramento in time to march from Raley Field to the steps of the Capitol. Fully Story: College Students March on State Capitol to Protest Budget Cuts by Sharat G. Lin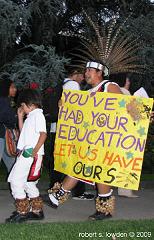 School budget crisis continues: Teachers end hunger strike, dancers begin; Santee students walk out in protest
In response to the disastrous cuts to the LAUSD budget, community members have taken a number of actions in opposition and protest.
A roving campout of hunger-striking teachers, eager to add their life experience to their in-class pedagogy, along with their supporters, traveled from campus to campus. They eventually set up in front of the downtown district office, where they were visited by veteran activist Dolores Huerta.
High school students walked out of class and marched to neighboring schools and to the LAUSD office, where some engaged in direct action at a board meeting.
After nearly a month, the teachers moved their encampment to the front of Supertintendent Cortines' house, breaking their fast the next day. While the teachers have ended their strike, the dancers of Danza Cuauhtémoc have take it up, and are currently camped in front of the LAUSD office. The danzantes, who are present at almost every march, rally, and action that occurs in the Los Angeles area, normally give willingly of their feet, voices, and talent to provide their blessing. But this time, inspired by the teachers and impressed with the urgency of the situation, they have taken the extra step of sacrificing their own bodies as well.
Reports on the hunger strike: Los Angeles Teacher Hunger Strike Carries On. Days 14,16 and 17 Photos Part 1
and
Part 2
| |
Hunger Strikers Picket Cortinez Home Day 21 | | Los Angeles Hunger Striking Teachers Stop Action
by Robert Stuart Lowden | |
Judith de las danzas aztecas Cuauhtemoc se puso en huelga de hambre
por Rodrigo Argueta
Teacher testimonies: MESA Program for Math and Science Kids To Close With Schwarzenegger's Budget Cuts
and
Los Angeles Teacher Marco Flores Outlines Hungry For Education's Continuing Campaign
by Robert Stuart Lowden | |
Mensaje de un huelguista a la comunidad
por Martin
Student walkouts: Santee Students Walk Out and March in Support of Hunger Strikers Part 1
,
Part 2
, and
Part 3
by Robert Stuart Lowden
UPDATE: Day 28 of LAUSD Protest:LAUSD Board Votes 5 to 2 for School Cuts Part 1
and
Part 2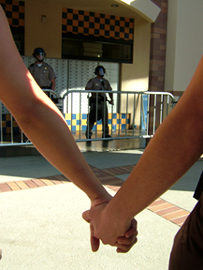 UC Students Fight Tuition Hike, Occupy Campus, Disrupt Regents
LOS ANGELES, UCLA Campus - November 19, 2009 -- An estimated 2,000+ students and union workers took part in various actions campus-wide this week. Covel Commons where the UC Regents held their last day of meetings was completely surrounded by students and workers with arms locked together. They formed a human chain of solidarity against the regents complicity in the ongoing privatization of the UC system.
Latest from the Newswire: Students and Workers Resist Privatization at UCLA Regents Meeting
|
Reports of Arrests
|
Eye Witness Reportback

Photos: UC Strike - UCLA Nov.19th by Tae | | UC Students Fight Tuition Hike, Occupy Campus by A


Audio: MP3 AUDIO � Interview with UCLA Student on Protesting the Regents By A


Video: Students Pepper Sprayed | Whose University? Our University! (Via vozmob.net) | UC Police break up UCLA protest by Richard Bamattre
Special Section: Report Back From Inside the Occupation of Campbell Hall, UCLA | A few pictures from inside occupied Campbell-Huggins Hall | Students Occupy Campbell Hall
Coverage from other independent media sites: Indybay coverage of actions across the CA education system | Protest at UCLA against the theft of our education | Estudiantes se unen y marchan | Video :Maria's Dilemna (en español)

Background & More info: UCSolidarity.org | UCStrike.com
---
Education: 1 next page | single feature archives | weekly archives