Animal Rights: 1 next page | single feature archives | weekly archives
---
"The Circus is in Town!"
July 10, 2013: Some one hundred people protested the Ringling Bros. Circus on opening night at Staples Center. Much emphasis was placed on cruel treatment of animals and separating them from their natural environments and families. (Objection to incarceration and training of animals is nothing new--although a recent DVD documentary called No Fun for Elephants has shed additional light on animal abuse with its undercover footage of elephants being brutalized right here in California. Excerpts of it have been played on KPFK (90.7 FM). Some footage can be seen on YouTube
here
and
here
.)
Activity books were offered to small children, many of whom took interest in them. Children also showed interest in large photos of animals being treated inhumanely. At least one family, consisting of a mother and three children, changed its mind about attending Ringling and decided to do something else.
Protests of Ringling Bros. circuses are happening all over. "PETA volunteers will go to every city that Ringling Bros. goes to," said co-organizer and Campaigns Manager for PETA Katie Arth, "whether you're in cities like Los Angeles and New York or Biloxi, Mississippi."
Report and pictures: "The Circus is in Town!" by R. Plesset | "The Circus is in Town!" (more photos)
Related: Victory! Colombia Passes Wild Animal Circus Ban by Animal Defenders International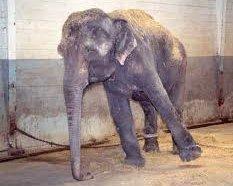 Bob Barker Spearheads New Campaign on Elephant Rides as LA City Considers Ban
Animal Defenders International (ADI) has launched the first nationwide initiative in the United States about the use of elephants giving rides or making appearances at public events. At the heart of the campaign is a new DVD narrated by Emmy award winning TV host Bob Barker entitled "No Fun For Elephants," featuring harrowing undercover footage from inside elephant training facilities in California, as well as abuse of an elephant on tour by a Texas-owned company.
The video includes ADI undercover footage showing elephants supplied for rides, appearances and other events by Have Trunk Will Travel of Perris, CA and Trunks & Humps of Conroe, TX, being beaten and electric shocked during training and handling, behind the scenes. The same trainers are then shown with the elephants, giving rides and appearing at parades.
The move comes as Los Angeles City Council is considering a motion to prohibit performing elephants with traveling circuses in the city -- the new video will be sent to all City Council members.
Full story: Bob Barker Spearheads New Campaign on Elephant Rides as LA City Considers Ban by Animal Defenders International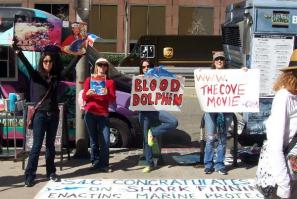 Drawing Attention to Dolphin Slaughter, Japan, and the 2020 Olympics
Demonstrations have occurred in 46 cities around the world. The message to the International Olympic Committee: don't award the 2020 Olympics to Japan. The cruel dolphin drives in Taiji serve Japan's meat industry and provide slave entertainment to marine parks worldwide.
The Japanese people are not the target. This problem was kept secret from them for a long time (the Oscar-winning documentary the Cove got very little exposure in Japan)--but now, many of them are protesting, too.
Yesterday in Los Angeles, a protest and awareness-building campaign was held outside the Japanese Consulate on Grand Avenue in downtown. Fancy flyers were distributed, petitions circulated (four pages of them got signed), and there was plenty of chanting.
Article and photos: Drawing Attention to Dolphin Slaughter, Japan, and the 2020 Olympics | Dolphin Slaughter, Japan, and the 2020 Olympics (part 2) by Ross Plesset

San Pedro: Science Center Endangered/Tongva Village Site Needs Restoration
Jacob Gutierrez, a Tongva, has a lot on his plate right now. The last science center in the LA Unified School District is "on the chopping block" due to budget cuts in education. (LAUSD originally had six.) This facility has been a resource for everyone in the community, especially children. It contains several gardens, consisting of over 80 native plants and fruit trees. Native wildlife is drawn there, including blue butterflies. There are also over 150 animals that children can visit, all rescues. Oftentimes they have been confiscated by the U.S. Government at the southern border and would have been killed were it not for the Center.
Just up the street is the site of Shwaanga (Ken Malloy Regional Park), one of the largest Tongva villages in pre-Spanish times, a site which has been suffering from pollution in recent centuries. In pre-European times, people would travel by boat from islands including Pimu (Catalina Island) and numerous inland communities via canoelike boats plying rivers, as well as different parts of the California coast. Among other things, Shwaanga was known for its fresh water. Now the water is heavily polluted and needs to be cleaned up.
Story and photos: San Pedro: Science Center Endangered/Tongva Village Site Revitalization by R. Plesset, Science Center photos by Isabel Avila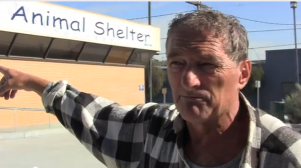 Twenty Pet Pigeons Killed
Actor Rik Martino claimed his pigeons at animal control, only to find that they had been euthanized. Martino loves pigeons, and he has rescued and cared for many that were injured and ill. In the summer of 2011, hard times fell on Martino, and he lost his apartment. . . . Animal control confiscated Martino's pigeons, because they did not approve of the type of cages they were housed in. The officer told Martino he could claim the pigeons at the animal shelter after a few days. When Martino came back to claim his pigeons, animal control told him there wasn't enough room in the shelter to house the pigeons so they euthanized them.
More: Twenty Pet Pigeons Killed by April Ingram
---
Animal Rights: 1 next page | single feature archives | weekly archives