Features
•
latest news
•
best of news
•
syndication
•
commentary

Feature Categories



KILLRADIO
printable version - js reader version - view hidden posts - tags and related articles

by The Zone Warrior Tuesday, Nov. 03, 2015 at 2:44 PM
ArtistBlogs@LAArtsDistrictBlogs.com LAArtsDistrictBlogs.com
Raping their customers on a daily basis has become a tradition for Public Storage who seems to be very proud of their sleazy reputation since they refuse to stop their disgustingly immoral and in most cases totally illegal and Nazi like business practices.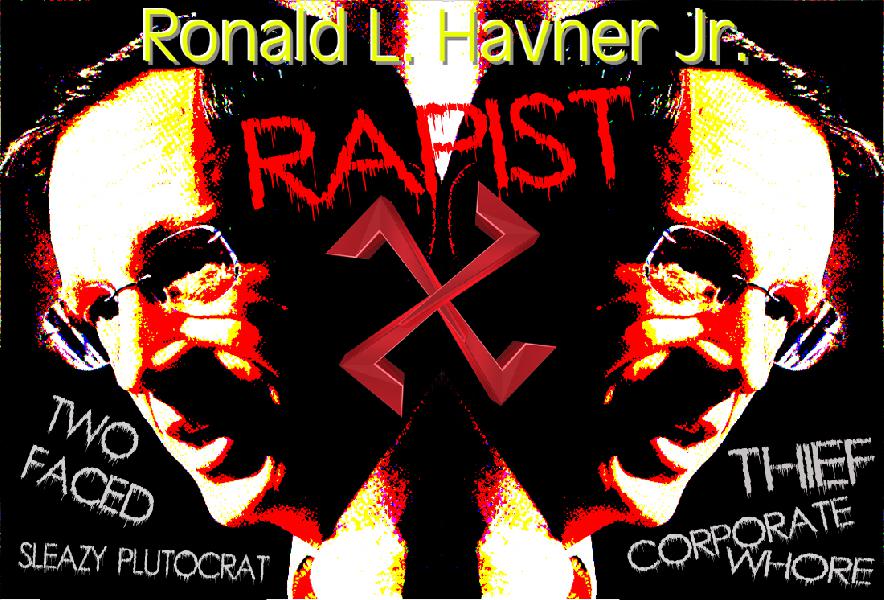 ronhavnerheadshot1100.jpg, image/jpeg, 1100x746

District Manager, Margaret Sommers is a fine example of the kind of criminal minded corporate whore it takes for this shameful position in Ronald L. Havner Jr.'s thieving immoral empire of sleazy self serving corporate Nazi scumbags.

Margaret Sommers is the epitome of what I think a Corporate Nazi really is. Margaret Sommers is a plastic, self serving, uncaring, unethical, malicious, conscienceless thief, who has devastated my life without thinking twice. Public Storage's sleazy district minion, Margaret Sommers, is a calculating corporate Nazi scumbag who works for a company of calculating corporate Nazi scumbags who rape their clients of everything they cherish and just don't give a damn about anything but their own bottom line. 40 years of my life is gone for absolutely no reason accept for Public Storages policies of pure corporate greed and their malicious contempt for their own customers.

Margaret Sommers and Public Storage have illegally destroyed my business and my life and I have promised them they are going to pay dearly for what they have done to me! They have wiped out my entire career as an artist! 40 plus years of my life is just gone! Illegally stolen by the disgusting corporate maggots like District Manager Margaret Sommers, who rapes her customers in the name of Public Storage, like she and Ronald L. Havner Jr. have raped me.

Two Days notice... That's what Margaret gave me in an email that Public Storage was auctioning off everything I owned in my life because I was a month and a half late! Two days notice! My last payment was just 35 days before that auction. Margaret also knows that she was mailing notices to an old address I had moved out of before even storing my belongings at Public Storage and I have the emails to her personally to prove that!! Margaret Sommers knows this because several months before that, they "mock auctioned" my unit when I was literally only 18 days late on the rent! 18 days, I kid you not!! She told me then, they were mailing notices to that old address and asked me if it was correct! I informed her right then in an email my attorney now has a copy of, that she was sending notice to the old address I moved out of. Something I also informed the manager when I first moved in Public Storage!!! Margaret knew I had no current address and she just didn't care. In fact, she maliciously took advantage of that fact and that's pretty disgusting! One more reason I'm suing her sleazy corporate Nazi ass!

Margaret Sommers is a criminal minded corporate thief! She very well knew she was mailing auction notices to my old address and she didn't care. Do you think a jury will care, Margaret? Because I do have the emails to prove that you knew exactly what you were doing! You waited until the last minute to inform me by email that they were auctioning my life away in two days! You knew the notices you were sending were going nowhere. That's why you never even mentioned them when I was angry about the two days notice. You were very calculating. But I notice things like that. This was a malicious and premeditated robbery of everything I own, you slithering pile of shit! Nothing less! You are a fucking sleazy self serving corporate thief, Margaret! A calculating thieving corporate whore and I will prove that in court! That was an illegal auction and it ruined my life! You had no right, you sleazy self important bitch! You had no right!

Public Storage and the "Corporate Nazi of the Year", Margaret Sommers have destroyed my life and she and Public Storage "consider the matter closed." That's why she's a Corporate Nazi! Someone who likes the power of being able to destroy someone else's life, and then tell them: "the matter is closed". I got news for you, you scum of the earth corporate maggot … It's just getting started because you've left me with nothing else! And after all, you are "The Corporate Nazi of the Year"! So I'm celebrating that fact and going to share it with the world. Aren't you proud, you sleazy pathetic self serving corporate whore? Did you get a bonus to ruin my life? Or does doing this kind of thing to your customers just get you off? Because you did it to me twice! Well, at least you can look forward to being Public Storage's "Corporate Nazi of the Year"!

-IN THE ZONE!

Report this post as:


by The Zone Warrior Tuesday, Nov. 03, 2015 at 2:44 PM
ArtistBlogs@LAArtsDistrictBlogs.com LAArtsDistrictBlogs.com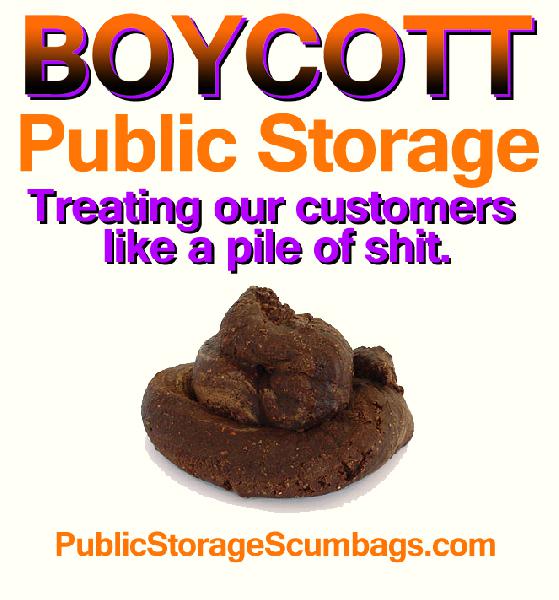 publicstoragelogo1.jpg, image/jpeg, 663x711

PublicStorageScumbags.com

Report this post as:


by The Zone Warrior Tuesday, Nov. 03, 2015 at 2:44 PM
ArtistBlogs@LAArtsDistrictBlogs.com LAArtsDistrictBlogs.com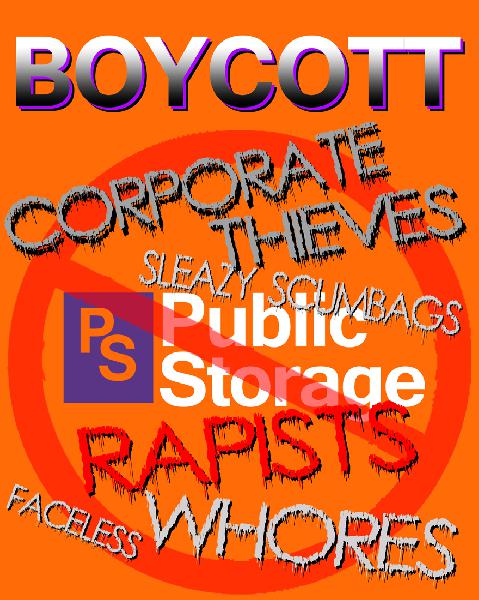 rapedbyps_1100.jpg, image/jpeg, 880x1100
PublicStorageScumbags.com
Report this post as:
LATEST COMMENTS ABOUT THIS ARTICLE
Listed below are the 10 latest comments of 1 posted about this article.
These comments are anonymously submitted by the website visitors.