Features
•
latest news
•
best of news
•
syndication
•
commentary

Feature Categories



KILLRADIO
printable version - js reader version - email this article - view hidden posts - tags and related articles

by Peggy Lee Kennedy Saturday, Dec. 28, 2013 at 7:30 PM
humanrights@freevenice.org
All this talk from politicians (and the non-profit shills that rely on city funding) about how we are enabling people to remain homeless - should be shut down. It is enabling people to stay alive!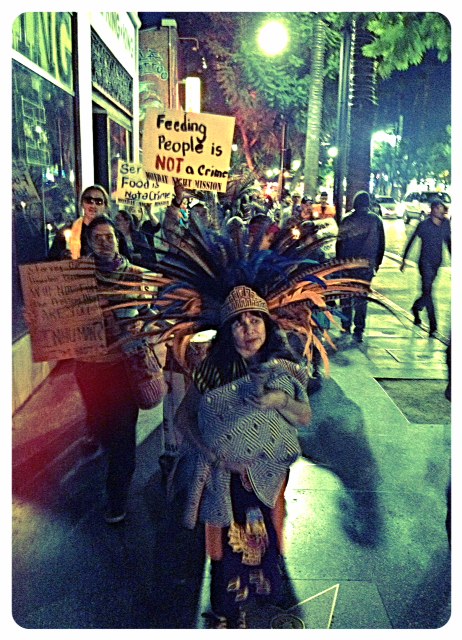 photo_4_.jpg, image/jpeg, 462x640

There has been an upsurge of homeless deaths reported this winter; especially with the recent cold snap we had in November and December. This should be no surprise here in Los Angeles. For years Los Angeles has carried the shame of being the Homeless Capital of the United States. And, according to the National Coalition for the Homeless (NCH), the population of homeless people being sheltered in Los Angeles (only 16.7 percent) is the lowest percentage being sheltered by any major city.

In a NCH study of Los Angeles County homeless deaths, occurring from January 1, 2000 to May 28, 2007 and solely based on information provided by the LA County Coroner's office, the total deaths were 2,815. Of this number 1,277 were in the City of Los Angeles (Venice is part of Los Angeles City), 154 were in Long Beach, 111 in Santa Monica, 55 in Pasadena, and 48 in Hollywood. The leading known causes of death were cardiovascular.

In another more recently published 11 year study of homeless deaths in Sacramento County, by the Sacramento Regional Coalition to End Homelessness, a reported 501 people died as "transient" or without a permanent address (according to the Sacramento County Coroner). About 77 percent of the deceased 501 spent time in the county jail.

Bob Erlenbusch of the Coalition to End Homelessness is calling for creating safe places for homeless people to stay, places for them to receive care; where homeless people can live with basic facilities and without police interference. We need a movement for this in Los Angeles. It will save lives and give people a place to rest with some dignity.

The endless cycle of criminalization and incarceration of homeless people is a well funded city effort, with the Safer City Initiative in Skid Row and the Homeless Task Forces in Venice. Law enforcement is no solution and can cause severe stress to those already suffering. It's just cruel and unnecessary – yet using law enforcement to deal with poverty is deeply rooted in our police force.

The largest spending piece of the Los Angeles City budget pie goes to Public Safety, with a considerable percentage going to "quality of life" law enforcement. You can thank the promoters of quality of life policing, the constant fear mongering that gets many people to choose Public Safety as their top priority, the pro-law enforcement answer to everything scary we get with a tilted community policing system, and our city council creating tons of quality of life laws for the police to enforce.

Of course housing, not law enforcement, is the main solution to homelessness. Except Los Angeles isn't providing temporary shelter to but 16.7 percent of its homeless population! The lack of affordable housing is another hall of shame horror to be awarded to Los Angeles. There is an extreme lack of affordable housing and little incentive to create it. No one knows how much is being lost due to the development of unaffordable housing, when affordable housing is plowed under. And it is well known that the lack of affordable housing is a major cause of homelessness.

Recently I reviewed an amendment by the Los Angeles City Planning Department to the small lot subdivision ordinance. The reason for the amendment was that it will now be more streamlined. Small lot subdivision is a tool for developers to make money by removing older [more affordable] housing, splitting the lot, building to the edge of the new lots, and selling the new mini-mansions to the more wealthy people moving in Venice. Yes, small lot subdivision is booming in Venice.

This is another glaring example of how our city is just on the wrong side to ending homelessness, preserving affordable housing, or protecting the character of a community.

There is hope. It's we the people. Around 700 people went to demonstrate in Hollywood against the LA City Councilman LeBonge motion that would restrict feeding homeless people in public. A large group of people came out on Christmas day to serve homeless people on Venice Beach this year. A volunteer (mostly Occupy Venice people) effort is staffing a shipping container used for homeless people to store their items so they can go in to the temporary Winter Shelter program at night. And it looks there may be a favorable outcome to the 9th Circuit case regarding the Los Angeles City law making it illegal to live in a vehicle. Venice may even succeed in opposing the small lot subdivision crisis. Who knows.

All very hopeful and a good time for people to think about prompting the city to move in a more positive direction so homeless people will not be treated as criminals. Those who oppose cruel and inhumane treatment of homeless people seems to be on the rise. Also homelessness is on the rise.

The City and County of Los Angeles must become accountable for the required affordable housing needed to solve homelessness - instead of being more accountable to the profit of developers and instead of using the city budget on law enforcement as if its some kind of a solution to poverty. Until then we will remain in this vicious cycle and any suggestion of solving homelessness in Los Angeles is just a pipe dream.

While we are all waiting for an adequate amount of affordable housing to magically appear here in Los Angeles, in order to save lives, we have to provide emergency services on the streets where many people have been forced. It's really a matter of life or death.

All this talk from politicians (and the non-profit shills that rely on city funding) about how we are enabling people to remain homeless - should be shut down. It is enabling people to stay alive, stay warm, stay fed, and get clean socks or a warm coat.

Now, while we are at it, let's start a new conversation about creating some safe places for homeless people to be legally and without being made to literally run to the next town by the police. A place to rest, park or store belongs, and a place with 24/7 sanitary facilities. I know that is what homeless people in Venice need desperately.

I don't think this is too much to ask for.


Report this post as:


by Peggy Lee Kennedy Saturday, Dec. 28, 2013 at 7:30 PM
humanrights@freevenice.org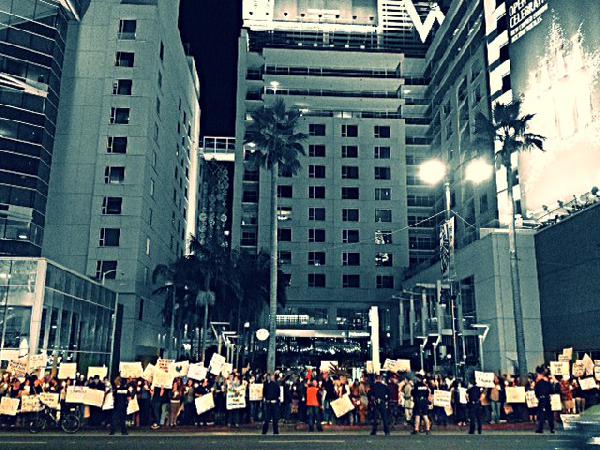 photo_7_.jpg, image/jpeg, 640x480

error

Report this post as:


by Peggy Lee Kennedy Saturday, Dec. 28, 2013 at 7:30 PM
humanrights@freevenice.org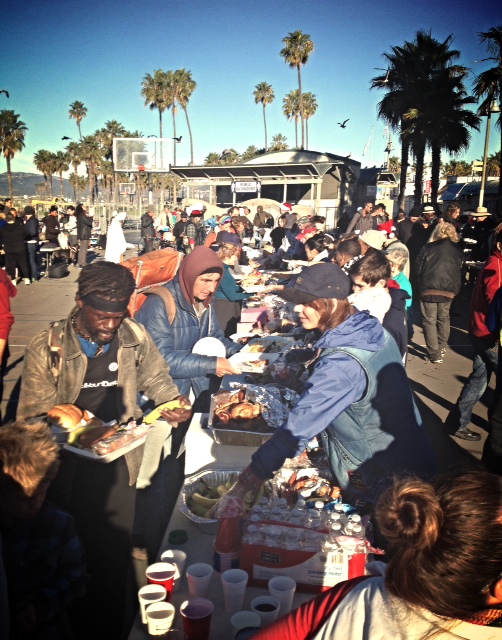 photo_5_.jpg, image/jpeg, 502x640

error

Report this post as:


by Peggy Lee Kennedy Saturday, Dec. 28, 2013 at 7:30 PM
humanrights@freevenice.org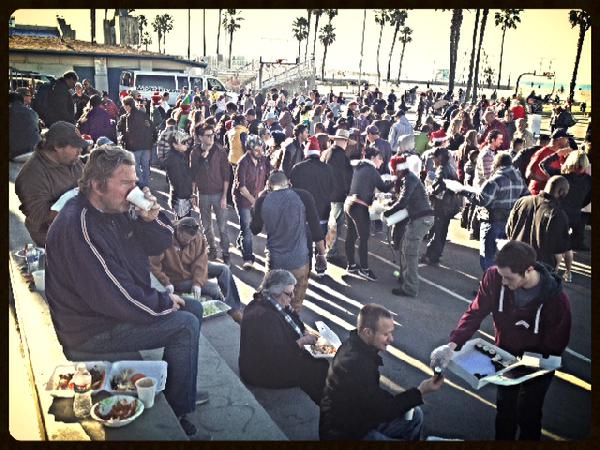 photo_2_.jpg, image/jpeg, 640x480
error
Report this post as:
Local News

Chris Ballew beat up by Pasadena police J05 5:01PM

Retired LAPD Sgt. Cheryl Dorsey explains how the LAPD's Board of Rights hearings work J05 3:40PM

An Ex-Cop Talks About Police Shootings J05 3:39PM

Do Nukes Kill? J02 4:40PM

Letter: Support Proportional Representation for the California State Legislature J01 1:23PM

Community Rallies in Santa Barbara in Solidarity with Inmate Firefighters D22 9:59PM

LAWSUIT ALLEGING FEDERAL VOTING RIGHTS VIOLATIONS IN KERN COUNTY D22 8:56PM

The Video ICE Wishes Was Never Made Public D22 8:39PM

Mitchell Englander going after homeless people D18 5:24PM

"Animaniacs in Concert!" with Voice Artist Rob Paulsen, Sat., Jan. 20 in Santa Clarita D18 4:30PM

The Eagle Rock Peace Vigil Marks 15 Years N27 11:23AM

12/2-3 LA Binational Conference To Cancel NAFTA and Unite Workers Of Mexico and the US N27 3:44AM

Winter 2017 National Immigrant Solidarity Network Monthly News Alert! N26 9:22PM

Nuclear Shutdown News November 2017 N26 4:23PM

Report Back on November 18th Counter Demonstration Against Anti-Muslim March N20 10:57AM

Report Back on November 18th Counter Demonstration Against Anti-Muslim March N19 7:12PM

National US Gov as wellas EPA slow to act on Abandoned uranium Mines Cleanup in Southwest N15 10:50AM

OUR HOUSE Grief Support Center Hosts 9th Annual Comedy Fundraiser N14 10:47AM

BUSTED: Watch LAPD cops plant drugs in black suspect's wallet – unaware body cams were on N10 5:32PM

lapd shootings 1998 - 2015 N06 11:21PM

"Oh Say Can You See" How the LAPD Singing the National Anthem Cost the Dodgers WS Game 7? N03 7:30AM

Car drives into immigration protesters outside Rep. Ed Royce's office in Brea N02 2:06PM

PACIFICA RADIO BOARD SECRETLY OK'S BANKRUPTCY FILING & SEEKS NY SIGNAL SWAP O25 4:49PM

LAUSD, Privatization, Charters And The Fight To Defend Public Education Education Conferen O04 12:10PM

Afghan Women Read RAWA.org founded 1977 S27 9:42PM

[France] The State Attacks Indymedia-Grenoble and Indymedia-Nantes… Solidarity! S25 5:18PM

Segregation in the City of Angels: A 1939 Map of Housing Inequality in L.A. A15 7:44PM

Justice Dept. seeking info, IDs on 1.3M visitors to protest website DisruptJ20.org A15 1:04PM
More Local News...
Other/Breaking News

L'impermanence capitalisée J21 1:02AM

Brazil: Thanks to the supportive American democratic congressmen! J20 3:54PM

Homeless Mentally Ill: Some History J20 12:17PM

Where are the women rights advocates J20 4:45AM

USA:A Decadent, Immoral Society J20 2:40AM

Irénisme d'antinomie J20 1:51AM

Social media giants feel the heat at Palestinian digital conference J19 7:52PM

2017 Reflection: Palestine Teaches Us We Must Unite Around a Common Vision for Liberation J19 7:45PM

With U.S. Backing, Turkey Invades Kurdish Syrian Afrin J19 6:43PM

Tekken Cheats | Tekken Hack Coins and Gems J19 5:45PM

Progressive Reforms Were the Reaction to the Recessions and Social Turmoil in the 1880s J19 2:41PM

Brazil: And now what, Mr. lawfare man of the year? J19 2:23PM

Government Shutdown Solutions Could Leave Out Disaster Aid for Puerto Rico J19 11:01AM

The Shortwave Report 01/19/18 Listen Globally! J18 4:26PM

Tax Reform in the US: Trump's Attack on America J18 4:05AM

Paraphysique du No Future J18 2:14AM

Is Economic Speculation a Form of Structural Violence? J16 6:07AM

De Malik Oussekine à Rémi Fraisse, éréthisme policier J16 5:01AM

Epilogue: Pakistan on the chopping block in 2018? Zahir Ebrahim | Project Humanbeingsfirst J15 3:16PM

Friends J14 4:13PM

Pro domo J13 9:06PM

Part 3: Honduras Coup Repeat Update 15 December 2017 to 31 December 2017 J13 4:26AM

Paraphysique du fait divers J12 6:20PM

Brazil wants true justice for Lula! J12 4:14PM

Trilogy Exposing Crimes by fbi et al J11 8:22PM

The Shortwave Report 01/12/18 Listen Globally! J11 4:33PM

The Trump Election J11 4:43AM

Advocates for Terror: Why Ahed Tamimi and Her Family are No Heroes J10 9:47PM
More Breaking News...