Features
•
latest news
•
best of news
•
syndication
•
commentary

Feature Categories



KILLRADIO
printable version - js reader version - email this article - view hidden posts - tags and related articles

by Mark Gabrish Conlan/Zenger's Newsmagazine Sunday, Nov. 25, 2012 at 8:09 PM
mgconlan@att.net (619) 688-1886 P. O. Box 50134, San Diego, CA 92165
The predominantly Queer San Diego Democrats for Equality celebrated recent election victories in San Diego County at their annual Freedom Awards November 17 at 1202 Club in HIllcrest. They also honored retiring State Senator Christine Kehoe, the first open Queer ever elected to office in San Diego County, for her19 years in elective office.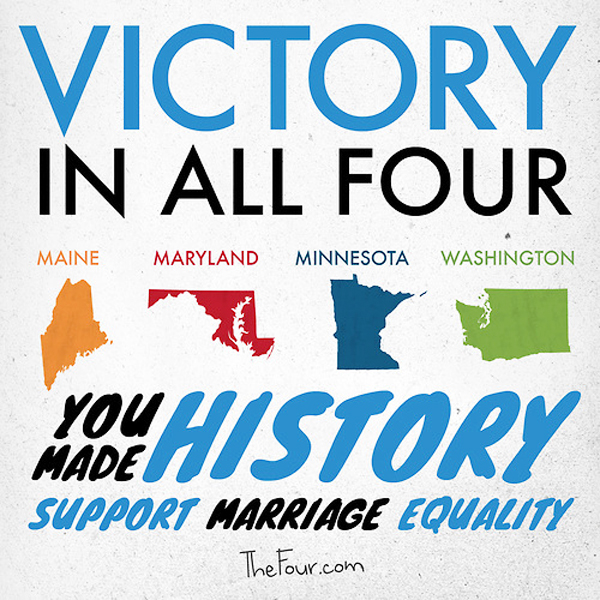 victory_in_all_four.a.jpg, image/jpeg, 600x600

Queer Democrats Celebrate Election Victories at Freedom Awards

Mayor-Elect Filner, Retiring State Senator Kehoe Stars of Annual Event

by MARK GABRISH CONLAN

Copyright © 2012 by Mark Gabrish Conlan for Zenger's Newsmagazine • All rights reserved

What a difference two years makes! The predominantly Queer San Diego Democrats for Equality's 2010 Freedom Awards, held in the aftermath of a disastrous election for Democrats both locally and nationwide, was so dispirited that the cover of its program actually said, "It Gets Better (for Democrats)." This year it did get better. The club had a lot to celebrate when it got together for the 2012 Freedom Awards November 17 at the 1202 club on University and Vermont in Hillcrest. President Obama had carried San Diego County, the first time any Democrat since Franklin Roosevelt had won this county's presidential vote twice in a row. Bob Filner had won a close-fought race to become San Diego's next Mayor — beating out Right-wing Queer Republican Carl DeMaio — and Sherri Lightner had easily won re-election to the San Diego City Council, preserving the Council's Democratic majority.

Indeed, all four of the club's top-priority candidates for November 2012 won: Filner, Lightner, Scott Peters — who beat longtime Republican Congressmember Brian Bilbray in one of the nation's most heavily watched Congressional races, with lots of out-of-town money and supposedly "independent" super-PAC's on both sides — and openly Gay Democrat Dave Roberts, who beat out Republican Steve Danon to become the first openly Queer member of the San Diego County Board of Supervisors and the first Democrat to sit on that board in 20 years. The club also won its fifth priority race: No on Proposition 32, the initiative that would have effectively eliminated organized labor's ability to raise money for political action.

And the club had plenty to celebrate outside San Diego, too, including the election of Tammy Baldwin as U.S. Senator from Wisconsin — the first openly Queer person in the Senate (though in her victory speech she referred to herself, not as "Lesbian" or "LGBT," but as "Gay") — and Elizabeth Warren's defeat of Republican Senator Scott Brown in Massachusetts. What's more, the jinx against marriage equality at the ballot box was definitively broken on November 6, 2012. Voters in Maine, Maryland and Washington states approved laws allowing same-sex partners to marry each other, and in Minnesota an attempt to freeze the legislative ban on legal recognition of same-sex marriage into the state constitution was defeated. One of the slides shown at the Freedom Awards linked to

http://thefour2012.com/

, a Web site which coordinated nationwide support for the marriage votes in those states and is now celebrating the historic 4-for-4 sweep.

The exuberant mood was apparent throughout the Freedom Awards, from the introduction by current club president Doug Case — who opened the event by acknowledging the elected officials present and joking about Republican presidential candidate Mitt Romney's recent charge that Obama bought his re-election by offering "gifts" to the groups that supported him — to the featured speakers. The second half of the event had been announced as a tribute to State Senator Christine Kehoe, who in 1993 won a seat on the San Diego City Council and thereby became the first openly Queer elected official in San Diego County. But her remarks and the slide show documenting the history of her campaigns, though well received, were overshadowed by the appearance of Mayor-elect Filner in the first half.

"It was a great election," Filner said. "Dave Roberts was elected to the Board of Supervisors, Scott Peters gave us a three-Democrat Congressional delegation, and when Sherri Lightner and I won, we had the first Democratic Mayor and City Council majority in San Diego history. … This is going to be the biggest change in San Diego history. We're going to have a new city and new people at the table. We've seen the precinct-by-precinct analysis by City Council districts, and it's safe to say that I was elected because of the Gay community in San Diego."

Filner acknowledged that the struggle for change begins, not ends, with an election victory. "I'm going to need your help even more in governing than I did in being elected," he said. "To govern in a progressive way, we're going to have to organize. We can't just move ahead of everybody because then they'll just pick us off. The newspapers, utilities and businesspeople will try to kill us off. We're going to talk about government and public employees in a new way. We have not tapped the resources of our communities. … If we're going to have neighborhoods and ethnic groups that have real power, if we're going to have real public transit and deal with homelessness in a humane way, we have to work hard because the public has been brainwashed for so long about what is possible. To get things done, we're going to have to accomplish even more."

The awards ceremonies themselves occupied the first half of the program, and went faster than expected because two of the honorees — labor representative and Queer activist Brian Polejes and veteran club member and volunteer John Lockhart — were unable to attend. The award winners who were there included Jess Durfee, former Democrats for Equality president and currently finishing his unprecedented fourth term as chair of the San Diego County Democratic Party; attorney Eric Isaacson, honored for the friends-of-the-court briefs he submitted in marriage equality litigation in California; and Craig Roberts, former club president who was honored for his seven-year stint editing the Democrats for Equality's newsletter.

Durfee, who won the A. Brad Truax Human Rights Awards, opened his speech by regretting that he never got to meet the award's namesake, who served as club president in the early 1980's and later died of complications from AIDS. "But I've heard a lot about his contributions to the political landscape of San Diego," Durfee said. "This is my home club, and I have always felt that the folks in this club had my back and gave me a level of support and confidence. I will always appreciate this club for the support, the critiques and the personal friendships, and as I end my tenure as Democratic Party chair, there couldn't be a better election to go out on."

Isaacson said his work on behalf of marriage equality began when "my wife and I asked the board of our church, the First Unitarian-Universalist Church, if we could represent them. You can expect the Right to file briefs against marriage equality that say their traditions go back to the Pilgrims — only today the church the Pilgrims founded welcomes same-sex couples and performs marriage ceremonies for them. The largest congregation of American Jews, Reform Judaism, supports marriage equality. I want to thank churches like the Unitarian-Universalists and United Church of Christ, and the people over the years who have taken churches that punished you for not toeing the line and turned them into churches that are loving and accepting."

"I'm so honored to receive this the night we are honoring Chris Kehoe, because she got me started on this," said Roberts. "The last 20 years of being involved in the club, and the seven years I've been working on the newsletter, have enriched my life in ways I couldn't possibly have imagined. I feel a great sense of community and family in this club."

The tribute to Kehoe was kicked off by former club treasurer Mel Merrill, well known at club events for his wryly humorous talks. "Nine years ago I had the honor of being one of Christine's roasters at an event celebrating her tenth anniversary in elective office," Merrill said. "We probably want to cheer Chris up a little tonight. It must make you feel very old when your office files are packed up and delivered to the Lambda Archives, as they were last month, actually displacing a large part of the porn collection to make room for them."

Merrill pointed out that this year five out of six Queer Congressmembers won their re-election bids, and between that and Tammy Baldwin's U.S. Senate victory (Baldwin was the keynote speaker at the 1999 Freedom Awards, then called the Freedom Banquet, and gave a cover-story interview to Zenger's Newsmagazine) it was a good year for Queer candidates for office. He also recalled that when he and many of the club's members first met Baldwin, "all we could talk about was how much she reminded us of Chris."

"What we have done since 1993 is we have finally built a Democratic majority that has turned San Diego County blue," Kehoe said in her featured speech. "But I must say nothing in my time in San Diego has meant as much to me as the election of Bob Filner as Mayor. The San Diego Democrats for Equality are the core of that movement. You have been here through all those dark years of Republican Mayors. We haven't had a Democratic Mayor or County Supervisor for 20 years, and now we've changed that."

Kehoe profusely thanked her early supporters in the 1993 City Council campaign — particularly Bill Beck, Ruth Bornstein, Toni Atkins and Jeffrey Tom — as well as the openly Queer Councilmembers who have filled her seat since she was termed out, Atkins and Todd Gloria; and Bonnie Dumanis, who became San Diego's first openly Queer Republican elected official when she won her race for San Diego County District Attorney. "We've got to make sure we still have people coming through the pipeline," Kehoe said. "We need to bring in new people, keep Democratic voters in track, keep responding to the Right and look at every election, every City Council race."

Report this post as:


by Mark Gabrish Conlan/Zenger's Newsmagazine Sunday, Nov. 25, 2012 at 8:09 PM
mgconlan@att.net (619) 688-1886 P. O. Box 50134, San Diego, CA 92165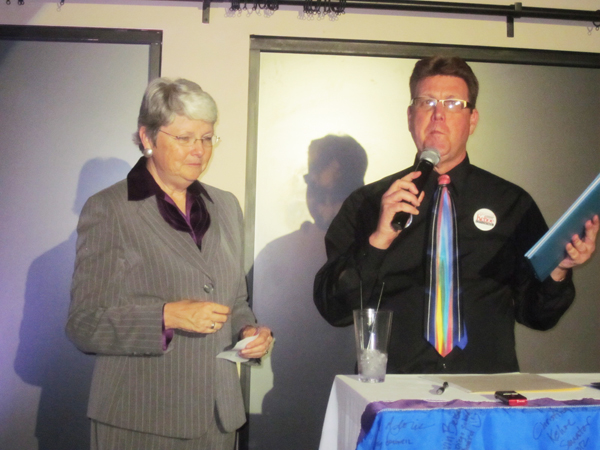 kehoe___case.a.jpg, image/jpeg, 600x450

Report this post as:


by Mark Gabrish Conlan/Zenger's Newsmagazine Sunday, Nov. 25, 2012 at 8:09 PM
mgconlan@att.net (619) 688-1886 P. O. Box 50134, San Diego, CA 92165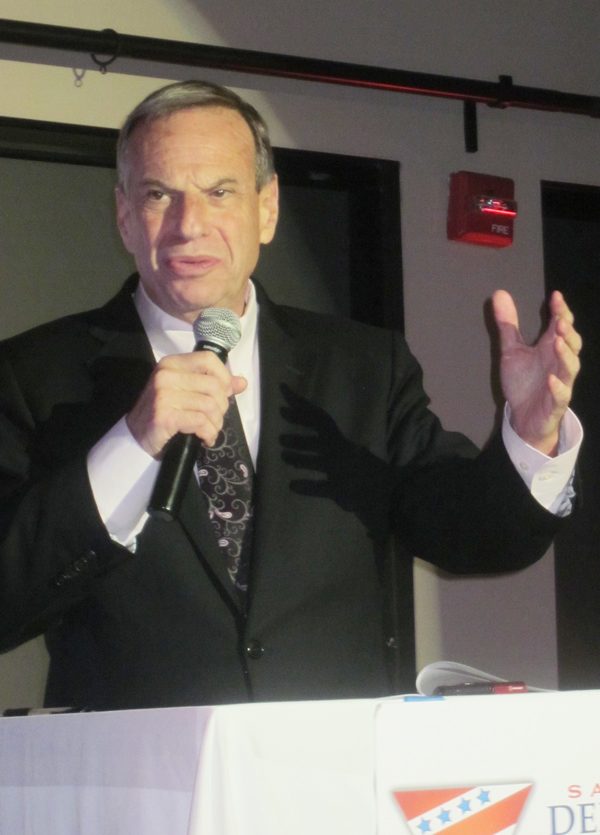 filner.a.jpg, image/jpeg, 600x835

Report this post as:


by Mark Gabrish Conlan/Zenger's Newsmagazine Sunday, Nov. 25, 2012 at 8:09 PM
mgconlan@att.net (619) 688-1886 P. O. Box 50134, San Diego, CA 92165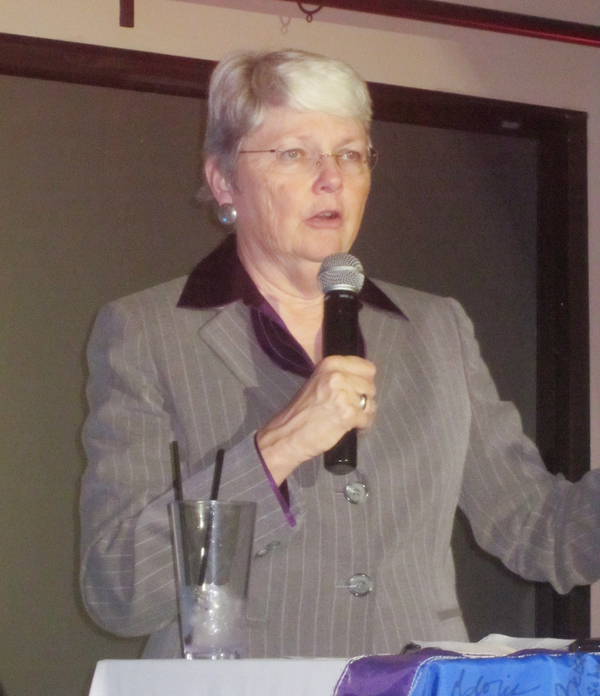 kehoe.a.jpg, image/jpeg, 600x696

Report this post as:


by Mark Gabrish Conlan/Zenger's Newsmagazine Sunday, Nov. 25, 2012 at 8:09 PM
mgconlan@att.net (619) 688-1886 P. O. Box 50134, San Diego, CA 92165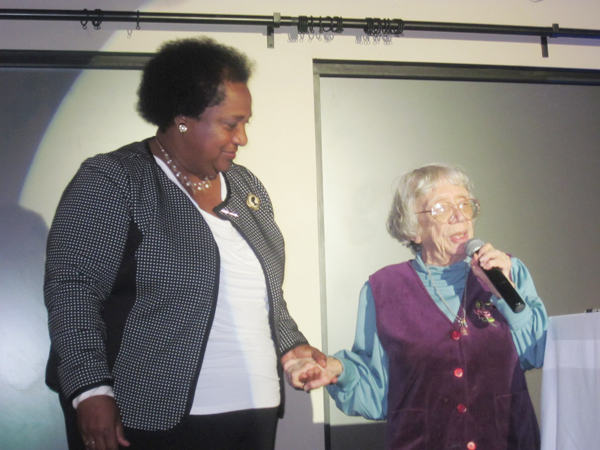 weber___johnson.a.jpg, image/jpeg, 600x450

Report this post as:


by Mark Gabrish Conlan/Zenger's Newsmagazine Sunday, Nov. 25, 2012 at 8:09 PM
mgconlan@att.net (619) 688-1886 P. O. Box 50134, San Diego, CA 92165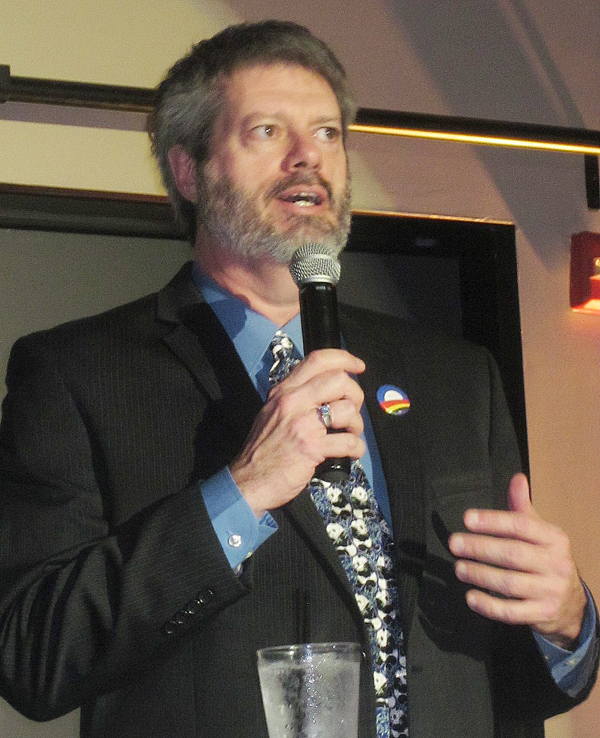 roberts.a.jpg, image/jpeg, 600x738

Report this post as:


by Mark Gabrish Conlan/Zenger's Newsmagazine Sunday, Nov. 25, 2012 at 8:09 PM
mgconlan@att.net (619) 688-1886 P. O. Box 50134, San Diego, CA 92165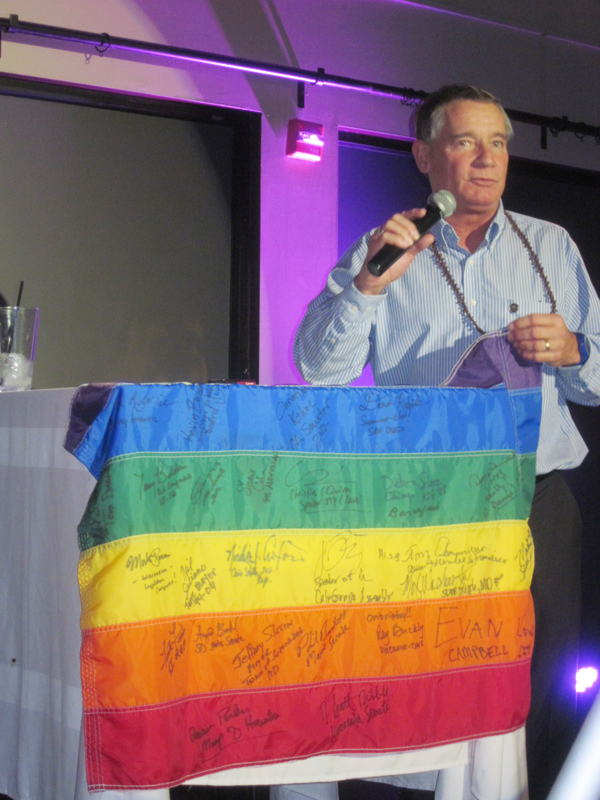 mullen.a.jpg, image/jpeg, 600x800

auctions off the flag he had signed by Queer elected officials at the 2012 Democratic National Convention

Report this post as:


by Mark Gabrish Conlan/Zenger's Newsmagazine Sunday, Nov. 25, 2012 at 8:09 PM
mgconlan@att.net (619) 688-1886 P. O. Box 50134, San Diego, CA 92165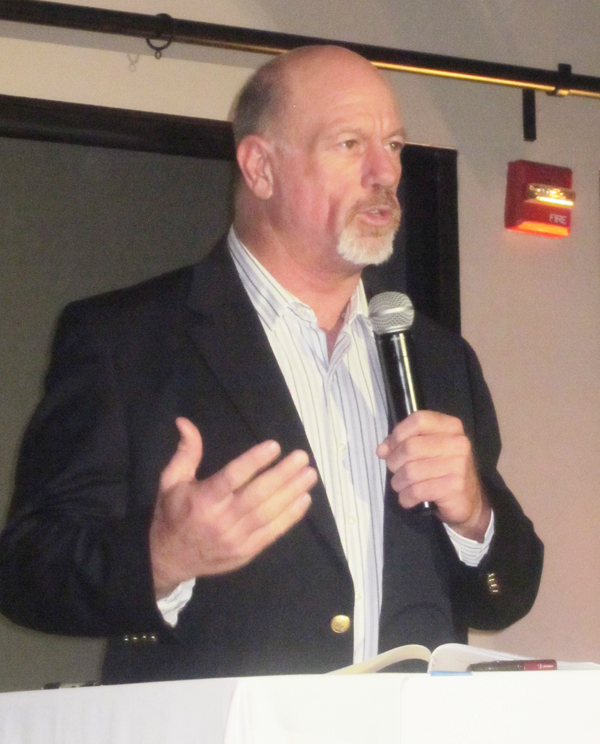 durfee.a.jpg, image/jpeg, 600x744

Report this post as:


by Mark Gabrish Conlan/Zenger's Newsmagazine Sunday, Nov. 25, 2012 at 8:09 PM
mgconlan@att.net (619) 688-1886 P. O. Box 50134, San Diego, CA 92165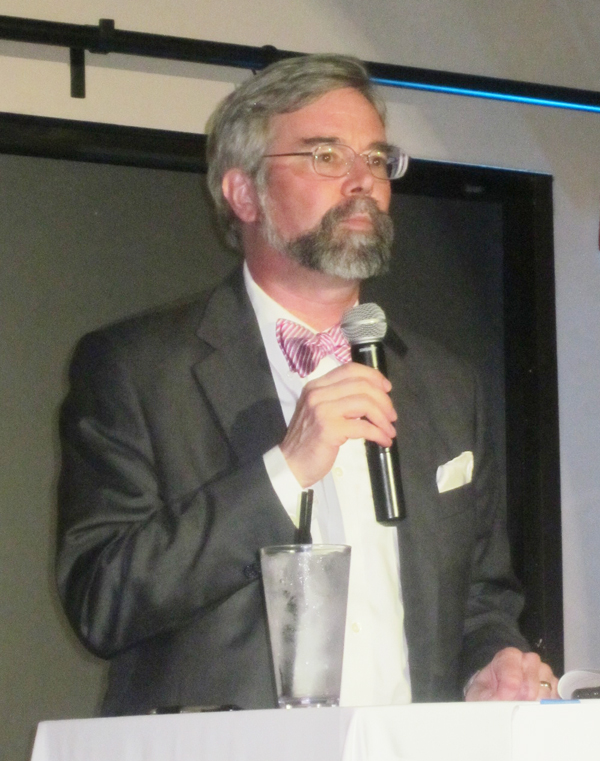 isaacson.a.jpg, image/jpeg, 600x761
Report this post as:
Local News

Violence Against Poor In Venice A29 12:59PM

California Safe Schools Honors 11 Year Old Daniel Randall A25 2:25PM

NPR's Marketplace: The Voice of Loanshark Capitalism A19 4:08PM

Assemblywoman Melissa Melendez, Pandering to the Corporate Whores of the Storage Industry A09 5:03PM

Lartiste Maestro iTunes télécharger de la musique gratuit et Légalement 2016 A08 3:20PM

Spring 2016 National Immigrant Solidarity Network Monthly News Alert! A05 2:14PM

KPFK and Pacifica, more doings, reposted here A04 4:18PM

Liberated Political Prisoner Sekou Odinga Speaks Out M11 9:39AM

Solidarity With Anaheim M08 10:16AM

Tribune Company Stock Bought By LAPD Union To Silence Criticism Of Police M02 8:01AM

KPFK as Pacifica may be in legal jeopardy, again... M01 2:43PM

Anaheim Anti-KKK Fund Drive F29 5:04PM

March For Bernie 2, Pasadena and Los Angeles F28 8:16PM

Innovative Approach To Fighting The Droughts F16 11:56AM

International Day of Solidarity with Leonard Peltier F12 5:51PM

January 2016 Honduras Coup update F12 4:42PM

THE WHITE CITIZEN'S COUNCIL ... AKA KPFK AND FOLKS ON THE WESTSIDE J27 11:16PM

Hundreds March Long Beach to Compton to Protest Los Angeles Sheriff Murder of Noel Aguilar J27 11:14PM

Bernie Sanders at The 2016 Rose Bowl Parade J27 4:25PM

Bernie Sanders at The 2016 Rose Bowl Parade. J27 3:54PM

Vigil for O'Day, Helen, Barry, and Carol-Ann Short, killed by racist terrorists in Fontana J25 8:55PM
More Local News...
Other/Breaking News

Deux mille trente, 2030 A29 6:02AM

A police state USA, unfettered by moral / legal constraints A28 8:26PM

The Shortwave Report 04/29/16 Listen Globally! A28 5:40PM

Iowa Republican Senator Grassley And Methods Of Chicken Murder In the US A28 6:35AM

From the Constitutional State to the Security State A28 4:40AM

La CNT et les anarchistes A27 10:48PM

Examples of fbi/police/DA/AG subversion of laws A27 2:14PM

No To Ohio Senator Portman Who Wants Hunting In National Park A27 10:50AM

A Tribute To The Imprisoned A27 5:00AM

Video: Founding Fathers, Hip Hop, 1 hr 25 min A26 2:33PM

Hillary's Guns, Hillary's Consequences A26 1:34PM

Kuwaiti Business man causht in al qaeda plot A26 12:00PM

Community organizing A26 8:02AM

Clinton Delegate Slates Infiltrate Sanders California Campaign A25 11:41PM

Planned Crises or Alan Greenspan's "Tsunami" A25 4:53AM

fbi DEW ATTACKS, ETC A24 10:34AM

Brutality as a permanent character trait A23 11:53AM

Husam El-Coolaq. : proof not all harvard students are smart A22 10:16AM

Torturers are often all around us A22 7:30AM

Paraphysique de connexionnisme A21 10:30PM

The Shortwave Report 04/22/16 Listen Globally! A21 4:57PM

Dirty fbi, cops, DA, AUSA,Judges, etc A21 4:55PM

Argentina Returns to Bond Market after Debt Settlement A21 8:40AM

Fbi as constrictor A20 1:35PM

We Can Phase Out Fossil Fuels Within a Decade, Study Says A20 10:28AM

"Fast Foof Women" 28 minute documentary in Color by appalshop film and video East kentucky A20 9:21AM

drugs: the new oil A20 6:37AM

The Steep Cost of Tax Dodging A19 6:49AM
More Breaking News...