Tell the NSA:
StopWatching.US
Features
•
latest news
•
best of news
•
syndication
•
commentary

Feature Categories



KILLRADIO
printable version - json version - email this article - view hidden posts - tags and related articles
by Robert D. Skeels Monday, Oct. 29, 2012 at 10:28 AM
rdsathene@sbcglobal.net
Mayor Antonio Villaraigosa and LAUSD President Mónica García intentionally redrew the District 2 maps to remove the a large base of support from social justice schoolboard candidates.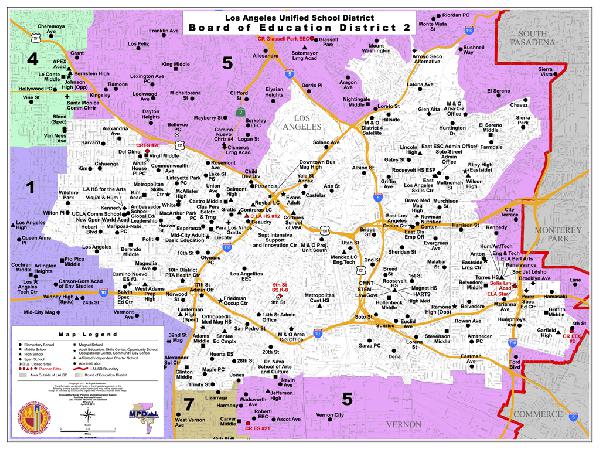 2012-13boarddistrict2map.jpg, image/jpeg, 1024x768

"But some school board officials and those involved in the redistricting process said that although Villaraigosa may not have directly managed day-to-day activities, the makeup of the commission allowed for a majority bloc of those aligned with him." — Stephen Ceasar of The Los Angeles Times

There were two registered District 2 schoolboard candidates before Los Angeles Unified School District (LAUSD) was redistricted last Spring. Those candidates were Abelardo Diaz and myself — Robert D. Skeels. Both of us live in the 90026 zip code and have/had a considerable voting base in the community.

This is particularly true for me, having lived in Echo Parque since 1995. I lived on Valley View Drive for years, Laguna Avenue for over a decade and a half, and two years ago my wife and I purchased a home on Westlake Avenue in South Echo Parque/Historic Filipinotown [1]. I taught bilingual Catechism (CCD) at Saint Teresa of Avila Church for a dozen years and RCIA for two years. Over that time I gained the friendship and trust of many families who still stop me and thank me today when they see me out and about in the community

For years my public education and immigrant rights activism existed alongside my volunteer work at my church, but eventually I decided to devote more time to activism as I saw the same neoliberal policies being implemented in our own school district as I had seen imposed on Latin American countries during the past decades. I began organizing alongside parent, teacher, and other community activists in earnest, I've been involved in many major struggles in defense of public education and immigrant rights ever since.

Along with fellow social justice activists I opposed the colocation of Logan by the Gabriella Corporate Charter. Educator Cheryl Ortega and I exposed Gabriella's filching of more rooms than they were allotted. We provided support for the parents fighting the unjust colocation of Micheltorena Elementary. We spent nearly a year backing the Echo Park Partners Community Plan for CRES 14. Our efforts to try and keep CRES 14 in the public fold almost prevented the community school from being turned over to a private corporation. I staunchly defended parents and community members when the deep pocketed charter forces took away the public votes from the LAUSD Public School Choice. We arranged for screenings of the Inconvenient Truth Behind Waiting for Superman at both Union Avenue and Micheltorena Elementary Schools. These are just a few of the local struggles I have been involved with [2].

During the past decade I've been a high-profile vocal opponent of Mayor Antonio Villaraigosa and LAUSD President Mónica García's policies of school privatization, narrowing of curriculum, and imposition of policies that have been an abject disaster in our school district. I've written scathing articles about them and their policies. I've been interviewed on radio and television criticizing their administrations. I've led major community struggles against some of their pet projects and handouts to cronies. I phone banked and precinct walked against their hand picked corporate candidate for District 5, who despite millions from Villaraigosa's right wing allies like Anschutz, Perenchio, Hastings, and Broad still lost. I was one of the organizers of and participate in the highly successful OccupyLAUSD campaign that further highlighted the leadership of LAUSD being in the pockets of the one percent.

Most importantly, when President García and Superintendent Deasy zeroed out Early Education Centers, Adult Education, School Readiness Language Development Programs, and Elementary Arts from the LAUSD budget, I worked tirelessly with the Save Adult Ed campaign to prevent shuttering of those programs. When we saw it would take a little more to convince the District to save the programs, several social justice advocates and I became proponents of an official recall campaign that frightened García into partially restoring those programs. While the recall campaign came up just a few thousand signatures short of the 26,000 plus required, it prevented cuts to programs vital to families throughout our city. It also showed that García's grip on power was vulnerable.

Going into the race for the District 2 Trustee seat, I knew I could confidently count on hundreds of votes from Echo Parque residents who I've either worked alongside or for in the struggle to defend and improve public education. I figured I could count on several hundred more votes from families I served at St. Teresa's. I knew I could depend on all the Logan parents, Micheltorena parents on the District 2 side, parents that wanted CRES 14 to be a public school, and even families that lost there homes to the construction of the latter to vote for me. That was, until I saw the finalized District 2 maps recently provided by LAUSD. All of Echo Park — including Angelino Heights — North of the 101 Freeway is now in District 5. I find it hard to believe this wasn't anything but deliberate. Given that LAUSD schoolboard races are often won by just a few hundred votes, drawing my strongest base of support out of District 2 was a brilliant masterstroke.

I now live South of the 101, so I'm still a qualified candidate and still running for LAUSD. While Villaraigosa's skillful gerrymandering of District 2 clearly cost me hundreds maybe even thousands, of votes, I'm still confident that I will win the seat and speak truth to power on the schoolboard. If you live in what was formerly District 2 and planned to vote for me, but cannot due to redistricting, please support me by volunteering for my campaign and contributing funds. Especially the latter, it's expensive to run for office. García's backers include right-wing billionaires, peculiar cults, and wealthy charter operators. Clearly, I won't have, nor would I accept, any funding from sources like that. Tell everyone you know about me running, they might live in District 2 or can help. Come out to the candidate forums and meet me and the other candidates running against the neoliberal consensus represented by Mónica García. We need to take our schoolboard back from the one percent!

_____
NOTES

[1] From Wikipedia: "Historic Filipinotown is a district of the city of Los Angeles, California, that makes up the southwest portion of Echo Park."

[2] Meantime I was involved with many more organizations like the Southern California Immigration Coalition, Hungry for an Education, Coalition for Educational Justice, the March 4 to Save Public Education movement, and so much more. I was also on the leading edge of opposing Yolie Flores' Public School Choice, charter take-overs, astroturf groups including Parent Revolution, etc.

Report this post as:


by Robert D. Skeels Monday, Oct. 29, 2012 at 10:28 AM
rdsathene@sbcglobal.net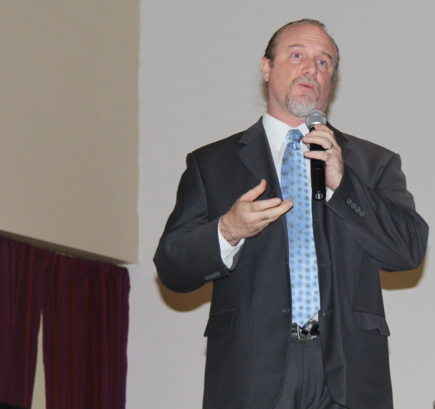 snapz-pro-xscreensnapz3001.jpg, image/jpeg, 435x409

Education Writer and social justice activist Robert D. Skeels speaking at the October LAUSD District 2 Candidates's Forum.

Report this post as:


by Robert D. Skeels Monday, Oct. 29, 2012 at 10:28 AM
rdsathene@sbcglobal.net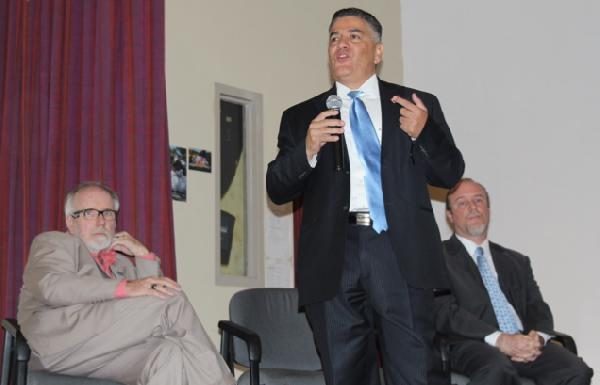 snapz-pro-xscreensnapz3000.jpg, image/jpeg, 636x409

Award winning teacher and social justice activist Abelardo Diaz speaking at the October LAUSD District 2 Candidates's Forum.

Report this post as:


by Robert D. Skeels Monday, Oct. 29, 2012 at 10:28 AM
rdsathene@sbcglobal.net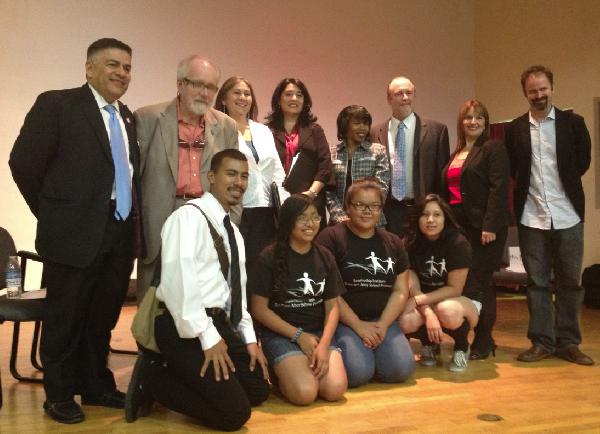 1st-candidate-debate-oct172012-district2neighborhoodcoalition.jpg, image/jpeg, 1094x793
Group shot of candidates at the District 2 Neighborhood Coalition's first candidate forum. For more information and future forums see
http://www.district2neighborhoodcoalition.com
Report this post as:
Local News

black activista, white racists meet to discuss civil rights M01 12:55PM

Q: are we safely anonymous on Indy or can someone chose to find us for their personal ... F26 3:54PM

Meeting for upcoming April 4, Dr. King Workshop. F26 6:46AM

Race Discrimination in Los Angeles County F20 2:19PM

Indymedia being inundated by repeaters F14 11:38AM

Divestment defeated at UC Riverside F13 9:26PM

LA Workers Ask for Solidarity F09 8:51PM

Van Nuys Neighborhood Council Supports Hundreds of Residents F05 6:36PM

West Hollywood Police Department: "We Don't Need a Reason to Interrogate Pedestrians" F02 9:16PM

The Rent Crisis in Los Angeles F02 12:28PM

National Reparations Day at Tragniew Park in Compton , March 6 , 2014 J31 10:47PM

California Safe Schools Celebrates Pearl August Humanitarian Award Recipients J30 4:56AM

Taking over public areas by homeless means overuse not moderate fair-share-use J29 4:18PM

KPFK turmoils continue, this one comes from Christine Blosedale critics J29 12:50PM

Los Angeles Marches in the Second Global March Against Chemtrails & Geoengineering J25 9:15PM

Joseph Pitruzzelli, The Hypocrisy Never Ends. J24 7:40PM

The Anti-Artist of LA Arts District Joseph Pitruzzlli, Falsely Praised as "Good Neighbor". J23 8:50PM

Activist Sentenced to 2.5 Years for Wire Cutters J21 9:29AM

CITIZENS TO PICKET WEHO CITY COUNCIL J20 10:09PM

On MLK Day: Racist Bullying Cover-up In Riverside Dear Coach Rice J20 1:43PM

The Kelly Thomas Protest In Fullerton J19 2:34PM

Interview with Chuck MorseHe founded the Institute for Anarchist Studies J14 7:14PM

KPFK SECRECY, TURMOILS, CONFLICTS, OPAQUENESS, and HYPOCRISY too ? J13 5:27PM

Marx, White Supremacy and the Left J13 9:51AM

Fukushima Keeps Pouring Poisons Into Pacific J12 12:37PM

KPFK: self-destructing? or is it again the usual dysfunctioning? J10 6:01PM

Protesting Xavier Becerra's Support of TPP J10 5:53PM

John Dingler's "Ten Prosecuted Whistleblowers J09 8:09PM
More Local News...
Other/Breaking News

Dueling East/West Agendas M12 12:49AM

Crimea Declares Independence M12 12:47AM

HIV-Negative AIDS: Is it CFS, ME, GWS, or AIDS? M12 12:31AM

Philippines: Bill filed to close gender gap in politics and governance M11 11:05PM

Glow In The Dark: Consume Radioactive Fish Oil Or Fish M11 10:28AM

TTIP: A Tranatlantic Constitution of Corporations? M11 4:48AM

Paraphysique de la haine M11 3:07AM

Yatsenyuk Comes to Washington M11 12:50AM

Putin on Ukraine M11 12:48AM

Trade: Time for a New Vision, 20pp M10 5:14AM

US Private Military Contractors in Ukraine? M10 1:18AM

Heightened US/Russian Tensions M10 12:49AM

Paraphysique de la pathognomonie M09 11:43PM

Gerrard Winstanley Memes M09 2:34PM

The clash in Crimea is the fruit of western expansion M09 11:34AM

Big Lies Drown Out Truth M08 11:56PM

Israel Denies 45,000 Palestinians Water M08 11:54PM

CASTORIADIS. THE HUNGARIAN REVOLUTION .pdf M08 9:24PM

The Snowdown - Wikileaks - Sibel Edmonds - Whistleblower Effect By Zahir Ebrahim M08 8:46PM

Walking the New Broadway M08 5:40PM

Spring 2014 National Immigrant Solidarity Network Monthly News Alert! M08 11:21AM

Israel Hypes Nonexistent Iranian Threat M08 12:01AM

Putin v. Obama: Geopolitical Opposites M06 11:57PM

Talking Peace While Waging War M06 11:49PM

Ongoing Operation Gladio Redux in Pakistan Written by Zahir Ebrahim M06 8:59PM

The Shortwave Report 03/07/14 Listen Globally! M06 4:16PM

Propaganda War on Russia M05 11:52PM

Evidence Shows Kiev Putschists Recruited Euromaidan Snipers M05 11:51PM
More Breaking News...