Tell the NSA:
StopWatching.US
Features
•
latest news
•
best of news
•
syndication
•
commentary

Feature Categories



KILLRADIO
printable version - json version - email this article - view hidden posts - tags and related articles
by Robert D. Skeels Monday, Oct. 29, 2012 at 10:28 AM
rdsathene@sbcglobal.net
Mayor Antonio Villaraigosa and LAUSD President Mónica García intentionally redrew the District 2 maps to remove the a large base of support from social justice schoolboard candidates.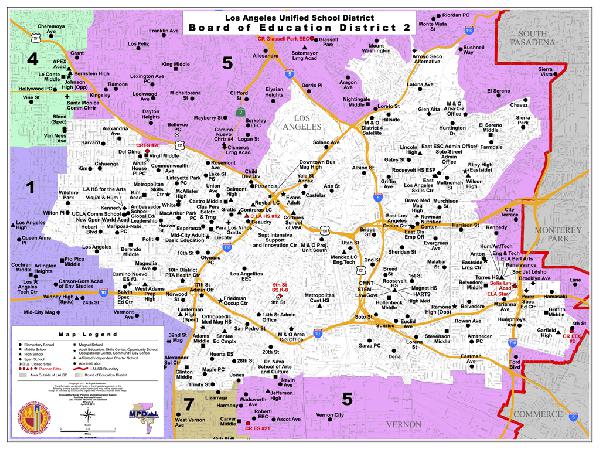 2012-13boarddistrict2map.jpg, image/jpeg, 1024x768

"But some school board officials and those involved in the redistricting process said that although Villaraigosa may not have directly managed day-to-day activities, the makeup of the commission allowed for a majority bloc of those aligned with him." — Stephen Ceasar of The Los Angeles Times

There were two registered District 2 schoolboard candidates before Los Angeles Unified School District (LAUSD) was redistricted last Spring. Those candidates were Abelardo Diaz and myself — Robert D. Skeels. Both of us live in the 90026 zip code and have/had a considerable voting base in the community.

This is particularly true for me, having lived in Echo Parque since 1995. I lived on Valley View Drive for years, Laguna Avenue for over a decade and a half, and two years ago my wife and I purchased a home on Westlake Avenue in South Echo Parque/Historic Filipinotown [1]. I taught bilingual Catechism (CCD) at Saint Teresa of Avila Church for a dozen years and RCIA for two years. Over that time I gained the friendship and trust of many families who still stop me and thank me today when they see me out and about in the community

For years my public education and immigrant rights activism existed alongside my volunteer work at my church, but eventually I decided to devote more time to activism as I saw the same neoliberal policies being implemented in our own school district as I had seen imposed on Latin American countries during the past decades. I began organizing alongside parent, teacher, and other community activists in earnest, I've been involved in many major struggles in defense of public education and immigrant rights ever since.

Along with fellow social justice activists I opposed the colocation of Logan by the Gabriella Corporate Charter. Educator Cheryl Ortega and I exposed Gabriella's filching of more rooms than they were allotted. We provided support for the parents fighting the unjust colocation of Micheltorena Elementary. We spent nearly a year backing the Echo Park Partners Community Plan for CRES 14. Our efforts to try and keep CRES 14 in the public fold almost prevented the community school from being turned over to a private corporation. I staunchly defended parents and community members when the deep pocketed charter forces took away the public votes from the LAUSD Public School Choice. We arranged for screenings of the Inconvenient Truth Behind Waiting for Superman at both Union Avenue and Micheltorena Elementary Schools. These are just a few of the local struggles I have been involved with [2].

During the past decade I've been a high-profile vocal opponent of Mayor Antonio Villaraigosa and LAUSD President Mónica García's policies of school privatization, narrowing of curriculum, and imposition of policies that have been an abject disaster in our school district. I've written scathing articles about them and their policies. I've been interviewed on radio and television criticizing their administrations. I've led major community struggles against some of their pet projects and handouts to cronies. I phone banked and precinct walked against their hand picked corporate candidate for District 5, who despite millions from Villaraigosa's right wing allies like Anschutz, Perenchio, Hastings, and Broad still lost. I was one of the organizers of and participate in the highly successful OccupyLAUSD campaign that further highlighted the leadership of LAUSD being in the pockets of the one percent.

Most importantly, when President García and Superintendent Deasy zeroed out Early Education Centers, Adult Education, School Readiness Language Development Programs, and Elementary Arts from the LAUSD budget, I worked tirelessly with the Save Adult Ed campaign to prevent shuttering of those programs. When we saw it would take a little more to convince the District to save the programs, several social justice advocates and I became proponents of an official recall campaign that frightened García into partially restoring those programs. While the recall campaign came up just a few thousand signatures short of the 26,000 plus required, it prevented cuts to programs vital to families throughout our city. It also showed that García's grip on power was vulnerable.

Going into the race for the District 2 Trustee seat, I knew I could confidently count on hundreds of votes from Echo Parque residents who I've either worked alongside or for in the struggle to defend and improve public education. I figured I could count on several hundred more votes from families I served at St. Teresa's. I knew I could depend on all the Logan parents, Micheltorena parents on the District 2 side, parents that wanted CRES 14 to be a public school, and even families that lost there homes to the construction of the latter to vote for me. That was, until I saw the finalized District 2 maps recently provided by LAUSD. All of Echo Park — including Angelino Heights — North of the 101 Freeway is now in District 5. I find it hard to believe this wasn't anything but deliberate. Given that LAUSD schoolboard races are often won by just a few hundred votes, drawing my strongest base of support out of District 2 was a brilliant masterstroke.

I now live South of the 101, so I'm still a qualified candidate and still running for LAUSD. While Villaraigosa's skillful gerrymandering of District 2 clearly cost me hundreds maybe even thousands, of votes, I'm still confident that I will win the seat and speak truth to power on the schoolboard. If you live in what was formerly District 2 and planned to vote for me, but cannot due to redistricting, please support me by volunteering for my campaign and contributing funds. Especially the latter, it's expensive to run for office. García's backers include right-wing billionaires, peculiar cults, and wealthy charter operators. Clearly, I won't have, nor would I accept, any funding from sources like that. Tell everyone you know about me running, they might live in District 2 or can help. Come out to the candidate forums and meet me and the other candidates running against the neoliberal consensus represented by Mónica García. We need to take our schoolboard back from the one percent!

_____
NOTES

[1] From Wikipedia: "Historic Filipinotown is a district of the city of Los Angeles, California, that makes up the southwest portion of Echo Park."

[2] Meantime I was involved with many more organizations like the Southern California Immigration Coalition, Hungry for an Education, Coalition for Educational Justice, the March 4 to Save Public Education movement, and so much more. I was also on the leading edge of opposing Yolie Flores' Public School Choice, charter take-overs, astroturf groups including Parent Revolution, etc.

Report this post as:


by Robert D. Skeels Monday, Oct. 29, 2012 at 10:28 AM
rdsathene@sbcglobal.net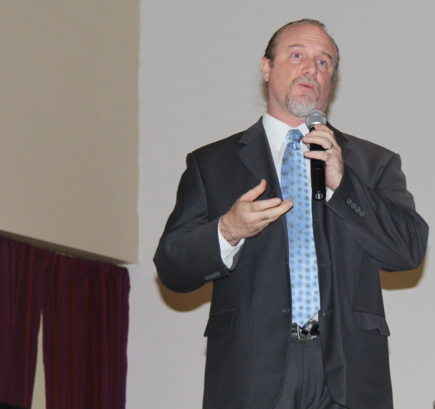 snapz-pro-xscreensnapz3001.jpg, image/jpeg, 435x409

Education Writer and social justice activist Robert D. Skeels speaking at the October LAUSD District 2 Candidates's Forum.

Report this post as:


by Robert D. Skeels Monday, Oct. 29, 2012 at 10:28 AM
rdsathene@sbcglobal.net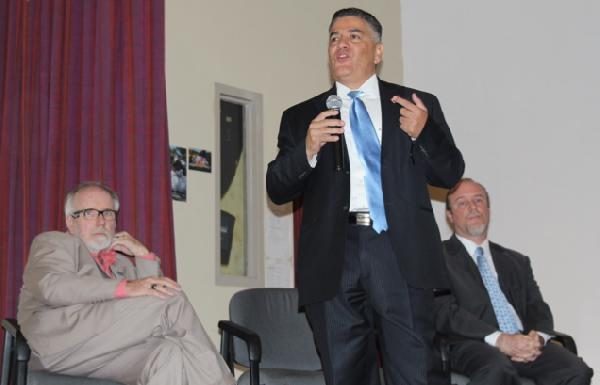 snapz-pro-xscreensnapz3000.jpg, image/jpeg, 636x409

Award winning teacher and social justice activist Abelardo Diaz speaking at the October LAUSD District 2 Candidates's Forum.

Report this post as:


by Robert D. Skeels Monday, Oct. 29, 2012 at 10:28 AM
rdsathene@sbcglobal.net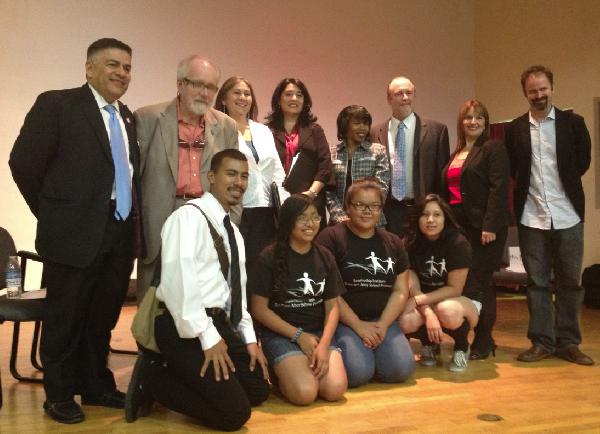 1st-candidate-debate-oct172012-district2neighborhoodcoalition.jpg, image/jpeg, 1094x793
Group shot of candidates at the District 2 Neighborhood Coalition's first candidate forum. For more information and future forums see
http://www.district2neighborhoodcoalition.com
Report this post as:
Local News

Kassim Alhimidi convicted of murder A17 8:33PM

Members of Bundy Family Explain Bundy Ranch Stand-Off With Bureau of Land Management (BLM) A17 1:03AM

Here's some interesting privatization connections in regards to the LAUSD District 1 race A15 4:25PM

Rock, Rap & Speakout vs Poverty, Prisons & War A13 3:16PM

Report Back: 4th Annual Hahamongna Walkabout A13 2:33PM

Pacifica Exe Director position is in confusion still putting KPFK at risk A10 3:52PM

Bernard Duncan, prior GM of KPFK is still in play A08 5:01PM

San Diego May Dai Workers Film Festival A06 5:11PM

Southern California Joins Worldwide Wave Of Action A05 2:31AM

Pacifica board members named here, who attempted ousting ED A04 1:06PM

LA Weekly promotes a slanted view of Pacifica/ KPFK A04 10:36AM

More Info about Pacifica, which holds KPFK's license, etc. A03 2:08PM

Listen to KPFK's staff talking to Pacifica Exe Director M29 7:31PM

Pacifica IS also KPFK, so let's not ignore what going on M29 5:42PM

Reported excerpts of Pacifica's - and that's KPFK's - incidents happening - update M29 5:14PM

Repost from Counterpunch re Pacifica - KPFK too involved M29 2:10PM

Forever intertwined: KPFK, WBAI, Gary Null ? M28 4:10PM

Why is KPFK still failing to thrive ? M28 3:32PM

GLOBAL DAY of ACTION for the Indonesian Rainforests! M27 3:06PM

Opponents of SB County Jail's Letter Ban to Share Progress, Next Steps M27 9:58AM

Pacifica Radio, Rwanda, and DR Congo M26 2:29PM

International Multicultural Literary Magazine Features Armenia in Spring Issue M25 11:14AM

Why is KPFK still failing to thrive ? M24 9:10PM

Home-less-free occupying is not a free ride either M24 8:46PM

The US Occupy Movement - Since the Eviction from the Squares M21 6:32AM

Protest Against Latest U.S. Meddling M20 9:17PM

FOIA Request Results for LVIMC M20 12:22PM

black activista, white racists meet to discuss civil rights M01 12:55PM
More Local News...
Other/Breaking News

Arythmie du capital A19 5:33AM

Dissent within after article, Profound Arrogance at UN. A19 4:20AM

Arythmie du capital A19 4:06AM

Dissent within after article, Profound Arrogance at UN. A19 3:25AM

Kiev Violates Four-Party Agreement A19 12:50AM

Fake Donetsk Letter Circulating A19 12:49AM

Dissent within after article, Profound Arrogance at UN. A18 7:43PM

Michael Ruppert dead. A18 6:17PM

Pacifica voting in secret with no accountability? Is this part of KPFK ? A18 3:39PM

Flashback to 2003: "Major combat in Iraq is over, U.S. warns rogue Syria" A18 11:40AM

Supreme Court Hears Argentina Predatory Hedge Fund Discovery Case A18 10:28AM

The Shortwave Report 04/18/14 Listen Globally! A17 4:50PM

Four-Party Agreement on Ukraine A17 1:35PM

An Event for All Musicians... and Bring Your Dad for FREE! A17 11:08AM

LION ARK ROARS AND THE AUDIENCE PURRS: RESCUE DOCUMENTARY PICKS UP SIXTH AWARD A17 11:03AM

Ukraine on the Brink A17 12:39AM

More NATO Forces for Eastern Europe A17 12:36AM

Obama Heads for War in Ukraine A16 12:44AM

Israel Seeks Regional Anti-Iranian Alliance A16 12:39AM

Duplicitous Human Rights Misinformation on Ukraine A15 12:12PM

The Augean Stables Of US Justice From Prosecutors To Supreme Court A15 9:21AM

Paraphysique des droites A15 8:51AM

Public Relations - Propaganda as an Economic Branch A15 5:44AM

Duplicitous Obama Civil Rights Hyperbole A15 12:48AM

Ukrainians Resist A15 12:47AM

Navi Pillay: US Imperial Tool A14 12:55PM

The Neoliberal Model: Profits without Investments A14 5:46AM

Celebrate the RH victory in the Philippines, continue the struggle A14 2:21AM
More Breaking News...