Features
•
latest news
•
best of news
•
syndication
•
commentary

Feature Categories



KILLRADIO
printable version - js reader version - view hidden posts - tags and related articles

by Mark Gabrish Conlan/Zenger's Newsmagazine Monday, Sep. 24, 2012 at 8:19 PM
mgconlan@att.net (619) 688-1886 P. O. Box 50134, San Diego, CA 92165
The San Diego Alliance for Marriage Equality (S.A.M.E.) held a victory celebration September 21 at the Bamboo Lounge in Hillcrest after San Diego City Attorney Jan Goldsmith dropped all charges against the Equality Nine, protesters who were arrested at the San Diego County Clerk's office August 19, 2010 for showing up to request marriage licenses or support others doing so, including same-sex couples who had appointments. The event featured five of the Equality Nine and also Queer-rights pioneers Leo Laurence and Pat Brown, who led militant Queer-liberation demonstrations in San Francisco months before the Stonewall riots.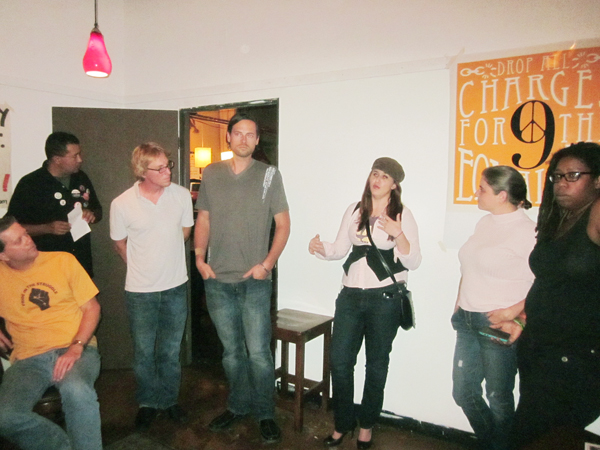 equality_nine_plus_two.a.jpg, image/jpeg, 600x450

S.A.M.E. Hosts Victory Celebration for Marriage Equality Protesters

Event Packs the Bamboo Lounge, Offers "Past, Present and Future" Program

by MARK GABRISH CONLAN

Copyright © 2012 by Mark Gabrish Conlan for Zenger's Newsmagazine • All rights reserved

PHOTO: L to R: Hugh Moore, José Medina, Sean Bohac, Chuck Stemke, Felicity Bradley, Cecile Veillard, Zakiya Khabir

Over 75 Queer community activists and enthusiastic supporters packed the back room at the Bamboo Lounge sushi restaurant and bar in Hillcrest Friday night, September 21, for the "Equality Nine Victory Celebration." What the event was celebrating was the successful two-year court fight of the Equality Nine, members and supporters of the San Diego Alliance for Marriage Equality (S.A.M.E.), who were arrested at the San Diego County Administration Center August 19, 2010 for attempting to enter the San Diego County Clerk's office and demand marriage licenses for three same-sex couples in light of Federal District Judge Vaughn Walker's decision declaring California's ban on legal recognition of same-sex marriages unconstitutional.

But the event's program was broader than just a commemoration of the Equality Nine, whose case was finally dropped by the San Diego city attorney's office August 24, more than two years after the initial arrests. A previous attempt to bring the six defendants to trial in April ended embarrassingly for the city attorney when the judge caught the prosecution systematically excluding Queer people from the jury in violation of California law. The case was scheduled for retrial on September 18 when the city attorney's office abruptly pulled the plug on the prosecution.

The Past: San Francisco, 1969

The program for the September 21 victor celebration was called "Past, Present and Future" and was intended to celebrate the history of Queer activism, discuss the Equality 9 case and allow the audience members themselves to brainstorm what militant Queer activists should do in the future. The past was represented by Leo Laurence and Pat Brown, who currently live in San Diego but in March 1969 were in San Francisco and were instrumental in launching the radical militant Queer movement there, three months before the Stonewall Inn riots in New York City that are generally considered to be the starting point for the U.S. Queer rights movement.

"By day I was an editor and reporter for KGO radio in San Francisco, and by night I was a reporter for the Berkeley Barb," Laurence recalled. The Berkeley Barb was a radical underground paper that by 1969 was already legendary for challenging the Bay Area establishment and publicizing the Left. But Laurence was also the editor of Vector, the house publication of the Society for Individual Rights (SIR), a so-called "homophile" organization that rejected not only direct action but even use of terms like "homosexual," let alone "Gay" or "Queer."

Laurence wanted to make Vector more appealing, and he recruited a 20-year-old writer named Gale Whittington to write a fashion column. "We needed a photo of him, so we did a photo shoot in his home, and he was wearing nothing but a pair of really skimpy cut-off shorts," Laurence said. "But I also asked a Berkeley Barb photographer to come, and at the end I asked if the Barb photographer could take a picture of Gale and I together. I put my arms around him and hugged him tightly."

The Barb photographer gave a copy of the two-shot of Laurence and Whittington to his editor, Max Scherr, who cropped it to make it look like Whittington was nude and ran it alongside an article by Laurence called "Don't Hide It." When that issue of the Barb came out, Whittington saw a copy on the desk of his boss at the States Steamship Lines offices, where he worked in the mailroom. The boss fired Whittington that day, and he called Laurence at 11 that night in tears.

"I felt I was responsible," Laurence said, "and I thought we should do something about it. I wasn't sure just what, but I wanted to do something bigger than we'd ever done before." Brainstorming a name for their new Queer rights organization, Laurence ultimately decided on "Committee on Homosexual Freedom," or CHF, at a time when even the word "homosexual" was considered dangerously in-your-face. Eventually they decided to do a daily picket of the States Steamship Lines office during the lunch hour so they'd have maximum visibility in San Francisco's financial district — the first time in U.S. history that a private employer was actually picketed to protest anti-Queer discrimination.

Pat Brown came in as picket captain because he'd had experience leading anti-war demonstrations. "I asked the American Friends' Service Committee (AFSC, the direct-action offshoot of the Quaker Church) to send someone to train us, and this organization — which had sent people to register voters in the Deep South — refused because we were 'too controversial,'" Brown recalled. Instead, Brown bought a copy of the AFSC's direct-action manual and the CHF used it to train themselves. Though Laurence said the pickets happened only once a week — mainly because, with his work responsibilities, he could only be there once a week — Brown insisted that they happened every weekday during lunch, so they'd be as visible as possible to office workers in San Francisco's financial district, where States Steamship's offices were located.

Laurence also said that when the picketers received death threats and the San Francisco Police Department refused to do anything about them — "They said they couldn't do anything until I actually got hit," he recalled — he reached out to the biggest, baddest organization in the Bay Area Left at the time: the Black Panther Party. He met them in the most revealing clothes he owned — a pair of knit shorts he showed off at the event — "and they liked it," he said. "The Panthers felt that Gay liberation was tougher than what they were doing, because they couldn't change the color of their skin but we could be in the closet."

The result was a full-page article in The Black Panther magazine by the party's leader, Huey P. Newton, announcing a change in the party's position from anti-Gay to pro-Queer liberation: the first time a major Left organization of people of color embraced the Queer movement and drew the now-commonplace analogy between the civil rights struggles of people of color and Queers. Laurence also got something more tangible out of it: an emergency phone number he was told to call in case his group got attacked, so the Panthers could come and defend them.

"I was on the picket line one day, and someone told there was a car with three people carrying baseball bats," Laurence said. "I went up to the car and told one of the people inside, 'I'm calling the Black Panthers.' One said, 'The Panthers are going to help you, faggots?' I headed for the phone — and the main guy of the three said, 'This is serious. The Panthers will wipe us out.'" So the would-be bashers drove off and the picket continued unmolested.

The Present: The Equality Nine

Five of the Equality Nine members appeared at the victory celebration: Sean Bohac, Felicity Bradley, Zakiya Khabir, Chuck Stemke and Cecile Veillard. "Doing protests is a great way to change people's minds," said Bradley. "This is the proudest thing I've ever done in my life. I really love you guys. Helping you has helped me grow." Bradley also recalled her own coming-out process and the Queer people she's known who committed suicide, and said she hoped the Equality Nine and the other struggles for Queer liberation will help convince people that being Queer is nothing to be ashamed of and they should live, be proud of who they are and join in the struggle for their rights.

Stemke said he saw Queer rights in general and marriage equality in particular as "a big political issue that keeps coming back again and again. In San Diego we had 25,000 people in the streets [in the first big protests after the passage of Proposition 8 in November 2008]. Proposition 8 was a cause for outrage across the country. There are nine of us, and a lot of things can get nine people arrested, but what made us special was the mass movement behind us. … These actions were meant to show that people aren't going to take it anymore. They came at a time when it was necessary to clog up the gears of the system and show our frustration."

One warning Stemke had was that people might become complacent on the issue. He admitted that there was a lot more grass-roots interest in protesting Proposition 8 in August 2010 than there is now, when "there's a feeling that the President has come out for same-sex marriage" and it's only a matter of time before legal barriers like Proposition 8 fall and marriage equality becomes a nationwide reality in the U.S. Quite the contrary, Stemke said; it was the pressure put on by "people in this room" that got the San Diego city attorney to drop the charges against them, and only through continued activism and pressure can we win the struggle for marriage equality and full civil rights.

Sean Bohac pointed to the poster on one wall of the Bamboo Lounge on which attendees were allowed to write the names of people they felt should be acknowledged for their support of marriage equality, S.A.M.E. and the Equality Nine. He thanked the members of Canvass for a Cause (CFAC) for their petition drive, which "organized 2,000 signatures to the city attorney to get him to drop the charges." He also acknowledged Bamboo Lounge chef Ditchi Manley, who along with her partner had shown up at the County Clerk's office August 19, 2010 expecting the clerk to honor their appointment for a marriage license.

"This is a room full of people who've made a difference in what a lot of people are calling a 'lull' in the movement," said Bohac. "Is it a 'lull' or is it just that we're waiting for the right pitch? If you Google the Equality Nine you'll come up with 70 media links, including a lot of press who've talked about how there still isn't marriage equality in California."

"Judge Walker's decision should have stood," said Cecile Veillard — referring to the decision then-Federal District Judge Vaughn Walker issued on August 4, 2010 finding that Proposition 8 was unconstitutional and ordering an immediate end to its enforcement. Judge Walker agreed to "stay" — delay — his order until the proponents of Proposition 8 could have a chance to appeal, and the Ninth Circuit Court of Appeals made the stay indefinite until the U.S. Supreme Court either rules on the case or decides not to hear it at all. That's why, though both the district court and the appeals court have ruled Proposition 8 unconstitutional, same-sex marriage remains illegal in California.

According to Veillard, the state could — and should — ignore the appeals court's stay and start marrying same-sex couples again. That, she said, was the point S.A.M.E. was trying to make on August 19, 2010 in the action that led to the arrests of the Equality Nine. That, she said, was "the day that had been designated the end of marriage discrimination in California. There were announcements in newspapers that our rights would be honored. Not only were our appointments not honored, not only were we not given marriage licenses, but we weren't even allowed to approach the desk [at the County Clerk's office]. [Equality Nine member] Mike Kennedy got his fingers slammed in the door, and I regret we didn't sue the County for damages." Indeed, Veillard suggested that the reason the city attorney waited so long to drop the charges was to make sure the Equality Nine would end up on the wrong side of the two-year statute of limitations for such a suit.

Zakiya Khabir reminded the group that August 19, 2010 was the second time S.A.M.E. had staged a demonstration inside the County Clerk's office. The first time was May 27, 2009, at which the clerk responded very differently, allowing S.A.M.E. members and other marriage equality activists to remain in the clerk's office throughout the business day as long as they didn't get in the way of people having ordinary business with the office. She recalled publicizing the event the night before at a big downtown rally where San Diego Mayor Jerry Sanders spoke.

The Equality Nine had a personal as well as a political effect on Khabir. "It forced me to come out to my mom and on my job," she said, explaining that when you tell your boss that you may have to take two weeks off because you're going on trial, naturally they're going to want to know why. She also announced that Monday, September 24 is the deadline by which the U.S. Supreme Court has to decide whether to hear the latest appeal in the Proposition 8 case and also six pending challenges to the federal Defense of Marriage Act (DoMA), the 1996 law that allows states to refuse to recognize same-sex marriages from other states and denies federal benefits to married same-sex partners.

The Future: Keeping Up the Pressure

Among the open-mike speakers during the "Future" portion of the victory celebration was Holly Hellerstedt of Canvass for a Cause, who recalled that when she first arrived in San Diego Cecile Veillard was one of the first activists she met. "S.A.M.E. was the first group I met that was using identity politics to grow past identities," she said. She drew a parallel between CFAC, S.A.M.E. and Occupy San Diego as groups that are challenging San Diego's image "as a conservative military town." She also recalled that when CFAC presented the petitions to the city attorney's office calling on them to drop the charges against the Equality Nine, "they sent us an e-mail that you could end it any time just by taking a plea bargain." The fact that six of the Nine insisted on taking the case to trial, she said, "shows the dedication of activists who know it's a long-term struggle."

Veillard saw the same connection between S.A.M.E. and the Occupy movement. "S.A.M.E. has built the Left in ways that helped Occupy grow," she said. She also recalled that during the two years the Equality Nine faced being tried for their actions, "We did have to rethink over and over whether to continue to fight the charges, but we felt so much support from the community we were encouraged to keep fighting. Because there were so many of us, we knew it would be an expensive trial — but it would be well publicized, and we were sure we would win."

While few people actually gave suggestions for what S.A.M.E. should do in the future — which was what S.A.M.E. was hoping for when they scheduled a "Future" segment as part of the victory celebration — Allan of the International Socialist Organization said, "I was really amazed to hear the story of the Gay rights struggle from the 1960's, especially the fact that the Black Panthers were down with the homosexuals at a time when the ruling class was coming down on everyone else."

Sean Bohac used his last turn at the mike to announce S.A.M.E.'s regular meeting the second and fourth Tuesdays of every month, 6:30 to 8:30 p.m., at the San Diego LGBT Pride office, 3620 30th Street in North Park. "Last year, we led or were part of over 40 events," Bohac said. "There's injustice, and often it gets a headline and the public attention goes away, but sometimes you can put together an event and keep getting attention."

Report this post as:


by Mark Gabrish Conlan/Zenger's Newsmagazine Monday, Sep. 24, 2012 at 8:19 PM
mgconlan@att.net (619) 688-1886 P. O. Box 50134, San Diego, CA 92165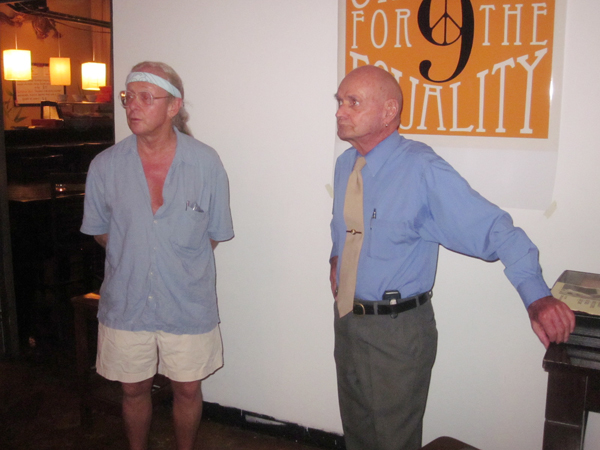 pat_brown___leo_laurence.a.jpg, image/jpeg, 600x450
error
Report this post as:
Local News

Woolsey Fire: Worst News of 2018? J01 12:18AM

Oppose Environmentally-Harmful Development D10 4:03AM

Oppose Environmentally-Harmful Development D10 3:58AM

OUR HOUSE Grief Support Center Presents Night for Hope O30 5:38PM

Marshall Tuck's racist dog whistle O27 5:01AM

Marshall Tuck's ethnocentrism contradicts Californian values O27 4:32AM

Contra Costa-Hawkins O25 3:48AM

Debunking Some Anti-Prop 10 Propaganda O12 6:56AM

Why Should California Choose De Leon Over Feinstein? O10 9:55PM

Change Links September 2018 posted S02 10:22PM

More Scandals Rock Southern California Nuke Plant San Onofre A30 11:09PM

Site Outage Friday A30 3:49PM

Change Links August 2018 A14 1:56AM

Setback for Developer of SC Farm Land A12 11:09PM

More problems at Shutdown San Onofre Nuke J29 10:40PM

Change Links 2018 July posted J09 8:27PM

More Pix: "Families Belong Together," Pasadena J02 7:16PM

"Families Belong Together" March, Pasadena J02 7:08PM

Short Report on the Families Belong Together Protest in Los Angeles J30 11:26PM

Summer 2018 National Immigrant Solidarity Network News Alert! J11 6:58AM
More Local News...
Other/Breaking News

Unification, séparation et fragmentation J21 2:48PM

Testing Upload J21 7:10AM

FARCELONA.2 J20 7:18PM

FAKE NEWS POR SOROS J20 6:11PM

Chemtrails and Prince J20 2:43PM

Wages For Housework J20 2:41PM

Tutelle comportementaliste J20 9:18AM

A Mistake: Jesse Jackson-Toyota deal-in Lexington -Ky is .8 billion over 10 years 2018 J20 1:17AM

If Trump Declares a AantionalEmergency, He'll Be Breaking the Law J20 12:47AM

Jesse Jackson's Sneak Attck on Toyota Lexington Ky and it's workers 2018 J19 9:12PM

Video: Chris Herdges in Eugene, 1 hr 24 min J19 5:37PM

FAKE NEWS J19 2:31PM

MACROTHSCHILD.2 J19 11:03AM

Judge Delays Ruling on Puerto Rico Debt Deal White House Opposes Island's Food Assistance J18 6:04PM

BATACLOWNS J18 9:28AM

FALSAS VICTIMAS J18 9:22AM

Paraphysique de proxémie guerrière J18 7:59AM

MACROTHSCHILD J17 9:38PM

FARCELONA 8.17.2017 J17 3:23PM

DEAD MAN LIVING J17 10:46AM

DIARY OF A CON MAN J16 10:40PM

PR Debt Cancel, Judge Reviews Cofina Debt J16 9:04PM

Réseautage, fragmentation du capital J16 4:20PM

Paraphysique de manipulation mentale et sociale J15 9:51AM

The Global Justice Project and Human Survival: We're Badly Off Track J15 5:08AM

The Global Justice Project and Human Survival: We're Badly Off Track J15 5:08AM

The Global Justice Project and Human Survival: We're Badly Off Track J15 5:08AM

Markets as a Fetish, Globalization, and Dissent Management J14 1:03PM
More Breaking News...