Tell the NSA:
StopWatching.US
Features
•
latest news
•
best of news
•
syndication
•
commentary

Feature Categories



KILLRADIO
printable version - js reader version - email this article - view hidden posts - tags and related articles
by Mark Gabrish Conlan/Zenger's Newsmagazine Tuesday, Sep. 18, 2012 at 12:57 PM
mgconlan@att.net (619) 688-1886 P. O. Box 50134, San Diego, CA 92165
Neighborhood activists and labor unions are organizing San Diego's biggest-ever anti-Wal-Mart demonstration Saturday, September 22 in the Golden Hill and Sherman Heights neighborhoods. Though the Wal-Mart in Sherman Heights hasn't even been built yet, it's already driving local businesses to close or cut back — and Wal-Mart has systematically refused to make any promises to the community to hire locally or mitigate the impacts of their store.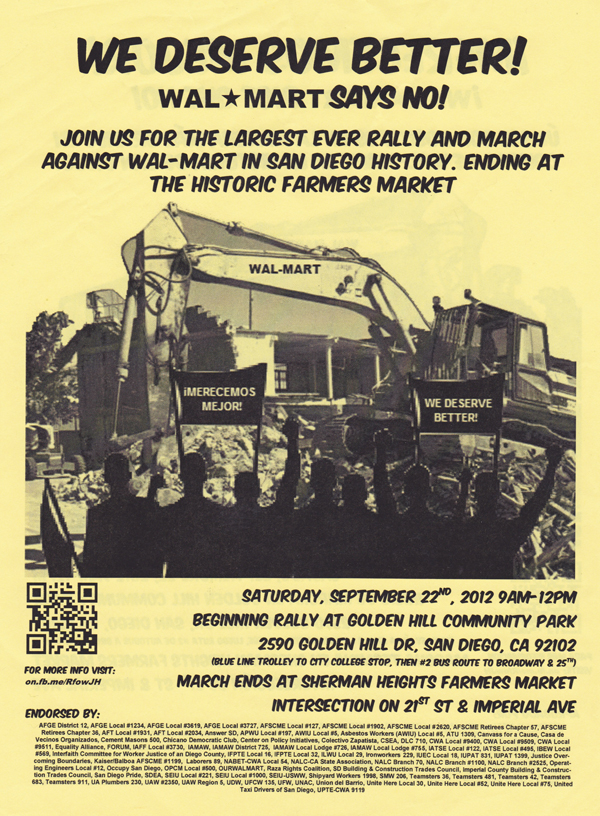 walmart_9_21_12_eng.a.jpg, image/jpeg, 600x816

Labor, Community Leaders Target Wal-Mart September 21

Big Demonstration Starts at Golden Hill Park, Marches to Sherman Heights

By MARK GABRISH CONLAN

Copyright © 2012 by Mark Gabrish Conlan for Zenger's Newsmagazine • All rights reserved

San Diego's labor movement and an organized community resistance movement in Sherman Heights are holding what they're advertising as "the largest-ever rally and march against Wal-Mart in San Diego history" Saturday, September 22. The event starts with a preliminary rally and march assembly at 9 a.m. at Golden Hill Community Park, 2590 Golden Hill Drive north of 25th Street and Russ Boulevard. The march will go south to 21st Street and Imperial Avenue in Sherman Heights, where Wal-Mart is building a so-called "neighborhood market" on the site of the old Farmers' Market. In preliminary meetings with city representatives and neighborhood organizations, Wal-Mart promised to keep the Farmers' Market intact — but when they actually got the go-ahead to build, they destroyed it.

According to Christian Ramirez, community activist and former San Diego City Council candidate, this has been the pattern of Wal-Mart's behavior ever since they started the project. "We had a lot of demands, including lighting, but the main one was that Wal-Mart sign a legally binding community benefits agreement," Ramirez told a meeting of the Sherman Heights Town Council September 12. "One of the first commitments was to preserve the historic character of the old Farmers' Market. They refused to sign the community agreements, and the building has been destroyed."

Another one of the neighborhood concerns, Ramirez said, was the direct impact of Wal-Mart's construction on the area and in particular on its already fragile and overcrowded streets. "Many of their vehicles are going up Sherman Avenue," Ramirez said. Ramirez also explained that when Wal-Mart first announced their project, only half the site was zoned commercial; the other half was zoned industrial. "Wal-Mart secured permits for the entire site to be zoned commercial, which should not happen," Ramirez said. "We tried to get city officials to explain [why Wal-Mart got special treatment], and our City Councilmember [David Alvarez] has ignored our requests."

So the community group went to the state legislature and got help from State Senator Ben Hueso, a former City Councilmember. Hueso promised that he would convene the Senate's audit committee "to determine if San Diego gave favoritism to Wal-Mart," Ramirez explained. "This does not mean that construction will be halted, or that we will be able to get city officials in trouble, but it will mean the state will conduct an audit of this and other sites. We're still concerned that this store is able to come into our community without the necessary permits. I hope the City Councilmember will take this on."

Most of the Sherman Heights Town Council meeting was conducted in Spanish, but one speaker who addressed the crowd in English was a Wal-Mart worker — or "associate," as Wal-Mart calls them. The term "associate" is an attempt, since copied by many other employers, to get employees to identify their interests with the company they work for rather than each other — just part of the massive campaign Wal-Mart has waged not only in the U.S. but everywhere in the world to make sure their stores remain union-free.

The associate said that, despite Wal-Mart's promise when it hired him that there would be opportunities for advancement, he's been there for 16 years and he's still doing the same job he did when he started. "The only thing I've ever done is push carts," the associate said. "I make $13.90 per hour, two cents below the livable wage for this county. When I started 16 years ago, I made $6.50 or $6.75 an hour." The associate asked the group if they had at least been able to get Wal-Mart to promise that Sherman Heights residents would get first crack at the jobs in the new store — and he was told they hadn't. Wal-Mart representatives had told them the jobs would be "first come, first served" and anyone anywhere in the county could apply.

"I can tell you that Wal-Mart's contempt for organized labor extends beyond their own associates," the associate said. "One of the market managers complained how costly it was for them to hire cart-retrieval companies to pick up shopping carts from the neighborhood. They charge $4 per cart, and when my store manager asked why it cost so much money, another Wal-Mart person said, 'They must belong to unions.' So they don't care for unions anywhere in the economy."

The associate said that he's been able to make a decent living on his Wal-Mart salary, but only because he's single. "I live pretty well even though I'm a paycheck away from being homeless," he said. "I live O.K. because I have nobody to take care of but my mother, but if I had a family, or if I were a single dad with two kids, I couldn't do it. There's a worker who's been a door greeter for 17 years. He has cerebral palsy, he uses a wheelchair and he works part-time. He worked from 11 a.m. to 3 p.m. and the company was O.K. with that, but then they decided they didn't want to pay for his health insurance. They told him he had to work more hours — and that forced him off Social Security disability. If I don't help him off his scooter into the store and he's late too often, he'll be terminated."

According to the associate, Wal-Mart's frantic desire to get out of paying for their workers' health care is nothing new. "In 2005 they put out a memo that said the biggest concern they had was how much health care costs they'd be paying for their workers, and they needed to attract younger, healthier associates," he said. The associate added that in recent months his own job has become more difficult as Wal-Mart hasn't fixed the cart-dispensing machine he's expected to keep full. They've also allowed the four to six motorized carts which used to be available in his store for customers with disabilities to break down and wear out to the point where they can't be repaired.

Another attendee at the meeting, Daniel Cardena, said that one of the most notorious effects of Wal-Mart on a neighborhood — the way its predatory pricing drives out well-established local businesses — is already happening in Sherman Heights even though the Wal-Mart there hasn't even opened yet. "Two of my neighbors lost their jobs when La Palapa Marketplace at 25th and Imperial closed, and the liquor store nearby will have to lay off four or five people," Cardena said. "I don't want to stay with my arms crossed. Why save 50 cents on a soda when in the end the community will be paying for it?"

Report this post as:


by Mark Gabrish Conlan/Zenger's Newsmagazine Tuesday, Sep. 18, 2012 at 12:57 PM
mgconlan@att.net (619) 688-1886 P. O. Box 50134, San Diego, CA 92165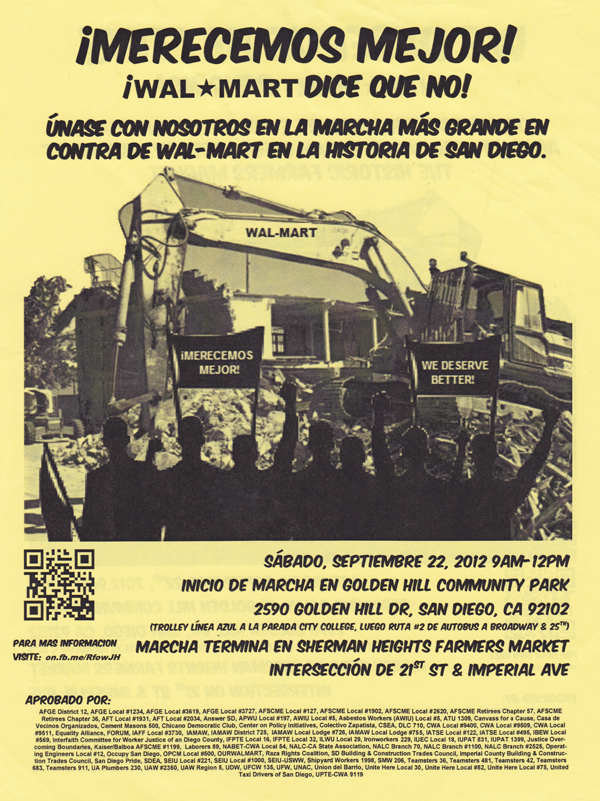 walmart_9_21_12_sp.a.jpg, image/jpeg, 600x801

Report this post as:


by Mark Gabrish Conlan/Zenger's Newsmagazine Tuesday, Sep. 18, 2012 at 12:57 PM
mgconlan@att.net (619) 688-1886 P. O. Box 50134, San Diego, CA 92165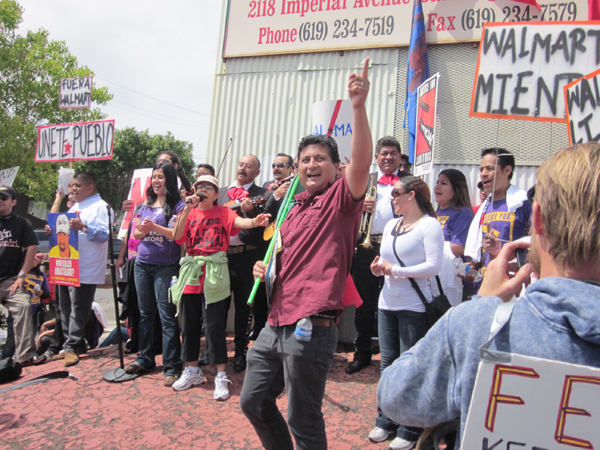 may_day_2.a.jpg, image/jpeg, 600x450
Christian Ramirez (center) leads a community rally against the Wal-Mart under construction in Sherman Heights as part of San Diego's May Day 2012 events. The sign reads "Wal-Mart Miente" — "Wal-Mart Lies."
Report this post as:
LATEST COMMENTS ABOUT THIS ARTICLE
Listed below are the 10 latest comments of 1 posted about this article.
These comments are anonymously submitted by the website visitors.

Local News

Dutchman Opens Limited Engagement at Edgemar Center for the Arts on July 15 J01 9:21AM

KPFK in Pacifica's meeting - more descriptions J29 2:57PM

KPFK hosted PACIFICA's board in LA. Missed it? here's some for ya J29 2:16PM

5 Reasons to Support RAC-LA This Month J20 11:10PM

Viacom CBS' Sumner Redstone Promotes Brutal Treatment Of Pot Smokers J19 1:20PM

Summer 2015 National Immigrant Solidarity Network Monthly News Alert! J15 12:33PM

Housing Board Member is an Evicter! J11 11:37PM

KPFK & PAPCIFICA forum in LA J11 5:45PM

LA Times goes to bat for killer cops in Salinas J10 10:34PM

NUCLEAR SHUTDOWN NEWS MAY 2015 J04 12:48PM

Los Angeles Uranium Film Festival J04 7:18AM

KPFK difficulties continue J01 4:22PM

KPFK buys premiums to re-sell them for donations -so J01 4:00PM

Latest Long Beach Police Execution: Murder of Youth In Mental Distress J01 8:19AM

How can california deal with this water crisis? M31 1:46PM

Four Winds of March Against Monsanto Los Angeles Take The Streets of Hollywood M27 2:49PM

Foreclosure Victims Occupy Senate Stump Speech of Kamala Harris M21 4:58AM

LA Nakba Anniversary protest at the Israel Consulate M19 12:56AM

Long Beach Police Execute Unarmed Teen Hector Morejon on Suspicion Of Trespassing M15 6:08AM

Eagle-Con 2015 at Cal State L.A. M13 4:15PM

Brendon Glenn Dies and Venice S/Weeps M08 7:45PM

JOIN CLASS ACTION LAWSUIT AGAINST RONALD L. HAVNER JR's PREDATORY BUSINESS, PUBLIC STORAGE M08 4:48PM

Councilmember Bonin Calls People of Venice Outraged by Police Murder "Outside Agitators" M08 10:45AM

May Day March, LA 2015 M07 7:33PM
More Local News...
Other/Breaking News

Iran Bashing in Late Stage Nuclear Talks J05 11:48AM

Hillary Clinton Threatens World Peace J05 9:54AM

UN Human Rights Council Denounces Israeli War Crimes J05 5:42AM

Greek Bailouts for Creditors, not Economic Recovery J05 3:41AM

Génétique de l'environnement J05 1:13AM

GA AS P J04 3:33PM

ACT: Ask Oprah Winfrey to Renounce Leviev's Angolan Blood Diamonds and Israeli Settlements J04 2:39PM

Video: Rise of the Robots, 1 hr J04 1:27PM

White Supremacists tied to human trafficking and a series of unsolved murders J04 1:22PM

Thoughts on Independence Day Weekend J04 12:20PM

US-Orchestrated Coup Attempt in Ecuador J04 10:31AM

Tentative Deal on Iran Sanctions Relief? J04 10:07AM

Hillary Clinton Warns of Nonexistent Iranian Threat to Israel J04 7:25AM

American Torture Story J04 4:27AM

Scare-mongering Greeks to Vote "Yes" on Sunday J04 3:24AM

Outlaws Are Better Company Than The Community of Cops J03 8:11PM

Caution Re Outdoor Grills, Fireworks And Other Holiday Events J03 2:45PM

Human Rights in Venezuela v. America J03 12:32PM

Israel Falsely Claims Hamas Supports ISIS in Sinai J03 10:04AM

Greece: Ground Zero for Global Pillage J03 6:36AM

UN Declares Highest Humanitarian Emergency Level in Yemen J03 3:23AM

Anarchie et anarchisme J02 10:37PM

The Shortwave Report 07/03/15 Listen Globally! J02 4:48PM

politikang sekswual sa pilipinas J02 12:10PM

Sunday's Referendum in Greece J02 11:31AM

Troika Plan for Greece: Endless Pillage and Regime Change J02 10:07AM

More Proof of Israeli Ruthlessness J02 6:28AM

Pentagon Calls Russia, China, Iran and North Korea Threats to Global Peace J02 3:46AM
More Breaking News...