Features
•
latest news
•
best of news
•
syndication
•
commentary

Feature Categories



KILLRADIO
printable version - js reader version - view hidden posts - tags and related articles

by Mark Gabrish Conlan/Zenger's Newsmagazine Tuesday, Jan. 03, 2012 at 8:49 PM
mgconlan@earthlink.net (619) 688-1886 P. O. Box 50134, San Diego, CA 92165
Veteran activist and political staffer Sean Wherley found another outlet a year ago when he took up stand-up comedy and started the Laugh Out Proud shows the second Thursday of every month at Martinis Above Fourth in Hillcrest, San Diego. His monthly shows present Queer and Queer-friendly comedians from San Diego and L.A. — and they're funny!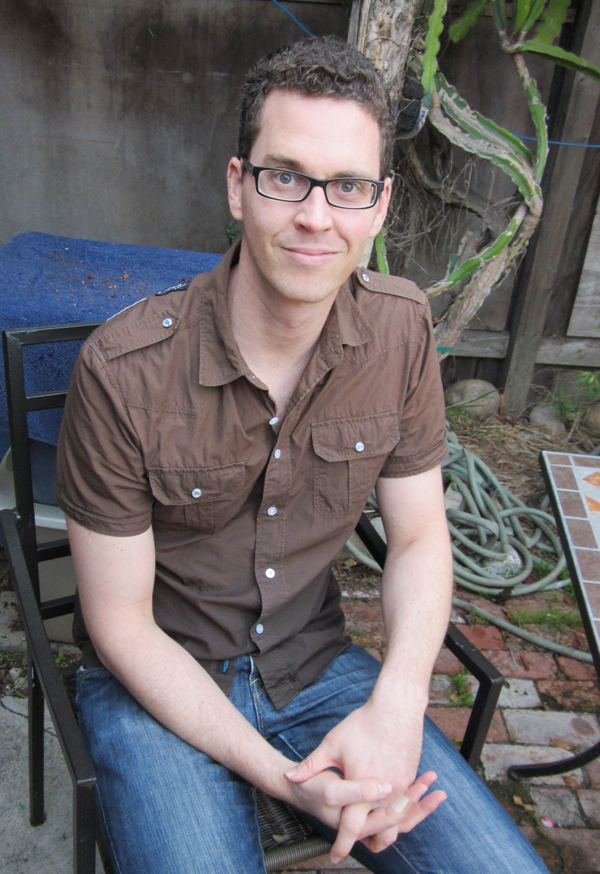 wherley.a.jpg, image/jpeg, 600x874
SEAN WHERLEY:
From Activist to Comedian, "Laughing Out Proud"

interview by MARK GABRISH CONLAN

Copyright © 2011 by Mark Gabrish Conlan for Zenger's Newsmagazine • All rights reserved

When the people who started the Martinis Above Fourth restaurant and bar at 3940 Fourth Avenue, #200, between University and Washington in Hillcrest, gave it that name, they weren't kidding. The front door is the entrance to an elevator — there's no other way, at least none visible from the street, to get in — and when the elevator lets you out on the second floor you're right in a narrow little lobby that leads to the main dining area. And if you go there the second Thursday of every month and stay from 8 to about 9:30 p.m., prepare to laugh your head off.

That's because that's when Martinis Above Fourth's management turns over the space to local Queer comedian Sean Wherley for his monthly "Laugh Out Proud" shows. They started in January 2011 and have snowballed to the point where it's standing-room only — if you haven't made a reservation for dinner before the show, which you can do by calling (619) 400-4500 or visiting www.martinisabovefourth.com on the Web, good luck finding a place to sit until the room clears out a bit — and they've attracted a mix of male and female, Queer and straight, San Diego-based and out-of-town performers who are genuinely funny.

Wherley spoke to Zenger's about his unusual background — for a comedian, anyway — and how he's built up the show. Originally it was largely about giving himself and his producing partner, Lesbian comedienne Sarah Burford, guaranteed stage time to perform each month. It's grown to become a show featuring major, or at least semi-major, talents in the stand-up world — on December 8 the headliner was Shann Carr, a Lesbian who performed for 10 years before Gay male audiences on the Atlantis holiday cruises and who ruefully told about how the breakup of a 15-year relationship seven years ago plunged her into the nightmare world of Internet dating.

Laugh Out Proud is a comfortable, amusing way to spend a Thursday evening. The comedians occasionally hurl F-bombs but mostly they talk quietly and reasonably about the absurdities of their lives and avoid the tasteless raunch that afflicts all too many straight comedy shows today. Wherley, a tall, thin, rather gangly but attractive man, focused his own performance December 8 on how Gay men tend to be shorter than straight men and how hard it's been for him to find partners he won't literally be looking down on (my joke, not his, so don't blame him if you didn't laugh).

Zenger's: Sean, just tell me a little about yourself and your background, and how you got into comedy.

Sean Wherley: I grew up in Wisconsin. I was the sixth of eight kids, Catholic family, went to public schools, always wanted attention. There was never enough. It's almost to be expected with that many kids, I think. Eventually I made my way to Minnesota to go to college, majored in political science, and spent my last year of college studying overseas in East Africa, in Tanzania. That was an opportunity to understand another culture, another country, and avoid the work world for at least a year.

When I came back, I made my way to Washington, D.C. because I'd always wanted to work on Capitol Hill. I was there for three years. I worked for two of those with members of Congress, a U.S. Representative from Michigan and a U.S. Senator from Iowa. But I got kind of tired of D.C., came back to the Midwest — Minneapolis, where I'd gone to college — and lived there for about five years. I was very involved in politics, running political campaigns. I worked for an environmental organization.

But then I started thinking about the opportunity to come to a warmer place. I came to San Diego on Martin Luther King weekend in 2006 with a friend who had once lived here. Seventy degrees, I'm wearing a T-shirt, and the vibe of the city reminded me a lot of Minneapolis: very laid-back, very easy to get around. On the flight back I decided I would quit my job. I gave my two-weeks' notice the next day and moved out here a month later.

I've continued to do public-policy work since I've been here. It's been five years. But the comedy piece was something I'd always thought about. People said, "Oh, you're so funny. Have you thought about comedy?" I would always say, "No," when in fact I had thought about it in 1997. I was living in Minneapolis and started going to comedy clubs just to watch, just to observe. But then I moved to D.C. and lost track of it, never thought to consider it again.

It wasn't until three years ago that, working with my therapist, I discovered that comedy is something I want to do, but I'd always been too afraid to pursue it. I started slowly by watching DVD's of various comedians. Then I went to watch live shows here in San Diego, and I eventually enrolled in an improv class at the National Comedy Theatre. In that class I met a guy named Chris, who was also interested in doing stand-up. Chris and I started writing together, and eventually we went up for the first time in April 2009.

Zenger's: Who would say are the comedians who have most influenced you?

Wherley: The one that I always enjoyed most as a kid was Steven Wright, a very deadpan one-liner. If you remember him, very plain in appearance, frizzy hair, would never break from that kind of sober appearance, which is really clever, really thoughtful. He always stood out. As I've gotten older, I've really come to like Sarah Silverman, Chris Rock, Dave Chappelle, Bill Maher. What I like about them is they're smart and they're clever, they're bringing up different premises, and even if the premise itself might be one we've heard before, their "take" is unusual. They just really seem to be having a good time when they're up there. Eddie Izzard, too, I forgot. I really enjoy him.

Zenger's: How did the Laugh Out Proud series come about?

Wherley: I co-produce the show with a Lesbian comedienne. Her name is Sarah Burford, and the two of us started about the same time and got to know each other in the spring of 2010. We discovered that we were both struggling to get stage time. It wasn't really clear why, but we thought rather than just lament our situation, why don't we create an opportunity for ourselves?

We wanted to do something that was different from all the other shows that were going on in the city, whether it be at bars or restaurants or clubs. We thought let's do it in a space that's welcoming to the LGBT community, one that they're familiar with, one that they would come to. I had struggled to get a lot of my Gay friends to come to my shows, and I was never sure whether that was because they weren't familiar with some of these bars or restaurants, or they didn't feel comfortable coming into these neighborhoods, whether it be Ocean Beach or Clairemont Mesa.

So I thought, well, let's give them an opportunity to come to a place that's for them. We started working with the owners of Martinis Above Fourth in January of this year. There hadn't really been anything that had been done like it on a regular basis. There would be the random show out of various bars or restaurants, but we wanted to do it on a monthly basis and we wanted to have LGBT comedians, as many as possible, in each show. We also wanted to bring headliners down from L.A., people that most San Diegans would not have seen.

Zenger's: What's been the experience like finding the talent? Has it been difficult to get the kind of people you wanted and do the shows you envisioned?

Wherley: Well, locally there are only so many LGBT comedians. I think we have one, two, three, four others besides Sarah and me. That's pretty much it as far as I'm aware. So then we've had to look to L.A., and that's been good. It's a long drive for them, but there are eager to find a new space, a new city. I think they're discovering that we've got a good thing going. The turnout has been excellent. Martinis seats roughly 130, and we've averaged over 100 over the first six shows.

We'll also occasionally have a straight allied comedian, usually from San Diego but we've had some from L.A. too. And that's nice. It's good to mix it up, and I think some of them have been really surprised, too, with the experience. The audience is welcoming and eager to support them, to see them do well.

Zenger's: So you're not trying for the kind of atmosphere of some comedy shows, where everybody's out there thinking, "Oh, my God, I've got to get my big break tonight, and if anybody else does well that's just going to get in my way." That's kind of the stereotype of a comedy show. You've got all these different people, and especially if it's a place like L.A. where there are industry people in the audience, they're thinking, "Oh, my God, I've got to get my big break, and if anybody else looks good, that's going to kill me."

Wherley: The big break is probably not going to happen at our show! There typically aren't industry people there. It's too far away. But I think for that L.A.-based comedian, it's a different vibe. First of all, there are only so many LGBT shows in southern California. There are a couple in Long Beach, one or two in L.A. What we're really marketing is something unique to San Diego and only a handful in southern California: LGBT bar, LGBT audience, mostly LGBT comedians.

It's an intimate setting. It's a classy setting. It's not a club, but a restaurant. And with the new owners kind of making investments in the property — they've built a stage, they're putting in a better sound system, better lighting — I think the people who come down from L.A. will be really impressed.

Zenger's: Maybe it's a relief for them to have an audience where there aren't a lot of industry people, and there isn't this "my career is hanging in the balance" thing, and they can just relax and be funny.

Wherley: Yes, and I think the competition up there is much fiercer than here. Just the sheer number of people who gravitate there to do comedy. But a lot of people who do comedy up there use it as a launching point for acting, whereas if you're doing it here in San Diego that's probably not your motivation. You really do just want to hone your craft.

We've been really happy with the comedians who have wanted to come down. I mean, that's asking a lot. That's four hours, probably at least, on the road. We pay our headliners up front, so at least there is some guarantee, but for everyone else they're working off the tips we collect.

Zenger's: What do you think distinguishes Gay comedy from anything else? Is it just your typical stand-up act with Gays — "Take my boyfriend, please!" — or is there a Gay sensibility that you see in your own work and in some of the performers you've hosted?

Wherley: There is an experience that is unique to LGBT people, and historically we haven't been onstage. One of the first "out" comedians to perform — I think he appeared on the Tonight show with Johnny Carson, I can't remember his name now — it was maybe in the 1980's. We've been hidden, like Hollywood in general. For me it's an opportunity to bring a perspective to the stage that I'm not necessarily hearing at other shows in San Diego. And I don't think the audience is, either. Just like other minority groups: people of color, women. For them to get up there, they stand out immediately, visually.

For us, we may not stand out visually, but if we choose to come out in our set, our material, our jokes, it's something new for the audience to hear, to respond to. And I think it makes for a richer experience for the audience. I've been to shows where it's one 25-year-old white straight guy after another, all kind of the same appearance and almost the same perspective, and at the end of the night you're kind of numb because you can't remember who's who. The stories and the "take" are so similar.

I think what we're doing with our show is an opportunity to connect with our audience. While there are obviously some well-known LGBT comedians out there, they're not typically the ones getting their own shows or specials on Comedy Central. And so this is a chance to hear their stories, in effect, affirmed through the LGBT comedians on stage. And it's safe. The audience doesn't feel that they're being laughed at, like maybe how we felt in the past. It's an opportunity to look at ourselves and poke fun at the reality of what it may mean to be LGBT.

Zenger's: You've used that ghastly set of initials, "LGBT," throughout this interview. Have you had any Bisexual or Transgender performers?

Wherley: Bisexual, yes. Not Transgender. We are aware of some in L.A. that we are interested in having. I've said to Sarah I'd love to have someone Trans: one, to mix up our show; but also I'd really like to bring Transgender people into the audience, because I don't really think we've had many, if any, Transgender people at our shows. I think that would be exhilarating, because again, that's a perspective I'm not even hearing. Some people might call Eddie Izzard Transgender, but that's not really how he identifies. So it would be something altogether different.

Zenger's: What would you say is different about a Gay comedian? What separates you from the indistinguishable 20-something straight guys you talked about at this putative show you attended? How would you say Queer people look at the world differently, in terms of what inspires them to joke about it and what they would find funny?

Wherley: I think we're used to being a minority. We're used to being isolated. And as a result, our stories aren't always shared. Our perspective isn't necessarily understood. So when I get up there, I think I am talking about things that people may be aware of, but haven't heard on stage. And so I'm basically giving them the invite to laugh. I definitely poke fun at myself and other Queer people in front of what are majority straight audiences. And I enjoy it! And I'll tell the same jokes when I go to a Queer audience. (I'm mixing up the lexicon for your sake.)

What's different is that by being a minority, you are used to seeing things differently. It's really powerful to use that identity, and yet connect with the majority, for instance a straight audience. Sometimes I've held back and not told any jokes that indicate I'm Gay, but I've come to realize that that's what makes me stand out when I'm up there. And I'll mix it up. It's not all stuff that's Gay-related. I'll talk politics and current events and observational humor. I'll talk about my family, about having grown up in the Midwest, and how life is different in California. And those things are understood by people regardless of their orientation.

Zenger's: I remember in the 1960's when African-American comedians started performing and getting major club dates, first there was Dick Gregory, who was politically radical and made being Black and the civil-rights struggle the center of his act; and then that paved the way for Bill Cosby, who became famous as the first Black comedian whose jokes were not dependent on his being Black. Do you think Gay comedy is going to evolve in the same way? You'll have someone who is out there and is Gay, is generally known as Gay, but is not telling Gay jokes?

Wherley: I think it's already happening. There's one comedian I know who's Gay — not local — and I watched one of his DVD's. It was a one-hour special, and he never referenced being Gay. Now, is that progress or is that him just choosing not to come out? I'm not sure. I mean, I think there's definitely a desire on the part of Queer comedians to broaden their base, and so some may feel compelled to talk less about being Queer. But I think we can't help it. Whoever's booking shows knows who we are. And that may help us or hurt us, and so you might as well accept it and incorporate it into your act.

Zenger's: One of the most brilliant things I ever saw was not from a Gay comedian, although it twisted the knife in somewhat the same way. It was a panel about marriage equality. It was at the Malcolm X Library. Most of the speakers were Black, and there was this one African-American minister of a storefront church in San Diego — actually part of a national movement to create a Queer-friendly Black church. One of the other Black people on the panel used the line, "Well, being Gay is not like being Black. Everyone sees me and knows that I'm Black. They don't necessarily know that you're Gay." And this Black Gay minister, in the queeniest voice you could imagine, said, "Well, actually the moment anybody sees me they know I'm Gay, too."

Wherley: Nice. There was a guy who performed at Bourbon Street. He did not reference that he was Gay. In fact, some of his jokes talked about girlfriends. And then I later discovered that he is Gay. So I guess we do have that luxury, if we quote-unquote "pass."

Zenger's: That baffles me. Why would he want to stay closeted in a Gay establishment?

Wherley: I don't know if he was aware what that place was. He was from L.A. It was peculiar. That's why, when I later discovered it, I thought, "This is really odd." Why wouldn't he have tried to connect with his audience and switched the joke? Maybe he does usually say "girlfriend." He could have said "boyfriend" and it would have worked just as well. But he didn't tweak any of it, so I was led to think he was straight.

Zenger's: Was he afraid of one of his L.A. friends catching him in San Diego, Tweeting back and saying, "This guy's a Queer"? Word gets back to the industry and his career chances are finished?

Wherley: He's out on line. Justin Martindale is his name. We're looking to try to get him to one of our shows. So he is Gay, identifies as such [on his Web site], but he chose not to, and it was unusual.

Zenger's: Of course, maybe he's Bi and he has girlfriends and boyfriends.

Wherley: It's possible, but I found the word "Gay" attached to him. Now maybe that's for those who don't know what "Bi" means.

Zenger's: In fact, I could imagine a Bisexual comedian having a great time with this. I remember in the 1970's a woman named Lindsay Maracotta, who wrote for Playboy, published a book about the singles scene, and there was this marvelous line in it, where she quotes one of her girlfriends as telling her, "I'm dating a guy who's Bisexual. And I don't mind him being Bisexual. It's just twice as many people to be jealous of."

Wherley: A friend of mine who does comedy — she started here, now she's in L.A. — she's the one on our show who identifies as Bi, and she did a show in L.A. and actually came out on stage to her mother and aunt and cousins, who were in the audience. That's something straight comedians can't do. I told her, "I think there are better ways to come out!" I came out by letter. It may be considered old-fashioned, but a little more discreet, I guess.

Zenger's: How did your family react?

Wherley: I wasn't there, but not well. I think they would have preferred it be shared in private. Understandable. I did have the pleasure of performing in Madison, Wisconsin in September. It was the first time I had performed in front of my parents and two of my siblings. That was a lot of fun, because I do tell a couple of jokes about my mom, so it was nice to have her there, and then I could kind of tweak them a little and acknowledge that she was in the audience, and have some high-school classmates. It was really fun. It was the second-largest audience I've had, and that was 250. Cold, rainy night, late September, and everyone came out. It was just a lot of fun to perform in front of them. It's really a rare opportunity to perform out of the area, and that was really special. It reminded me why I enjoy doing comedy. It was thrilling.

Zenger's: What have you got coming up for January 12?

Wherley: The headliner is a straight woman. Her name is Vicki Barbolak. She's kind of in the mold of almost Roseanne Barr. She presents herself as someone trashy. I think it may be more of a persona than reality, but really just kind of sassy in an overweight 1980's kind of way. It's this whole schtick, but it works, and I think Gay men in particular will really like her.

Who else is on that show? Sarah and myself, we perform at every show. Another straight comedian, Kyle Ray, who has a Gay brother and does a lot of Gay-related material, really clever stuff. I'm really looking forward to having him on the show.

Zenger's: Where do you think Laugh Out Proud is going in the future?

Wherley: We just had our first show with the new owners of Martinis, Jim Simpson, and they are invested in their operation. They just built a new stage. There was no stage before, so that was a big improvement. It helps the audience see the comedians, and whatever other entertainment they may have, much better. The sound system, as they have described, is going to be a huge improvement, allowing people farther away to hear it better. The lighting system that they've described is going to be a huge enhancement, too.

We really are eager to continue putting on a good show, and that means a mix of men and women, people of color and Queer and straight and San Diego and L.A.; that we fill the place — that it seats up to 130, getting close to that — and having people come back because they really had a good time: enjoyed the comedians, felt comfortable.

It's a free show, and there aren't a lot of free comedy shows of that caliber in San Diego. And I think it's really special. The headliner we had last month, Steve Hasley from L.A., really enjoyed it. And he's already told people up there, because they've contacted us, asking if they can get on. So our hope is that we can keep bringing people from L.A. who are interested, Queer or straight.
Report this post as: