Features
•
latest news
•
best of news
•
syndication
•
commentary

Feature Categories



KILLRADIO
printable version - js reader version - view hidden posts - tags and related articles

by Mark Gabrish Conlan/Zenger's Newsmagazine Tuesday, Feb. 22, 2011 at 3:15 PM
mgconlan@earthlink.net (619) 688-1886 P. O. Box 50134, San Diego, CA 92165
Openly Queer Right-wing San Diego City Councilmember Carl DeMaio dominated a forum on the city's budget woes sponsored by the Hillcrest Town Council February 5. Three other panelists spoke ¬— former San Diego City Attorney Mike Aguirre, who stunned his supporters in the progressive community by joining DeMaio in campaigning against a proposed city sales tax increase last fall; former City Councilmember Michael Zucchet, a lobbyist for the city workers' main union; and economics professor Alan Gin — but DeMaio and his proposed "Roadmap for Recovery," a plan to balance the city's budget by privatizing city jobs, slashing pensions and reducing supposedly "nonessential" city services, was the basis for the discussion and provided the context to which the other three panelists responded.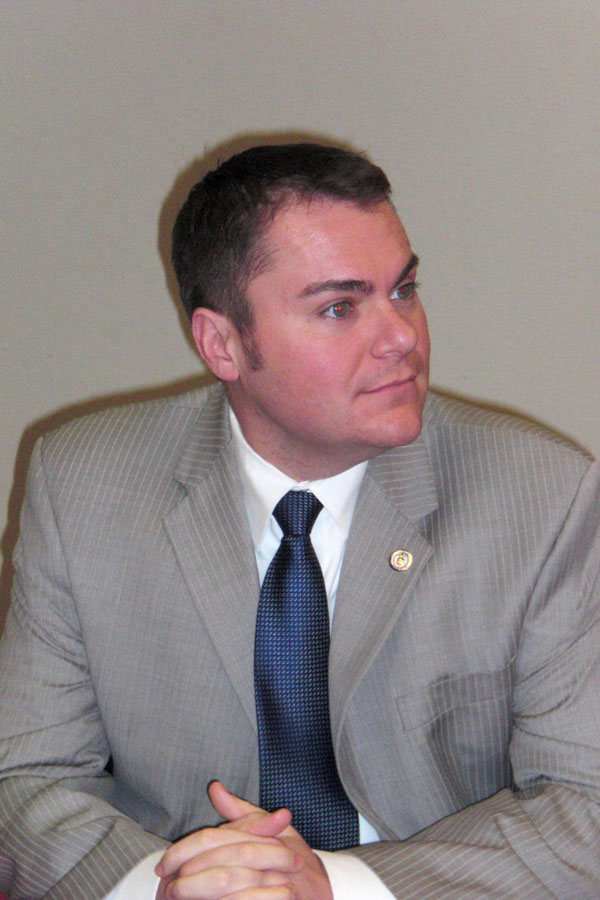 demaio.a.jpg, image/jpeg, 600x900

DeMaio Stars in Hillcrest Council's Debate on City Budget

Aguirre, Zucchet, Gin Challenge Councilmember's "Roadmap to Recovery"

by MARK GABRISH CONLAN

Copyright © 2011 by Mark Gabrish Conlan for Zenger's Newsmagazine • All rights reserved

PHOTOS, top to bottom: Carl DeMaio, Michael Zucchet, Mike Aguirre, Alan Gin

The Hillcrest Town Council invited a fascinating quartet of speakers to its February 5 meeting at the Joyce Beers Community Center in the Uptown District, but City Councilmember and undeclared mayoral candidate Carl DeMaio stood out. Presenting a so-called "Roadmap to Recovery" he released just after San Diego voters overwhelmingly rejected a half-cent sales tax increase in the November 2010 election, DeMaio offered much the same recipe he had when he spoke to the same group before the election to argue against the tax hike: aggressive outsourcing of city jobs and a frontal assault on city workers' pensions by any legal means available. At the same time he ridiculed his ally in the anti-tax fight, former city attorney Mike Aguirre, for having said that the only way the city can break the pensions is to declare bankruptcy.

The panel was unusual in that three of its four members — DeMaio, Aguirre and former City Councilmember Michael Zucchet — have held local elective office. But DeMaio, the only current officeholder, spoke first and dominated from the get-go, essentially calling the tune and creating the context to which the other panelists had to respond. "The city has been facing this nightmare for seven or eight years, but I think we will finally make the tough decisions," DeMaio said. "Our common goal must be to make government work again. We want the basic services back and our quality-of-life services protected. We get our best ideas from forums like this."

DeMaio claimed that his "Roadmap to Recovery" would eliminate San Diego's current budget deficit and earn a surplus for each of the next five years "and put back money into browned-out fire stations" — a reference to the controversial closures of some firefighting facilities the city can no longer afford to run. "We have to demand from our elected leaders a comprehensive financial plan, in writing, scored not only from a financial standpoint but from a legal standpoint," DeMaio said. "I appreciate much of what Mike Aguirre has been trying to do, but what I don't appreciate is his claiming bankruptcy is a plan. It's not."

Though DeMaio's "Roadmap" goes considerably beyond an attack on city workers' pensions, both the document itself and his comments make it clear he regards pensions as the number one roadblock to San Diego's financial stability. "There is no way we will be able to fix our city's financial system or protect our services from future cuts if we don't reform our pensions," he said. "Mathematically, the realities are sobering. Our pension payment in 2003-04 was around -50 million. Today, it's 2 million. It will continue to climb to the 0 million neighborhood. Where do you get the money for that? You get it from shutting fire stations, delaying road repairs and cutting library hours for our kids. Your services have been cut back and that money has been put into the pension system."

According to DeMaio, the total cost of the city's pension system — including health benefits for life, the second pensions some city employees are entitled to and city subsidies of the contributions workers are supposed to pay into the system — is 5 million this year. "That's more than we spend on the entire police department," he said. "That's more than two times what we spend on the fire department. That is 12 times what we spend on our branch library system." DeMaio said that the cost of the pension system is "two-thirds of the city payroll," compared to the 14 to 16 percent average for the private sector in San Diego County. He argued that the 16 pension reforms in the Roadmap are all legal and "can be done without approval from the unions."

DeMaio also argued that the services the city does deliver are done inefficiently. "Why does it take six people to fill a pothole?" he said. "We have to fundamentally rethink how we deliver city services and look for best management practices. That means managed competition" — his favored euphemism for outsourcing or privatizing city jobs — "and holding both city employees and private contractors responsible." DeMaio said that the city is owed million in accounts receivable but won't hire third-party collection agencies to get it, and "we didn't take up a volunteer offer to clean firepits in a park in my district because our union contracts prevent it. I have the money [in the city budget] to build a park in Mira Mesa but not the money to run it."

Aguirre, up next, began by proclaiming himself a "liberal Democrat" and running through his progressive bona fides — "I was student body president at UC Berkeley and I was Cesar Chavez's attorney, representing the farmworkers against the growers" — just in case anybody thought his emphatic and sometimes overwrought campaign against the sales-tax proposal last fall signaled a permanent Reagan-like change to the Right. "In San Diego we have an example in which the whole idea that someone can make a living at public service for life is at risk," he said. "The pension system in San Diego was rigged to serve the mayors and city councilmembers, and it was all done under the radar. That's why we were found to have committed fraud. What's sad to me is my team is doing things inimical to society, and we're playing into the hands of our friends who don't like organized labor."

According to Aguirre, "The San Diego pension system was billion under water when I was in office [as city attorney from 2004 to 2008] and is .2 billion under water now. We have 97 percent coverage for retirees and zero percent for actives" — that is, people currently working for the city. "The only way to get out of it is to shrink the debt, and the only way to shrink the debt is through bankruptcy," he argued. He also said that unlike the labor leaders of old, who when they went out on strike would tell people they were making sacrifices for future generations, the leaders of the city workers' unions were sacrificing the welfare of city residents and new workers to protect the pensions of retirees. Aguirre admitted that when he served as city attorney he'd opposed bankruptcy, but argued that without it both elected officials ¬— whose own pensions gave them an interest in retaining the current system — and union leaders won't make the sacrifices called for in the current emergency.

Michael Zucchet began his presentation by describing himself as "a recovering politician" — ironically using the same term as one of the most Right-wing figures in San Diego, former mayor Roger Hedgecock, who like Zucchet was driven from office due to a criminal conviction that was later thrown out on appeal. Zucchet explained that he represents the San Diego Municipal Employees' Association (MEA), an umbrella union for city workers who aren't police officers or firefighters. He struck back against DeMaio's handouts — DeMaio had brought a few copies of his full "Roadmap to Recovery" and had blanketed the room with a two-page handout summarizing it — with a graph of his own that allegedly showed that DeMaio's presentation was deceptive.

According to Zucchet, the economic health of the pension system has improved since DeMaio published his "Roadmap." The pension deficit, Zucchet argued, "still increases, but it's 10 percent less than it was reported last year. The pension fund made 0 million in investment income in the last six months. When Agurre says 'nada' [referring to his statement that the pension system wasn't getting any money to cover retirement costs for current city workers], he's assuming that no extra money is going into the system. Our pension system has 0 million in assets and 0 million in liabilities. It's significant, but it's not a debt that's due today."

Zucchet accused DeMaio of creating a false impression by publishing a graph in the "Roadmap" based on actuarial assumptions over the next 15 years — and ignoring the full 30-year projection the actuaries made. Zucchet said the health of the city's pension system "gets dramatically better after the first 15 years," and he described the graph he handed out — which depicts a sudden drop in the city's pension liabilities after 2025 — as showing the system "falling off a cliff," an odd metaphor to use for a development he was arguing was positive.

"Over the last 25 years, the city budget has grown 5 percent per year, and the pension debt has stayed constant at 8 to 9 percent of the city budget," Zucchet argued. "Even if we do nothing, it is quite sustainable." What created the "falling off a cliff" budget projection, Zucchet said, is a provision in one of the voter-approved pension control initiatives to change the amortization level — the rate at which the pension debt is supposed to be paid back — from 30 to 15 years. "There was this great move to put more money in the pension system, and that's why we're feeling the budget pinch right now," Zucchet argued. "We literally cut off our nose to spite our face." If the city went back to paying off the pension debt on a 30-year basis, the way it does for all its other debts, there would be no crisis and no need for drastic cuts in city services to pay the pension system, Zucchet said.

Zucchet attacked DeMaio's anecdote about the city using six people to fill a pothole. "The city of San Diego does more with less than any other city in California," he said. "You take any measure of staffing, and San Diego will be at the bottom. We had 11,000 city employees in 2006; we have 8,000 today. You've seen cuts in services, but nothing like the cuts in staff. On the other side, this city's taxes are the lowest of the 10 largest cities in California. If you adopt the average transit occupancy [hotel] taxes and utility user fees [charged by California cities], the budget will rise 0 million. This is not a call to raise taxes" — a postlude which made DeMaio laugh. Zucchet also argued that, with billion in assets, .5 million in liabilities and a record of never having missed a bond payment, San Diego would be "laughed out of bankruptcy court" if it tried to file as Aguirre was suggesting.

Like DeMaio and Zucchet, Alan Gin — the only member of the panel who'd never been an elected official — came with documents. In his case, they were a report called The Bottom Line, produced by the labor-funded Center on Policy Initiatives in April 2005, and an update from 2010. Like Zucchet, Gin made the point that San Diego's taxes are much lower than those of other comparable California cities (San Francisco, Oakland, San José, Sacramento, Fresno, Los Angeles, Long Beach, Anaheim and Santa Ana), and argued that raising hotel taxes and business fees, and ending San Diego's guarantee of free trash collection for owner-occupied single-family homes, would bring in enough money to help the city past its crisis.

"One problem with the pension situation dominating the discussion of the city budget is it masks the fact that the city of San Diego and its citizens are cheap," Gin said. "You can be fiscally sound in two ways: low taxes and low levels of services, or high taxes and high levels of services. The people of San Diego want low taxes and high services." He cited a survey conducted by the city's independent budget analyst that showed San Diegans "did not want higher taxes or reduced services. To the extent that there could be cost savings that protected services, that was their first option. If revenues needed to be raised, their preferred option was fees rather than taxes. So our committee" — which, he acknowledged, worked only on the revenue side and didn't consider cutting costs — "came up with those recommendations [higher hotel taxes and business fees, and charging for trash collection] in terms of an economic strategy."

The event's MC, Scott Lewis of Voice of San Diego, pointed out to Zucchet and Gin that in addition to the 10.5 percent official hotel tax, guests in San Diego pay an additional 2.5 percent the hotel owners got together and voluntarily imposed to keep the city's Convention and Visitors' Bureau (CONVIS) going after the city stopped funding it. DeMaio said he'd like to see more private interests getting together and voluntarily assessing themselves to pay for services the city can no longer afford to offer them. "The city's general fund should be for the 3R's: roads, response times [to police and fire calls] and recreation," he said. "In a recession, you should expect the people who make the money to pay the fees."

DeMaio also said that the city's voters had shown time and time again that until the pension problem is dealt with finally and definitively, revenue increases are a non-starter. "One of the arguments against Proposition D [the failed sales-tax hike DeMaio led the opposition to] is that if you give them more money, they won't end the gravy train," he said. DeMaio claimed that San Diego's pensions were so generous "you have a retired librarian making 7,000 per year" and "the average city worker receives 129 percent of their salary if they retire at 67 and they get free health care for life" — figures Zucchet disputed. "We have to insist on reform before revenue," DeMaio said. "That has been a consistent message from voters."

Report this post as:


by Mark Gabrish Conlan/Zenger's Newsmagazine Tuesday, Feb. 22, 2011 at 3:15 PM
mgconlan@earthlink.net (619) 688-1886 P. O. Box 50134, San Diego, CA 92165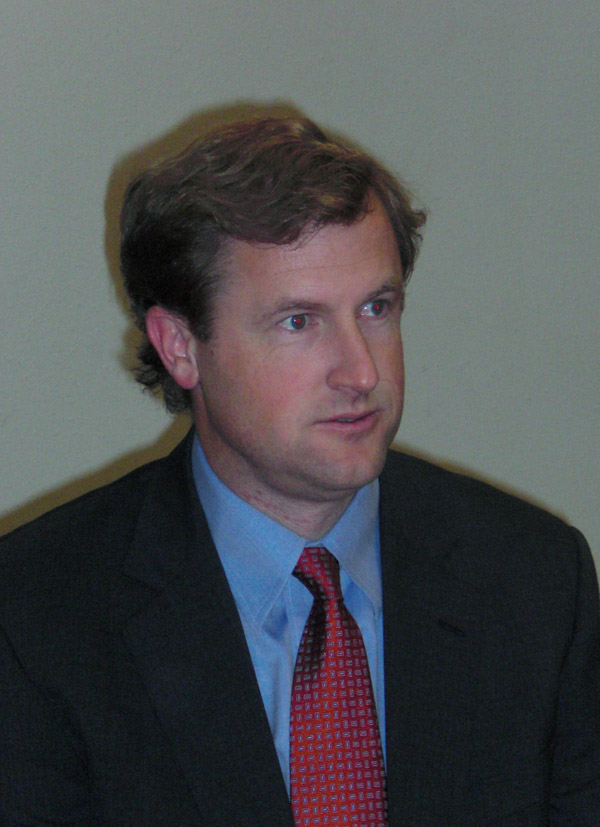 zucchet.a.jpg, image/jpeg, 600x827

Report this post as:


by Mark Gabrish Conlan/Zenger's Newsmagazine Tuesday, Feb. 22, 2011 at 3:15 PM
mgconlan@earthlink.net (619) 688-1886 P. O. Box 50134, San Diego, CA 92165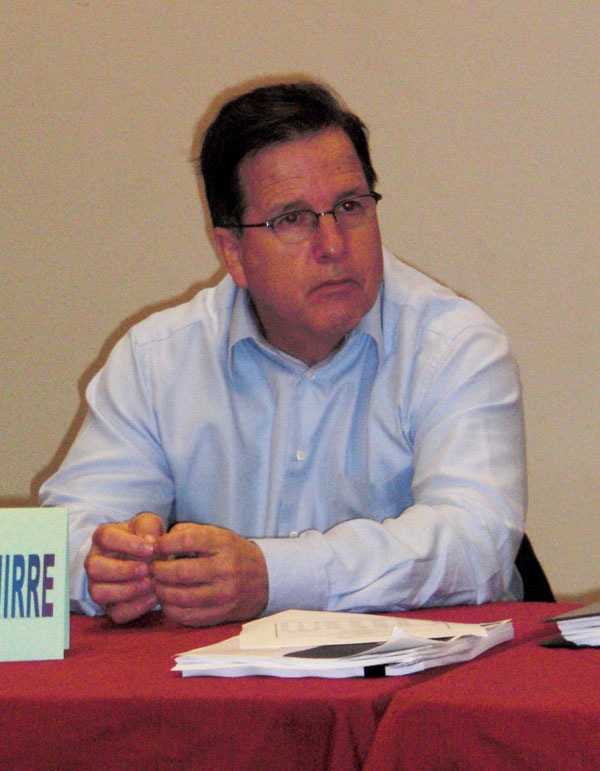 aguirre.a.jpg, image/jpeg, 600x771

Report this post as:


by Mark Gabrish Conlan/Zenger's Newsmagazine Tuesday, Feb. 22, 2011 at 3:15 PM
mgconlan@earthlink.net (619) 688-1886 P. O. Box 50134, San Diego, CA 92165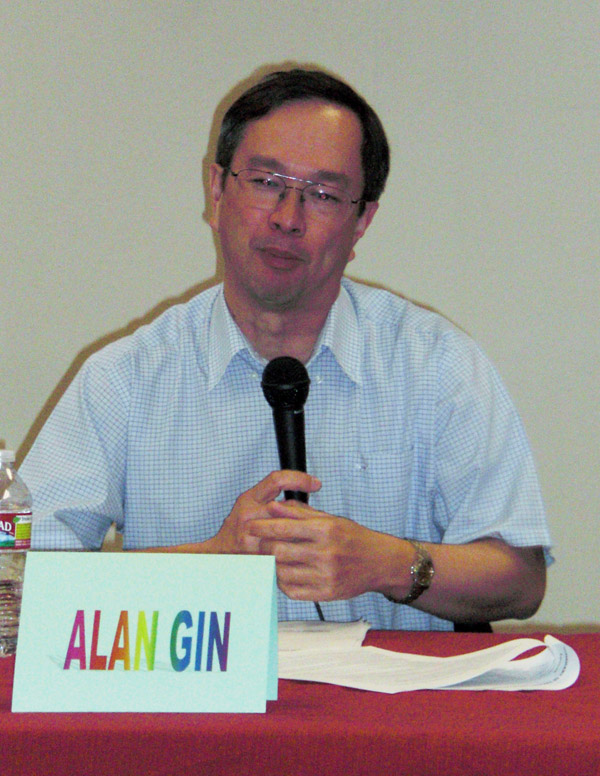 gin.a.jpg, image/jpeg, 600x776
Report this post as:
Local News

Change Links 2018 July posted J09 1:27PM

More Pix: "Families Belong Together," Pasadena J02 12:16PM

"Families Belong Together" March, Pasadena J02 12:08PM

Short Report on the Families Belong Together Protest in Los Angeles J30 4:26PM

Summer 2018 National Immigrant Solidarity Network News Alert! J10 11:58PM

Watch the Debate: Excluded Candidates for Governor of California M30 10:20PM

Change Links June 2018 posted M28 12:41AM

The Montrose Peace Vigil at 12 Years M22 1:01PM

Unity Archive Project M21 2:42AM

Dianne Feinstein's Promotion of War, Secret Animal Abuse, Military Profiteering, Censorshi M17 3:22PM

CA Senate Bill 1303 would require an independent coroner rather than being part of police M10 2:08PM

Three years after OC snitch scandal, no charges filed against sheriffs deputies M10 1:57PM

California police agencies violate Brown Act (open meetings) M02 1:31PM

Insane Company Wants To Send Nuke Plant Waste To New Mexico A29 4:47PM

Change Links May 2018 A27 1:40AM

Worker-Owned Car Wash on Vermont Closed A26 10:37PM

GUIDE TO REBEL CITY LOS ANGELES AVAILABLE A12 5:39PM

lausd whistle blower A10 11:58PM

Website Upgrade A10 3:02AM

Help KCET and UCLA identify 60s-70s Chicano images A04 1:02PM

UCLA Luskin: Casting Youth Justice in a Different Light A02 11:58AM

Change Links April 2018 A01 11:27AM

Nuclear Shutdown News March 2018 M31 6:57PM

Join The Protest Rally in Glendale on April 10, 2018! M29 7:00PM

Spring 2018 National Immigrant Solidarity Network News Alert! M19 2:02PM

Anti-Eviction Mapping Project Shows Shocking Eviction Trends in L.A. M16 5:40PM

Steve Mnuchin video at UCLA released M15 12:34AM

Actress and Philanthropist Tanna Frederick Hosts Project Save Our Surf Beach Clean Ups M06 12:10PM
More Local News...
Other/Breaking News

14 Disturbing Facts About Scott Gottlieb, Trump's FDA Head J20 10:47PM

Behind the scenes at fbi National Academy J20 2:47PM

Treasury Takes Aim at Shell Companies J20 11:18AM

Paraphysique de l'intelligence J20 9:08AM

Oklahoma GOP Senator Jim Inhofe's Bloody Record J20 4:01AM

Globalization: hope on the horizon despite Fake Liberals. J20 3:41AM

Sorry President Trump,Ted Cruz Texas Judicial System,is Worse Than Many Shithole Countries J19 4:49PM

The Shortwave Report 07/20/18 Listen Globally! J19 4:33PM

The System Question as a Survival Question J18 8:54PM

Nation's Largest Voting Machine Co., ESS, Admits Lying Re Having Installed Remote Control J18 11:55AM

Du pain et des jeux J18 9:53AM

Paraphysique de martyrologie J17 8:00AM

Children Incorporated Earns 4-Star Rating on Charity Navigator J16 11:24AM

Democratic Socialists of America J14 4:57PM

Leonard Peltier Non Violent Native American Political Prisoner since 1970's J14 4:18PM

Paraphysique miscellanées de l'aggiornamento J14 12:54AM

FBI Investigated LA County Sheriff Baca,Why Not Hank Skinner's Persecution? J13 3:52PM

Updated Partial List Of Famous Vegetarians, Vegans, & Fruitarians J13 2:59PM

The Shortwave Report 07136/18 Listen Globally! J12 4:36PM

Social Policy as Social Infrastructure J12 3:38AM

Vol I: 84 Varieties Of GOP Election Fraud J12 1:50AM

Texas Can Call it An Execution,But It is A State Sponsored Murder of Hank Skinner.. J11 6:48PM

June 2018 Honduras coup update J11 3:35PM

Maria Estrada doubles down on racist support J11 1:40PM

New York Women in Film & Television Announces 2018 NYWIFT Ha Phuong Scholarship Recipients J11 10:14AM

Trapps de la domination, trapps de l'aliénation J11 1:31AM

Please Work For The Defeat Of Brett Kavanaugh And Why J09 8:54PM

Transinhumanisme ( transe inhumanisme ) J09 12:44PM
More Breaking News...