Features
•
latest news
•
best of news
•
syndication
•
commentary

Feature Categories



KILLRADIO
printable version - js reader version - view hidden posts - tags and related articles

by Mark Gabrish Conlan/Zenger's Newsmagazine Sunday, Aug. 08, 2010 at 3:14 PM
mgconlan@earthlink.net (619) 688-1886 P. O. Box 50134, San Diego, CA 92165
China Miéville isn't exactly your typical multiple award-winning science-fiction writer. He's also a Left-wing political activist, a member of the British Socialist Workers Party and former candidate for Parliament. Miéville came to San Diego for the July 22-25 Comic-Con, and took a detour for an afternoon question-and-answer session at the San Diego Public Library Sunday afternoon, July 25, during which he discussed his novels — notably his latest, "Kraken," and his "New Crobuzon" series ("Perdido Street Station," 2000; "The Scar," 2001; "Iron Council," 2002) — his politics and how the Internet has made the already difficult business of making a living from writing even harder.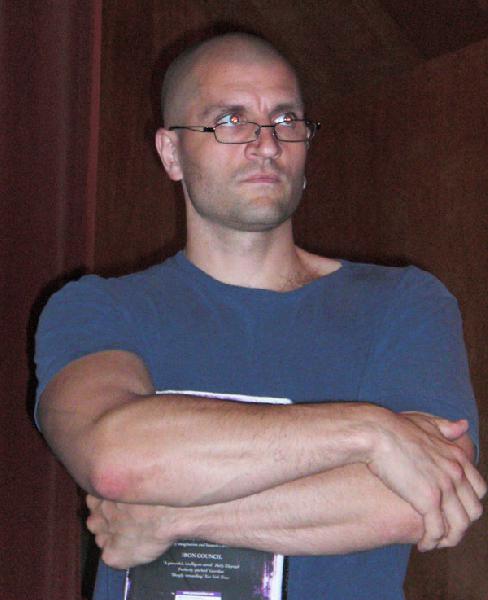 mi_ville.a.jpg, image/jpeg, 600x737
Leftist Sci-Fi Writer China Miéville Comes to San Diego

Speaks at Public Library After Appearing at Comic-Con

by MARK GABRISH CONLAN

Copyright © 2010 by Mark Gabrish Conlan for Zenger's Newsmagazine • All rights reserved

China Miéville isn't exactly your typical science-fiction writer. He's 38, a tall, imposing muscular figure with multiple earrings and a shaved head, and he's both a multi-award winning author (British Fantasy and British Science Fiction awards, three-time winner of the Arthur C. Clarke Award and nominee for the Hugo and Nebula awards) and a Left-wing political activist. A member of the British Socialist Workers Party — a Trotskyist group, like the similarly named but now defunct one in the U.S. — Miéville once ran for the British Parliament as a candidate of the Socialist Alliance, and he adapted a Ph.D. thesis into a non-fiction book (published by the Leftist Haymarket Press) called Between Equal Rights: A Marxist Theory of International Law.

Miéville came to San Diego for the July 22-25 Comic-Con, which in less than two decades has grown from a nerd-fest celebrating comic books and the movies made from them to a big, splashy, internationally recognized event at which major Hollywood studios trot out big stars and filmmakers to promote movies based on superhero stories and other comic books — which sometime seem to make up at least half of the films running at your local multiplexes. In addition to appearing at Comic-Con, Miéville took a detour for an afternoon question-and-answer session at the San Diego Public Library Sunday afternoon, July 25, during which he discussed his novels — notably his latest, Kraken, and his "New Crobuzon" series (Perdido Street Station, 2000; The Scar, 2001; Iron Council, 2002) — his politics and how the Internet has made the already difficult business of making a living from writing even harder.

"A lot of independent people and trade unions, including the Writers' Guild, take the position that a downloaded book is a stolen book," Miéville acknowledged in answer to a question about the Internet and its effect on authors' income and rights. Then he made it clear that his own position is a lot more nuanced than that: "That's only true if every downloaded book is a copy that would otherwise have been sold. There are too many variables to make that assumption." Miéville said that "the punitive model" — major publishers filing huge lawsuits against ordinary individuals for downloading copyrighted material — didn't work for the music industry and won't work for publishing either.

"It's based on this bogus idea, and risks alienating your readers the way Metallica alienated their fans by suing Napster," Miéville said. "I make my living by writing, so of course I'm concerned [about a possible loss of income], but I think I can ask people to be decent and come to an arrangement. We have to accept that anyone who doesn't want to pay for an electronic text won't have to. Kraken was cracked in half a day. If you're a recording company and you put out a single, anyone who doesn't want to pay for it can get it. You can be punitive, or you can make it worth their while to throw you a few quid. I think the distribution model needs to change. We need to be undogmatic and open-minded." He added a warning, however, that "if people don't pay for books, I won't write them."

Asked about the "Creative Commons" licensing plan — an alternative to copyright in which works placed on the Internet can be freely transferred as long as no one but the original creator profits from them financially — Miéville said there were two problems with it. First, "it only worked before the e-book reader was available," when the only way to get a portable version of a text was to buy a printed copy. Also, he said Creative Commons forces him to "worry about cover art and packaging" — which, as a writer, he wants a publisher to take care of so he can concentrate on inventing stories and getting them down on paper. Miéville probably spoke for a lot of his readers when he said, "I like computers. I like my iPad and I like the Internet, but I'm not a techie and I'm not into coding" [writing programs].

At the Public Library Miéville fielded a question he seems to get asked every time he speaks in public or does an interview: why does he write science fiction and fantasy? "Because it's awesome," he said. "I grew up reading science fiction, horror and fantasy. As a reader, I've become more catholic in my tastes, but as a writer I don't sustain interest in stories unless they have some aspect of the fantastic and the unreal. Iron Council was representative of a kind of politics I could do in fantastic fiction I could not do in realistic fiction. A lot of times I'm asked how I got into genre fiction, and I answer, 'How did you get out of it?' A cluster of seven-year-olds were reading Harry Potter and two years later most of them had fallen out of it. We geeks are faithful to our obsessions."

Another question Miéville frequently gets asked is how he got his first name. From his "hippie parents," he explained. "It's not a pretentious pen name, like 'Sting.'" He said it's a British slang term for "mate" — meaning a close friend. Based on the name, a lot of people (presumably the ones who either never look at authors' photos or buy cheap editions that don't have them) assume he's a woman — and when they find out that he's really a straight white male they give him special credit (which he doesn't think he deserves) for being able to write so sensitively about women, people of color and Queers.

Asked about the Asian girl in his book Un Lun Dun, Miéville pointed out that the character is actually "Desi" (descended from people from Pakistan or India) — British people have a broader definition of what constitutes "Asia" than we do, he said — and he wrote her because it was a book for "young adult" (publishing-speak for teenage) readers and "I hadn't seen that many representations of Asian girls in British fiction." He said he caught her voice because "I spend a lot of time on buses listening to how children talk, and I think the distinctions between men and women are grossly exaggerated. I think hopefully [the question of whether male authors can create convincing women characters] is getting to be less of an issue."

As much as he likes the science-fiction and fantasy genres — and as committed as he is to writing no other sort of fiction — Miéville also likes to push against the traditions of that sort of writing. "I wrote Perdido Street Station to go against some of the traditions of fantasy, but I wasn't the first," he acknowledged. "There are always counter-traditions and ways of writing against the grain. In Iron Council the main character is Gay, and that's not so transgressive, but in a lot of adult fiction Gays are desexualized, and I resent that. One book I've read is set on a ship in the 19th century, and there's a Gay man defined as evil and his sex with his lover is described in almost lascivious terms, while the 'good' Gay guy is described as never having sex at sea. I wanted to write an explicitly Gay character who has anal sex, though I think a lot of this is not that big a deal anymore."

One genre convention that particularly ticks Miéville off — and which he's deliberately tried to avoid or subvert in his own work — is the notion of the "Chosen One," the one hero uniquely fitted to the task of redeeming the human race from the peril the author has invented to jeopardize it. "The schtick [of Un Lun Dun] is that the Chosen One fails, and the funny sidekick has to take over — and succeeds by cheating and skipping to the end," he said. "As a kid, I always hated books about the Chosen One because that implies all the others are not chosen, and that's fascist. I always was drawn to the sidekicks."

Though Miéville tries to avoid blatant political propaganda in his books — like most artists with strong political leanings, he'll drop the politics if it means the books will be stronger as art — he's quite open about analyzing other writers' works in the light of his Leftist beliefs. "Not all my favorite writers have my politics," he acknowledged. "I'm a big fan of H. P. Lovecraft even though he was a fascist and anti-Semite" [though in his last decade Lovecraft largely abandoned the racist beliefs he'd held earlier]. Noting that American science fiction has a reputation for being Right-wing, Miéville said he thinks that's unfair because the U.S. has also produced authors like Ursula LeGuin and Judith Merril, "progressives writing deliberately in the political milieu."

Indeed, one of the things he likes about science fiction and fantasy is how well they lend themselves to what Lenin called "Aesopian language" — coded messages about the world of the present couched in terms of the world of the future. He thinks that's what science fiction writers in the Eastern Bloc were doing under Communist governments: sneaking in social criticism they couldn't have got published in direct terms. On the question of whether there's something inherently radical about science fiction as a genre, Miéville said, "I go back and forth on that. The idea of something that starts with radical thinking lends itself to political thinking — not necessarily progressive political thinking — but certainly the overlaps between political geeks of both flavors and sci-fi geeks is interesting."

Responding to a question about born-again Christians and their use of media like science fiction and rock music to express their ideas — including the belief that young people who remain virgins for religious reasons are the real transgressors in a hyper-sexualized age — Miéville expanded his analysis beyond science fiction to Right-wing books in general like the Left Behind series (minister Tim LaHaye's and author Jerry Jenkins' best-selling series dramatizing the apocalypse predicted in the Book of Revelation) and The Turner Diaries, William Pierce's 1978 novel about a Right-wing revolution against a U.S. government dominated by Jews and socialists. Indeed, Miéville seemed to admire The Turner Diaries even though it's not only an extremely Right-wing book ("a fascist dystopia," he called it) but it's not at all well written.

The Turner Diaries "starts with a very clever piece of thought judo designed to appeal to a group [white Americans, particularly ethnics from working-class backgrounds] that feels badly threatened," Miéville explained. "It starts with a Black becoming president and eliminating the laws against rape on the basis of 'cultural sensitivity.' It's great strategy that weaponizes the notion and taps into a lot of anxieties." Miéville sees The Turner Diaries as part of "the culture war in general" and notes that not only did Oklahoma City bomber Timothy McVeigh own a copy and carry out his terrorist attack with a bomb design copied from Pierce's pages, but "every other Tea Party sign" reflects this sort of militancy on the part of the radical Right.

Miéville said in Britain that sort of radical-Right politics comes out less in fiction — "where we have things like [the long-running TV series] Doctor Who that are relatively liberal" — than in mainstream newspapers like the Daily Express. That paper, he said, recently ran a headline that said, "In 20 years one in 5 Britons will be ethnics," presenting that as a horror its readers should fear. "It's one of the most bile-raising, sick-raising things you see: the loss of [white people's] privileges, people suing universities over affirmative action," Miéville said. "It's certainly visible in speculative fiction, but some books pull in more than one direction. Battlestar Galactica is overtly progressive, but it also contains a lot of racial anxieties."

Asked about the growing popularity of the late Right-wing Libertarian author Ayn Rand, especially among young Americans, Miéville said, "We don't have many Randroids in Britain. I think Rand's popularity in the U.S. is a sign of the weakness of the Left. Students who are anxious about government bailouts, if you give them to me I'll make them Leftists. But there aren't such people in America, so they read Ayn Rand and become Rightists instead."

Commenting about artificial intelligences and "hidden messages" in current science fiction, Miéville said, "I think I would make a distinction between deliberate and unconscious messages. I don't think there is a depoliticized message about consciousness and sentience. I'm very unconvinced that the increase in computer power will result in consciousness. The notion in science fiction over the last decade and a half of computerized rigor that erupts into consciousness is based on a bad notion of consciousness, but I don't think the authors mean that deliberately."

Asked if any of his books will be turned into movies, Miéville said he's got a few nibbles from the film industry — "a couple of my short stories are under option" — but his fans shouldn't hold their breaths. "Dealing with movie people is intimidating because it's all based on lies," he said. "All the clichés are true — and they're put out by people who work in movies." He said " it would take a lot of convincing" to get him to sell the movie rights to one of his novels because "most movies are rubbish because they're not done well."

Miéville's advice to aspiring young writers — another stock question virtually every author who speaks in public gets asked — is don't try to write a novel unless you do a lot of meticulous pre-planning. "Novels are really big, and people get paralyzed by the size," he explained. "The way to avoid that is to front-load a lot and plan the bejeezus out of it. Do a chapter-by-chapter plan and estimate how many words each chapter will have and what will happen in it, and then you can write as few as 300 words a day. The more work you do up front, the less you can think about it. I work out the shape of it first and I'm a rigorous planer. Planning has a bad rap, but I think it's a kind of safety net."
Report this post as:
LATEST COMMENTS ABOUT THIS ARTICLE
Listed below are the 10 latest comments of 1 posted about this article.
These comments are anonymously submitted by the website visitors.

Local News

More Pix: "Families Belong Together," Pasadena J02 12:16PM

"Families Belong Together" March, Pasadena J02 12:08PM

Short Report on the Families Belong Together Protest in Los Angeles J30 4:26PM

Summer 2018 National Immigrant Solidarity Network News Alert! J10 11:58PM

Watch the Debate: Excluded Candidates for Governor of California M30 10:20PM

Change Links June 2018 posted M28 12:41AM

The Montrose Peace Vigil at 12 Years M22 1:01PM

Unity Archive Project M21 2:42AM

Dianne Feinstein's Promotion of War, Secret Animal Abuse, Military Profiteering, Censorshi M17 3:22PM

CA Senate Bill 1303 would require an independent coroner rather than being part of police M10 2:08PM

Three years after OC snitch scandal, no charges filed against sheriffs deputies M10 1:57PM

California police agencies violate Brown Act (open meetings) M02 1:31PM

Insane Company Wants To Send Nuke Plant Waste To New Mexico A29 4:47PM

Change Links May 2018 A27 1:40AM

Worker-Owned Car Wash on Vermont Closed A26 10:37PM

GUIDE TO REBEL CITY LOS ANGELES AVAILABLE A12 5:39PM

lausd whistle blower A10 11:58PM

Website Upgrade A10 3:02AM

Help KCET and UCLA identify 60s-70s Chicano images A04 1:02PM

UCLA Luskin: Casting Youth Justice in a Different Light A02 11:58AM

Change Links April 2018 A01 11:27AM

Nuclear Shutdown News March 2018 M31 6:57PM

Join The Protest Rally in Glendale on April 10, 2018! M29 7:00PM

Spring 2018 National Immigrant Solidarity Network News Alert! M19 2:02PM

Anti-Eviction Mapping Project Shows Shocking Eviction Trends in L.A. M16 5:40PM

Steve Mnuchin video at UCLA released M15 12:34AM

Actress and Philanthropist Tanna Frederick Hosts Project Save Our Surf Beach Clean Ups M06 12:10PM

After Being Told He's 'Full of Sh*t' at School Event, Mnuchin Demands UCLA Suppress Video M02 11:44AM
More Local News...
Other/Breaking News

[NEW HOT] World Soccer King Hack Coins and Gems J17 4:32AM

Asian Countries:Cambodia, Vietnam, N. Korea do not permit unlawful immigration J16 8:06PM

Children Incorporated Earns 4-Star Rating on Charity Navigator J16 11:24AM

Democratic Socialists of America J14 4:57PM

Leonard Peltier Non Violent Native American Political Prisoner since 1970's J14 4:18PM

Paraphysique miscellanées de l'aggiornamento J14 12:54AM

Actress and Philanthropist Tanna Frederick Hosts Project Save Our Surf Beach Cleanup J13 4:14PM

FBI Investigated LA County Sheriff Baca,Why Not Hank Skinner's Persecution? J13 3:52PM

Updated Partial List Of Famous Vegetarians, Vegans, & Fruitarians J13 2:59PM

The Shortwave Report 07136/18 Listen Globally! J12 4:36PM

Social Policy as Social Infrastructure J12 3:38AM

Vol I: 84 Varieties Of GOP Election Fraud J12 1:50AM

Texas Can Call it An Execution,But It is A State Sponsored Murder of Hank Skinner.. J11 6:48PM

June 2018 Honduras coup update J11 3:35PM

Maria Estrada doubles down on racist support J11 1:40PM

New York Women in Film & Television Announces 2018 NYWIFT Ha Phuong Scholarship Recipients J11 10:14AM

Trapps de la domination, trapps de l'aliénation J11 1:31AM

Please Work For The Defeat Of Brett Kavanaugh And Why J09 8:54PM

Change Links 2018 July posted J09 1:27PM

Transinhumanisme ( transe inhumanisme ) J09 12:44PM

Google, World's Biggest Censor, Was Founded By The CIA J09 10:25AM

For a World Free of Nuclear Risks J09 8:29AM

Corrupt CDC Ignores Meat Fish Recalls J09 4:55AM

The (Temporary) End of Globalization J09 3:03AM

Aternatives to Abortions such as Plan B the pill, condoms and IUD J08 4:03PM

U.S Congressional Legal Minds Know Better Than Allowing Texas To Murder Hank Skinner J08 3:37PM

ACLU in many US states defends in court KKK and American Nazis Sometimes for Money J07 11:28PM

Judge Brett Kavanaugh: 12 Of Many Reasons To Oppose Him J07 9:00AM
More Breaking News...